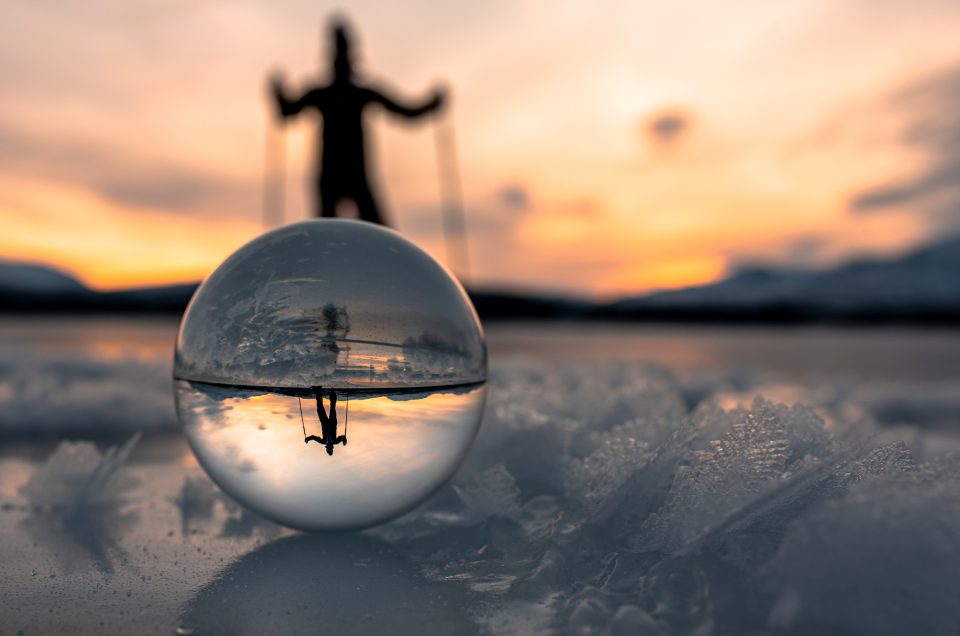 Last Updated on April 6, 2023 by Jarda
Sweden has around 100 000 lakes and most of them freeze druing winter. It means a real ice skating paradise and we don't even count the possibilities on the sea! Nobody will ever be able to skate even on a fraction of these ice surfaces. I am lucky to have tested more than 100 hundred of them during my 11 years in Sweden. Here are my tips where you can find the best skating locations in Sweden.
Before I start naming all the amazing lakes and archipelagos where I got the chance to skate, I have to tell you the most important thing: Every winter is different. Sometimes we have excellent conditions for skating all around the country, sometimes we have mild winter and there is less ice or we have too hard winter with too much snow which isn't good for skating either. In general, Stockholm area is the best for ice skating. The climate is rather mild so the snow usually doesn't stay long time but it's cold enough so the ice freezes and we have great skating opportunities. I am explaining more about the unique ice skating conditions in Stockholm in this article.
As you know the most important now, let's take a look where you can have the best skating experiences!
Stockholm City
The best winter I experienced in Stokholm was in 2019 when it was so cold that even the eastern part of the third largest lake of Sweden Mälaren froze. The lake flows to sea at Stockholm city centre, nearby Gamla Stan and the City Hall and it was all frozen! I will never forget our trip from Riddarfjärden via Barnhusviken, Ulsvsundasjön, Essingefjärden to Årstaviken. What a sightseeing on skates!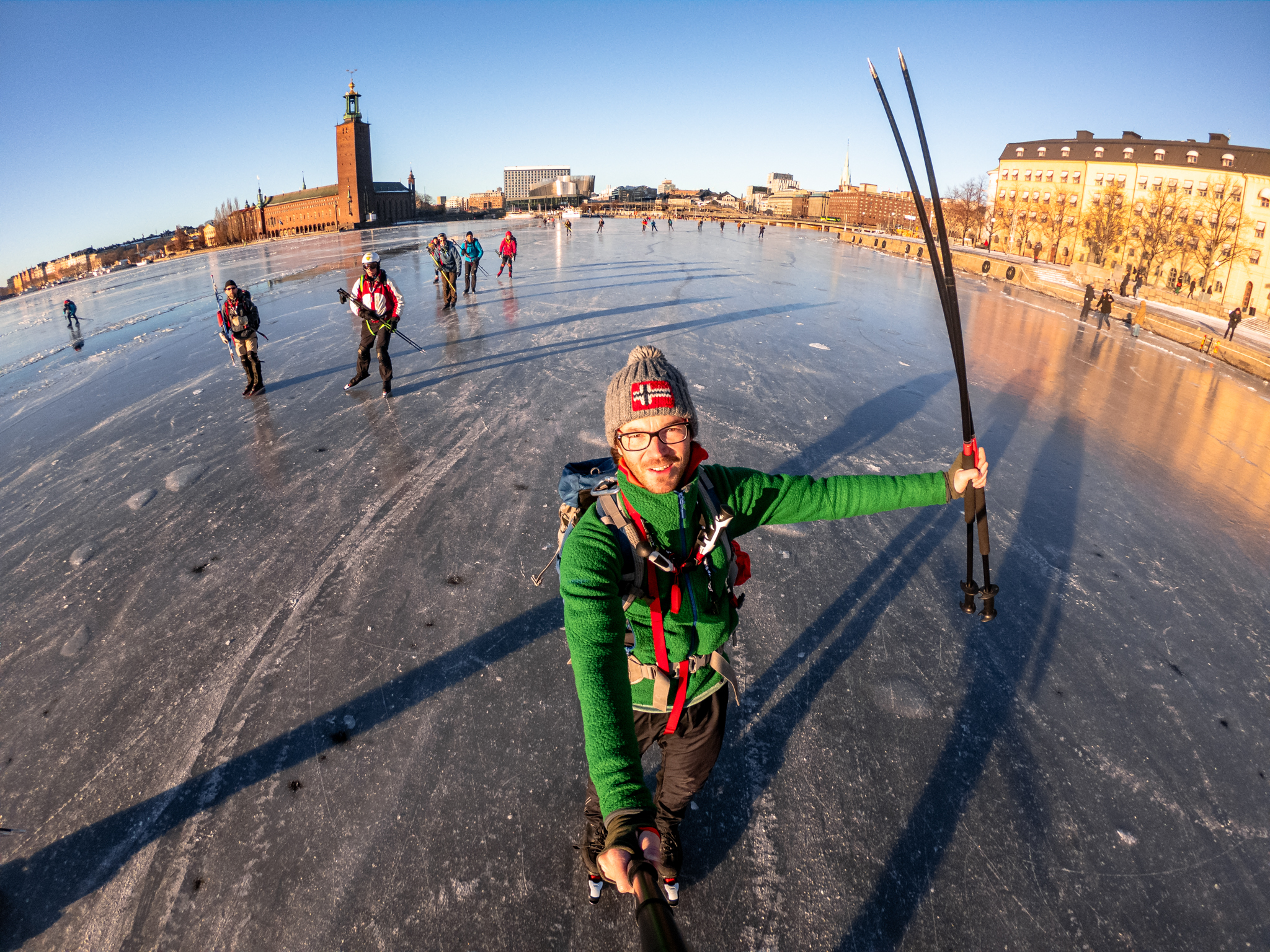 Höga Kusten
Have you heard about the High Coast area in Sweden (in Swedish Höga Kusten)? It's a coastal region in northern Sweden that stretches for about 129 km along the Gulf of Bothnia. What makes Höga Kusten unique is its geological history. About 10,000 years ago, the land in the area was covered by ice sheets that were several kilometers thick. As the ice sheets retreated, the land slowly began to rise, at a rate of about 8 mm per year. This is one of the highest rates of land uplift in the world, and as a result, Höga Kusten is now one of the few places on earth where visitors can see the effects of post-glacial rebound in action.
Thanks to Höga Kusten history you can find there beautiful natural scenery, including towering cliffs, picturesque islands, and dense forests. I visited Höga Kusten many times before but my favourite visit was definitely in 2023 when the sea froze and we could skate all the way (with a short walk in between) from Docksta to Köpmanholmen. It was amazing to pass Skuleberget (the once nine-meter-high island which turned to today's highest coastline mountain) and national park Skuleskogen!
The conditions we had at Höga Kusten don't happen often since the area is known for a lot of snow precipitation but if you get a chance to skate there, don't hesitate a minute!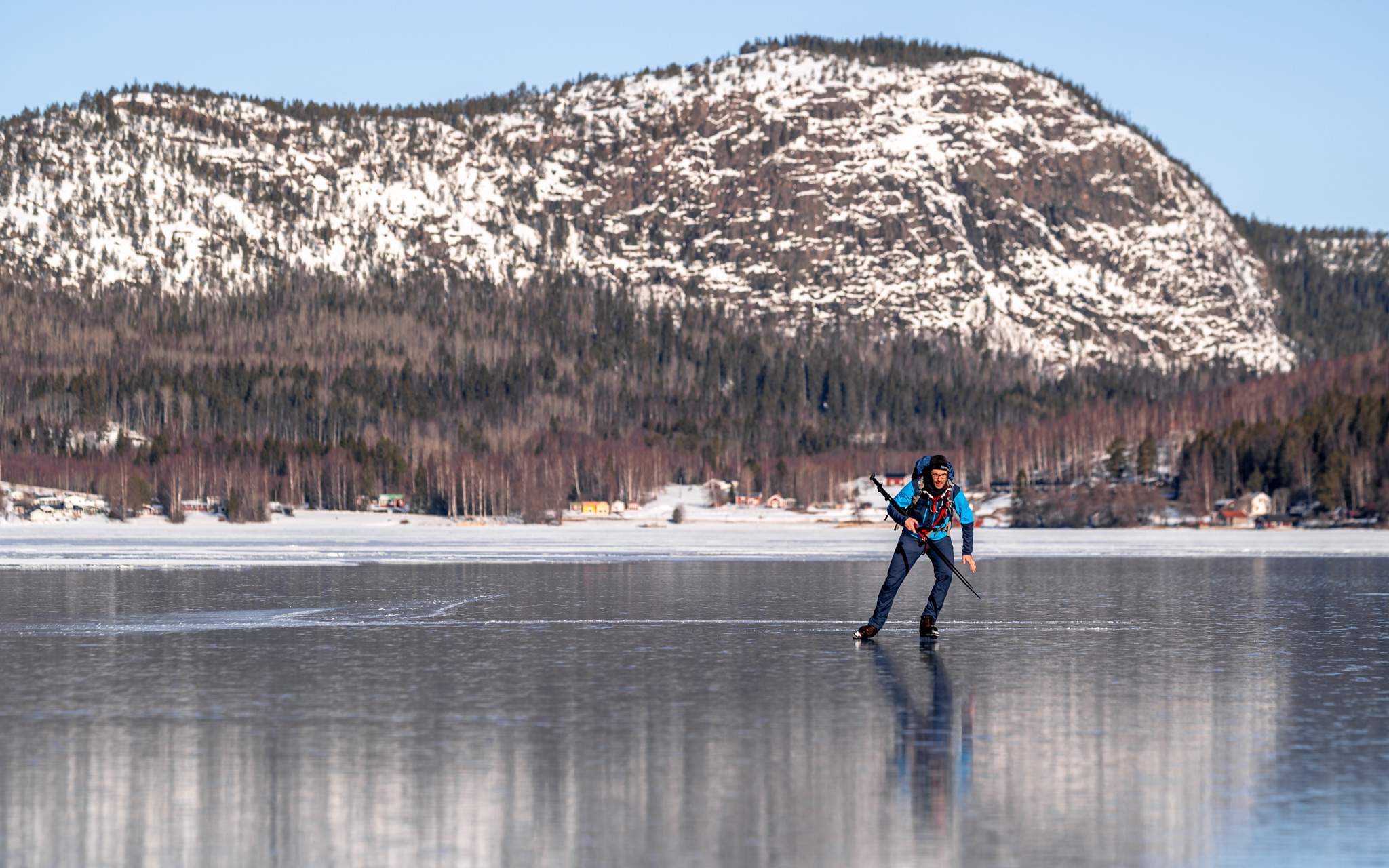 Uppsala – Stockholm
The same winter brought also the opportunity to skate on Mälaren from Uppsala to Stockholm which I did with my friends as a memory to old viking skating race Vikingarännet. What a pity this 80km race is not organized anymore due to weak winters.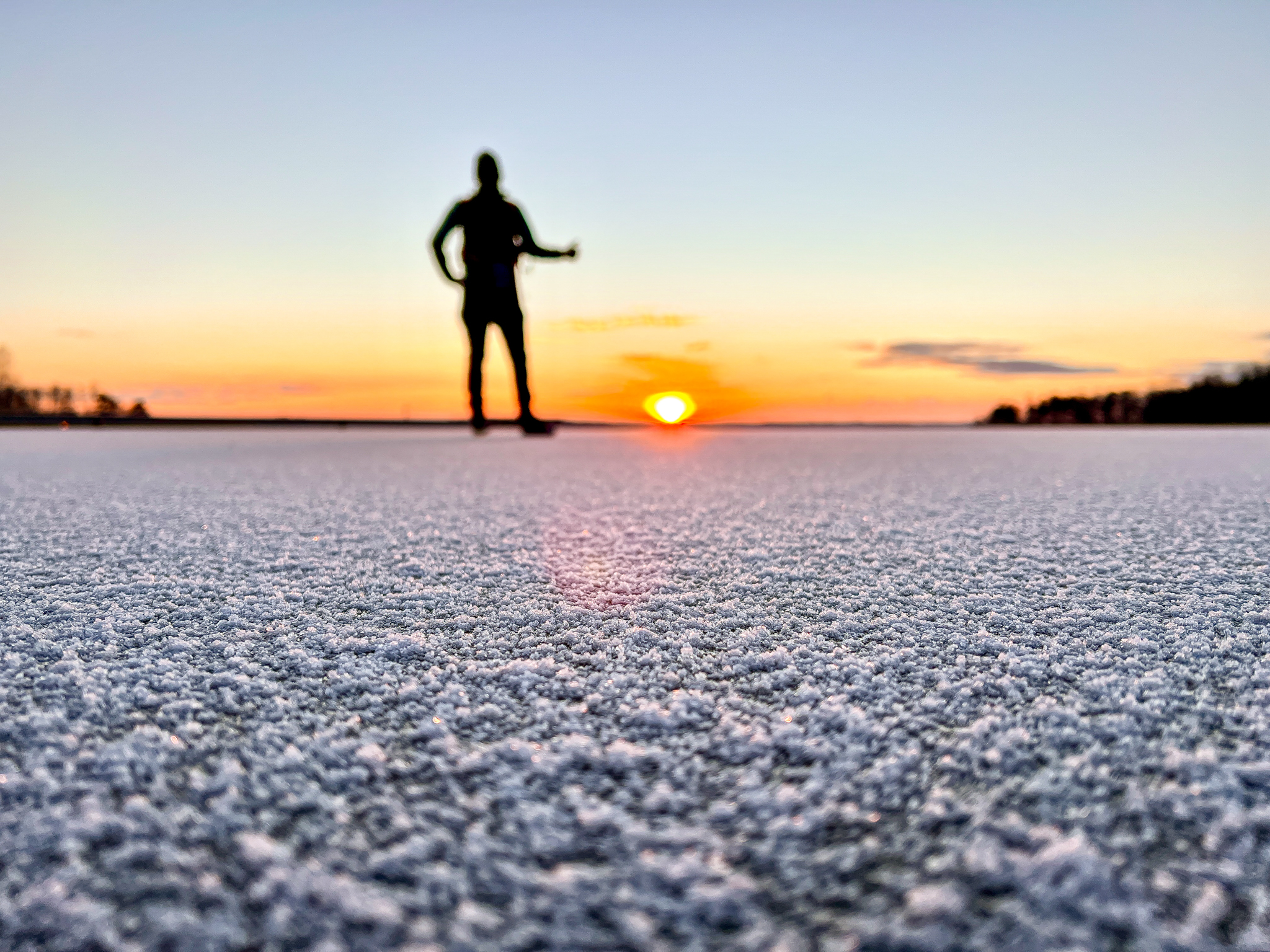 Vättern
The second largest lake in Sweden Vättern boasts of crystal clear water. Since it's very deep, it hardly ever freezes all but its bays sometimes do! I had a chance to skate on a small part of the lake in 2021 and it was an unforgettable experience.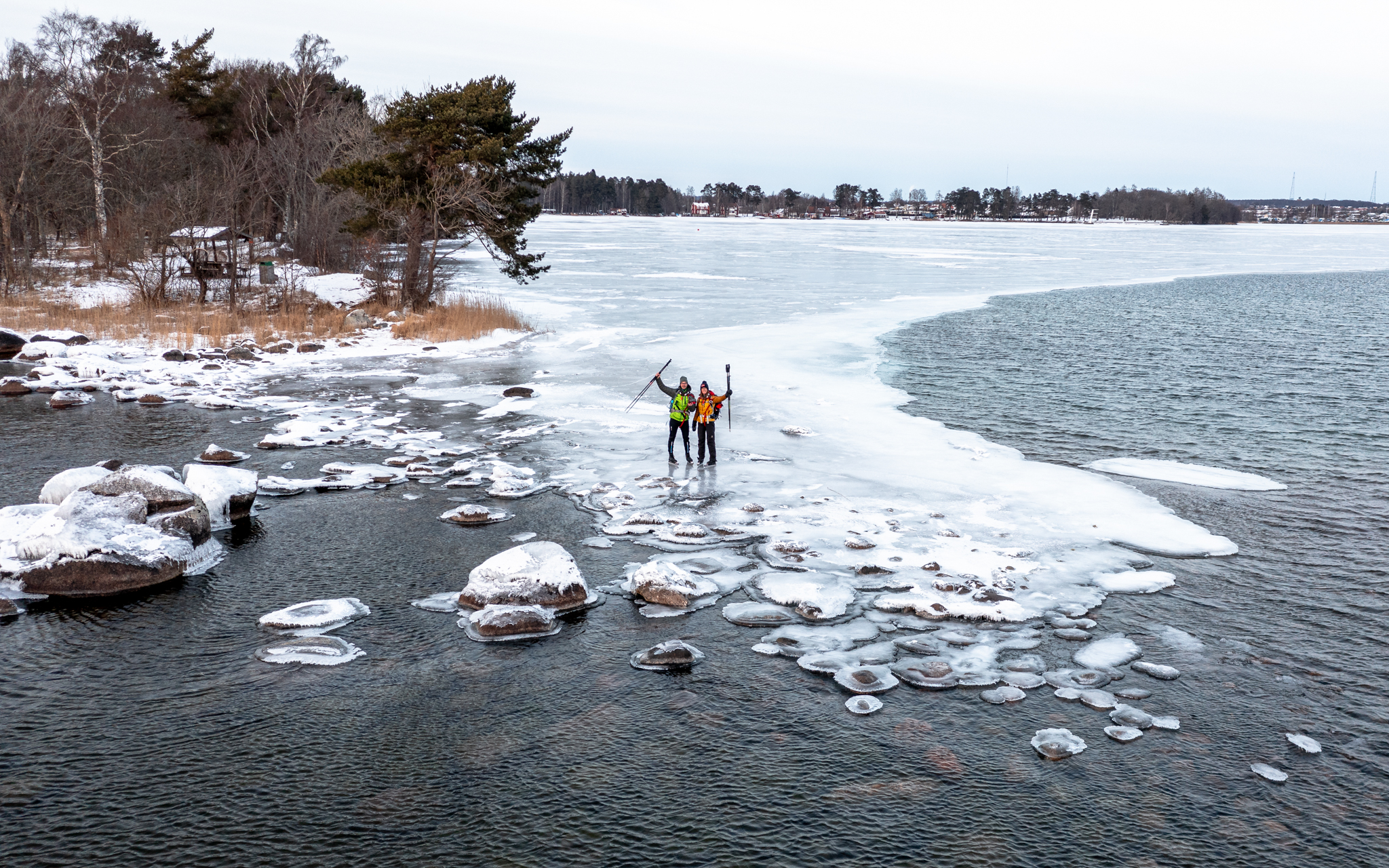 Siljan
The heart of Dalarna and its lake Siljan is not only famous for Midsummer celebrations. In winter, the whole lake usually freezes and you can make wonderful trips there. My trip in 2021 from Mora to Leksand was as long as famous Vasaloppet.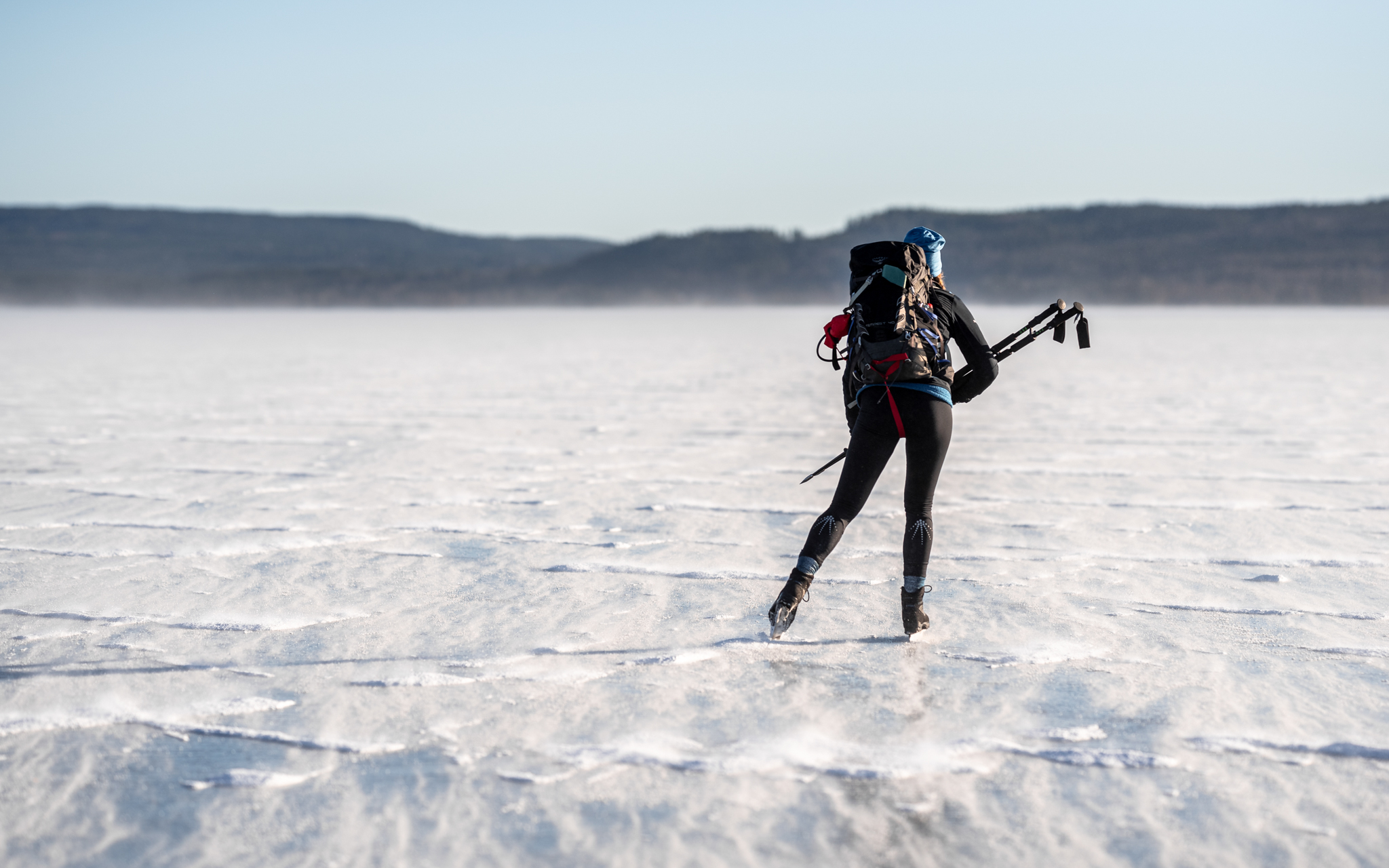 Karlholmfjärden
Skating on sea is special. Due to salt water and many currents it is definitely more tricky than on lakes and advanced ice knowledge experience is essential. If you dare though you are rewarded by wonderful trips among islands and cute villages. I made my favourite archipelago trip at Karlholmfjärden in 2023.
Saltsjöbaden
You can experience another great archipelago skating nearby Stockholm. Saltsjöbaden is a popular tourist destination reacheable by pubic transport in Stockholm and trips on Baggensfjärden and Erstaviken are wonderful.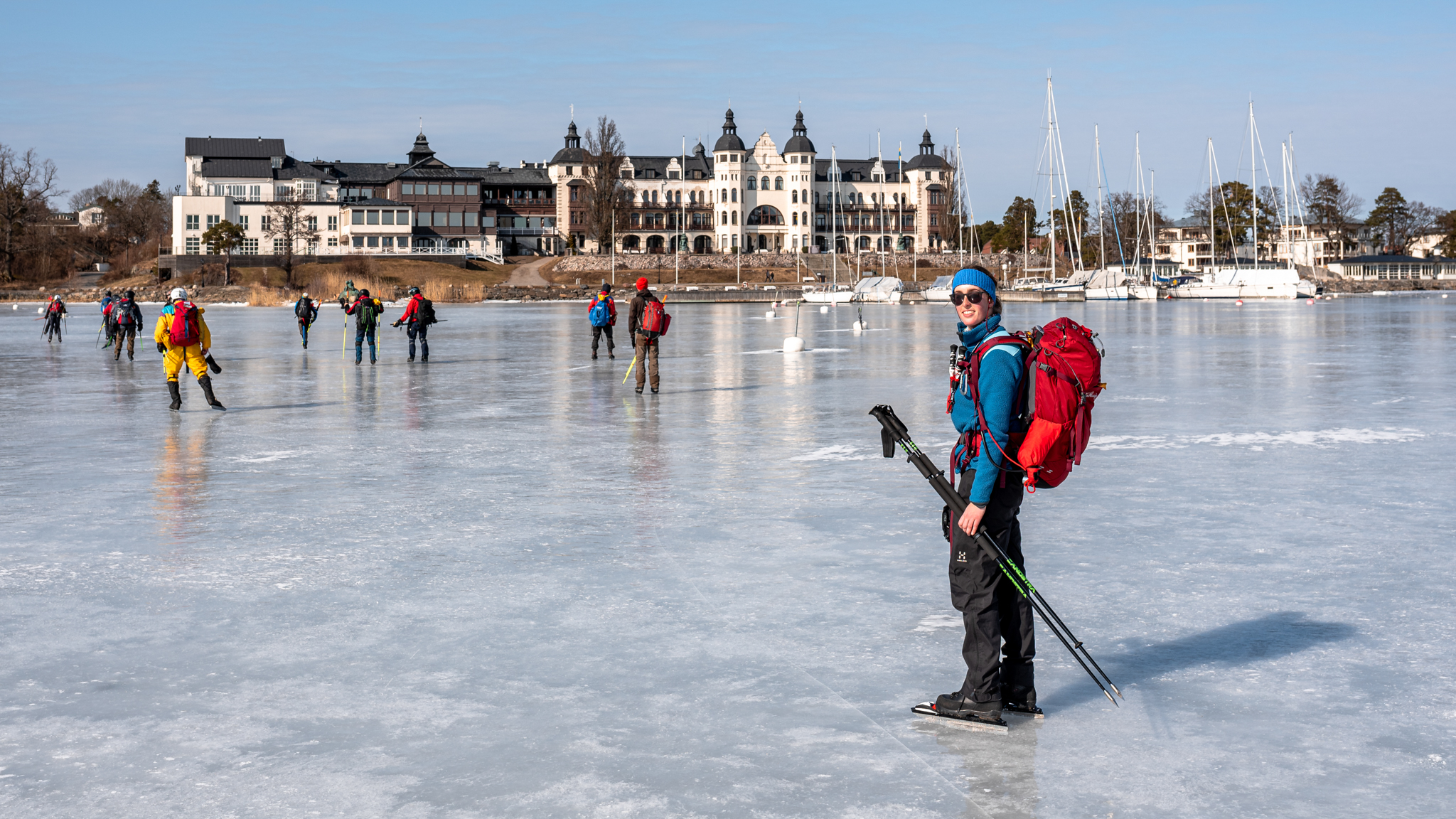 Marvikarna
Sweden is a flat country in general. If you want to visit mountains, you have to head northwest to the border with Norway. It surprised me though that you can find though wonderful cliffs even in Stockholm area. I discovered them when I skated at Marvikarna lakes. It was a cool trip with wind in the back from Åkers Styckebruk via multiple lakes to Gnesta. If you want to try typical Nordic skating which combines skating and short hikes, this is a wonderful option.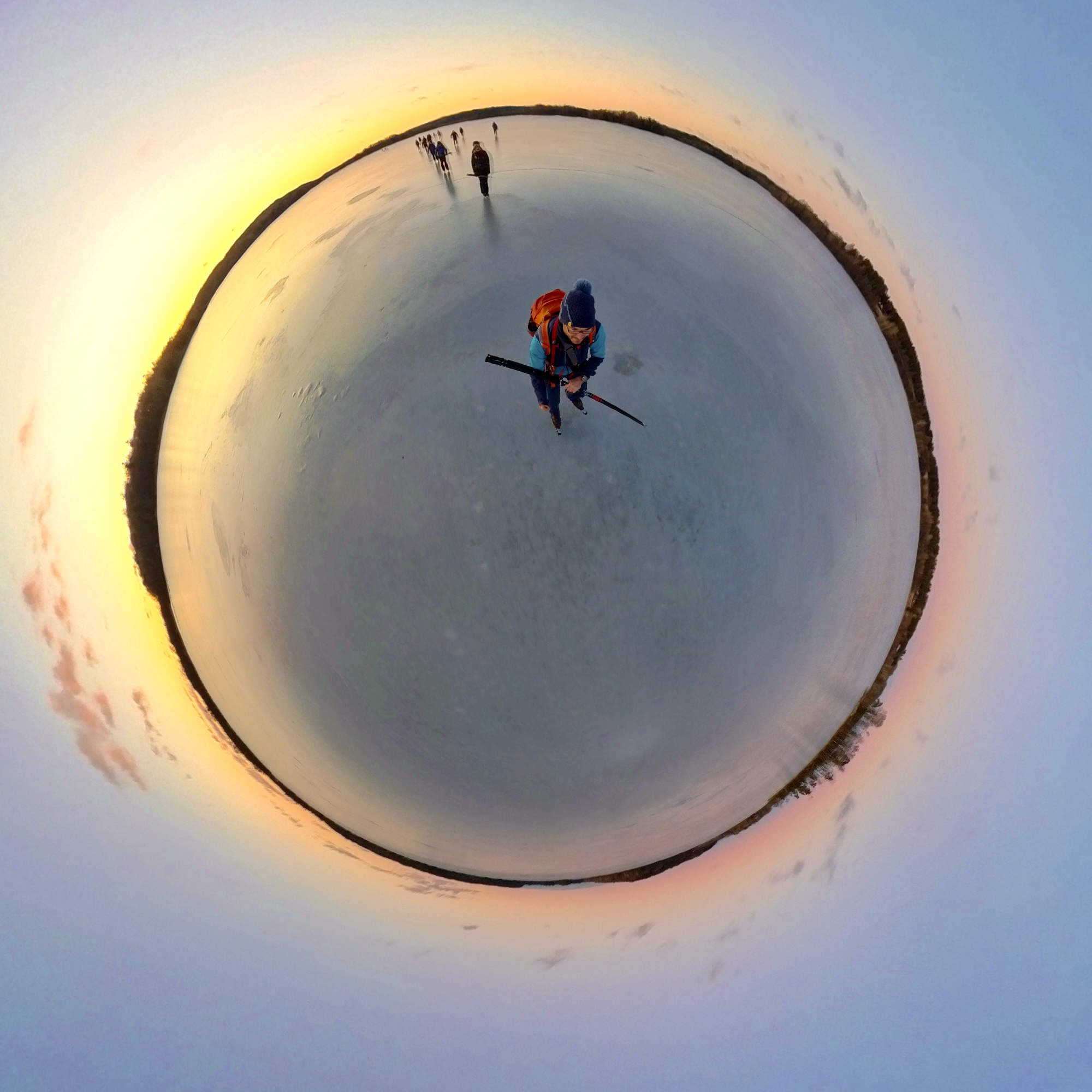 Ånnsjön
If you would like to skate next to real high mountains, you have to head to the north. Since mountains attract clouds and it snows there often, the skating season is usually very short. Lakes usually freeze already during October/November there and they are skateable until first snow comes. I got the chance to skate on wonderful Ånnsjön nearby ski resort Åre and it was amazing to skate with view over Jämtlands mountains.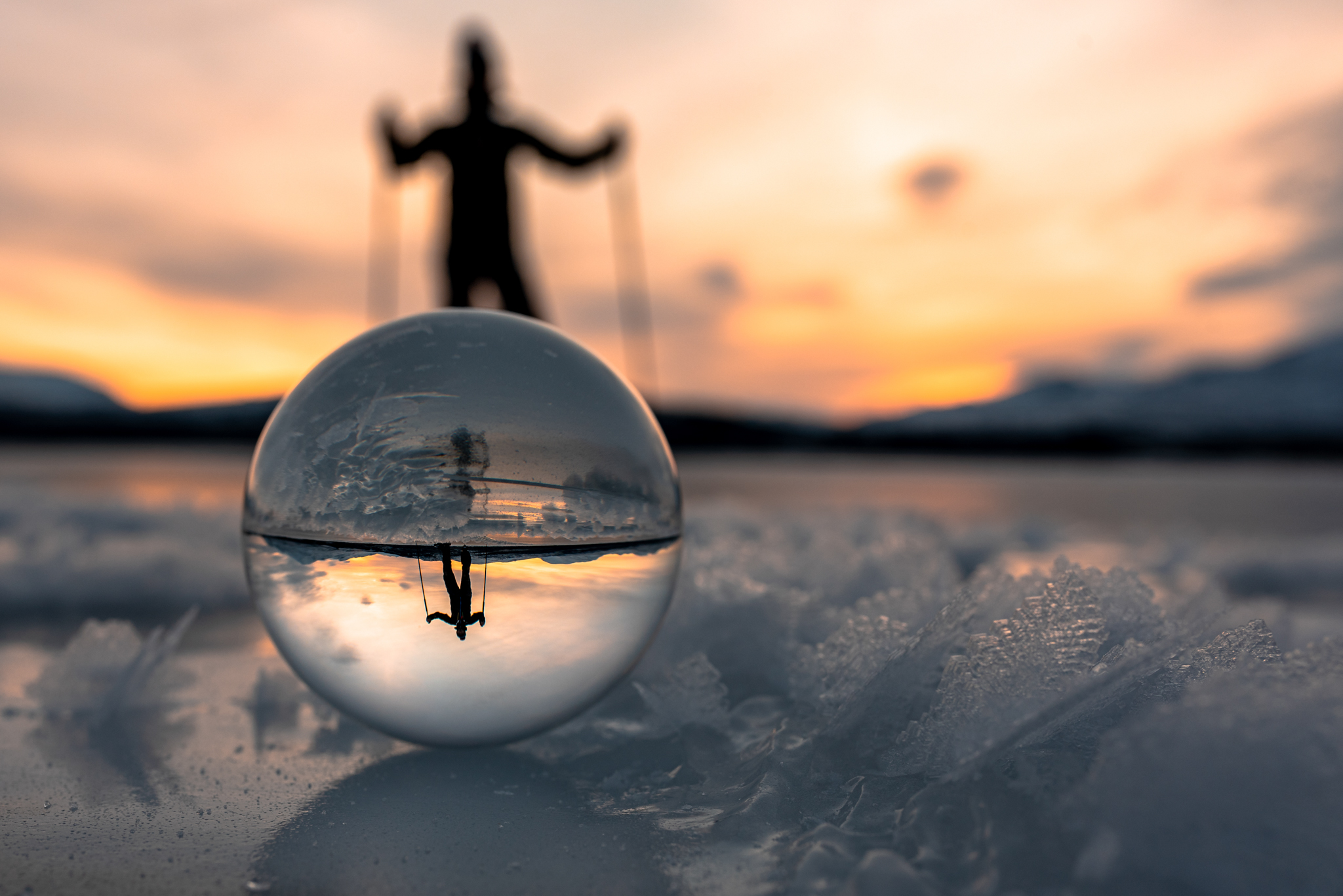 Storsjön
You can skate at many places even if it snows because the municipalities clear skating tracks. The longest one is prepared every year on Storsjön in Östersund. The track is usually 30km long so you can enjoy new scenery during a whole skating day.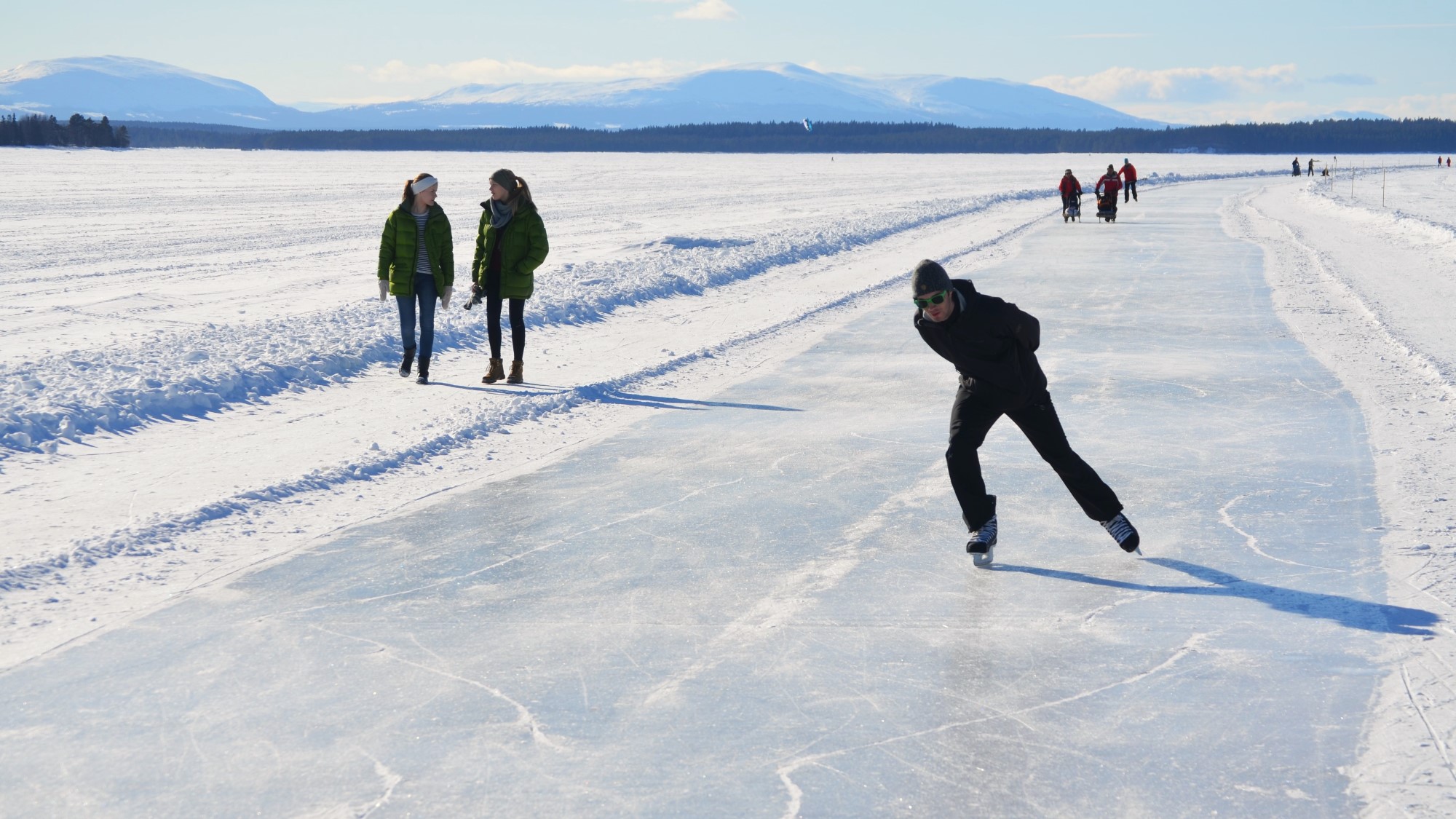 Norrviken – Edsviken – Brunnsviken
Let's get back to Stockholm area. I will introduce to you the most popular lakes where you can usually skate from January to March. In the north of Stockholm it's popular to make a trip on three different lakes with short walks in between. Try a trip on Norrviken, Edsviken and Brunnsviken. It's easy to access these lakes by public transport and if you take a look at weather forecast in advance you can plan a one way trip with wind in the back from point A to B.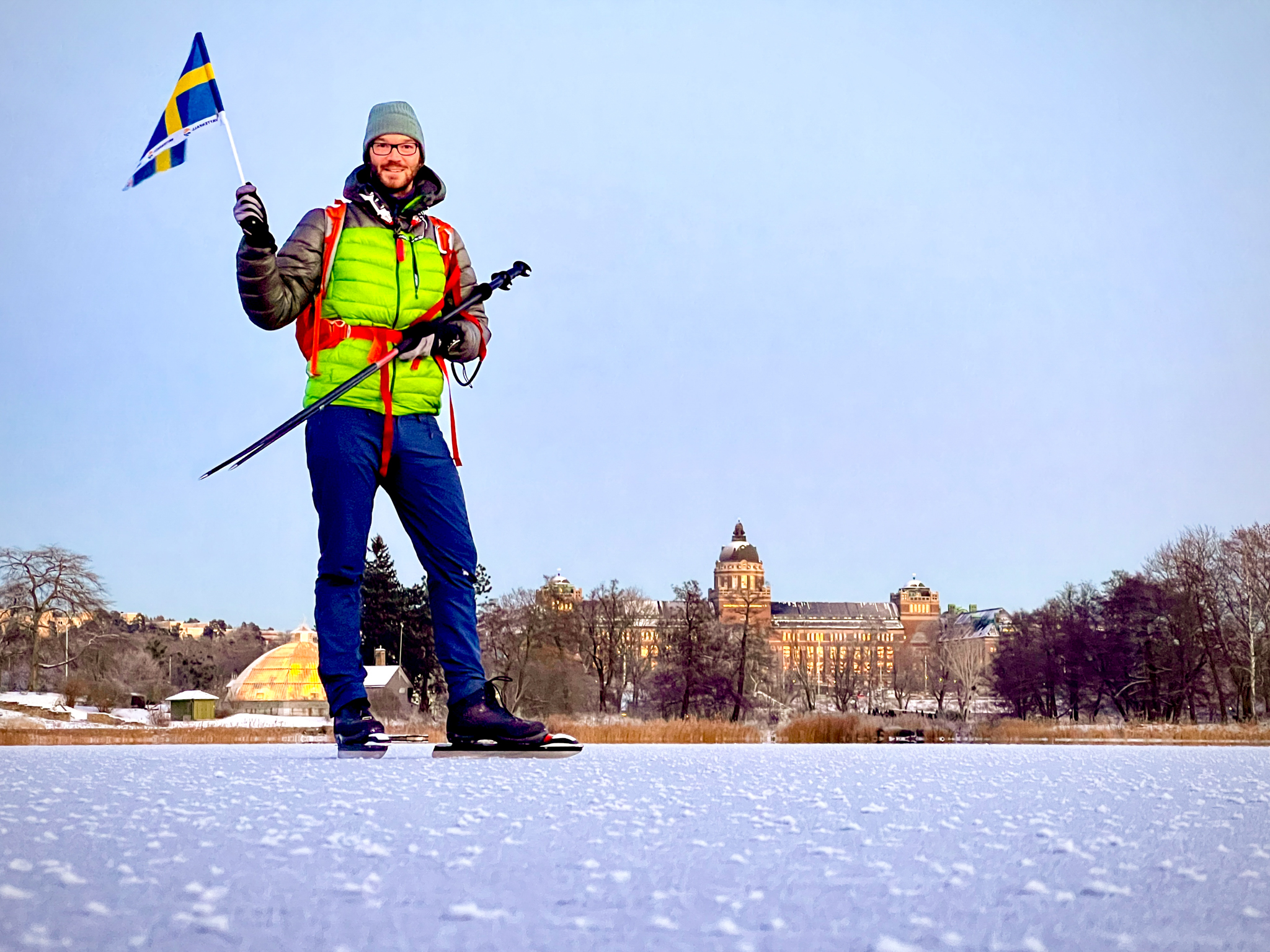 Drevviken – Magelungen – Orlången
Similarly, you have great skating opportunities in the south. Drevviken, Magelungen and Orlången are Stockholm's classics. There, I learnt also for example how it is to fall through the ice.
Bråviken
Let's get once more on sea ice. Norrköping and it's bay Bråviken offers often great skating conditions. In 2021, the conditions were there best of all Sweden and I made there multiple beautiful trips.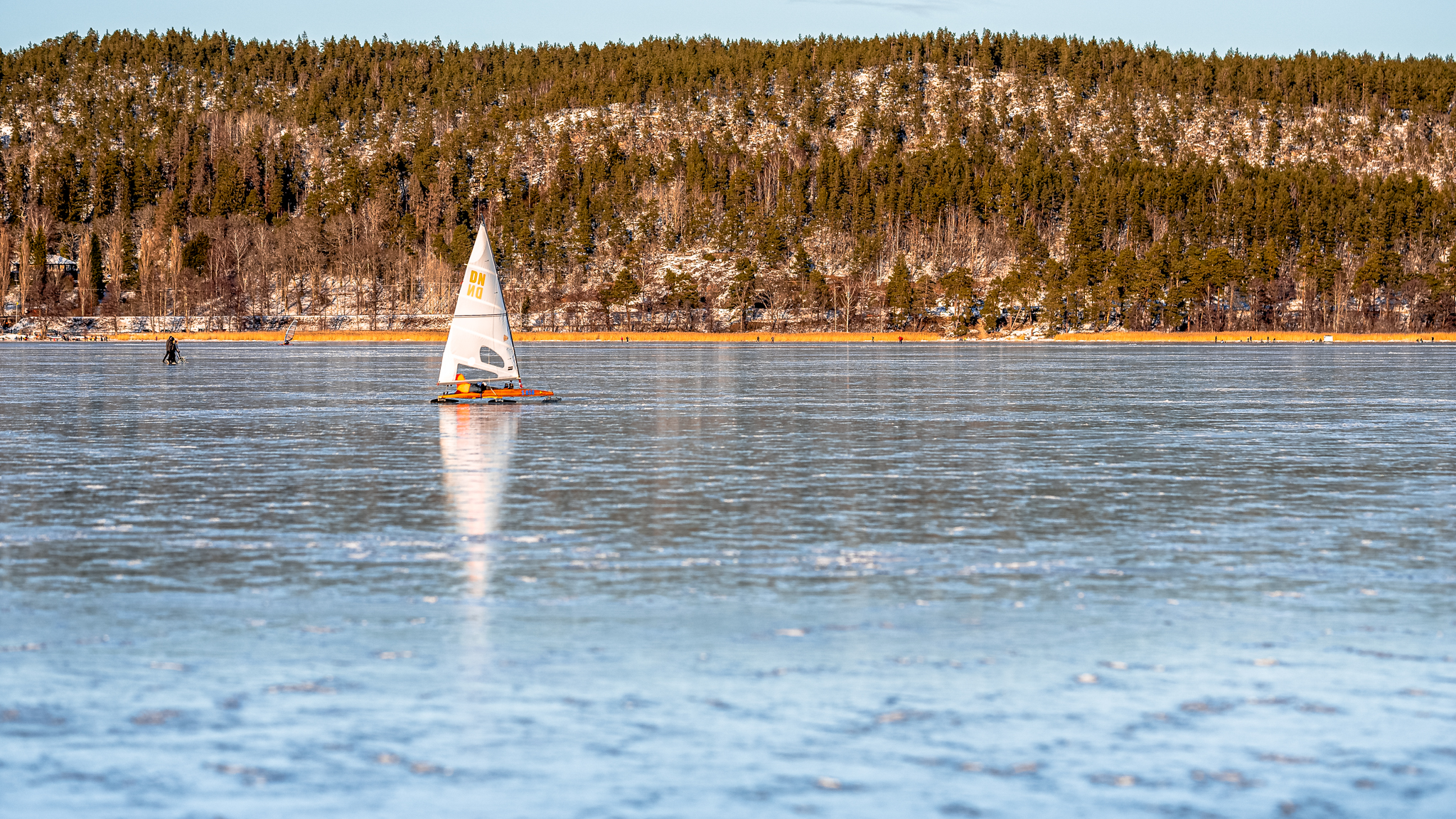 Tyresta national park
Let's end this summary by the unique opportunity of Stockholm region where you can go skate-hiking in national park Tyresta. There are multiple lakes in the national park and you can combine very well hiking and skating there!
More about ice skating in Sweden
Do you have any own tips on best skating locations in Sweden? Let me know! If you would like to read more about ice skting, I prepared a thorough guide how to skate safely. Take a look at my article here.