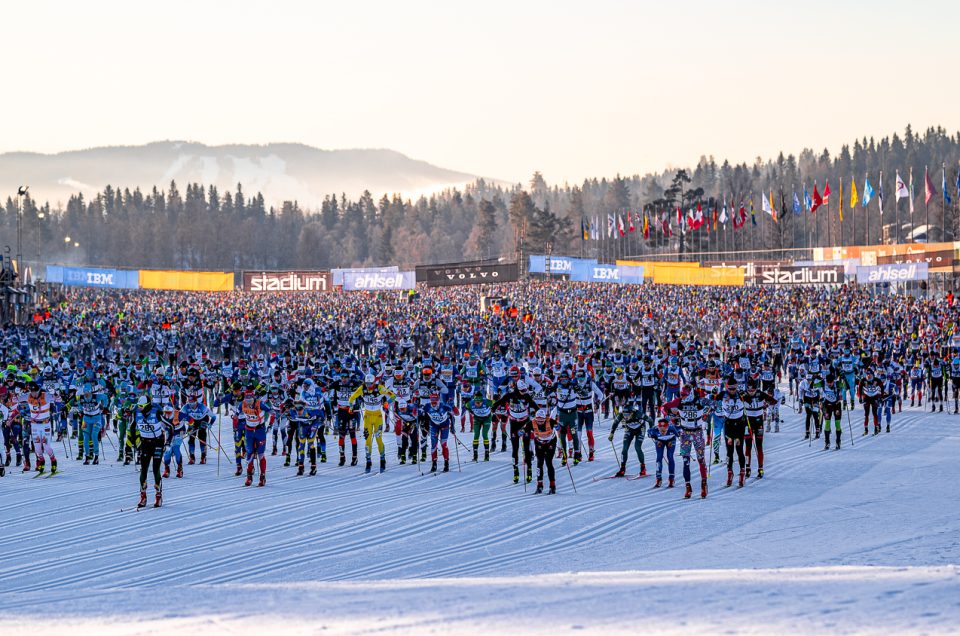 Last Updated on May 16, 2023 by Jarda
Are you planning to do Vasaloppet, the crazy 90km race in Sweden? Follow my experience and learn from my mistakes… Once I moved to Sweden and decided it will be my new home, I wanted to get to know the local culture and traditions as much as I could. Since I love winters, the tradition I wanted to experience first was Vasaloppet. What else can be more Swedish than a 90km long cross country skiing race? This oldest cross country skiing race in the world has already attracted over 1,700,000 participants who, sweaty and exhausted, completed different distances between Sälen and Mora. How will it be for me? Will I manage to complete the full distance with limited experience on cross country skis? If king Gustav Vasa made it when he was fleeing the war during the winter of 1520–1521 with poor equipment, I have to manage too!
Details and Statistics
Sport: Classical cross country skiing
Length of the race: 90km
Overall elevation: 813m
Difficulty: Very hard
Number of participants: 15800
Recommended training time: 2 years
Location: From Sälen to Mora
My first Vasaloppet race
After a cloudy, windy, rainy, snowy and dark February, the first week of March 2022 finally brought the dream Swedish winter weather. It's sunny! Swedes call this kind of weather "vårvinter" and it literally means spring-winter. I love vårvinter because it isn't only pleasant for its sun rays but it's also perfect for cross country skiing. While the days are quite warm, the nights still get pretty cold. These changes in temperature make the snow very quick.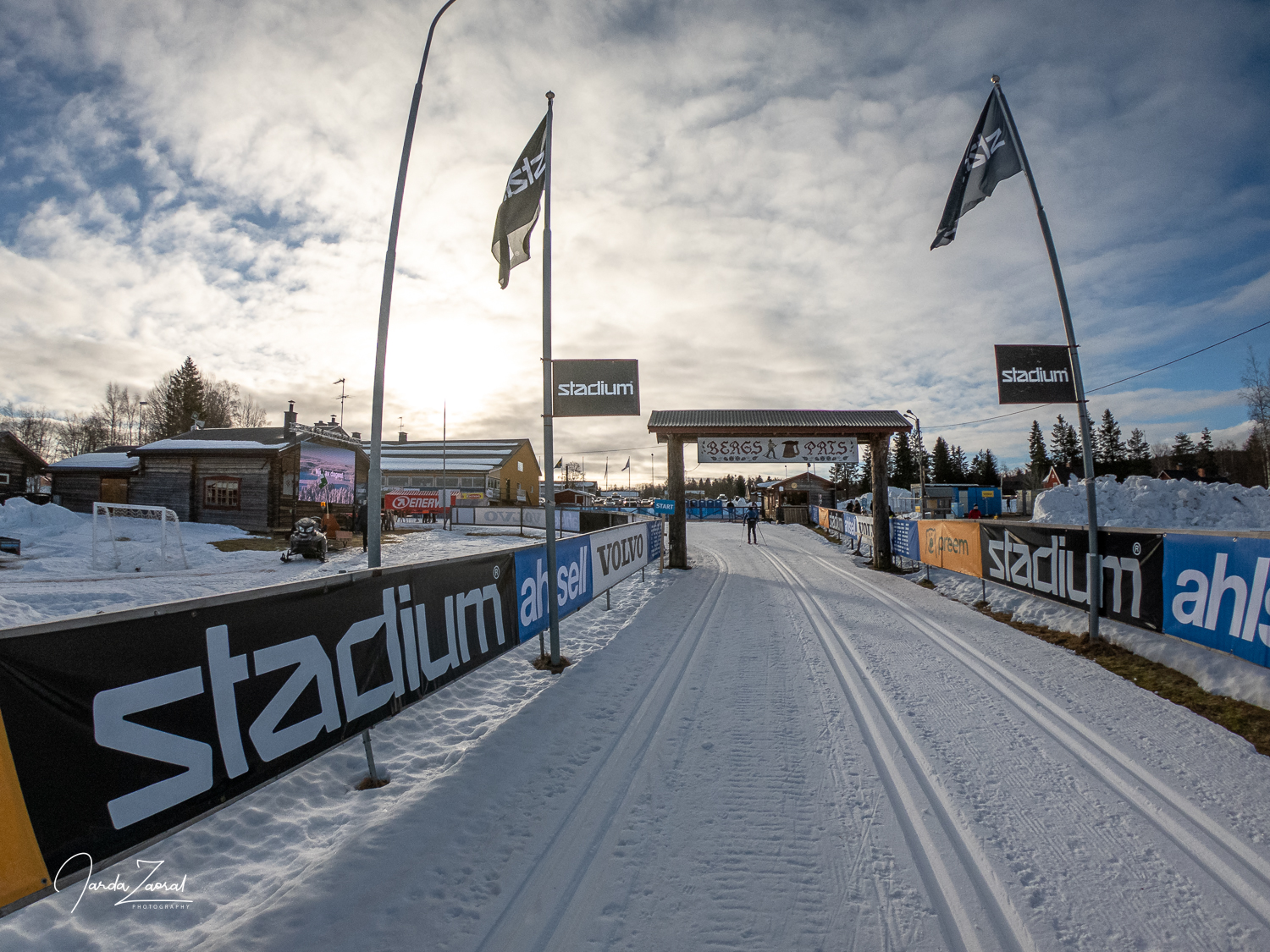 My fiancée and I are driving now towards Sälen, a popular Swedish skiing resort but mostly the place known for the start of the most famous cross country skiing race in the world. The weather is supposed to be the same tomorrow. What a paradise weather for Vasaloppet!
We park our camper van at a parking lot just next to the Vasaloppet start. Now, the parking lot is almost empty. There are just a few more camper vans in the corner. It's a quiet and peaceful night but volunteers preparing the tracks at the start remind us that something big is going to happen tomorrow. 15 800 skiers from all around the world will gather here in the early morning for one of the longest cross country skiing races in the world.
Aurora Borealis at Vasaloppet
Joanne and I are curious how the track looks like so we approach the Vasaloppet start. It's very cold outside but it feels very cosy. The snow pleasantly crunches under our feet. While we are walking the dark sky suddenly turns to green. Am I dreaming? Northern lights just started to dance above the hard and solid track. It will be wonderful conditions for all the skiers tomorrow! We admire the amazing aurora borealis for a while, but we can't stay long. We need enough sleep before the race starts tomorrow at 8! Good night from our comfy camper van!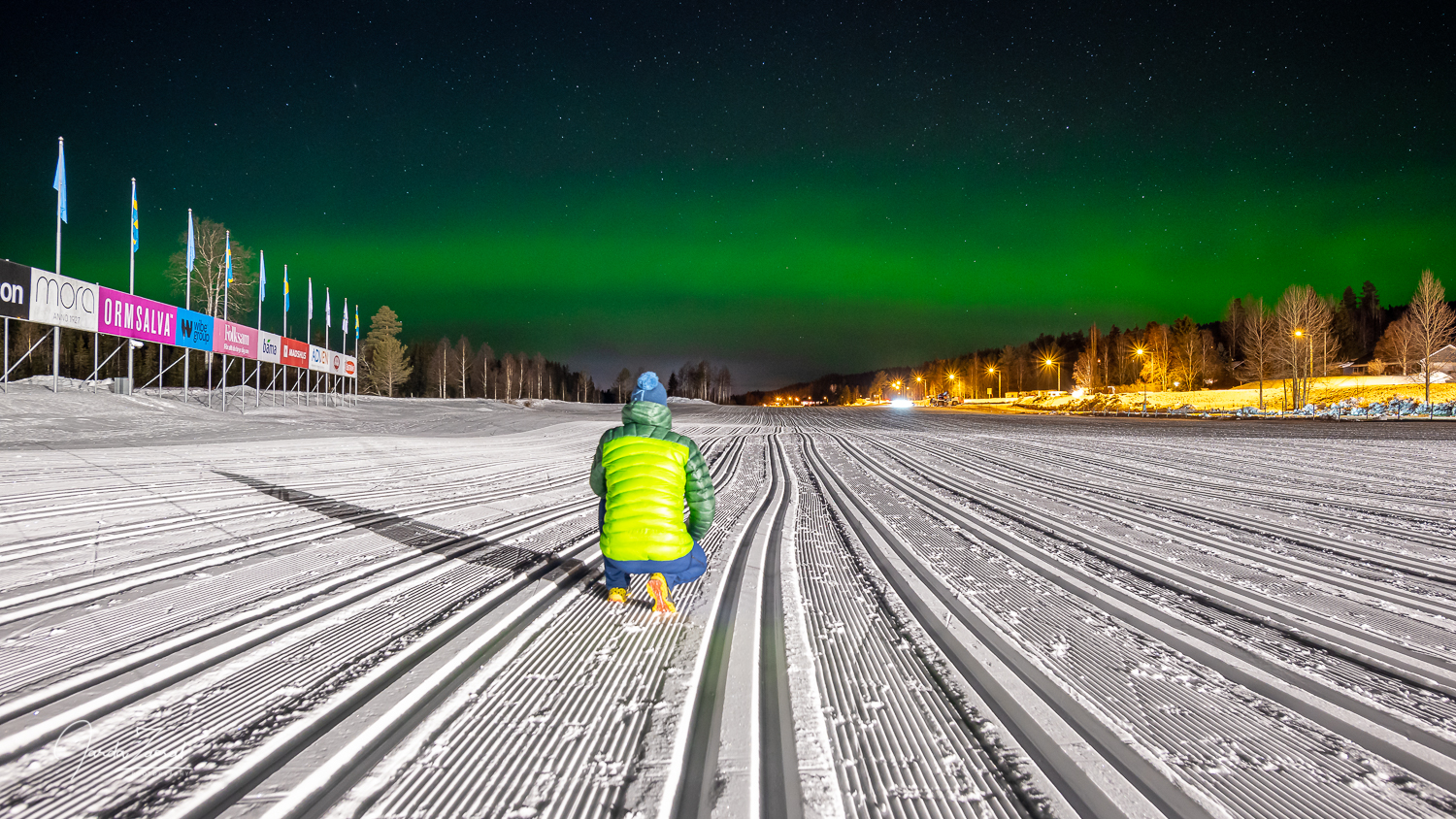 Crazy wake up time and crazy snow conditions
I am woken up by my alarm at 2:30 a.m. on a mattress in a gym surrounded by 50 other waking guys. Shit! It was a dream! I quickly realize the reality. It is 2014. I am in a small village called Nusnäs at Siljan lake. Today, my father, our friend Håkan and I are doing Vasaloppet. We are two and a half hours of driving from the start, and we have to hurry to get some breakfast. While eating oatmeal and drinking tea we are looking outside. It's snowing and temperatures are around 0 degrees. Damn it. This means the slowest possible snow for skiing.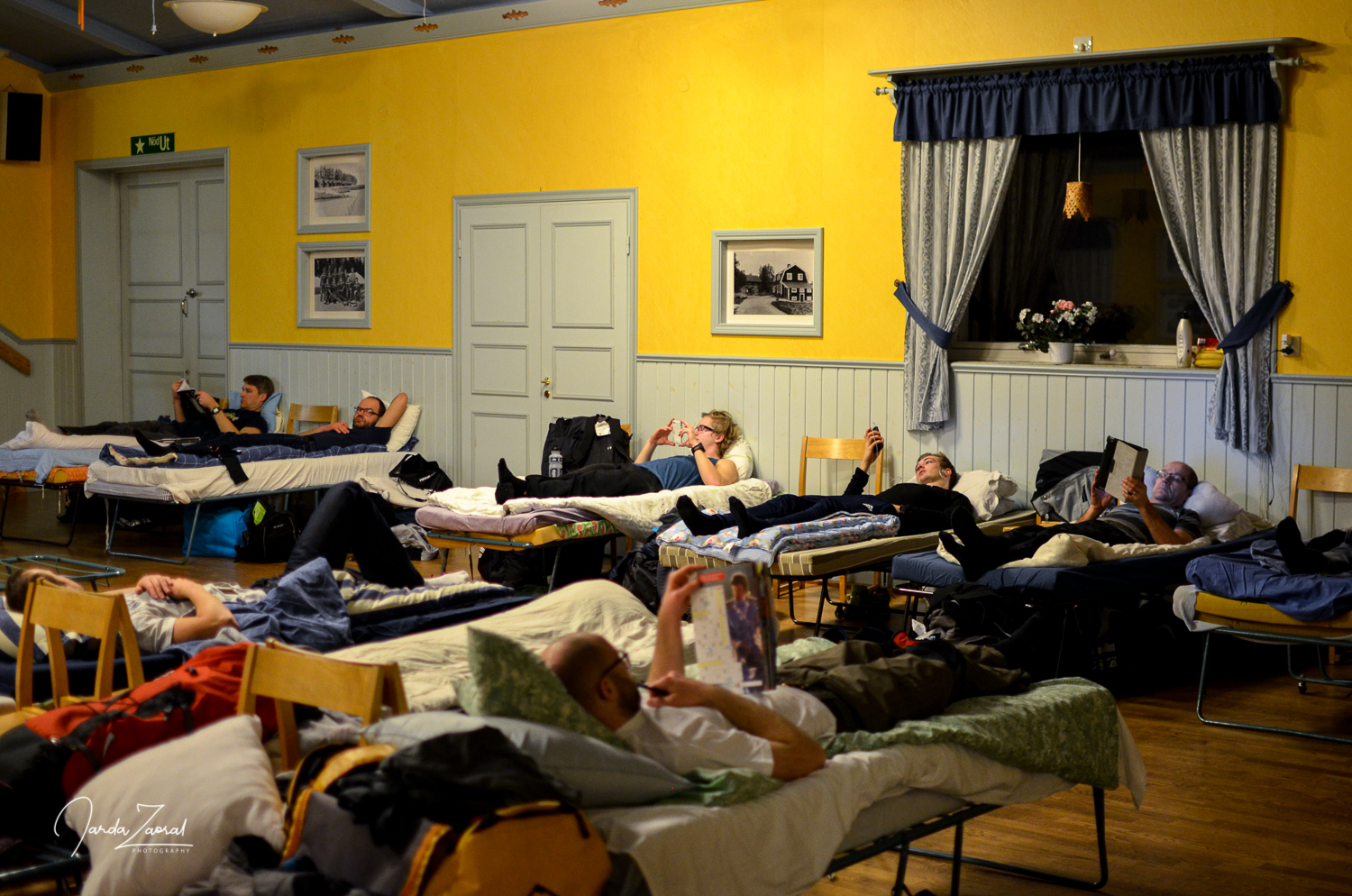 Why am I talking so much about the snow conditions? For someone who doesn't ski, it might sound like too much unnecessary information, but it actually matters a lot for skiers. Looking at the results of the past years´ races the bad and good snow conditions make a huge difference in racing time. While Petter Eliassen, the winner of 2020, needed 4:25:14 to complete the race, the next year's winner Tord Asle Gjerdalen managed the race almost one hour faster with a time of 3:28:18. Among the amateurs, the time differences are even more significant. Slow snow means much more tough and demanding conditions.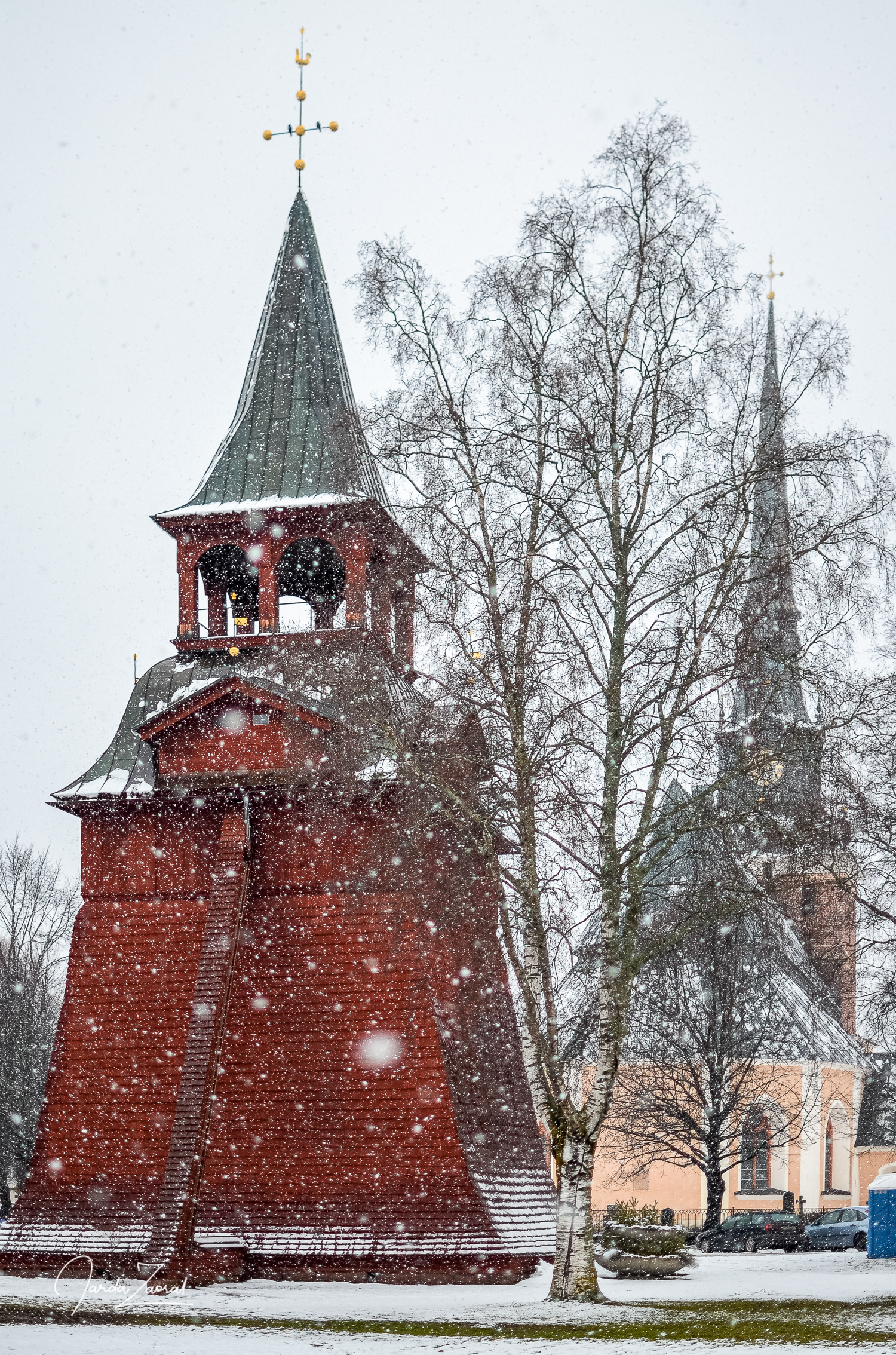 Don't underestimate the preparation for Vasaloppet
After breakfast, we pack our skiing equipment, food supply for the race and head towards the bus. There I start to wonder. Did I train enough for Vasaloppet? As a kid I didn't like cross country skiing much. It felt boring compared to other winter sports. Luckily, I was a happy kid. The winters were still cold so I could play ice hockey with my friends behind our house and my family spent most of the winter holidays in the mountains. There we did downhill skiing, and I enjoyed skiing at full speed.
After moving to Sweden though, my early disinterest in cross country skiing didn't help me with my Vasaloppet goal. I was comfortable at downhills at least. These are often most scary for beginners. I was more worried about my poor technique and weak arms. Fortunately, I studied at Umeå University located in the north of Sweden, so I had a long winter to get ready!
First, I needed skis. As a broke international student, I only had money for second-hand skis. I bought all poles, ski boots, and skis for just 200 SEK (20 EUR). Well, the price equals the quality. My skis were made in 1988.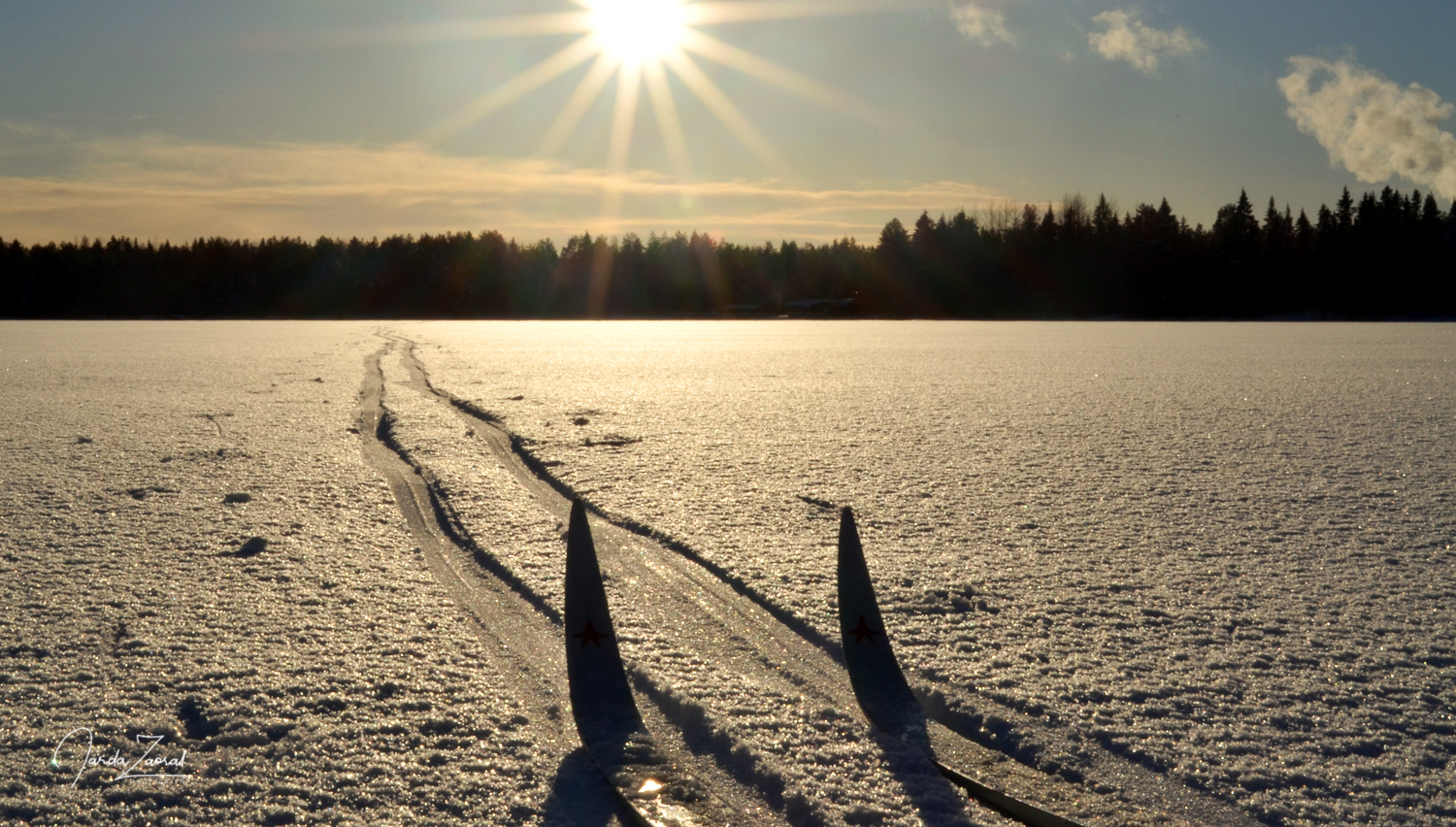 When it comes to training, I never would have made it to the start without my amazing Swedish friend Håkan who is a big cross country skiing enthusiast and six times finisher of Vasaloppet. He often trained with me and gave me many valuable tips regarding technique. He also explained to me how important it is to do some race before: "Vasaloppet has many starting groups. If you don't do a cross country ski race before, you automatically end up in the last seeding group 10. You'd rather start in some better group. If you start in the last group, there will be large queue in front of you and you will lose over one hour in time until you climb the first long hill."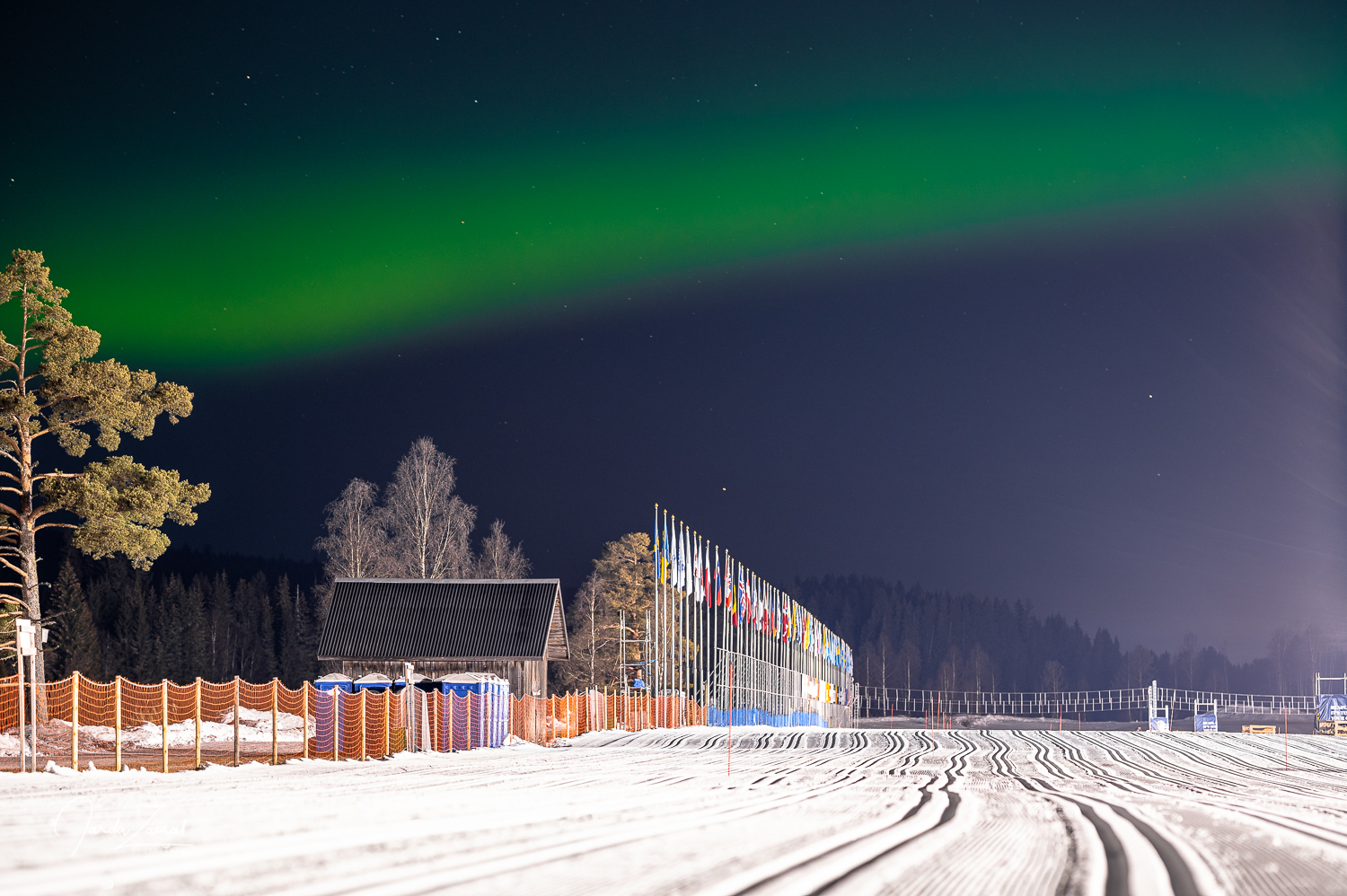 Take part in a preparation race outside north of Sweden
So that´s what we did. We participated in a local 40km race in Umeå called Vildmannaloppet. Unfortunately, I chose maybe the worst winter for the race. There wasn't enough snow and Vasaloppet organizers were worried that the race will have to be cancelled due to lack of snow. A similar situation was going on in Umeå. The preparation race couldn't happen on the usual 10km track due to the limited amount of snow so we had to do it on a 5km artificial snow track. We had to do 8 laps.
The race was not fun. Racing in the north of Sweden means that you compete with Swedes who were basically born on skis. It didn't take a long time until all the local skiers left me behind. The only guy whose pace I managed to follow was another exchange student from France. Before I finished the first lap, I was already lapped by the fastest local skiers. This is not something that helps your self-esteem, but I kept on fighting.
The race was long and tough. I couldn't even count how many times I was lapped but I was telling myself: "This will help you to qualify for a better starting group at Vasaloppet. You will have a better chance to finish it!" Here, I have to mention one more important detail. You can't finish Vasaloppet in whatever time you feel like. There is a time limit and cut-off times on the way! The internal motivation helped me. I managed to complete the race even though I finished second last. Yes, I managed to beat the other exchange student! But most importantly – I will be seeded for Vasaloppet!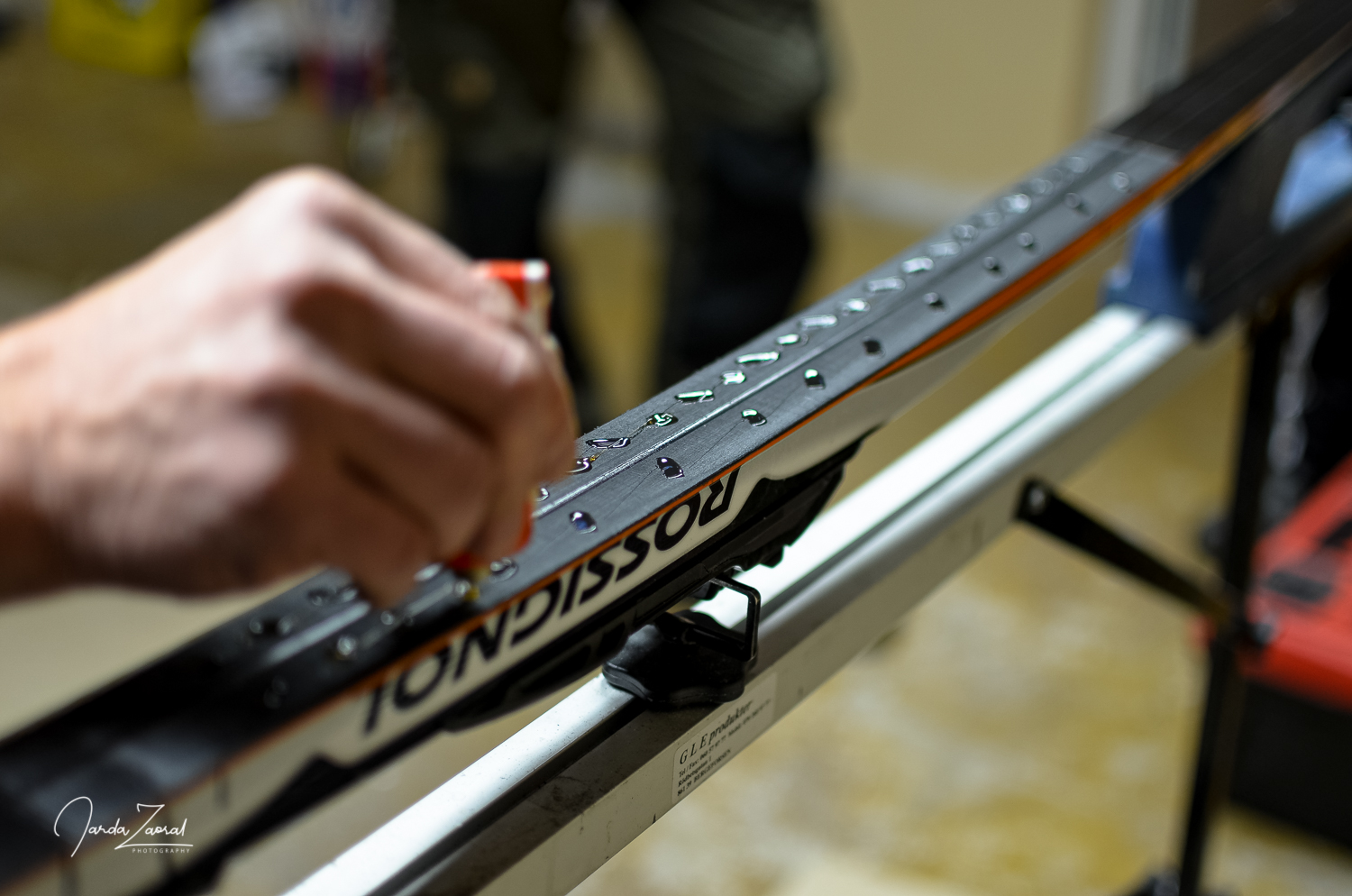 The start of Vasaloppet is full of emotions
We are arriving to Vasaloppet start. It's 6 a.m., two hours before the actual start. Our bus manager´s tactics are to arrive early, so we get a good spot within our starting groups. My father and I are going towards the last group 10. Håkan forgot to mention one rule for the seeding – you need to finish the preparation race before a certain time to be seeded. I finished the preparation race too late.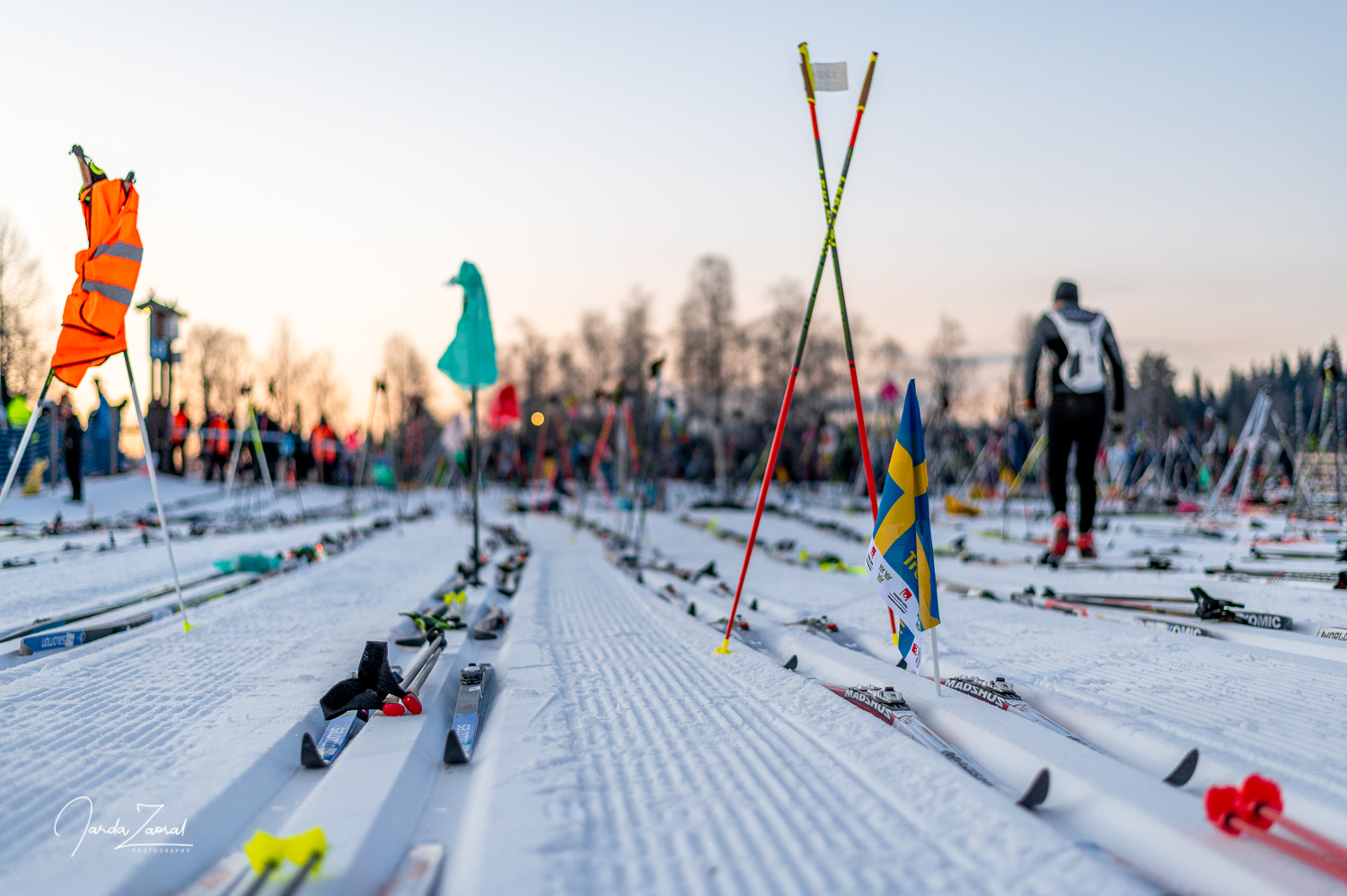 It's still dark outside but huge lights are lighting up the thousands of skis placed in the tracks. I am putting my new racing skis, which Håkan lend me for the race (Thank you so much!), somewhere in the middle of group 10 next to my father's skis. Now it becomes real: we will really run Vasaloppet! Today, I will either finish or I will die! Other members of our bus have already placed their skis in better groups, and my father and I watch them warming up their muscles with exercises and runs. We decide to save as much energy as possible and we take a short nap in the bus before the race.
It's 7:40. I am finishing the last snack before the start, and I am heading towards my skis. The atmosphere there is incredible. There is a tower in the middle of every starting group with dancers who have the task to warm up all the participants. Even my father and I dance to the Avicii songs. 5 minutes before the start all the dancers leave. We listen to Vasaloppets anthem, and I feel goosebumps.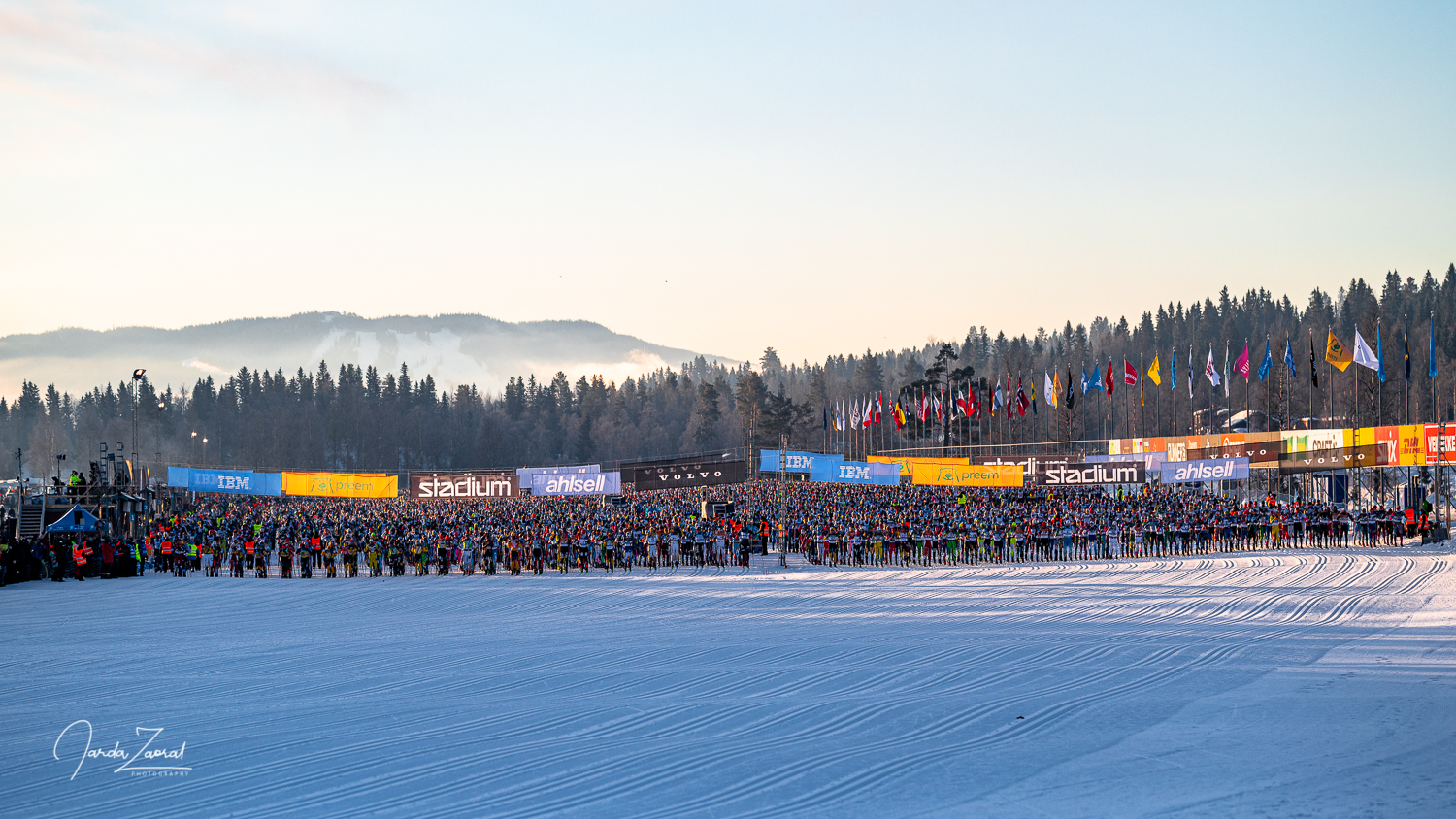 The longest day of my life
BANG! The race is initiated. The elite racers move quickly towards the first hill. We wait for a couple of minutes until we can start moving. "Good luck, dad! See you in in Mora in 12 hours!" Our group 10 slowly moves forward. When we reach the first uphill the crowd stops. I see some space at the left of the track, and I manage to overtake some participants. I think I found a cool shortcut but it still takes a lot of time to get to the top of the initial hill. My watch says 65 minutes. Håkan was right.
I was surprised how many people I managed to pass. It must have been hundreds of racers. Very many of them chose the wrong waxing strategy and had to stop to re-wax their skis on both sides of the track. I made it to the highest point of the whole Vasaloppet without stopping. Here, the crowd finally starts moving. Let's go racing.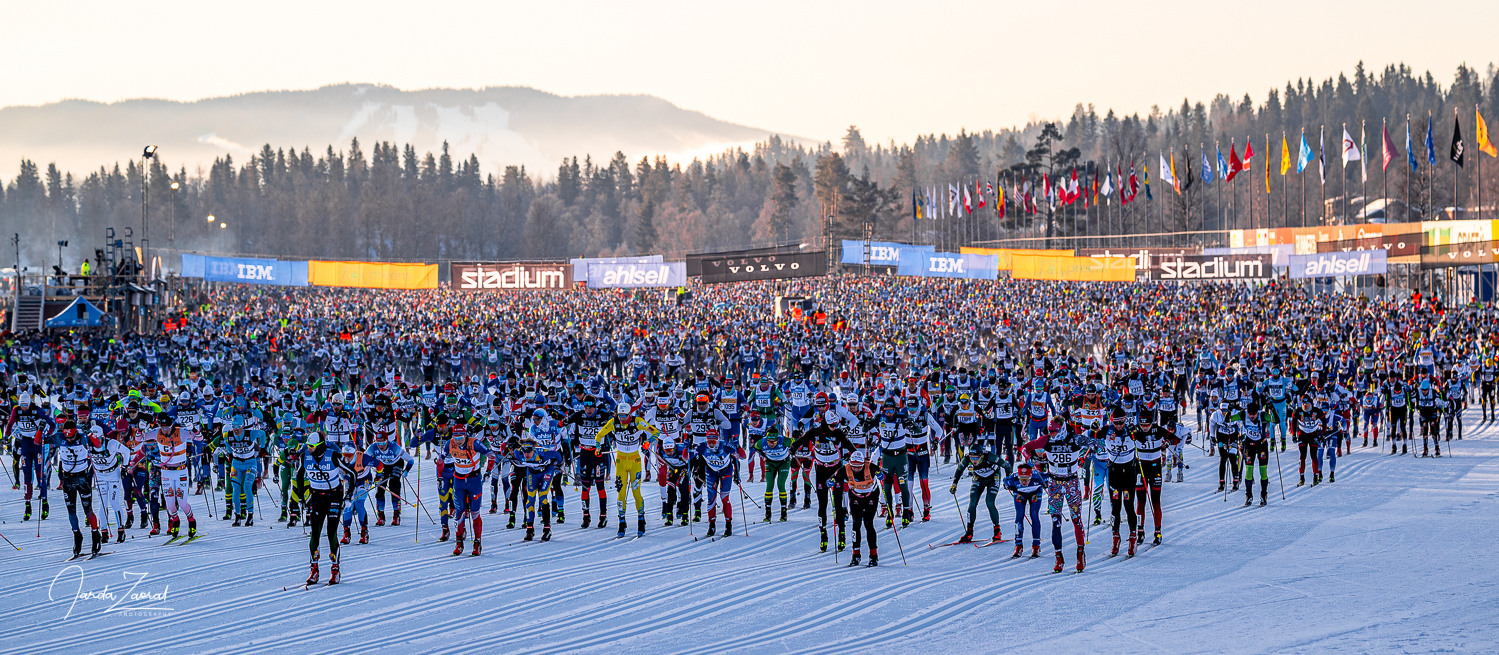 For people who like downhills the first 11km to the first stop Smågan are amazing. After the initial climb, the route goes smoothly down, and you can pass a lot of slow racers. It was my favourite part of the whole race. From this point the route starts to be challenging. After Smågan, there are six more stops on the way. To manage the whole Vasaloppet, it is very important to get enough energy at every stop. At each of these stops you can get the famous Vasaloppet blueberry soup, energy drink, water, a broth, a bun and at some stops also coffee. The distances between stops vary between 9 to 13km so it's good to study the map before so you can expect what comes next.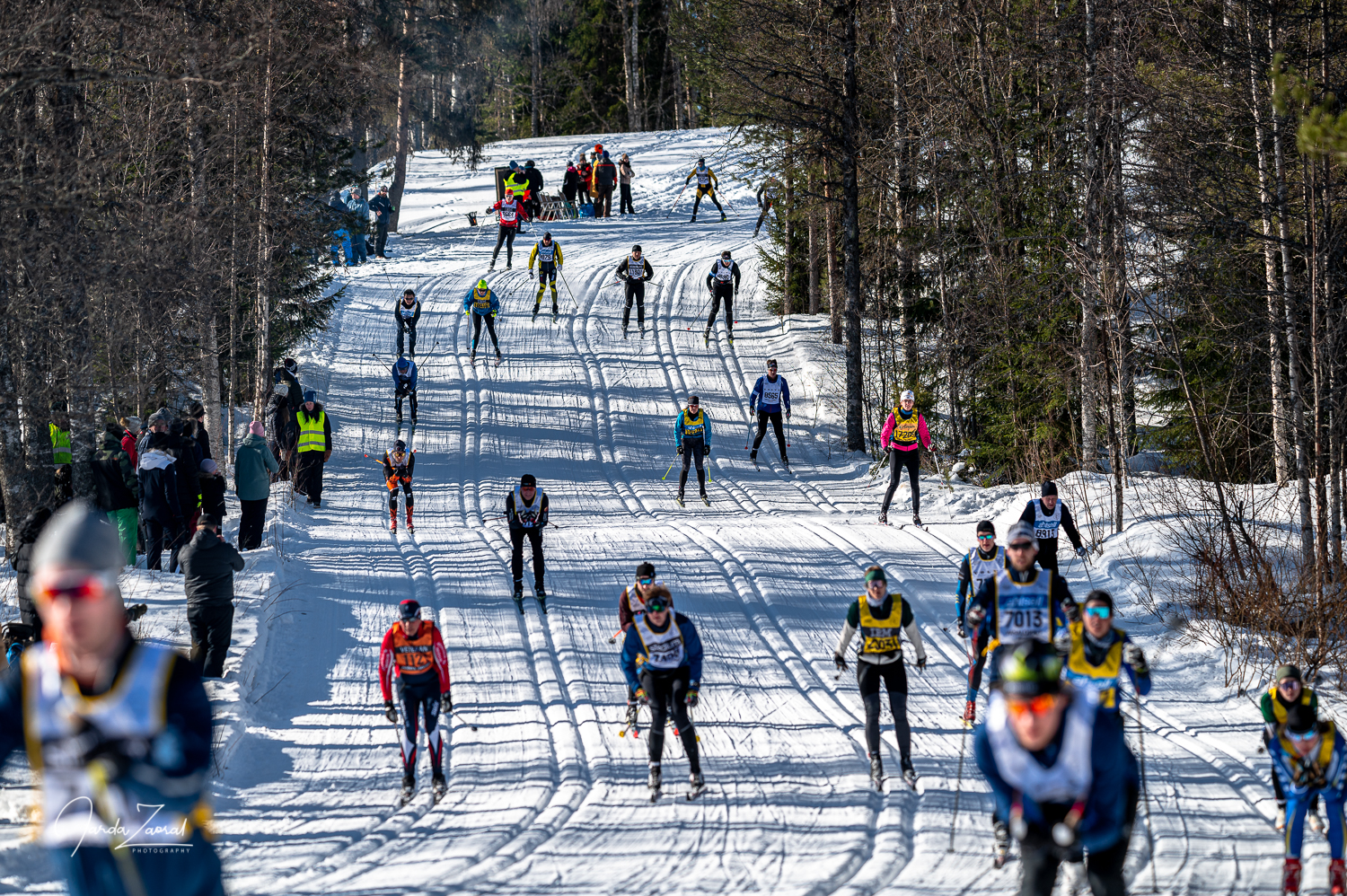 Plan your nutrition intake before Vasaloppet
I heard that many racers manage to complete the race just by taking what is offered during the race, but should I risk it? Since I have never experienced such a long race before, I didn't dare to underestimate it. You might laugh at me, but I brought small pieces of bread and my favourite food for emergency – 5 small schnitzels.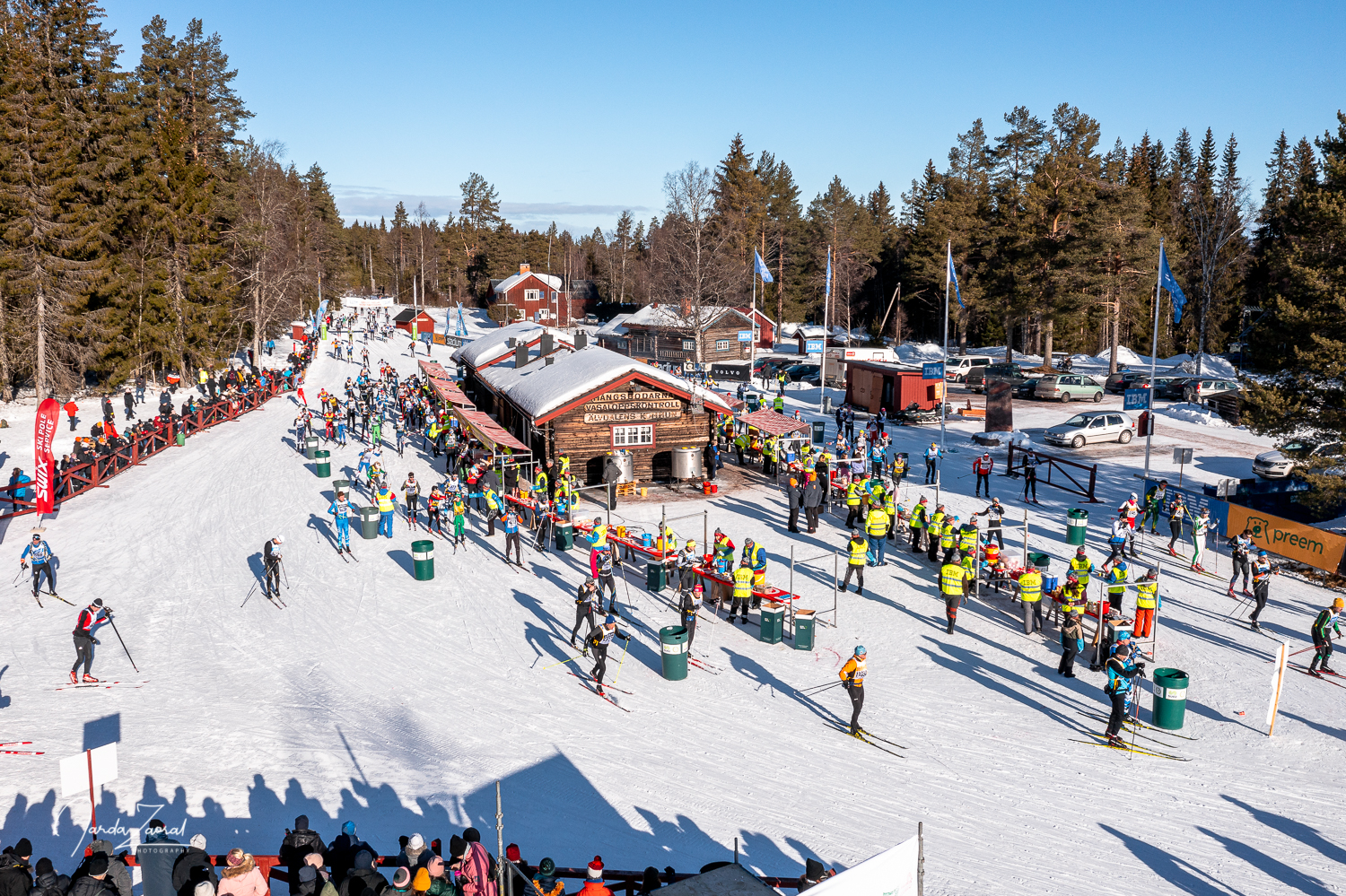 It turned out to be a great food strategy. At every stop I took one of each of the offered drinks plus one small schnitzel and I had enough energy for the first 60km of the race. Even though the snow was slow and my speed was only around 10km/h, I never had to stop. I passed Mångsbodarna, Risberg, Evertsberg and Oxberg and two thirds of the race were behind me.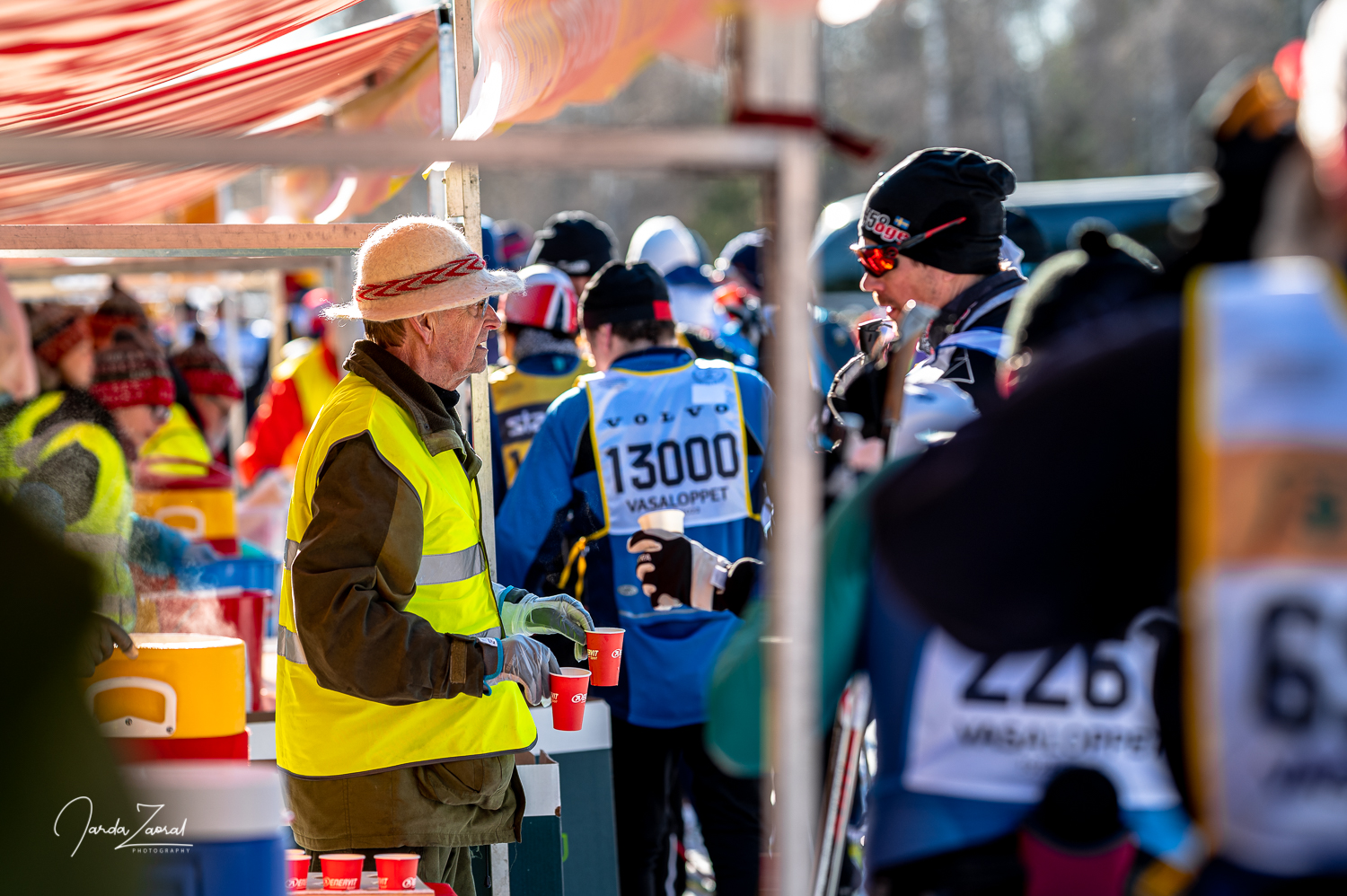 Count on an unexpected crisis
After climbing to Oxberg I felt quite confident. I had heard that there shouldn't be any large climbs anymore. I believed I would manage to finish the race. But here I made a mistake. I underestimated my energy intake and my waxing stopped working due to a change in temperature. I collapsed somewhere halfway on the way to the next stop at Hökberg. The situation was bad. I suddenly went out of energy, and I experienced a big crisis. I could only go very slowly, and I was scared that I will have to give up. Many racers were passing me, and I felt hopeless.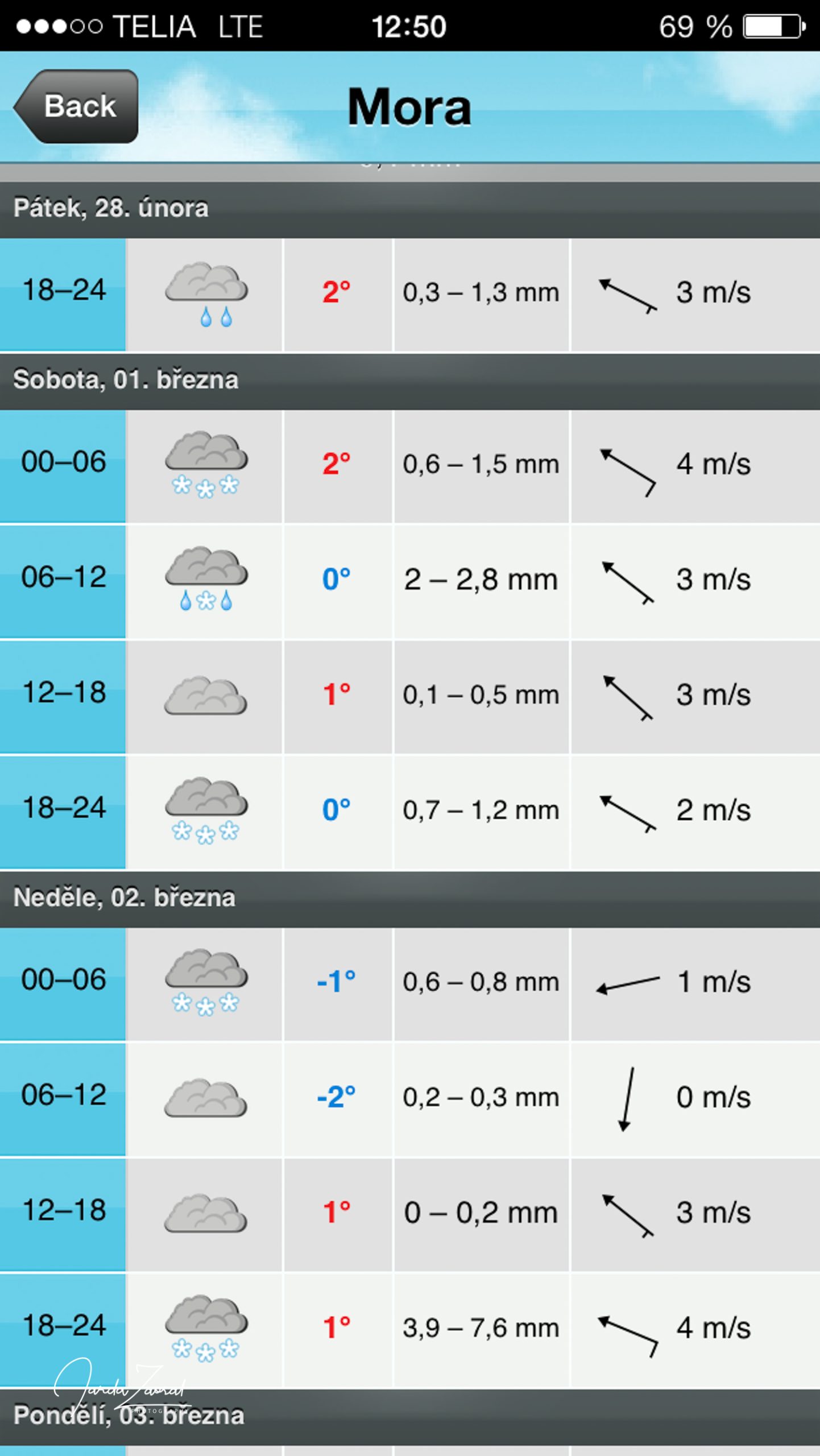 At this point only a miracle could save me. And the miracle occurred. Out of nowhere I saw an angel. There was a small girl standing next to the track. She was cheering on the racers with her father in typical Swedish: "Heja, heja" and she was giving out pancakes to those in need. When I heard her say "Vill du ha en pannkaka?" my emotions just got to me, and I started to cry of happiness. The pancake gave me enough energy to make it to the next stop at Hökberg. There was a waxing service which fixed my skies and I could continue.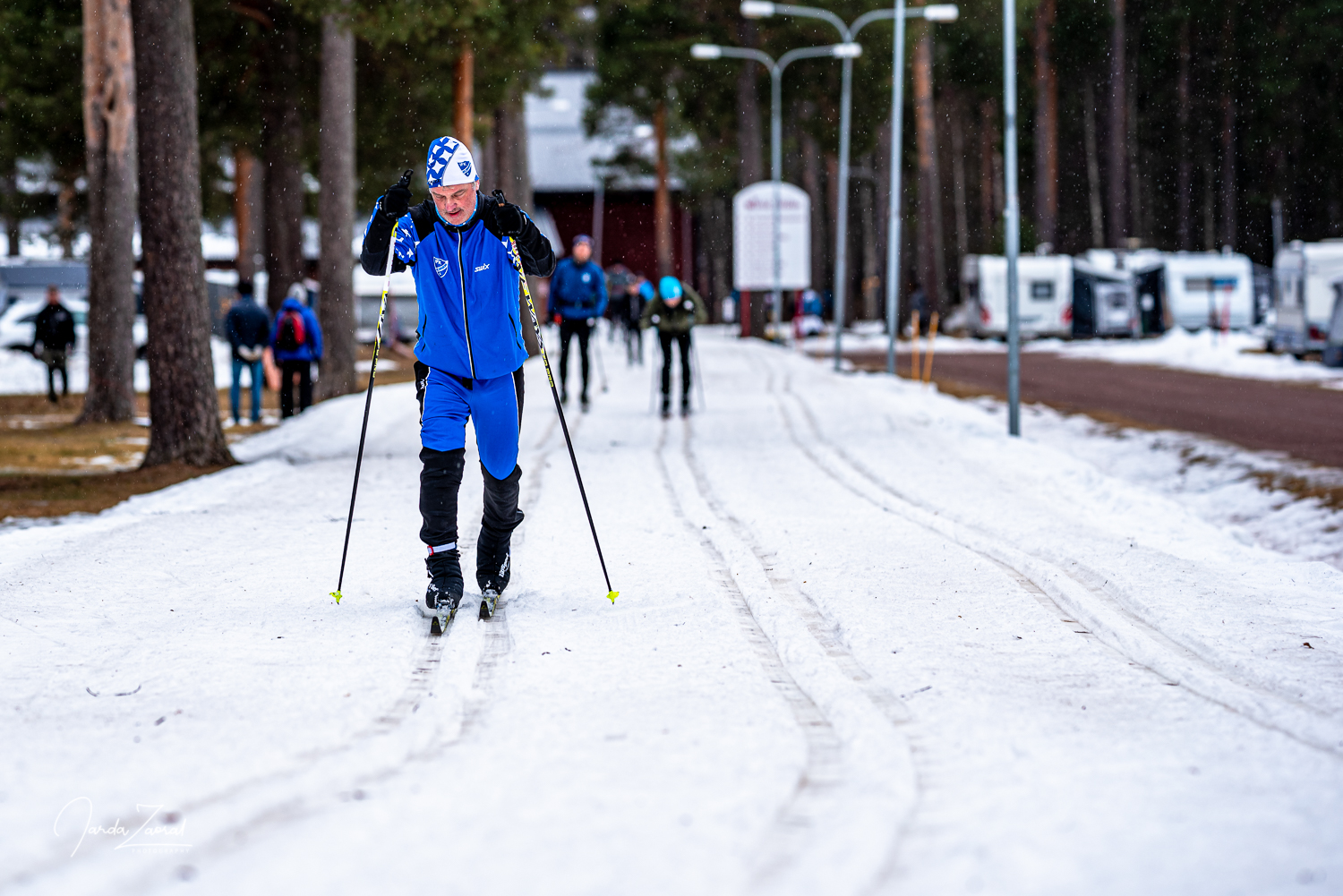 The last 20 km hurt me everywhere in my body. I even felt pain in parts of my body where I didn't know I have muscles. It was also getting dark but the supporting spectators along the way gave me enough energy to finish. At the last stop I took an extra boost by taking a coffee and at a time of 09:09:33 I successfully passed the finish line. What a feeling! Vasaloppet is finished!
Now it's just time to celebrate with my father and Håkan in a pub nearby over a local beer. We managed the Vasaloppet in one of the worst conditions in years. Out of 15800 who registered for the race only 11248 finished in 2014. We managed to beat for instance the Swedish ice hockey star Peter Forsberg who gave up his race somewhere between Evertsberg and Oxberg.
Back to the dream Vasaloppet 2022
Eight years later, the dream I had before Vasaloppet 2014 came true. Joanne and I just took a different role at the 100th edition of Vasaloppet. This time I got a press accreditation to document the race. In this way I could return to my memories of my first Vasaloppet and show you pictures of how amazing the race is. If you consider doing the race, don't hesitate for a moment. Even though it was the toughest physical exercise I ever experienced I would do it again. I actually already did. In my next post, I will tell you how Vasaloppet was in perfect vårvinter conditions, this time using a different skiing technique – skating/freestyle.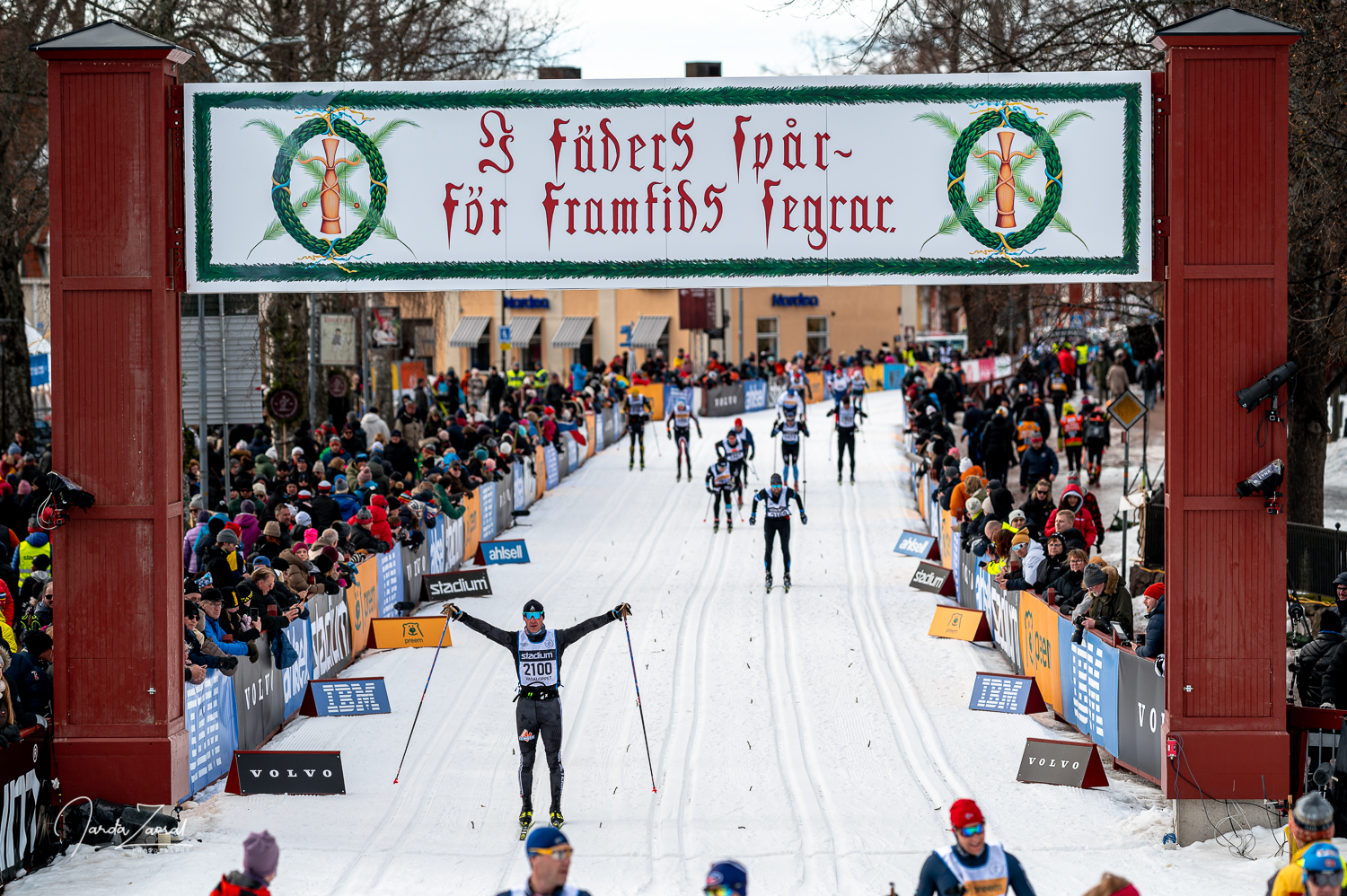 Fun facts about Vasaloppet
Vasaloppet belongs to the four grand classic races. The other races are Italian Marcialonga, Czech Jizerska50, and Norwegian Birkebeinerrennet. A victory in all four races, a grand slam, gives the winner 100,000 Euros! If you get good enough in skiing you can also get pretty rich!
An average racer drinks over a litre of blueberry soup during Vasaloppet. During the whole Vasaloppet week 2022 (consisting of different races) the participants consumed 33,900 litres of blueberry soup, 28,000 litres of Enervit sport drink, 11,900 litres of vegetable broth, 3,100 litres of coffee and 200,000 Vasaloppet buns.
No littering! If a participant is found to have littered in or along the Vasaloppet course (which is a nature reserve) then he or she will receive a time penalty of 15 minutes.
The average age in Vasaloppet 2014 was 42.1 years. The youngest participant in Vasaloppet 2014 was 18 and the oldest was 87.
2.195 racers in 2014 were women which means 13,8% of all participants.
Racers from 73 countries participated in Vasaloppet 2014.
The average racer loses 3kg of body weight during a full Vasaloppet.
All 15 800 tickets for Vasaloppet 2014 were sold out in just 10 minutes!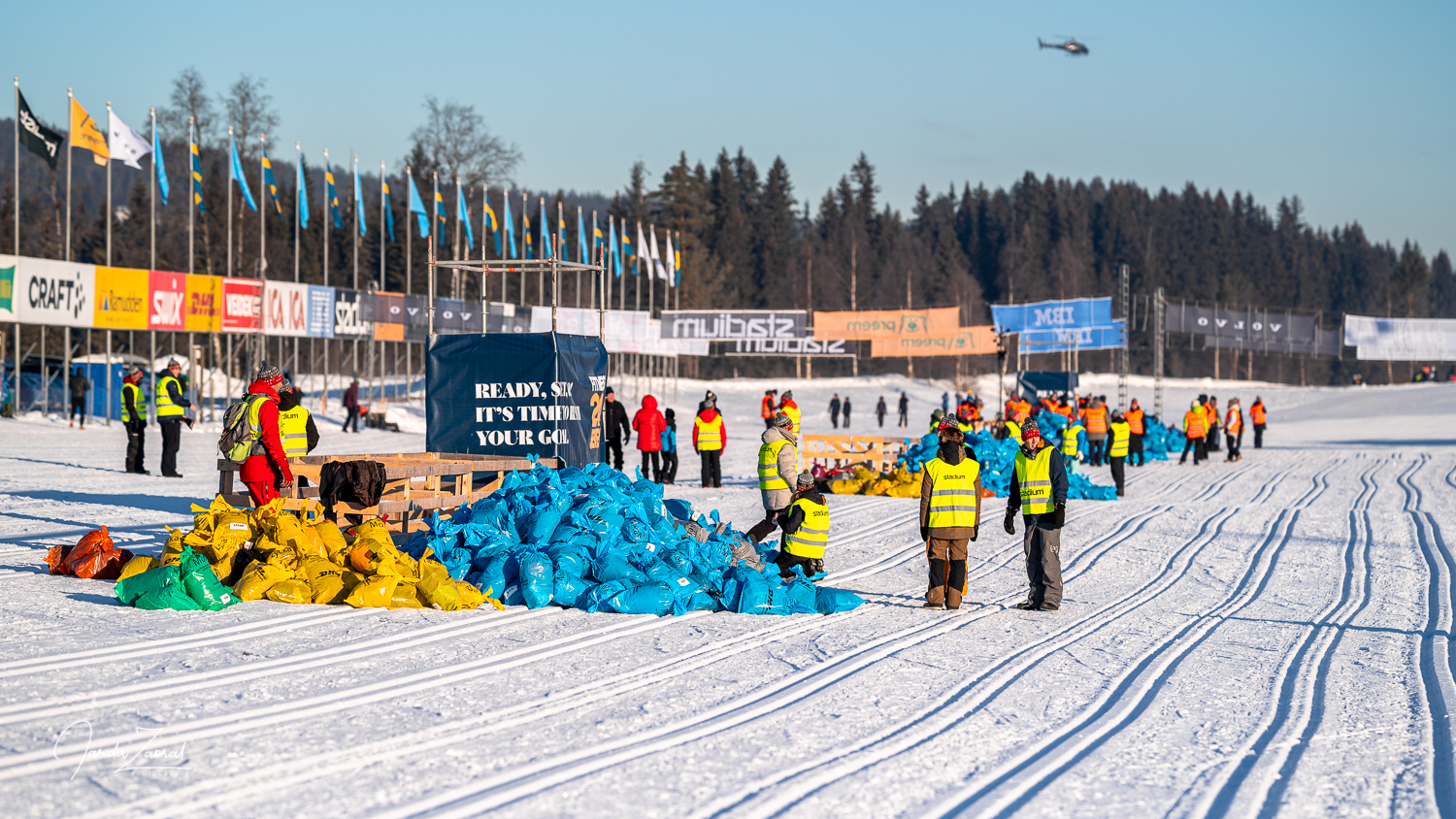 My personal tips for your first Vasaloppet
Be ready to buy the ticket for Vasaloppet in time. They sell out in just a few minutes.
It's recommended to start training at least two years before the race. During summer consider training on roller skis.
Try to participate in a race before to seed better than in the last starting group. Choose a race outside north of Sweden. There's higher competition there, so it's more difficult to qualify.
Take great care of your skis before the race. It's worth spending some money for a professional waxing service.
Book your accommodation before the race close to the start at Sälen. You will have more time to sleep, and it will save you a lot of energy.
Plan your food strategy and test it before the race. Don't experiment with something new on the race day.
Take some food at every stop on the way. You never know when a crisis gets you. Take some food with you for emergencies.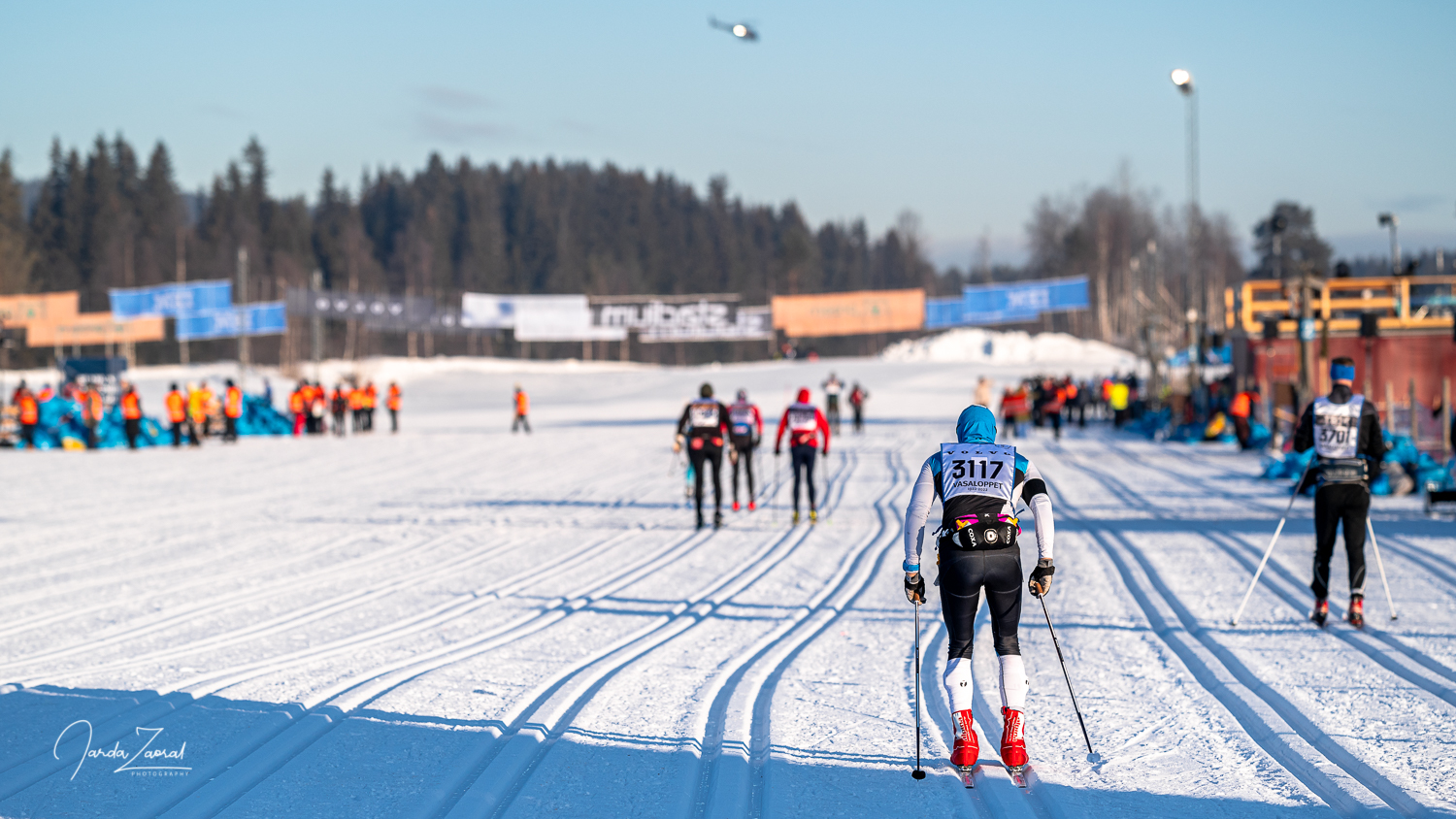 DISCLAIMER: Everything described in the dream actually happened. The only exception is the comfy camper van. We slept in a standard rental car and I have to admit: It could have been more pleasant. In -15°C we were pretty cold and when we got home we got sick. Rent a proper camper van.