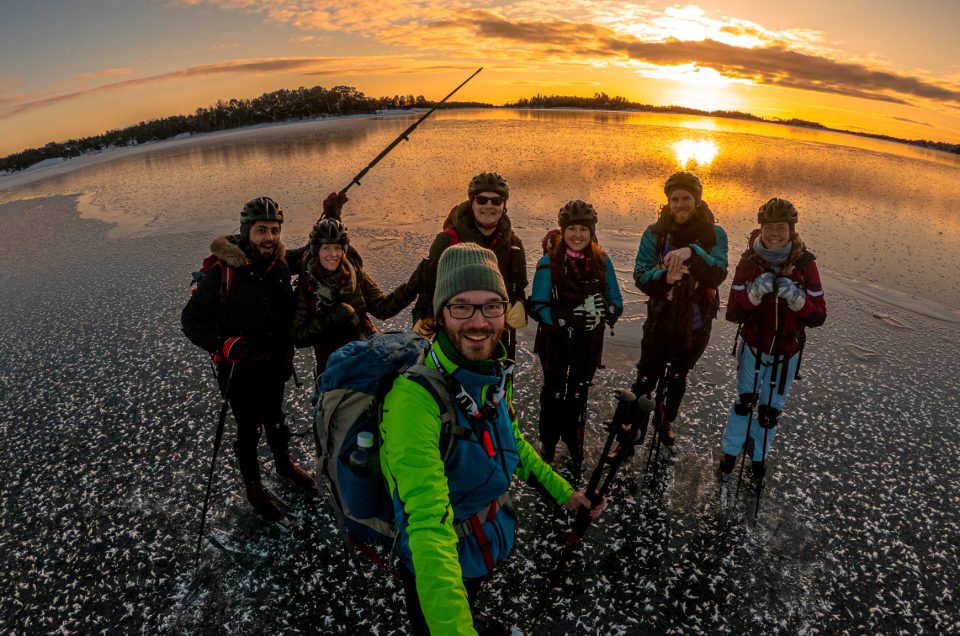 Last Updated on March 21, 2023 by Jarda
After testing and finishing Vasaloppet, I present to you a new winter sport. Do you know what Stockholm is unique for in winter? Why is it called a winter paradise among a large outdoor community? The answer is ice skating opportunities. Thanks to hundreds of lakes and the largest archipelago in the world nearby there are countless opportunities. Would you like to try skating on endless lakes or sea too? Follow my tips or join me on an organized skating tour. I am not only enjoying trips on ice in my free time on my own, I also work as a skating guide in Stockholm.
Stockholm is the best place for ice skating in the world
If you look at the latitude of Stockholm, the Swedish capital lies far in the north but winters are surprisingly moderate here compared to other places this far in the north, for instance in North America. The gulf stream does its job so temperatures usually flactuate around 0 in winter. This might not sound perfect for Stockholm ice skating opportunities but it actually is!
Let me explain to you the unique ice skating conditions we have in the Stockholm area and why it is the best place to skate in the world. For great ice skating conditions we need to fulfil two assumptions:
Cold temperatures so lakes and the sea freeze
No precipitations so the ice is not covered by snow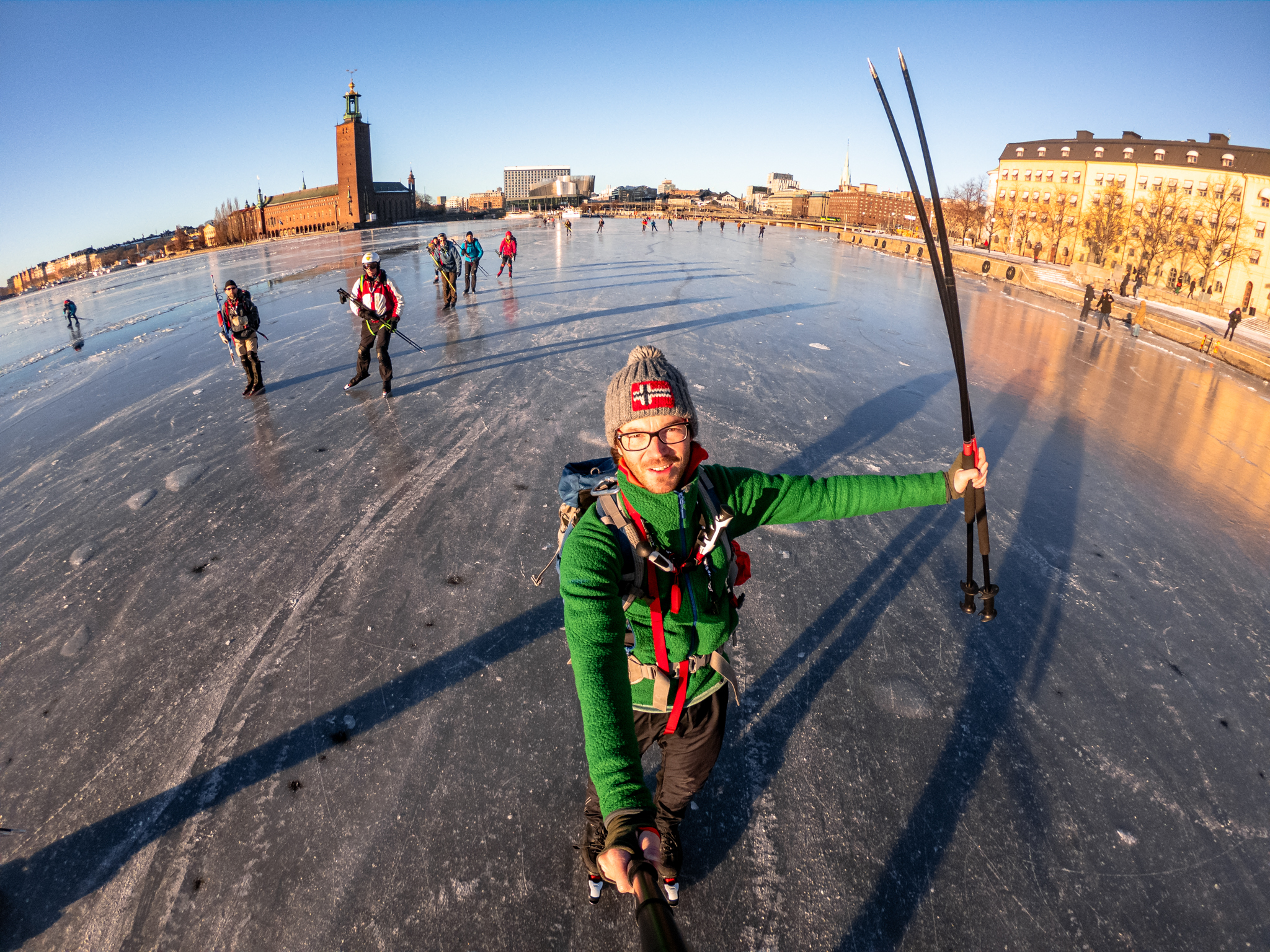 In Stockholm's climate there is always a cold period when eastern winds prevail. During that time (usually coming in November and December), cold temperatures freeze the lakes and sea and it creates amazing opportunities for skating.
This moment usually doesn't last long in other cold parts in the world because snow follows soon and the ice disappears under a thick white layer. On the other hand, snow is much less common In Stockholm and if it snows it often doesn't last for a long time. Western winds show up, they bring warmer weather and the snow melts. This is good news for skating. Ice needs much higher temperatures to melt so the snow disappears and we can skate again!
These warm and cold periods usually alternate through the whole winter in Stockholm and that's why we have the best skating conditions here. Another advantage of Stockholm is the large variety of water surfaces. We can find here small, medium and large lakes as well as the archipelago so there is also a new place to skate. Everything mentioned above brings the opportunity to skate basically anytime from the season start (usually November or December) until the ice melts (most often some time in April).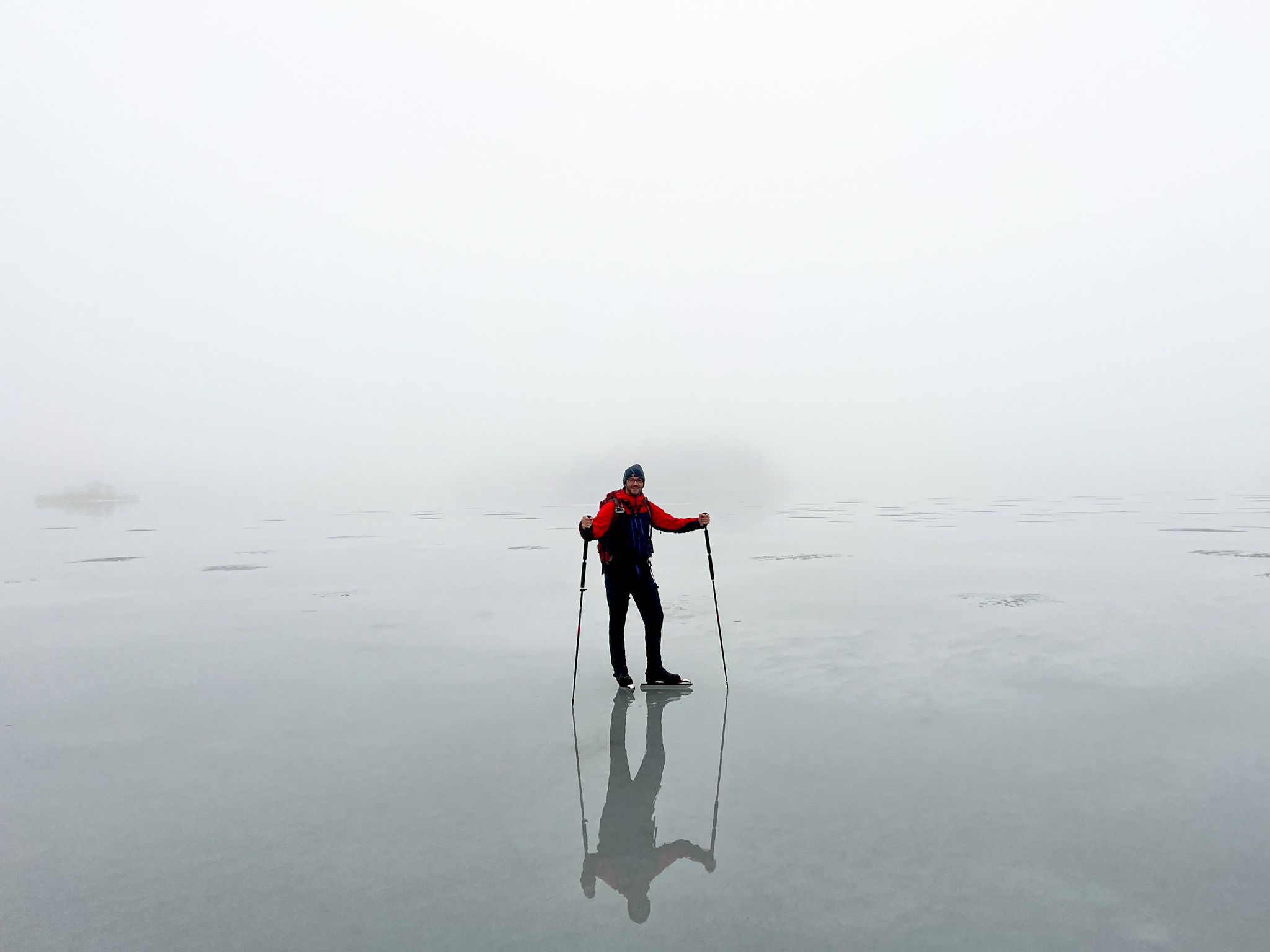 Safety first during ice skating
While skating is so much fun it's also very important to do it safely. Swedish lakes and especially the sea can be very tricky and you have to know where it is safe to go. Luckily, Sweden in general is very good with safety rules and you can see it also in the equipment of any Swedish skater. Local Swedish skating clubs don't allow their members to enter ice without:
Ice Skate & Boots – it would be difficult to skate without them 😉
Skating Poles – important tool to check the quality and thickness of the ice, also helpful if you have to go against strong wind
Ice picks– a necessary tool to get you out of the water in case you fall through the ice
Whistle – helps you to call help if you are in trouble
Rescue Lines – will allow your friend(s) to help you get out of the water
Backpack with extra clothes in waterproof bags
I would never go to unknown ice conditions without the above mentioned equipment either. During the last seven years of skating in the Stockholm area and three years of being a guide I still explore new areas every winter and the right equipment is crucial.
If you would like to buy your own equipment I recommend Alewalds store in Stockholm where you can get the best advice on winter equipment in Stockholm. If you would like to test the equipment first you can book a trip with the company I work for (booking below) and you can test the skating with me.
I also have to add that it's necessary to have a skating partner. In case of an accident it is important to have someone who could help out. That's why I always go on a skating trip in a company.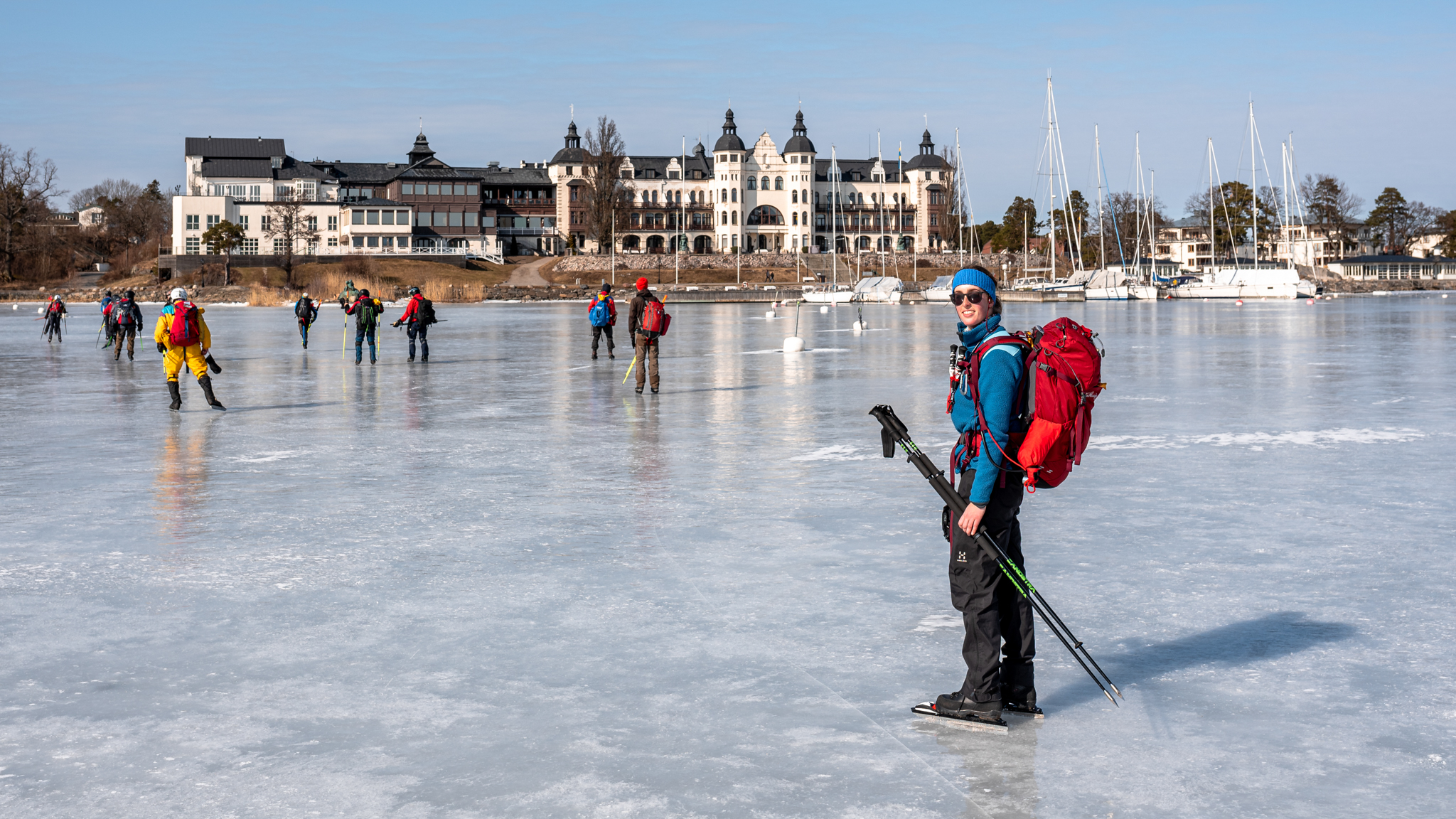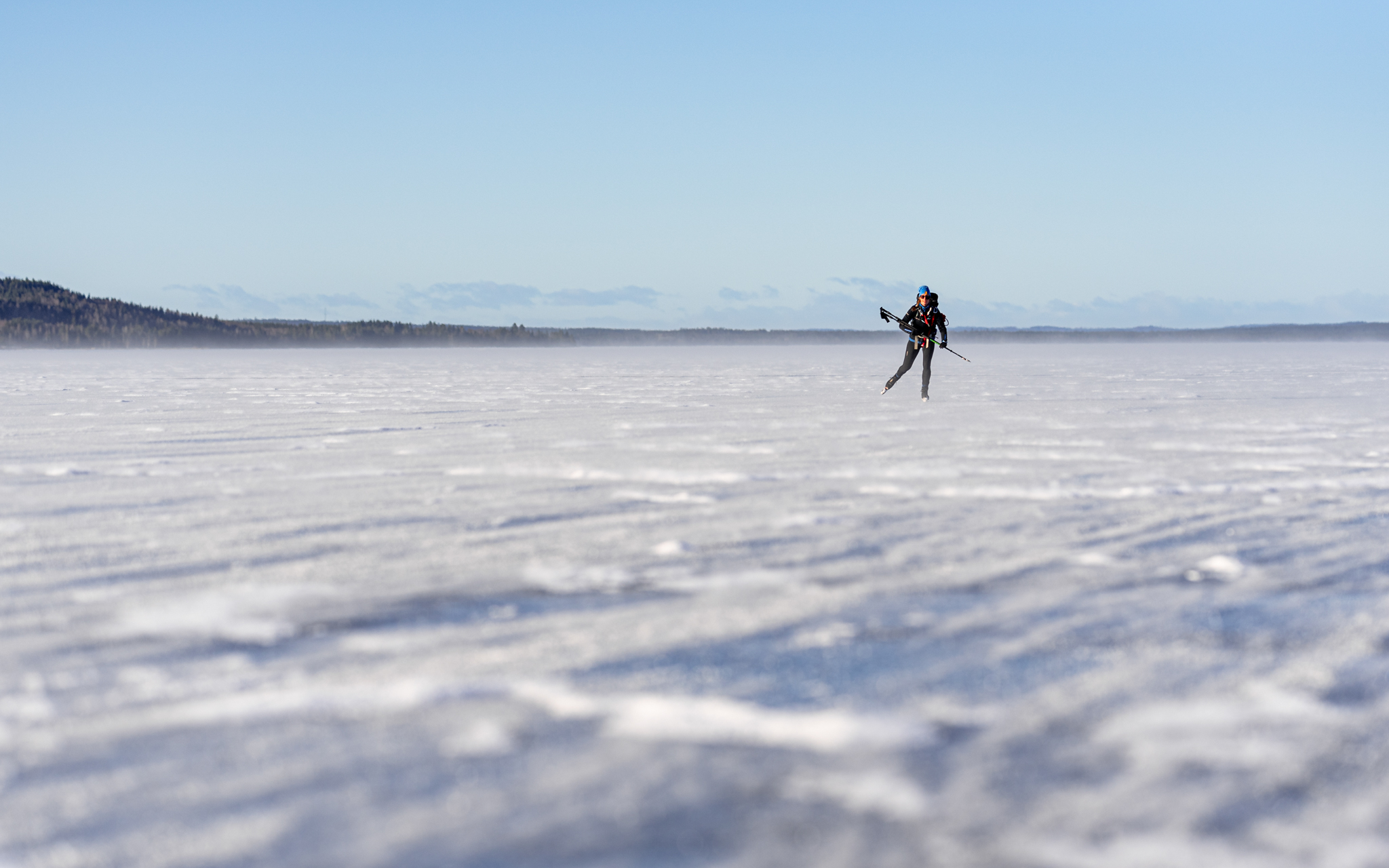 How is it to fall through ice?
It might sound crazy but I have never fallen through ice since I started to skate in the Stockholm area. I am always very careful and don't give the ice the opportunity to trick me 🙂 I am mostly thankful to the skating poles which always help me to evaluate the thickness. I was curious though how it feels to be in the freezing water so I tried it out in a course.
I was supposed to jump in a hole in ice and stay there for three minutes. Then, I had to get out of the water on my own thanks to the ice picks. I have to admit I was a bit scared but the experience was not as bad as I had feared. It was actually similar to jumping into a freezing water after sauna, just without the sauna to warm up again 🙂 Luckily, the extra clothes are compulsory on such courses too so I changed into fresh and warm clothes and I was completely fine. Getting out of the water with ice picks worked very well too.
It was a great experience because I know now that in case of an accident it isn't scary or a big deal. I am curious when my first fall through happens. I hope at least after seven more years 🙂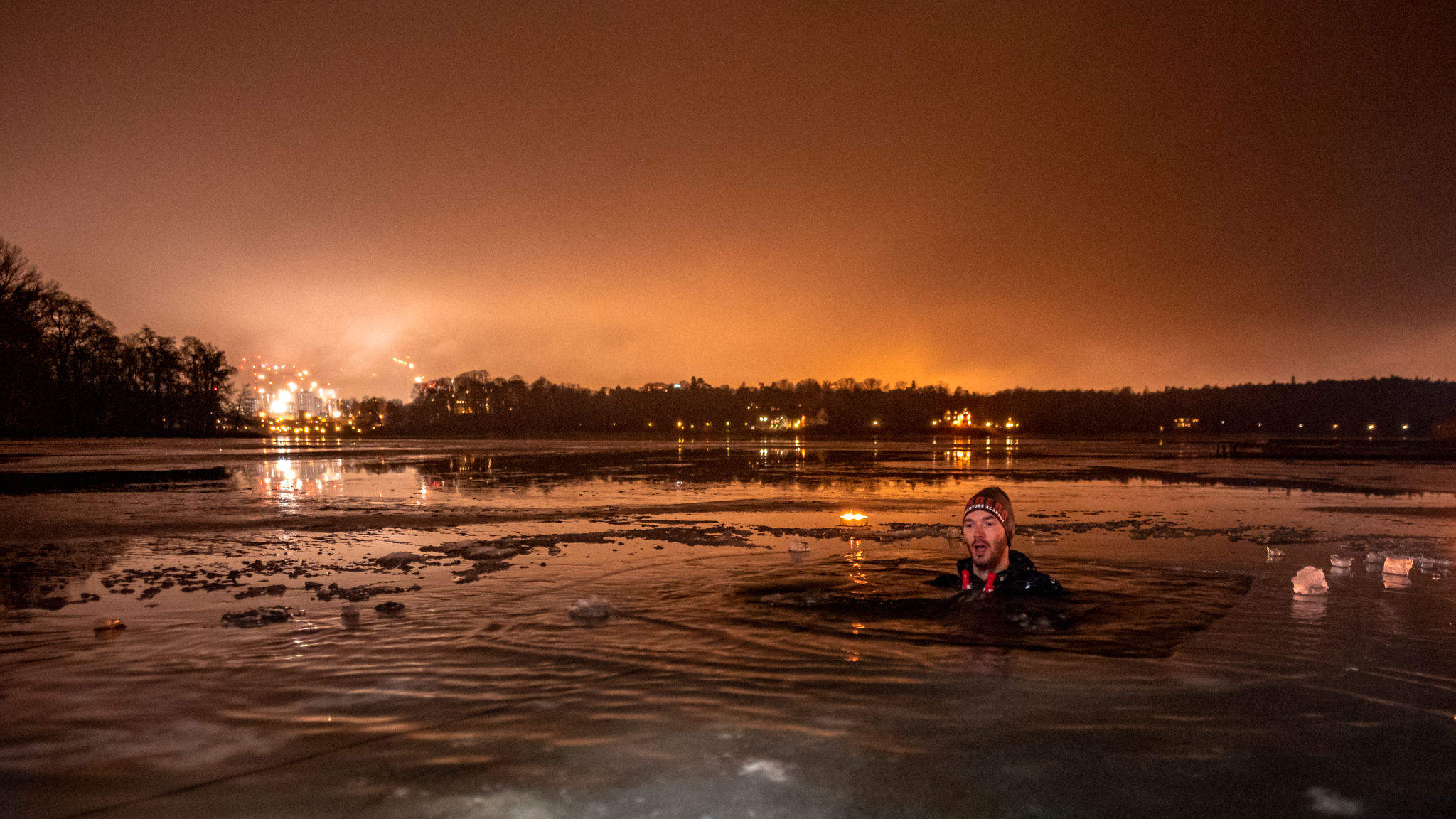 Try out skating in Stockholm with a guide
Of course, I started skating in Stockholm with guides. I had no idea what is safe or not. The guides give you safety because they have experience and they always go first on ice. If somebody from a group falls through the ice, it should always be the guide. The guests are 99% safe if they follow guide's decisions and recommendations. I have learnt from many guides during last seven years and taken a special ice course in Stockholm and I am enjoying the time skating with both my close friends and clients while guiding.
If you would like to experience natural ice too, book a trip with The Green Trails below and I will take you to the best ice of the day and you will have an unforgettable experience. We guide both people who know how to ice skate already as well as complete beginners and we have the full safety equipment ready for you. Please note that we make the trips extra safe and no client has fallen through the ice yet. Ok, for except one guy who did it voluntarily. He was very curious about the cold bath experience so we allowed him 🙂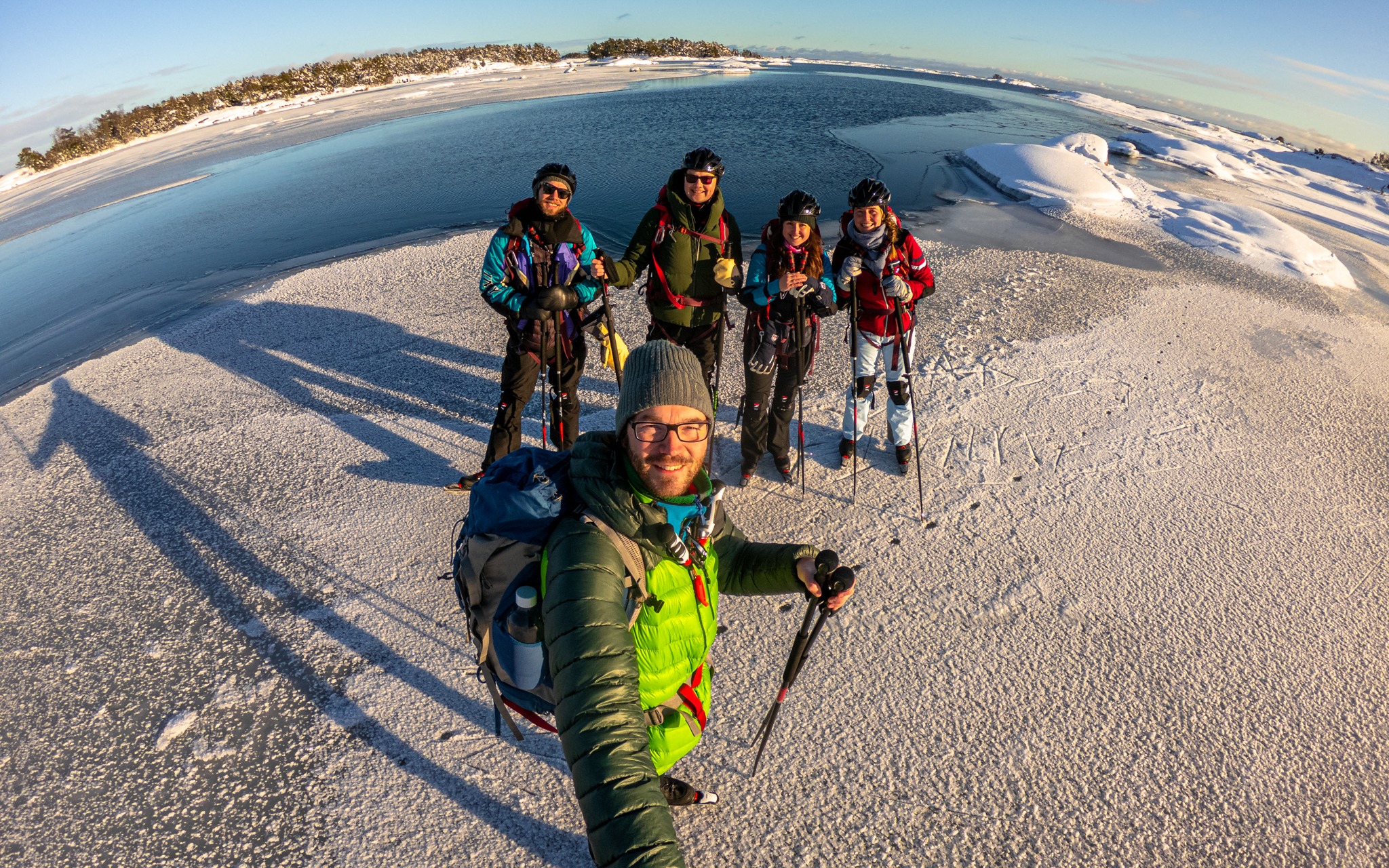 Book a skating trip with me below
I guide skating trips for all beginners, intermediate and advanced skaters. If you decide to book a skating trips with The Green Trails, don't forget to leave a comment in the Special Requirements section in the checkout that you found this tour on my blog. By that, you will make sure that I will be assigned to your specific trip and as a bonus you will get a small present 🙂 Below you can see what all skating trips we offer: