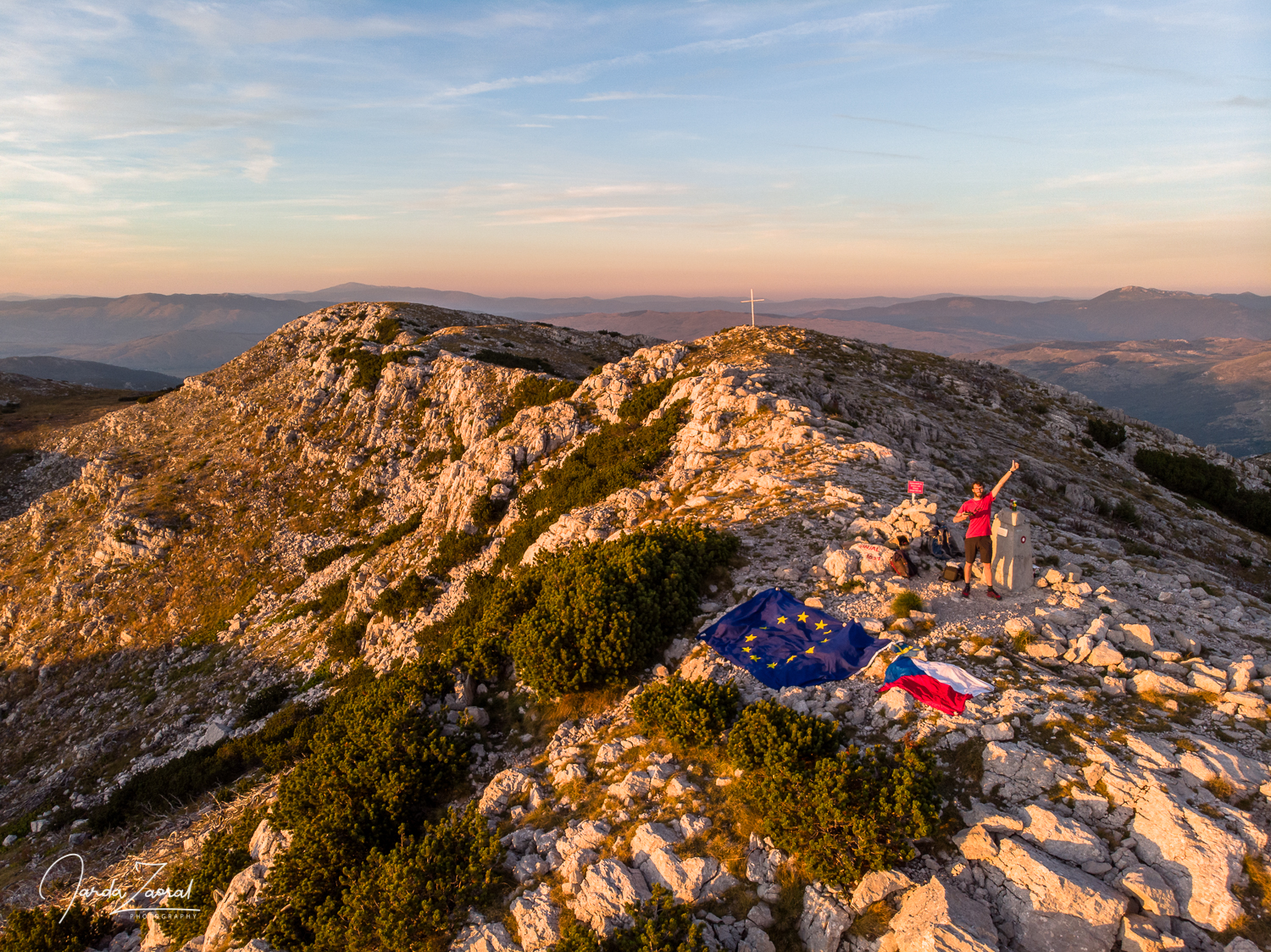 Last Updated on February 16, 2023 by Jarda
I have just climbed the highest mountain of Croatia which was the last mountain of my expedition! That means only one thing: I managed the climb all the EU Peaks! I needed 88 days to conquer the highest mountain of each EU country. These 27 mountains created 27 amazing stories which I will bear in mind for the rest of my life. It really has been an extraordinary trip with many obstacles on the way but now I am very happy I made it. What a feeling to fulfill your dream. Look at a short movie from my adventure and my quick summary and reflections from my trip below and see what is coming next 🙂
Dream coming true
I always wanted to accomplish a longer expedition. When I saw documentaries about reaching the North Pole, climbing Mount Everest or biking through the Sahara I was thinking what my expedition could be. After visiting over 55 countries around the world and completing the Adventure Academy course I felt prepared for my first big trip.
I decided to climb EU Peaks for simple reasons: I love mountains and viewpoints & I would like show how easy it is to travel nowadays in EU compared to problems which for example my parents had. In recent years one can read many negative things about EU in the news so I wanted to show also some positive ones. Don't forget that the best thing we have nowadays is freedom and amazing opportunities to travel. Look how much beauty we have around us!
EU Peaks became inspiration for other adventures
During my journey I hoped that at least somebody was following my trip. Now I am sure. After the last summit I have received so many positive messages that I am glad I decided for such a trip. I am most happy for the messages telling me that I motivated people for their own adventures. If you also feel like making a similar trip or just climb some mountain, let me know. I will be glad to help you and answer your questions.
This trip was a huge lesson for me. I managed many things well but I also made many mistakes. I am really happy for the experience to work with my amazing sponsors (Interrail, Outnorth, Panosociety, Lifefood, Granitbiten, Pod 7 kilo). I am thankful as well for the experience to become a reporter for the largest Czech Radio Impuls or for cooperation with other media such as Aktuálně.cz, Hospodářské Noviny or Soffa.
Big life lesson
On the other hand I learnt a lot from mistakes that hurrying in the mountains doesn't make sense and can cause accidents. I don't want to come back in detail to our car accident which happened in Scotland but it was definitely the worst experience in my life. I am still so thankful that nobody got hurt. To be honest I've never felt worse in my life after that happened. Only thanks to my amazing family and friends I got over my depression quickly and I could continue on my journey.
Looking at the decision now I am sure it was the best I could do. The rest of the trip was just epic. Standing on the highest peaks in the Alps can't be described by words. If you like mountains, please visit at least one of the peaks.
You will see the rest of articles about each mountain soon on my blog but I would like to share with you some numbers and fun facts already now. Look at what all you can experience during just three months of travelling. Check also what country won in which of my charts 🙂
Statistics of EU Peaks
Countries visited: 28 (the whole EU)
Mountains climbed: 27 (the highest point of each EU country, France and Italy share Mont Blanc)
The overall elevation I climbed: 25 380 m (counting only the summit days, not extra hikes): 38m (Estonia), 45 m (Latvia), 12 m (Lithuania), 3 m (Denmark), 1451 m (Netherlands, Belgium, Luxembourg- biking), 826m (Czech Republic), 1283 m (Poland), 1001 m (Slovakia), 22 m (Hungary), 1880m (Romania), 1463m (Bulgaria), 1862 m (Greece), 127 m (Cyprus), 1m (Portugal), 1237m (Spain), 1004m (Ireland), 1249m (United Kingdom); 1920m (Austria), 2151m (Germany), 1878m (Slovenia), 2474m (Italy/France); 626m (Finland); 1599m (Sweden); 1228m (Croatia)
Number of trains taken: 38 and the whole travel journey took ca 8400 km. All thanks to my Interrail card. Besides that I took 9 planes to reach islands and 1 ferry
Number of pictures and videos taken: 26 823 (731 GB)
Number of friends & family joined: 19
Summits during sunrises/sunsets: 14
Summits during middays with sunny weather: 9
Summits during cloudy/foggy/rainy weather: 4
Lifts taken: 0
Interviews for Radio Impuls: 28 (you can listen to them here)
Three best viewpoints from EU peaks: France/Italy – Mont Blanc, Sweden -Kebnekaise, Poland – Rysy
Three most impressive mountains: Greece – Mount Olympus, France/Italy – Mont Blanc, Triglav – Slovenia
The most busy EU peaks: Germany – Zugspitze, Austria – Grossglockner, Czech Republic – Sněžka
The most calm EU peaks: Romania – Moldoveanou Peak, Croatia – Dinara, Luxembourg – Kneiff
The toughest climb: Grossglockner, Austria (the most challenging climbing during freezing conditions)
The worst weather during my whole trip: Sněžka, Czech Republic – raining like hell
The longest climb: Kebnekaise, Sweden – 7 days
The shortest climb: Torre, Portugal – there is a roundabout on the top. I just drove there and I was there.
The most mosquitoes on the mountain: Suur Munamägi – Estonia
The most expensive summit: Slovakia – Gerlachovský Štít: It is the only mountain which you can't climb on your own and you have to rent a guide. It costs 262 EUR
The most unpredictable weather: Carrauntoohil – Ireland: The only mountain where the forecast was completely wrong. It was supposed to be sunny and it was completely foggy
The most confusing story about the highest point of the country: Denmark – Danish people actually regard 4 mountains as their highest. Read the whole story here
The shortest distance to the sea from the highest point: Malta – the highest point is actually a cliff called Dingli
The best three peak beers: Prešovský Medový ležiak 14° (Slovakian honey lager) on the Slovakian peak Gerlachovský Štít; Belgium Peak Beer La Brune (A double highland beer, the brown Peak) on the highest Belgian Peak; Suur Munamäe vaatetorn (Wheat Ale) on the highest point of Estonia
The most visitors unfriendly mountain: Cyprus – Mont Olympos. There is a radar on the highest point. It is forbidden even take pictures there
Mountain where I felt most cold: Mulhacén – Spain: I simply underestimated how cold it can be in Spanish mountains. Temperatures around zero degrees Celsius together with strong wind caught me unprepared.
The most interesting story on the journey: From Ylko from Finland who came to mountain Halti to quit his drinking lifestyle. He drank 6000 beers during the last year and decided to stop. He symbolically poured the last one on the highest Finnish point.
The most cozy mountain huts: Slovakia – Chata Pod Rysmy (on the way to the Polish highest peak); Bulgaria – Ledeno Ezero; Greece – Kakkalos Refuge
The most tasty food on the way: Burger in Luxembourg
The most bizarre food on the way: Cold pink soup in Latvia
Three best accommodations: Germany – Garmisch-Partenkirchen, Malta – Valletta, Sweden – Kiruna
The best bartender met on the way: Croatia, Pakoštane – bartender Nikola and his drink Piňa Colada
The easiest mountains to reach: Belgium, Netherlands, Luxembourg (all three managed in one day by bike)
And what is coming next? My optimistic plan to update my blog after each climb didn't work so I will finally have time now to make all the updates. You can look forward to read about tips for each EU Peak soon, nice pictures and my funny experiences. The articles will help you prepare for your own adventures so you will be able to enjoy your time in the mountains in a safe way. Besides the mountain posts, I am planning to disclose you also some photography tips. Stay tuned!
European Peaks are waiting
And what about my travelling and new peaks? Now I will take a short break to gain new power but the world record in managing all European highest points is very tempting. Since it is only 22 peaks left I have to give it a try 😉
Lastly, I would like to thank to all my friends, my family and my girlfriend for incredible support. Without you I would never be able to make this trip come true. I hope that those who joined me along this trip enjoyed it as much I did and I hope to welcome you for future trips and expeditions. Thanks also to Adventure Academy and all my teachers for the amazing preparation especially during the course Hell Week and of course to my sponsors who helped me get new equipment to finish my expedition! Big thank comes also to those who helped me on the way with providing accommodation, food or just advice and finally thanks to all my readers for following. Now the exciting articles will come 😉 Stay tuned!