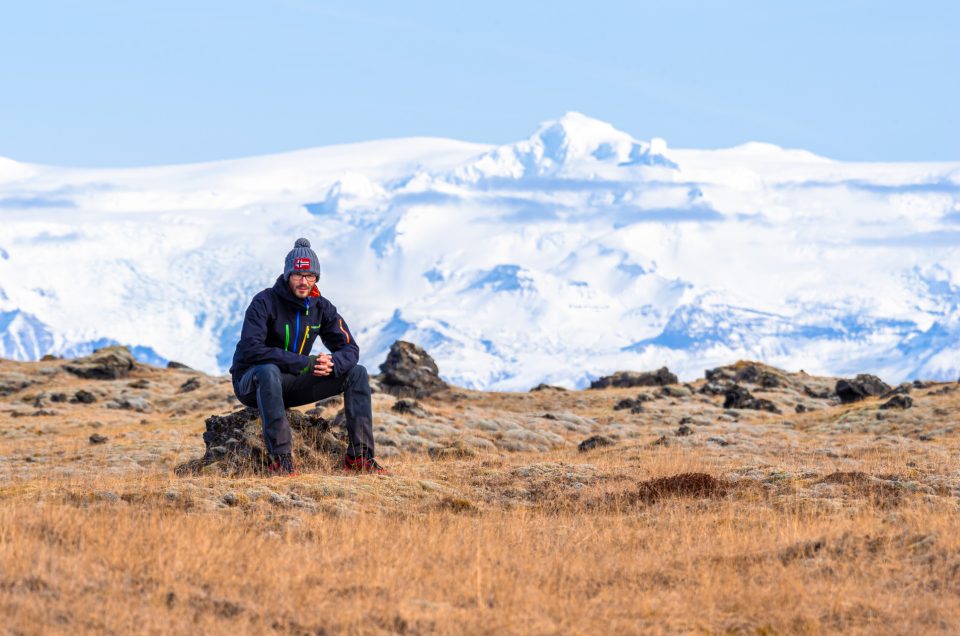 Last Updated on May 21, 2023 by Jarda
The land of fire and ice is hiding one of the most demanding ascents of the project the European Peaks. The mountain Hvannadalshnúkur is an inactive volcano covered by Europe's largest glacier Vatnajökull. The summit is not only very physically demanding but also very unpredictable when it comes to weather. Strong winds and blizzards are common here even in summer. Here are all tips you need to know before your climb to Iceland's highest mountain including my own personal experience.
Important information for climb of Hvannadalshnúkur
Short description of the ascent: Very demanding long hike on glacier, glacier experience necessary, difficult navigation
Essential equipment: Back country skis/snowhsoes/crampons, hiking poles
Best time to visit: April - June
Fees or restrictions: No but guide strongly recommended
Camping allowed: Yes
Nearest accommodation/food supply: Svinafell
Starting point: Parking lot Sandfell (see the map below)
Height of the peak: 2,110m
Ski touring/hiking distance: 11.5 km (one way)
Time to ascend to Hvannadalshnúkur: 7 hours 30 minutes up, 4 hours down
Elevation climbed: 2066m 
Water availability on the mountain: No
Difficulty level: ***** (6 stars maximum) 
Personal rating of the mountain: ****** (6 stars maximum) 
Beer on the peak: Víking Rökkr **** (6 stars maximum) 
Description of the best route to Hvannadalshnúkur
The climb has four parts. Up to about 1000 m above sea level there is a rocky section with a path to follow. Then you will enter the glacier on which you will climb to the altitude of about 1800 m above sea level. There will be waiting a large plateau. Do not walk the shortest possible route to the peak over the plateau. There is the largest risk of falling into cracks. Instead, follow the peak on a curve, do not go straight. At the end there is a steep final section to the peak (ca 300 elevation meters).
Map of the route to Hvannadalshnúkur
My story of climbing Hvannadalshnúkur
After winter ascents in Andorra and Norway I was facing even bigger winter challenge. The majestic mountain Hvannadalshnúkur is both beautiful and demanding and it became one of the highlights of the expedition. To reach the summit the majority of your climb will be on a glacier where you are in danger of falling into cracks and you have to get ready for hostile weather. Blizzards and strong winds are common here even during summer.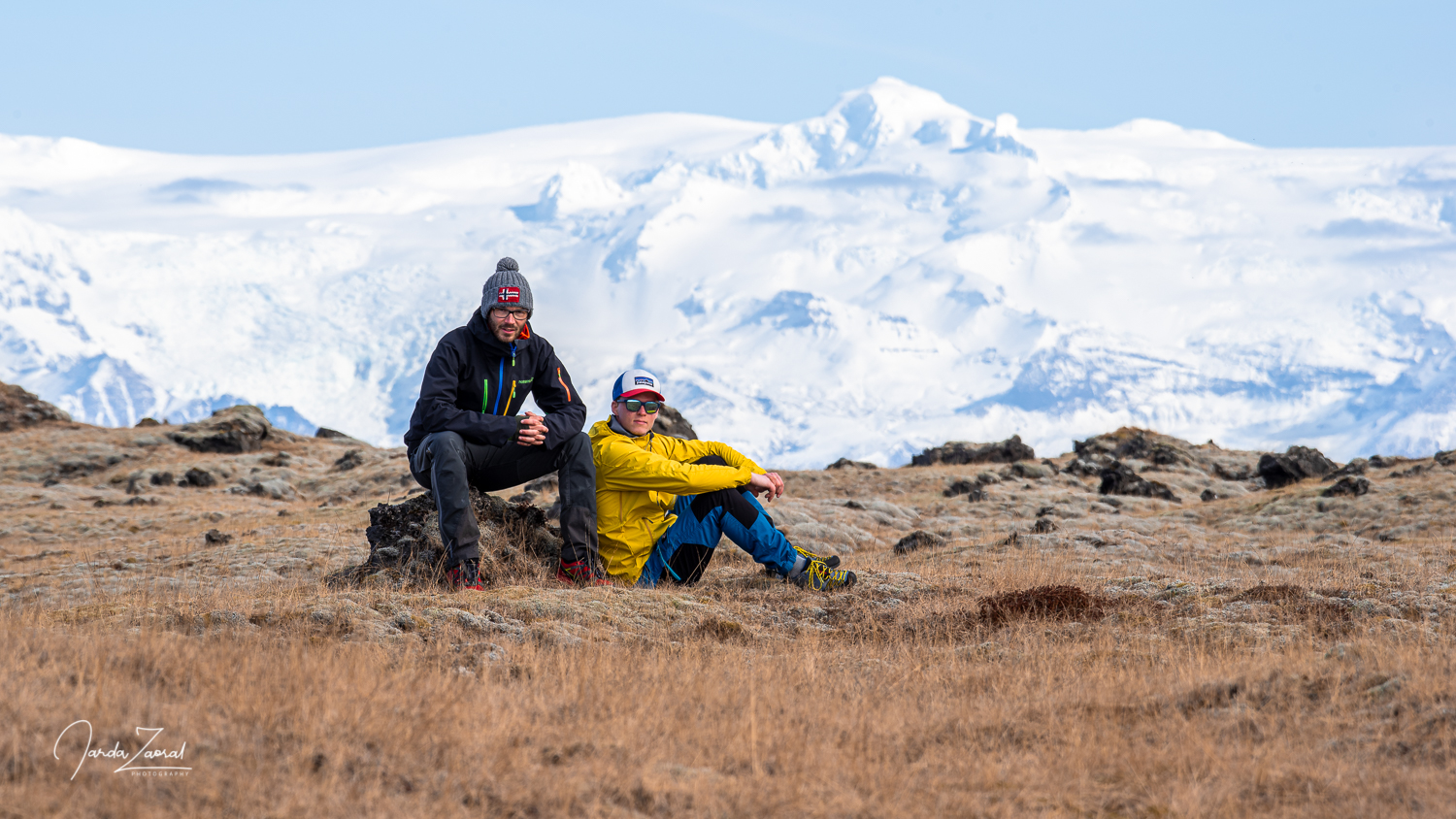 I had a big respect for this mountain so I wanted to book a mountain guide (which I strongly recommend to you too if you want to summit this amazing mountain). However, the circumstances changed. No guide was available on my summit day so I decided to climb the mountain only with my friend Jakub.
Proper preparation is the key
Because Jakub and I wanted to climb Hvannadalshnúkur at the beginning of the climbing season, early April, planning was the most important success factor. In Iceland there were still winter conditions, and climbing in bad weather would mean gambling with our lives. We planned to stay in Iceland the whole week with the hope that one of the seven days will be suitable for the climb.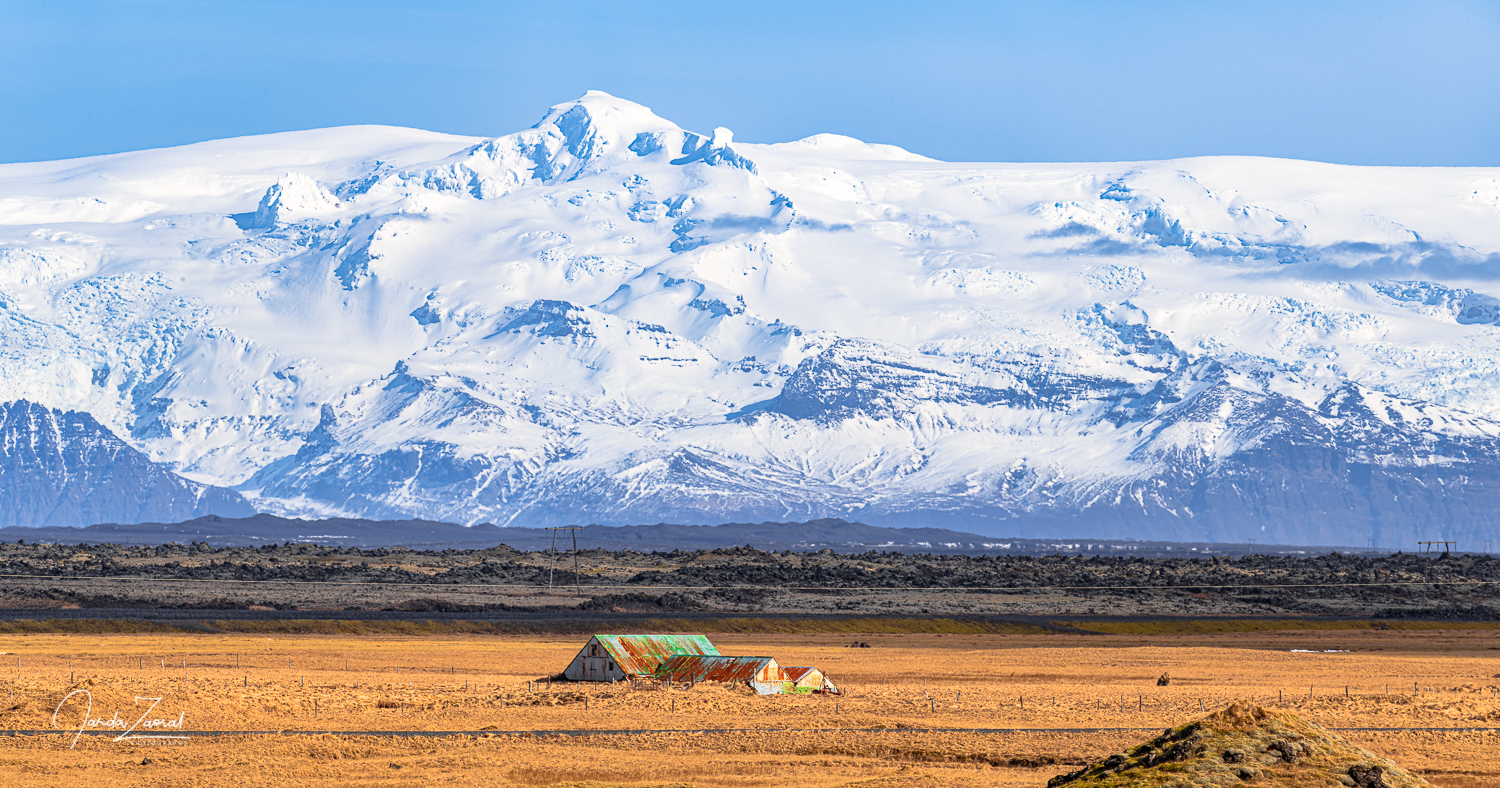 Before we arrived in Iceland, we closely monitored the weather forecast. That was very changeable. It seemed that predicting Icelandic weather was like throwing a dice. Completely random in the long term. Therefore, I was looking for Icelandic climbers on Facebook to ask how to prepare our climb and where to watch the weather. I got answers from three climbers who had already climbed the highest mountain of Iceland. We got these recommendations:
"Check the weather forecast at this Icelandic website: en.vedur.is.
Be careful when climbing over the glacier. It is necessary to be tied on a rope and to be very careful. The glacier is safe in winter if you follow the recommended GPS route exactly.
GPS is important to not to get lost. Don't forget an extra battery/ powerbank.
Register your climb at safetravel.is, so local authorities know about your venture.
Weather lottery
Based on the weather forecast we decided to climb Hvannadalshnúkur right after our arrival to Iceland. The forecast looked amazing. Sunny the whole day, just a strong wind in the morning. I contacted local mountain guides who perform regular ascents. However, I was told that the ascent was canceled due to bad weather. "Too windy," they said. The climb was supposed to move to the next day, but we didn't like that at all. It was supposed to blow less, but it was supposed to be cloudy with snowfall. There was no other summit day before our flight back to Stockholm so we decided to climb the mountain on our own.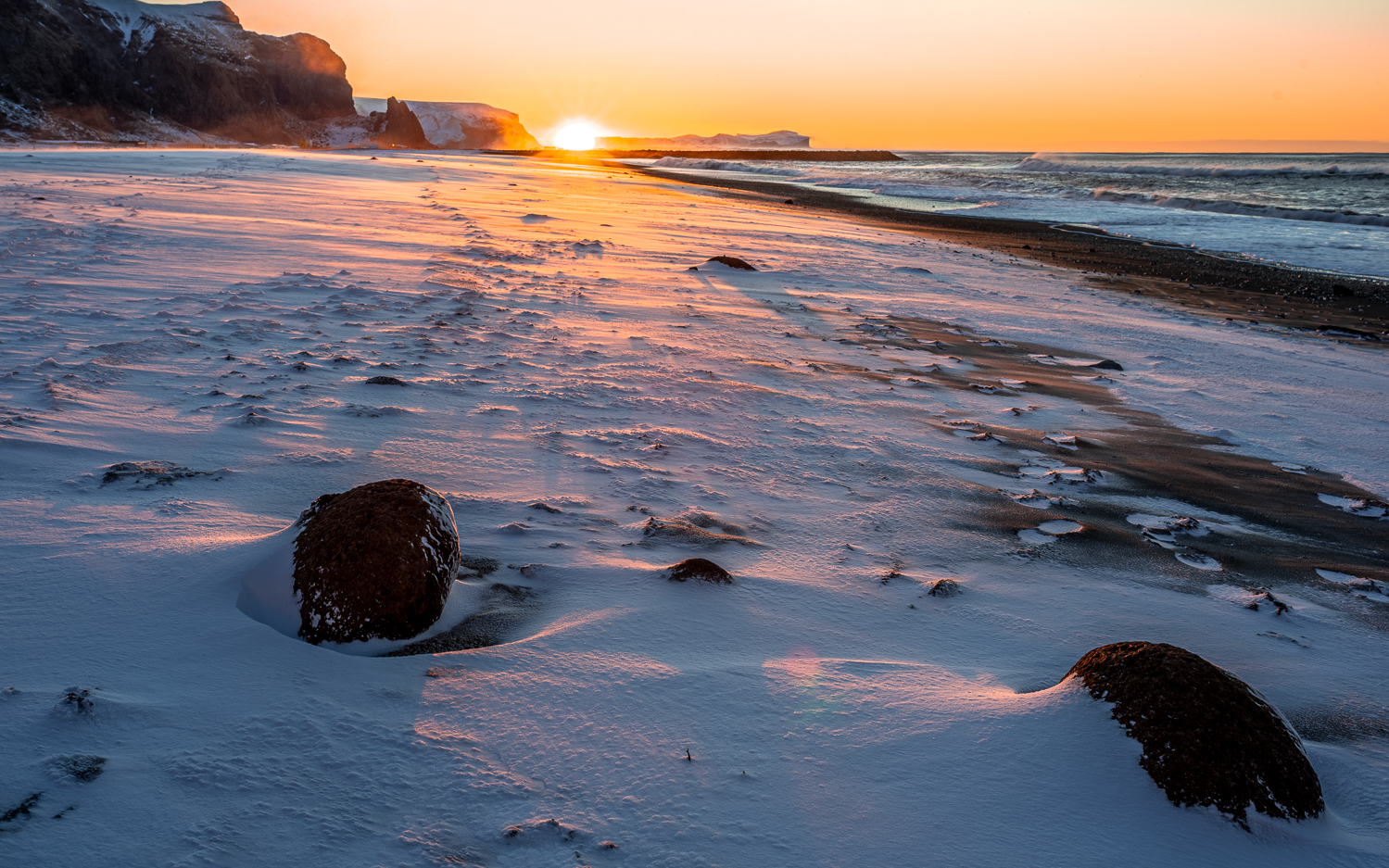 In Reykjavik we rented climbing equipment and managed to get harnesses, crampons, a rope and hiking poles. According to the rental company and local climbers, this should be enough for us in the current conditions. According to them, the main risk – glacial cracks – is safely covered with snow from the whole winter during this time of the year.
First day in the winter wonderland
Then we rented a car and headed towards the starting point of the climb – Sandfell. The trip usually takes four hours. We left Reykjavik and took the Highway 1 (also called Ring Road) to the southwest. The 90 km / h reduction was annoying, but we soon understood why there is such speed limit. It started to blow like crazy, temperatures dropping below zero, and snow was blowing from the mountains. The visibility was suddenly only a few meters. Blizzard. We were glad we could drive at speed of 30 km / h.
The journey was longer than we expected. We arrived late at night to a village called Vík. Due to the high rocks there was a significantly weaker wind than elsewhere on the road, so we decided to stay there overnight. We hoped not to find ourselves lost in snow the following morning. We spent the night in the trunk of our rented Subaru Forester and it was surprisingly comfortable.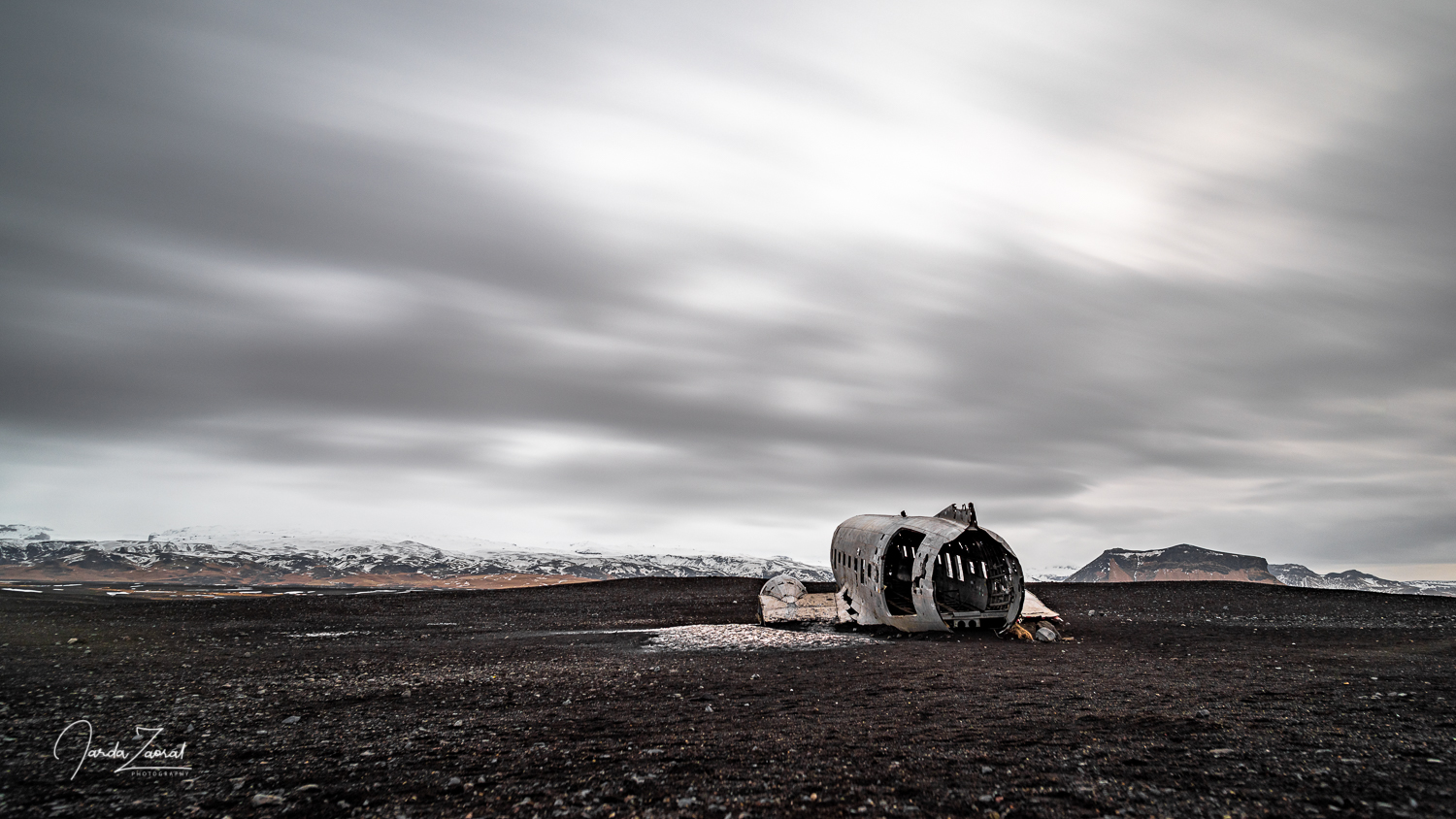 We woke up to see the sunrise on the Vík's beach and the view promptly forced us to leave the car to see the beauty. The black sand beach together with cliffs around was perhaps the most beautiful beach I have ever seen. But the harsh Icelandic climate was showing us its strength. It was so windy that we took just a few pictures and headed back to our car.
Too windy on Hvannadalshnúkur
We decided to continue towards Hvannadalshnúkur. As we drove out of the village Vík, the wind doubled in strength. It was even stronger than the previous day while bringing even more snow. We realized what white darkness looks like. We couldn't see further than two meters. At that moment we were very glad that we did not borrow a smaller car, which would certainly not handle this furious weather.
There was no rush. We continued very slowly but we still managed to reach the Europe's largest glacier Vatnajökull pretty early in the morning. We saw Hvannadalshnúkur for the first time. Unfortunately, it was immediately clear why the guides canceled the climb. Even though the sky was clear, the wind was blowing so hard that it created snow clouds on the mountain. We realized that we wouldn't see anything during our summit. At that moment we were sure: today we won't climb anything.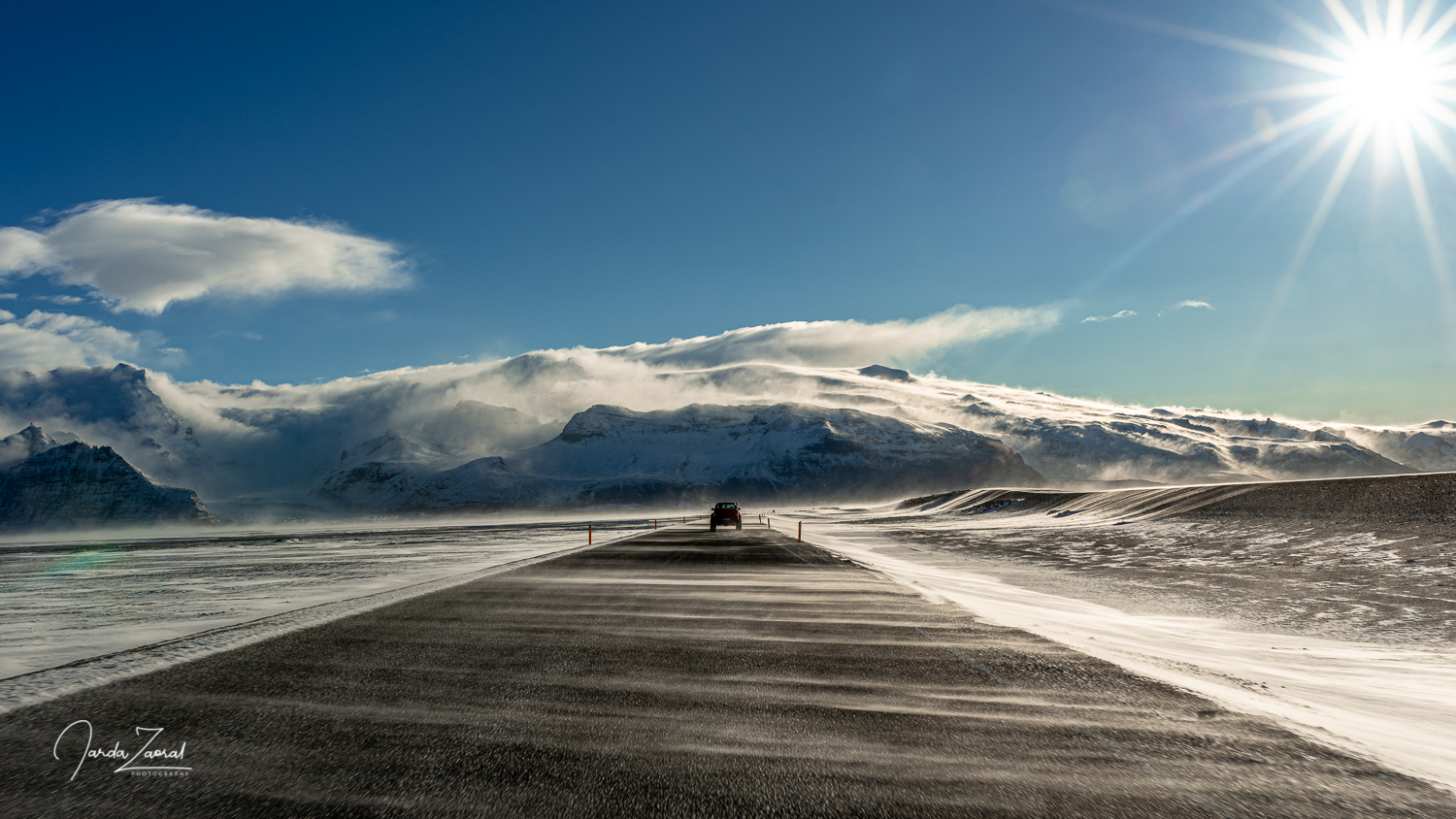 We drove to the village Hof, ate breakfast and thought about what to do next. Will we take some warming up hike and will we follow the climbing company tomorrow in cloudy and snowy weather? During the breakfast however, the wind miraculously calmed down, not only in the lowlands, but also in the mountains. It was nine o'clock in the morning, which is still relatively late to climb Hvannadalshnúkur, but the sun is already quite high at the beginning of April and sets as late as at half past eight in the evening. 'What if we try to climb? We have more or less 12 hours until it gets dark. We'll return if it feels dangerous."
Perfect weather conditions
After a brief discussion, we decided to go for it. We packed food, water, tea, all necessary climbing equipment and power banks in case our phones run out of battery and of course headlights. We registered us on safetravel.is in case we need help and started our ascent. In a few minutes I got a message from safetravel.is : "Do you have complete glacier equipment? Do you have experience with alpine and glacier tourism? During this time of year the climb is very challenging."
We were very pleased that the local authorities were so interested in tourists and wanted to ensure our safety in the mountains. We reported an expected return time at 23 o'clock. If we don't report two hours after, the organization would send a search. We left the parking lot Sandfell at 11 am. I guess it was the latest leaving time to climb Hvannadalshnúkur of all previous April climbers.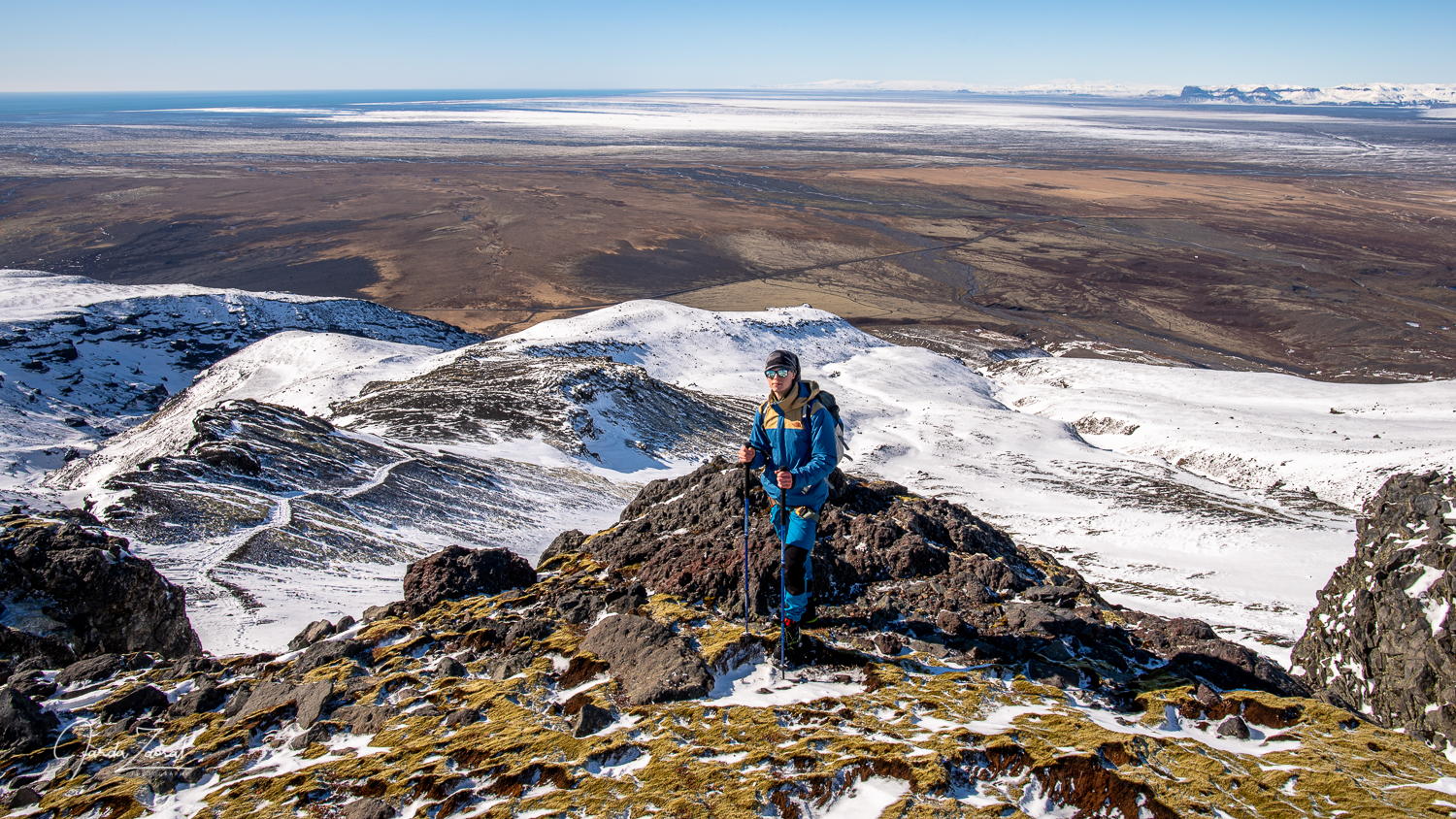 The wind completely left the mountains so we could climb only in T-shirts. We quickly ran up the first 1000 altitude meters across stony and snowy terrain. In this part it was easy to find the way. After about two hours we reached the glacier. It looked clean and without cracks. We were relieved. Time to put crampons on, tie ourselves to the rope and climb up.
Climbing on the glacier
We climbed the glacier more slowly. I often checked the terrain in front of us to make sure there are no cracks. I also checked the GPS regularly to see if we were going in the correct direction. We climbed slowly but steadily up. We expected to reach the plateau several times but there were several endless horizons ahead.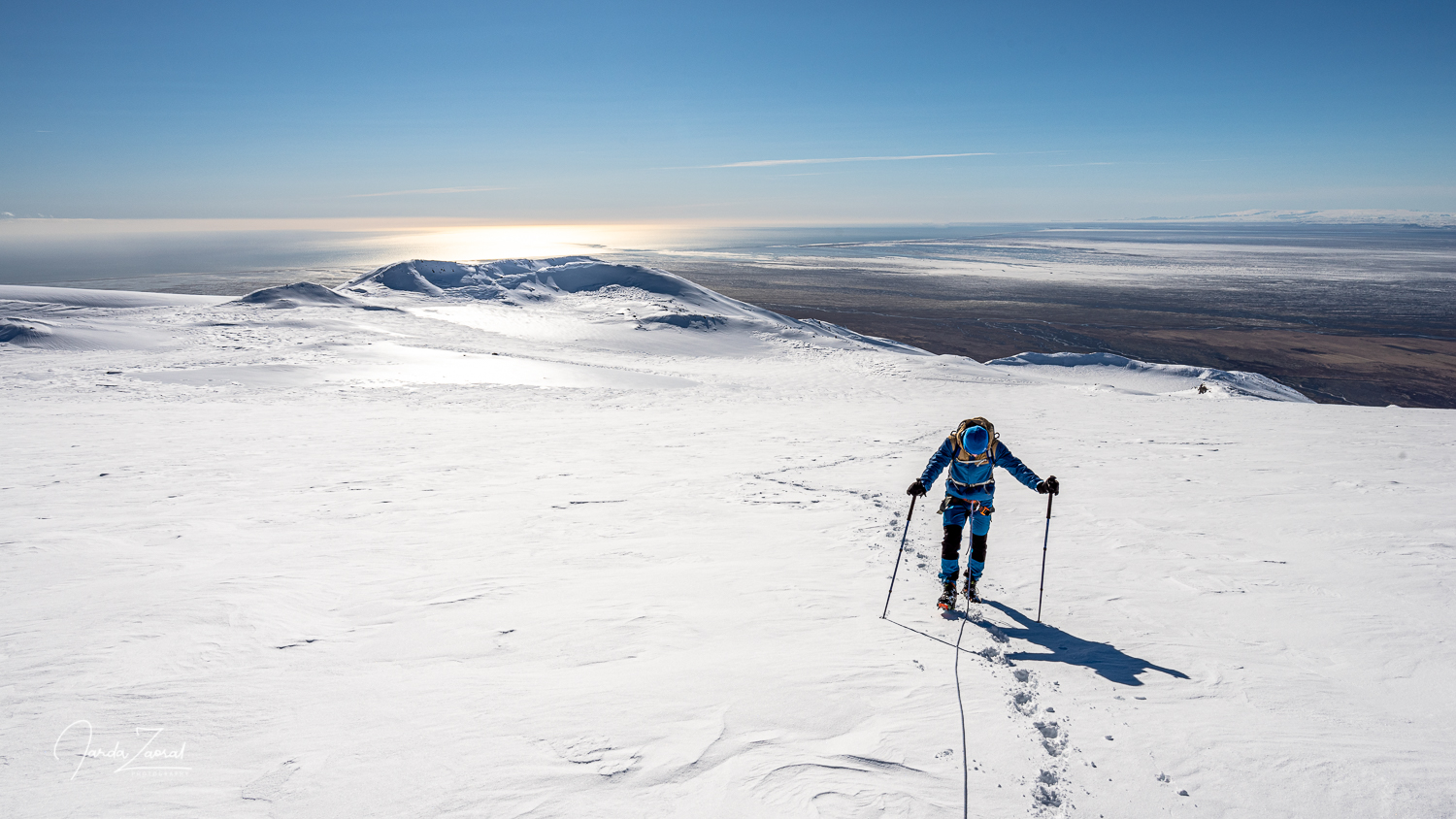 We came across one crack. Luckily it was narrow and well visible so we easily overcame it. It was interesting to look for cracks. It reminded me of skating on thin ice, which I do with a local Stockholm skating club at the beginning of the skating season in autumn. The thickness of the ice often changes, so every skater must have a stick with a sharp end to examine the thickness of the ice. Here it was similar. I tested regularly to see if there was a crack below blown snow.

At around 6 pm we finally reached the plateau below the summit. "The summit is near now" I encouraged my friend Jakub but I saw that it would be still quite a hike to the top. We followed the Icelandic climber's instruction and didn't follow the shortest route to the summit. Instead, go along the contour line around. You will avoid a great risk.
Sunset on top of Hvannadalshnúkur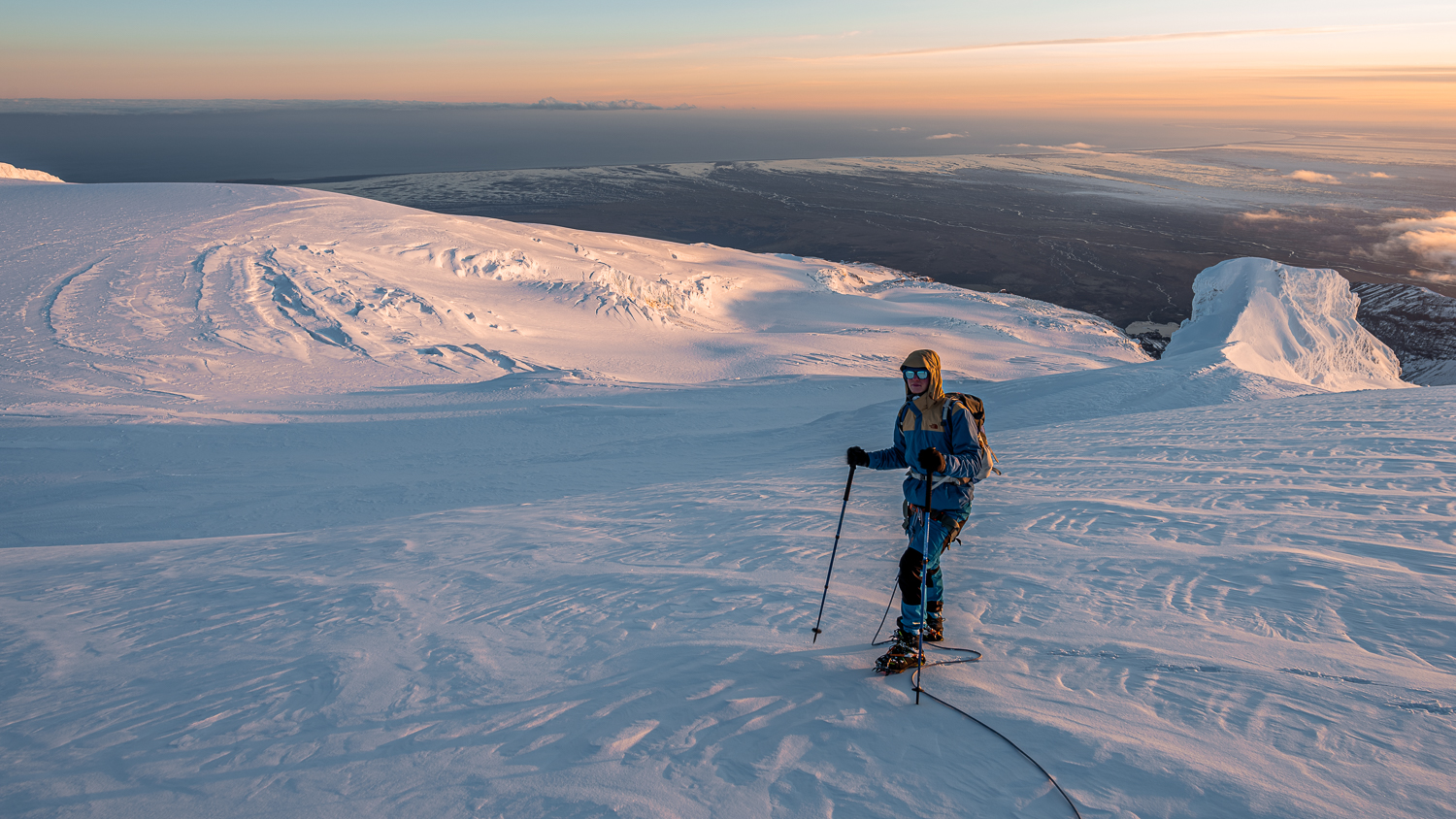 We continued even more cautiously than before. I checked the surface in front of us before every step. We encountered two more cracks. Both weren't well visible. After another hour we got to the final climb. The sun was slowly setting which we expected. We knew we would be going down in the dark. The last climb was steep, but could be handled without an ice axe. We passed the beautiful snow-covered rocks and reached the summit. We did it!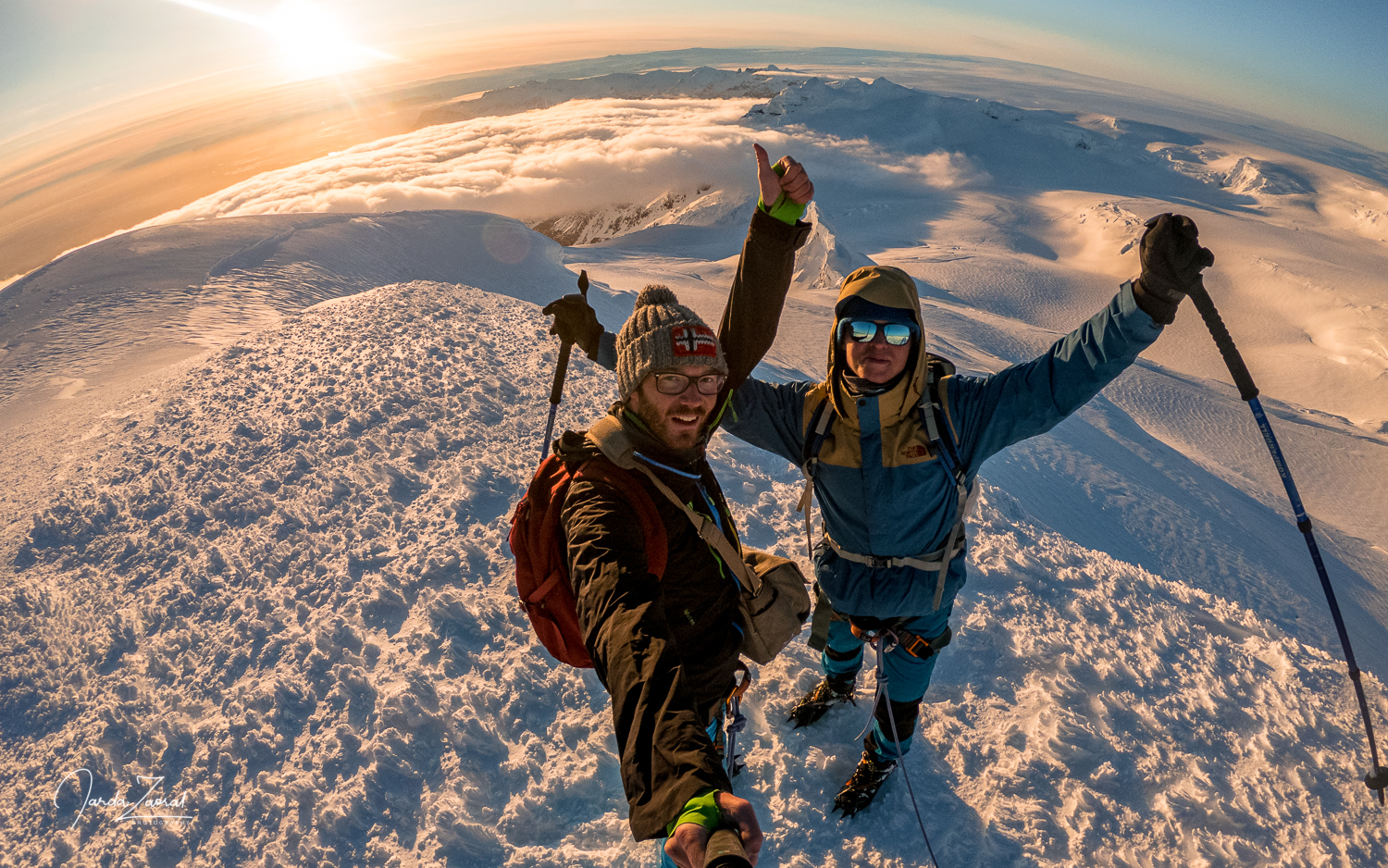 The wind was blowing on top so it quickly became really cold but the gorgeous view of the setting sun over the cloud-covered valley and ocean behind warmed us up. Indescribable scenery.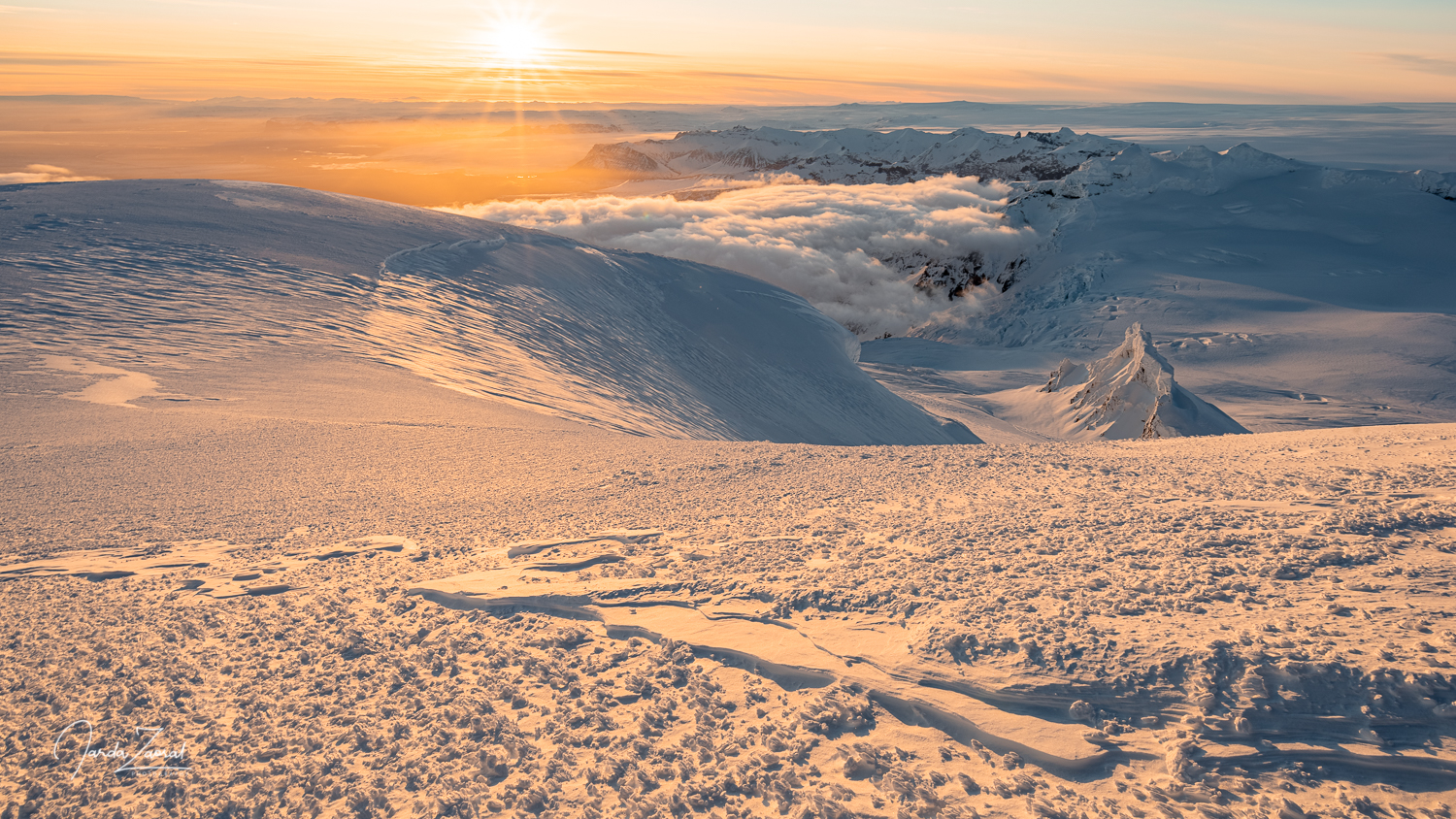 We knew we were only half way. The descent would still be very difficult so we spent only a few minutes on the top and headed back. We knew it would be dark in about an hour and a half, so we tried to get back to the plateau as quickly as possible so that we would pass as much of the glacier as possible before it got dark. Thanks to the perfect weather conditions our traces remained visible. We didn't have to look for a new path, so we could go back much faster. Indeed, the Icelandic forecast was correct.
Descend in the shine of northern lights
We managed to pass the plateau before it got dark. Then we had to slow down but it was still easy to follow our steps with our headlights. After two and a half hours we came back from the glacier to the rocks. The toughest and most dangerous part was behind us.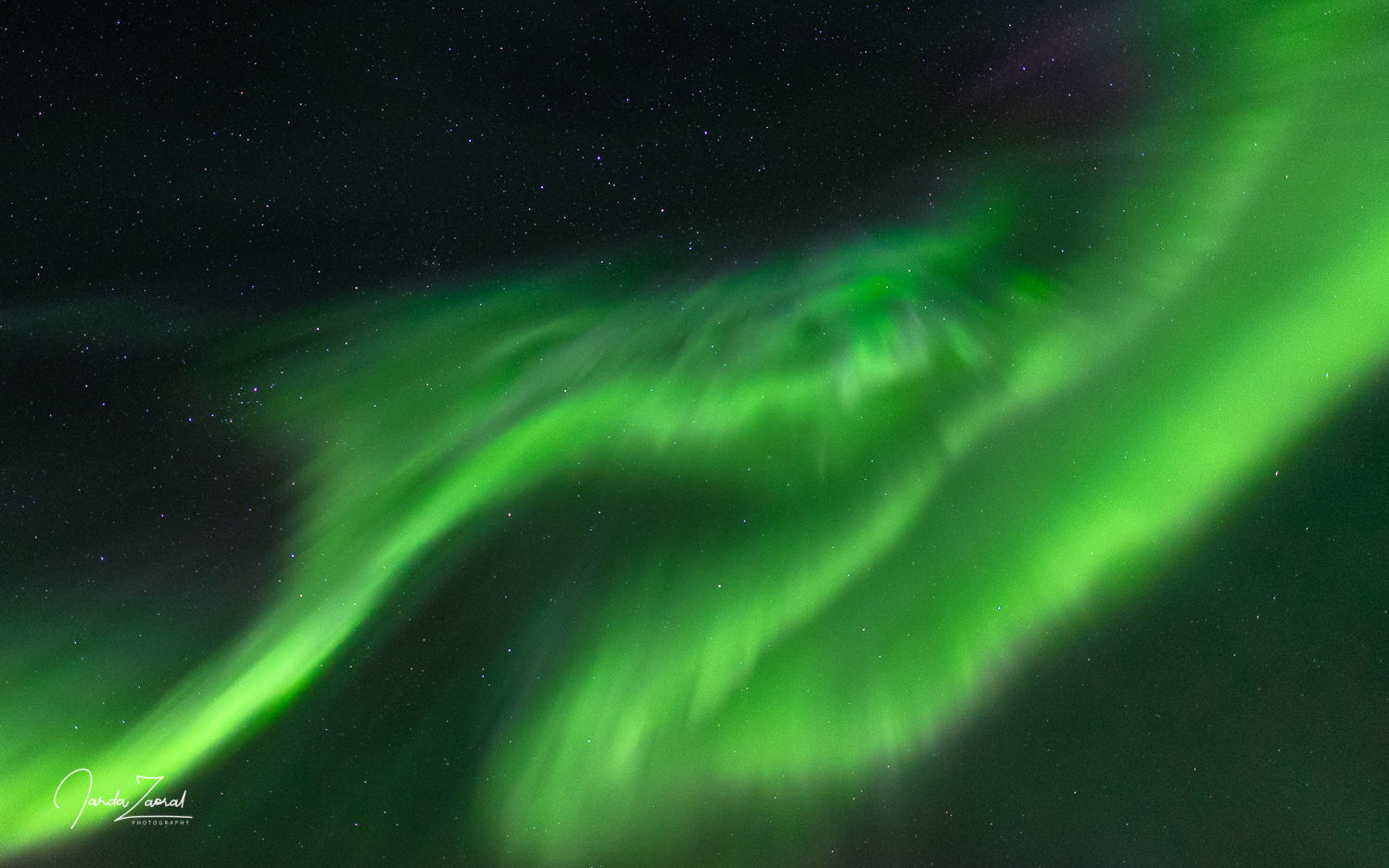 We expected the rest of the hike to be easy but we ended up in a crisis. Clouds occurred and the navigation got much more complicated. We couldn't even see our traces anymore and we got lost several times. Our legs were in pain and we were tired so we decided for a break.
Icelandic dried fish with bread and a bit of tea gave us new energy so we could continue. We walked down in darkness and a bad mood when the sky suddenly cleared up and we saw northern lights. The aurora was so strong that it illuminated the path we wanted to follow. Suddenly we could easily see where to go. Thanks to the aurora we managed to get back safely to the car. After our arrival we texted safetravel.is that we are safe and went to sleep. We fell asleep within a minute.
One week road trip around Iceland
In the morning we were woken up by a group of tourists led with a mountain guide at six o'clock in the morning. It was cloudy and snowy. It was certain that even if the climbers managed to climb Hvannadalshnúkur, they would not see anything. On the other hand, I must admit that we took a risk. If one of us fell into a glacial crack, we would have a big problem. We didn't have any equipment to rescue each other from a glacier crack. Climbing Hvannadalshnúkur with only two people and without glacier equipment is definitely not an exemplary approach. Based on my experience I definitely recommend to climb the mountain only with an experienced local mountain guide.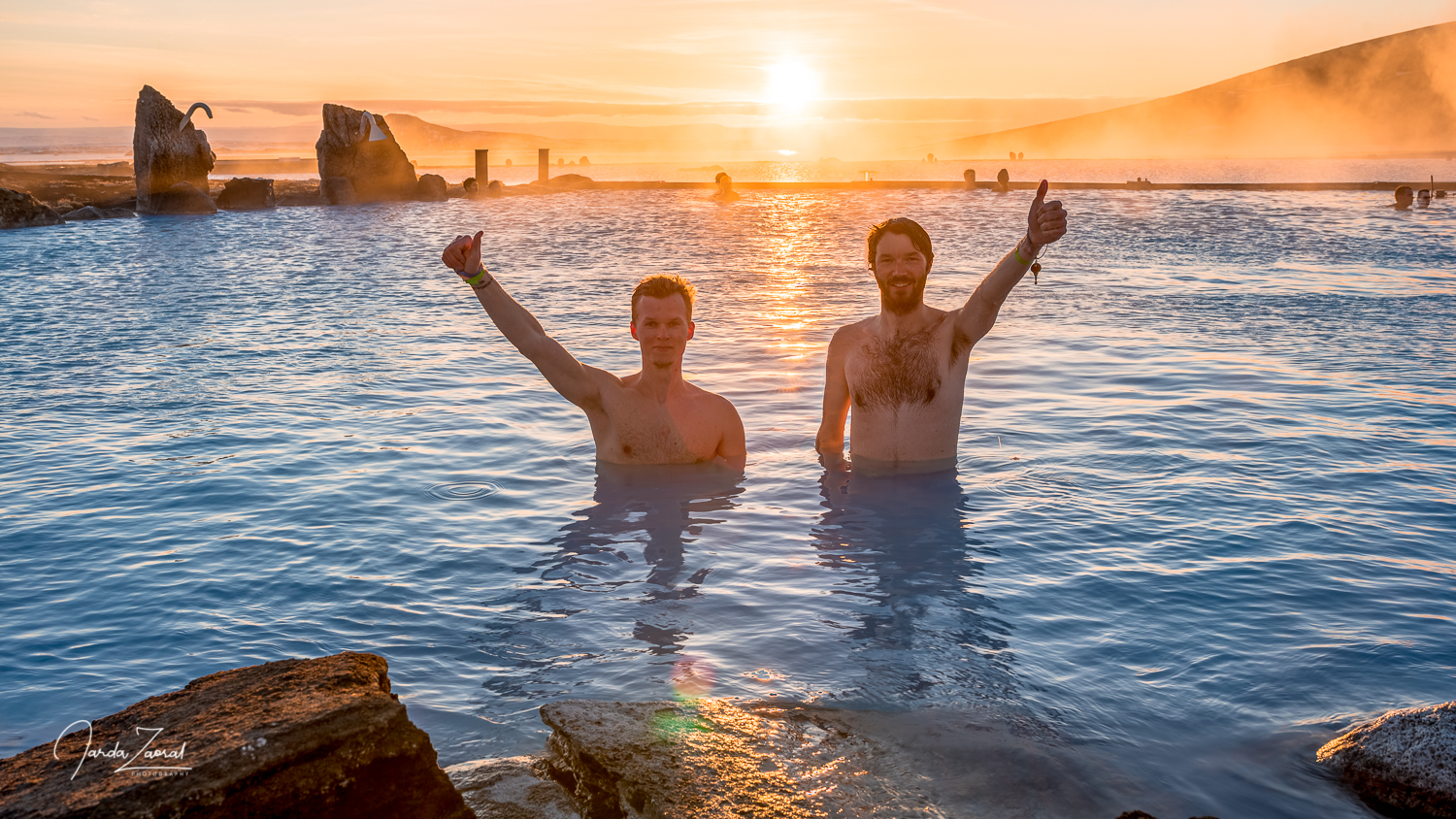 Anyway the goal of our Icelandic expedition was managed on the first day of our visit and we still had six days on Iceland. Time to explore the island. What was the first stop? Hot springs and relaxation.
My tips for climbing the mountain Hvannadalshnúkur:
I highly recommend hiring a mountain guide or joining a guided tour. This is a very demanding ascent even for experienced climbers due to the extreme weather conditions.
It is necessary to monitor the weather. Climbing Hvannadalshnúkur is only possible in perfect weather conditions.
GPS navigation is necessary.
Complete glacier equipment is recommended.