Last Updated on February 13, 2021 by Jarda
Andorra is another ministate on my way to Europe's highest peaks but Coma Pedrosa is a much more difficult task than the hills of San Marino/ Monaco/ Vatican. Since the whole of Andorra lies in the Pyrenees, conquering its highest mountain is a challenge. Coma Pedrosa is nearly 3000 meters high.
Date of summit: 24th March 2019 12:40 
Traveling mode: Ski touring
Height of the peak: 2,945m
Ski touring distance: 7.22 km 
Time to ascend to Coma Pedrosa: 4 hours 17 minutes 
Elevation climbed: 1342m 
Map of my ski touring journey to  Coma Pedrosa: Movescount
Personal rating of the mountain: ***** (6 stars maximum) 
Beer on the peak: Boris Craft Beer Andorra Golden Ale **** (6 stars maximum) 
The Norwegian expedition was exciting so I decided for another summit on back country skies. The next mountain was waiting me in the Pyrenees. This time I was also accompanied by two friends, Honza and Blažej.
Shopping in Andorra

The nearest airport to Andorra is in Barcelona ​​so we flew there. We picked up a rental car and drove towards Andorra where we arrived late at night. Before climbing Coma Pedrosa we needed to rent our skies. Our goal was to rent them in the capitol Andorra la Vela. At an altitude of 1023m it is the highest situated capital of Europe. We realized soon that this city is a shopping paradise. Thanks to the low VAT (4.5%) everything is cheap there, especially alcohol and outdoor equipment. I bought several Christmas gifts in advance. It was so cheap!
Regarding ski rental we were advised to get our equipment in another city – La Massana. There we found a small rental shop and we chose perfectly. We borrowed the newest ski touring equipment for only 22 euros. We packed all our climbing equipment and went to sleep early. Now everything is ready for tomorrow's climb.
Time to climb Coma Pedrosa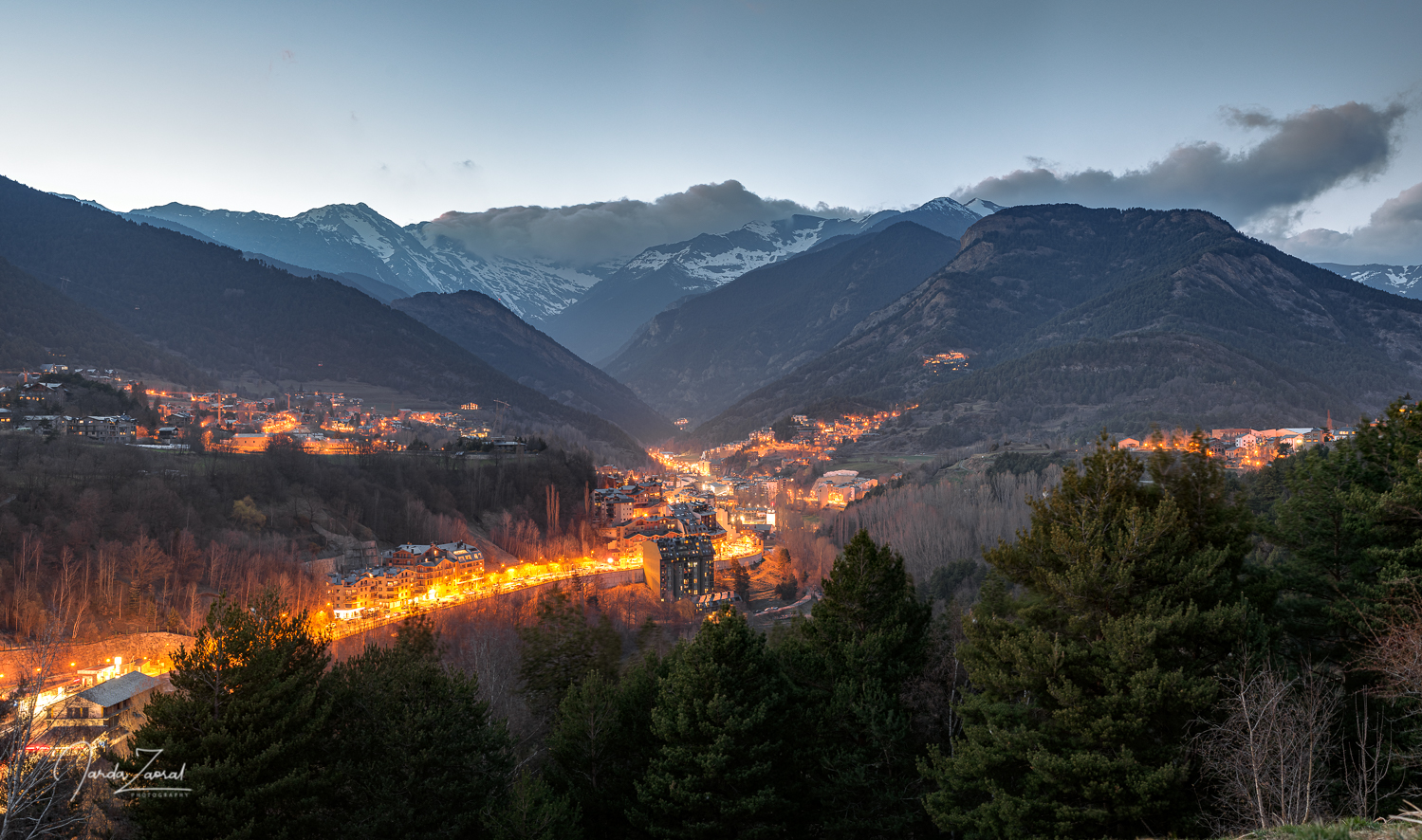 The alarm rang at 6 a.m. After we managed to get out of the bed we drove to the end of village Arinsal and parked our car behind a tunnel where the climb starts. We took a small breakfast – a great chorizo ​​with some pastries which we had bought in a duty free shop the day before – and we were ready to go.
This time the weather was perfect unlike in Norway. Sunny, no wind and – 3° C. Let's go. At the beginning of our climb, we had to tie our skis to backpacks because the snow has already melted at the low altitude. In the end we walked ca 1.5 km. Honza had a light backpack (32 liters) which is ideal for such a trip. Unfortunately, I didn't learn from Norwegian trip and carried again my photo equipment. But this time I didn't carry the heaviest burden. Blažej had a bigger problem because he is a snowboarder. Since he didn't find any splitboard he had to carry his snowboard on his back plus an extra pair of hiking shoes for the whole journey.
When we reached a small river we finally crossed the snow line. Here the adventure began. We climbed up slowly with our skies on and soon reached the Coma Pedrosa hut which is closed in winter. At this point the sun showed up behind the horizon. What a beautiful day. I suddenly felt so warm that I decided to take off my pants and put on my shorts instead.
Modern back country skies are amazing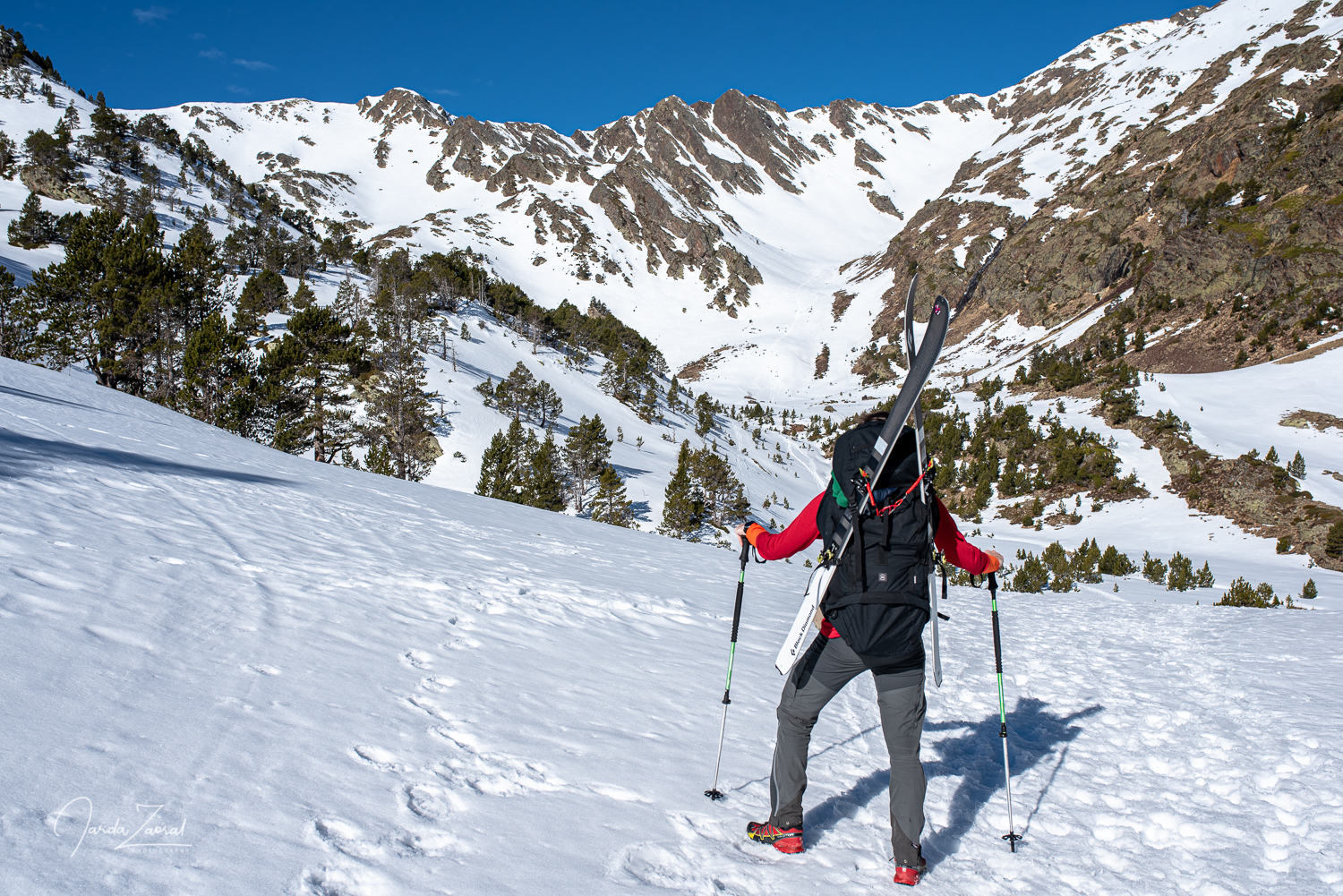 This time I really enjoyed the summit. It was so easy to climb up with these modern back country skies. It was a big difference compared to the old back country equipment which I used in Norway. Only our snowboarder suffered. He had to keep going up on foot.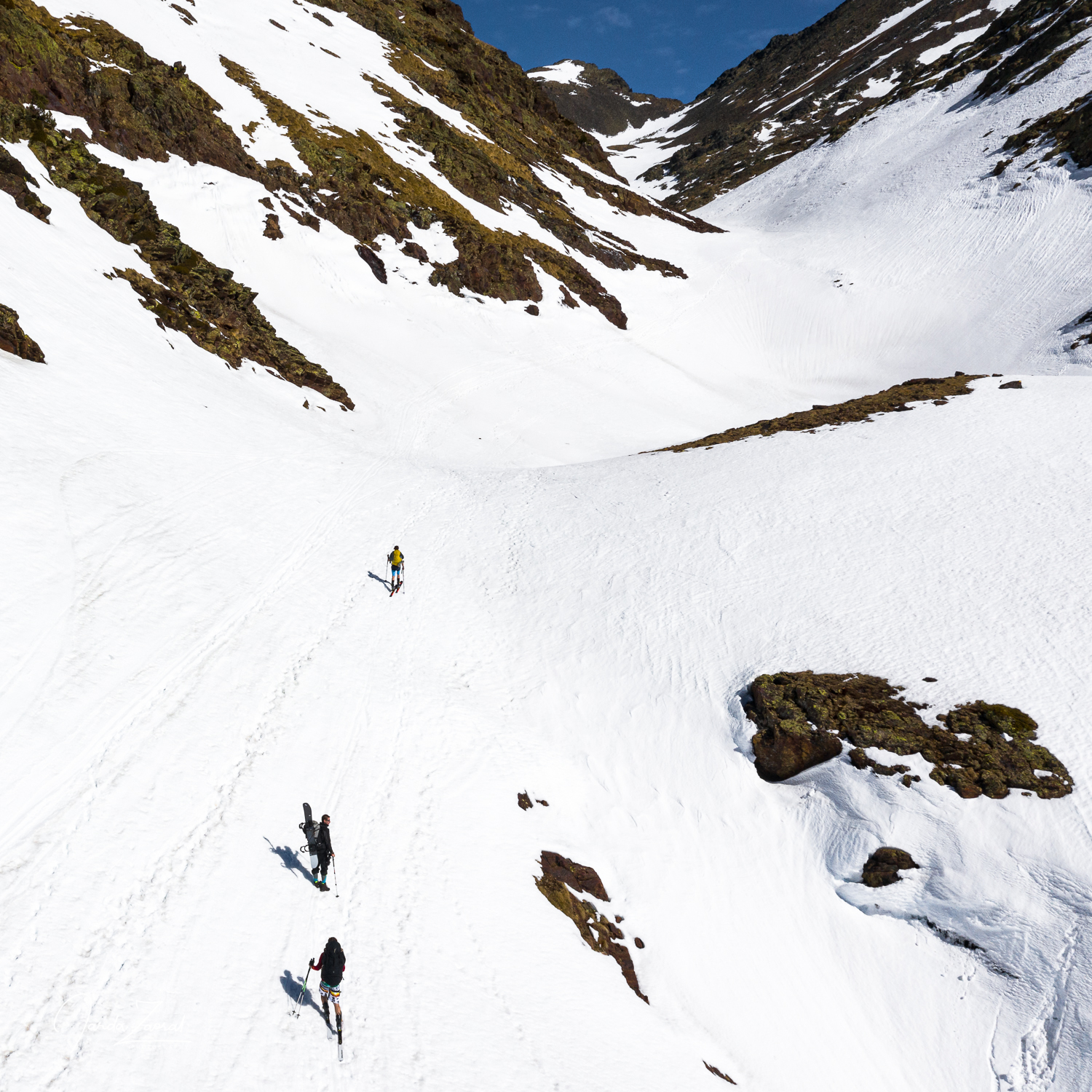 We passed a beautiful valley and we reached a lake below the summit after one hour from the Coma Pedrosa Hut. It looked like a perfect camping spot but camping is unfortunately not allowed in the whole Andorra. We continued on skies until we reached a ridge. There the snow ended. We had to climb the last 150 meters of altitude on foot. It was still warm and there was no wind so I reached the peak in my shorts. Amazing March weather.
We took a break and ate some lunch while checking the beautiful views around us. The Pyrenees are very nice mountains, certainly nicer than Sierra Nevada in the south of Spain.
Enjoying sun can hurt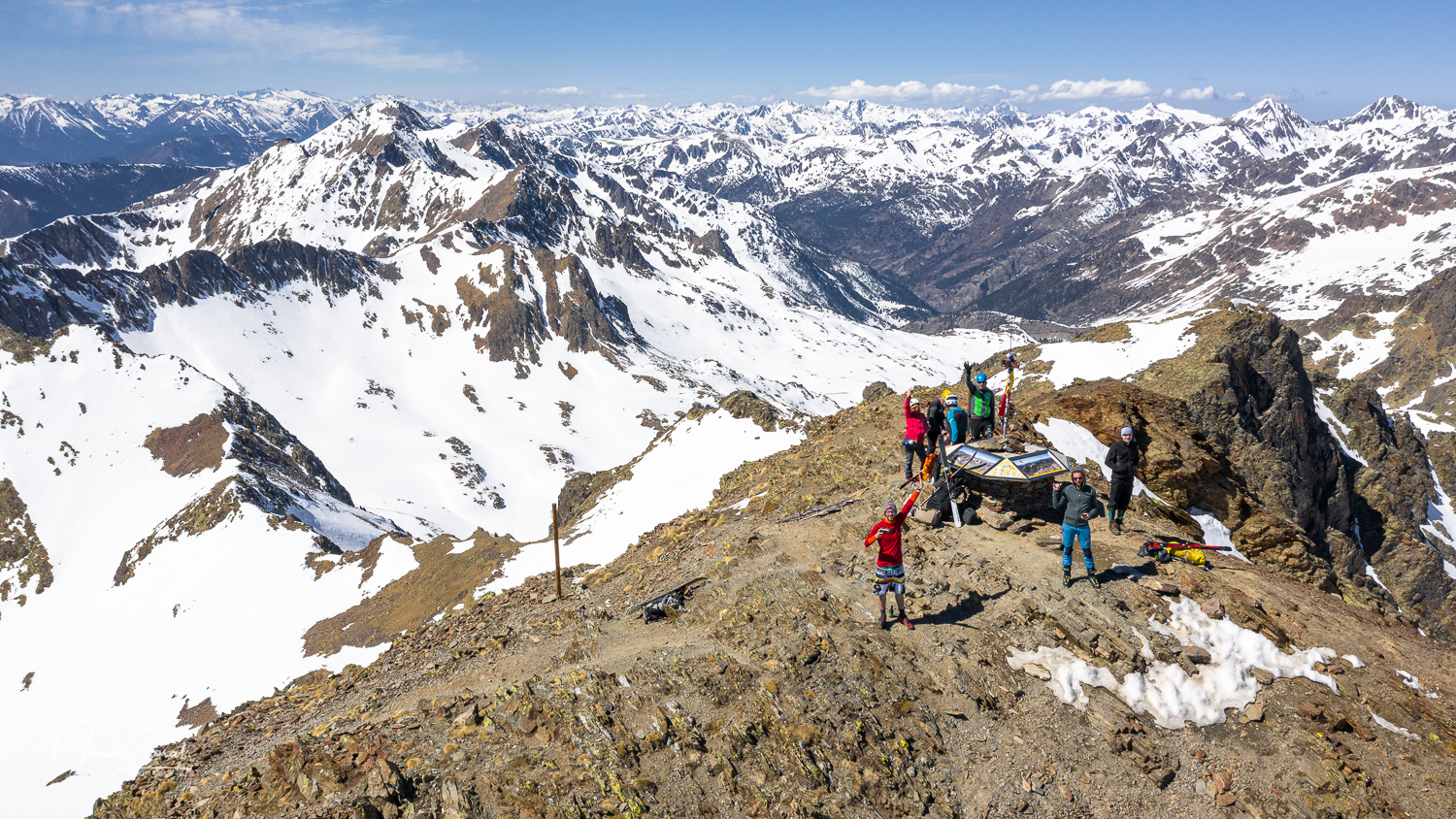 The beginning of the downhill was perfect. No rush, only joy. We were back at the Coma Pedrosa Hut in just fifteen minutes. Then the fun started. Slalom between trees on a steep slope on icy snow turned out to be the most unpleasant downhill of my life. Even Blažej with a board on his back was faster during the descent than Honza and I on skis. I am glad we managed without any injury and after 90 minutes we were back at our car.
When we got back to our hotel I started to feel my calves. Unfortunately, it wasn't the muscles but the skin. I got sunburnt again. Maybe it wasn't the best idea to ski in shorts? I regretted my decision the whole night. The calves were so much in pain that I couldn't fall asleep. I managed as late as after eating two pain killers.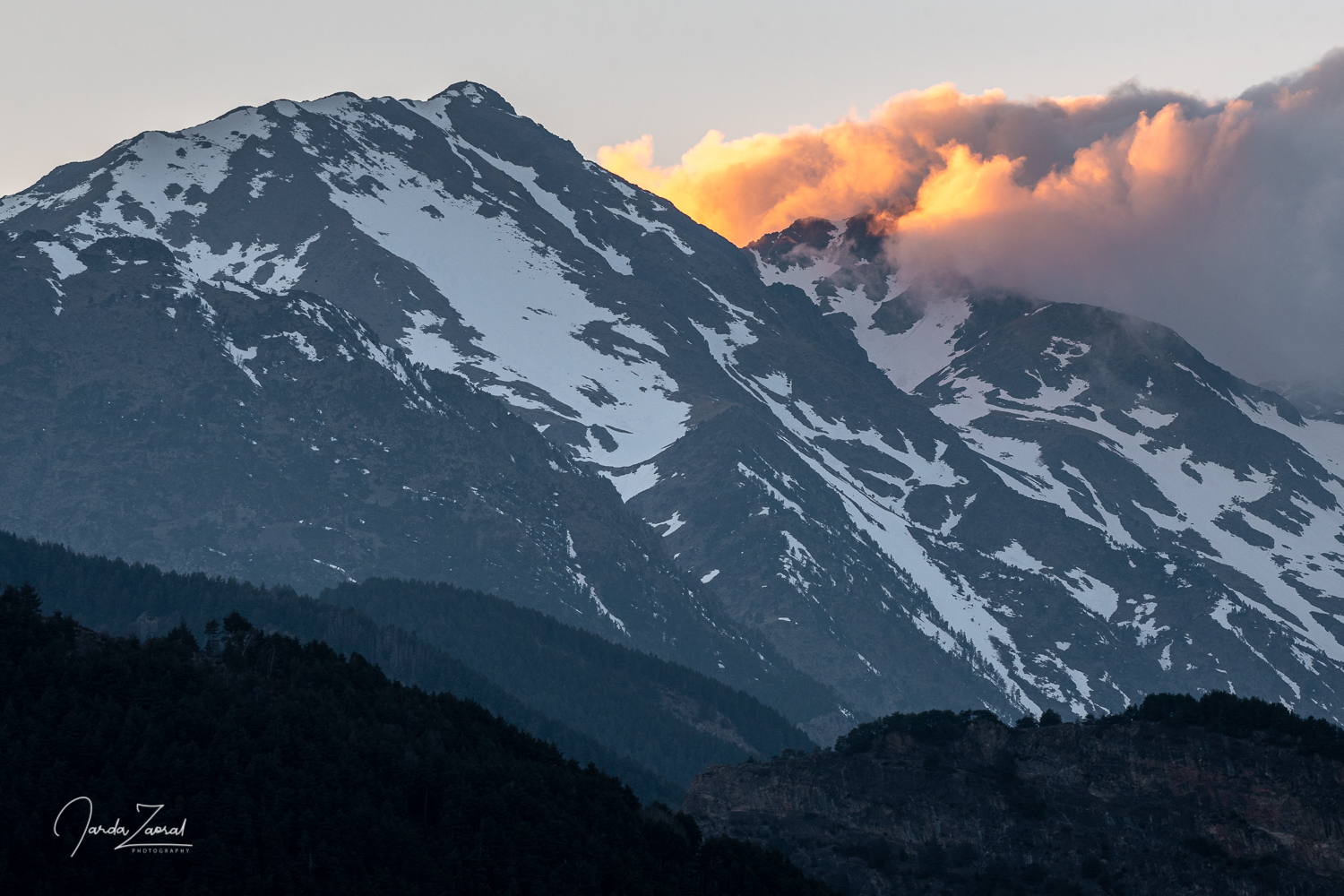 My tips for climbing the mountain Coma Pedrosa:
If you are going to Coma Pedrosa in summer, spend the night at the hut with the same name and enjoy the night in the beautiful Pyrenees.
If you want to get to Coma Pedrosa in winter, beware of avalanches. Check out the current avalanche risk with local authorities. I highly recommend to summit the mountain on skies.
Andorra also offers excellent conditions for downhill skiing. If you visit the country in winter, definitely go skiing there. We spent one day skiing in the largest ski resort in Andorra called Grandvalira and it was amazing.