Sweden's highest mountain Kebnekaise is the peak furthest from civilization of all European countries. The shortest route to the summit is 29 kilometers long (one way). Therefore it can hardly be reached within one day. The easiest way to Kebnekaise is from the village Nikkaluokta and most often the return trip takes three days. How did I enjoy the hike?
Date of summit: 1st September 2018 6:55 
Traveling mode: Hiking
Height of the peak: 2,098m 
Hiking distance: 10.13 km (Summit Day)
Hiking distance: 19.01 km (Back to civilization) 
Time to ascend from Kebnekaise fjällstation to Kebnekaise Sydtopp: 5 hours 37 minutes 
Time to ascend from Kebnekaise fjällstation to Nikkaluokta: 4 hours 35 minutes 
Elevation climbed: 1599m (Day 1)
Elevation descended: 312m (Day 2) 
Map of my hiking journey from  Kebnekaise fjällstation to Kebnekaise Sydtopp: Movescount
Map of my hiking journey from  Kebnekaise fjällstation to Nikkaluokta: Movescount
Personal rating of the mountain: ***** (6 stars maximum) 
Beer on the peak: Poppels Wit **** (6 stars maximum) 
Since I have already climbed Kebnekaise four years ago via the regular route "Nikkaluokta – Kebnekaise Fjällstation – Kebnekaise and back" I decided to set out this time for a seven day hike Abisko – Kebnekaise – Nikkaluokta, which meant a seven-day trip through the Swedish mountains.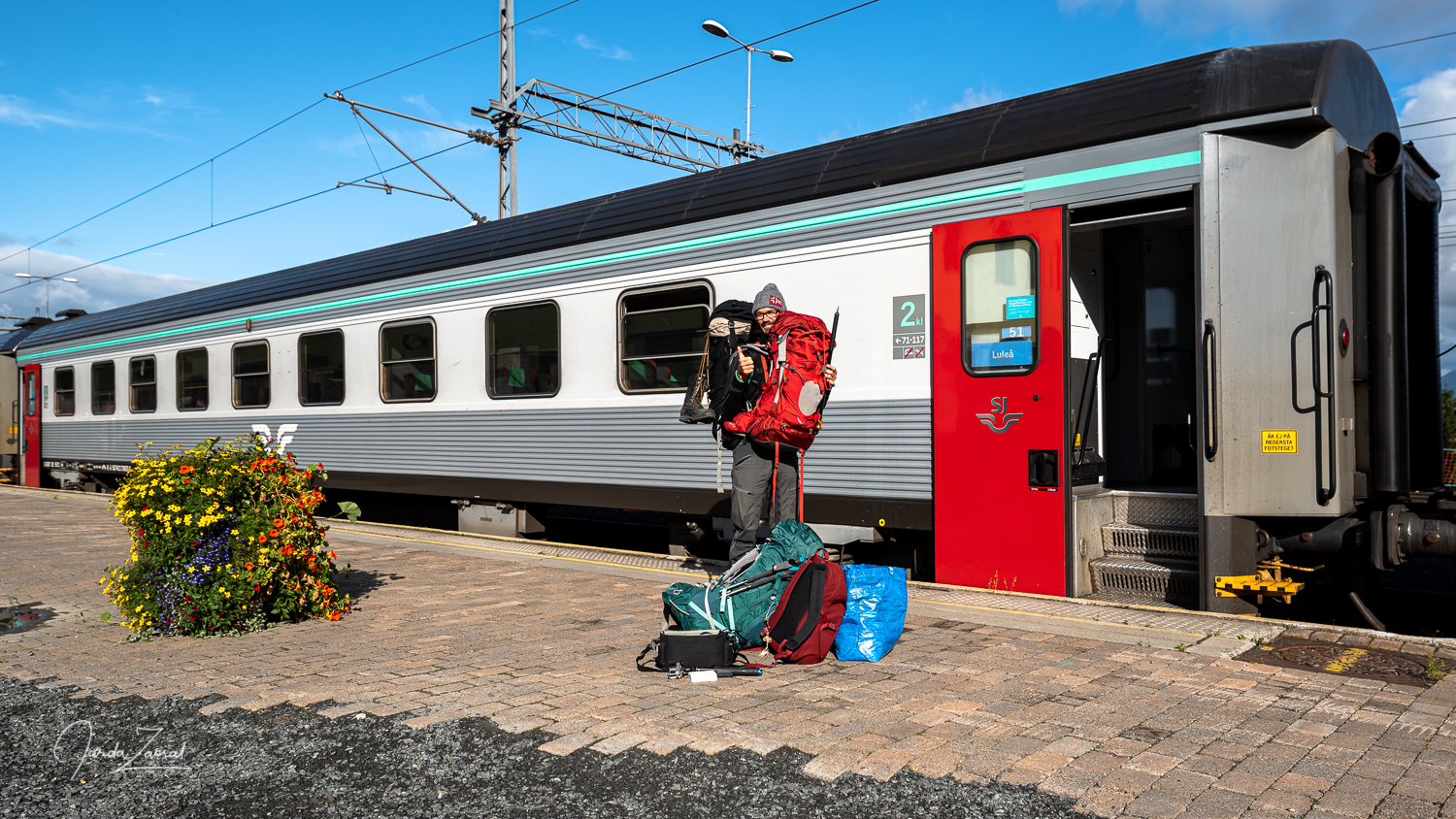 After climbing Halti, the highest point of Finland, my girlfriend and I took the train from Norway to a small Swedish Lapland village called Abisko. There we had to say goodbye to the civilization. During the next week we were supposed to be without mobile phone signal on the most interesting part of the famous Swedish hiking trail Kungsleden. We will experience 130 km of hiking.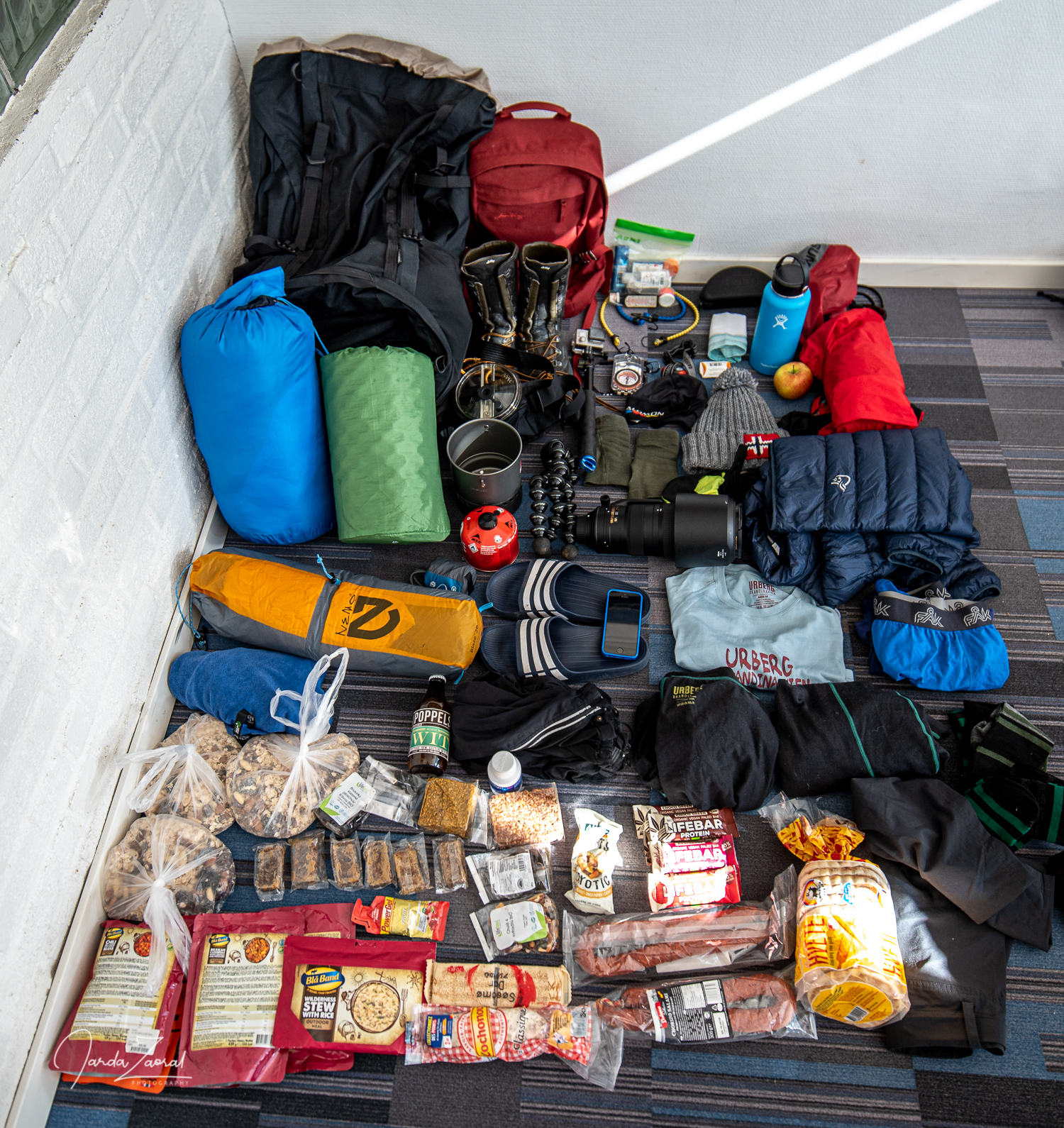 We bought the last food supplies in Abisko, packed our backpacks thoroughly and approached the scale where all pilgrims stop before heading to the Kungsleden trail. My backpack showed a weight of 26 kilograms. Joanne had a backpack weighing six kilos less. The difference was photo equipment (which became lighter after the Scottish accident – my back will thank me). Since we had nothing more to get rid of we set out on the road.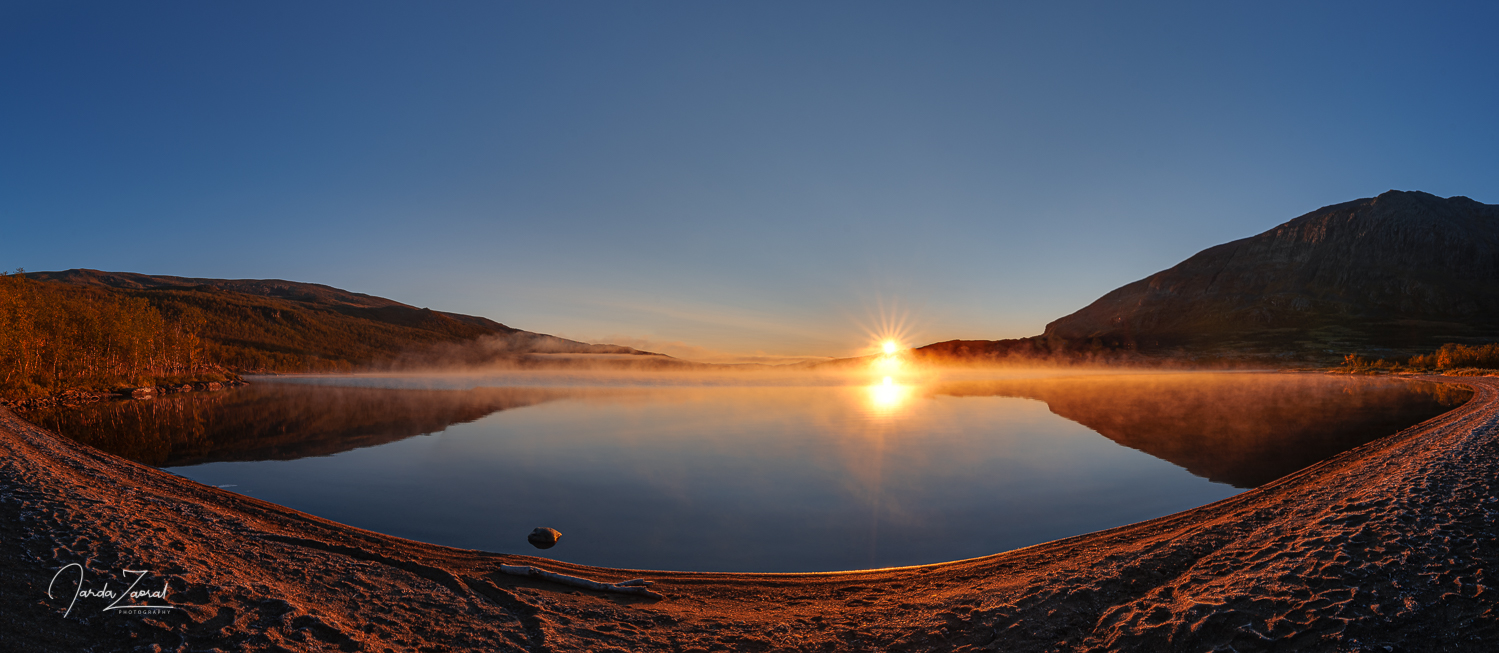 The first five days on Kungsleden trail brought us a lot of experiences. I can summarize them in just seven words: valleys, mountains, rain, lakes, sauna, reindeer and blisters. The hike had it all. A description of the hike would take at least a few more articles so I will just summarize them by a few sentences from my diary:
Kungsleden hike
DAY 1: 2 km
… The sun is shining. We are enjoying the first kilometers on our way along the wild river Abiskojåkka. What beauty…

DAY 1: 15 km
… Sun is setting. The last mosquitoes of this summer have left their shelters to cheerfully attack the last tourists coming to the first Lapland settlement. My back also hurts. Why did I bring that huge 3kg lens with me?
DAY 2: 15 km
… Morning cold wakes me up. I want to get out of the tent, but the zipper is frozen. At night the temperature dropped by more than 15 degrees. After I finally managed to open the tent I see a wonderful show. The sun is just rising above a mist above a waveless lake..
DAY 3: 38 km
… We walk through a beautiful deep valley. My back got used to the heavy backpack, so instead of complaining I enjoy the landscape. Along the way I collect and eat the so-called gold of the north – cloudberry. I have never eaten such sweet fruit. Delicasy. On the way we will meet several reindeer…
DAY 3: 49 km
… We walk through another incredibly long valley. Haven't we already gone through this one? My legs are getting tired and a strong wind blows from the mountains. It brings dark clouds and it starts to rain. It is tough with my heavy backpack. We stop at the first cottage in another Lapland village. But it is full. "You can't stay," we are told. The next village is 10 kilometers away…
DAY 3: 59 km
… We are slow. Joanne and I are low-spirited. It's raining cats and dogs. After two endless hours in heavy rain we reach our destination. We knock the door of the village commander: "Can we stay here for tonight, please?" – "I am sorry. It's full. The only option is to sleep on the ground," we hear. We lie down in the corner of the room on a borrowed mattress where dogs usually sleep. But we are finally getting dry…
DAY 4: 62 km
… It is pouring again. Why? What have we done wrong? Why are we punished?
DAY 4: 82 km
… Sauna! There is a sauna in the next village. We don't hesitate a minute and go there to warm up. Inside, a master is already waiting. Of course, there is no electricity in these Sámi villages so the sauna is heated by wood. It smells really good and the master heats the sauna above hundred degrees. We talk with other hikers about the last days on the trail. The conversation is interrupted by several jumps into a glacial lake. Incredible regeneration and body relaxation…
DAY 5: 105 km
… We passed several waterfalls and walked around steep hills. The weather is beautiful. It is unbelievable how fast a hiking nightmare can turn into an amazing trip. This part of Kungsleden is most beautiful. Soon we see Kebnekaise Fjällstation, the base camp, from where we will head to Sweden's highest point – Kebnekaise the following day…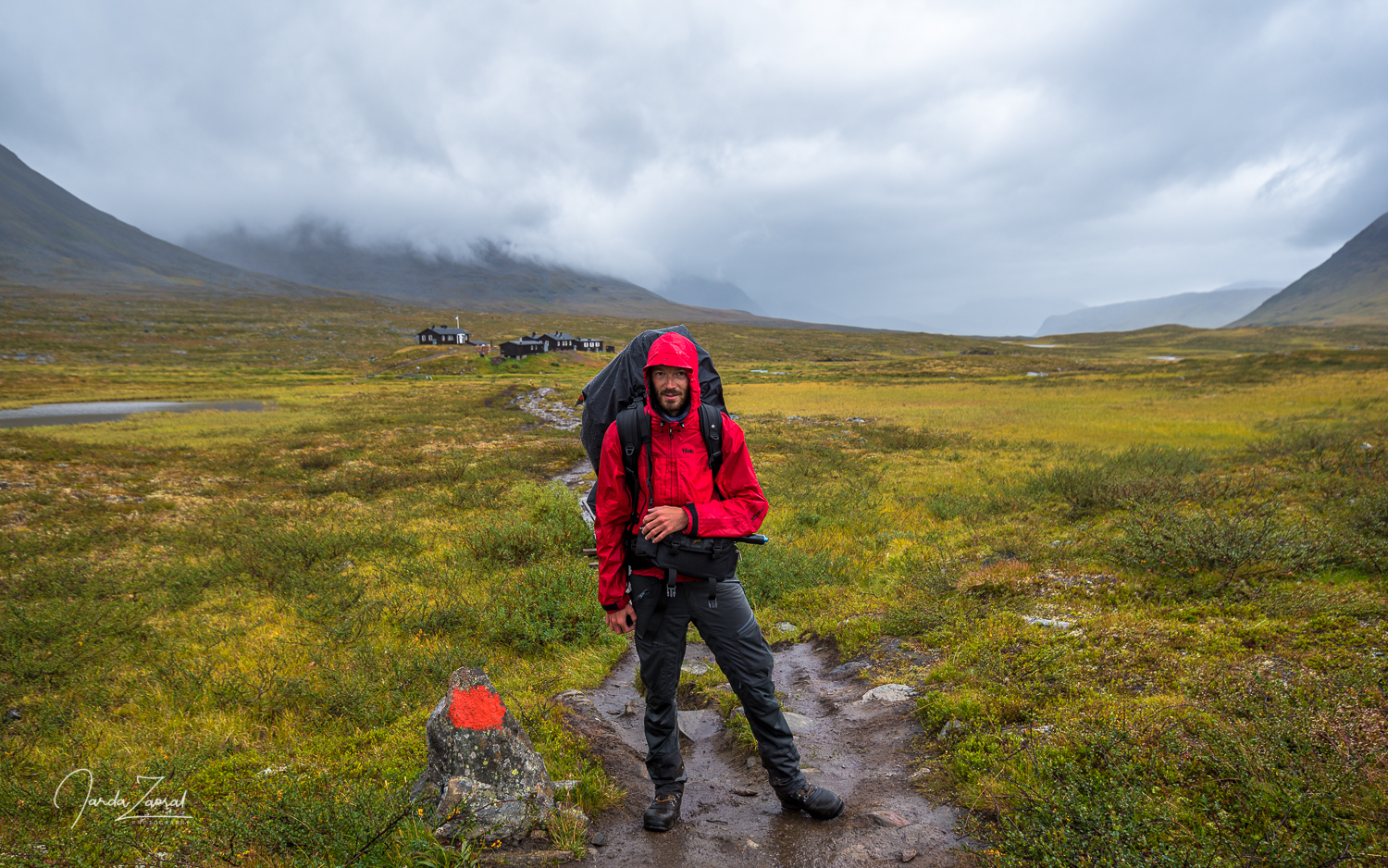 Time to climb Kebnekaise
We set up our tent nearby Kebnekaise Fjällstation when my phone suddenly started vibrating in my pocket. Finally a signal. Welcome back to civilization! After such a long time without a cell phone it was a great feeling. I felt ashamed of how happy I was. We had a beautiful view from our tent but ignored it for a while. Time to let our family and friends know that we are alive. Besides this, we could also check the current weather forecast. It seemed that the bad luck of the last days turned around. The next day was supposed to be a wonderful sunny day. Ideal for our climb of Kebnekaise.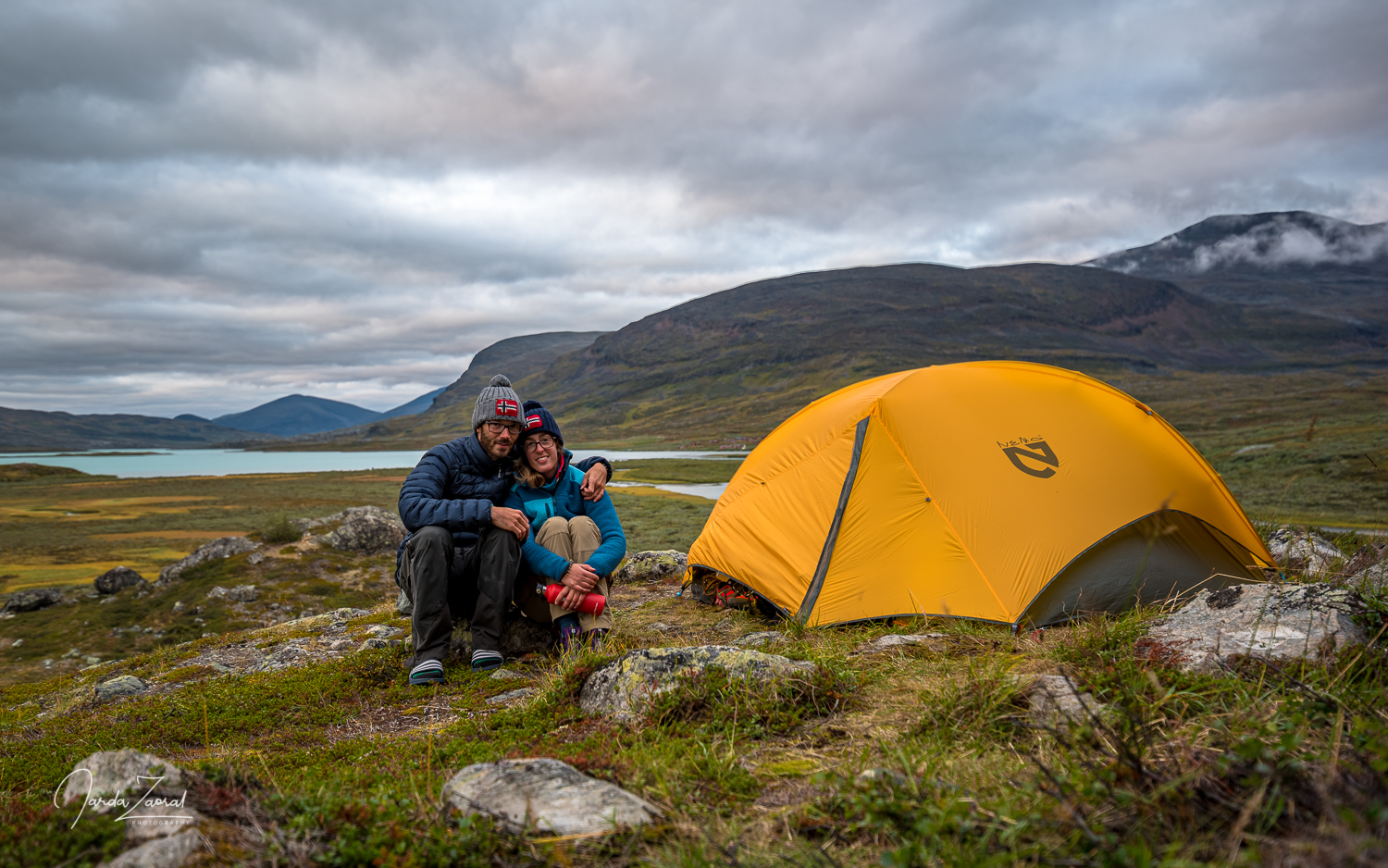 The easiest route to Kebnekaise
We decided to get up at midnight to reach the summit at sunrise via the western route (the eastern route requires glacier equipment). The alarm was annoying but the view of the northern lights was worth it. We took a short breakfast and started to hike towards Kebnekaise. After the first three kilometers in the valley the path became steeper. In another half an hour we crossed a river and continued on the path recently built by sherpas. A much more pleasant accent than four years ago on rocky terrain.
The Sherpa steps led as far as to the peak of Vierranvárri (1711m). It meant that we are only 300 elevation meters from Kebnekaise. However, there was one more valley between Vierranvárri and Kebnekaise. It meant an additional 200 meters down and up.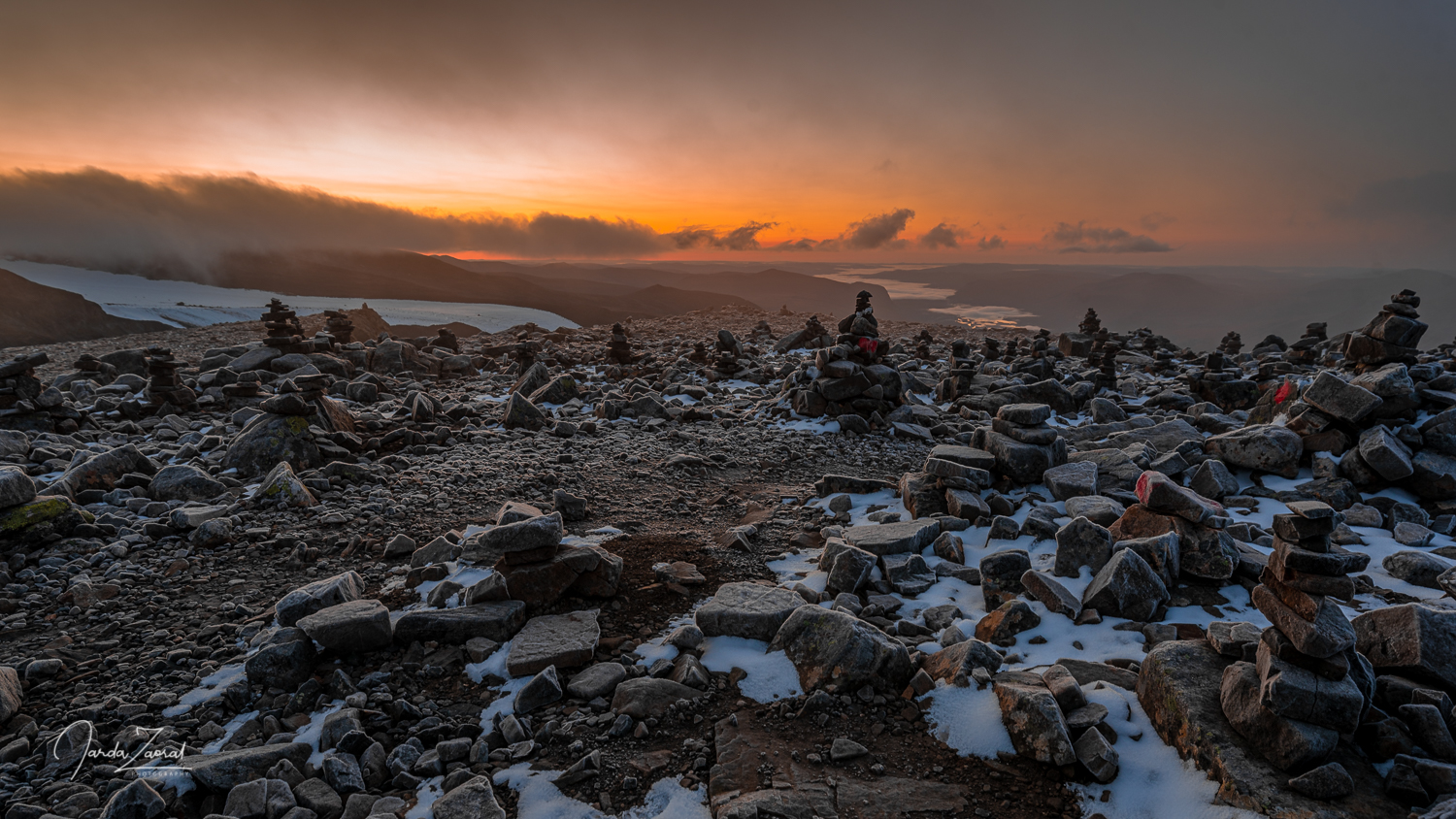 Finally the last climb began. At 1700m we crossed the snow line and in a moment the landscape turned completely white. In a few minutes we ascended from autumn to winter! Meanwhile, the sun started to rise and lit the mountains around us with a beautiful pink-red light. Amazing scenery.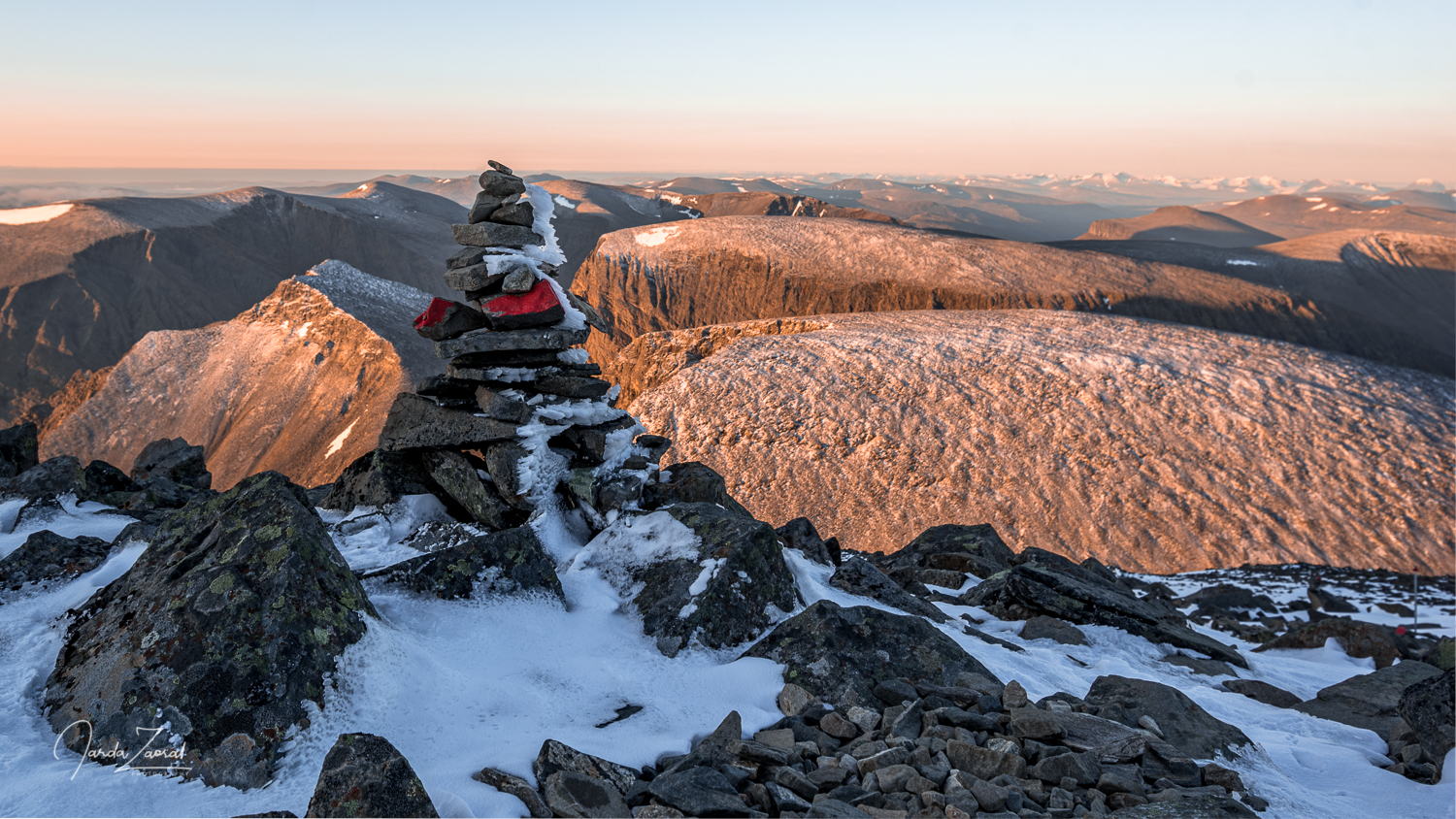 The final 30 meters were very steep and covered by ice, so we put the crampons on. We continued with them smoothly and were on the top in a minute. We admired the snow-capped mountains and the beginning of the red autumn in the valleys. Fog has formed over the lake between Nikkaluokta and Kebnekaise Fjällstation. Beautiful.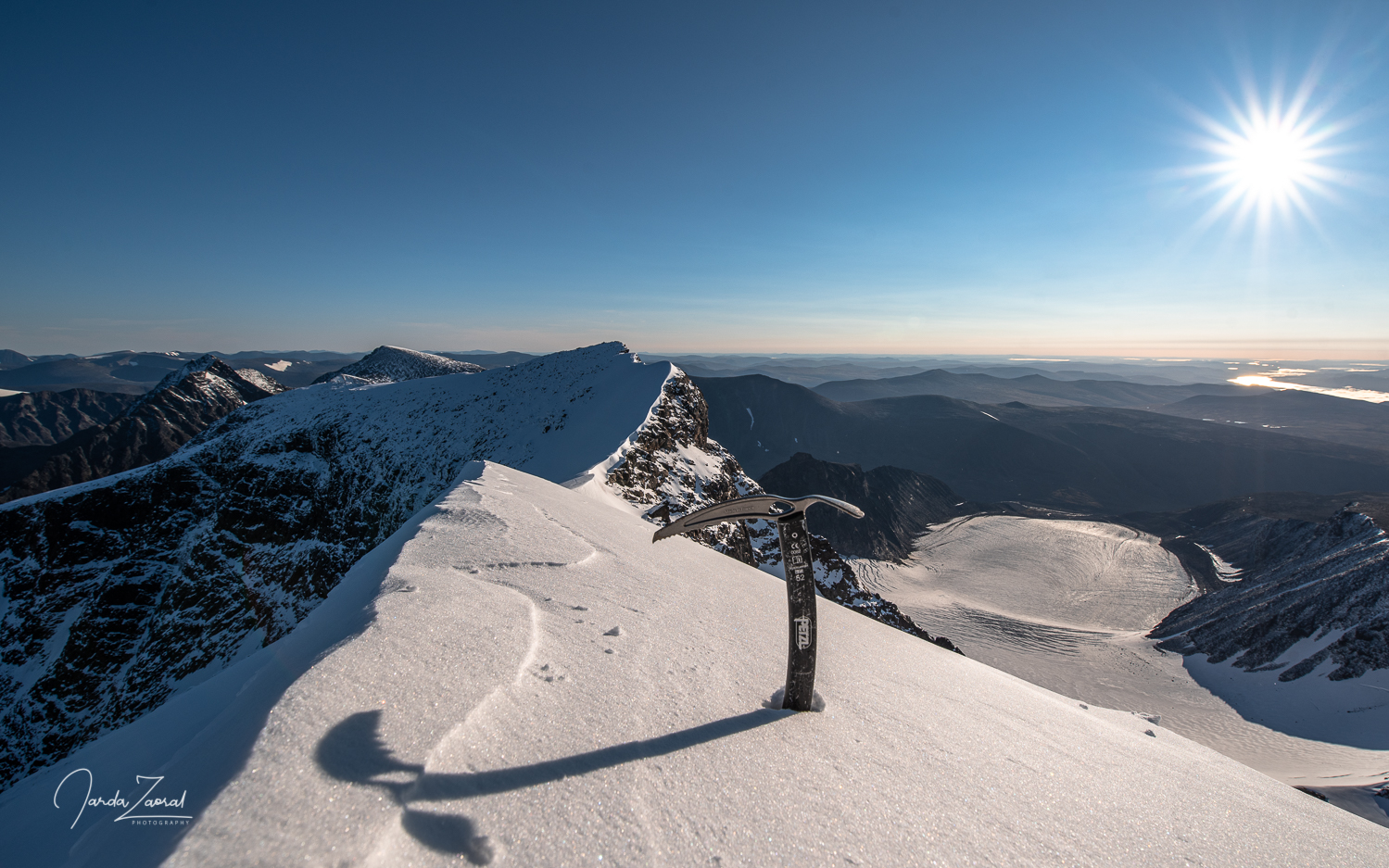 Which peak of Kebnekaise is the heighest?
Mountain Kebnekaise has two peaks – a southern and a northern one. In between, there is a steep ridge. We climbed the southern peak of Kebnekaise which has always been the higher one. However, global warming is making a change. In 2018 the northern peak became the highest point for the first time in history. The unusual heat in the north of Sweden in recent years caused serious melting of the glacier on the southern peak. I expected I will have to climb the northern peak but we were lucky. When we were getting soaked by rain every day in the valley it was constantly snowing on Kebnekaise.
According to the local guides at Kebnekaise Fjällstation, it caused an incredible rise of the Southern peak of Kebnekaise by 10 meters! That meant that it became the highest again. I did not believe the number myself, but when I compared my photographs with those taken there in the summer, there was a huge difference. And I was glad. Looking at the steep ridge I didn't feel like going to the northern peak. At these icy conditions it didn't look safe at all.
It was very windy and slippery at the top so we went down to the nearby bivouac. There, it was pleasantly warm unlike on the windy peak. We took a short break and headed back to our tent. The descent took us four hours and we came to our tent completely exhausted.
If you are exhausted take a helicopter
The next day we woke up very tired but there was still the last 19 kilometers to reach the village of Nikkaluokta. We would overcome that we were tired, but Joanne had seriously growing blisters, a result of too tight hiking shoes. They looked very unhealthy. She probably got an infection. "Joanne, do you want to fly back to civilization by helicopter?"
I asked seriously. Many lazy tourists shorten their way to the top of Kebnekaise and back with a helicopter, and big demand for this mode of transport made the flight affordable. The flight is relatively cheap compared to other Swedish services (it costs "only" 800 SEK per person; in comparison a night at Kebnekaise Fjällstation costs 1240 SEK ). If you sleep in tent you can use the saved money for the helicopter.

But my girlfriend refused my offer, "I have done over a hundred kilometers. I want to walk the last nineteen." It was the toughest part of the whole hike because of the blisters but Joanne managed it well. We arrived to Nikkaluokta after four hours, hitchhiked a car and the end of our seven days hike was only pleasant. We ordered a delicious pizza with reindeer meat and watched aurora borealis out of our hotel window.
My tips for climbing the mountain Kebnekaise:
If you have time, take the seven-day hike from Abisko via Kungsleden to the Kebnekaise Fjällstation and return to civilization via the village of Nikkaluokta after climbing Kebnekaise Mountain. It is an amazing experience. On the way do not forget the sauna.
If you have experience with glaciers, take the eastern route to the summit. You will shorten the hike and avoid significant elevation. Without glacier experience, a guide is mandatory. It is possible to book one beforehand.
Do not stay overnight at the Kebnekaise Fjällstation. It is overpriced and overcrowded. Bring your tent with you.