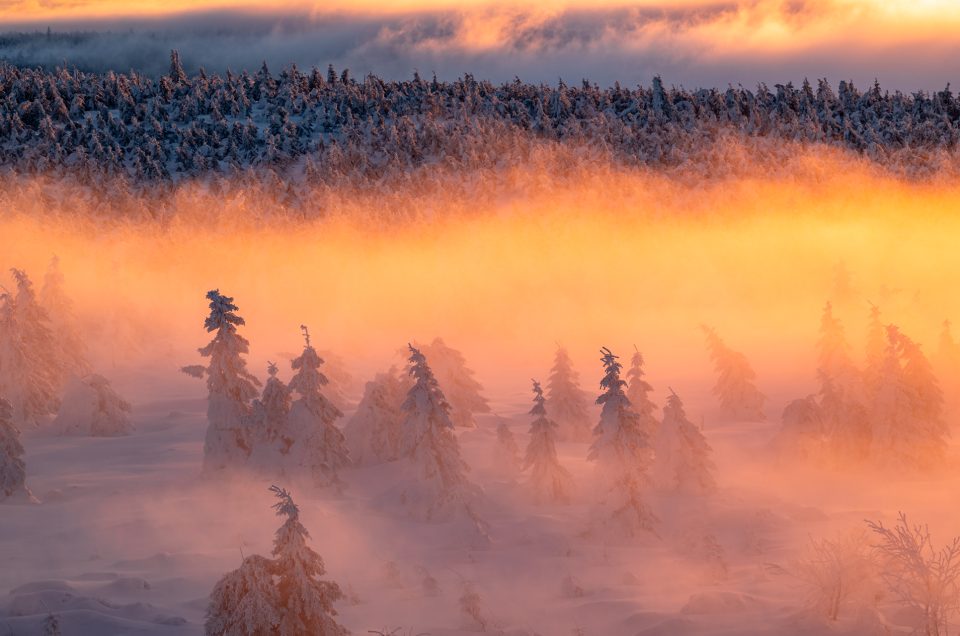 Last Updated on February 1, 2023 by Jarda
Winter is beautiful in the Czech Republic… if you have snow. Unfortunately, global warming makes snow more and more rare so my tips will guide you to mountains rather than to cities in lowland. If you are looking for fairy tale snowy cities like on the picture below you will likely be disappointed. For your information, Prague usually only has snow for a few days every winter. Instead, my tips will guide you to the mountains. Czech mountains are beautiful in winter and there is a snow guarantee!
During 2021-2022 I visited the highest 16 mountain ranges of Czech Republic both in summer and winter including their highest peaks and it was amazing! My trips brought so many stories, experiences and pictures that I even published a book Crown of Czech Republic describing all the Czech mountain ranges with a peak above 1000m. You can find the list at the end of the article.
Unfortunately, the book is available only in Czech language but I have something better for you – a thorough selection of the best Czech adventures and experiences 🙂 Today, we'll start with winter activities. You will be surprised how much you can enjoy Czech winter. Below you can find a list of the best winter adventures.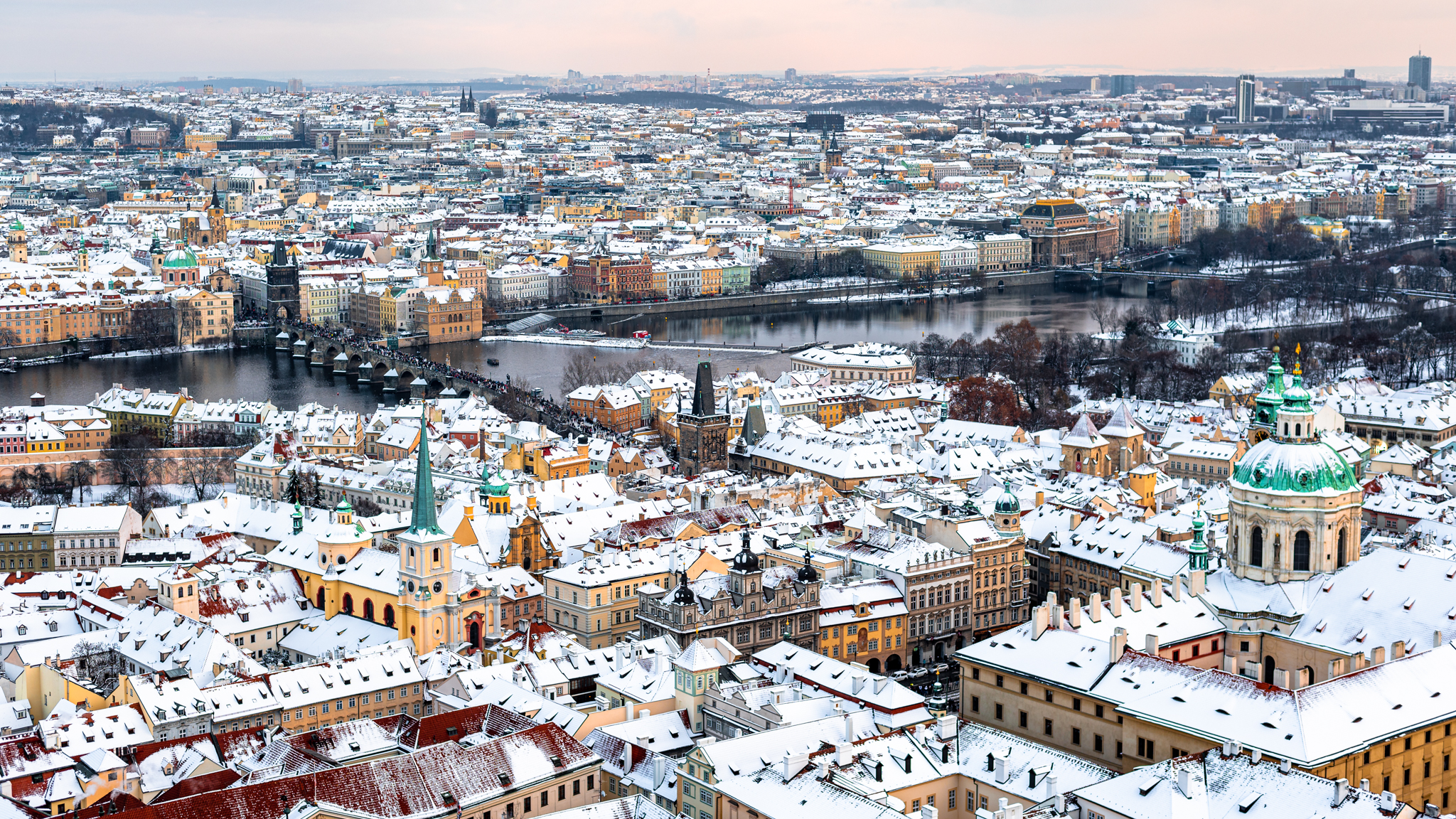 Witness Czech winter at mountain ridges after a snowstorm
Winter can be rough in Czech mountains during snow storms but the toughest conditions create the most beautiful scenery. Visit Czech mountain ridges some time after a heavy snowfall and you will be amazed. Rocks, bushes and trees or cottages covered in frost and freshly blown snow look wonderful. Where will you find the best views? Visit Jeseníky or Krkonoše because their highest ridges lie above the tree line and that brings the best viewpoints.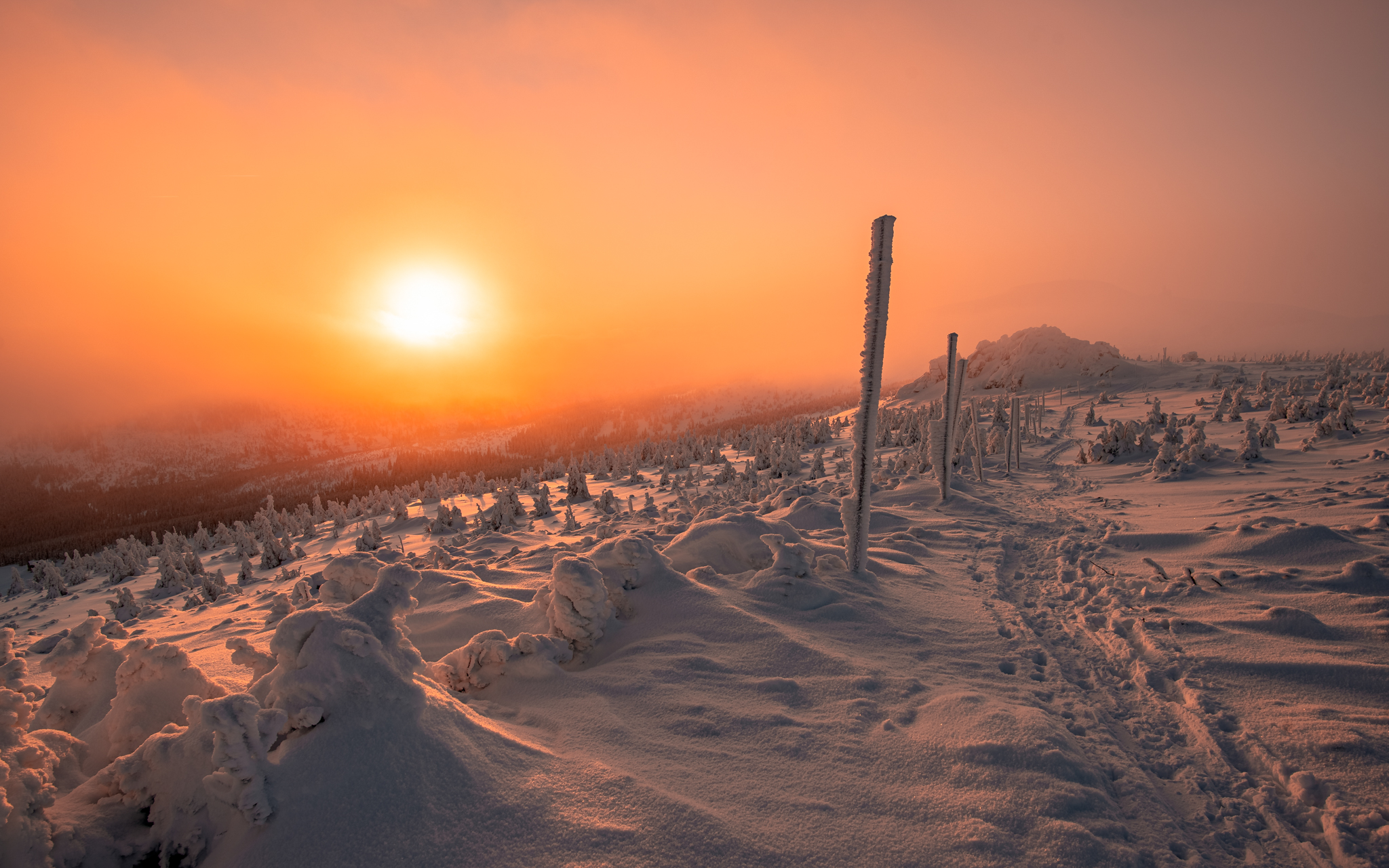 Spend a night at one of the mountains of the Crown of the Czech Republic
Some peaks offer comfortable huts, other ones cosy shelters where you can spend a night on your own if you have a warm sleeping bag. You can also try bivouacing. It became very popular in Czech Republic during last years so you can find sleepers even on the highest mountain of the country – Sněžka.
Which ones do I recommend to you? You will find the best accommodation with wonderful views on Ještěd and Lysá hora. I found very cosy shelters in Jizerské hory (Smrk) and Deštné hory (Velké Deštná) and I tried a bivouac on Králický Sněžník. All these adventures weren't only fun, they also rewarded me with unforgettable sunrises and sunsets.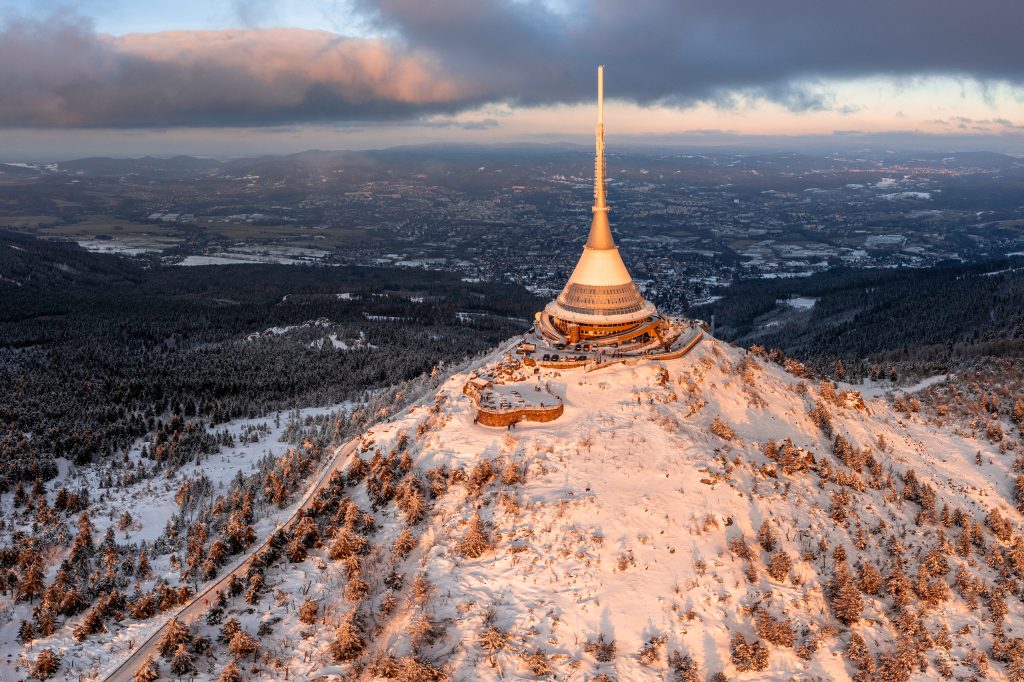 Try snowshoe hiking in remote Czech mountains
I will never forget the beauty of a quiet winter night when I hiked on snowshoes in Hanušovická vrchovina from the highest point Jeřáb back to civilization. It was very cold but the windless evening was beautiful. There were no other people around so I could fully enjoy the sounds of crunching snow below me. Kamenec (Novohradské hory), Vysoká (Hostýnsko-vsetínská hornatina) or Smrk (Rychlebské hory) are other mountains of the Crown of Czech Republic which are not frequently visited but offer an amazing snoshoe experience. All of the starting points are comfortably accessible by car.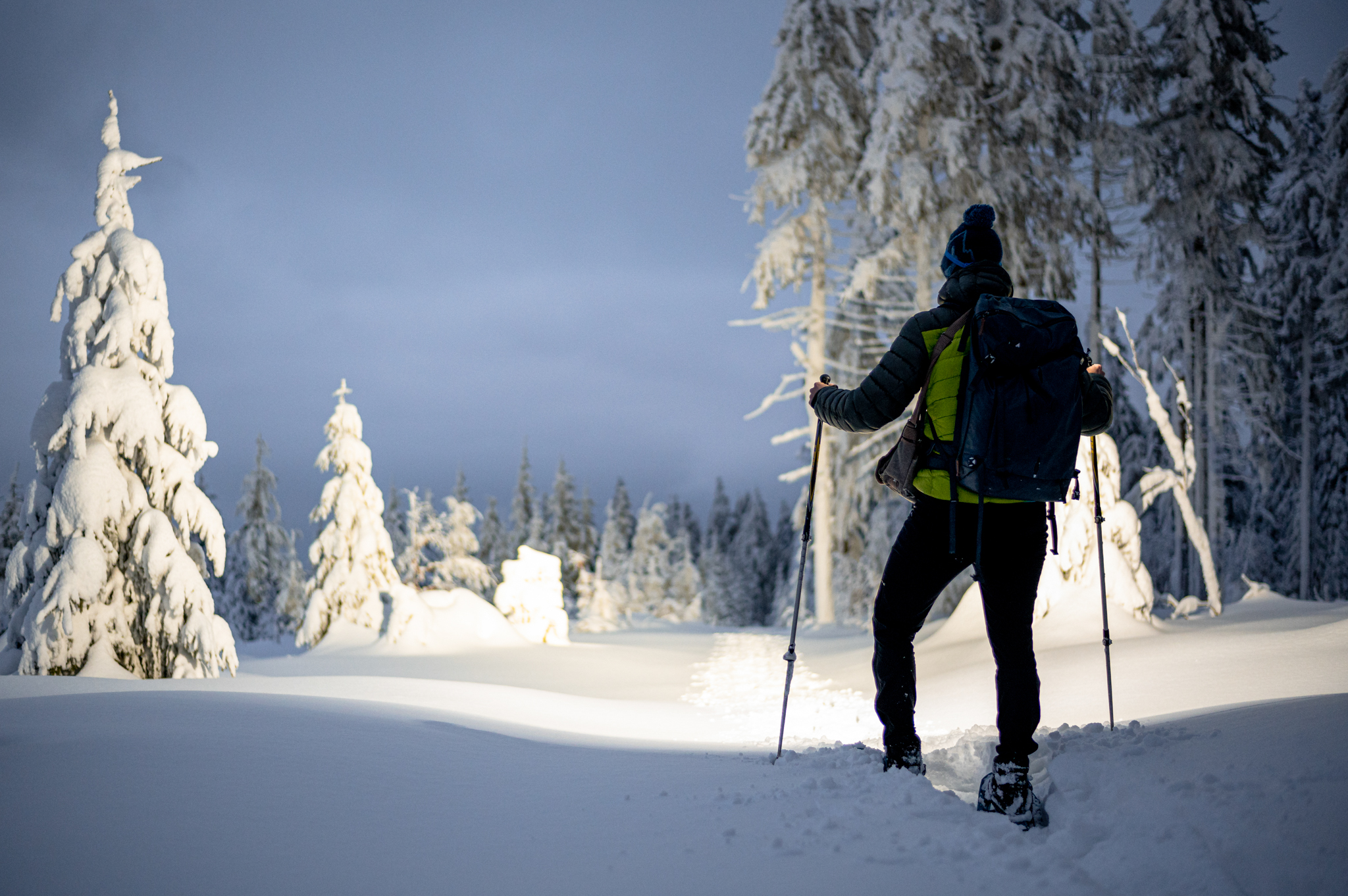 Sign up for one of many cross country skiing races
If you prefer spending time in the mountains with people, participate in a cross country skiing race instead. There you will experience an amazing atmosphere. Finishing a cross-country race with a long tradition is an experience for a lifetime. Similar to Vasaloppet in Sweden, the Czech Republic has the 50 km long race Jizerská 50. An amazing atmosphere is guaranteed. Music at the start and at the finish, cheering locals around the track and the squirell Jizerka at the finish will make your experience unforgettable. Besides this race, you can find many others around the country. For more information take a look here.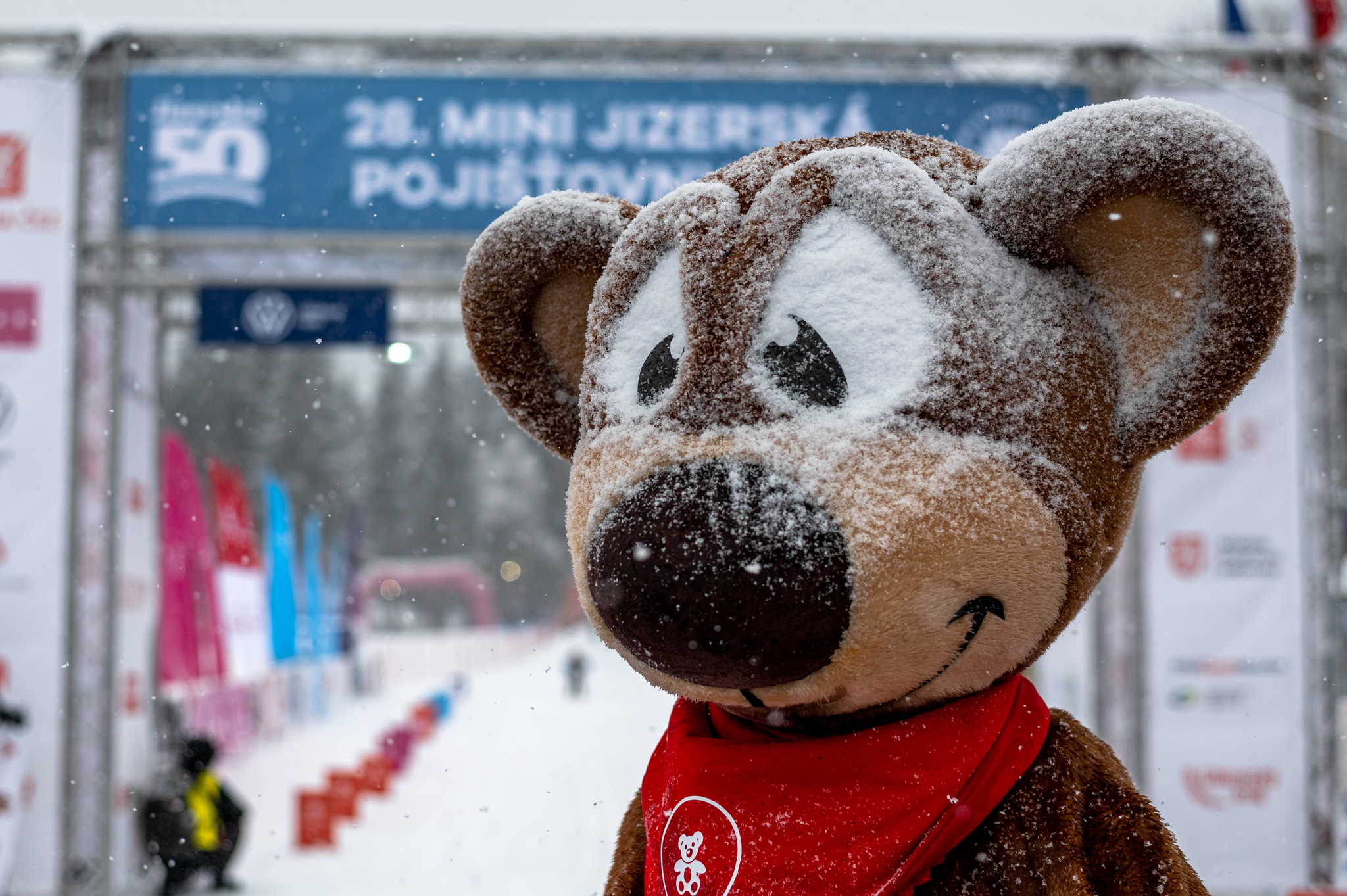 Tour skiing in the Czech Republic is getting more and more popular
Try the new trending winter sport. Ski touring is becoming very popular in the Czech Republic and I understand why. Climbing up on skis is a great experience as well as a good workout and you are rewarded both by beautiful views and downhills. So much better and also faster than summer hiking!

Downhill skiing in the Czech Republic
Let's finish the summary with the most popular winter sport among Czechs. Downhill skiing has been the most favourite winter activity in every corner of the country and there are many options to choose from. You can find the largest and best ski resort in the east of the country at Krušné hory at Klínovec skiareál. I just recommend to avoid skiing there during weekends as it gets many visitors and queues are likely.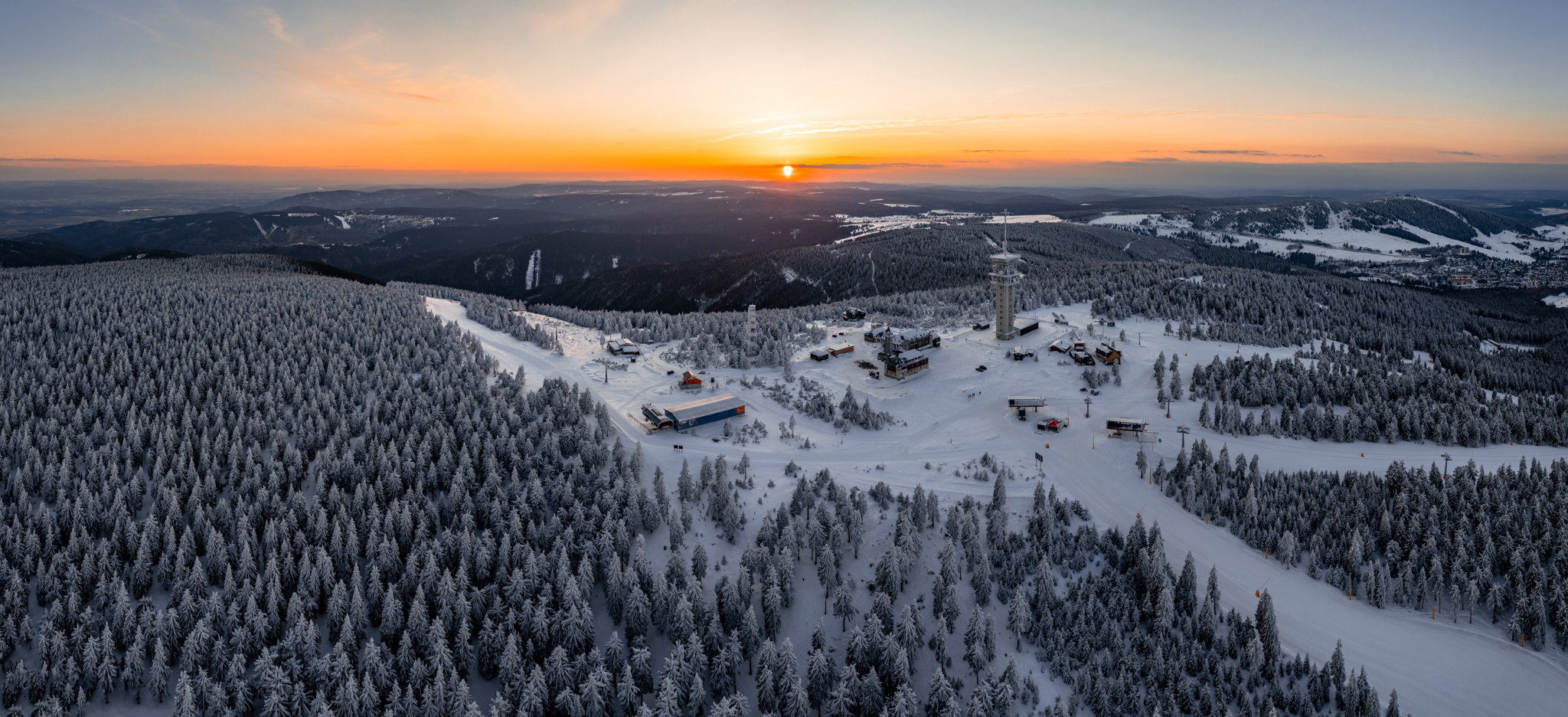 Which activity and which Czech mountain will you choose?
Did you find a winter activity you would like to try? Before you head to the mountains, please just make sure to be safe. There are more and more injuries every year. Underestimating weather conditions or equipment can cause fatalities.
Finally, here is the list of all Czech mountain ranges above 1000m including their highest peaks.
List of the highest Czech mountain ranges
Krkonoše – Sněžka – 1603 m
Hrubý Jeseník – Praděd – 1491 m
Králický Sněžník – Králický Sněžník – 1423 m
Šumava – Plechý – 1378 m
Moravskoslezské Beskydy – Lysá hora – 1324 m
Krušné hory – Klínovec – 1244 m
Rychlebské hory – Smrk – 1127 m
Jizerské hory – Smrk – 1124 m
Orlické hory – Velká Deštná – 1116 m
Šumavské podhůří – Libín – 1094 m
Novohradské hory – Kamenec – 1073 m
Český les – Čerchov – 1041 m
Hostýnsko-vsetínská hornatina – Vysoká – 1024 m
Javorníky Malý – Javorník – 1019 m
Ještědsko-kozákovský hřbet – Ještěd – 1012 m
Hanušovická vrchovina – Jeřáb – 1003 m