Statistics say that Moldova is the poorest country in Europe. The country is visited by the least tourists and the average European probably knows very little about Moldova. These were the reasons why I was looking forward to visiting this country. How was my climb to the country's highest point Dealul Bălănești (also sometimes called Bălănești hill)?
Date of summit: 28th April 2019 12:00 
Traveling mode: Walk
Height of the peak: 430m
Hiking distance: 1.3 km 
Time to ascend to  Bălănești: 0 hours 29 minute 
Elevation climbed: 104m 
Map of my journey to  Dealul Bălănești: Movescount
Personal rating of the mountain: ** (6 stars maximum) 
Beer on the peak: Chișinău Specială Tare *** (6 stars maximum) 
To reach the Moldovan capital Chisinau from the Ukrainian village Vorokhta, my friends and I had to use four different means of transport (train, bus, trolley bus and taxi). Since I enjoyed travelling by Ukrainian trains (as described in the previous article), I was looking forward even to this trip. However, I soon found out that the enjoyment won't apply to Ukrainian-Moldovan night buses.
Potholes and constant turns didn't allow me to asleep for a minute and when I finally managed we just came to the border where we had to spend over two hours for customs inspection of our bus. How I missed Shengen! In the end we reached Chisinau after 16 hours.
Fortunately, another former classmate Kurt was waiting for us in Chisinau. He fixed accommodation in a nice hotel in the city center, right next to the bus stop so we could go to sleep directly after our arrival.
The largest winery in the world
When we woke up we wanted to learn about Chisinau on a local free guided tour. The problem was that there is no such thing in Chisinau. Just another confirmation that only a few tourists visit the country. We had to look for an alternative program. In the end we decided for a visit of the largest wine cellar in the world – Cricova.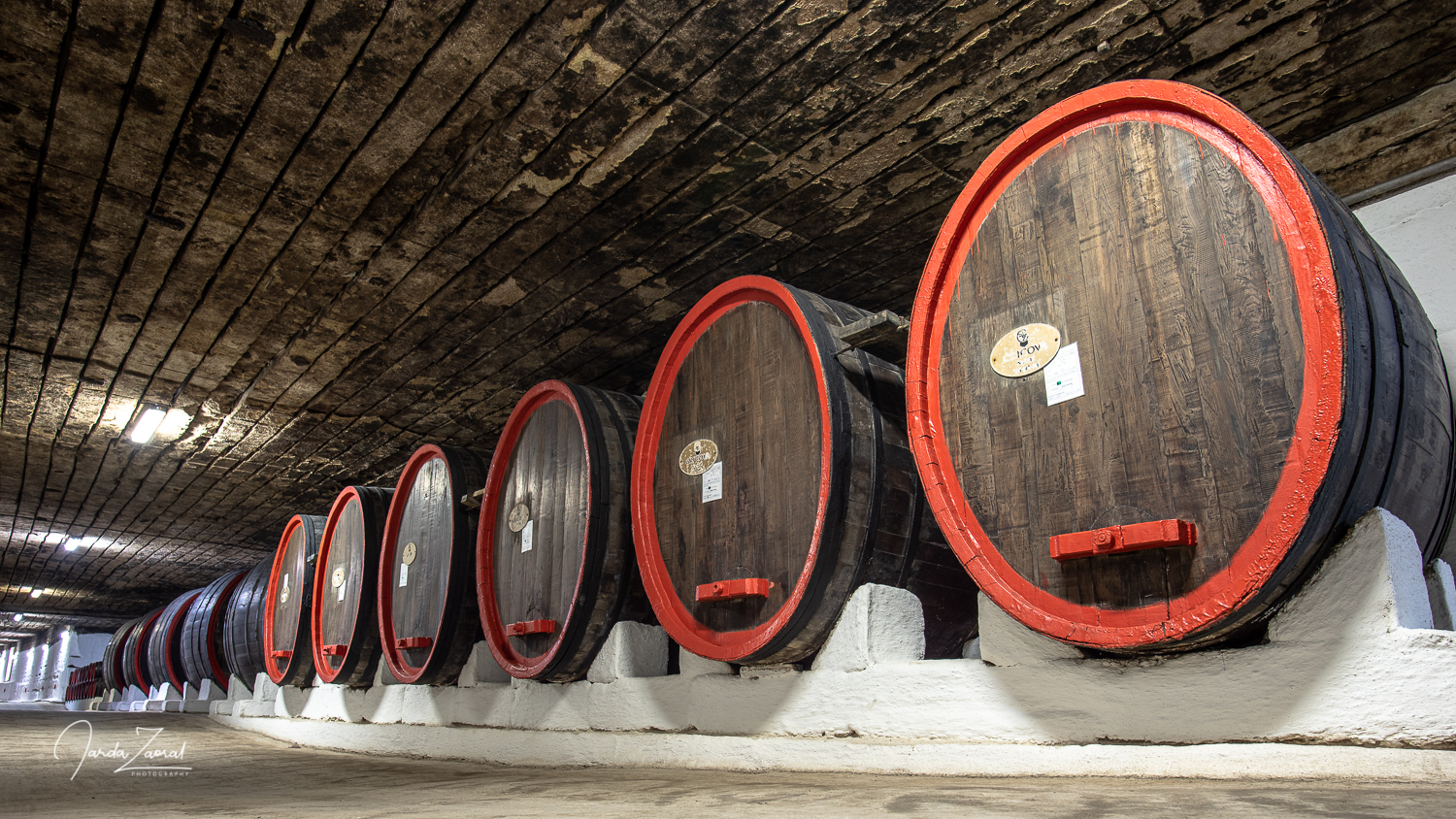 Cricova has been the largest producer of wine in the Soviet Union (up to half of the production was made here) and continued growing even after its collapse. Today, its cellars are as large as a medium-sized city. There are 110 kilometers of roads underground and hundreds of storage rooms for wine. The tour was interesting. We visited multiple storage rooms as well as presidential halls where significant guests such as Merkel or Putin tasted local wines.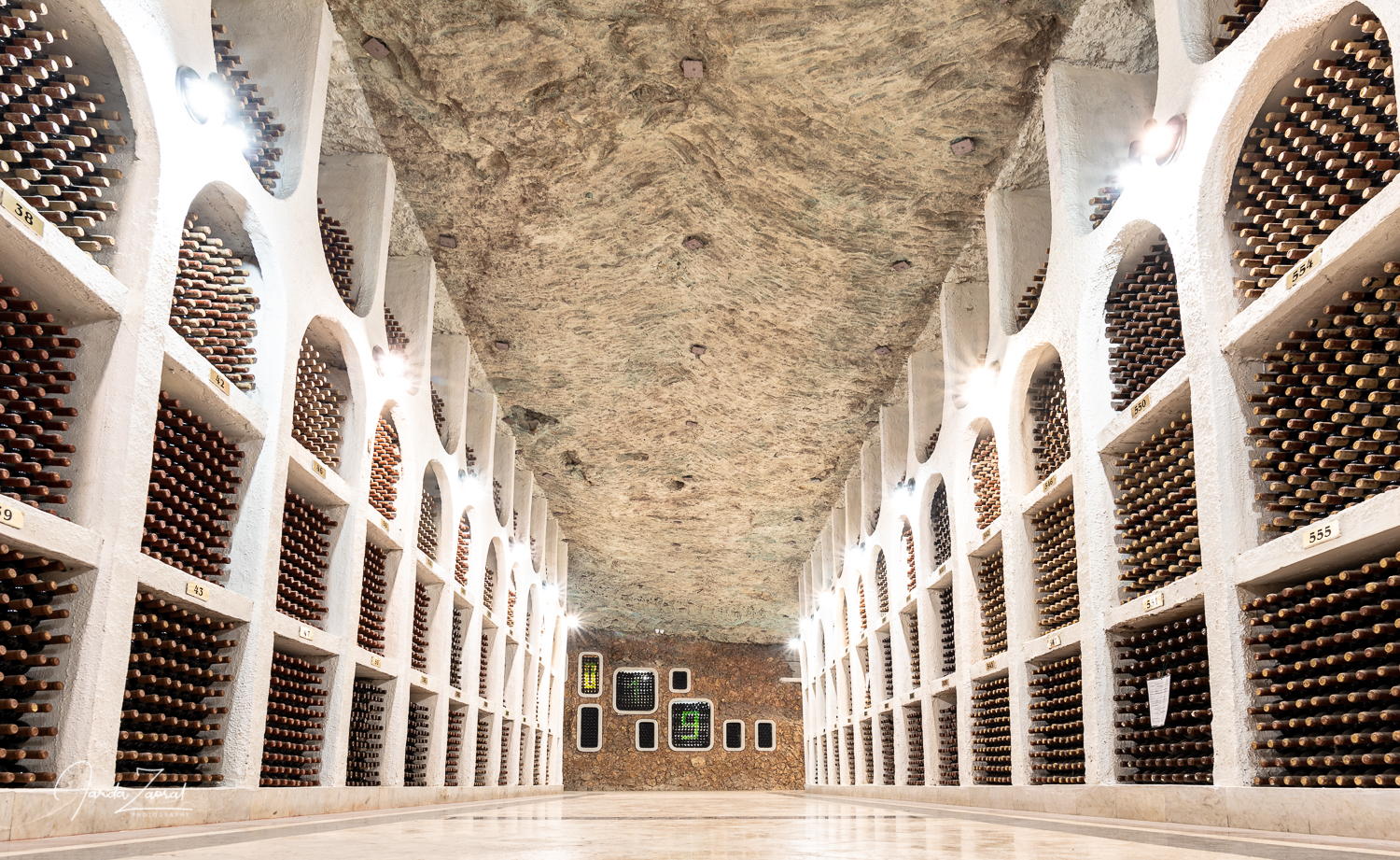 Not surprisingly, we looked forward to the tasting held at the end of the tour. During the tasting ceremony we could test four wines and I must say that I was surprised by the quality of Moldovan wines. I will not list all the flavors of citrus, nuts, ginger, chocolate and olives which I should have recognized according to the guide but I definitely liked the wines a lot.
Little party never killed nobody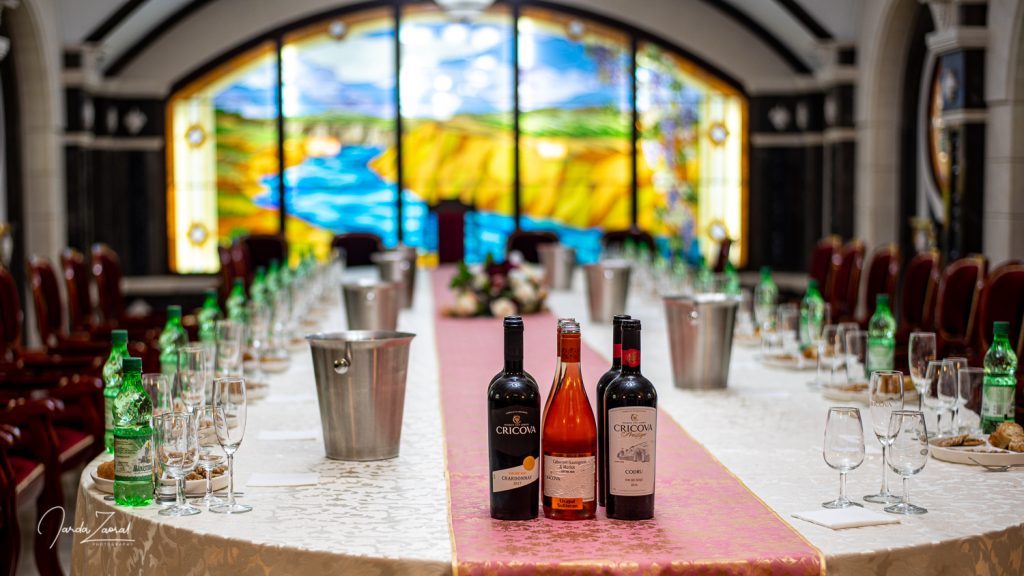 As we got curious about other wines too, we also visited the local restaurant afterwards. We got lucky. There were no guests so the staff offered us one of the presidential halls. There we continued tasting exceptional wines.
I don't know if the waiter knew what the risks were, but we were suggested to play our own music in the hall. At first the music created a pleasant atmosphere. After a few bottles of wine though, the guests started to sing along. At first it was calm singing, but when the Queen's song Bohemian Rhapsody occurred on the playlist the guests couldn't control the volume anymore. Waiter Juraj started to regret his offer but he didn't turn the music off, just professionally told us that other guests would be glad to enjoy their dinner in quiet. This remark was enough for us to stop our presidential party.
Our luxury party ended but there was one more point in our program. We found out that Ladislav Zibura, one of the most famous Czech travelers and writers, is in the city and he invited us for dinner with local Czechs working for non-profit organizations. At this unusual Czech meeting in Chişinău everyone initially looked serious. We talked about the serious issues of poverty and other major problems Moldova has been dealing with. After a few drinks, however, the conversation turned to more cheerful topics and the party was soon on. We continued to local clubs where our friend Kurt, the winner of the Star Dance contest, turned the evening into the biggest party of my expedition.
Unexpected trips are always the best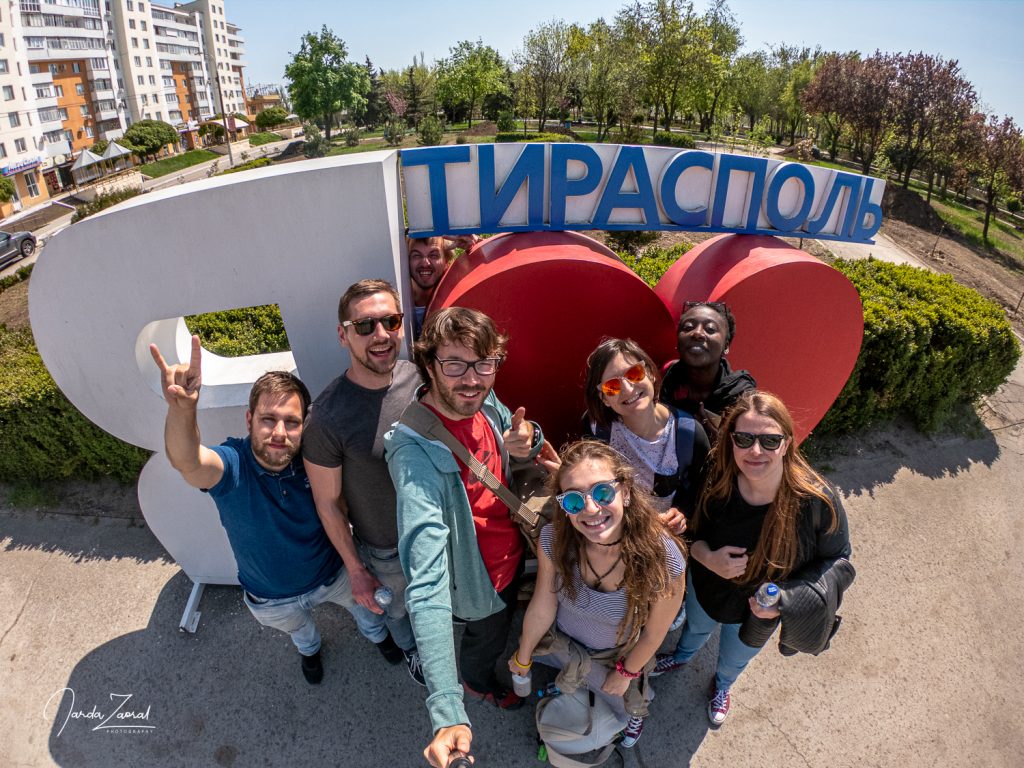 During the party I was feeling like there couldn't be a better preparation for climbing the highest mountain in Moldova but I changed my mind in the morning. I was so hangover that I couldn't drive. I will need a one day break which we filled in by a trip to Transnistria, de facto independent country.
Easter in Moldovan countryside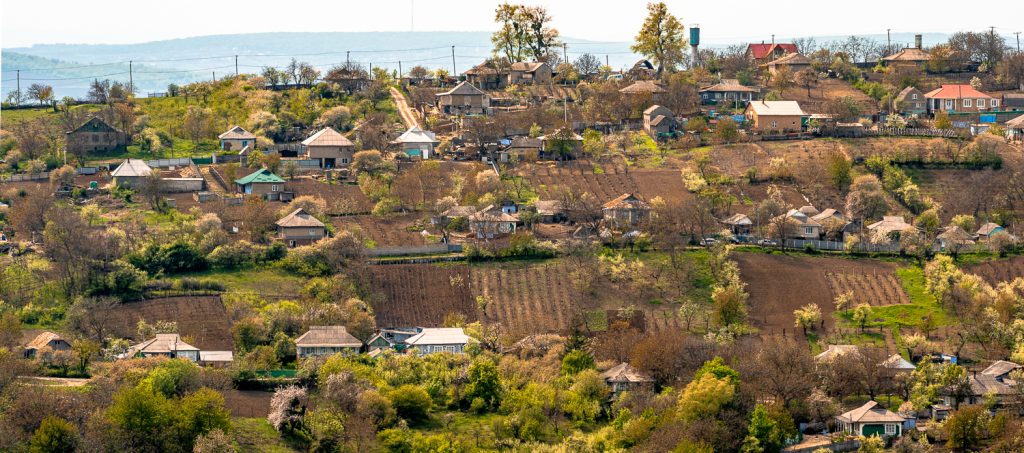 The plan worked out. I was ready the next day. I rented a car, picked up my new friend Klára and finally went on a trip to Dealul Bălănești. We passed a lot of socialist architectural gems (huge concrete buildings) and soon left the city. In the Moldovan countryside I was most impressed by the number of decorated wells and bizarre bus stops. It looked like there is a competition in Moldova for the most decorated stop/well in Moldova. It must be difficult to choose the winner.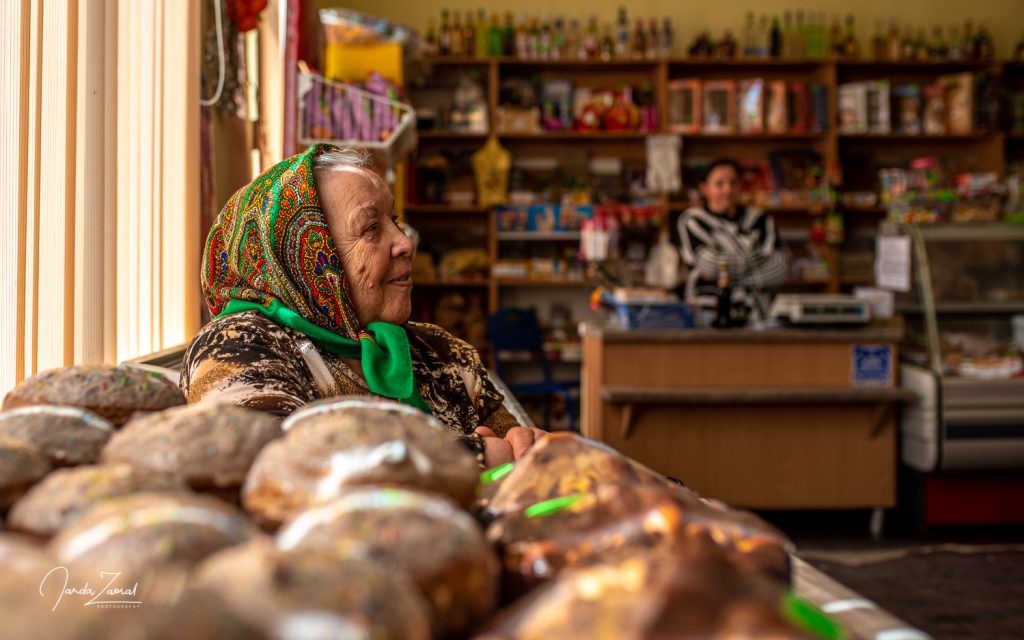 In an hour and a half we arrived to the village of Bălăneşti, the starting point for the short hike to Dealul Bălănești. I was surprised that we drove on mostly new roads. Impressive. We parked close to the local grocery store where we bought an Easter cake and continued to the peak. We had a pleasant walk, passed several nice country houses with colorful fences, blooming trees, another well and a local farmer.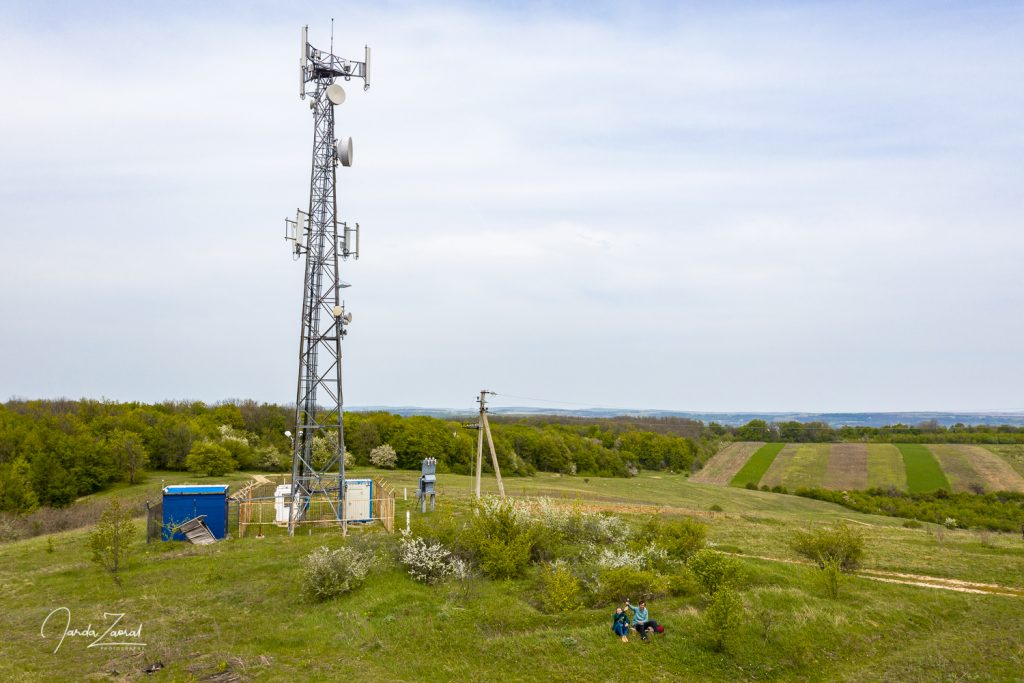 The peak was already near. We reached it in a few minutes and enjoyed a beautiful spring day. There we had a small picnic with beer and an Easter cake. A nice end of the Moldovan trip.
My tips for climbing the mountain Dealul Bălănești:
There are several hiking trails around the summit. Browse the beautiful Moldovan countryside.
Beware which car you rent. Even though the road to Bălănești was 95% on asphalt there was a short part on a dirt road. After heavy rain it might be very muddy.
Visit the Cricova winery. It is a great cultural and tasting experience.