The biggest surprise of the expedition Crown of Europe was waiting for me in Liechtenstein. This ministate hides a polished treasure Vorder Grauspitz, a sharp peak in the alpine mountains Rätikon. The ascent to the summit is unique. You have to climb in a very steep terrain and there is no marked path to the top and you will also walk through a tunnel. Who would expect that we would find such an interesting and demanding ascent in such a small country. Even though Vorder Grauspitz is only 2599 meters high it caused me big difficulties. It became the only mountain of the entire expedition, where I had to give up during my summit day and I had to return again under more favorable conditions. What happened?
Date of summit: 13th June 2019 9:30 
Traveling mode: Ski touring
Height of the peak: 2.599m
Ski touring distance: 4.49 km (Day 1) 
Ski touring distance: 6.54 km (Day 2)
Ski touring time from Älplibahn to Fläscher Alp: 1 hours 18 minutes 
Ski touring time from station Mir to Fläscher Alp: 4 hours 4 minutes  
Elevation climbed: 285m (Day 1)
Elevation climbed: 946m (Day 2) 
Map of my journey from village Azau to Station Mir: Movescount
Map of my journey from station Mir to Vorder Grauspitz: Movescount
Personal rating of the mountain: ***** (6 stars maximum) 
Beer on the peak: Club Bier 06 Summer Ale *** (6 stars maximum) 
Attempt No. 1
After successful summit of the most challenging mountain of the whole expedition the Crown of Europe – Dufourspitze I wanted to climb one more mountain – Liechtenstein Vorder Grauspitz. Since I heard the climb can be very challenging I decided to climb it with a guide.
We arrived to recently renovated cable car Älplibahn at seven o'clock in the morning. We were told that there is still a continuous snow cover from the cable car's end station so we took up again back country skis.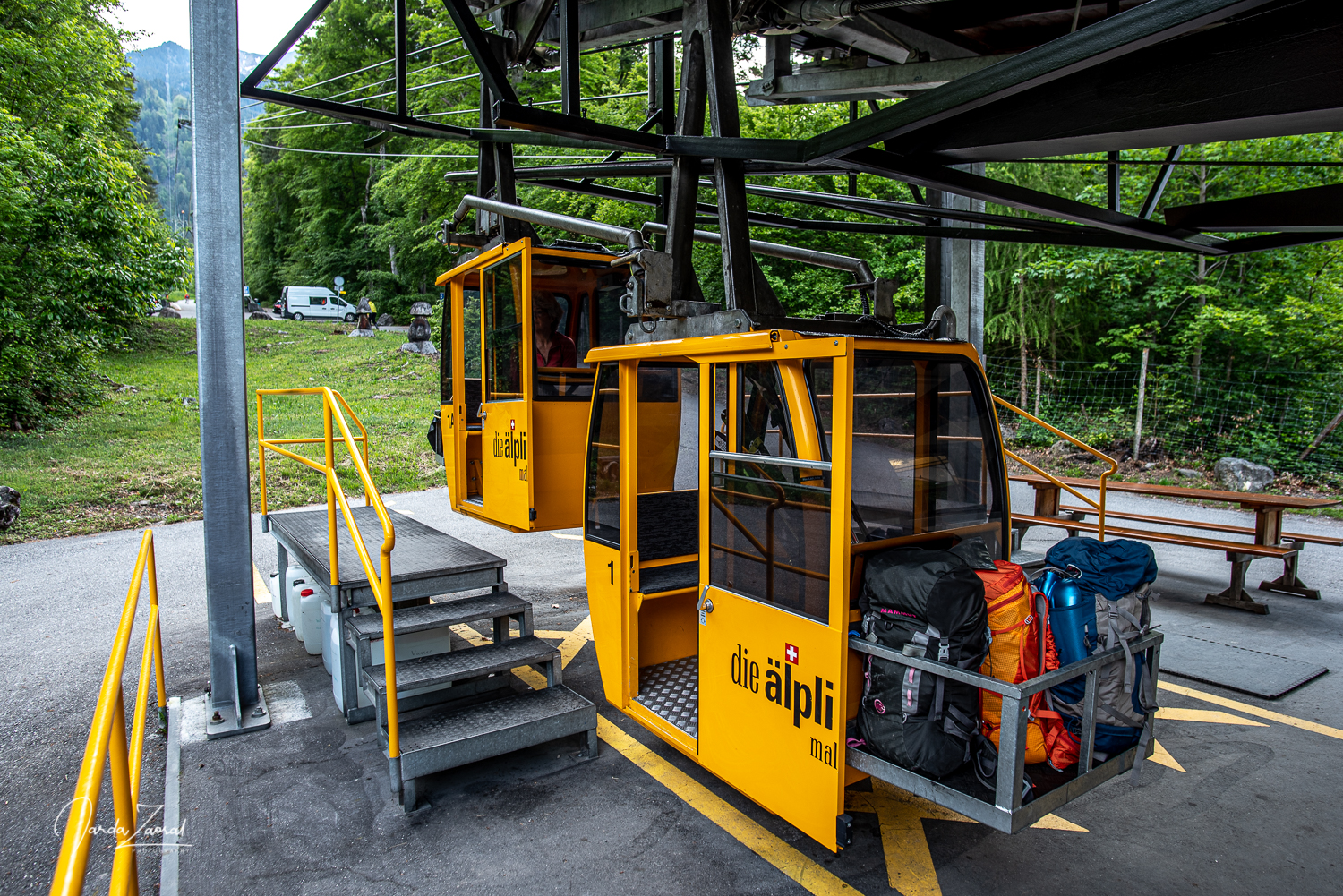 On the top we were stopped by an employee of the cable car: "At this time of year the ascent to the summit is very difficult, probably even impossible. This year brought unusually so much snow that I doubt you will manage. Be careful! There can be even avalanches." We assured him we'll be careful. Let's see.
We put our skis on and started our journey. We climbed 200 elevation meters up to the first ridge from which there is a great view of Grauspitz itself. This mountain has actually two peaks – Hinter Grauspitz and Vorder Grauspitz. The marked path leads only to Hinter Grauspitz, which is twenty-five meters lower. Between the two peaks is a very sharp ridge. We'll see how possible it will be to reach it when we get there.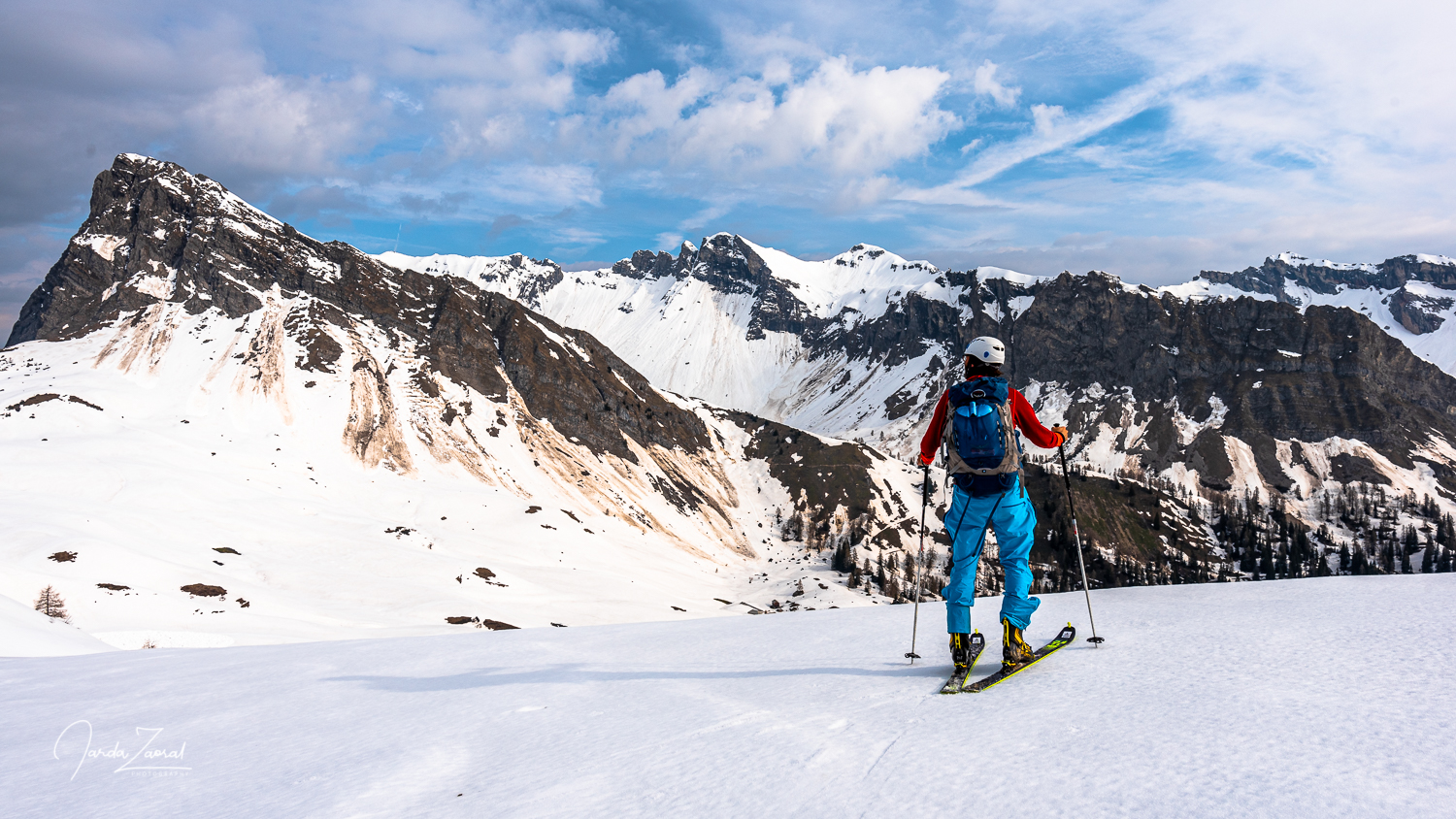 Now there was a valley between us and Grauspitz, so we had to go down and climb up to the opposite ridge. It was nine o'clock in the morning and it was already very warm. The snow turned into a wet slush. The mountain guide warned me in advance: "The conditions are very risky. Avalanches are possible. I'll go first and see."
His ride across the slope tore down a small and slow but very heavy and wet avalanche. Climbing Grauspitz in these conditions will be really difficult. We will see what the situation will look like on the other ridge.We skied down to a small farm Fläscher Alp which was covered with snow up to the roofs. This year's winter has been very generous.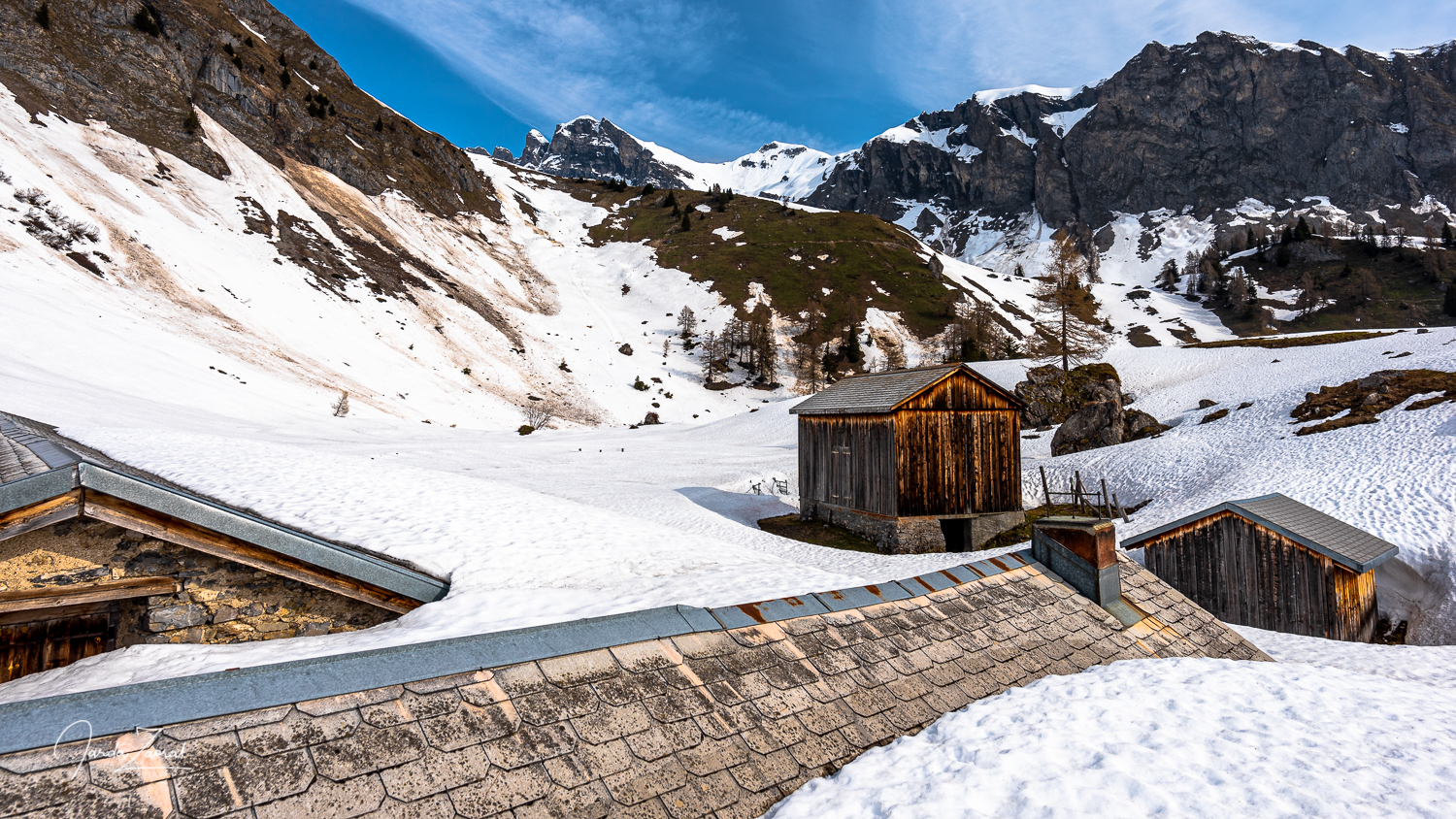 While we continued to the other side of the ridge it was clear that snow was melting fast in this weather. It was most visible on a rocky hill on the other side, where small avalanches were falling very frequently. Soon we reached a hole in the rock. The trail continued through a tunnel. We took off our skies and walked towards the other side of the tunnel but there was an unpleasant surprise. 95% of the entrance was covered by snow. What now?
We had to start digging to get out. After a while we succeeded and we saw Grauspitz from the other side. However, that was the last positive news. More than three meters of wet snow and very steep terrain meant that we can't continue. It would be too dangerous when it comes to avalanches. This time the weather and the mountains said no. We can't get to the top. However, the mountain will stay. I'll try to climb another time.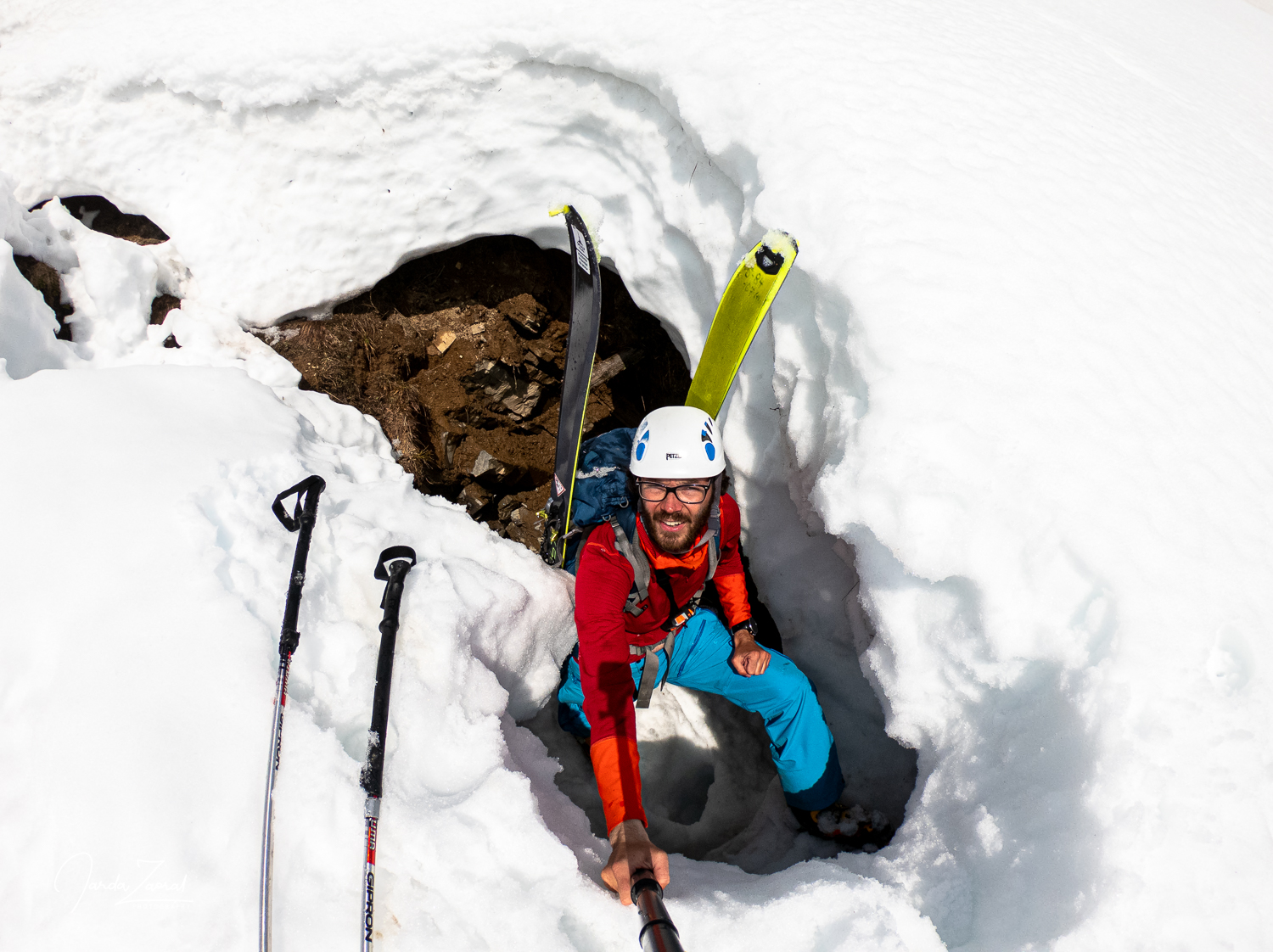 Attempt No. 2
14 days later I was on the way back. I had big respect to this mountain due to the first experience so I was very careful this time. Before my journey I wrote to the Swiss Institute for Snow and Avalanche Research to see if there was any avalanche danger on Grauspitz. They weren't actually releasing any statements anymore. June is already off season. However, I got a reply to my email: "There is still over a meter of snow at the top of Grauspitz but the snow cover is stabilized. There should be no avalanche danger in case there will be a freezing night before your summit day."
After return from Russia I had to wait a few days for the freezing night but it came! Time for the last summit of my expedition.
On June 13 I met again with my two climbing partners who climbed with me the highest point of Switzerland. We all met by the cable car Älplibahn. In order to climb the mountain under the best possible conditions, we decided to meet one day before the summit day to sleep under the peak and go up very early in the morning. This should ensure perfect snow conditions. As we planned we did. We brought again our back country skies but this time we also brought common hiking shoes in case the snow melted.
It was gloomy down by the cable car but as soon as we arrived to the end station of the cable car we got above the clouds. We had a wonderful view of the ocean of clouds and small islands of the snowy Swiss Alps. When the nice old gentleman saw us he immediately laughed, "Haha. Next try? I told you, Grauspitz will not be climbable until the end of June. There's still over a meter of snow behind the tunnel." We will see.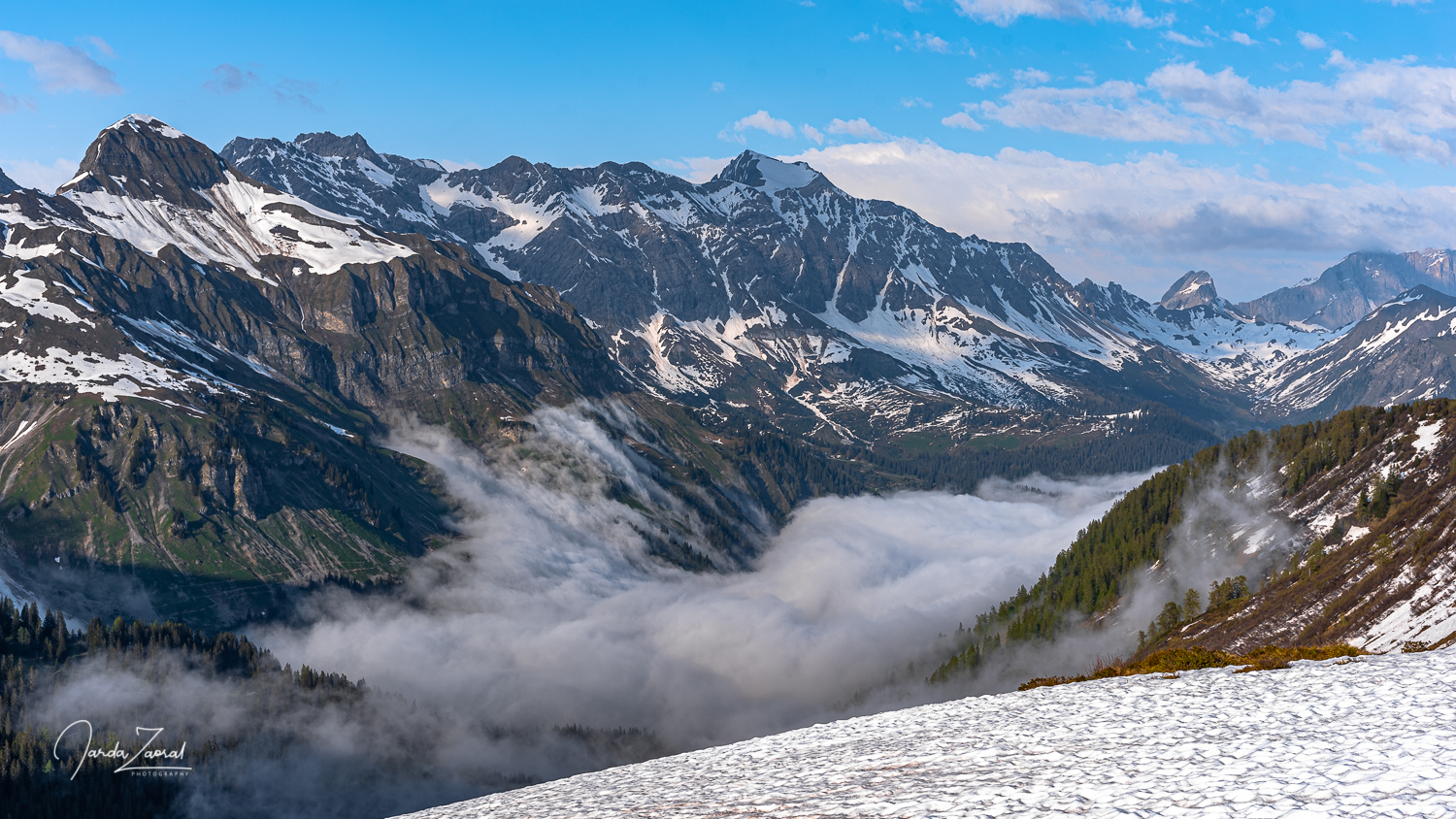 This time we didn't put on skies. There was no snow until the first ridge. What a change in just two weeks! Then we could ski at least for a while until we reached Fläscher Alp farm. Our plan was to sleep there. We originally thought we would just bivouac outside but the weather changed our plans. Clouds suddenly began to rise and covered even the farm. After a while, it even started to rain. Since we didn't bring any tent we were looking for an alternative accommodation. We were lucky one of the houses for cattle was open so we could sleep on the floor. Nothing luxurious but better than in rain. .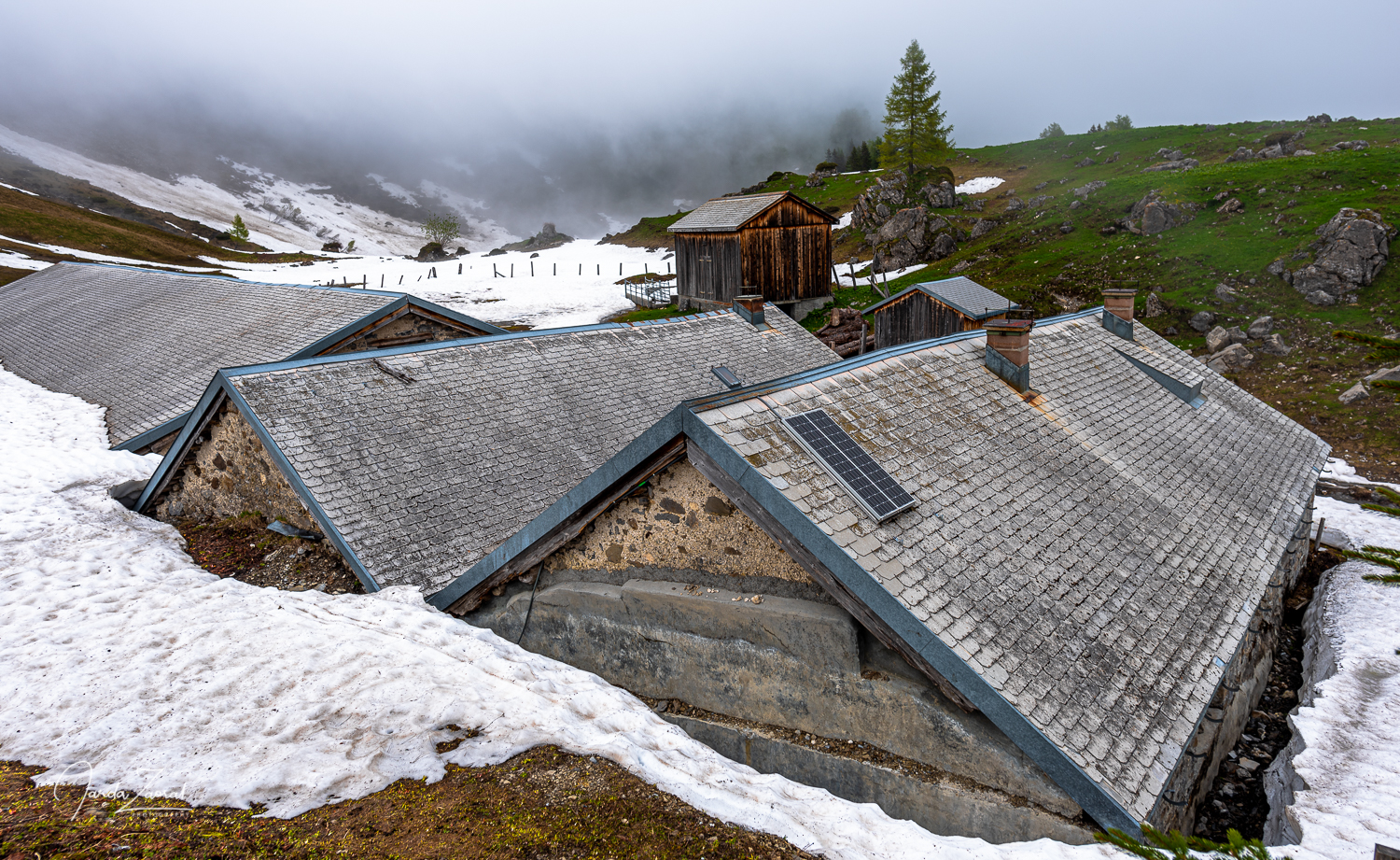 It was late so we just pulled out our mats and sleeping bags and went to bed. But I didn't sleep well. "What if the clouds cover the whole mountain and it won't freeze at night? Was the prediction wrong again? What if I went to the highest mountain in Liechtenstein again, unnecessarily?"
When we woke up at 3:30 a.m. we went outside to check the weather. Still foggy and wet. Our only hope was that the peak remained cloudless. Since we didn't know what conditions are behind the tunnel brought the back country skies and hiking equipment. I also had to take two pairs of crampons because one pair was fitting my hiking shoes and one was fitting my skiing boots. All together my backpack weighed 20 kilograms.
At 4:15 we were ready to leave. It was as dark and foggy but there was no snow until the tunnel so we reached it easily. At the other end of the tunnel, I was expecting a lot of snow. After all, there were over two meters just two weeks ago. But now? Nothing. All the snow melted. What a surprise! Maybe we didn't even had to bring the skies.
We continued to the nearby farm Alp Ijes. There was finally snow. It was still foggy but luckily it was freezing so the snow was compact and stable. "We can climb up." our mountain guide said. Time to ascend.
We continued up according to the navigation. We were still climbing in the fog with bad mood. Hopefully the rising sun will dissolve the clouds. After a while the hope came true. The blue sky began to appear in the clouds above us. We continued up for a few more minutes and got above the clouds. Suddenly we saw all the beauty around. Sharp moutains, long ridges and especially the path we have to take to the top. Amazing. Suddenly I thought that we couldn't have wished for better weather for the final peak than this one. How quickly the mood can change!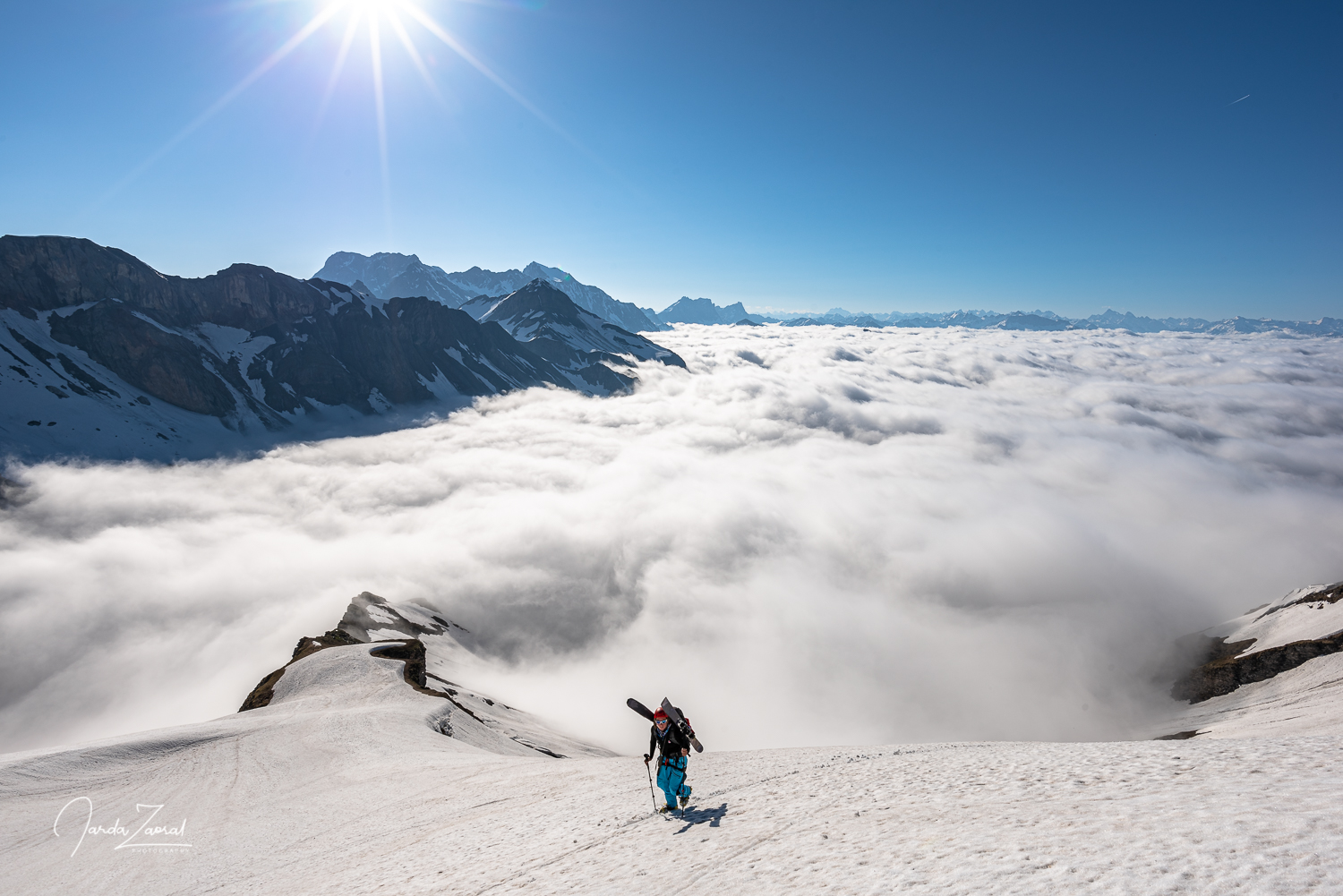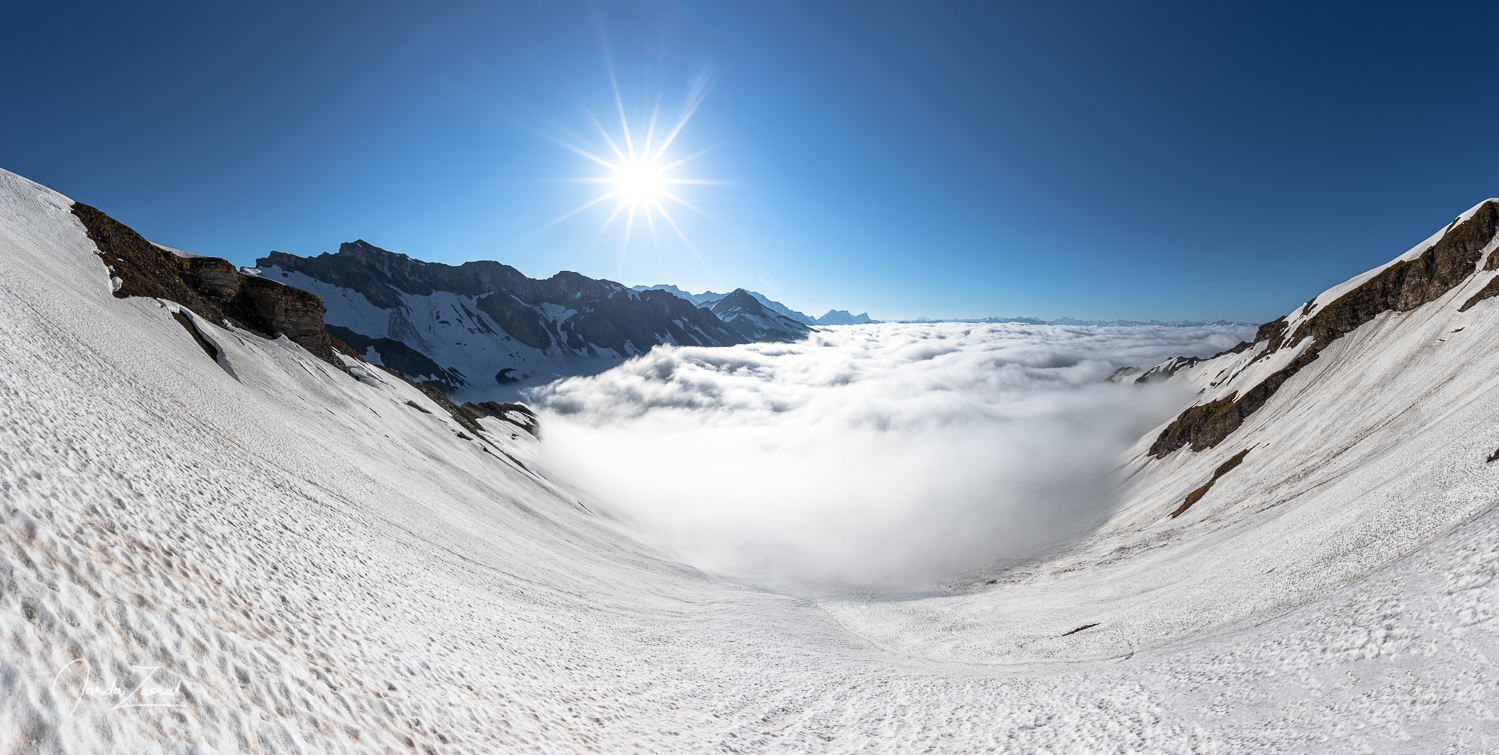 In addition to the great visibility, it was also noticeable that it was freezing on the ridge at night. The snow was hard and frozen. the way to the peak is free. We put down our skis and looked around to see where we would continue. There were two possible routes. Should we follow the ridge to Hinter Grauspitz and then continue to Vorder Grauspitz or should we skip Hinter Grauspitzl traverse along it and get to Vorder Grauspitz directly?

The first alternative seemed to be less steep so we decided for that one. The second option seemed to be too steep at first glance. 80% of the climb to Hinter Grauspitz was on snow so we took crampons on. It was an easy climb. In half an hour we already reached the top of the second highest point of Liechtenstein. The view was beautiful. This part of the Alps is really amazing. Unfortunately, the journey we wanted to take wasn't possible. The ridge between both Grauspitz was too steep and the rocks were very unstable after the tough winter.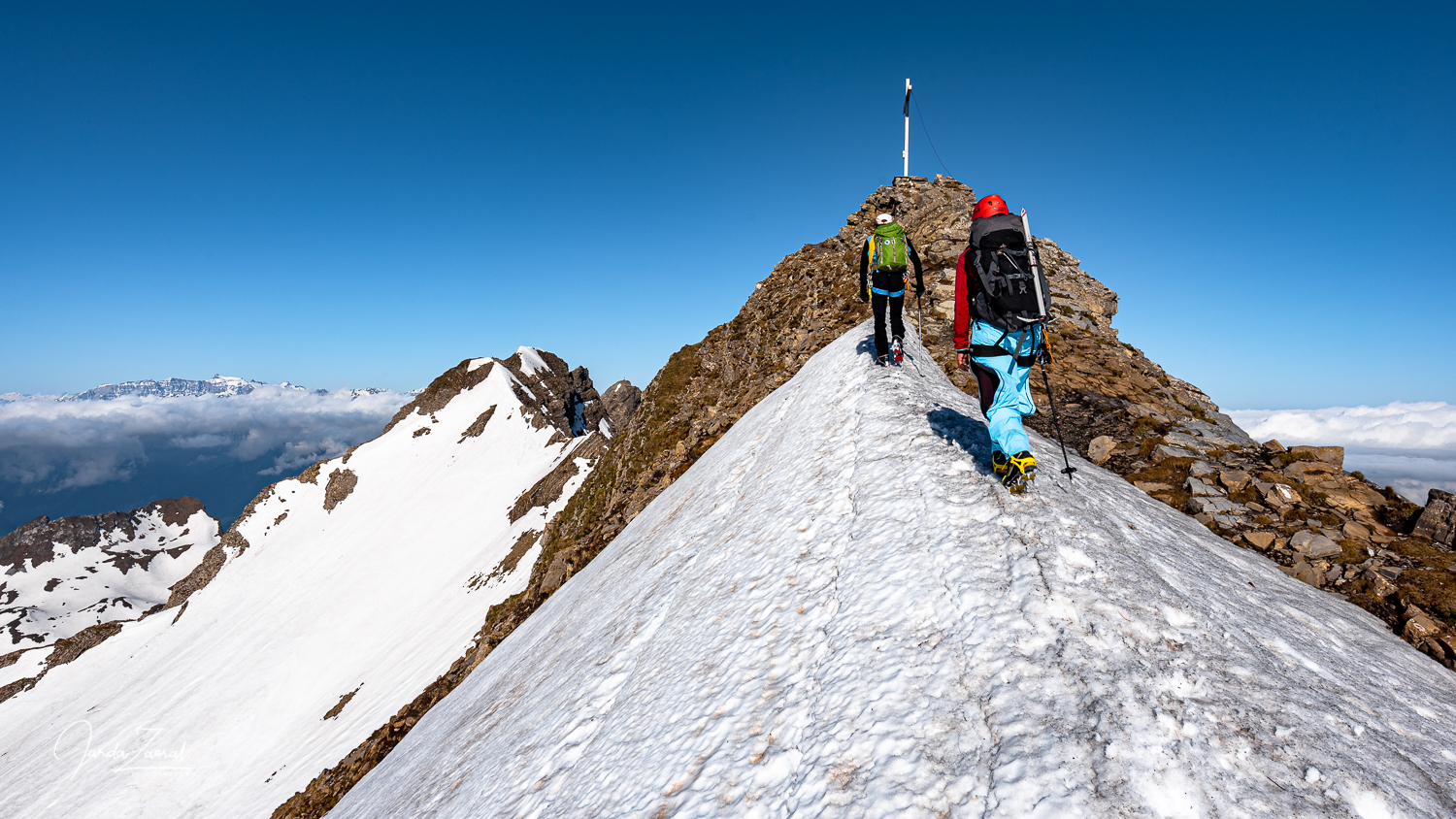 Therefore, we had to return 200 meters down and go to the highest point via the traverse. This route was also very steep but the snow was hard so we could secure with our ice axes.
We passed the traverse in half an hour and we had ahead only the final climb. If all goes well, I'll finish my expedition in about 15 minutes. From this point, the slope didn't look as steep it looked from the ridge were we left the skies. This will be an easy climb if I compare it for example with our crazy climb to Maglić. We can do it!
During the last steps, my entire expedition was reflected in my head. In particular, I remembered all the difficult moments: When my mother sprained her ankle in Romania and I accompanied her back to civilization; when Joanne and I met a bear in Montenegro and we almost got scared; when I lost my hiking pole and had to go to the Dufourspitze with a broom; my accident in Scotland… I was beginning to realize that this wonderful ascent would be the last one of the expedition.
The final ridge was very narrow but it was still possible to pass it. In a few minutes I was finally standing on the top. The last mountain of the expedition was conquered.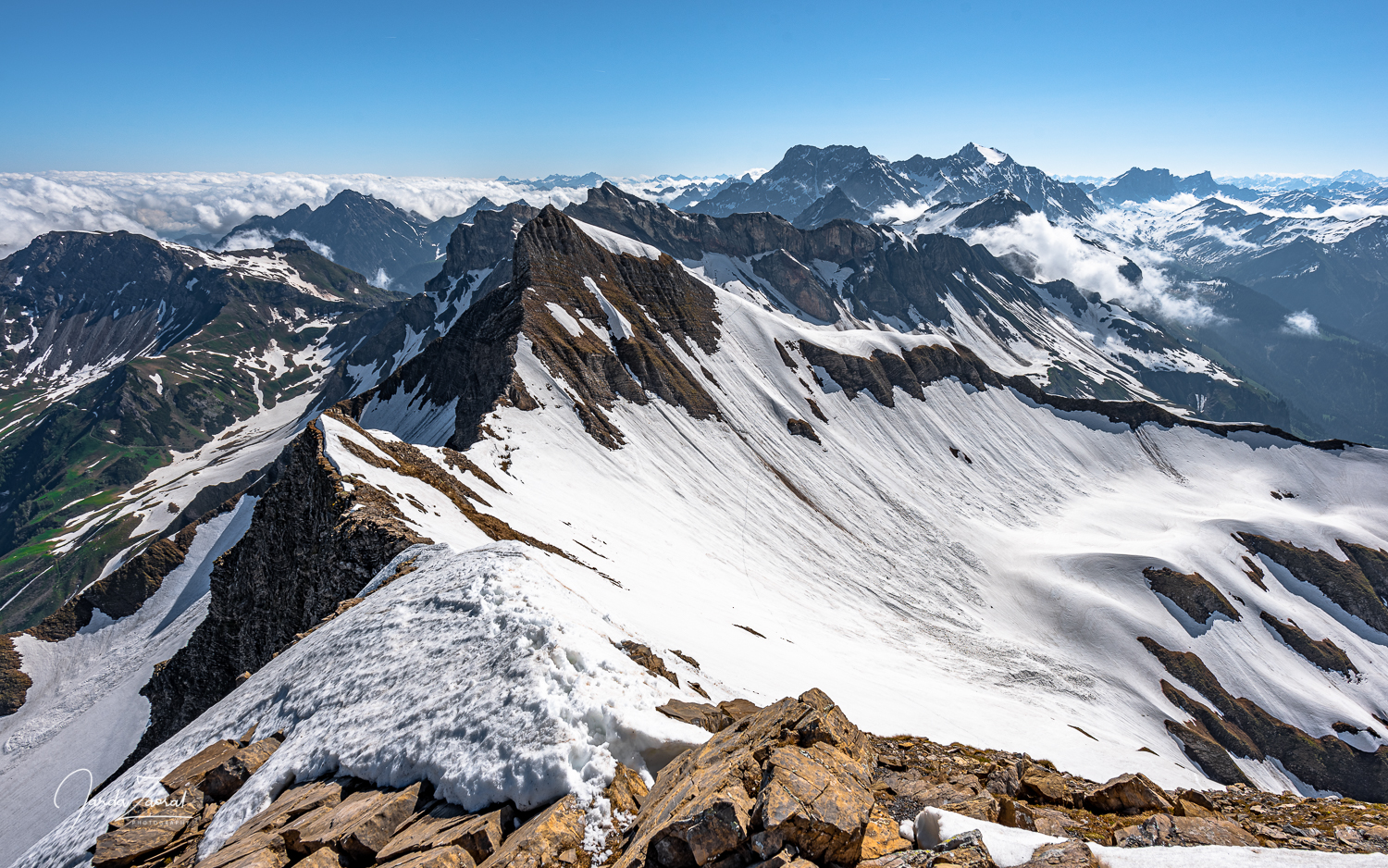 In the end, the climb was not as challenging as I feared. I was actually glad that we made the climb on snow. In the summer, climbing on the breaking stones and slippery grass would probably be much tougher. This was actually confirmed by other climbers who climbed Grauspitz in summer.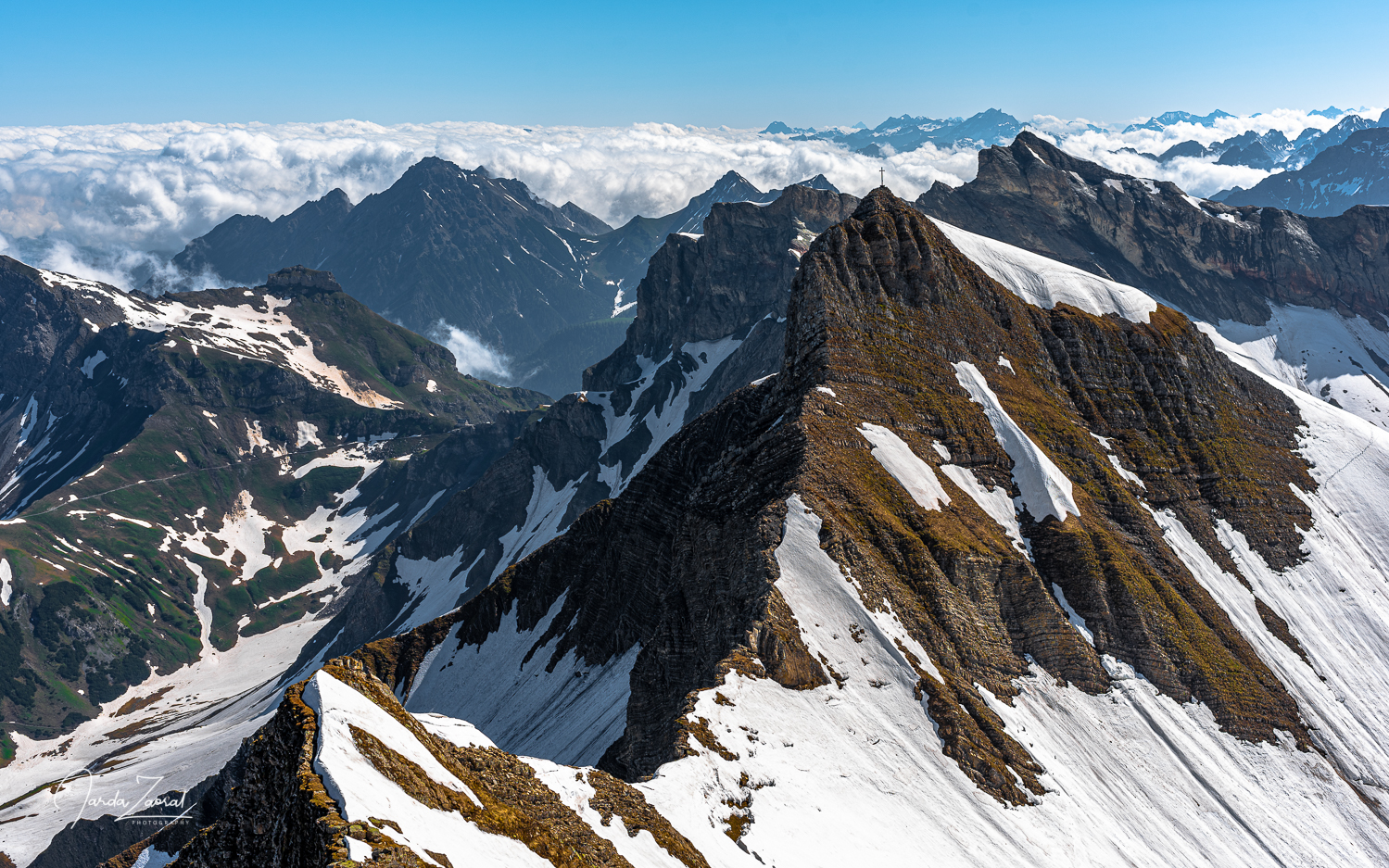 I opened the last peak beer and wanted to enjoy the moment of victory but half leaked when I opened it. It made dirty even my Czech flag which I prepared for the top photo. The life is not perfect. I enjoyed the moment anyway.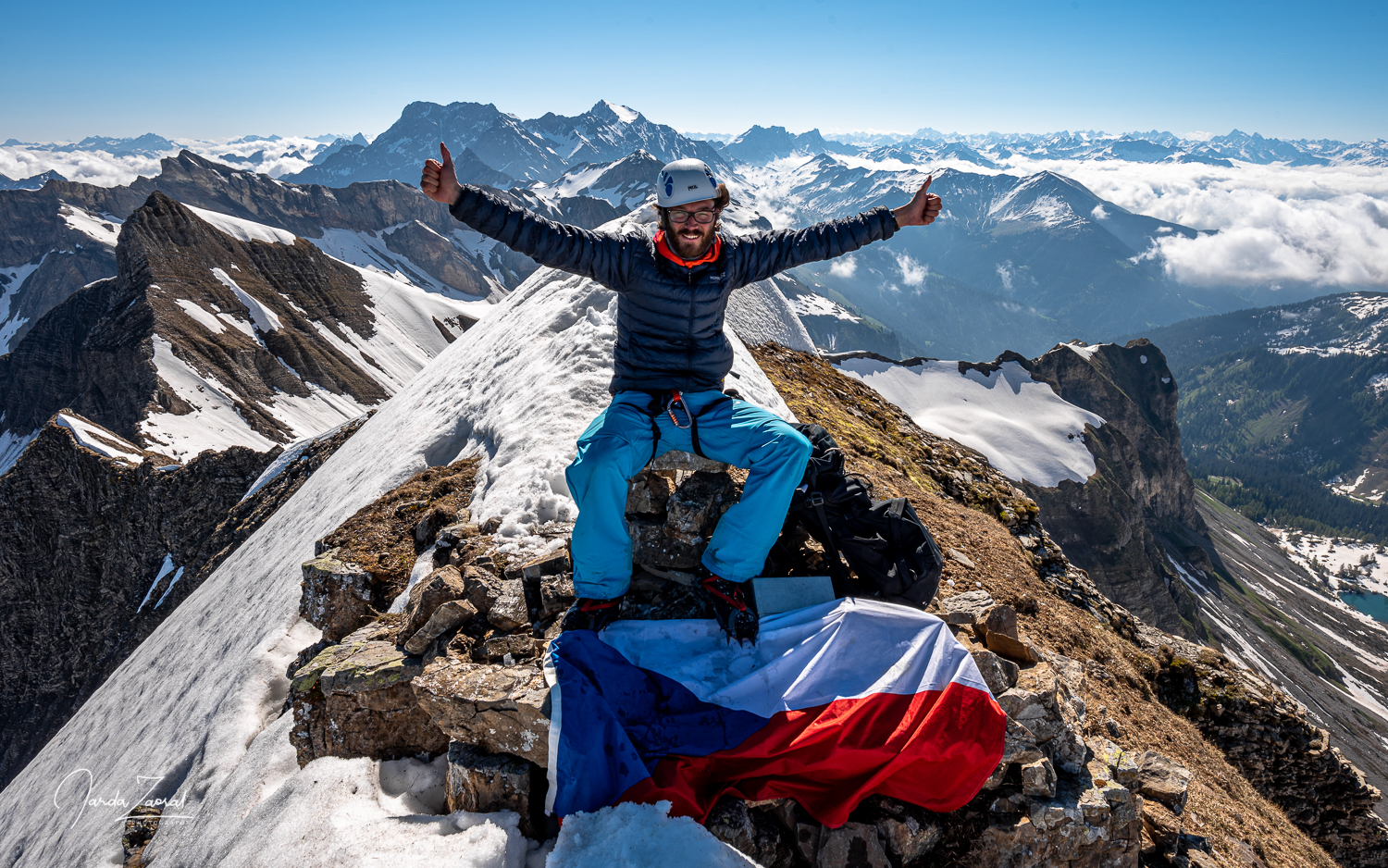 I wanted to stay on the peak longer but I couldn't. Time was running out. My flight from Zürich was leaving in six hours. I had to catch the cable car latest in two and half hours so I had at least a theoretical chance to catch the plane back home.
The journey back was crazy. First we ran back to our skies, then we took quick downhill to Alp Ijes where I said goodbye to Petra and our mountain guide. "Thank you very much. I wouldn't manage this without you. "and had to continue further with twenty kg backpack. I ran back to Fläscher Alp farm, added a sleeping bag and mat to my backpack and continued to the cable car. My whole body ached, I was very hungry and thirsty, but there was no time to take a break. The tourists I passed were shaking their heads when they saw me running with all the equipment.
I reached the cable car two minutes before its departure. I wanted to rest there but two older but nice and inquisitive ladies kept me asking in the cabin. They also didn't believe that it was still possible to ski at these altitudes. I showed them photos from the peak and they kept on asking. In the end, I didn't find time to drink or eat in the cable car. The next opportunity will be at the airport.
The rest of the journey by car to the airport was crazy. I'd rather not describe it. If the Swiss police read it on this blog they would send me a few fines. The important thing was that I caught the plane last minute.
Now I am back at home in Stockholm and I am finally sitting on our couch. My girlfriend is opening champagne and says: "Congratulations to your World Record. You became the fastest to climb the highest mountain of every European country. You made it." Until then, I wasn't honestly happy about the completion of the expedition. I just had to hurry all the time. To the cable car, to the plane and to the train from the airport. But now I realize. When we discuss we Joanne all the experiences from last days I am realizing how amazing this expedition was. There is definitely something about the quote from the movie Into the Wild: "Happiness is only real when shared."
My tips for climbing the mountain Vorder Grauspitz:
In winter conditions there is a big risk of avalanches. Before leaving to the mountains check the current \situation on the website of Swiss Institute for Snow and Avalanche Research
Surprisingly winter ascent may be easier than in summer due to slippery stones and grass in summer
GPS navigation with you is a must.
Chat with the employee of the cable car. He's a very nice gentleman.