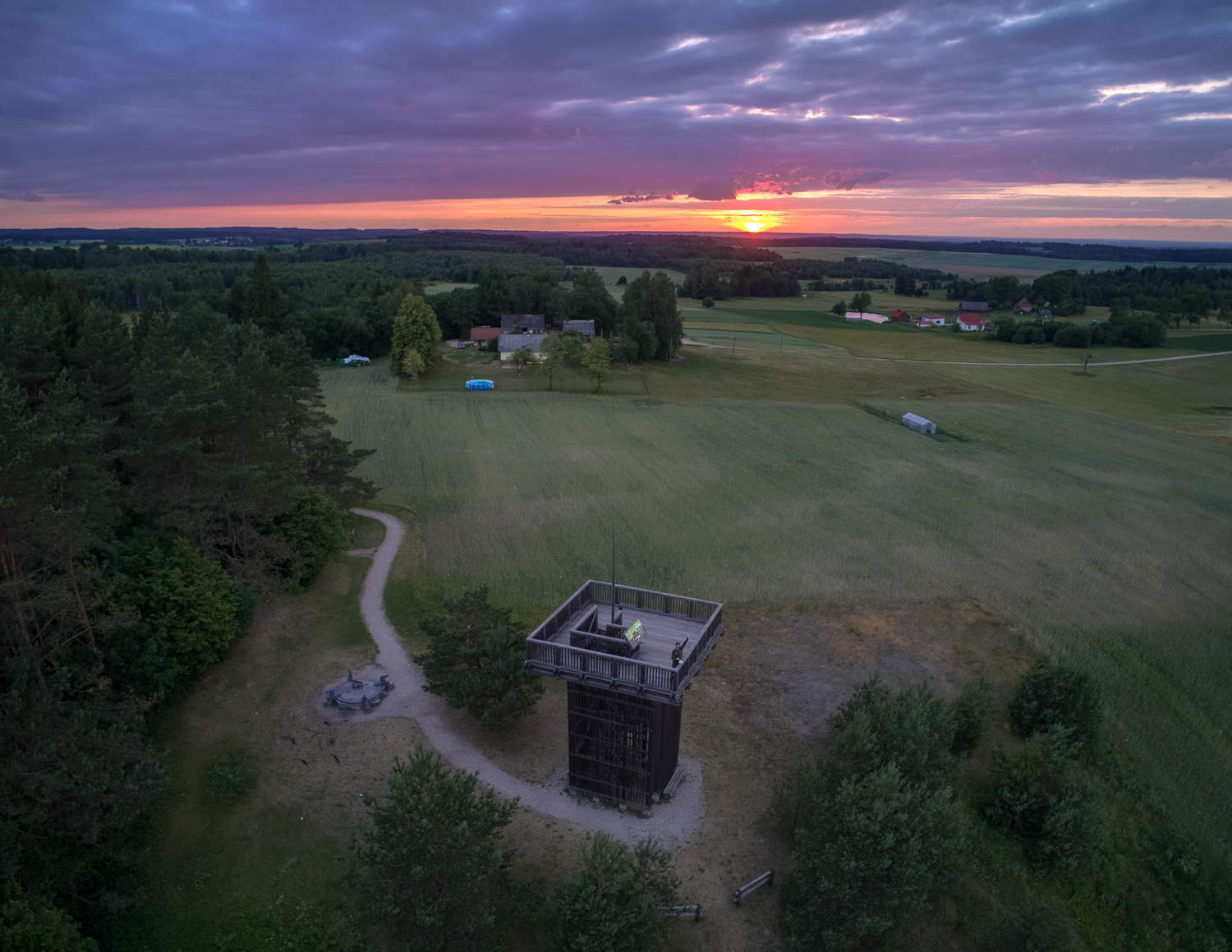 The third peak and the last from the Baltics – Aukštojas Hill surprised me very nicely as well. There is a great view from a local tower and I witnessed even an impressive sunset. I was very sad not to have more time to explore a nearby fortress and church at Medininkai village. It was also tempting to pass the nearby border to Belarus. Next time!
Date of summit: 19th June 2018 21:40 
Travelling mode: Scooter + hiking from the parking lot 
Height of the peak: 294m
Hiking distance: 280m
Time to ascend: 3,5 minutes
Map of my hike: Movescount 
Personal rating of the mountain: *** (6 stars maximum) 
Beer on the peak: Volfas Engelman Blond *** (6 stars maximum)
Sightseeing at Vilnius
I got to Vilnius from Riga very late at 2:30 but since I booked the worst hostel ever I couldn't sleep. Other guests were just coming back from parties and they didn't have any better idea than talking to each other until late morning. That made me to leave my room and see the sunrise over Vilnius. Since there were clouds and I couldn't see any sun I tried at least my new neutral density filter. It even worked to make a selfie.
How to get to Aukštojas hill without car
Later I got back to my hostel and finally could sleep because the other guests either left or finally decided to sleep too. Around lunch time I woke up and started to look for a scooter to conquer my last Baltic peak. Soon I found out a big problem though. There are no scooters available at all in Vilnius and I couldn't even find a car to rent. After long time and 20 phone calls I finally managed but there was no car rental at the address where I was supposed to pick up the car.
It was already late so I was looking for another alternative how to get to Aukštojas hill and I realized Uber would be the easiest idea and it worked! My app found an amazing driver called Dmitrij who took me as far as to 60km roundtrip for only 20 EUR. Thank you so much for both the awesome trip, your patience for my half an hour photography work at the tower and a nice talk!
The peak was definitely worth visiting. Besides a nice view and nature around I could even witness a beautiful sunset. A pity I didn't have more time because there was a large fortress and church nearby.
My tips for Aukštojas Hill
Don't book a cheap hostel if you plan to sleep at night
Plan your journey to the highest hill well in advance if you want to enjoy more time time. Unfortunately,in this way you would miss the awesome drive with Dmitrij though. Choose wisely.