Maglić, sometimes also called Bosanski Maglić, is the most beautiful mountain of the highest points of all Balkan states. It looks like a limestone pyramid with steep 700 meter high rock walls. If you manage to climb a steep via ferrata you will find a cylindrical column with a flag of the Republic of Srpska (one of the two federations of Bosnia and Herzegovina) and spectacular views on the top.
Date of summit: 8th May 2019 11:30 
Traveling mode: Winter Hiking
Height of the peak: 2386m
Hiking distance: 3.54 km 
Time to ascend to Maglić: 3 hours 3 minute 
Elevation climbed: 754m
Map of my winter hike journey to Maglić: Movescount
Personal rating of the mountain: ***** (6 stars maximum) 
Beer on the peak: Nektar Pivo ** (6 stars maximum) 
After our bear story in Montenegro, my girlfriend and I continued to the last Balkan country on my expedition. Arriving to Bosnia and Hercegovina was an interesting driving experience. The quality of roads went sharply down after crossing the borders of Montenegro. On the other hand, the roads could boast of lots of cattle. Until we reached the village of Tjentiště lying at the foot of Maglić, we met the whole farm including cows, sheep, pigs and goats.
The journey wasn't only interesting from an animal perspective. We had also amazing views over landscapes. I personally most liked the views of the Durmitor Mountains which were covered in fresh snow and the drive through the Sutjeska National Park through a very interesting deep canyon.
When we arrived to Tjentiště, we found a surprisingly nice and modern campsite with cozy cottages, so we could sleep well before climbing the highest mountain in Maglić.
The way to the top looked simple as described on the Internet. We will go from Tjentiště by car to the starting point of the hike and the actual climb will be only two kilometers long with less than 700 meters of elevation. The articles online were mentioning that the ascent is steep and accompanied by a ferrata but nothing extra demanding so we were looking forward to it.
Still a lot of snow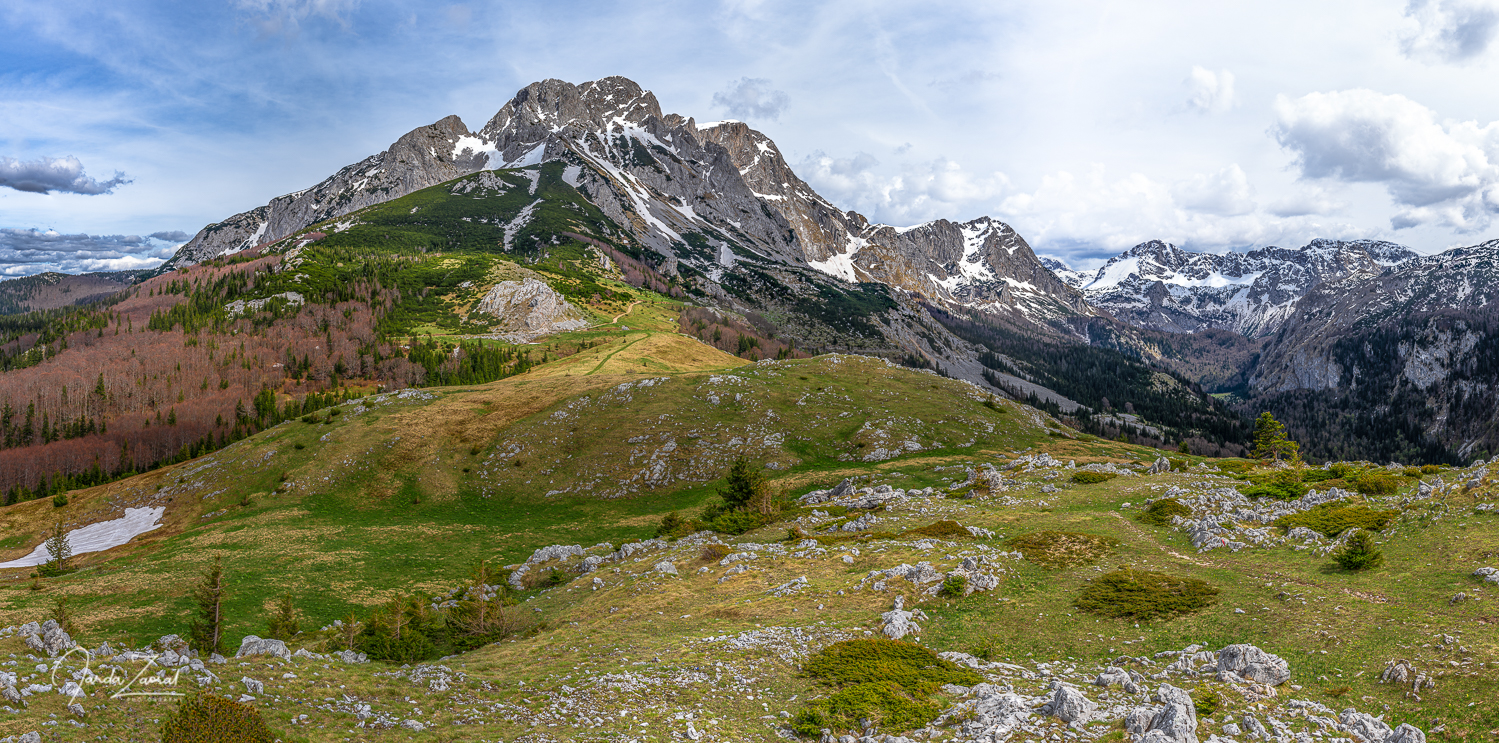 We woke up early to start our hike during sunrise. The weather was perfect and the Windy app was saying there is no snow on Maglić. Nothing should stop us from making a successful ascent. We took the gravel road to the beginning of the climb. It was surprisingly well passable but there was snow one kilometer before our destination. The snow didn't let us through. It looks like the apps were wrong: we will have to encounter winter obstacles even on Maglić. We had to stop our car, park it and extend our climb by a kilometer. We packed our backpacks including crampons and left towards Maglić.
One of the most beautiful Balkan mountains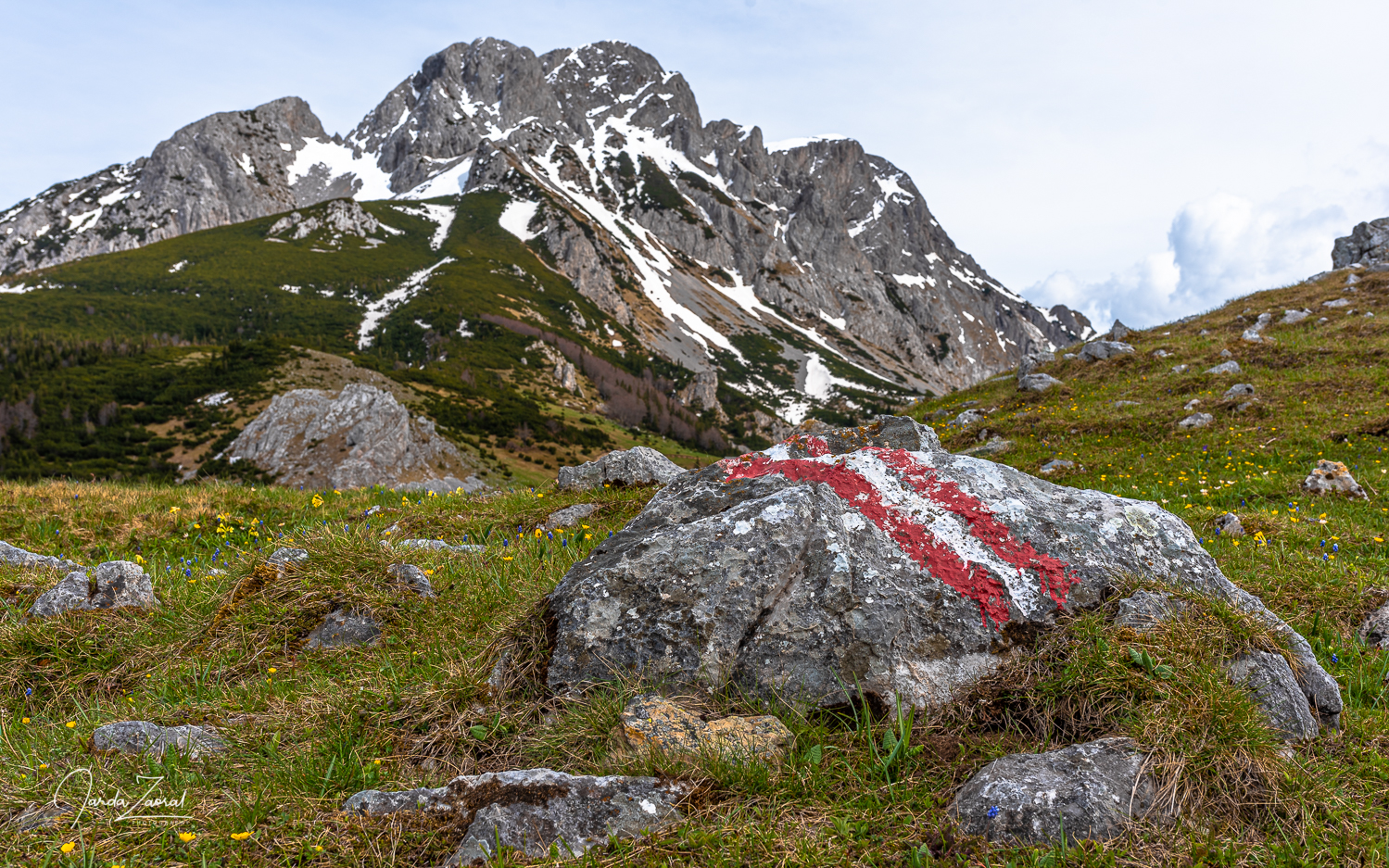 We came to the starting point after fifteen minutes and there we had an amazing view over Maglić. We couldn't wait to climb it. After we took a few pictures we headed up. The climb was very steep right from the start. The opening short passage in the forest soon changed into ascent on rocks and small stones. After forty minutes we reached a large snow field. The Windy app was wrong this time.
Since the sun didn't reach us from behind Maglić the snow was frozen. We had to put on crampons. The slope was becoming steeper and steeper. Slipping down would mean going down several hundred meters on our butts. I was sad we didn't have ice axes with us.
After climbing about 400 meters of altitude on the snow field, the snow suddenly ended and it seemed that the rest of the way was just climbing via via ferrata. We left there our crampons to have lighter backpacks and headed up. It was obvious that we were the first ones to try to climb this year. There were a lot of fallen stones on the trail and the via ferrata was often still frozen to the rock, so we couldn't use it. Some of the rocks which looked like solid handles were breaking in our hands after winter erosion. The climb wasn't the safest thing I have done. We had to be extra careful with every elevation meter. Looking down I thought we wouldn't survive a fall.
Via ferrata in winter without proper equipment is a hazard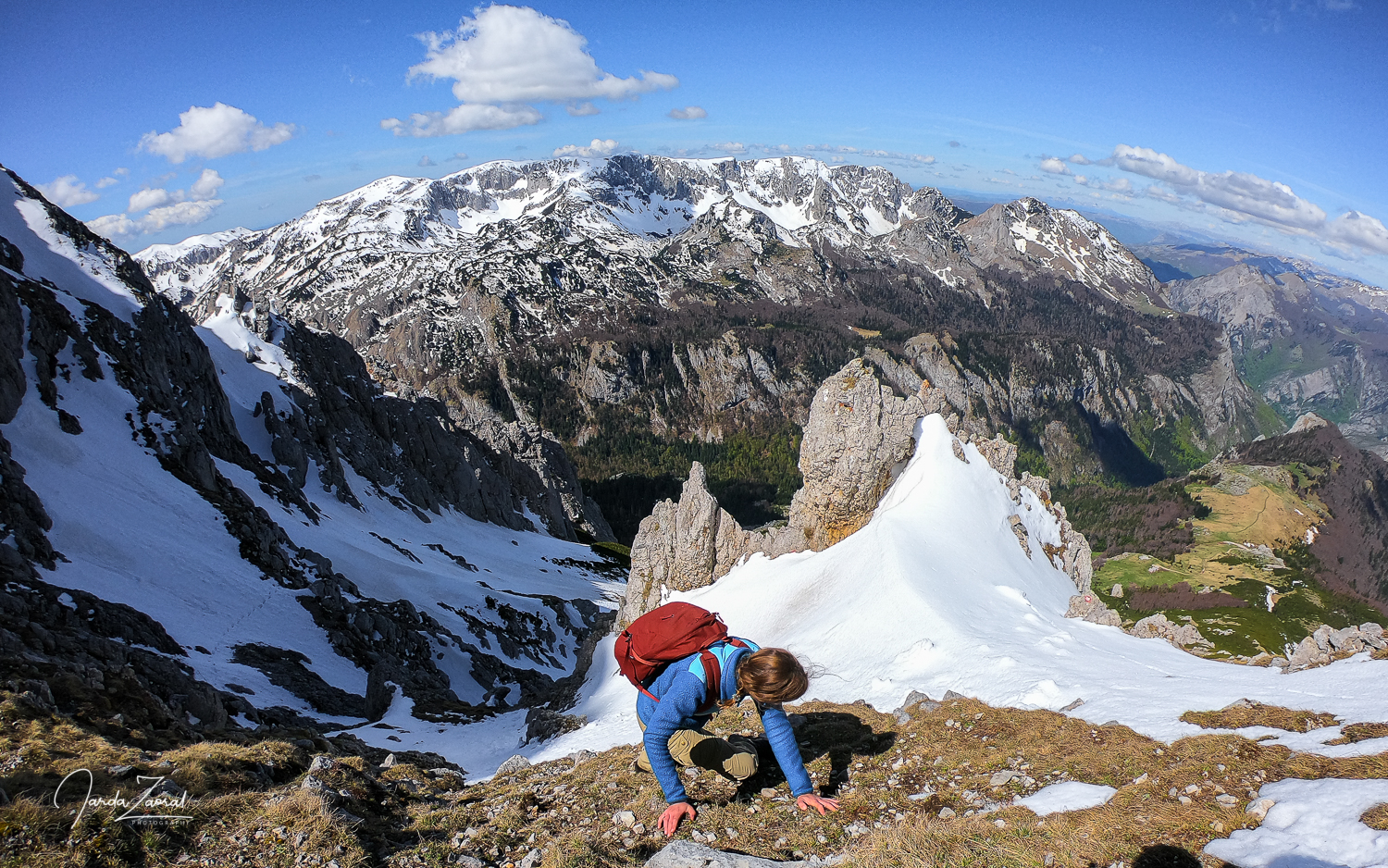 I didn't quite understand how all the articles about Maglić were claiming it is an "easy scrambling". The climb looked pretty dangerous to me in these conditions. Fortunately, Joanne was brave and accustomed to the heights from climbing centers, so she didn't protest and continued climbing up with me.
We managed to get just 40 elevation meters from the summit. It was so close but suddenly a new snow passage appeared. We didn't see it from below. Shit. We left our crampons behind. Neither me nor Joanne liked the last steep meters in snow. We discussed what to do. Joanne was too scared to continue. I was going to try to reach the peak without crampons, by digging steps in the snow. If that doesn't work we would just turn around. If it did work, I would be back soon. The peak is near. Joanne would wait for me.
I was lucky. The snow had an ideal consistency. It was still hard so I could make steps by kicking in it. I could continue up well while holding the surrounding rocks to secure myself. I managed to climb 35 altitude meters and I already saw the peak. It was so close but I saw that I cannot continue. There was no snow in front of me but ice. I couldn't hold anything. Climbing the last five meters would be suicide without crampons and ice axe. I had to give up.
Feeling stupid on the top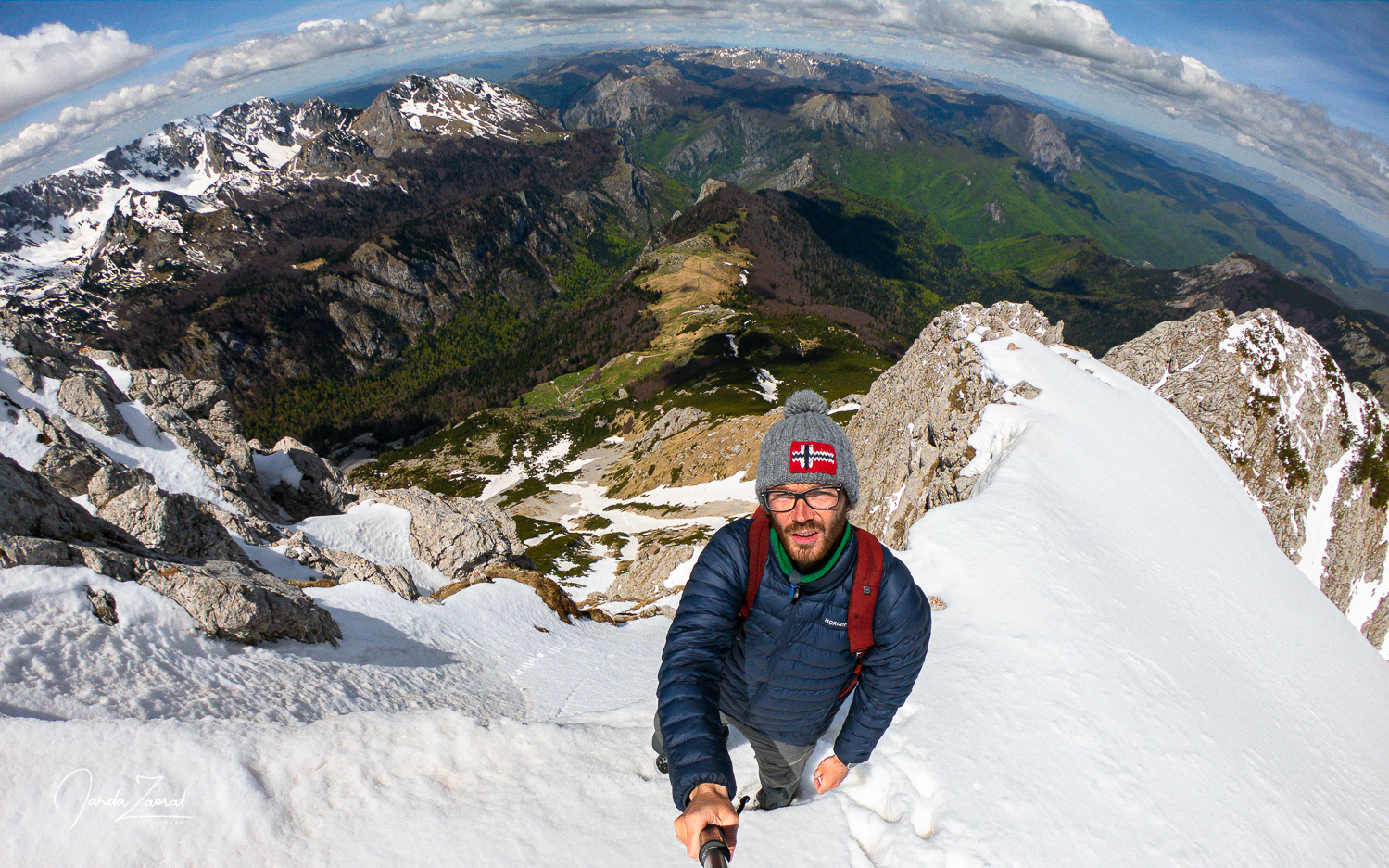 I was sadly coming back to Joanne when I noticed one more potential way to get to the top. There was a narrow path between two rocks. It looked steep but it should be possible without crampons. I tried this way and it worked. A few steps up I got over the rocks, overcome the final overhang and stood on the summit. I did it!
Even though I manage it didn't feel correct. I was feeling ashamed. Joanne is waiting for me. I thought I can climb up quickly but the ascent to the summit and return looked like it would eventually take an hour and a half.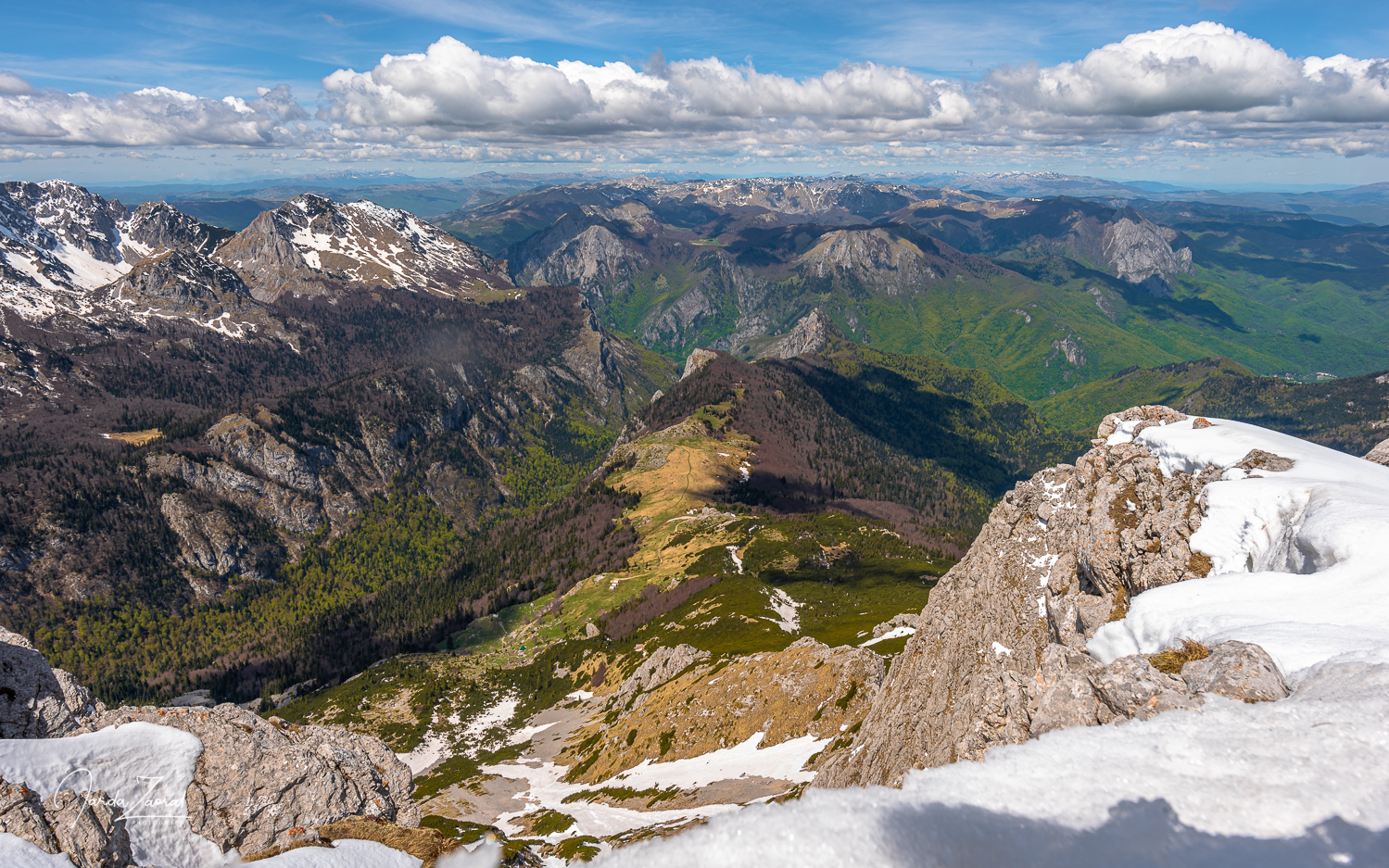 I just took essential pictures on the top and wanted to descend back to Joanne when I saw four other tourists suddenly heading toward the summit from the other side of the ridge. It was an Austrian family with two kids who went to the summit in shorts and without crampons. "Where did you come from?" I couldn't believe my eyes. "We reached the peak from Montenegro. The journey was a few kilometers longer than yours but it wasn't steep and with almost no snow. It took us three hours to get here."
I was feeling hopeless. Why the hell couldn't I find any article about this alternative route on the Internet? And why did nobody in our camp recommend this route for us? We spoke about getting to Maglić the whole evening last night. We had unnecessarily followed a risky path while we could have had a pleasant day hike.
I was scared to descend back to Joanne but I didn't have any other option. Fortunately, my black scenario that going down would be worse than going up didn't come true. I descended calmly and slowly without problem. Then we descended back to the car together.
The descent was very long. It took us 3 hours and 30 minutes to reach the summit. We went down the same way. In winter, I would never chose this route again without proper climbing equipment including crampons, harness, rope and ice ax.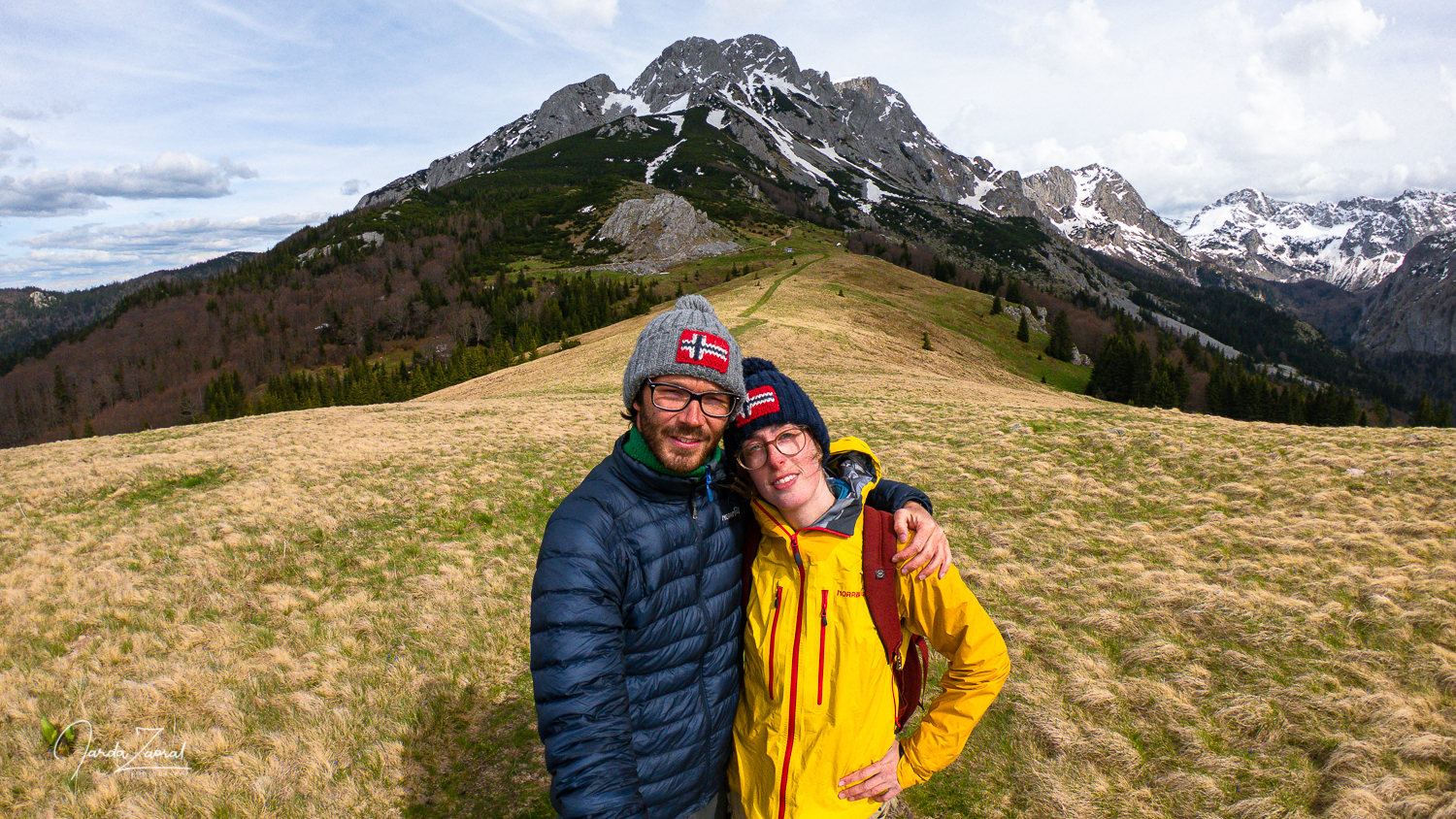 My tips for climbing the mountain Maglić:
I recommend a 4×4 car to get to the starting point. The road can be difficult to pass, especially after rain.
If you want to skip steep via ferrata, choose an alternative route to Maglić across Montenegro. It is much safer.
Do not walk off the marked trails. There can be still mines from the Balkan wars in the ground.
Bring jingle bells and pepper spray against bears. We saw one bear from our car.