Galdhøpiggen, Norway's and also Scandinavia's highest mountain is located in the Jotunheimen National Park. It is about the same distance from Oslo, Bergen and Trondheim. It takes time to get there but it definitely pays off. The Norwegian mountains are beautiful, and you can also visit the nearby fjords.
Date of summit: 9th March 2019 15:55 
Traveling mode: Ski touring
Height of the peak: 2,469m
Ski touring distance: 7.23 km 
Time to ascend to Galdhøpiggen: 4 hours 37 minutes 
Elevation climbed: 1423m 
Map of my ski touring journey to Galdhøpiggen: Movescount
Personal rating of the mountain: ***** (6 stars maximum) 
Beer on the peak: Bad Mango ** (6 stars maximum) 
After visiting the highest mountains of Vatican, San Marino and Monaco, I waited for suitable conditions for climbing the next mountains. The climbing break took in the end two months. At the beginning of March days were finally getting longer in Scandinavia (about 10 hours of sunshine) and the weather was improving. The dark northern winter seemed to be over. Time to climb a new peak!
Freezing Scandinavia
My Norwegian friends told me that March is the best time to climb Galdhøpiggen. There are wonderful winter conditions and the mountains are generally without tourists. Ideal mountain for tour skiing. This vision attracted me so I teamed up with two friends Honza and Víťa, who love ski touring, and we set out for a trip.
The only thing my Norwegian friends didn't disclose was that it will be cold. The weather forecast was predicting −21°C for the weekend we planned our trip. We were afraid that the weather might make our climb to Galdhøpiggen impossible but we still decided to try.
We all met at Víťa's place in Oslo on Friday. The weather seemed to be best directly on Saturday (still −21° C but clear sky and mild wind) so we decided to leave early in the morning to reach Galdhøpiggen already in the afternoon.
Speeding in Norway not recommended
The alarm rang at 3:30 am. We quickly packed our stuff and left Oslo at 4 am. The journey was smooth. You don't meet many cars on Norwegian roads on a Saturday morning. It would just be great to have different road regulations in Norway. The speed limit of 90 km/h on highways is absurd. My experience told me though that exceeding this limit could result in a significantly increased budget of this trip. One year ago I was fined 5000 NOK (about 500 EUR) for speeding by 5 km/h and therefore we did not take a risk.

We arrived to Spiterstulen, the start of our climb at ten o'clock. This time was still promising. We can probably make it to the summit and back before sunset, which is expected at 6:45 p.m.. That's enough time. We quickly packed our backpacks with proper avalanche equipment (the so called "ski alpinist holy trinity" – a shovel, a transceiver (beeper) and a probe), snacks and hot tea. We put on our skies and started our ascent.
Winter paradise around Galdhøpiggen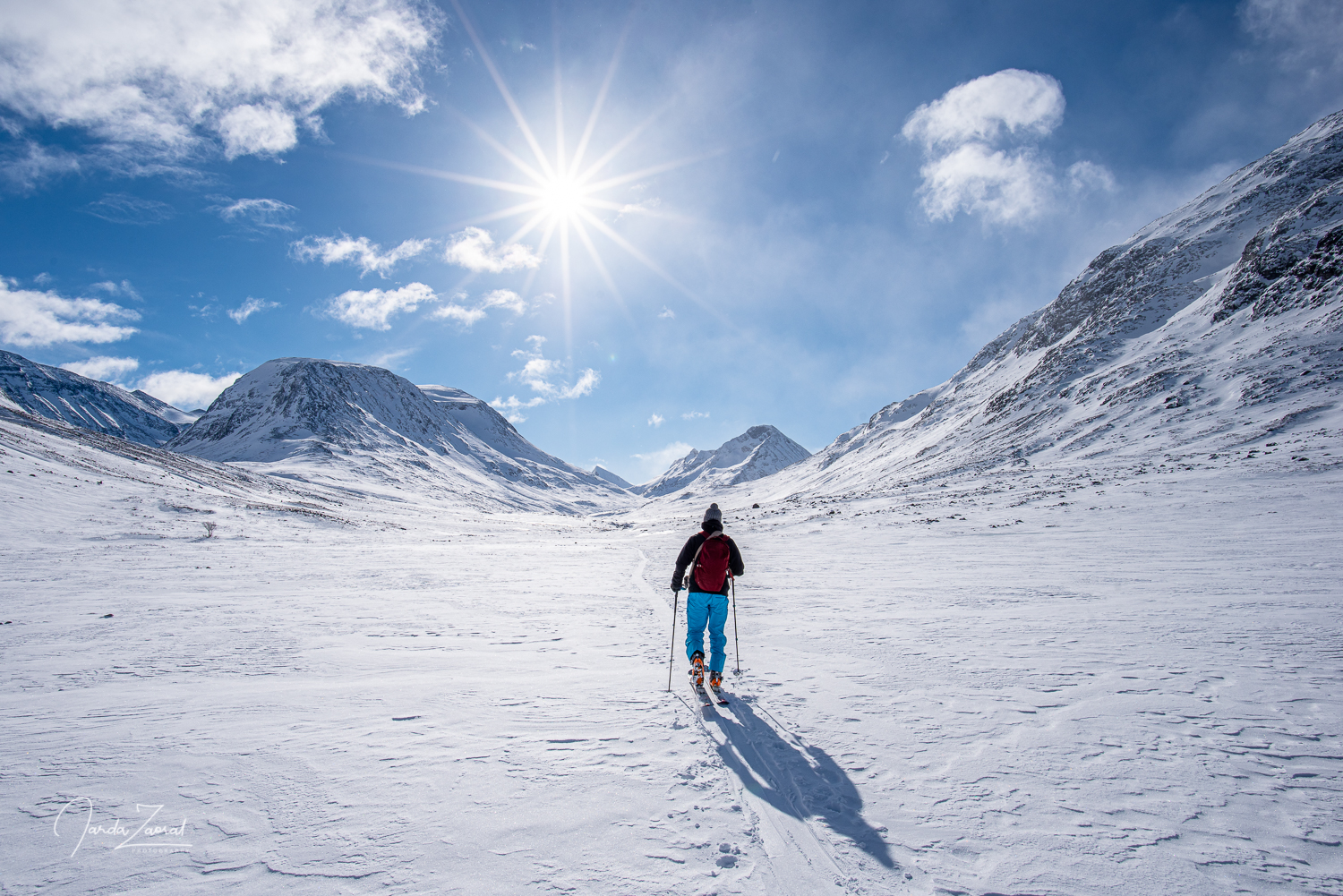 It was cold when we were preparing our equipment but we had to stop after a while for another reason. Surprisingly, we were hot. Thanks to a windless and cloudless sky, we felt warm after the first 200 elevation meters. The first part of the climb was the steepest, maybe another reason. We took off a layer and continued up.
Luckily, we were not the only ones trying to reach Galdhøpiggen that day. Other enthusiastic ski mountaineers headed up ahead and created a nice trail so we saved some time by not having to look for the best possible route. After two hours we had the steepest passage behind us and reached the ridge. There was not much snow so we are took off our skis for a while and crossed the rocky passage with skies on our backs. Even though there was not much snow we were happy anyway. It means that the avalanche danger is low.
Fight for nose
After the next one and a half hour we stood on the top of Svellnose (2272m) from which we saw Galdhøpiggen for the first time. The wind also began to blow. It was suddenly very cold. We put on all of our layers. We climbed to the top as quickly as possible to warm up. The peak seemed to be near but the climb still took us an hour.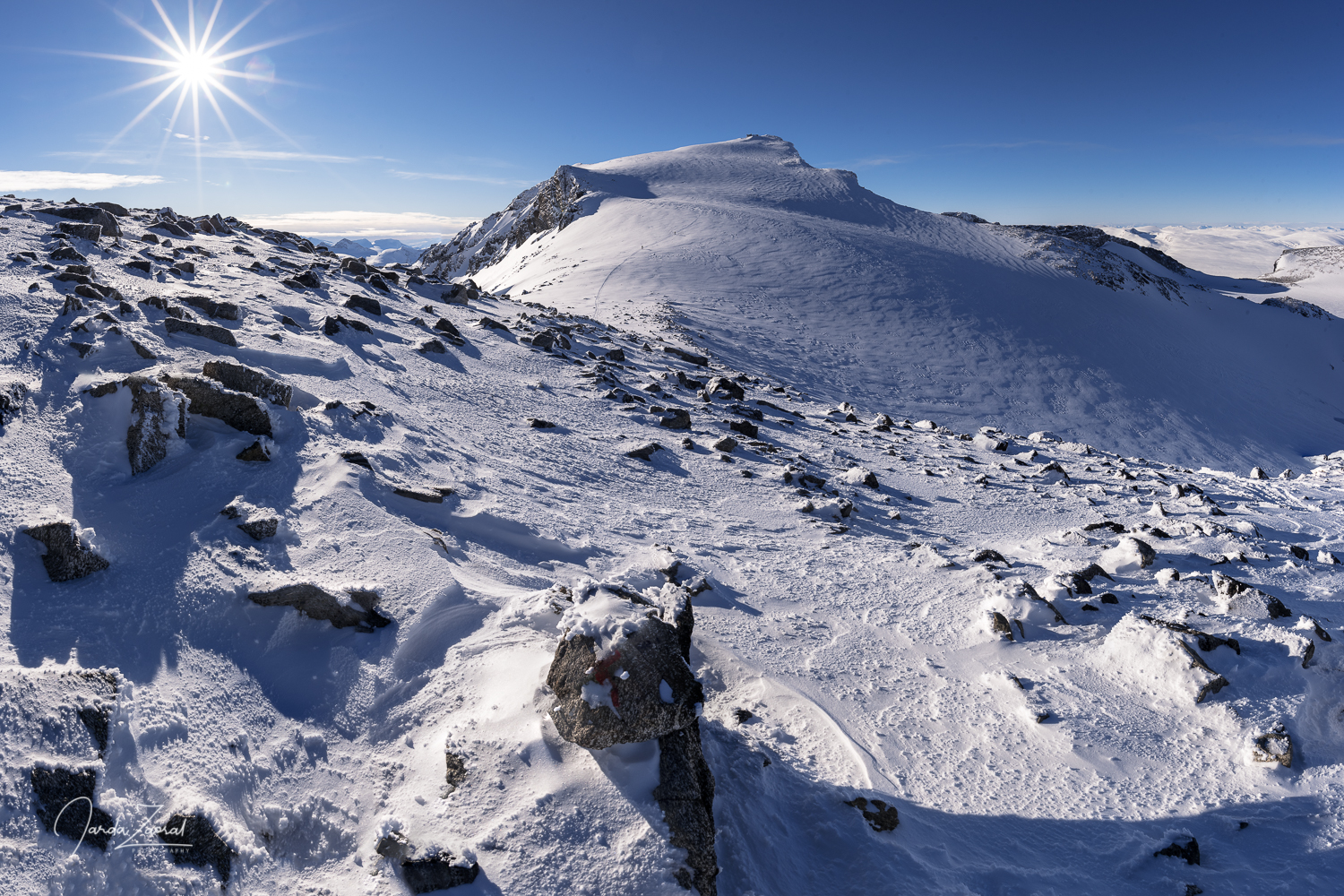 Finally we were on Galdhøpiggen. The views from the top were wonderful. I regretted a bit that all my previous ascents took place in summer. Winter ascents are simply amazing. I started to photograph the winter paradise. Since I was constantly moving I was not cold but my friend started to have a problem. I was in the middle of photographing a large panorama when Honza called me: "We have to go down. Víťa has a completely white nose. He doesn't feel it at all. "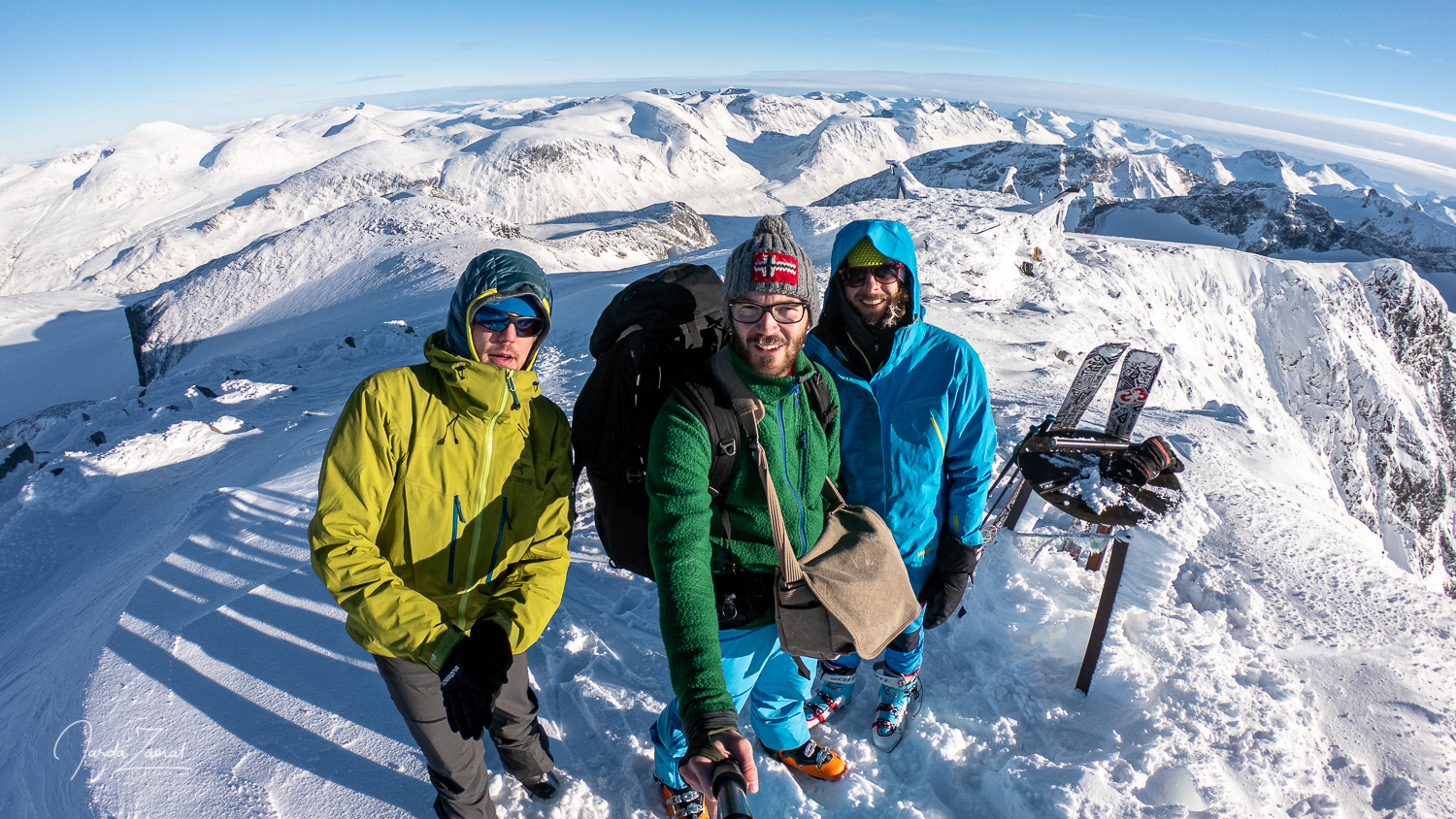 It was clear that fun was over. I sent my friends ahead so they didn't have to wait until I packed my photography equipment. Honza and Víťa are very good skiers so they left quickly. I just saw them gradually turn into two small dots and they disappeared soon beyond the horizon. I wasn't happy about that. Even though I regard myself as a good skier (I worked several years as a ski instructor), this was only my second trip on back country skies in my life.
Don't ski with heavy backpack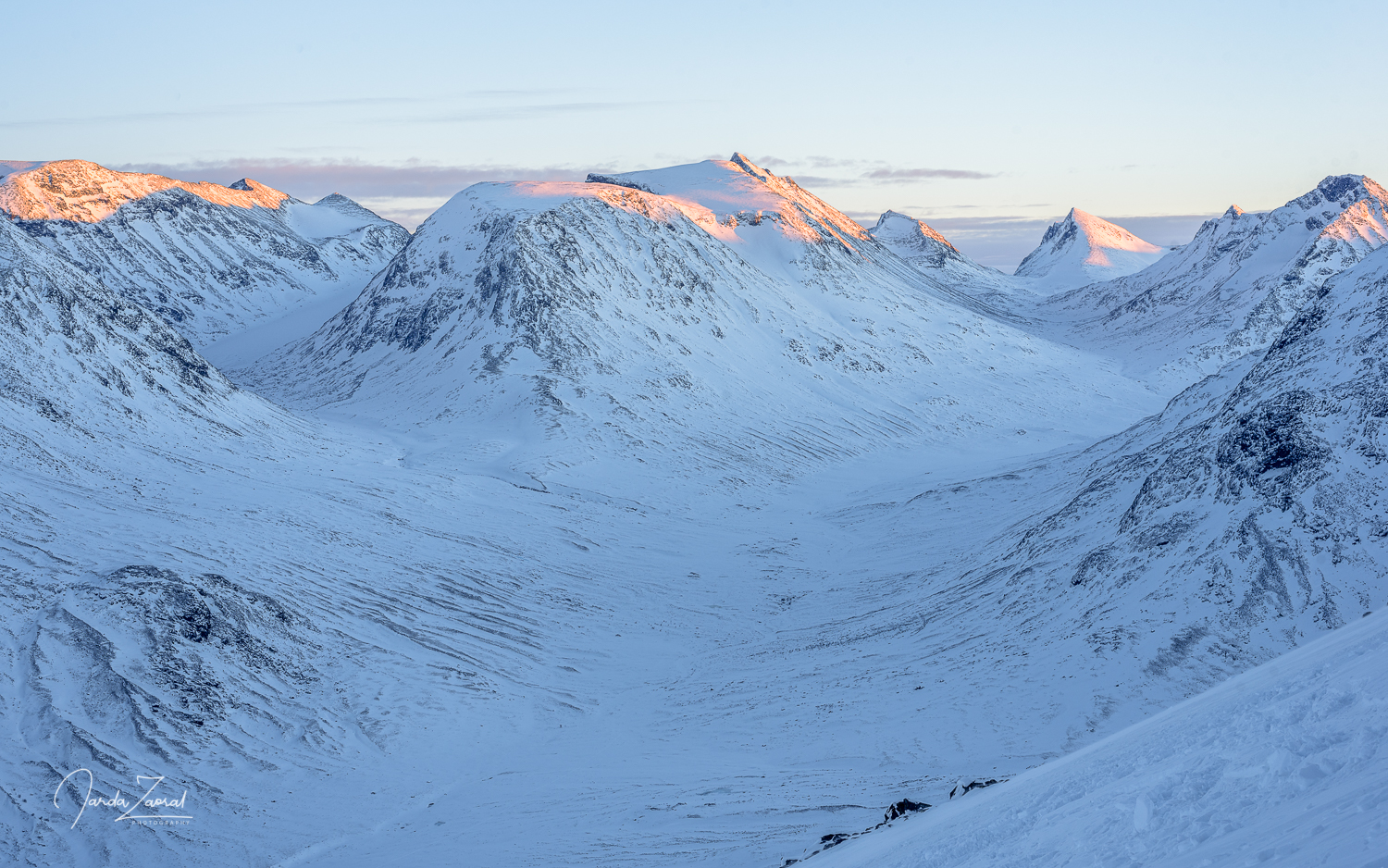 I realized that skiing with a heavy backpack isn't fun. The snow conditions were not the best ones. There was an unpleasant ice crust so the skiing was difficult. I skied down in the most precise plow-style I could to descend as safely as possible. I went down at the speed of a racing worm. Finally, I appreciated the lessons as a ski instructor when I had to be in the plow position all the time. The descent was very long. What long. Infinite! My legs were hurting. The sun started to set and the visibility was getting worse. I just kept one hundred percent focus not to make any wrong move. I don't know how I would deal with a fall or some injury by myself at −21° C and in darkness.
Fortunately, my legs were sufficiently trained so I managed to get back to Spiterstulen after two hours of seemingly endless descent. I came to the reception where Víťa and Honza were warming up. Víťa's nose was already bright red. It looked good. His nose is safe.

My tips for climbing the mountain Galdhøpiggen:
Although there is a hut on top of Galdhøpiggen it is closed in winter. Don't rely on it and check the opening times.
Take your own meal with you to save money. It is very expensive to eat in the hut Spiterstulen and there is no kitchen to prepare your own food.
For skilled skiers, Galdhøpiggen is suitable for a back country skiing trip. The difficulty isn't very high but be aware of snow conditions and avalanche danger.