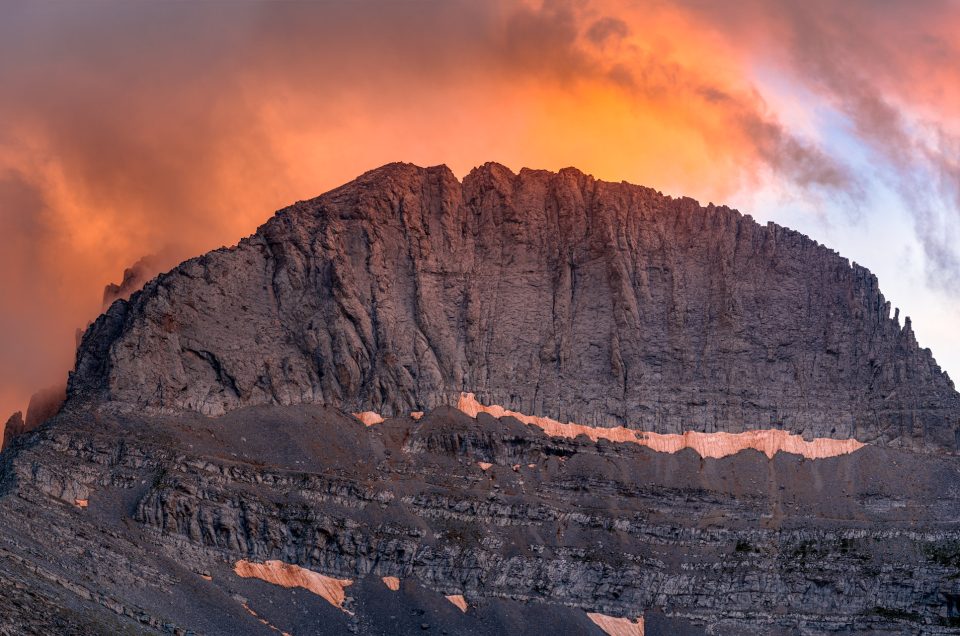 Mount Olympus belongs to my favourite mountains in Europe. The mountain of gods is so beautiful that I quickly understood why Zeus and his colleagues chose this mountain to rule from. The climb is long and demanding but the experience and views are worth the effort. In this article, I will give you all information you need to successfuly reach the peak and also a secret tip how to make most out of the trip to the Olympus Range.
Important information for climb of Mount Olympus
Short description of the ascent: Demanding long hike, it's recommended to do in two days
Essential equipment: Hiking gear for long and demanding hikes, helmets
Best time to visit: June - October 
Fees or restrictions: No
Camping allowed: Yes
Nearest accommodation/food supply: huts Christos Kakkalos, Giosos Apostolides and Spillos Aqapitos
Starting point: Prionia (see the map below)
Height of the peak: 2918m
Hiking distance: 9,6km (one way)
Time to ascend to Mount Olympus: 7 hours up, 4 hours back
Elevation climbed: 1928m up and 168m down (one way)
Water availability on the mountain: huts Christos Kakkalos, Giosos Apostolides and Spillos Aqapitos
Difficulty level: **** (6 stars maximum) 
Personal rating of the mountain: ***** (6 stars maximum) 
Beer on the peak: Olymposbeer Golden (dark lager) *** (6 stars maximum) 
Description of two best routes to Mount Olympus
There are multiple options how to reach the highest point of Greece Mount Olympus, also called Mytikas. I will describe the most popular route which is also the shortest and also my favourite one which is a bit longer but it should be taken in my opinion because it includes wonderful view over the peak.
Option 1: Straight from parking lot Prionia to Mount Olympus (Mytikas) via hut Spillos Aqapitos – this route is the shortest and can be made on one long day or in two days with a night spent at the Spillos Aqapitos hut.
Option 2: From Prionia to Mount Olympus (Mytikas) via Christor Kakalos hut and mountain Profitis Ilias – I strongly recommend this route because the view from the plateau around Christor Kakalos hut over Mount Olympus is magnificient. In fact, it's even better than from the top of the mountain. I recommend to stay overnight at Christos Kakalos hut and hike up for nearby mountain Profitis Ilias for unforgettable sunrise during which you can marvel at the majestic mountain on one side and Aegean sea on the other.
Both of the routes include very steep part of the final summit where you will have to scramble. Helmets are strongly recommended as there are loose stones.
Map of the routes to Mount Olympus
Option 1: Straight from parking lot Prionia to Mount Olympus (Mytikas) via hut Spillos Aqapitos
Option 2: From Prionia to Mount Olympus (Mytikas) via Christor Kakalos hut and mountain Profitis Ilias
My story of climbing Mount Olympus with personal tips
I climbed Mount Olympus within my project European Peaks during which I managed to climb the highest mountain of every European country in a year. I was using Interrail service and I had the most interesting story on my way from Bulgaria to Greece so here starts my story.
I was lucky with the weather in the Bulgaria and it looked promising also for the rest of my Balkans trip so I was looking forward to climbing the highest mountain of Greece. However, before I start talking about the actual summit I would like to introduce the amazing travel with Bulgarian railways which I used on the way to Greece. Over +30° C, no air condition, broken window opening system, no water to buy.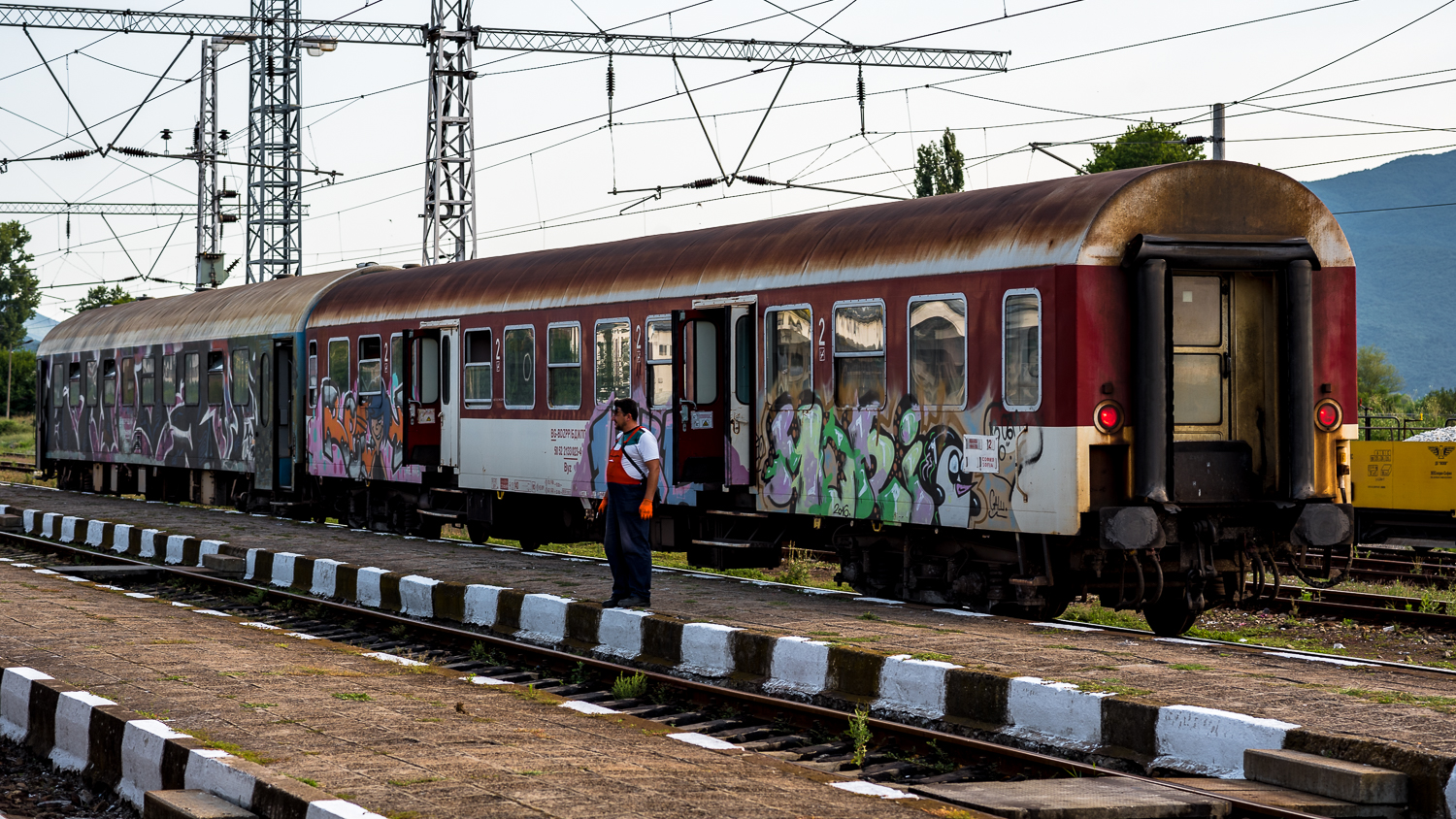 Luckily, the miracle happened at the border with Greece. For some unknown reason we had to leave the train and wait for another one operated by Greek railways. To make our waiting less boring we passed the border with a bus overtaking the longest queue I have ever seen. What luck we live in Shengen.
Random stop at the border
After a quick security check we reached probably the most remote village in the whole Greece with stray dogs and still no shop to buy water or food. This will be our stop for another hour. Both we and the dogs are hungry and thirsty. Unfortunately the dogs don't know we have no water and no food so they are begging and begging. This is not the best occasion for people who are scared of dogs. I rather sit aside hoping that the train comes soon.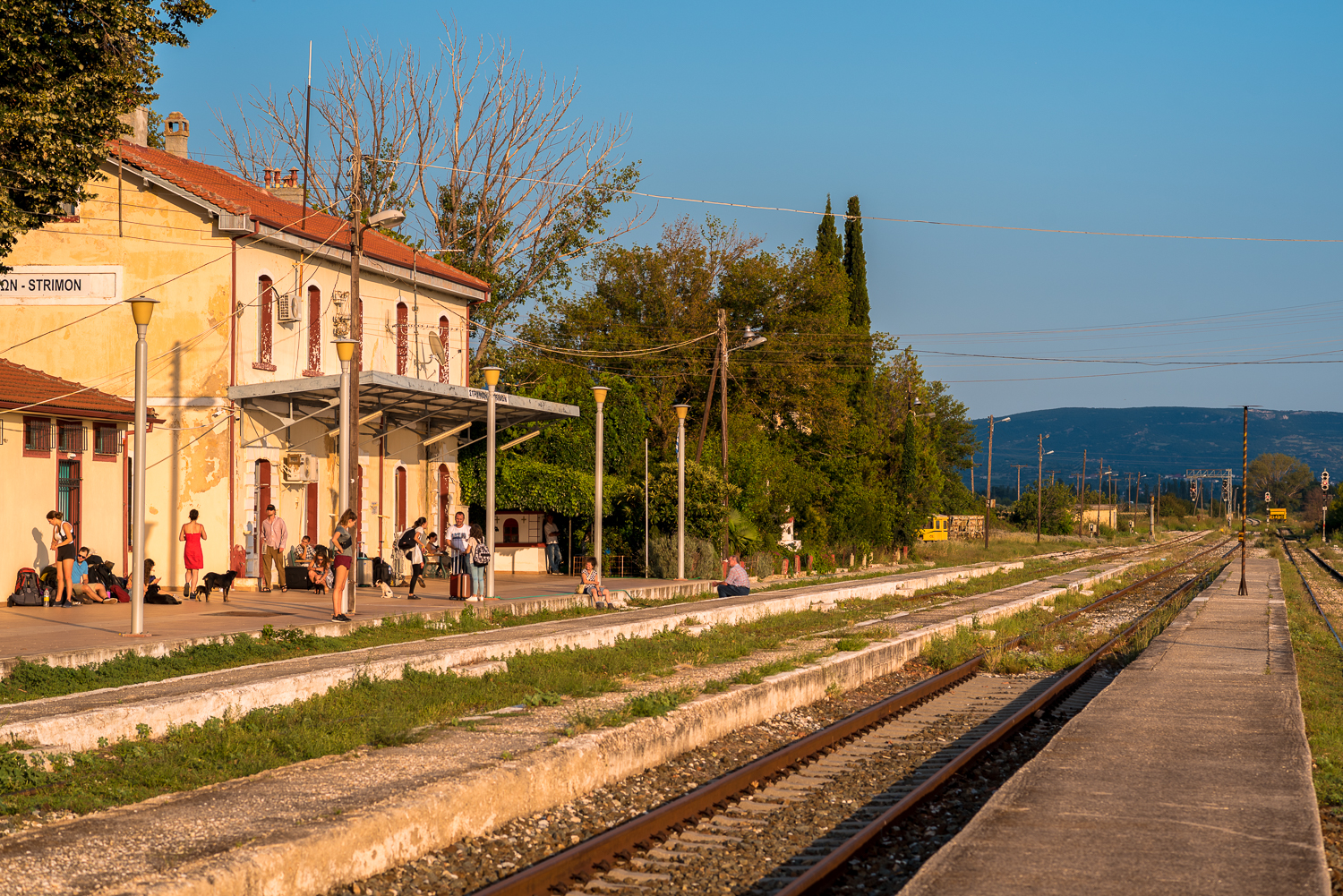 After half an hour, two strangers come and offer to me and my friend a beer. Miracles do happen! We quickly became friends with these two Interrail travellers American Wyatt and French Joyce. We talk about our experiences on the road and about our misery in the Bulgarian trains.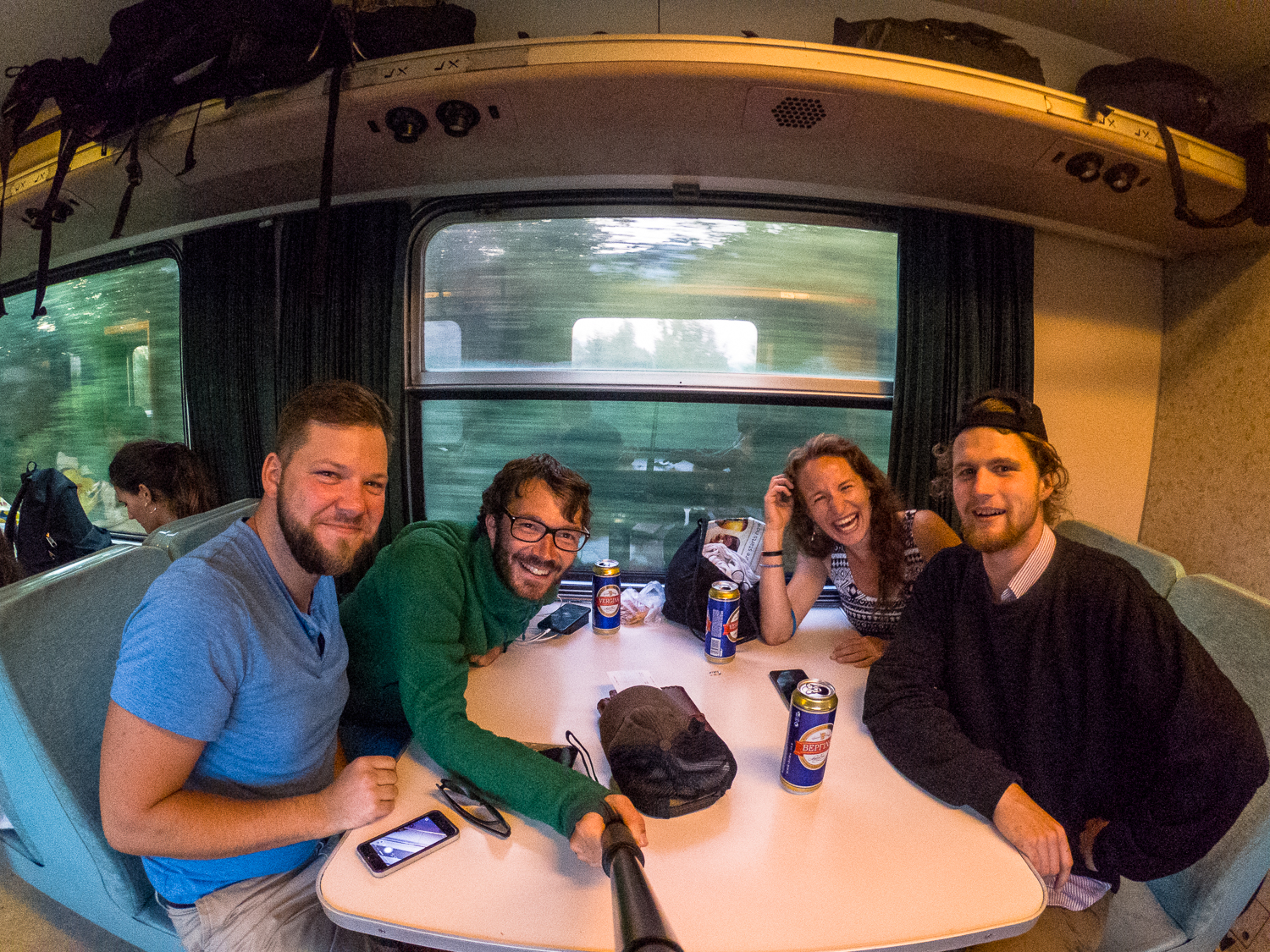 Short sightseeing before our climb
The train arrives soon. Compared to Bulgarian trains another extreme is waiting. It is freezing cold in the train because of too strong air conditioning. I take on new clothes and with newly ordered beers we continue towards Thessaloniki. Wyatt becomes more and more interested in my expedition and soon decides to join us for the Greek adventure. Rikki and I have nothing against it.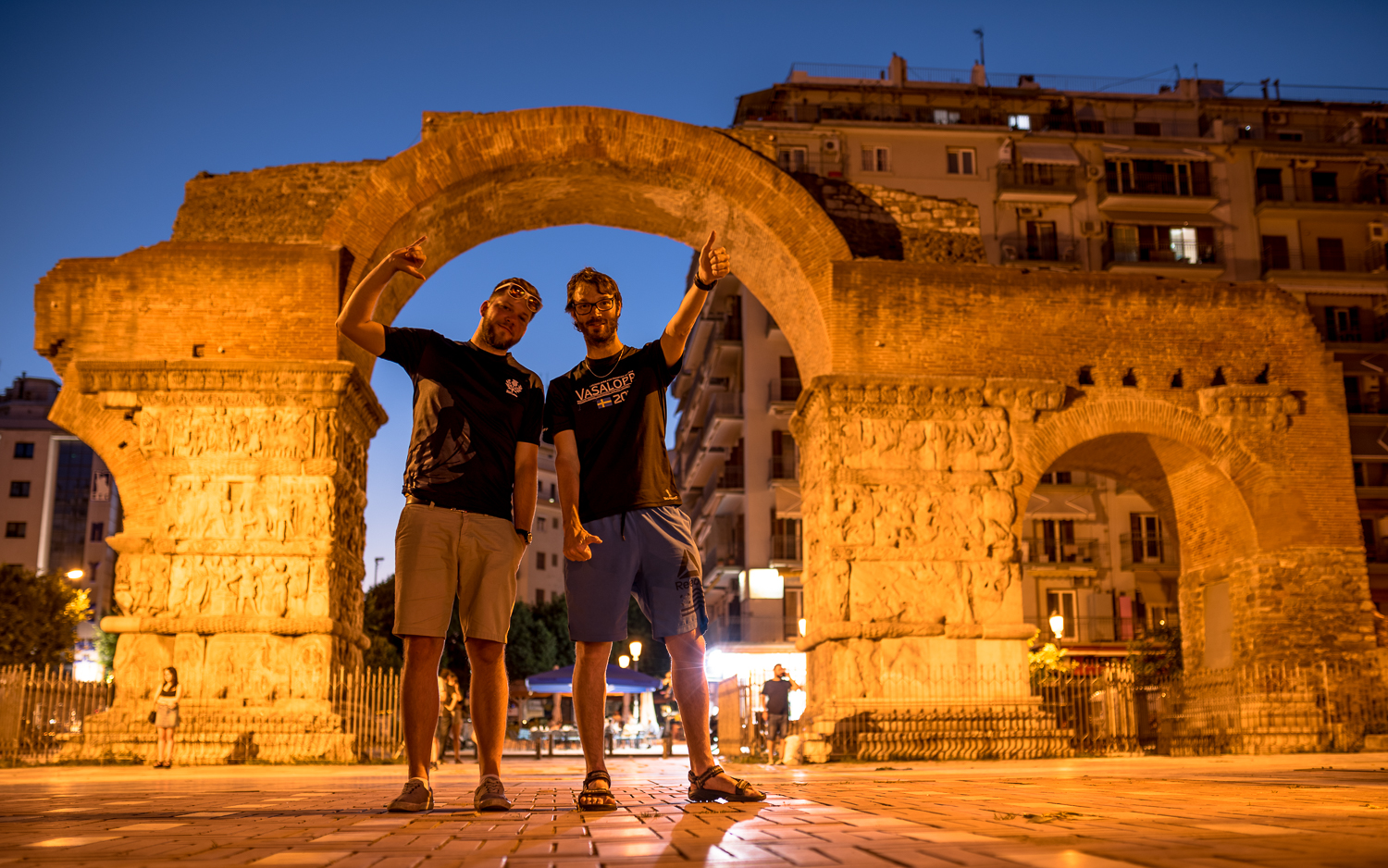 The weather forecast was good for the following days so we didn't wait and decided to directly go to conquer Mount Olympus. We hired a car and left to the village Litochoro. I wasn't driving so I was googling a bit and I found by accident the Olymposbeer which was on the way. What a coincidence!
When we reached the "brewery" we found out it is just an office with only one employee who couldn't speak any English. We could at least practice our mime though and obviously, it is good! After 15 minutes of awkward conversation we each received a bottle of beer. Now we are ready for the climb!
Climbing in sandals?
The hike starts at a small parking lot above Litochoro village called Prionia. I was happy we are on the way but after a few steps Rikki and I got shocked. Wyatt is wearing sandals. "Seriously, Wyatt?" we asked. "You will actually need to climb during the last part of the summit." "Calm down," he replied. "I climbed in these amazing shoes a 10 000 feet mountain. No worry". We didn't have any idea what his mountain could look like but he looked persuasive so we trusted him and decided to continue.
The journey is long and steep. It's late afternoon and we meet dozens of tourists on the way down. Nobody is hiking up. It doesn't take long time before we reach the first hut on the way. We get some liquid energy and continue. The tree level is disappearing and we start to have a view over the sea. So rewarding. It also becomes colder. Wyatt's feet are cold so he puts on socks and we start to hike faster to reach our destination. After four hours from the start we reach the plateau below the peak of Mount Olympus.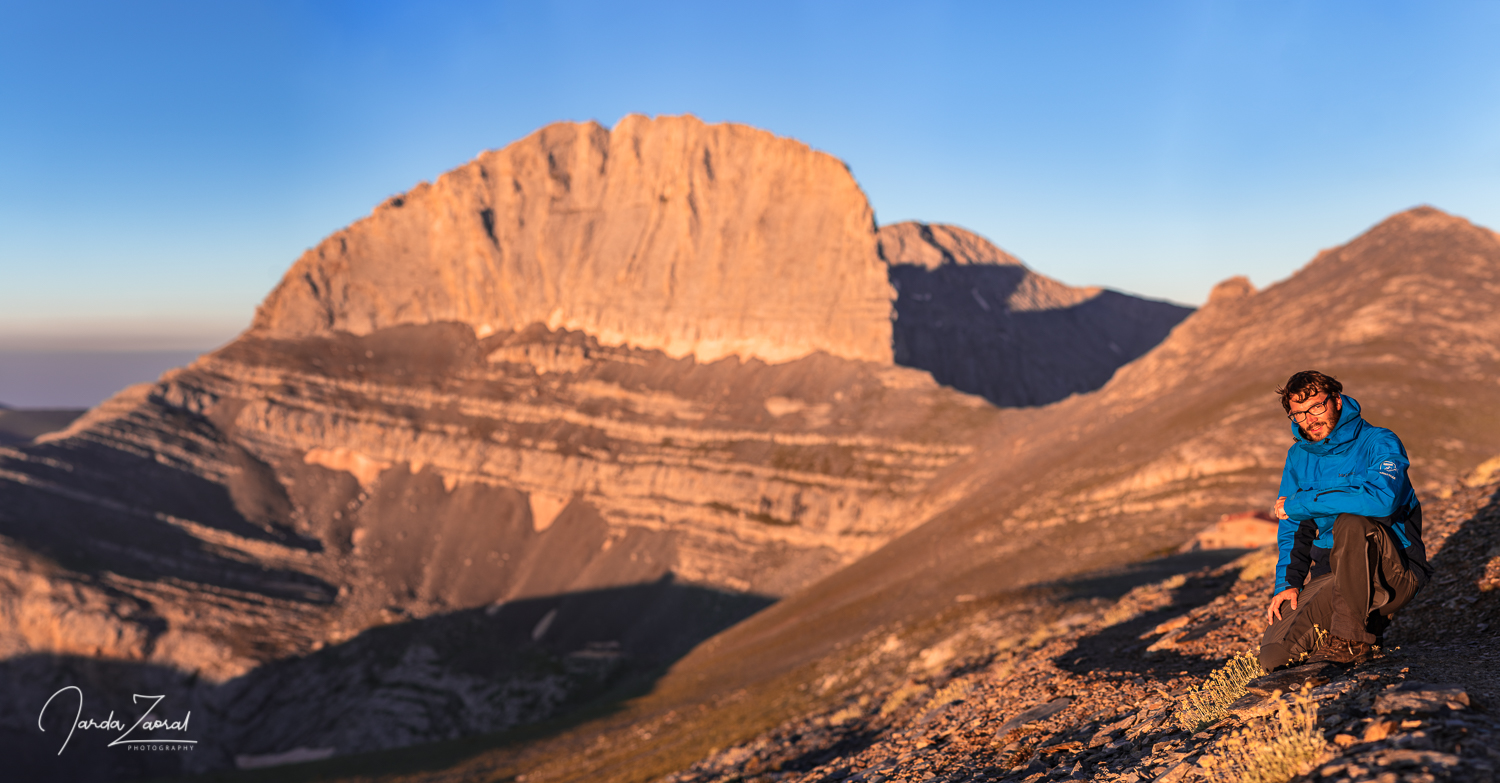 Don't miss epic view over Mount Olympus during sunrise
Wow. What a beautiful mountain. I didn't make much research in advance about what Mount Olympus looks like and it was right choice. It is probably the most beautiful mountain of all EU Peaks. For better atmosphere, the setting sun created amazing light. We nearly felt that Zeus will show up. It was a perfect time to reach our destination Refuge Christos Kakkalos.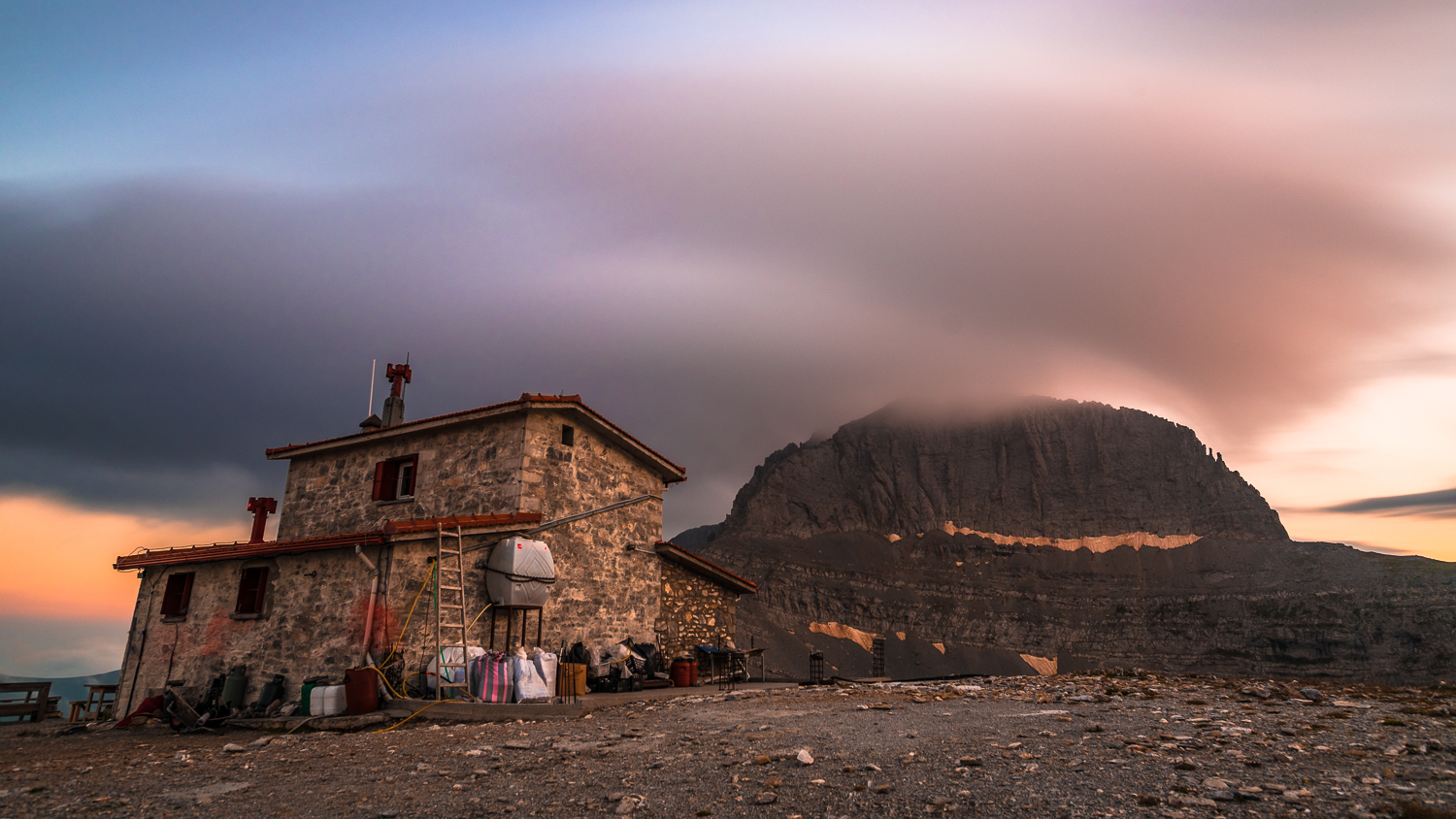 Dmitrij, the responsible at this cabin, was very hospitable. We got amazing local food and talked with him and other guests until late evening.We didn't omit the local tsipouro either. Yamas!
The best view over Mount Olympus is from Profitis Ilias
We woke up early in the morning but this time not to climb to the top of Mount Olympus. Instead we decided to reach another mountain Profitis Ilias nearby to have a view over the majestic mountain of gods. In addition to this view we could also watch the waking Sun above the sea. It was definitely a good decision. This was magnificent scenery.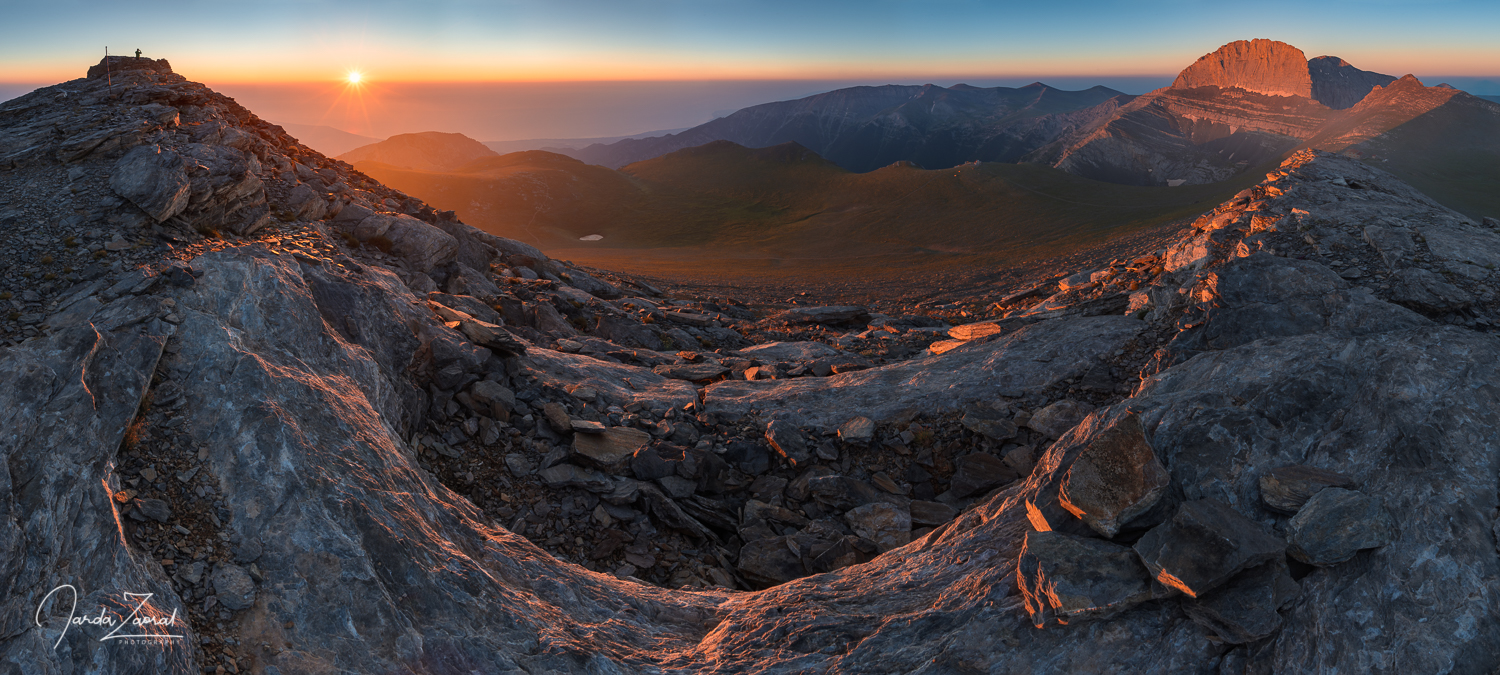 We enjoyed the amazing scenery for some time but we knew we were still expecting a tough climb so we got back to the Christos Kakkalos hut, we rented helmets and we finally started to hike up to Mount Olympus.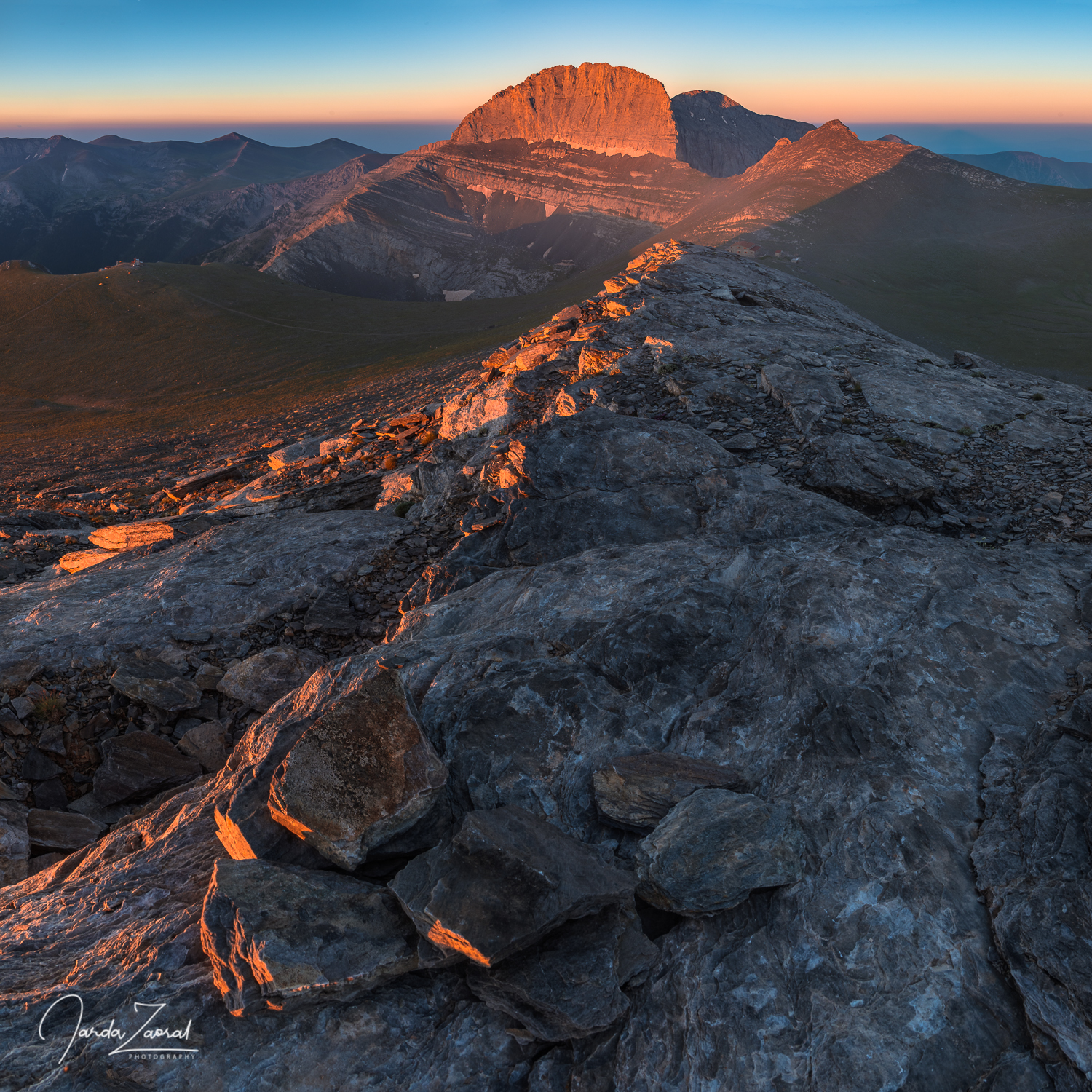 Steep final summit to Mount Olympus
First we traversed to the beginning of the climbing trail and after a few hundred meters the real adventure starts. For the last time we ask Wyatt if he thinks it is a good idea to climb up in his sandals. However, he confirmed again that we have nothing to worry about. Well, let's go up.
We slowly scramble up with Rikki when we suddenly hear the singing: "Wyatt, why did you do this, this, this? Wyatt, you are such an idiot, idiot, idiot. Come on man, you will survive this, this, this." It's clear. Wyatt has a problem. "Are you okay? Do you have problems with your sandals?" we ask. "No. The sandals are okay but I forgot to say I'm afraid of the heights." We didn't know what to say. Seriously? "What now? Do you want to come back?" "No. It will be even worse. I have to climb up." Wyatt stopped looking down and didn't give up. He took a deep breath ten times and continued upward. The climb was not long and after a few minutes we all reached the top of Mount Olympus. Rikki and I enjoyed the view and Wyatt made a triumphant selfie with his sandal.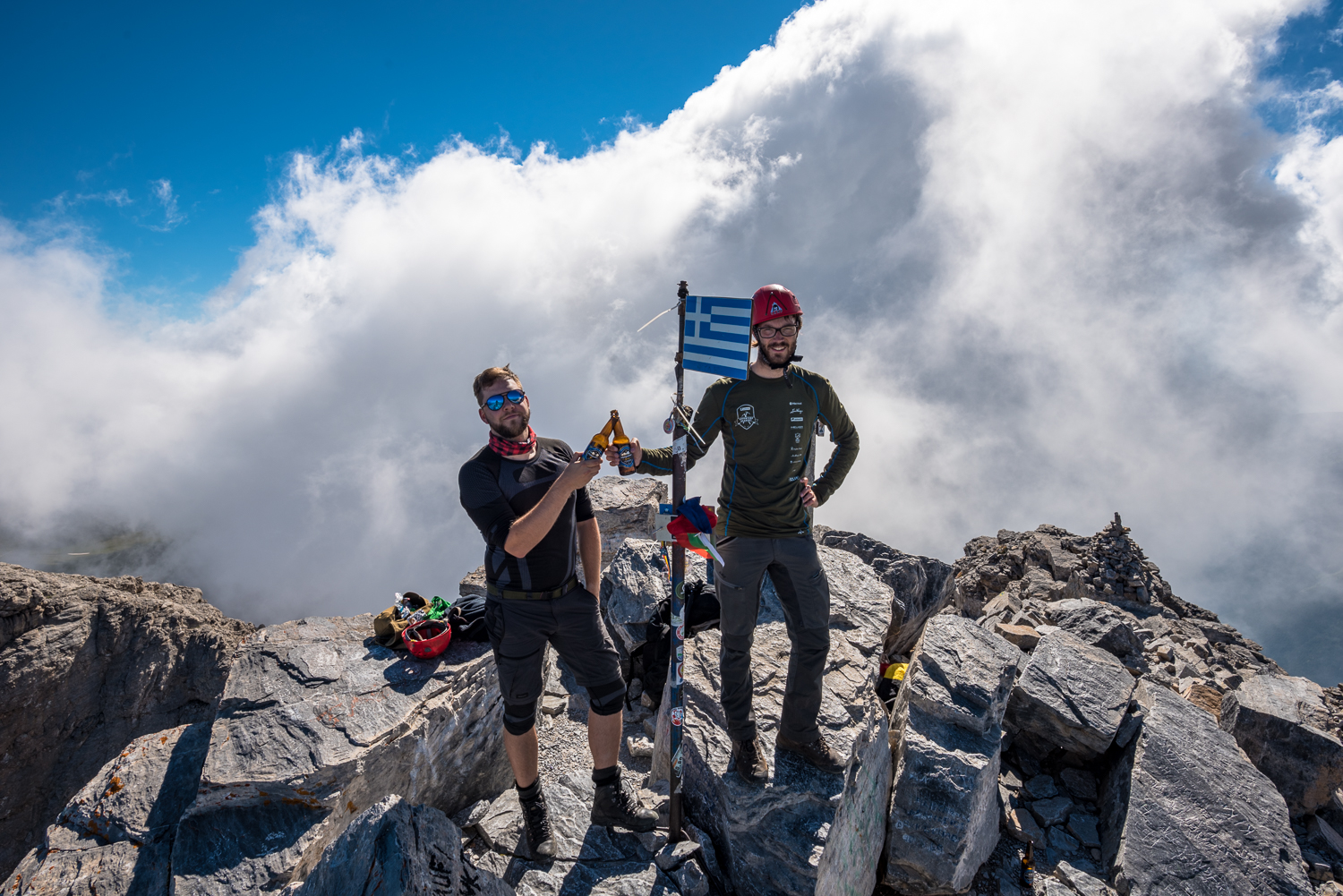 Well deserved relax at the beach
We enjoy the Olymposbeer peak beer and sunbath in an already warm sun for about an hour. The view over the sea is though very tempting so we decide to return to Litochoro and later to the nearest beach. I would like to write that the chilled typical Greek ouzo which we ordered on the beach was the best reward for the two-day effort in the mountains. Unfortunately, I have to write that I have never drunk anything more disgusting. Anise is just not my cup of tea, so I bought instead the wheat Greek beer Alpha. With that, the view from the sea to the mountain where we sunbathed only a few hours ago was much more pleasant.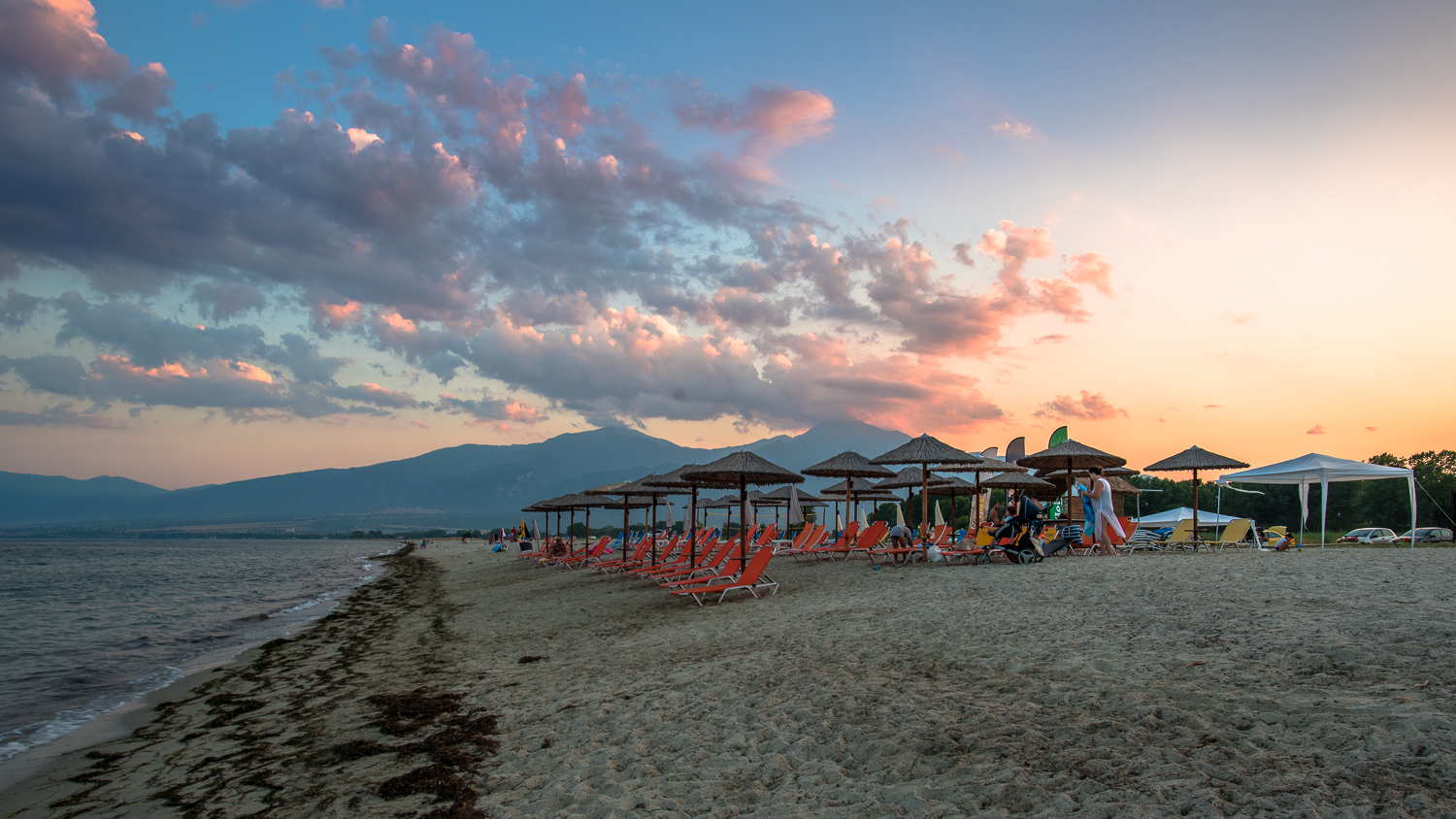 I think I will have to come back sometimes, especially after the local people told us their experiences with freeride skiing in the winter.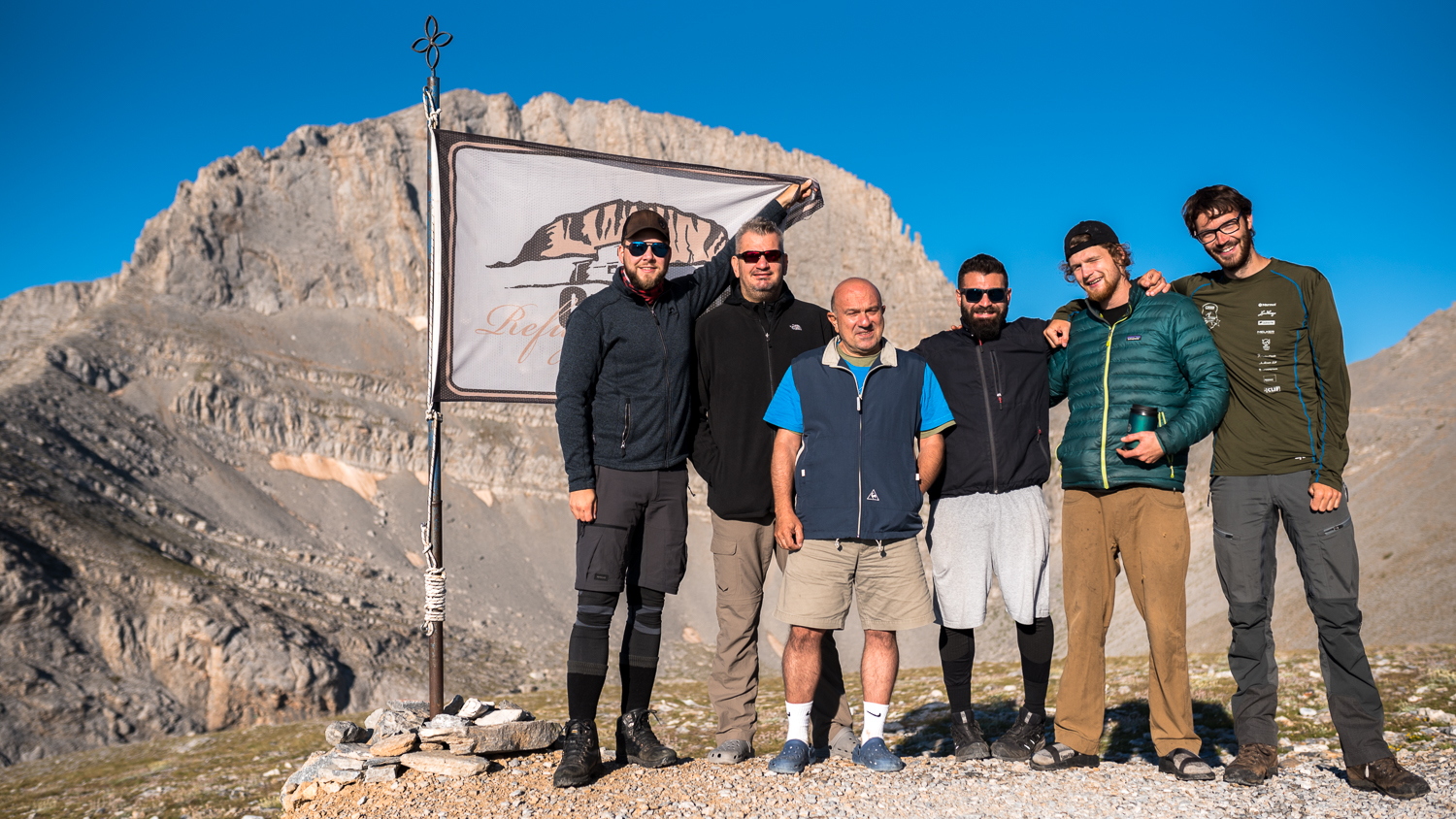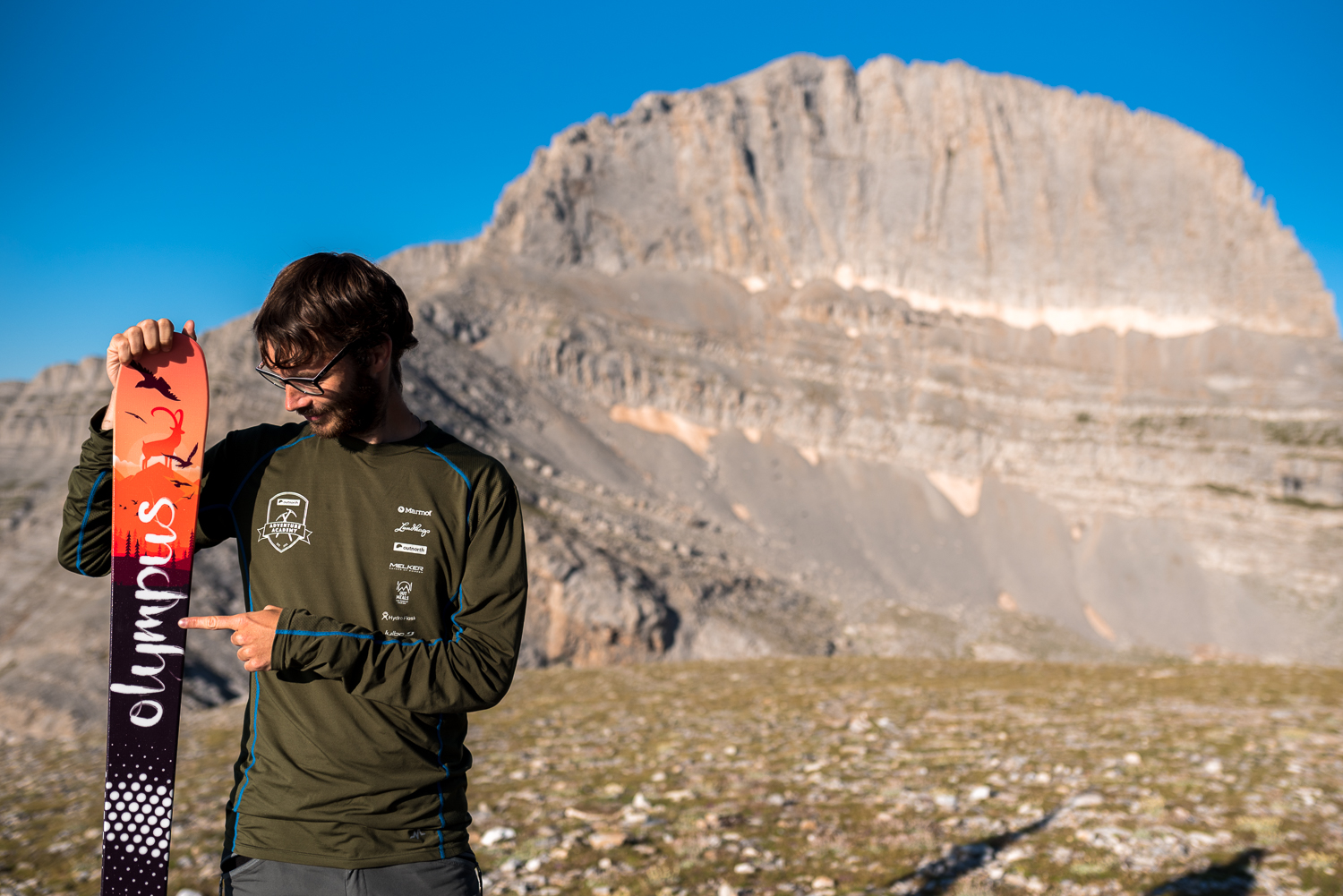 My tips for the mountain Mount Olympus:
If you are on a holiday in Greece, do not omit the mountain Mount Olympus. This is one of the most beautiful mountains in Europe.
I recommend to start hiking later in the afternoon, spend night at the refuge Christos Kakkalos and climb the peak early in the morning. You will avoid the crowds.
Before the actual summit don't miss the view from Profitis Ilias
Please, don't bring sandals 🙂