My summer expedition EU Peaks will be a long trip with only short brakes so there will be no time for failures. That's why I don't want to underestimate the preparations. I go running almost every day and I am learning to use my equipment. During the last year I have bought a lot of new camera gear and I have learnt a new cool method to make panoramic pictures. I wanted to test everything before my trip so I am sure I can handle it. I wanted to do the test in a tough environment so I could see how I and my gear can manage extreme conditions. The result is: I decided to visit Lofoten islands.
What are Lofoten islands? To be honest I think it is the most beautiful place on our planet. You may wonder why I like such a cold place far behind the polar circle. But if you saw those sharp mountains scrambling out of a rough ocean I think you would quickly understand.
April seemed to be a perfect month. It is the month with the most changeable weather and the strongest wind of the year. During this time you can expect all: rain, fog, snow, hail, rainbow and hopefully also sun and northern lights. Perfect for photographers. Hopefully, my girlfriend would enjoy it too.
The trip didn't start the best. My ordered large backpack didn't arrive in time so I looked like a turtle with two backpacks. As a bonus I got some Swedish food for the way. Yeah, Norway is expensive. Charming right?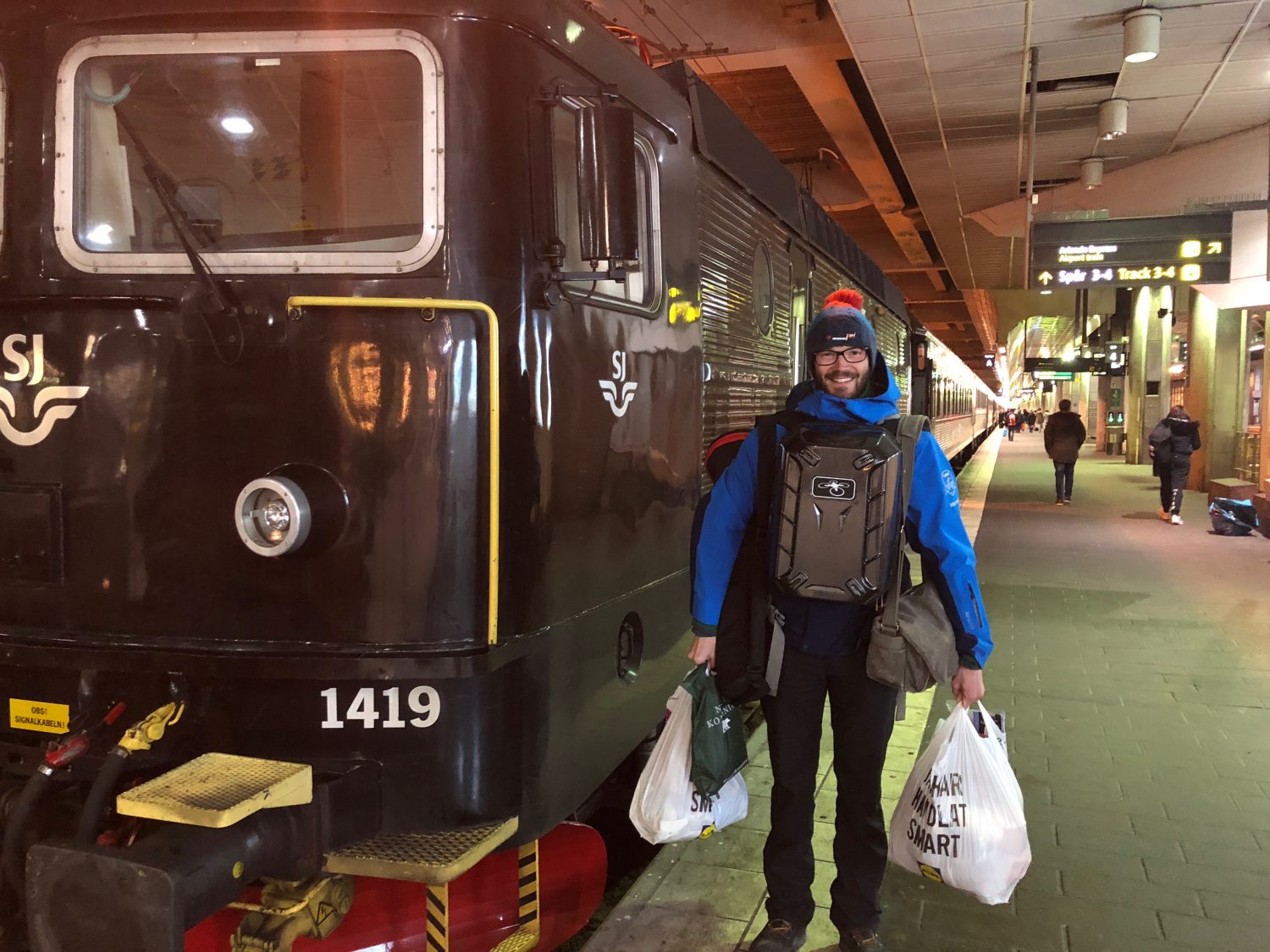 That's my choice though. I know that carrying 15 kg of camera equipment might be tough. However, there is no other option. If I want to capture perfect moments and make the best pictures from my expedition I need professional equipment and that unfortunately weighs a lot. I am now doing panoramic landscape photography where I usually use 9-45 pictures to create one final photo. This is the only way to provide excellent quality of my work and make it printable on a large scale. In a later post, I will go more in detail how I shoot for those interested.
Now just 18 hours train to Narvik which is btw. also a perfect training for summer. I will be mostly travelling by train. I think it is most fun. You meet many interesting people and it's much better for the environment than planes. A pity that Swedish trains are reliable like the long-term forecast so we were four hours delayed. Fortunately, we reached Lofoten islands before sunset and they didn't surprise us. They were beautiful as always. We were welcomed by this amazing sunset. Can you imagine a nicer place for an evening bbq?
The following days were as expected. Very strong wind and very changeable weather. It prepared perfect conditions for photography. Look at some examples of my work.
The camera and all my lenses seem to work. The second step was to test my drone. I had to be very careful. It was extremely windy and I didn't want to let it swim so I was very careful when choosing the time for takeoff. It showed up that wind should be weaker than 10m/s. I was lucky to fly a few times with a decent wind and it resulted in the following images. I have to admit that the drone can cope with very strong winds if it manages to take off. It was a very pleasant surprise.
The biggest challenge was to come though. We wanted to reach one of the mountains and tent there to witness a nice sunset, sunrise and hopefully northern lights from above. I made myself a turtle again, this time a turtle with snowshoes and went up to the sky. It was definitely worth it. This was our view from the tent.
The northern lights were a bit weak but the nature was forgiven after giving us this beautiful sunrise.
I am happy I could test all my tripod, camera, three lenses and drone and I think I am ready for the summer. I made some mistakes but I am happy for them to happen now and not during my expedition.
See you soon Lofoten islands! I can't let you be without me for a long time!