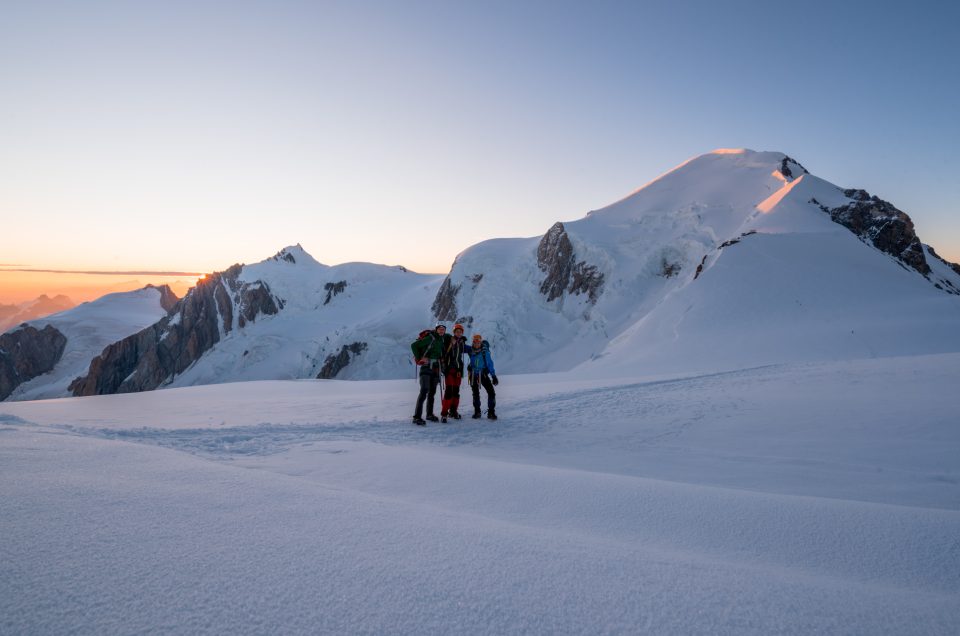 The highest mountain of the European Union, Mont Blanc, was to be the hardest test of my expedition. I had already climbed the mountain three years ago, but it was with an experienced guide that time. This time I had to rely just on my and my friends' skills. For the first time I took the so-called Three Monts route from Aiguille du Midi to the top, which was until then the most demanding climb of my life. This time we chose the simplest option, namely via the Gouter Hut. Which route is better?
Two most popular routes to Mont Blanc
There are several routes to the highest mountain of the Alps Mont Blanc. Choose wisely according to your fitness level and climbing experience. For visitors without climbing and glacier experience, a guide is a must.
Gouter route: The so called normal route is the easiest way to Mont Blanc. I will describe this route thoroughly in this article.
The 3 Mont Blanc Traverse: This is a more demanding route leading from Aiguille du Midi. On this route you will pass two more mountains Mont Blanc du Tacul and Mont Maudit. This route is more technical and also longer than Gouter route but there are less climbers so this route is recommended to more experienced visitors.
Important information for climb of Mont Blanc via Gouter route
Short description of the ascent from Nid'Aigle: Demanding multiday climb on via ferrata and on glacier
Essential equipment: Full climbing and glacier gear
Best time to visit: June - Septmeber (June and September best)
Fees or restrictions: It isn't allowed to enter Gouter route without proper climbing equipment
Camping allowed: Only nearby Tête Rousse Hut
Height of the peak: 4807m
Distance to the top: 9 km (one way without acclimatization climbs)
Time to ascend from Nid'Aigle to Mont Blanc and back: 4 days are recommended (see recommended itinerary below)
Elevation climbed (one way without acclimatization climb): 2465m 
Water availability on the mountain: At all the huts on the way.
Difficulty level: ****** (6 stars maximum) 
Personal rating of the mountain: ****** (6 stars maximum) 
Beer on the peak: Mont Blanc La Rousse ***** (6 stars maximum) 
Recommended itinerary to climb Mont Blanc via Gouter route
Since Mont Blanc is the highest mountain of the Alps, a proper acclimatization is a must. If you haven't been this high before in your life, it's highly recommended not to underestimate the acclimatiztaion process. Below you can find my recommendation:
Day 0: Acclimatization in the Chamonix area – for example by a lift to Aiguille du Midi
Day 1: Train to Nid'Aigle and hike to Tête Rousse Hut with subsequent acclimatization to Gouter Hut
Day 2: Climb from Tête Rousse Hut to Gouter Hut with acclimatization to the mountain Dome du Gouter
Day 3: Climb from Gouter Hut to Mont Blanc to Gouter Hut and back
Day 4: Descend back to Nid'Aigle
Map of the climb via Gouter route to Mont Blanc
My story of climbing the deadliest mountain in the world
After the accident in Scotland, I thought it was the complete end of my expedition. When I later decided to continue, I promised at least at home that I would omit the dangerous Mont Blanc. After the car accident not only those at home were worried about me, but even I was afraid myself, especially when it came to "The deadliest mountain in the World", where over 6000 people have already died. Therefore, the plan was to conquer all remaining mountains except Mount Blanc itself. I cancelled my plans and told my friends who planned to climb Mont Blanc with me about it. Instead I planned the ascent of Dinara, the highest mountain in Croatia.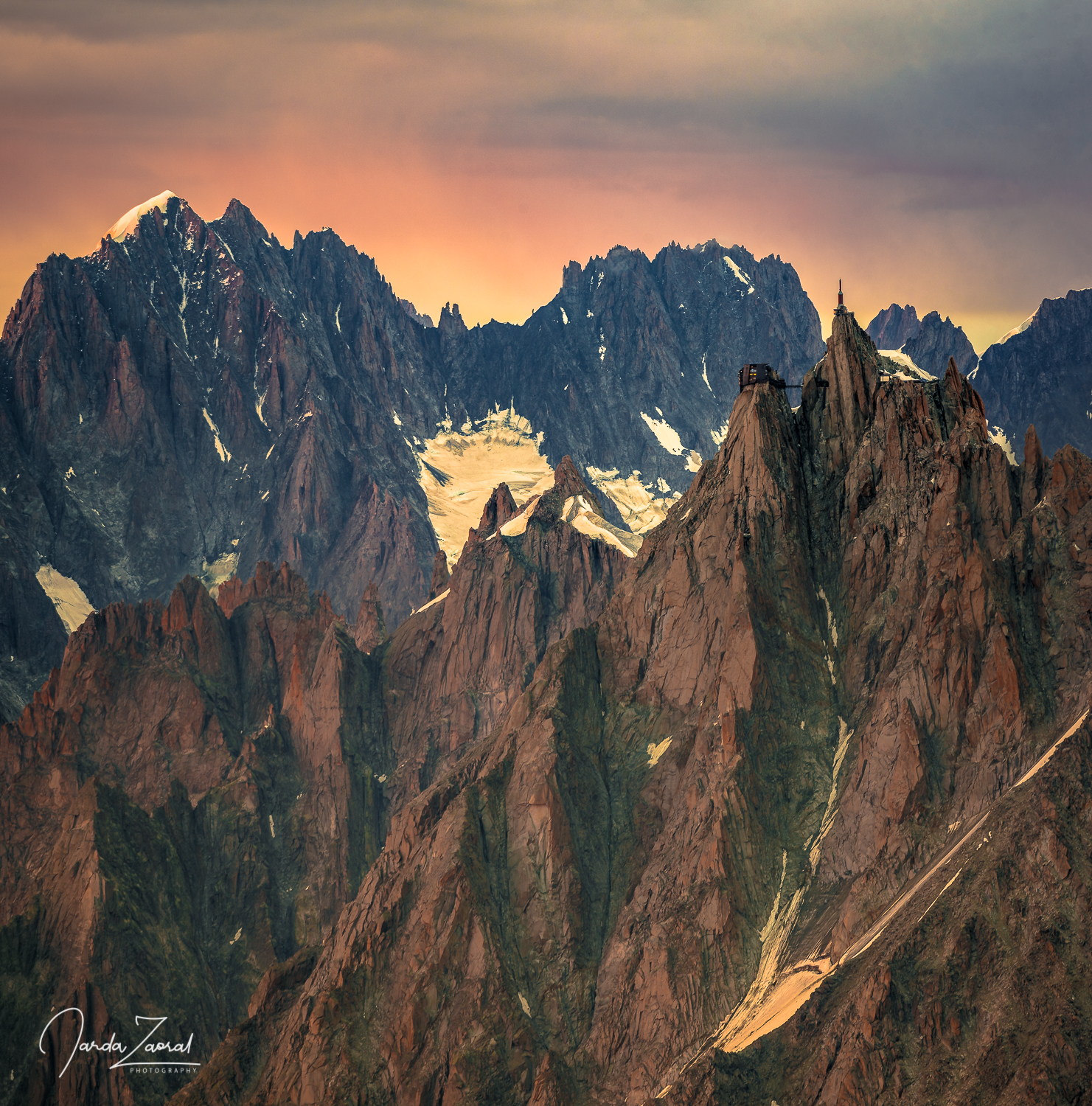 However, as it sometimes happens, the circumstances changed. While hiking on the Alpine peaks I got enthusiastic for traveling again and I was looking forward to going to Croatia. My friend Mara, however, was so tired after climbing Triglav that he refused to go to Croatia with me. So, I was thinking what to do next. I didn't want to go to Croatia on my own and I had six days left before my flight to the highest mountain in Finland. My flight was scheduled from Geneva and my friends Alča and Hozna were trying to persuade me to join them for the climb to Mont Blanc. Since I had successfully climbed all the Alpine highest mountains so far, I gained enough confidence back. It was a perfect weather forecast, too. Great opportunity. Those circumstances finally convinced me. I decided to climb Mont Blanc.
Gouter Route to Mont Blanc
Our trip started in a nice accommodation in the village of Saint Gervais-Les Bains right next to the train heading towards Mont Blanc. We slept well and we departed by this train at 8:30 towards the starting point of our expedition Le Nid d'aigle.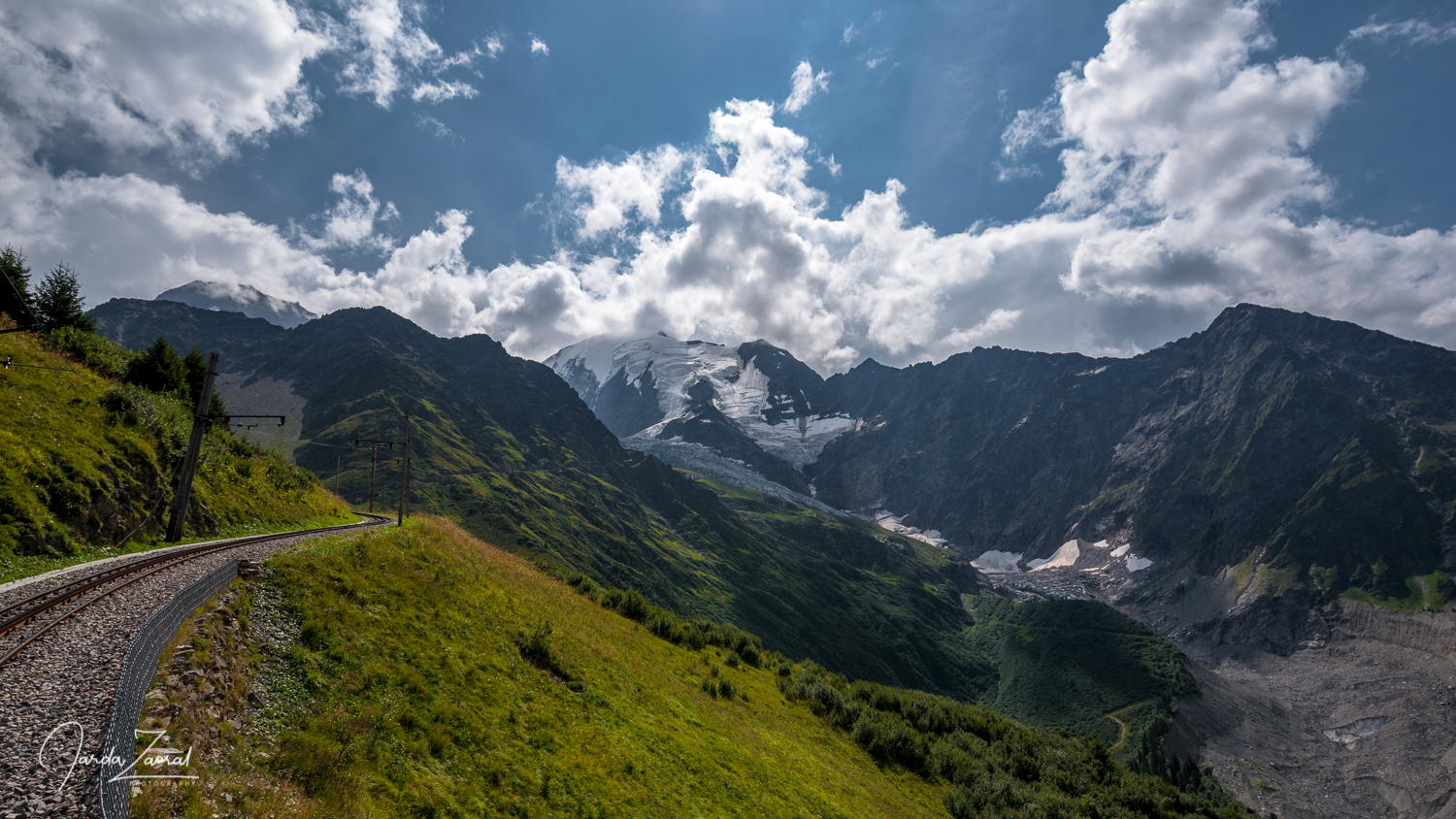 Since camping on the trail via Gouter Hut was forbidden at the moment and still is, we had a plan to hike to the Tête Rousse Hut, sleep there, the next day climb to Gouter Hut, acclimatize for a day around, sleep over at the Gouter Hut and we planned to summit Mont Blanc during the third day. We got very lucky that there were some vacant beds on both huts, despite booking them very last minute. In fact, the huts had been sold out for a half a year but we were saved by some last minute cancellations.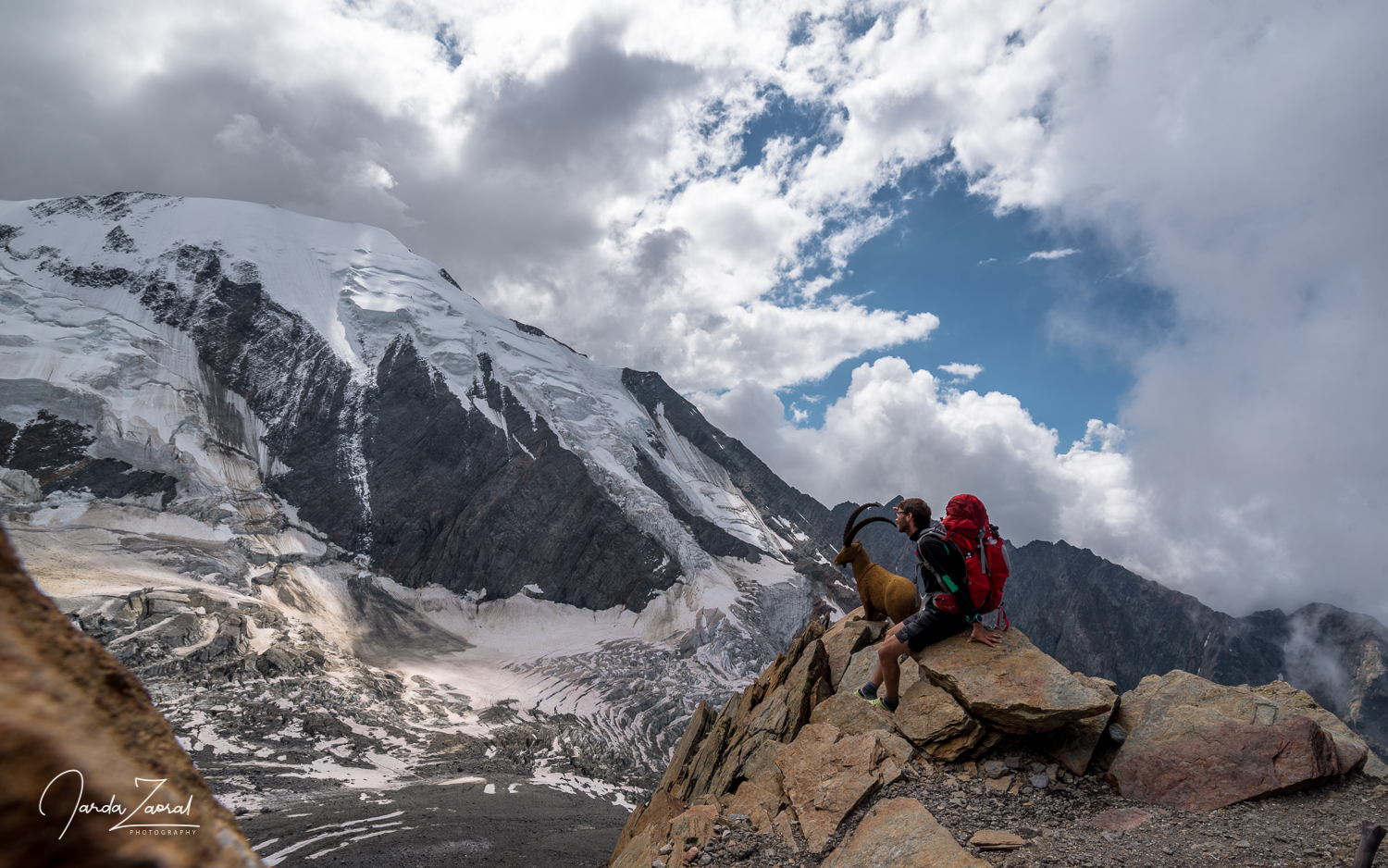 Dangerous Grand Couloir
During the first day we reached the Tête Rousse Hut. We had lunch – local cheese, which smelled like sore feet, but it was probably the best I had ever eaten. During the lunch we were looking at a scary Grand Couloir, which would wait for us on the way up to the Gouter Hut. Rocks kept falling down roughly every minute. We didn't like that at all. The danger was obvious. Therefore, we decided to get up early in the morning before the sun started shining on the slope and while it was frozen. This should eliminate the risk of accidents.
In the end, we decided to wake up as early as at 1:30am to have a safe walk through this probably most dangerous part of the expedition and even more time for more acclimatization the following day. That's why I also went to sleep right after lunch. It still seemed that I had been a lot exhausted and I had lacked sleep since the whole previous trip.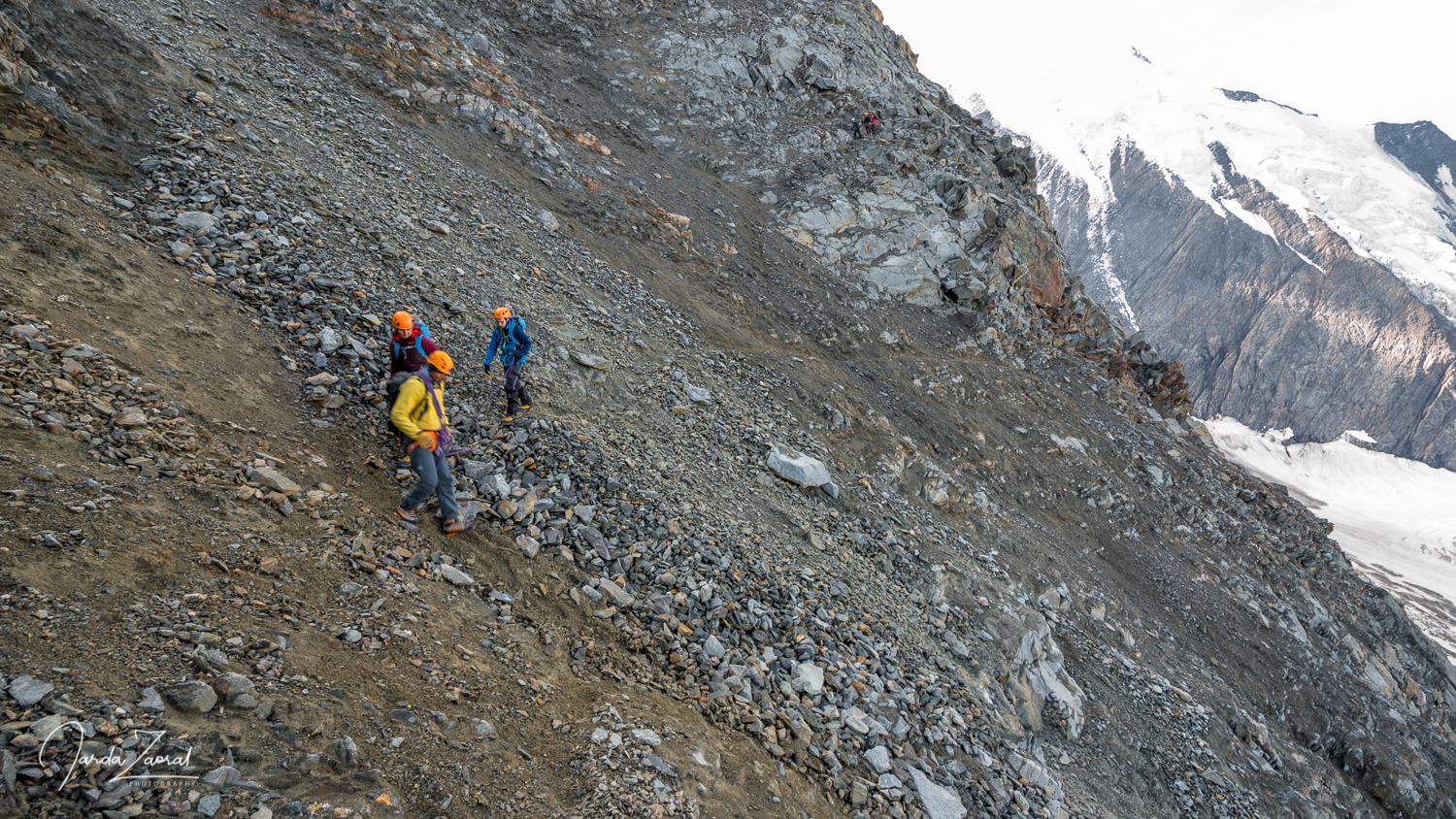 My friends hiked up the slope to see where we should pass the couloir at night. I thank them very much for this check. It saved us a lot of time in the middle of the night. Two hours later they were in the hut and fell asleep too. Four hours of quality sleep were handy for us. We woke up refreshed. We didn't have much work left that day, just to pack up, eat a kilo of pasta and go back to sleep.
Tough Alpine start
Apart from us, our neighbors went to sleep, too. Unfortunately. This time, the risk of dormitories proved its strength. One of our neighbors sounded like a carefully sharpened chainsaw. We did not understand that he didn't wake himself up with his snoring. Unfortunately, he was the only one in the dorm who managed to sleep. At that moment I was really grateful for our afternoon nap. I didn't close my eyes till the alarm rang.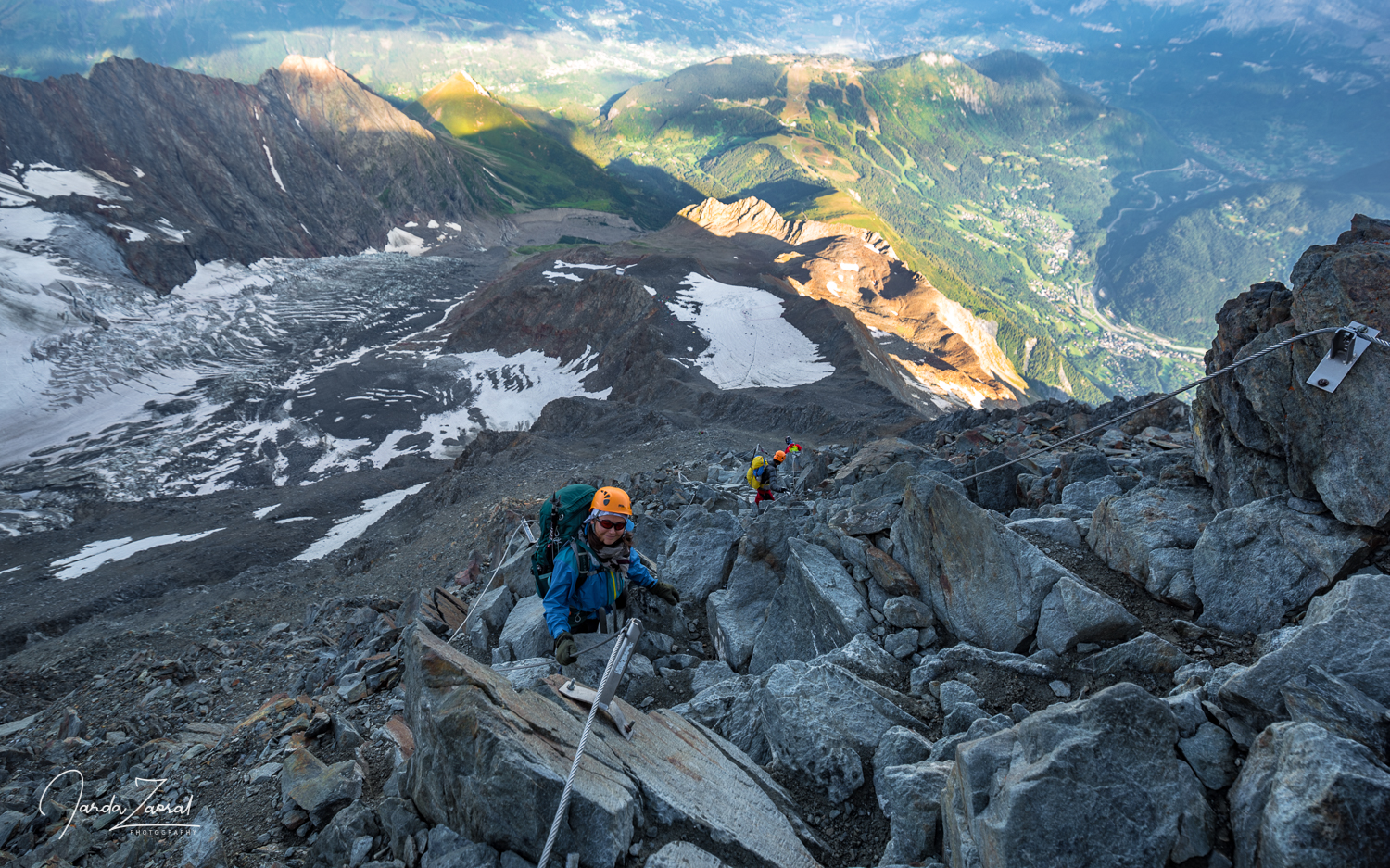 We woke up at 1am at night, had a quick breakfast and we started to climb up during the starlight. It was surprisingly warm outside. All we needed was a long sleeve t-shirt. Soon we got to the couloir, where, fortunately, no stones were falling at night, and we overcame it without any trouble. The introductory part of the journey reminded me of the ascent of Triglav. It was similarly steep, similarly carefully protected by steel ropes and under us there was a similarly steep slope. There was no need for belaying and tying up, so we didn't waste time. Only a fool would take this path without a helmet, though. Rocks could still fall at any time. Unfortunately, we met many of these fools along the way.
The climb went really well for my friends. Unfortunately, I felt a little worse. That delicious cheese apparently did not settle well in my stomach. I did not feel good and was looking forward to reaching Gouter Hut to have some rest. I secretly hoped that my friends felt alike, so we could shorten the planned acclimatization and go to sleep early.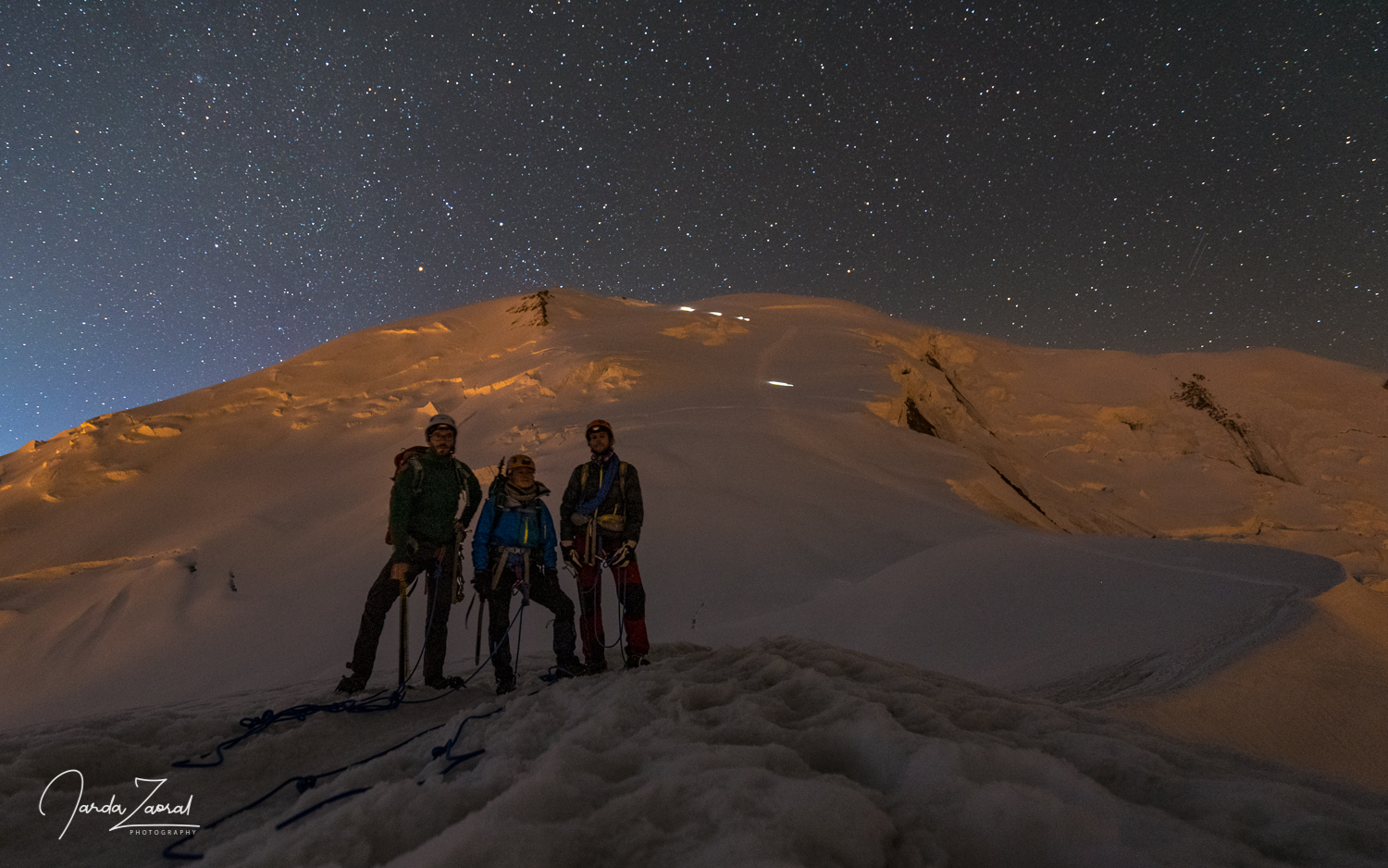 Midnight snack saved me
We stopped at the Gouter Hut. We were hungry and we had a smaller snack. But I saw in my friends' faces that there was no chance to talk about quitting climbing. We got rid of a part of the load, which we would not be needed for the acclimatization, we put on the crampons, harnesses, we tied up the rope, picked up the ice axes and we started to go upwards. We would see how far we would climb.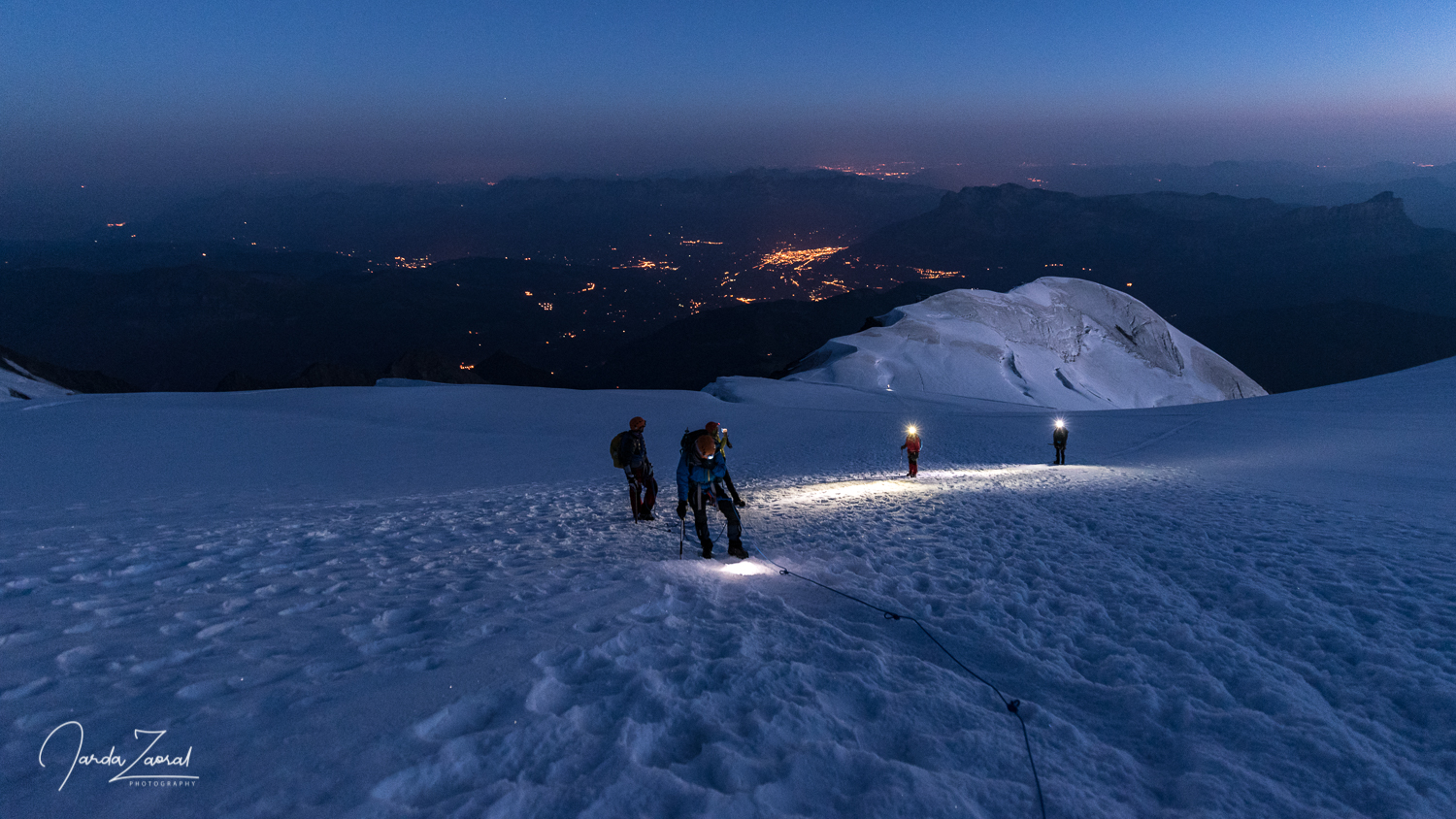 Sunrise over Mont Blanc
Suddenly, as if by magic, all of us were doing perfectly. After the climb to the Dome du Gouter we were in perfect time, so we decided: We would try to climb to the Mont Blanc itself. It started to get brighter and we finally glimpsed the top of Mont Blanc. This majestic mountain rises at least five hundred metres higher than the surrounding peaks. Really beautiful. After a few minutes the sun began to rise. It was a spectacle. The first rays reached the top of Mont Blanc, and in a few minutes, they fell on us. At that moment it would have been worth stopping the time. These are the moments that made me undertake the expedition. This spectacle gave us so much energy that we would surely jump to the top as alpine chamois.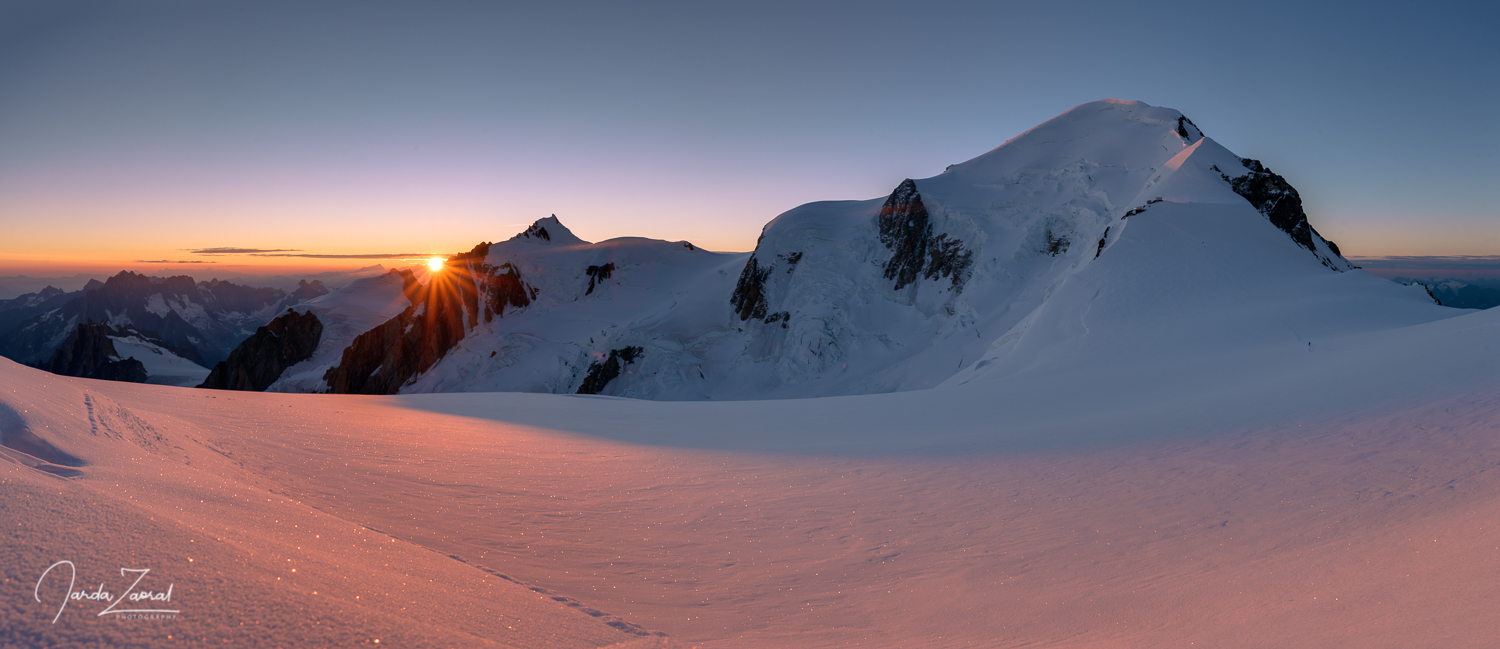 And indeed, we did. The sun was supplying us with energy, and we were progressing great. We just had respect from the final ridge but without a reason. The wind was not blowing and the path was great, so everything went without a problem. We were not in a hurry. To rush would not even be possible, because the air was sparse. After about every twenty steps we took a half-minute break to replenish the oxygen, and in the meantime, we enjoyed the views of the surroundings.
On top of the Alps
After another hour we were already standing on the top. It was warm up there. It was blowing only a faint breeze and we enjoyed the sunshine. Surprisingly, the view from the top is not as beautiful as on the way up. At the very top there is a small plateau, and thus the horizon obscures the views. But when a person steps a little down aside, there is a beautiful view of both the Italian and French Alps. I saw even the path I took last time. But I was glad I hadn't taken it this time. The path via Gouter Hut is much easier, and I think that anyone who is trained, acclimatised, properly equipped and who would not underestimate the weather could make it.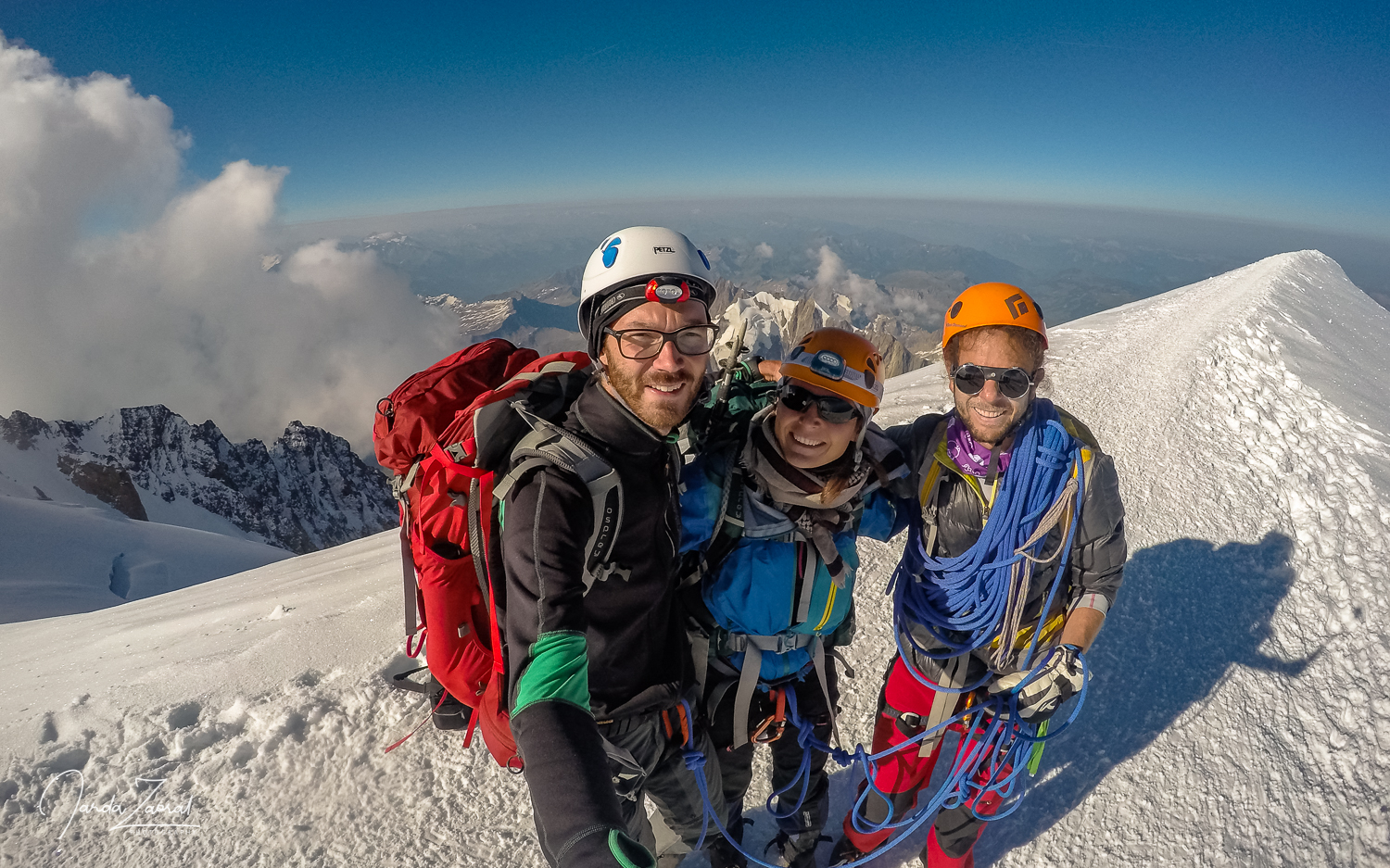 Unfortunately, a large percentage of tourists on the Mont Blanc doesn't have proper equipment and enough experience or disregards the dangers of the weather. They do not only risk their health, but also others'. We could have convinced ourselves of this during our descent. After another hour, when we arrived back to Dome du Gouter, black clouds started to approach. It was clear that a thunderstorm would soon come, exactly as the weather forecast had said the day before. Despite this change of weather, however, we met several other groups heading upwards. We were worried especially about the last group of five Japanese tourists who didn't really look like they knew what they were doing. They didn't even have a rope. Our warning, however, did not interest them. Stubbornly, they continued.
The deadliest mountain in the world
Similarly, we couldn't believe our eyes when, just before the Tete de la Rousse Hut, when we were passing again the dangerous couloir, where the stones were falling in the afternoon without a stop. Here we met a group of six Swedes who wore no helmets. What happened with the famous Swedish saying "security goes first"?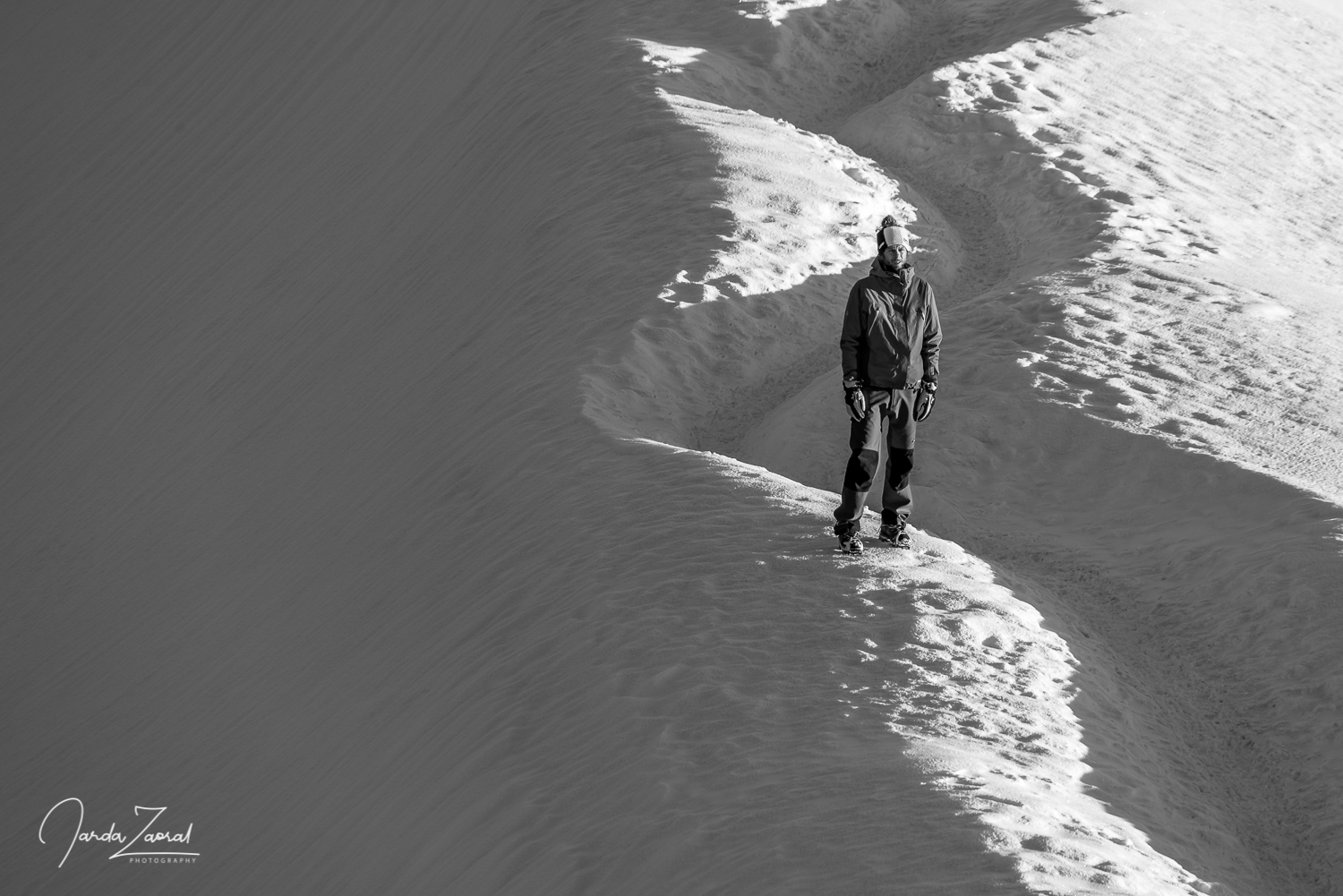 There is a reason why people say that Mont Blanc is the most dangerous mountain in the world. It's not because of the technical difficulty, but because of irresponsible tourists. Over 6 000 people have died on Mont Blanc. When I saw the approach of some of them, I understood that an accident is not quite a coincidence. The climb to Mont Blanc definitely requires both respect and experience. Hopefully nothing happened to either the Swedes or the Japanese.
To end on a more positive note though, I'd like to mention write a few more sentences about our accommodation at the Gouter Hut. The overnight stay is definitely the most expensive I have experienced in dormitories anywhere in the world. Views of the sunrise and sunset from the hut are, however, absolutely fantastic. Even here it is definitely worth to spend one night. Look at the pictures.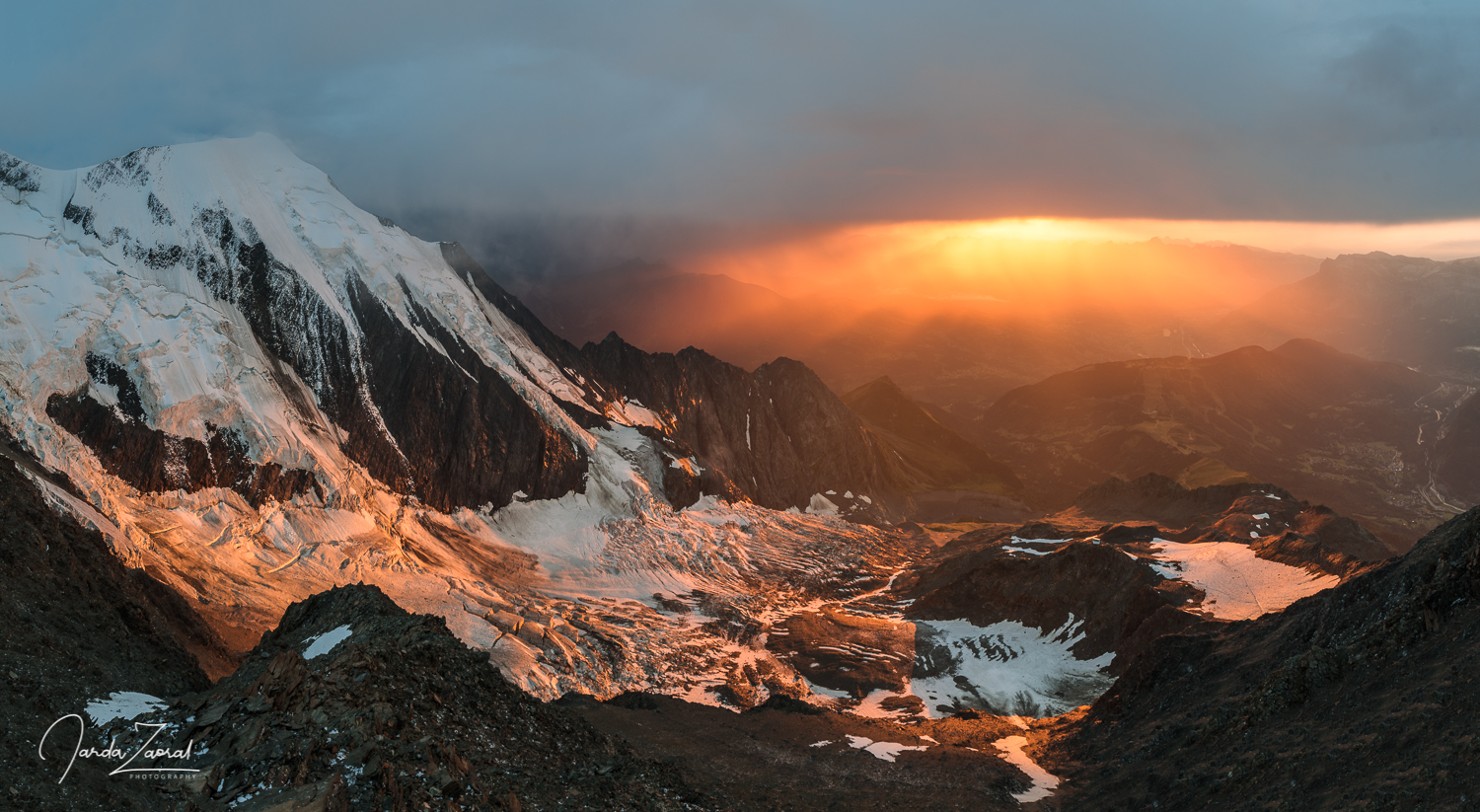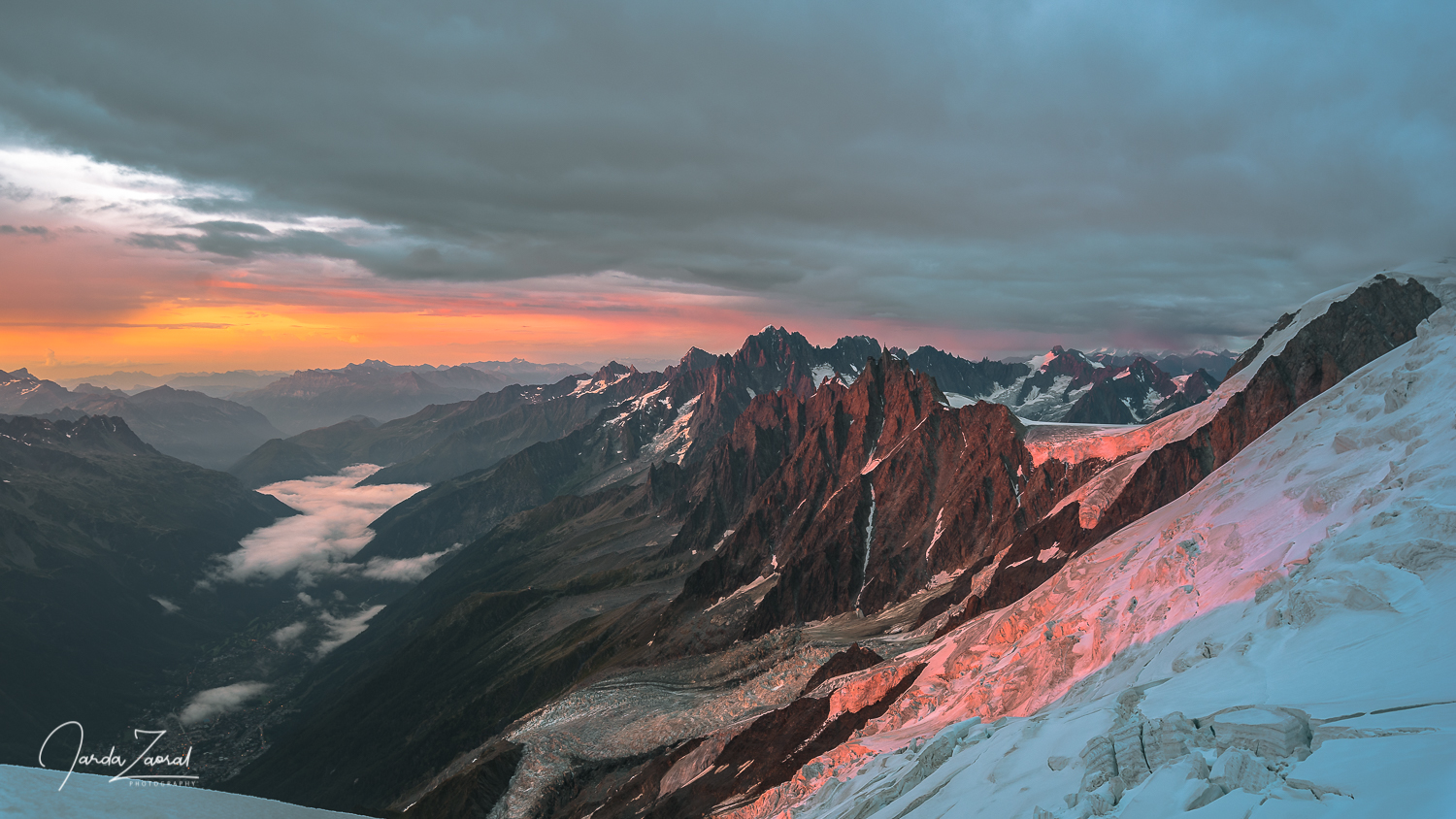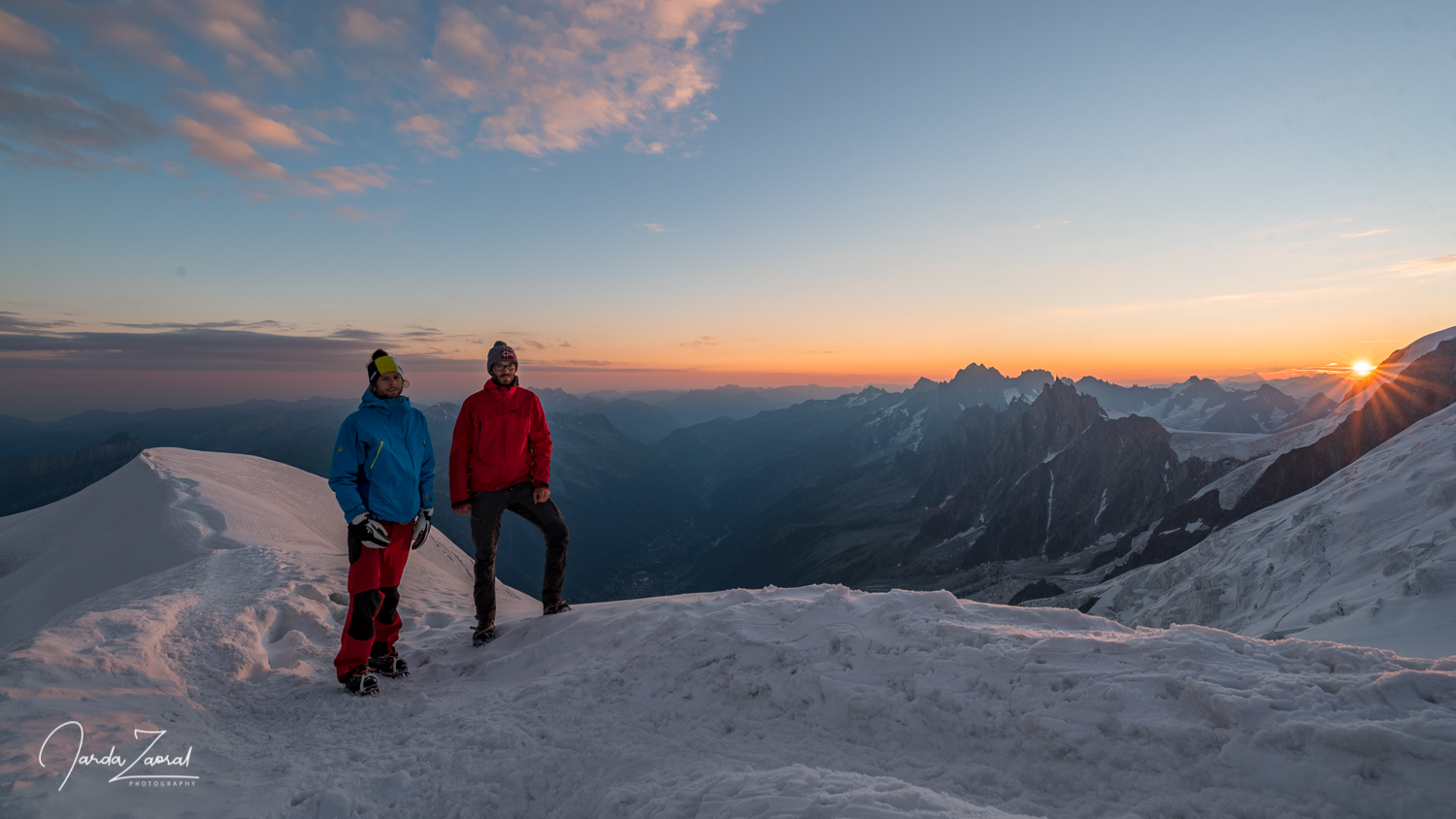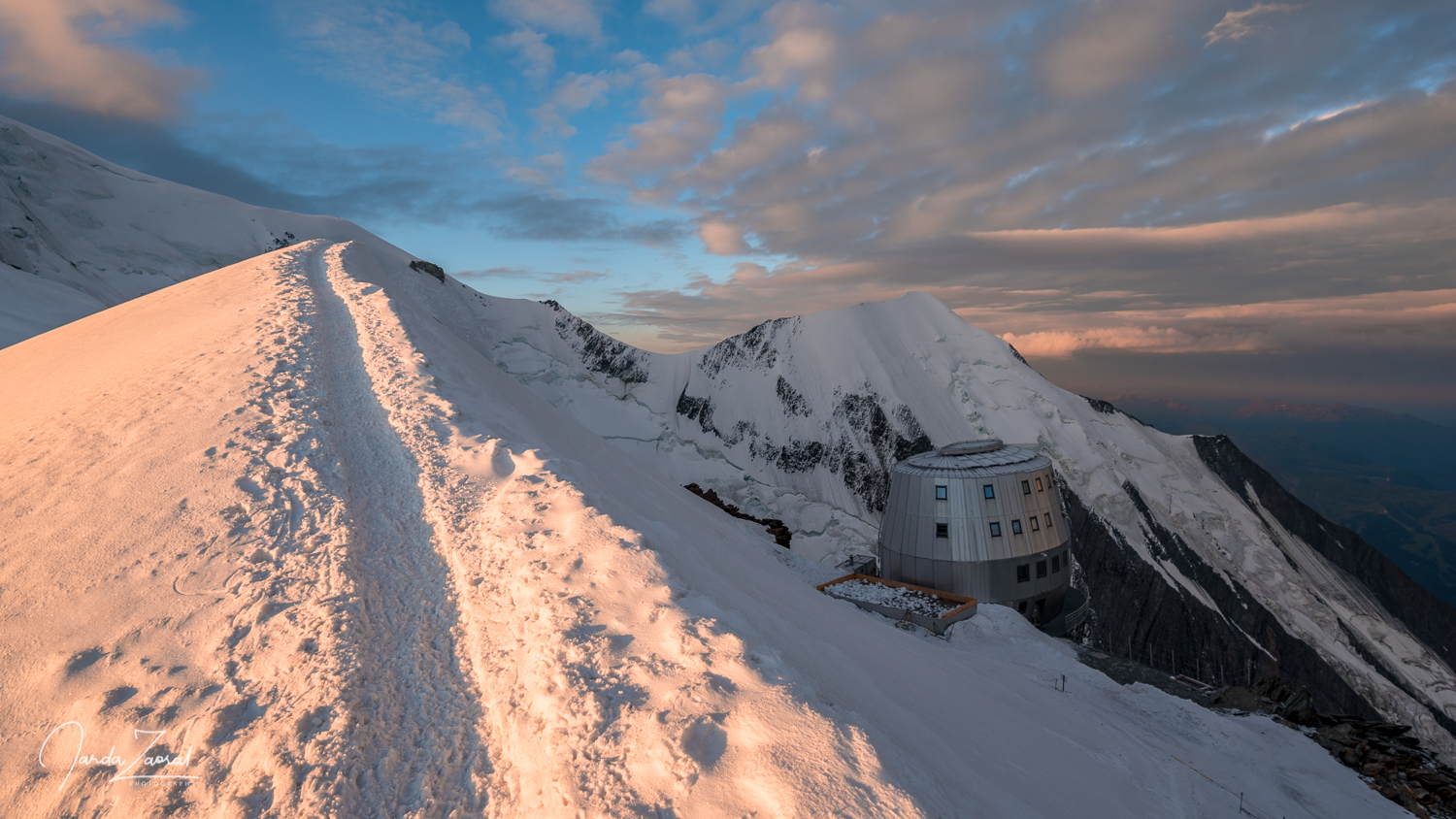 My tips for climbing the mountain Mont Blanc:
Proper acclimatisation and good weather conditions are the key.
If you are a beginner, you should definitely not consider the ascent without a mountain guide or a friend who has experience in movement and safety on a glacier. Keep in mind that Mont Blanc is the deadliest mountain in the world and you should behave accordingly.
If you are a beginner, choose the so-called Classic route via Gouter Hut. Book at least two nights in advance at the Gouter Hut or Tete de la Rousse. If you require accommodation in a dormitory, you must make a reservation at least half a year in advance. If a tent rental at the Tete de la Rousse Hut is enough for you, you can be more flexible. I recommend this option because you might sleep better. There will be less snoring people around you.
If you are an experienced mountaineer, try the Three Peaks route. It is a very demanding ascent, but with fewer tourists and there are no tenting restrictions.