Montenegro's highest mountain lies on the border, like the highest points of other Balkan states. Zla Kolata is also the 16th highest peak in Albania. The peak lies in the national park Prokletije known for sharp limestone rocks and the mountain of Zla Kolata, also known as Maja Kolata or Kolac, isn't an exception. This mountain has the shape of a massive rock tooth. Was it difficult to climb?
Date of summit: 8th May 2019 17:10 
Traveling mode: Winter Hiking
Height of the peak: 2535m
Hiking distance: 10.09 km 
Time to ascend to Zla Kolata: 5 hours 7 minute 
Elevation climbed: 1553m 
Map of my winter hike journey to Zla Kolata: Movescount
Personal rating of the mountain: ***** (6 stars maximum) 
Beer on the peak: Nikšićko Pivo ** (6 stars maximum) 
After climbing Rudoka e Madhe in Kosovo, we didn't have much time to chill. The weather forecast was favorable only for one more day so we drove directly to Montenegro. We slept in a motel on the way and arrived to the starting point of the hike – village Vusanje in the morning.
We were looking for accommodation and we found the cozy guesthouse Kollata. The landlady was just milking a cow. "Excuse me, do you please have a free bed?" We saw in her face that she was happy that some guests arrived. She told us that she had her last visitors one week ago, who were also trying to climb Zla Kolata. They were Czechs but they didn't manage to climb it due to bad weather. She mentioned by the way that these guests saw bear's footprints along the way.
Long day ahead
From what we had read, the journey to the summit and back should take about 10 hours, so we asked the landlady to prepare dinner for us at eight o'clock when we expected to be back.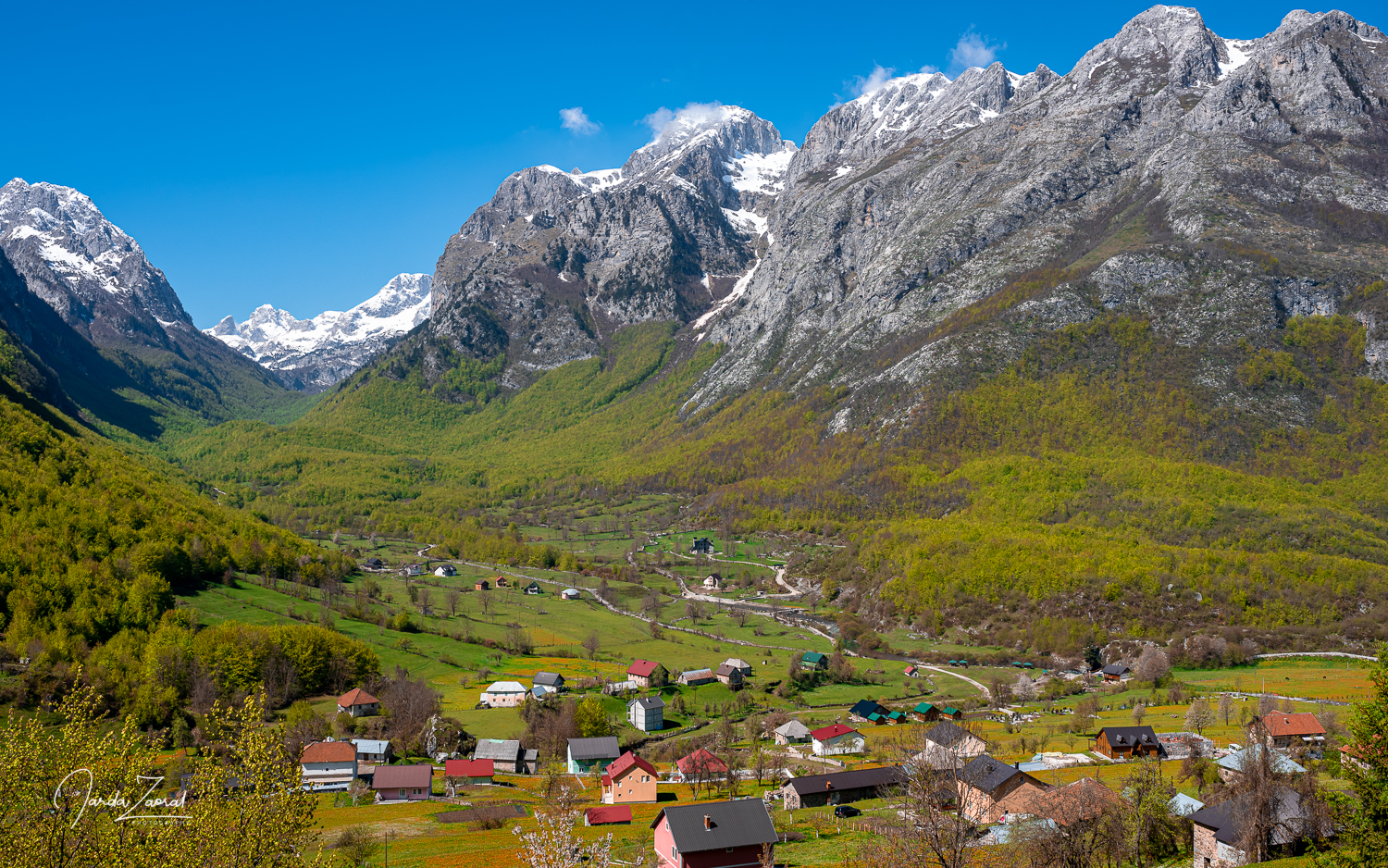 The weather couldn't be better this day. The sun was shining and there was no wind. It was so warm that we could have started our hike in shorts. The first five kilometers of the trail to Zla Kolata was along a forest road where it is important to pay attention to GPS. We missed a turn twice and had to walk couple of hundred meters extra because the marking wasn't ideal. It's is certainly good to have a GPS with you if you are anywhere in the Balkans.
After the opening pleasant passage of the forest, the path turned right into the mountains. The walk suddenly was without trees and more demanding. The snow showed up and we were back in winter.
The snow was deep. Fortunately, other enthusiasts had tried to climb Zla Kolata so we could follow their footprints. Unlike in Macedonia, this time I regularly checked GPS if we are going correctly.
Still full winter at Zla Kolata
This time the hike was tough again due to deep snow. Going to the Balkan mountains without snowshoes wasn't the best idea. Who would expect that? After an hour and a half, we saw Zla Kolata for the first time. I immediately understood the name (Zla means Evil). The mountain is so steep that it looks scary.
Soon we reached the ridge that marks the border between Montenegro and Albania. Here the traces from previous group were ending. The sight of Zla Kolata seemed to have frightened them so much that they decided to return.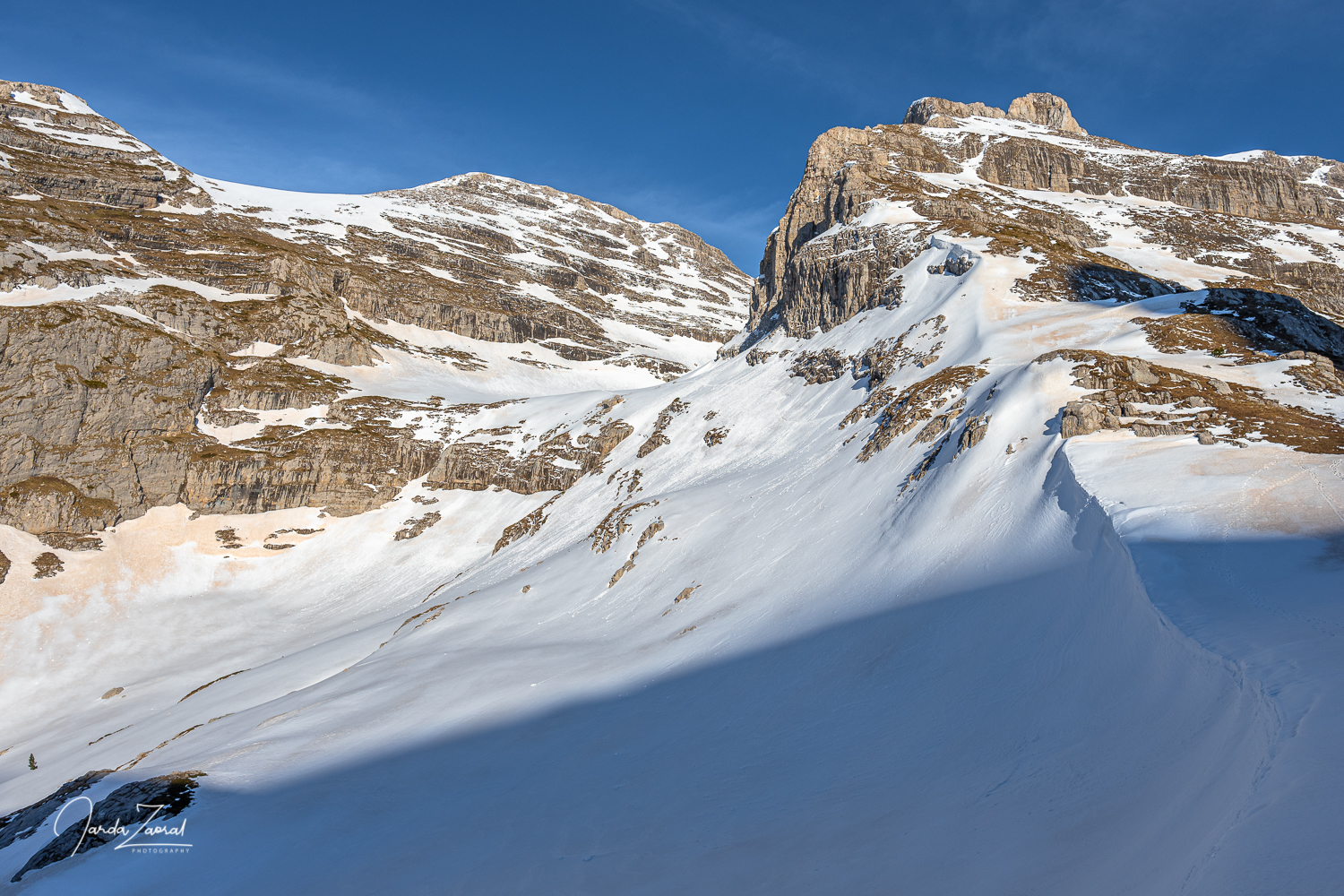 We wondered what to do next. The path marked in the GPS map was heading into the valley between Dobra and Zla Kolata. It looked a bit risky when it comes to avalanche danger. It looked like there is a layer of fresh snow. I thought several times to give up and come back next time when there was less snow, but Joanne told me: "Let's try. If it doesn't work, we'll turn around." I was surprised because my girlfriend almost never takes risks. I didn't want to be a coward, so I decided to give it a try.
Avalanche danger at Zla Kolata?
To make the climb easier, we hid unnecessary things from our backpacks behind a large stone and continued up with only one backpack. We put on our crampons and headed between Dobra and Zla Kolata. Fortunately, the snow was compact and held well. There didn't seem to be danger from avalanches. We overcame the unpleasant steep passage in minutes. Then we quickly walked through the valley and reached another steep climb until we reached the ridge between both Kolatas. Fortunately there wasn't so much snow, so it was without avalanche danger. In a while we reached the final ridge.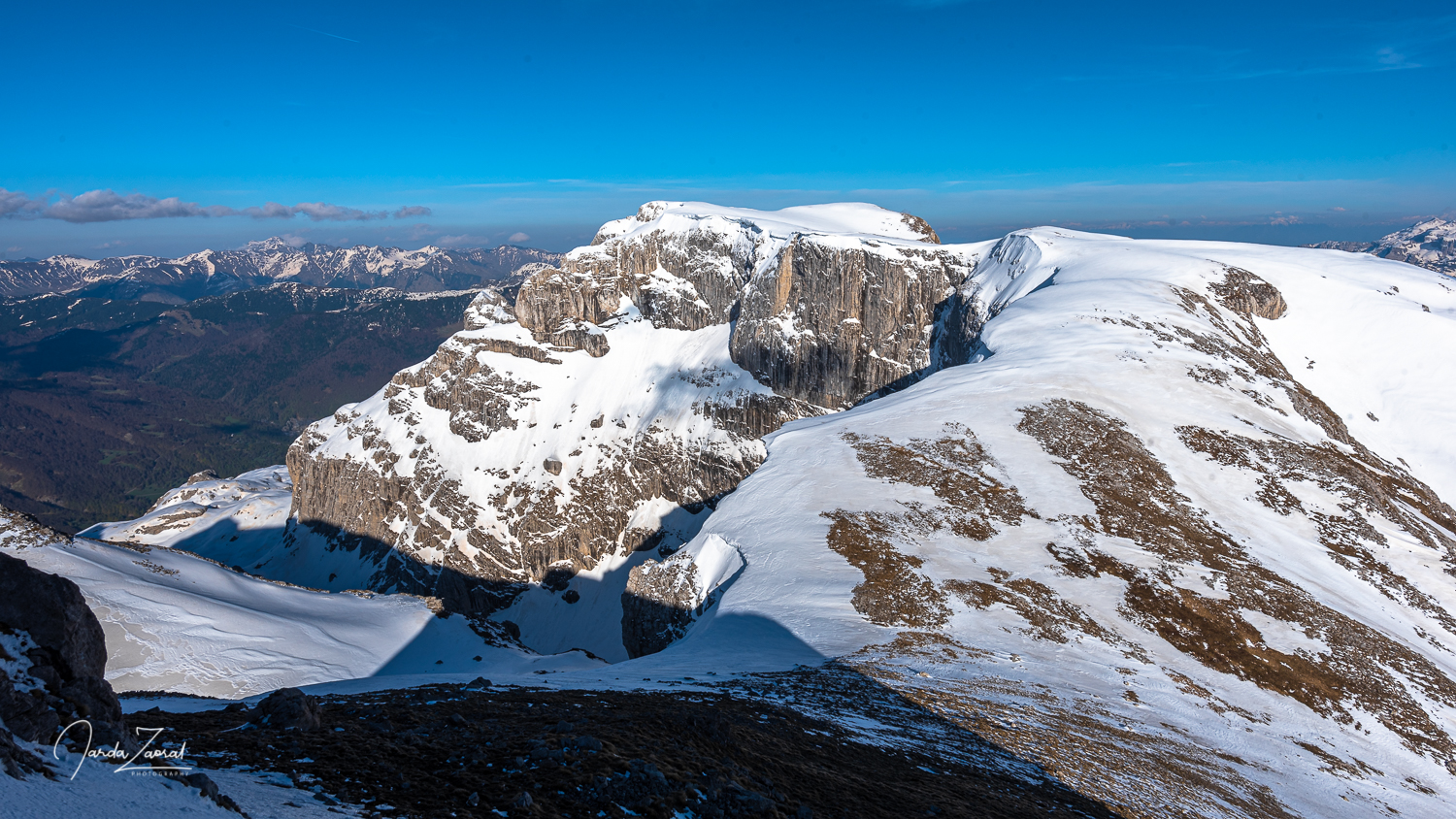 Joanne was suddenly scared. The ridge seemed to be too steep for her but the snow was frozen here and I knew the remaining part would be easier than the previous part: "Come on, Joanne, you will easily handle the last 150 elevation meters," I encouraged her. The final climb wasn't really that difficult and after a few minutes we were standing on Zla Kolata.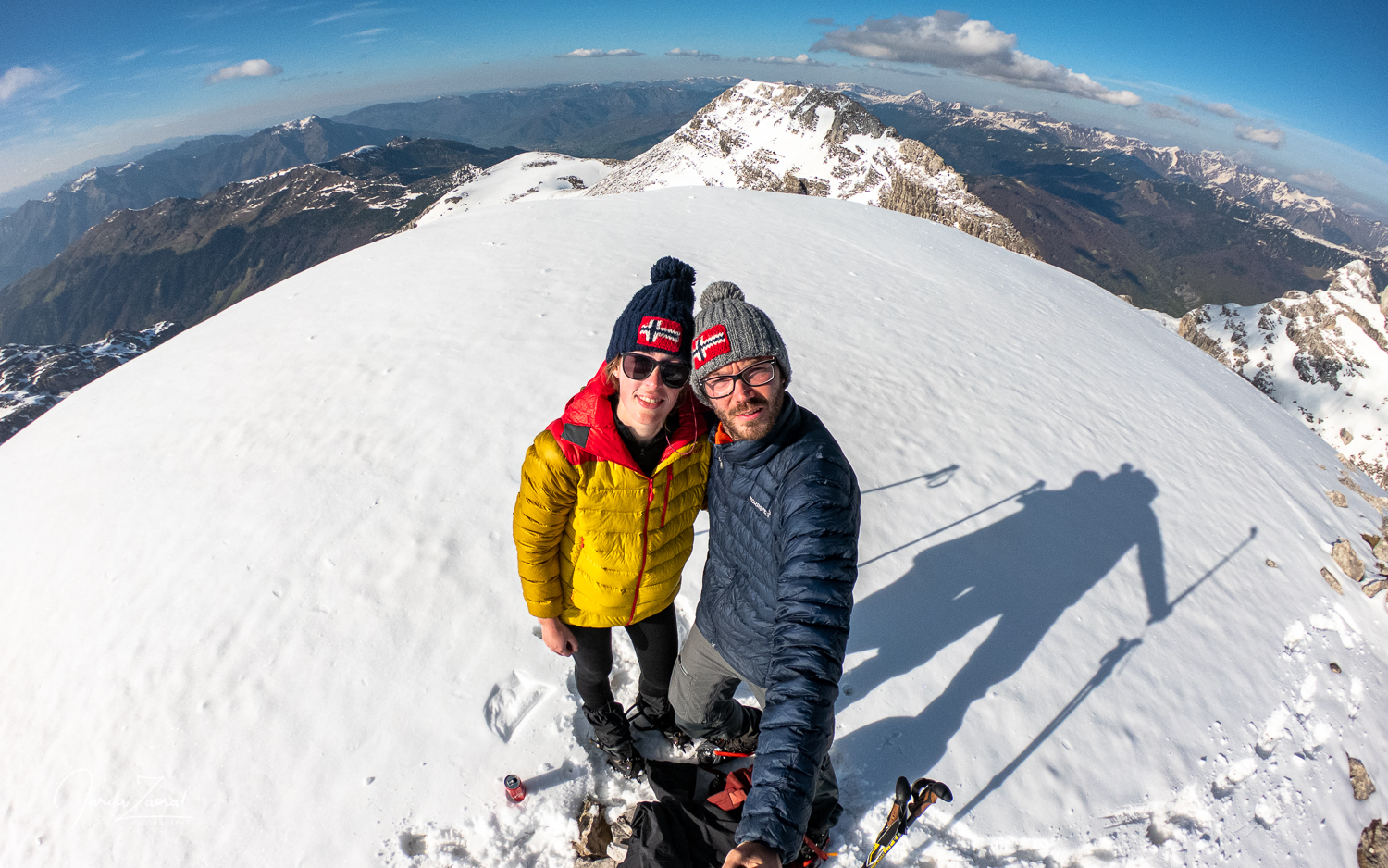 It was warm and calm on the summit so we could enjoy a nice break after seven hours of a tough ascent. Well-deserved rest. We had a magnificent view over the mountain peaks on the Albanian side. Unfortunately, we could't see across the horizon on the Montenegrin side. Since there was an overhang of snow on the horizon that could collapse, we skipped this view.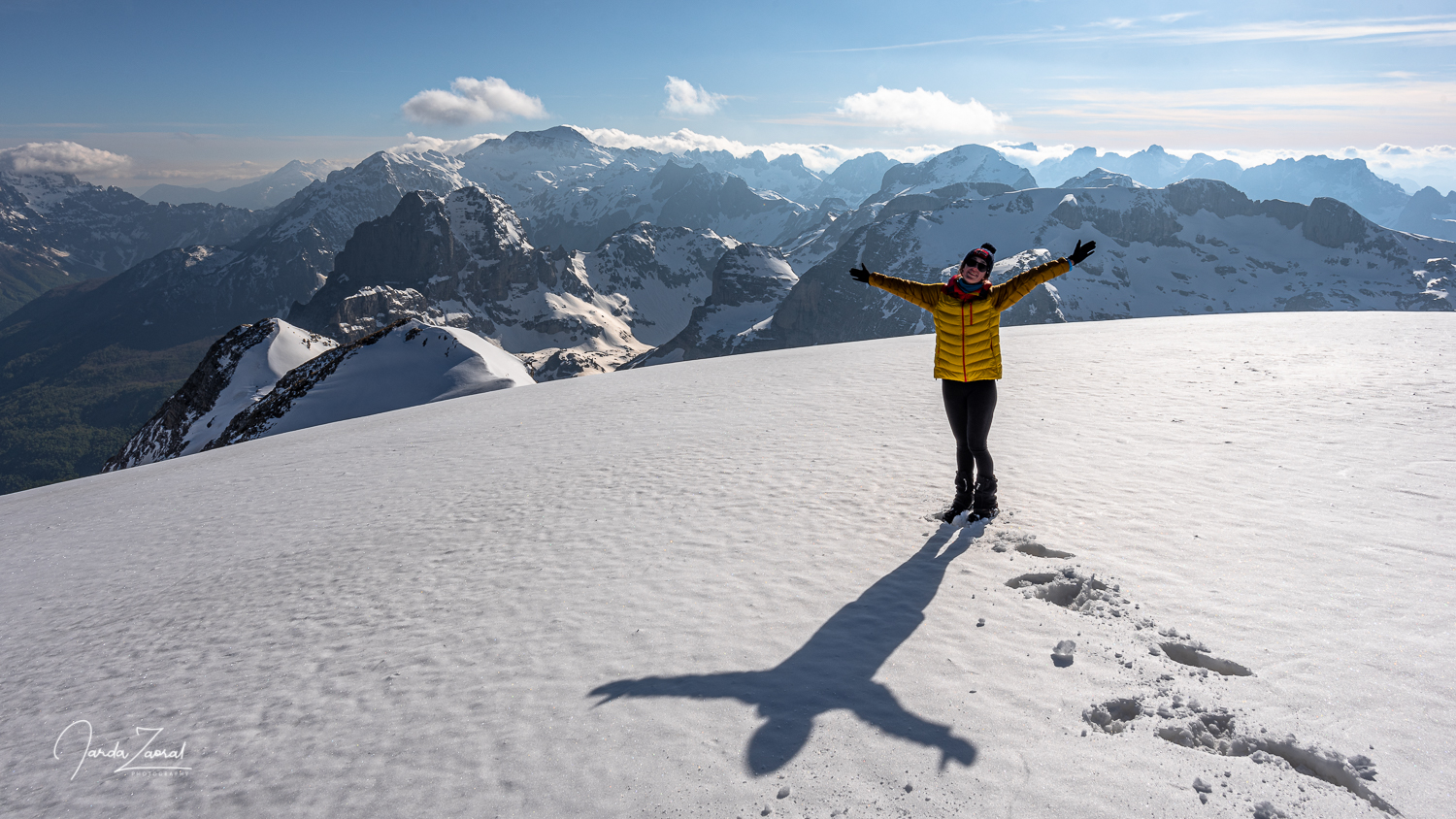 We didn't stay on the peak for a long time. It was 5:30 p.m., so we rather hurried to get back to the valley during daylight. After all, we also ordered dinner at eight in the house. Let's see if we manage to come back in time.
What is tougher? Ascend or descend?
It was much easier to go down. I really enjoy descending in the snow. It's much more enjoyable than going downhill in summer. It's faster and much more gentle for your knees and ankles. Along the way we picked up all our stuff and went further down.
It went well on the way down but not as fast as we expected. It was sure we would arrive late. We left the snowy part at 19:30. When we finally saw the path in the forest, we were relieved. Now it is just 90 minutes of a calm walk in the forest. Even though it is getting dark we certainly will not get lost there. The last 6 km.
To make the descent more fun I wanted to start some conversation: "Joanne, do you remember what the landlady said about the last tourists who visited her?" Joanne knew where I was going. "Yes, they saw the bear's footprints." – " And do you know what to do if you see a bear?" Joanne shrugged. "You must look like you're big and make some sounds so the bear is startled and will flee. But when you are too close or when a bear is with cubs there may be a problem," I explained (which was all I remembered from a visit of a bear sanctuary in Romania. Actually, my explanation was not even correct. Check here what you should exactly do if you meet a bear.)
Then our conversation ended. We were both tired to talk. We passed a small stream. That made me a little nervous. If there was a bear walking around, he wouldn't hear us because of the stream. It is noisier than our footsteps. I thought to myself: I have to raise another topic. I need to talk with Joanne so we are louder.
"Brum brum"
Before my tired head could think of something, a bear appeared on the path ahead. My heart almost stopped beating. His bright eyes scared me so much. Instinctively, I raised my hands with poles above my head and started to make sounds with them. "Joanne, pick up your poles too and do the same. We have to show that we are tall." But even two minutes of clapping with our poles didn't make the bear move. The bear was still staring at us.
What if he attacked? Do we have a chance to defend ourselves with trekking poles? I was angry at my brain that it was thinking this way. What else should we do to make him leave? I made my brain think about this. What else could scare the bear? He was still standing, watching our futile attempts to scare him. Joanne suddenly screamed. 'There are two of them! One more little one!"
I didn't see the other bear but this made me super scared. "Joanne, keep clapping with your poles. I'll try to find our headlamps in the bag and I'll turn on some music on my phone. Perhaps it will help…" The bear was still looking at us. I couldn't find the headlamps. They were of course at the bottom of the backpack. My hands were shaking. Instead of headlamps, I turned on the light on my phone and also the first song on my playlist. It was the song "Death" by my favorite band White Lies. This randomly selected song by iPhone made me laugh inside but I hoped it wouldn't predict the last minutes of our lives!
The bear is reacting to the song! Apparently he didn't like my music taste and went down to the river. We were lucky. We sighed but we still had the adrenaline in our veins. What now? Can he come back? What if he went for reinforcements? I couldn't get rid off these irrational thoughts.
Bad music taste can make miracles
I remembered the most important lesson about bears we omitted in my last conversation with Joanne. How do you avoid meeting bears? You have to make noise. Tourists are usually recommended to wear jingle bells. We didn't have one so we decided for alternative sounds. Karaoke. We were so scared that we continued singing to other White Lies songs until we reached the village Vusanje. The karaoke fulfilled its purpose. We got back safely.

We returned at nine o'clock in the evening. "Where have you been so long?" the landlady asked us when we got back. "Bear," I replied. The landlord understood the situation. "Rakija?" Joanne and I nodded. Rakija and a conversation with the locals until the late hours were a nice end of this crazy bear story. Next time we will not come to the forest without a bear spray and a jingle bell.
My tips for climbing the mountain Zla Kolata:
Bring a jingle bells and bear spray to avoid and protect yourself against bears.
The hike is very long and time consuming. Even in summer there might be snow in the valley below Zla Kolata.
Stay overnight with locals in the village of Vusanje. They are incredibly hospitable.