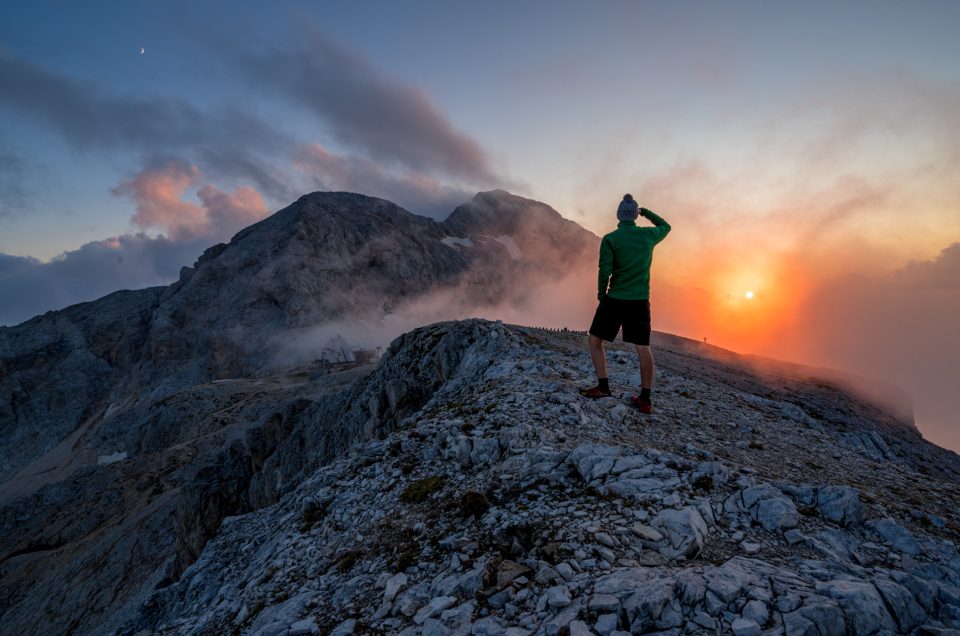 Triglav Mountain is very popular among Slovenians. Apart from the fact that the mountain itself is on the state flag, there is also an unwritten law that every Slovenian should climb to the top at least once in a lifetime. I was respectful of the mountain because I was unable to conquer it for the first time when I was 12 years old. How did it go this time?
Important information for climb of Slovenia's highest mountain
Short description of the ascent: Steep and long climb using via ferrata
Essential equipment: Standard hiking gear + helmets + via ferrata equipment recommended
Best time to visit: June - Septempber 
Fees or restrictions: No
Camping allowed: No
Nearest accommodation/food supply: Triglavski dom na Kredarici
Starting point: Aljažev Dom 
Height of the peak: 2864m 
Hiking distance: 5,8km (one way) 
Time to ascend to Triglav: 5-8 hours up, 4-6 hours back
Recommended ascend in two days: DAY 1 - Aljažev Dom - Triglavski dom na Kredarici (via Tominškova pot); DAY 2: Triglavski dom na Kredarici - Triglav - Aljažev Dom (via pot čez prag)
Elevation climbed: 1885m up (one way) 
Water availability on the mountain: Triglavski dom na Kredarici
Difficulty level: **** (6 stars maximum) 
Personal rating of the mountain: ***** (6 stars maximum) 
Beer on the peak:  Union Black Unfiltered *** (6 stars maximum) 
Description of the best route to Triglav
There are several routes leading to Triglav. You can choose the most popular route from Aljažev dom, which can be managed up via ferrata and down in one day (two days are recommended – see my tips below). Another option is to go to the top via the valley of the seven Triglav lakes. This route is a relatively long trek in one of the most beautiful valleys. Another option to reach Triglav is through the Krma valley, which is considered an easy ascent and with a minimum of people. In this article, we will take a look at the most popular summer ascent to Triglav from Aljažev dom.
Map of the best route to Triglav and back
Equipment for climbing Triglav
When climbing Triglav from Aljažev dom, a helmet is a must. Since many mountaineers choose this way to the top, it is common to wtness rock falls. Besides helmets,a via ferrata set is also recommended. I already had experience with climbing Triglav from my childhood, when rules and recommendations didn't play as strong role as they should have so we climbed Triglav without via ferrata set. Nevertheless, I would never do it this way with my own children. Via ferrata equipment is strongly recommended to everyone who is afraid of heights and especially for children. The terrain is partly very exposed. I will return to my childhood experience later in the article.
My story of climbing Triglav with personal tips
Triglav was another moountain to reach within my project European Peaks. I took a night train to Slovenia after the successful summiting of the mountain Zugspitze. I arrived in the Slovenian city of Jesenice already at 5 a.m. so I was still very sleepy. That's why I didn't hesitate, and I unfolded my sleeping mat on the ground at Jesenice train station. I was so glad I wasn't the only weirdo. Two Spaniards joined me, so I had no regrets to spend another night as a homeless man.
After two hours of pleasant sleep I went to a local bakery. Slanac for 0.40 EUR (typical local savory pastries) and krafne for 0.60 EUR (a typical local donut) stunned me after experiencing Western European prices. I had a great feast, which made waiting for my friend Mara more pleasant. Together we were supposed to reach the next summit.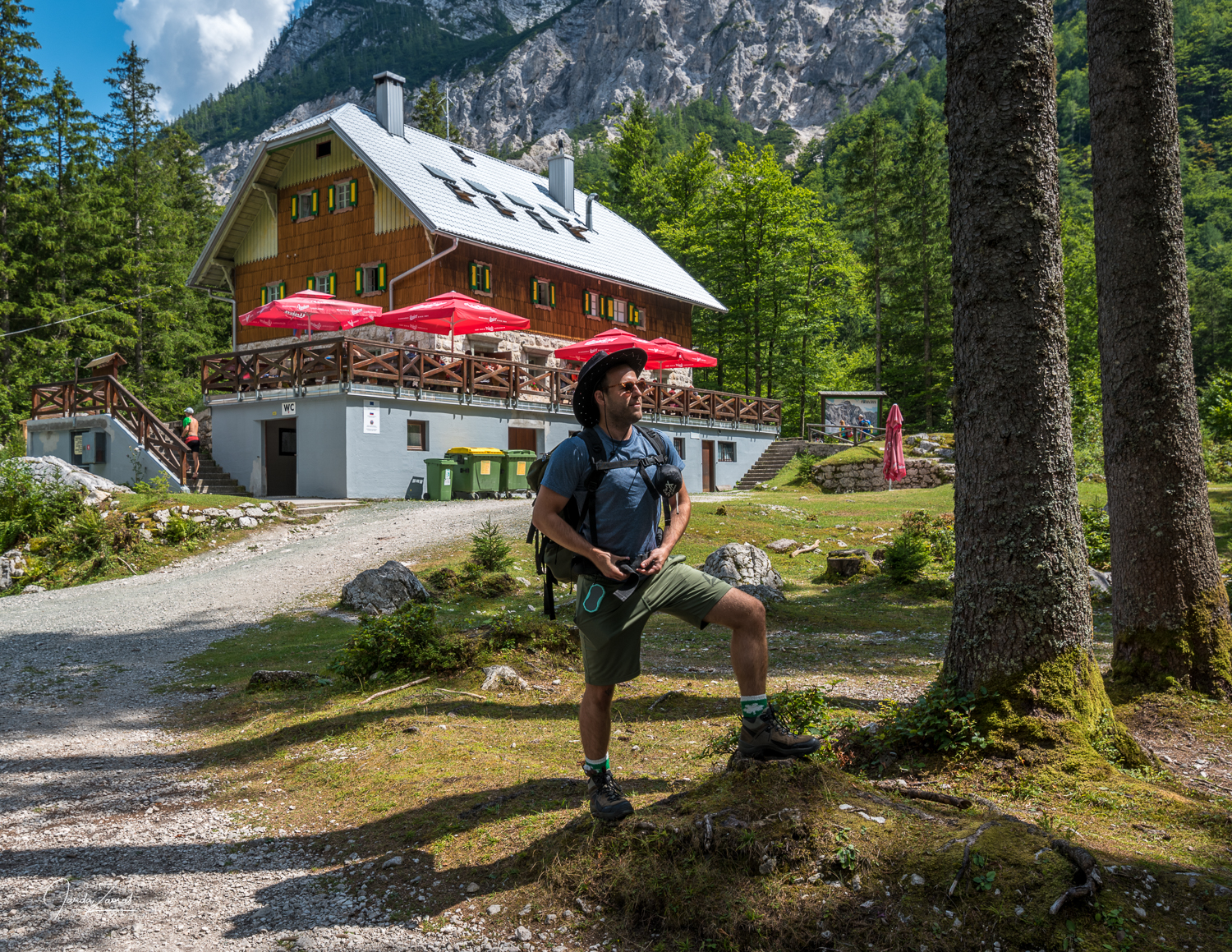 Demanding Tominsek route to Triglav
He arrived shortly and we immediately moved to the hut of Aljažev Dom, which is the best-known starting point for the mountain Triglav. The hike began roughly. We chose the more demanding Tominsek route, which offers both beautiful via ferrata and traverses across a deep slope.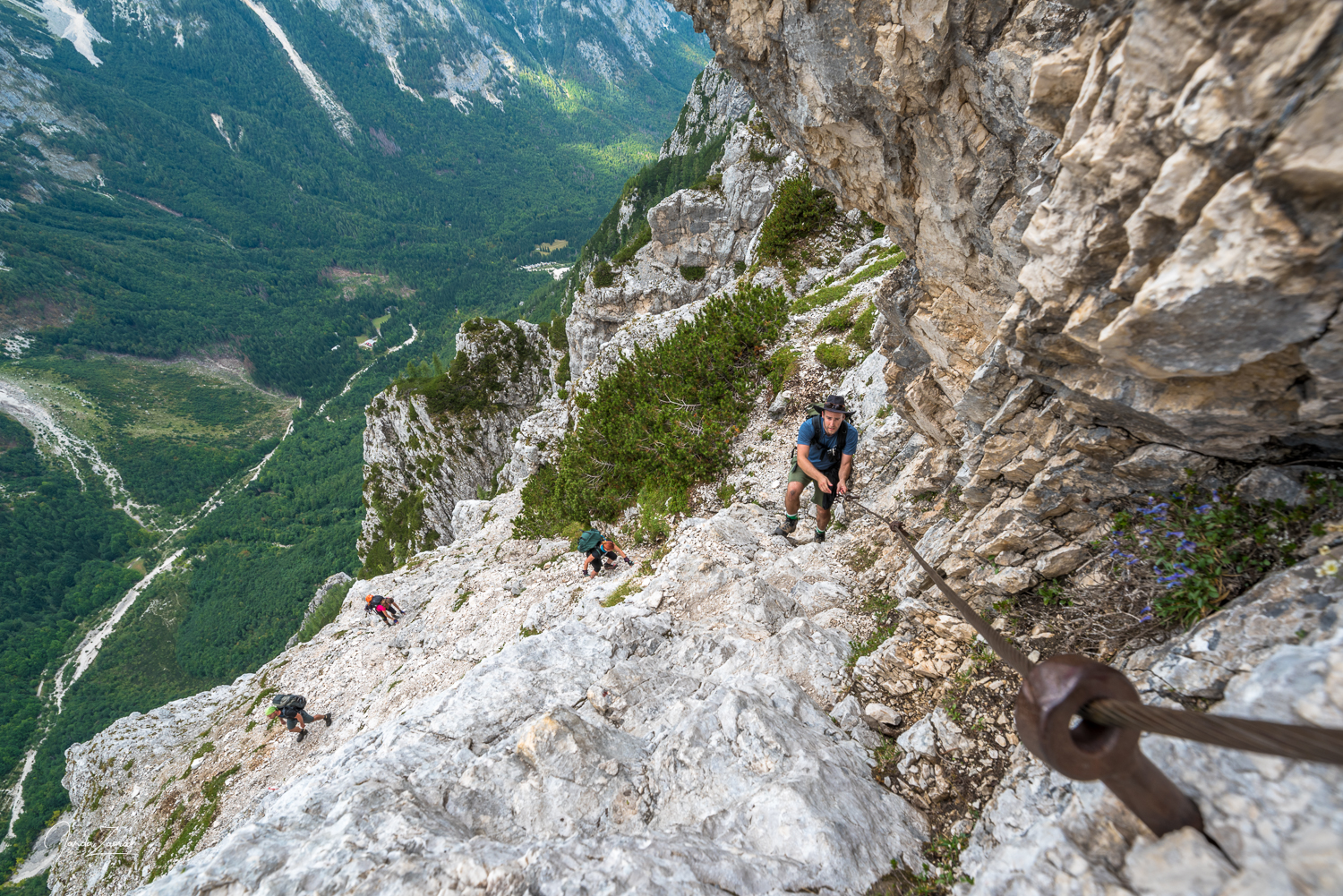 The nature of the Julian Alps still stayed in my memory. Many times, during the hike I remembered my first visit. When I was twelve, my parents and their friends with their children decided to summit Triglav. However, they made a major mistake. They decided to ascend and descend Triglav in one single day.
Climbing Triglav in one day is stupid
Why the rush? For less trained individuals (which they definitely were that time, sorry mum) and especially for children, it can be a too big challenge. I and the other children only climbed up to the Kredarica Hut, where we waited for our parents to return from the summit of Triglav. Or better said if they'd come back at all. In my child's eyes, I didn't give it a big chance. The thunderclouds on the surrounding hills looked pretty scary. Fortunately, the parents probably knew what they were doing and successfully returned from the top of Triglav.
That's why I and my friend Mara decided to divide the climb in two days. In the end, the opening ascent of 1700 meters of altitude took us 4.5 hours and we were at the Kredarica Hut. There was no mountain spring water along the way, so we were very thirsty.
The cosy Kredarica Hut
We immediately attacked the local bar and ordered a beer. After a few zips of the beer we felt refreshed and started to talk to local tourists. We were particularly interested in why the Slovenians were repeatedly talking about some "otrok" and pointing onto their children (Slovenian word "otrok" means "slave" in Czech). We asked what the "otrok" meant. The father in the family we talked to proudly pointed to his child: "This is my otrok in Slovenian." What a lucky kid. How beautiful translations can be across Slavic languages.
The Kredarica Hut had a pleasant atmosphere. At each table tourists planned the climb for the following day while eating their dinner and drinking beer. Fortunately, it was forbidden to "kadit" at the table, as the signs on the wall showed (Slovenian word "kadit" means "to smoke" in English, in Czech it means "to shit"). Those who wanted to smoke had to go out (we were glad for that). I would say that the father of people of Slavic nations had made a lot of verbal puns from the mentioned languages.
Amazing sunset over Triglav
From the funny conversation with the locals, we were only disturbed by the sunset, which drew us out with its radiant golden color. And what a view it was! In the end, it showed up to be one of the most beautiful sunsets of my entire expedition. The clouds were flowing over the saddle and it created a beautiful show.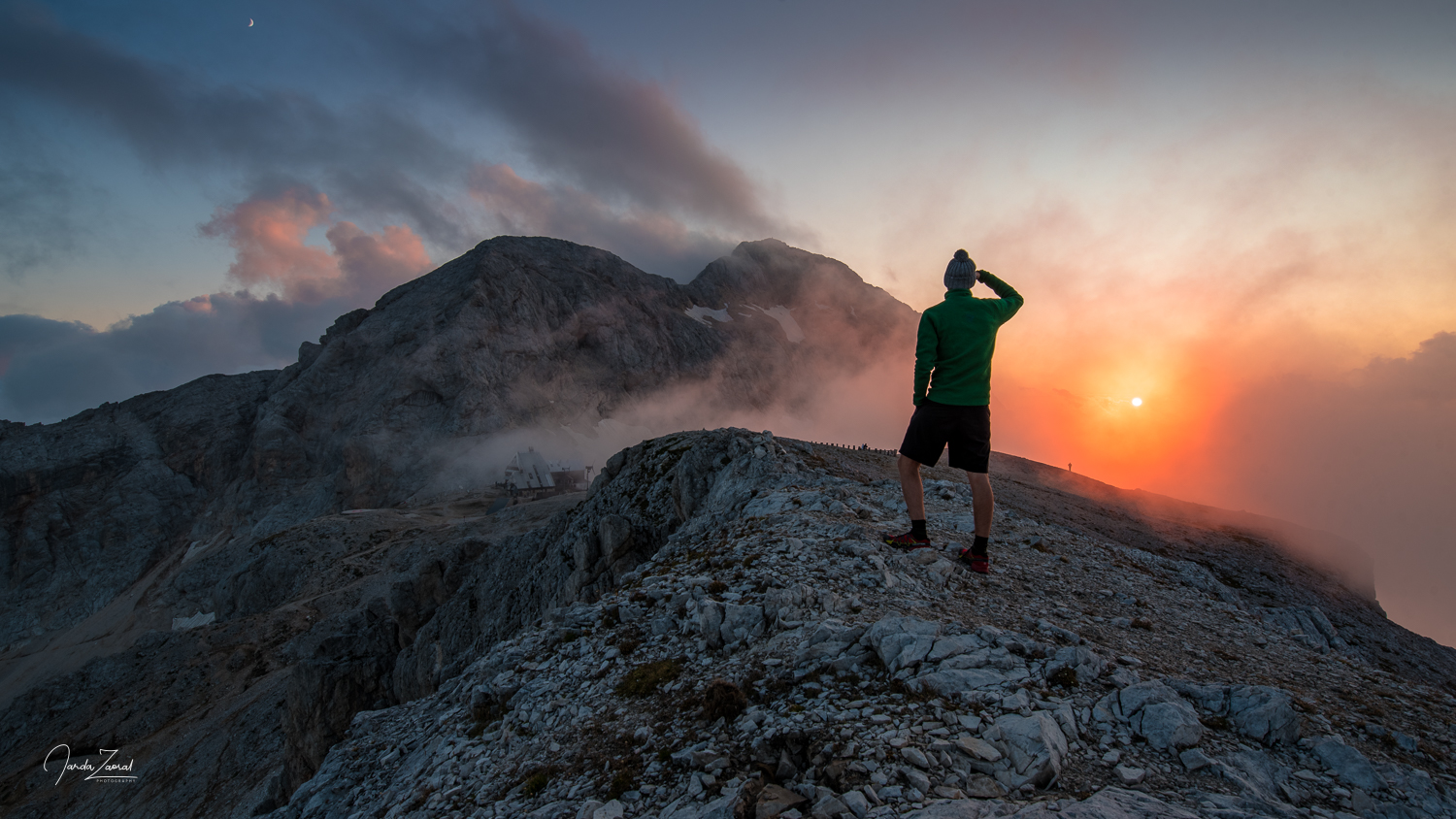 We really enjoyed this view. On the other hand, we were concerned about what kind of climb was waiting for us the following day. The initial part of the climb looked very steep. Is it possible to establish a safe route in such terrain? Mara even declared that he was not going anywhere the next day. To my remark that even my mom conquered the mountain he couldn't give up though : "When your mom made it, I must too."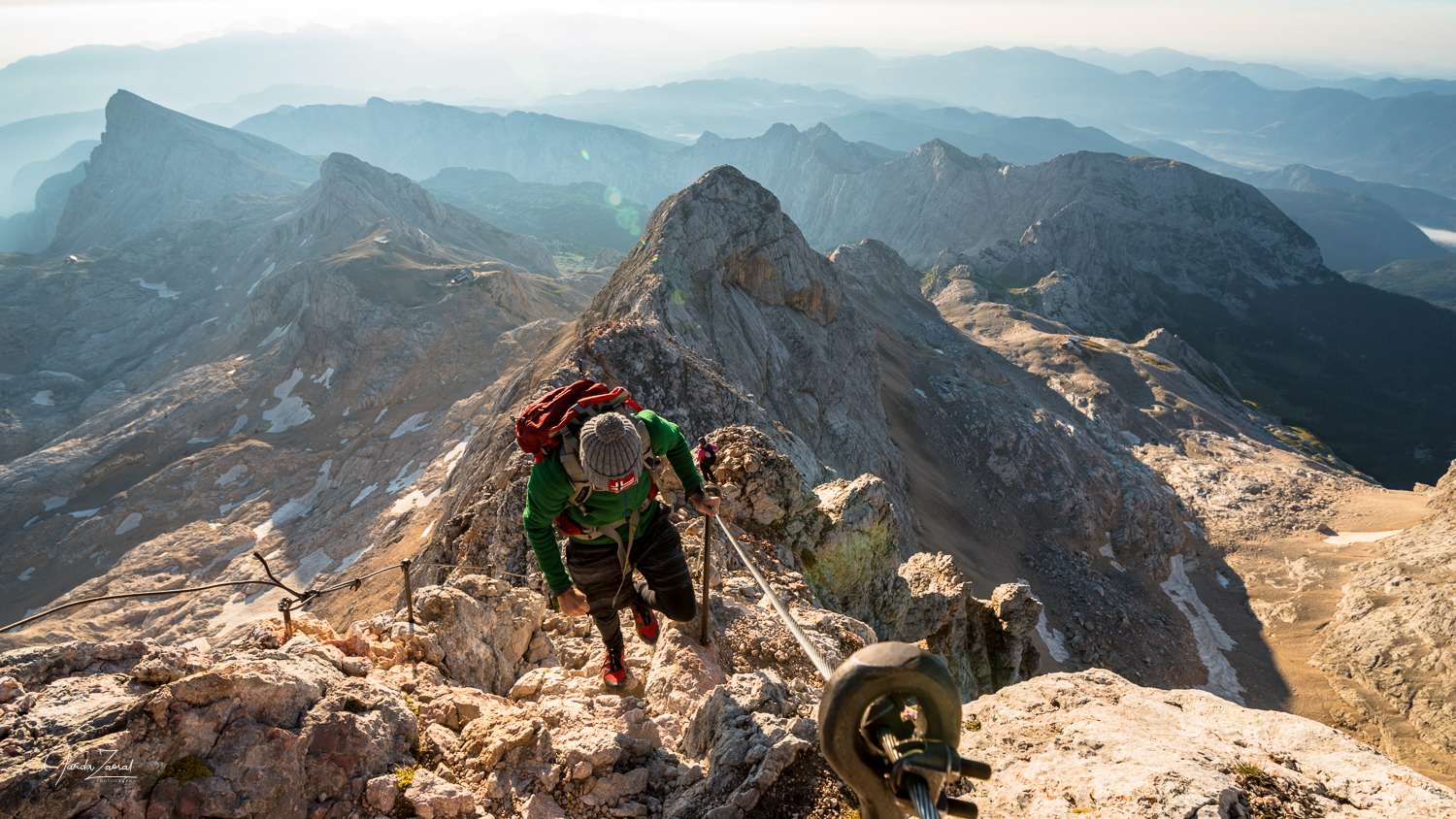 Final via ferrata to Triglav
After the sunset show, we went to bed so we could get up at 5 in the morning to climb to the top of Triglav and catch the sunrise from the summit.
The morning wake up was difficult, but it definitely paid off. We avoided the crowds of cheering tourists climbing to the top. On the way to Triglav, we did not meet any single tourist who would slow us down on the narrow via ferrata, or would even threaten us. The ascent to the summit was ideally timed for the sunrise. It was a real beauty from the summit. We could not wish for better weather and we had the whole of Slovenia under us. It was great visibility, so we could even see the distant Grossglockner in Austria.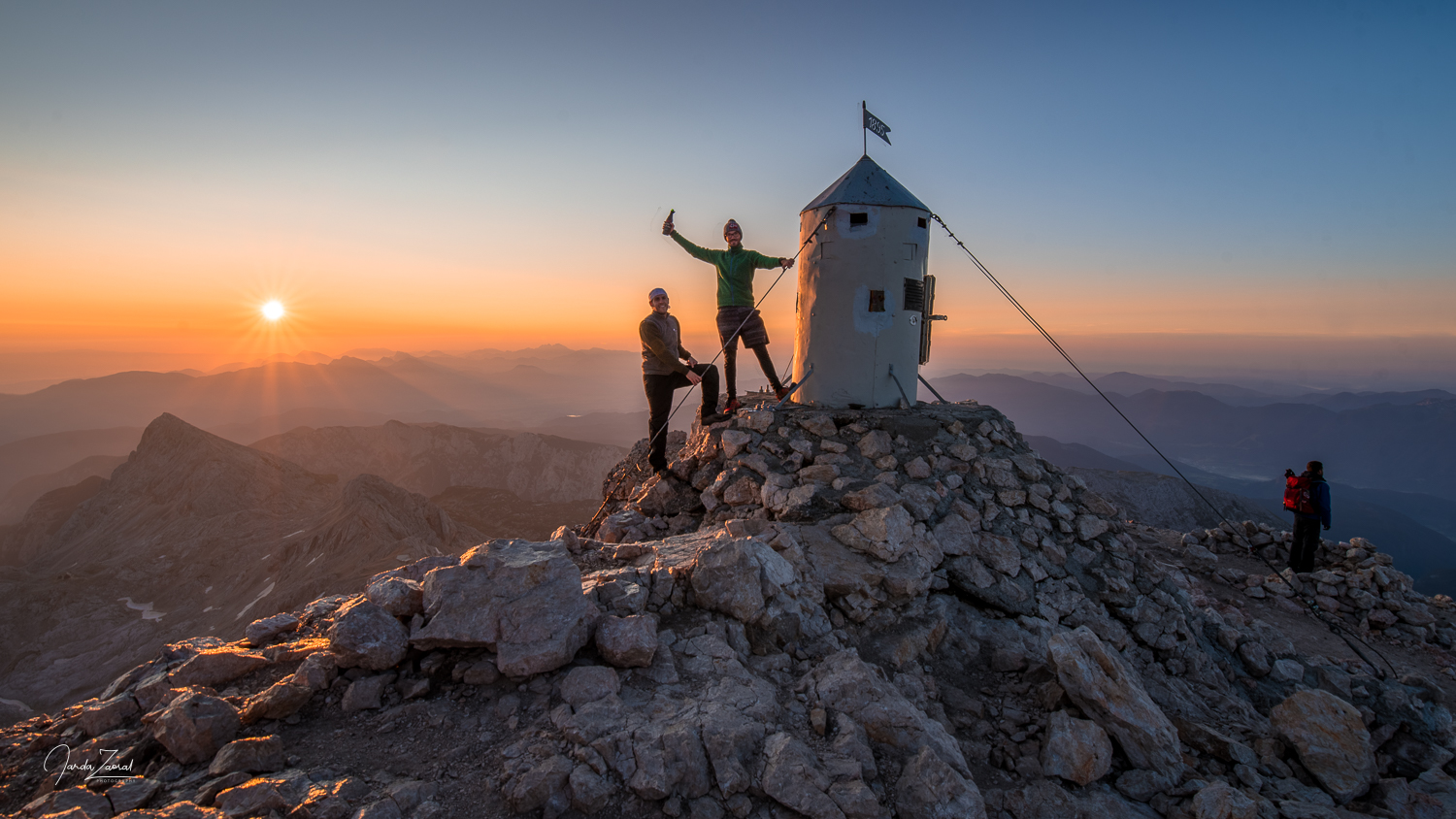 The way down took us half an hour longer than the ascent. The tourists started to form similar queues as I experienced earlier on Grossglockner. This time we didn't mind though. The sun was shining, it was not cold, and the views were still breathtaking. When we returned to Kredarica Hut, the weather was perfect. To celebrate the ascent, we fell asleep on sunny benches for an hour.
Never ending descent
After a well-deserved nap, we headed back to the valley. For the descent we chose the second route this time – Prag route. It was supposed to be less steep and therefore more gentle for the knees. However, it was very similar to the first route in my opinion. While descending I chose my favorite method – the quicker you go, the faster you will have it behind you, and I managed to run down the whole hill in 2h45 minutes. I waited for my colleague while having a refreshing beverage.
Half an hour passed, then another hour passed, and Mara was still on the way. I remembered my mom 15 years earlier as she returned in the darkness and could hardly walk. Will a similar fate await even Mara? After an hour and a half, he finally managed to come back, apparently tired as hell. What's important, we've both made it.
Relax at romantic Bled
After a quick snack, we headed to the renowned Bled Lake to relax. We weren´t keen on waking up very early in the morning, but we did it in the end. The sunrise over Lake Bled with its picturesque isle and the church in the middle, sounded tempting. And it was worth it. A beautiful spectacle. I haven't seen many more romantic places. I understand why Bled is a popular place for lovers. Around the lake we met more or less only couples in love holding each other´s hands. Pity that I was at Bled only with Mara and not my girlfriend that time.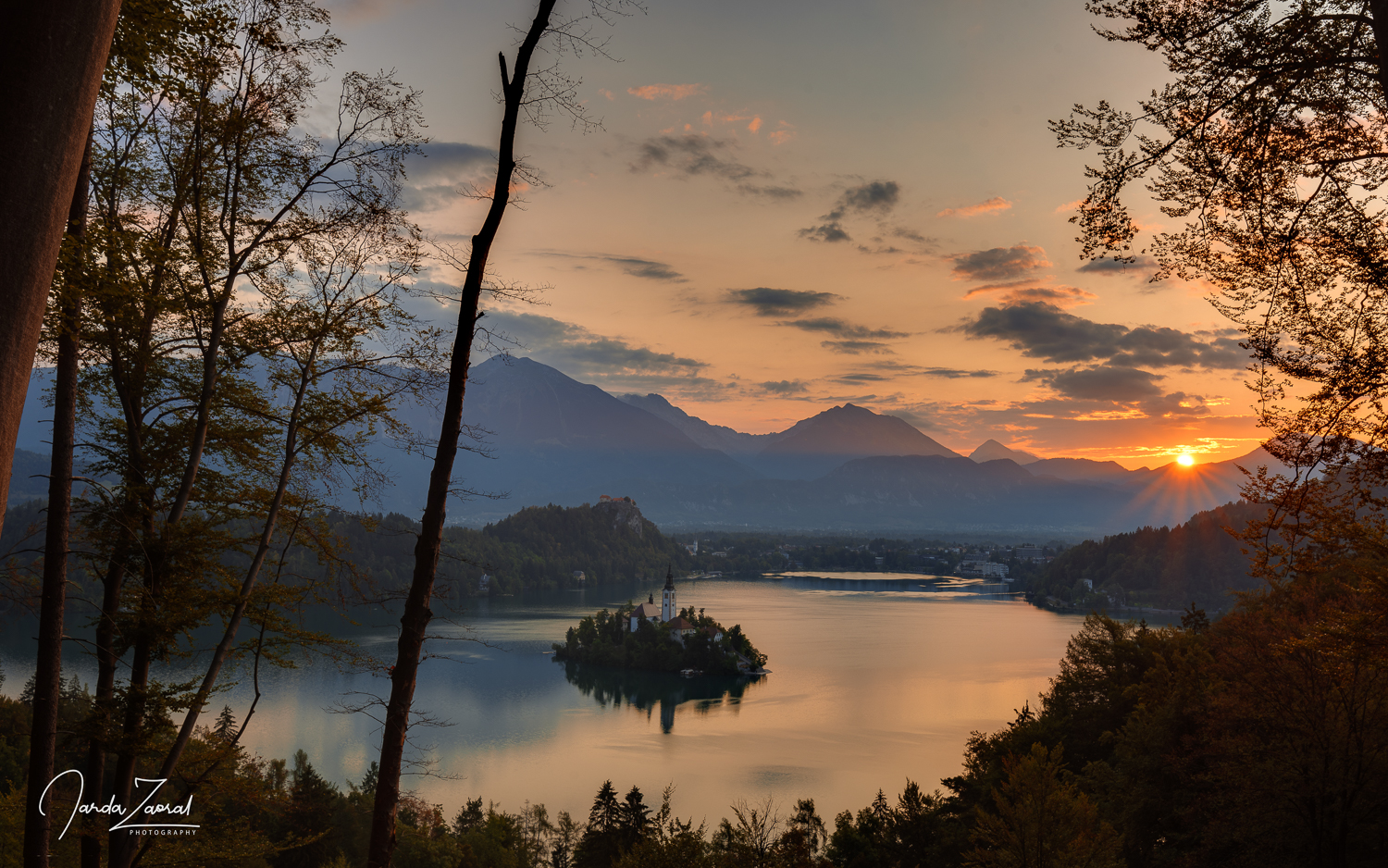 My tips for climbing the mountain Triglav:
Stay over in the Kredarica Hut. There is no hurry to climb Triglav in just one day. You will avoid an afternoon storm which is very frequent during summer and you will be able to enjoy beautiful sunset from Kredarica.
Wake up very early for the summit day. You will avoid the crowds.
If you have an extra day, spend it around the lake Bled.