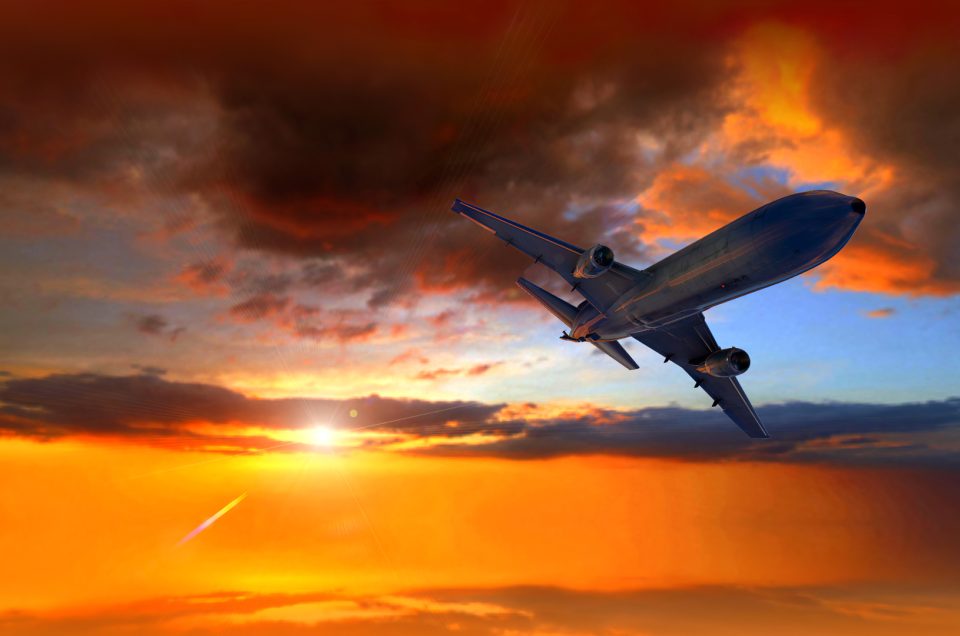 Would you like to travel to Sweden but you can't find reasonably priced flight tickets? Then, you have found a correct article. I am travelling very often and I have learnt some very good tricks to find cheaper flights. I decided to share them with you! This is a guide on how to find the cheapest flight tickets to Sweden wherever you are from.
This article is a memory to times when I was taking care of my first blog travelclever.se which helped Swedish travelers finding cheap flights around the world. It was an amazing time because lowcost airlines were booming and you could fly across Europe for 10 EUR or sometimes even cheaper! Such flights don't occur often anymore but my tips to find cheap flights haven't changed and they can still help you saving a lot of money! Let's start with three important tips:
The key to find cheap flight tickets is to be flexible. If you have just a limited amount of holidays and if you can travel to Sweden only during certain and exact time period, this article will probably not help you much. However, if you are flexible and you can choose from multiple days, continue reading!
Learn to use flight search engine www.kiwi.com. It's the best tool to find cheap flights. However, bear in mind that I don't recommend to book on the website anything! Booking via third party can be risky especially in case your flight is delayed or cancelled. It is very difficult to ask for compensation. It's always safer to book directly via the airline which kiwi.com will find for you.
Don't look for a return trip. It brings too many options for the search engine and you can get very easily lost in the results. Try to find two one way trips instead. This applies for trip within Europe. If you are flying from another continent, then prices are better if you book directly a return flight.
The advantages of Kiwi.com
So why is Kiwi.com a great flight search engine? It enables you to use radius search and flexible dates for both departure and arrival. Moreover, Kiwi.com is the only search engine which combines flights of low cost airlines.
Before you start looking for flight tickets, keep in mind again the most important thing: Flexibility makes the flight tickets cheaper. Do you want to travel on an exact day? Are you in hurry and do you need the shortest travel time possible? Or can you fly flexibly anytime during week and can you spend more time on your journey? Both options will generate a completely different price. Let's check it out. As an example I will use a case which I know personally very well. It is a trip from the city where my life journey started and where I come from – Olomouc, the Czech Republic to my new home Stockholm, Sweden. This is how I find the cheapest way to travel up north.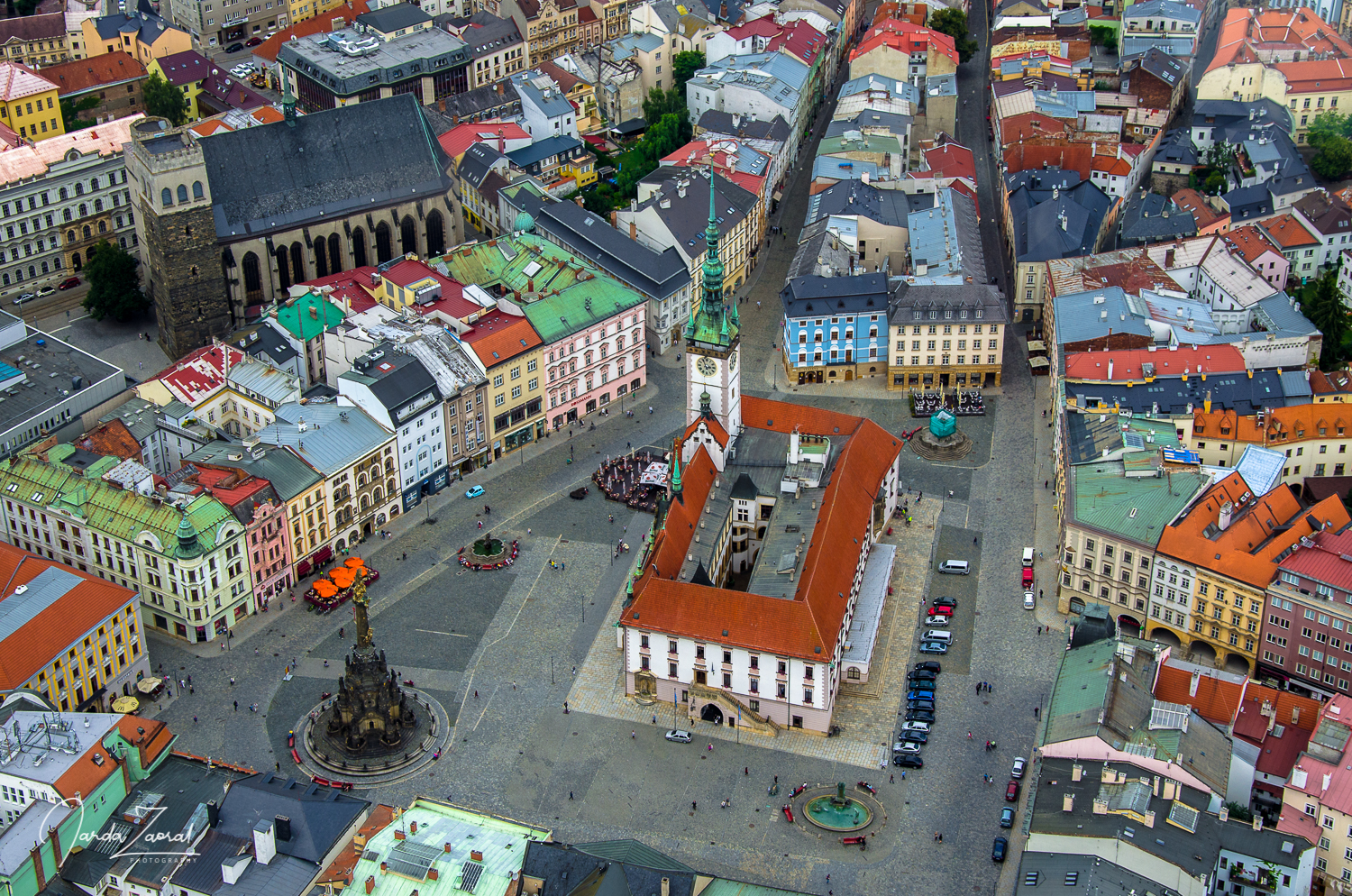 Step 1: The most comfortable option – exact day
I insert the most convenient departure city from Olomouc – the capital of Czech Republic – Prague and destination Stockholm in the Kiwi.com search engine. I select a date which would work best for my travel plan – 19th March. For this date Kiwi.com finds for me the cheapest flight for 988 SEK with Norwegian.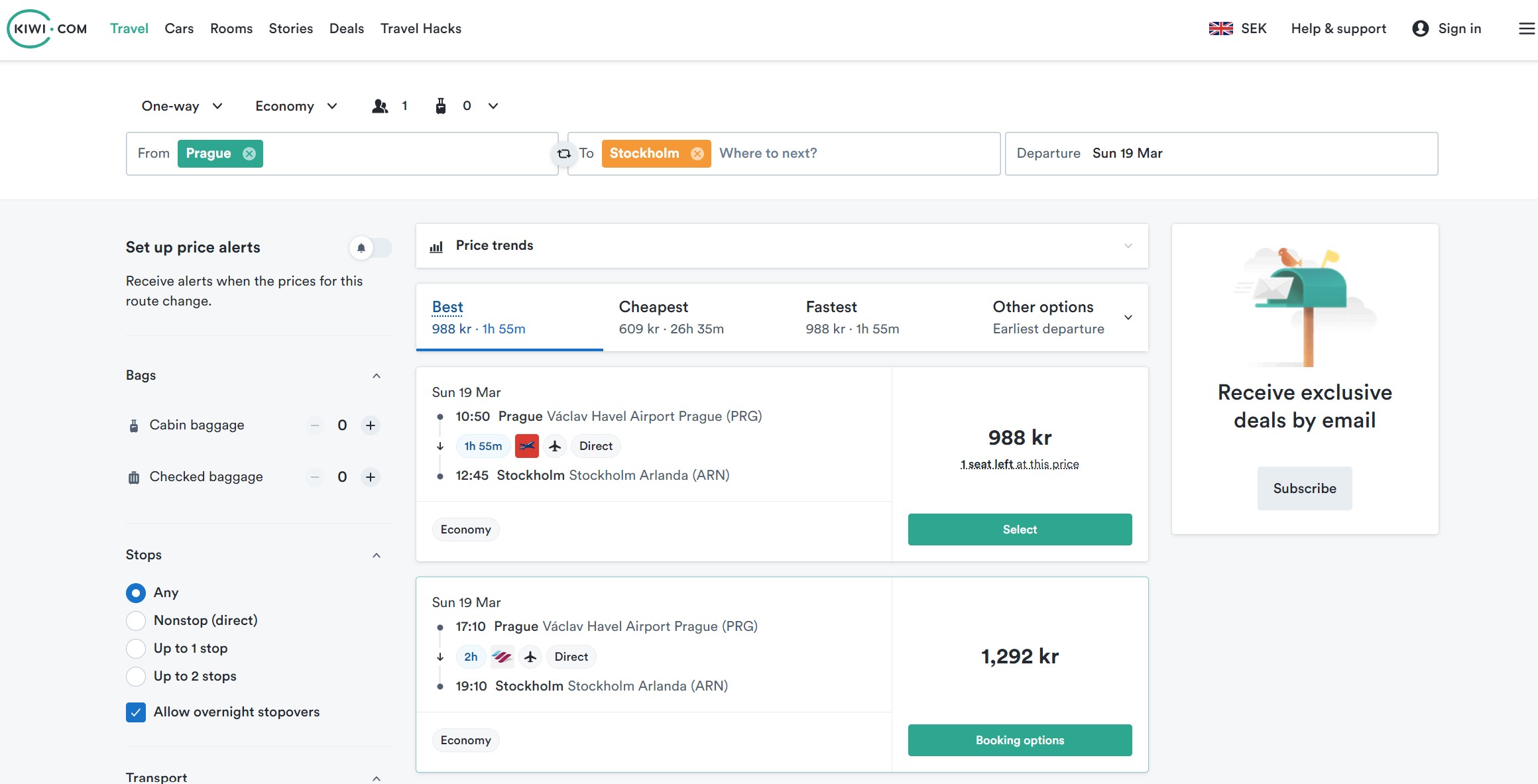 Step 2: Interval (recommended)
I am not satisfied with the price so I will use the interval searchnig. It works that the longer interval you choose, the bigger chance you have to find cheaper tickets. Let's say that I can fly also one and two days earlier. I select interval from the 17th March to 19th March.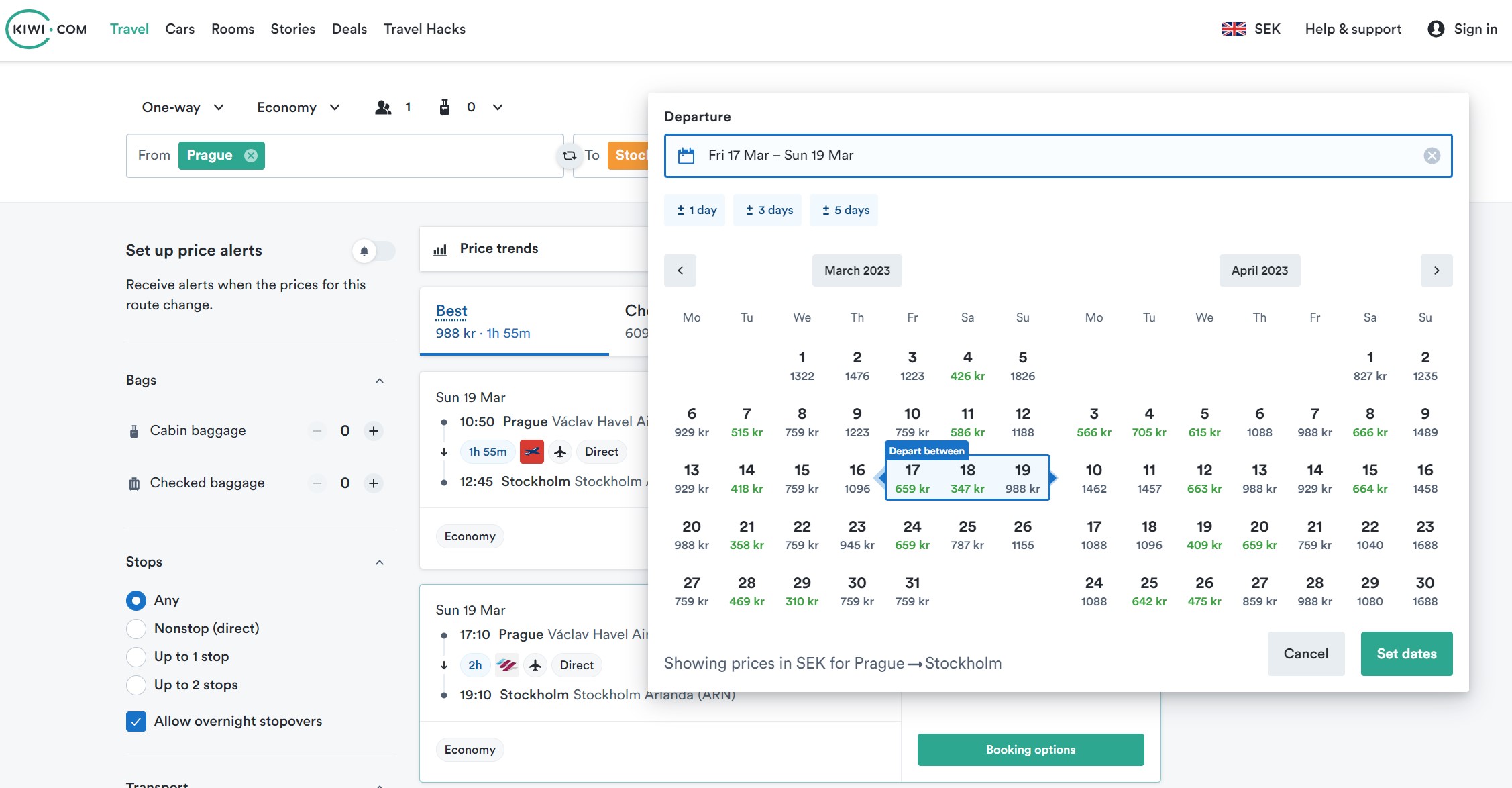 As you can see below, the prices got much better just because of the flexibility in days. Now, I have two options – a direct flight with Norwegian on 17th March with Norwegian for 659 SEK or a flight on 18th March with Ryanair which has extra stop in Gothenburg for 347 SEK. This sounds better but I will still try to find even cheaper flight.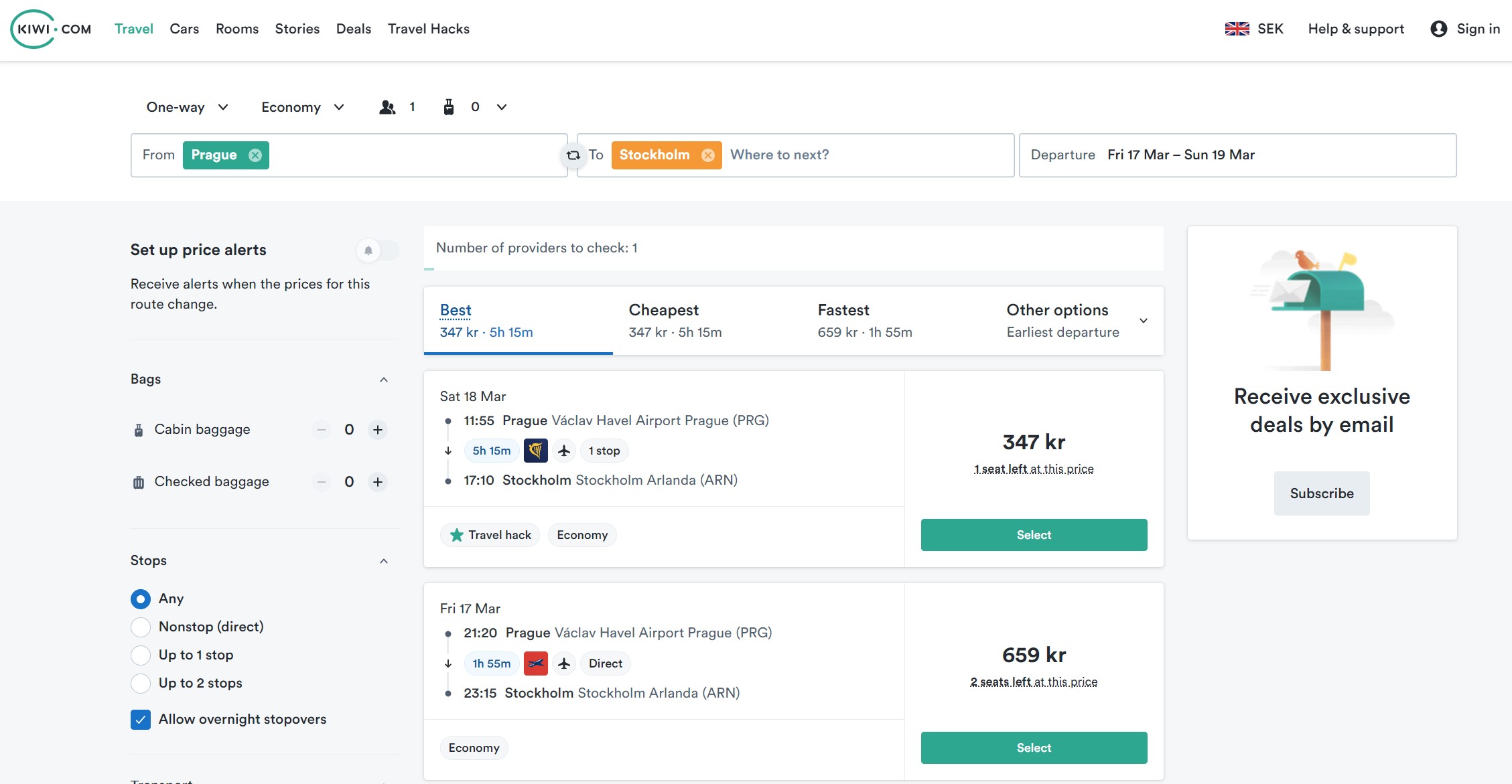 Step 3: Radius search (Prague +250 km)
The best thing about kiwi.com search engine is that you can combine search to your destination from multiple cities at the same time. Let's check it out. I will keep the same dates but I will click on Prague and extend the radius by 250km.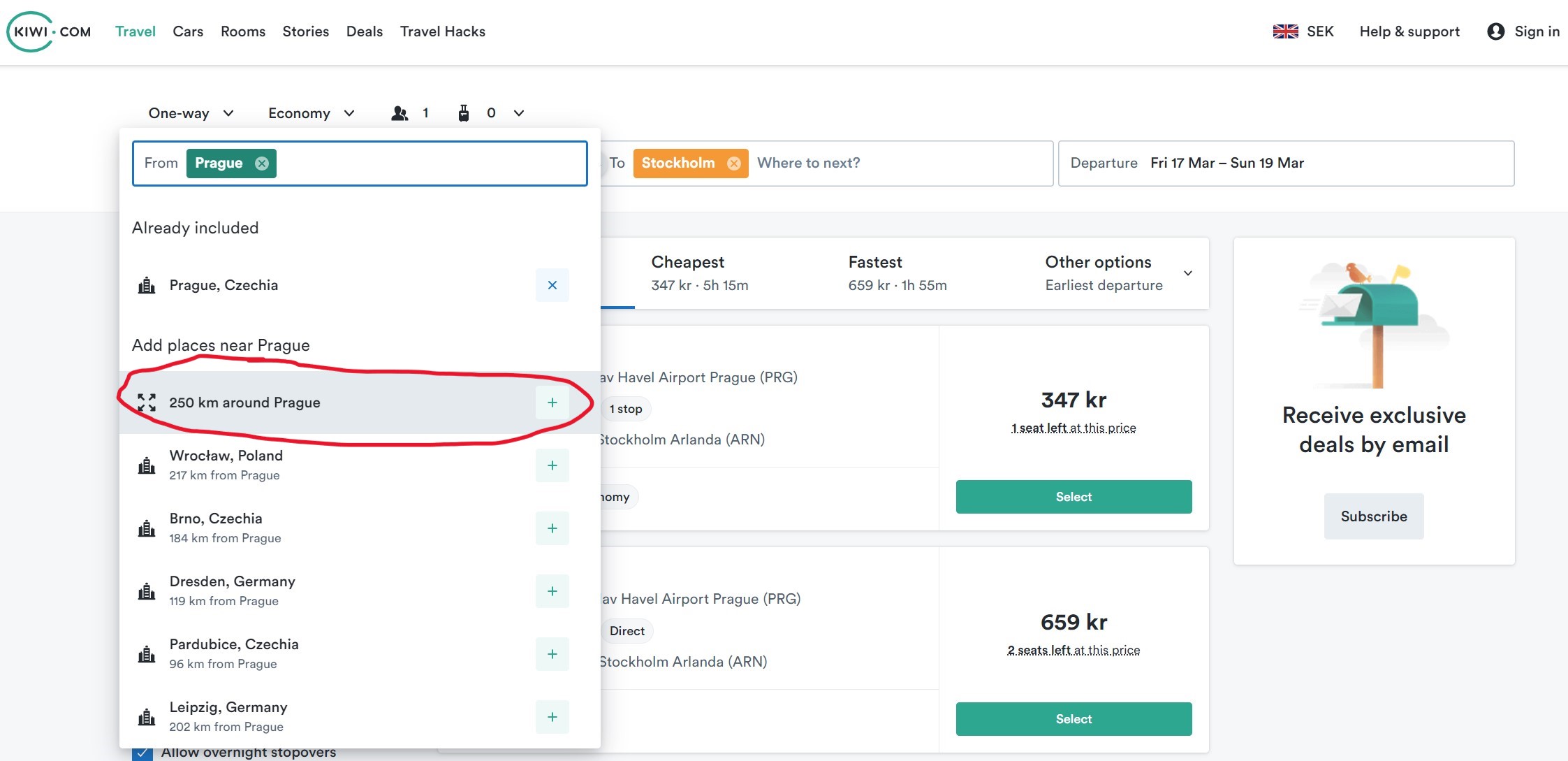 As you can see below, thanks to this additional flexibility not flying from Prague, I can find even cheaper flights. There is a very cheap option from Wroclaw (109 SEK) for example and the city is not much further from the origin of the journey Olomouc than Prague. Unfortunately, I checked and bus/train connection from Olomouc to Wroclaw is not the best for this date so I will try to find something even better.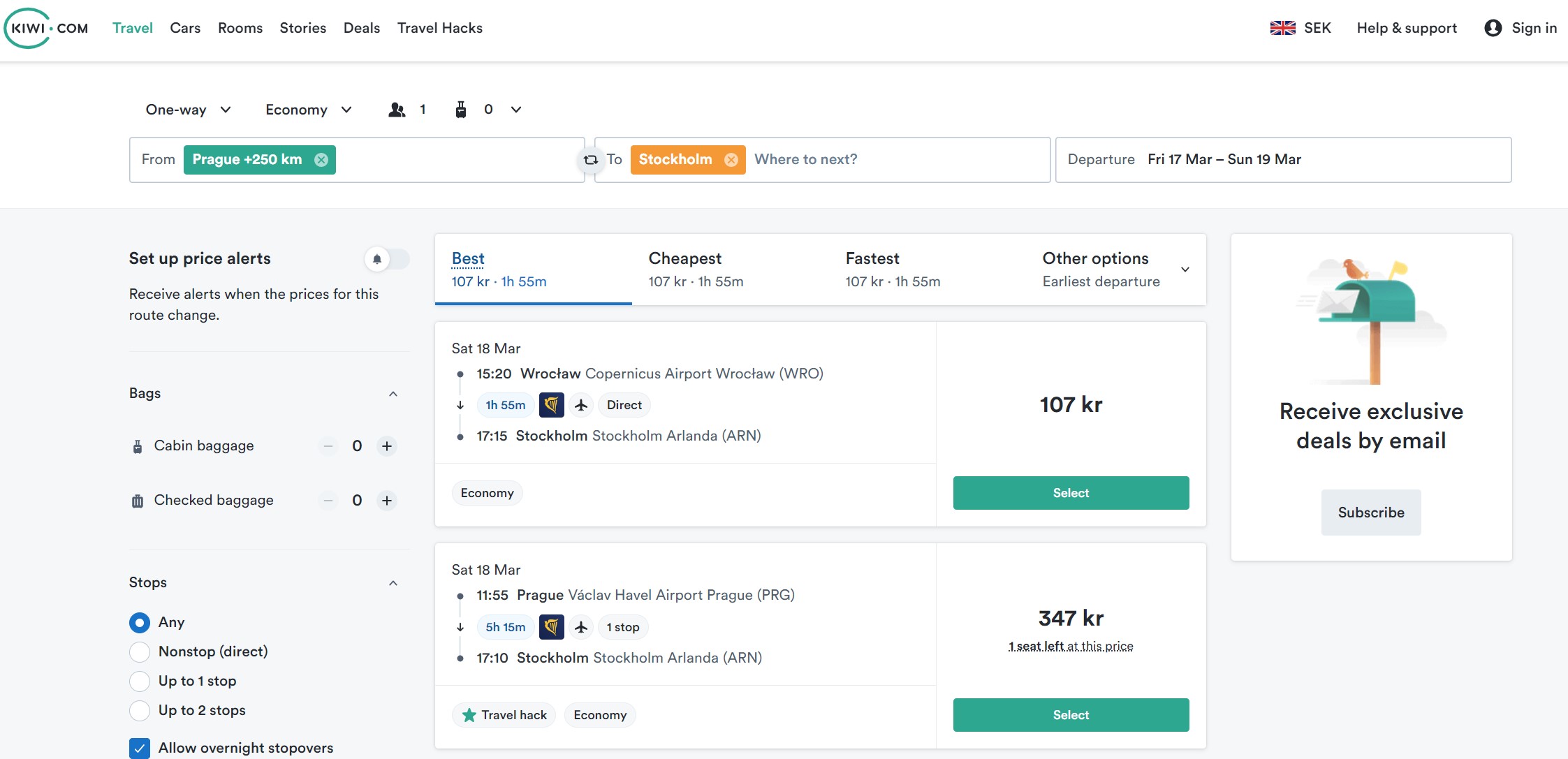 Step 4: Additional cities
I haven't found an ideal flight yet so I will add manually additional cities to my search. Kiwi.com recommends on its own the nearest ones. I will add Krakow. The city is nearby Olomouc and maybe, there is a cheap flight from there to Stockholm too.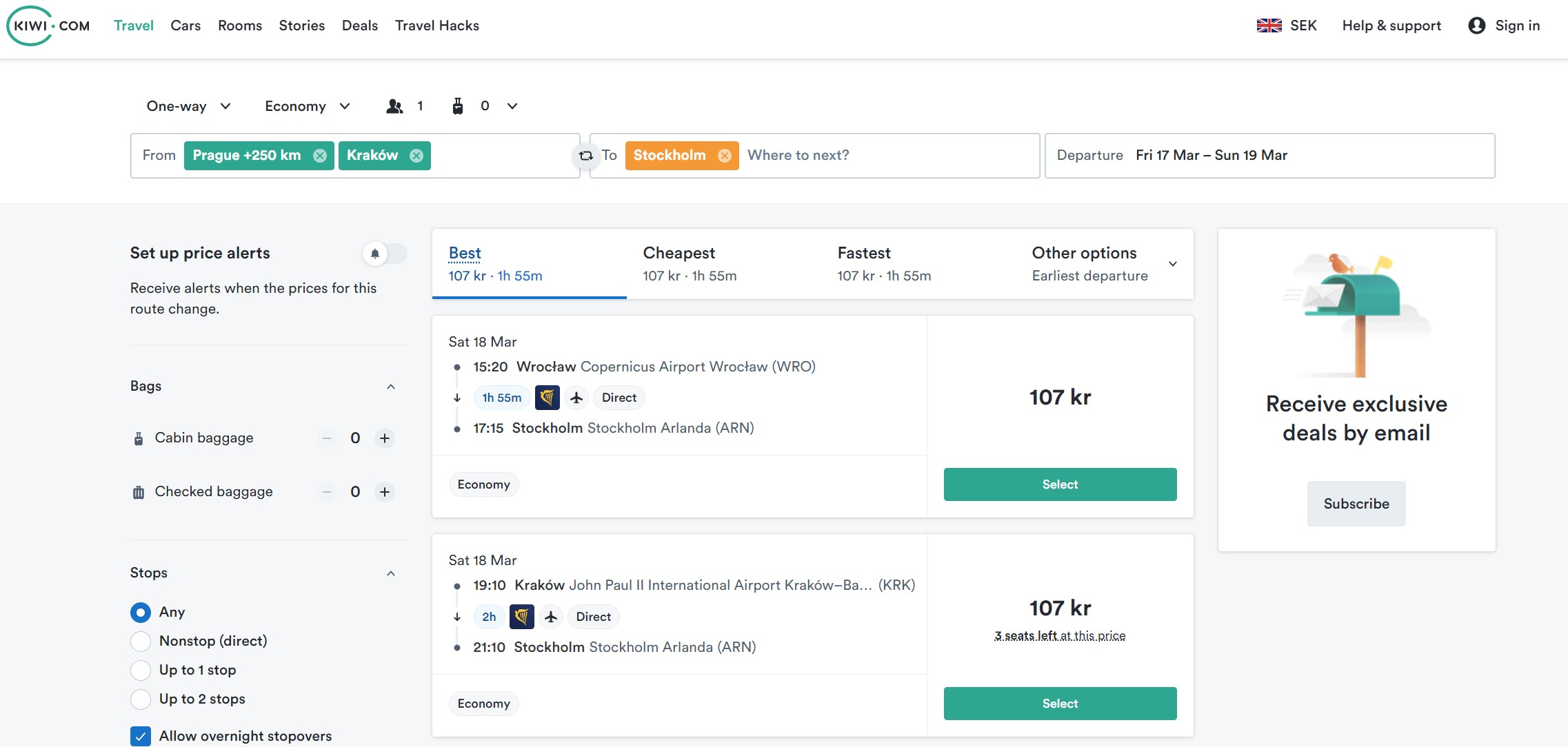 Perfect, there is a perfect flight from Krakow. As the city is well connected to Olomouc by train/bus, actually similarly like my initial search Prague, I will book this flight and I will safe over 800 SEK. As I already mentioned, I will book this flight directly on Ryanair's website because I don't recommend to book via third party search engines.
Summary of tips for finding the cheapest flight to Sweden with Kiwi.com
As you can see, it took me a few clicks and I could find so many options to travel to Stockholm. It's good not focusing on a certain date and the origin and it can help you save a lot of money. Here is a quick summary of how to find the cheap flights:
The longer interval you choose, the more likely you are to find cheaper tickets.
The larger radius search you choose the more likely you are to find cheaper tickets.
Try to find flights anywhere and anytime to discover the most interesting deals.
Are you from a city which doesn't have an airport? Try search directly from your city with the radius search. Look what results I can directly from Olomouc. It would save my work looking from Prague actually. It would find my flight from Krakow directly.
Kiwi.com also develops adding train and bus connections. Check them out too.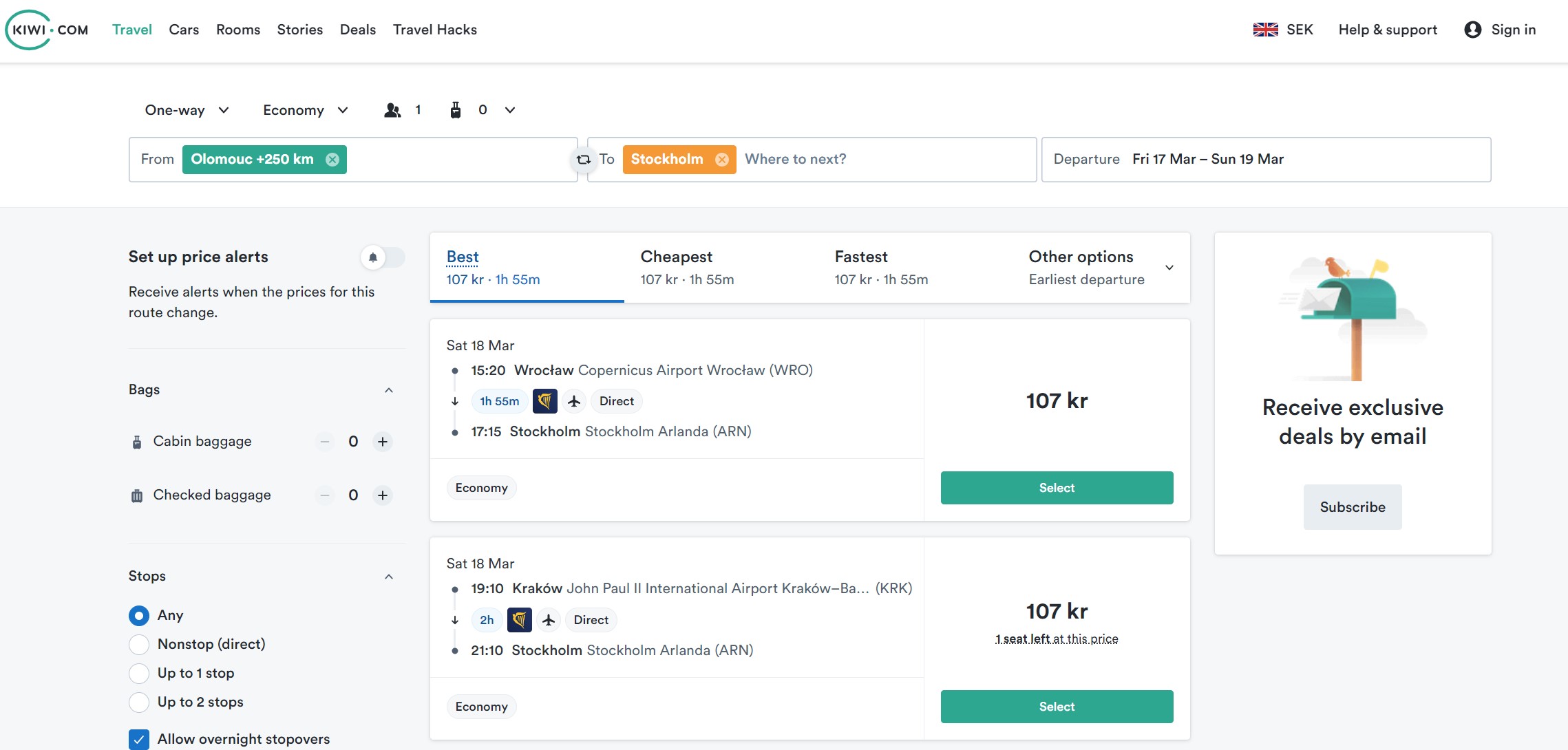 Additional tips how to find cheap flight
Check out website Fly4free.com which is looking for the latest deals in the flight industry. They are very good with finding special offers and error fares. Good luck and looking forward to seeing you in Sweden!
If you are looking for what to do and experience in Sweden, I have many tips on my blog. Check them out.