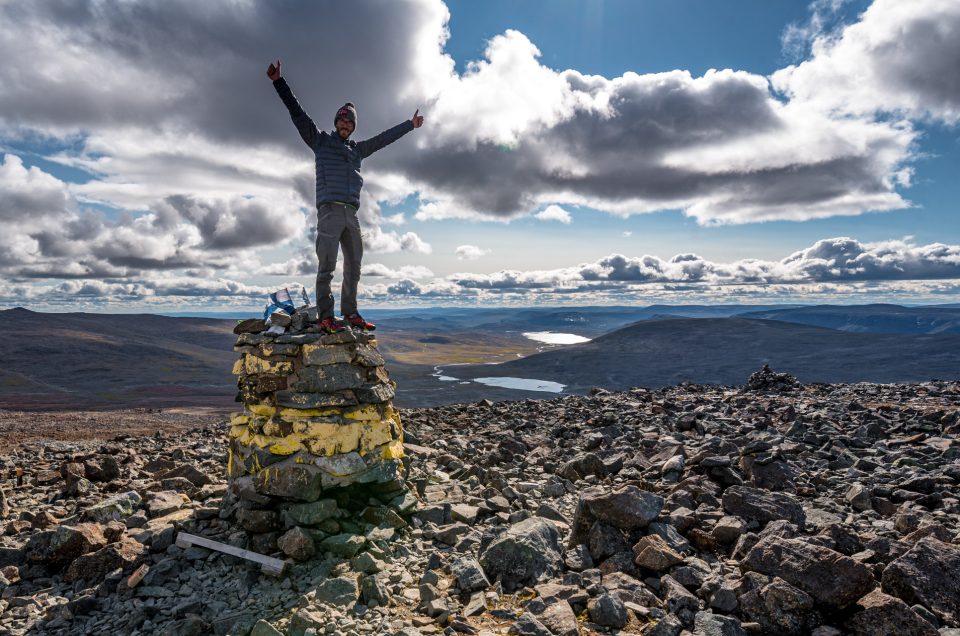 Finland is a bit sad country when it comes to mountains. The north of Europe can boast of a unique landscape including deep fjords, large glaciers, high mountains and thousands of lakes. However, Finland can offer almost "only" the lakes from these. It's Norway and partly Sweden who has the high mountains. The Finnish highest point Halti is only 1,324m and its peak is not even lying in Finland. The actual peak is situated a few meters behind the border in Norway and it is 1328m high. It doesn't mean though that Halti isn't worth a trip. On the contrary, the Finnish landscapes are wonderful!
Two main routes to Halti
You can choose two different experiences if you want to climb Halti.
Route 1: From Finnish Kilpisjärvi – If you would like to have a proper Finnish experience, you will want to take this option. This popular route to Halti starts in a small village Kilpisjärvi, a village located in the north-western corner of Finland. From Kilpisjärvi, you can follow a marked trail that leads to the summit of Halti. The trail is around 50 km long and can take anywhere from 3 to 5 days to complete, depending on your pace and level of experience. There are huts on the way where you can stay overnight. Alternatively, you can bring a tent. Along the way, you'll pass through beautiful Arctic landscapes, including rugged mountains, deep valleys, and crystal-clear lakes. The trail is well-marked and maintained, so you shouldn't have any problems finding your way. The hike can be challenging, but the stunning views are well worth the effort.
Route 2: From Norwegian lake Gualosjárvi – Another possible route to Halti starts at a beautiful lake Gualosjárvi. You can reach it by turning from the route E6 in Norway at village Biertavárri. The road is partly made of gravel so it can become muddy after heavy rains. This road is ca 30km road until you reach a parking lot at the Gualosjárvi lake. From there, head to mountain Ráisduottarháldi, and then continue towards Halti. There is no trail so don't forget to bring a good GPS map or compass and printed map (if you can use it). This hike is shorter and you can take advantage of passing Norway by stopping at wonderful fjords on the way or visiting city Tromsø.
Maps of the hikes from Finland and Norway to Halti
Statistics of the easiest route to Halti from lake Gualosjárvi
Short description of the ascent: Short hiking but in a difficult terrain without a path
Essential equipment: GPS map or a printed map with compass
Best time to visit: June - September, suitable for winter climbs too, avoid months with short daylight (November - January)
Fees or restrictions: No 
Camping allowed: Yes
Nearest accommodation/food supply: village Biertavárri from Norwegain side
Starting point: Parking lot at Gualosjárvi 
Height of the peak: 1,324m 
Hiking distance: 6.6 km 
Time to ascend to Halti: 2 hours 30 minutes up, 2 hours down (time on mapy.cz exagerated)
Elevation climbed: 647m
Water availability on the mountain: No
Difficulty level: *** (6 stars maximum)
Personal rating of the mountain: **** (6 stars maximum) 
Beer on the peak: Tromso 13 Saison ***** (6 stars maximum) 
My story of climbing Halti
Since I didn't have much time during my expedition European Peaks, I decided for the shorter route leading from Norway, the lake Guolasjárvi. This journey was supposed to take only one day.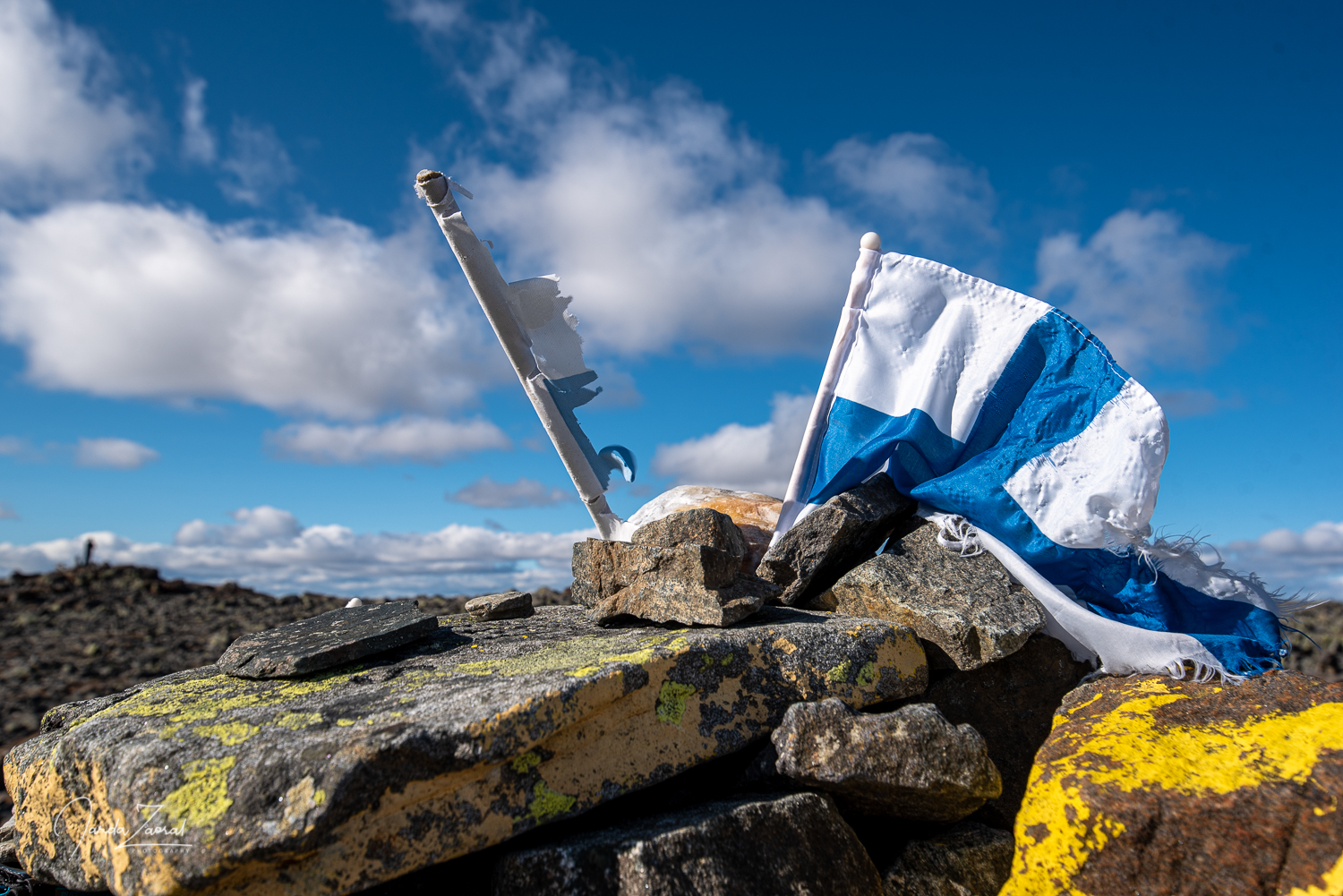 The weather played the most important role in the planning process. There is no trail to the Finnish highest mountain Halti from the Norwegian side so it would be advisable to go to the top in good conditions not to get lost. As the forecast for the following day showed fog, we chose to visit the Norwegian town of Tromsø near the Halti mountain instead. We did not regret that choice, because the weather was much better there and we could at least test Joanne's new hiking boots.
The view over Tromsø from a nearby mountain (where you can get by a cable car Fjellheisen) was beautiful as it is typical in Norway. The view over fjords and high mountains around was simply amazing. I got a bit disappointed at the moment, that the Norwegian highest mountain is not in the EU. But what could be done?
Climbing Halti from Norway
We were looking forward to the Finnish summit where we headed the following day. The plan was to camp at the starting point. Unfortunately, there was some maintenance work in the tunnel the night before so we had to settle for camping by some random fjord. We didn't really mind. Norwegian nature is beautiful simply everywhere. In addition to the view, nature served us a lot of raspberries growing right next to the tent.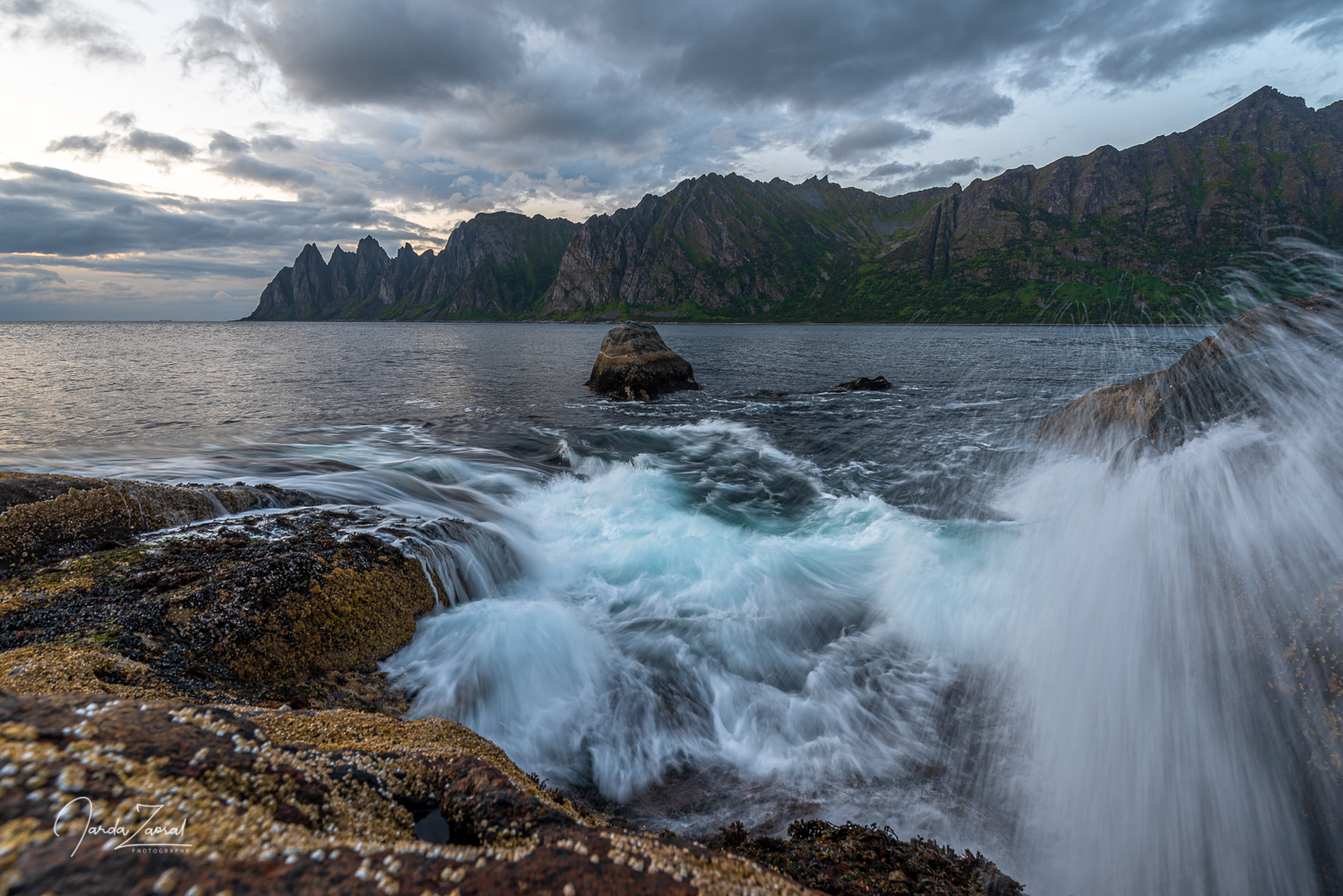 When we woke up we were hidden in a deep fog. As I mentioned, the only problem with conquering the Halti mountain from the Norwegian side is navigation. There is no path to the top from Norway, so one must rely only on the map and on his own instincts. I didn't want to get lost in the fog somewhere in the Finnish mountains, so we waited until the noon for the weather to get better.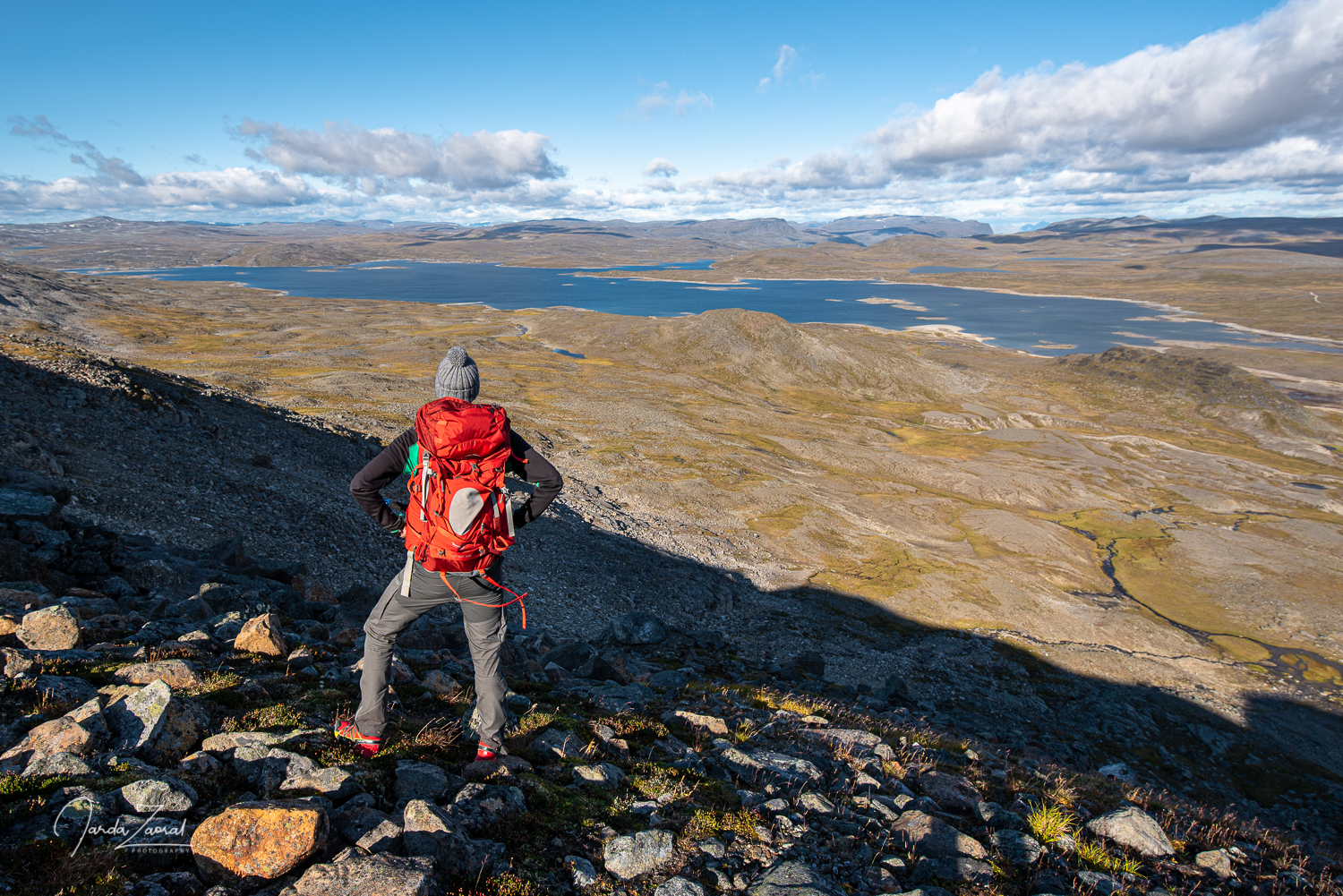 It paid off. The path along the rocky terrain was a pleasant change from the beaten paths on the previous mountains. After the initial three-kilometer climb we found ourselves on a plateau with smaller peaks around. One of them was the Halti mountain.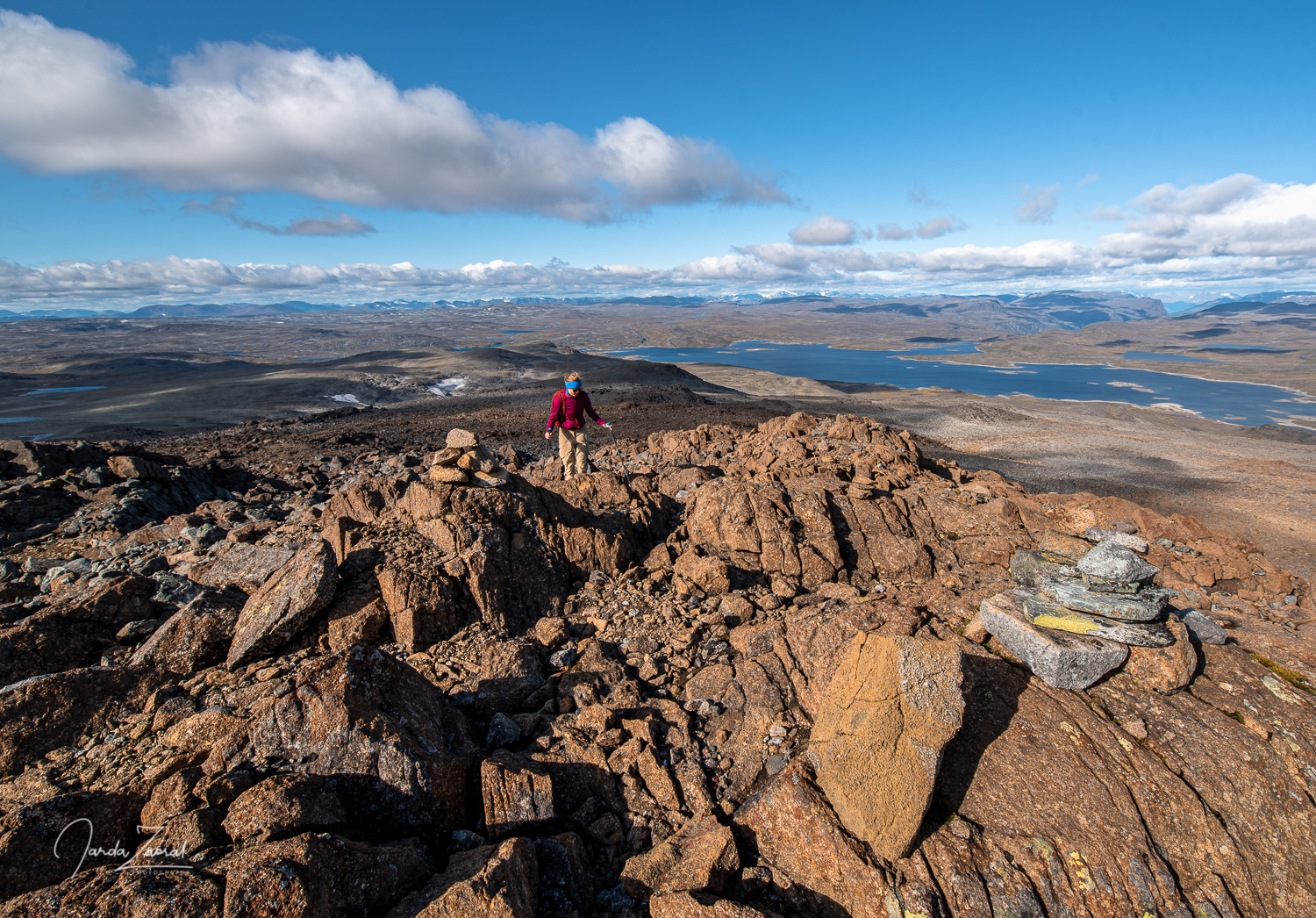 I checked my location according to the map and we marched to the mountain, which was supposed to be the highest point of Finland. Just to be sure, we cheated a bit and used a phone app called Mapy.cz, which confirmed to us that my presumption was correct. I highly recommend this app by the way. All hiking trails are perfectly marked there.
We were standing on the Halti mountain soon. The sad news for all Finns, however, is that the summit of the mountain doesn't lie in Finland, but in Norway. The highest point of Finland is a few dozen meters away and a few altitude meters below. Fortunately, in this nice weather,we couldn't miss it. It boasts of a stone-built pillar and a Finnish flag.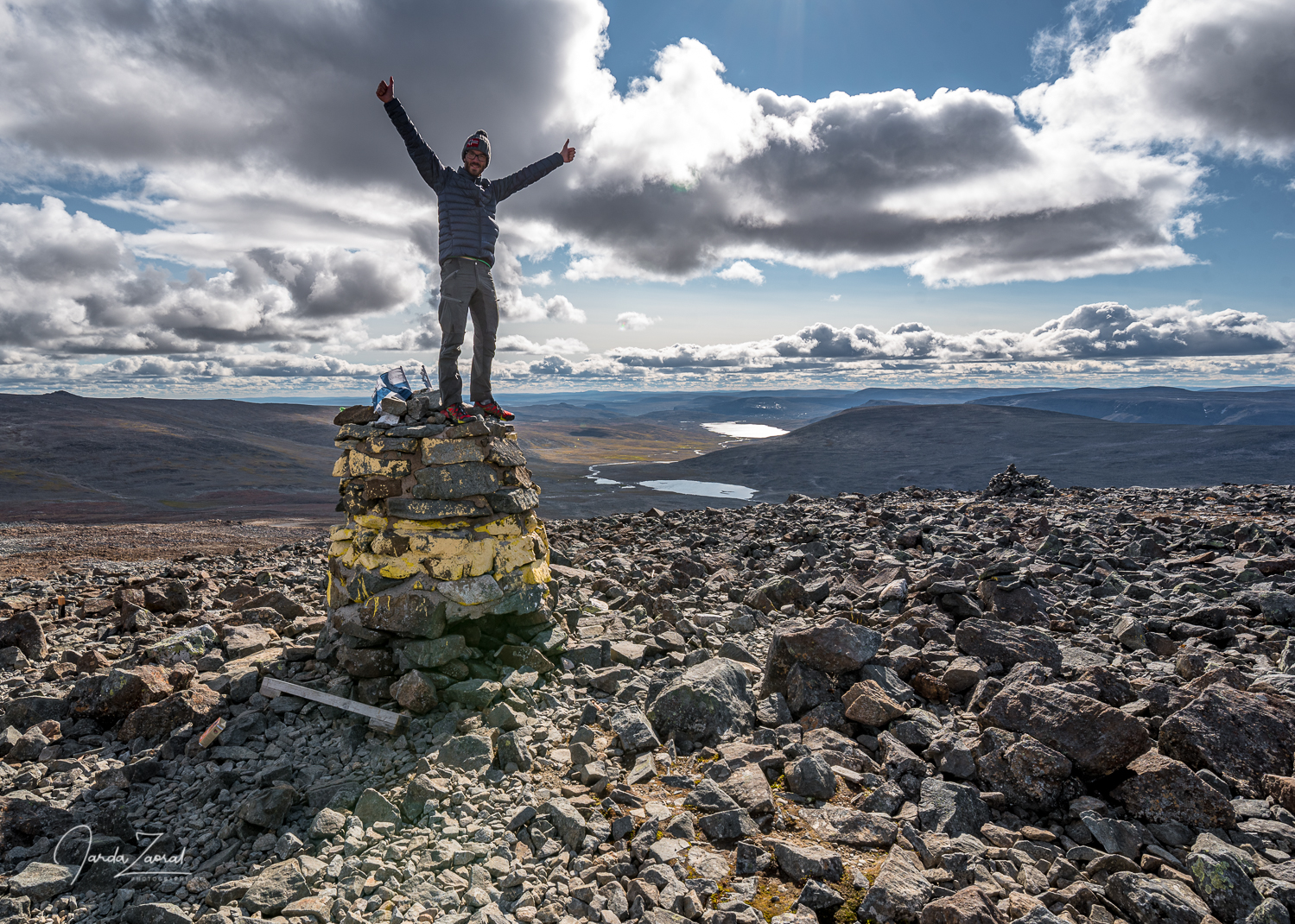 The last beer in Ylko's life
As usual, I grabbed my summit beer to celebrate the ascent when one Finnish guy suddenly climbed to the top from the Finnish side. I wanted to make a toast with him but Mr. Ylko stopped me: "I don't drink alcohol anymore." He then confessed that he had decided to summit Halti to put an end to his drinking. He told me he had drunk 6000 beers in the last calendar year, and because his wife wanted to leave him, he decided that he'd rather stop drinking. Symbolically, he brought the last Karhu beer can to the highest peak of Finland. He poured the beer on the ground in front of me as a gesture of the end of his drinking period. From his determination, I felt that the resolution to stop drinking would end up well. I hope he has not been drinking since.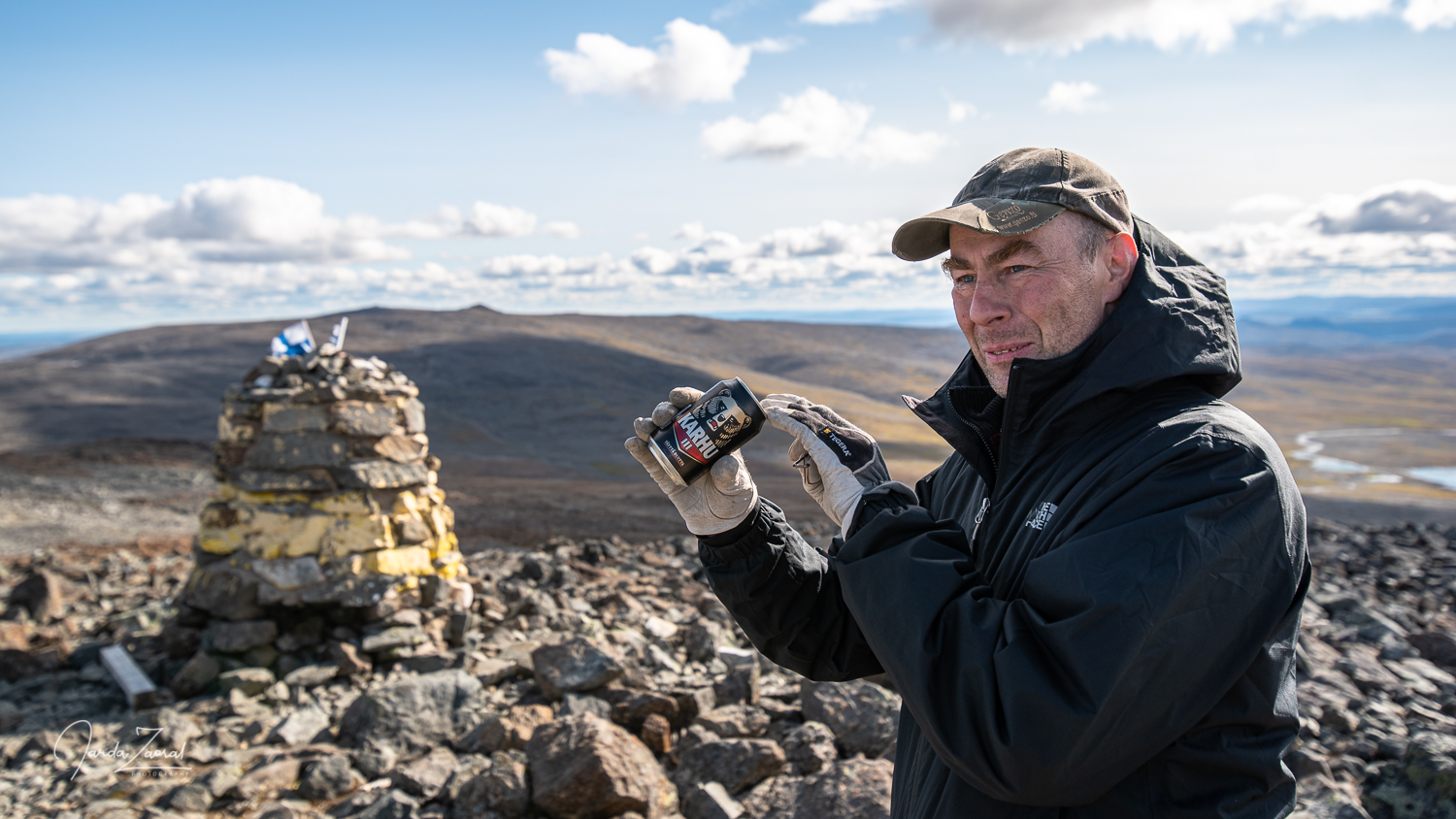 My tips for climbing the mountain Halti:
GPS navigation is necessary for the successful summit. There is no marked path to the top from the shorter Norwegian side.
I recommend high quality hiking shoes. You have to walk through difficult, rocky terrain.
If you have more time consider a trip to Halti from Finland. The return hiking trail is 89 kilometers long.