Until recently, the Korabi mountains and its highest peak Golem Korab, were a closed area for tourists. It was possible to climb Golem Korab only once a year, the first Sunday in September, and only from the Macedonian side. Finally these times are gone so it is possible to explore the mountains anytime. It is only necessary to fill in the registration with the border police in Stezimir before you head out to the top of the Golem Korab, sometimes also called Great Korab or Mount Korab.
Date of summit: 2nd May 2019 13:10 
Traveling mode: Winter Hiking
Height of the peak: 2750m
Hiking distance: 8.44 km 
Time to ascend to Mount Korab: 5 hours 47 minute 
Elevation climbed: 1411m 
Map of my hiking to Golem Korab: Movescount
Personal rating of the mountain: *****   (6 stars maximum) 
Beer on the peak: Skopsko Svetlo Pivo ** (6 stars maximum) 
Nowadays you can climb Golem Korab from both the Northern Macedonian and the Albanian side. For logistical reasons my mum and I decided for the climb from North Macedonia. We left Serbia and entered the de facto new country – North Macedonia was in February 2019 renamed from Macedonia.
We were welcome by views over sharp snow covered mountains. On the one hand we were pleased by the beautiful weather and views. On the other we got a bit scared by the amount of snow. How much snow is there on Golem Korab? Is it safe to climb it in these conditions?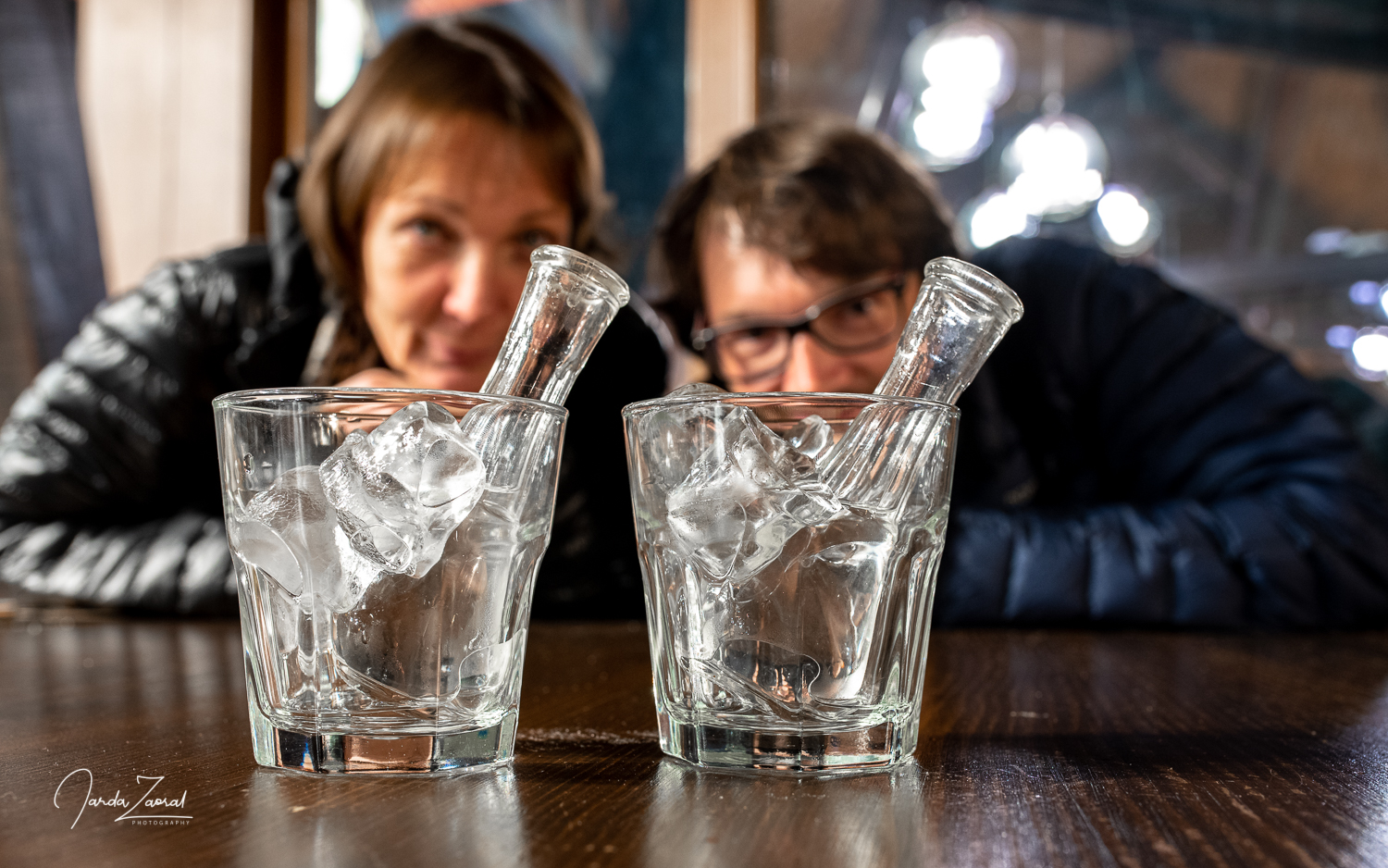 The biggest problem was that we couldn't find any information online about the current conditions on Golem Korab. Is there any avalanche danger? The only thing we found out was that this time the weather should be on our side. Unlike in Serbia this time it was supposed to be sunny the whole day.
Power of social media
I got another idea how to find current information from the mountains. I turned on Instagram and searched for hashtags #mountkorab #golemkorab and I found two posts that were only a few hours old. Two ski alpinists celebrated their successful climbs. Great. The conditions from their pictures looked amazing. I showed my discovery to my mom and we felt relieved. To find out more information I sent both climbers a message to ask for more details. I quickly got an answer: "There was no problem on the way to the peak. There is no avalanche danger in the mountains. The only inconvenience was strong wind, but it is not expected tomorrow when you plan to climb Golem Korab. Good luck!"
We stayed overnight near the Mavrovo reservoir in a hotel named Hotel Korab Trnica. Although it was the closest possible hotel to the starting point of the hike, the following day it still took us 45 minutes to drive there in the morning. For a simple reason. The gravel road turned out to be full of holes and we had to drive very carefully. I was very happy that we had a strong 4×4 car, so we managed to pass all the potholes. We passed even the border control, where apparently everyone was still sleeping (Don't forget to bring your passports though. They are usually checked here).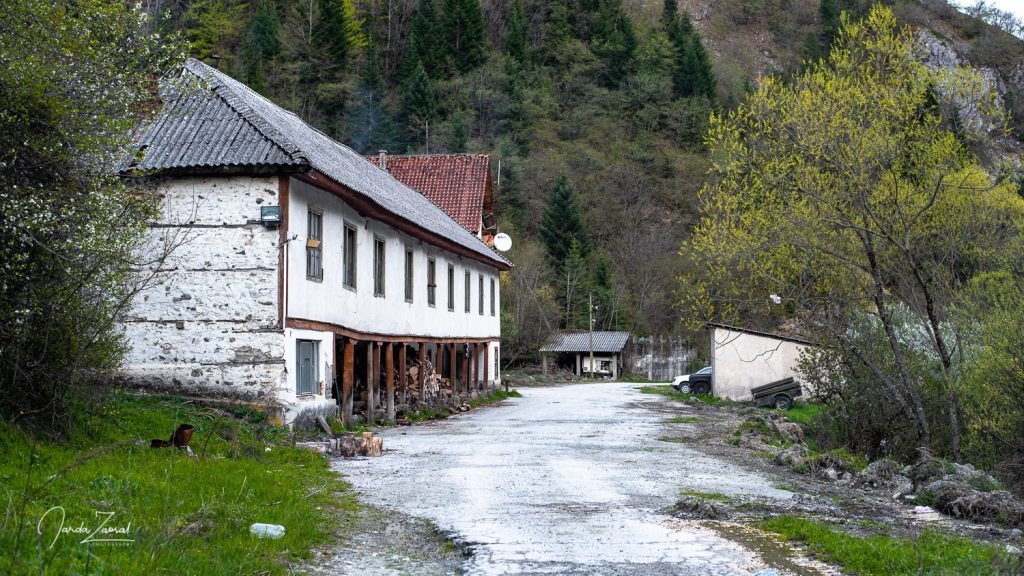 At 6 o'clock we arrived at the starting point Stezimir. We weren't alone there. Two groups of Czechs and Poles that were tenting there were also just getting ready for the climb. Before we got ready they started their summit attempt. We took a small breakfast and also set out on our journey.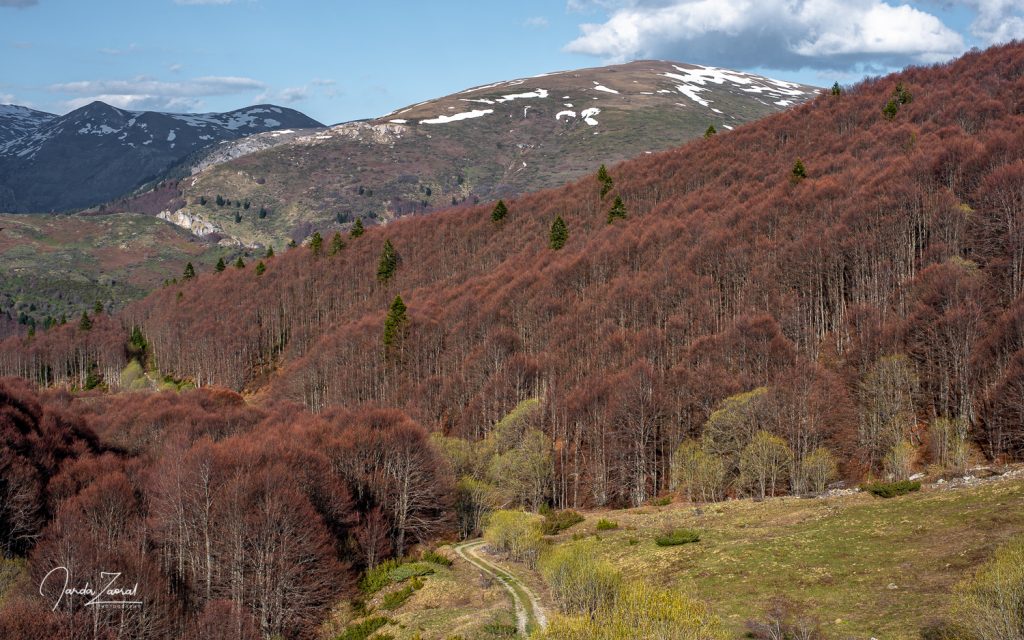 Stupid sheep
My mum went up quickly which surprised me. She got into a really good shape before this trip. Soon we left the initial forest and caught up with the first Polish group. The landscape was changing rapidly. With the forests we also left grassy meadows full of purple crocuses behind and soon entered the winter paradise. From 1800 meters we were above the snow line and hiking up constantly in snow. Fortunately, the Czechs and Poles created a good track in front of us so we didn't get too deep in the snow.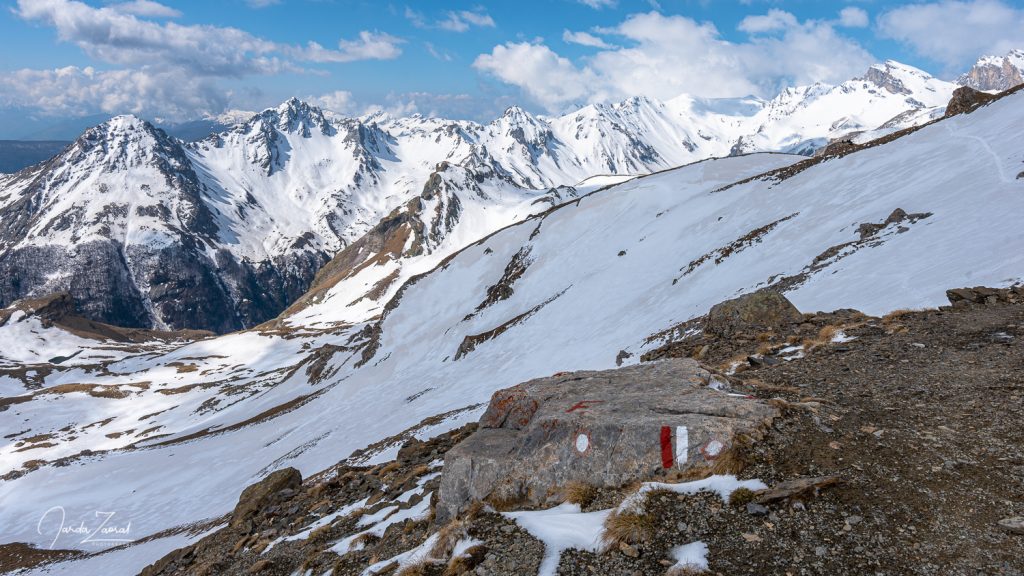 When we passed half of the elevation meters both the Czech and the Polish group were taking a break. It seemed to be a great idea so we also took a small snack. By the time we finished, the Czechs were already hiking up again. We followed them after a few minutes. The climb was getting more and more difficult after a while. The terrain got very steep and there was a very difficult traverse in front of us. Did the Czechs choose the correct way? I quickly looked at my GPS map and found out that we are 300 meters above the official trail. What route did the Czechs take? Do they know what they are doing?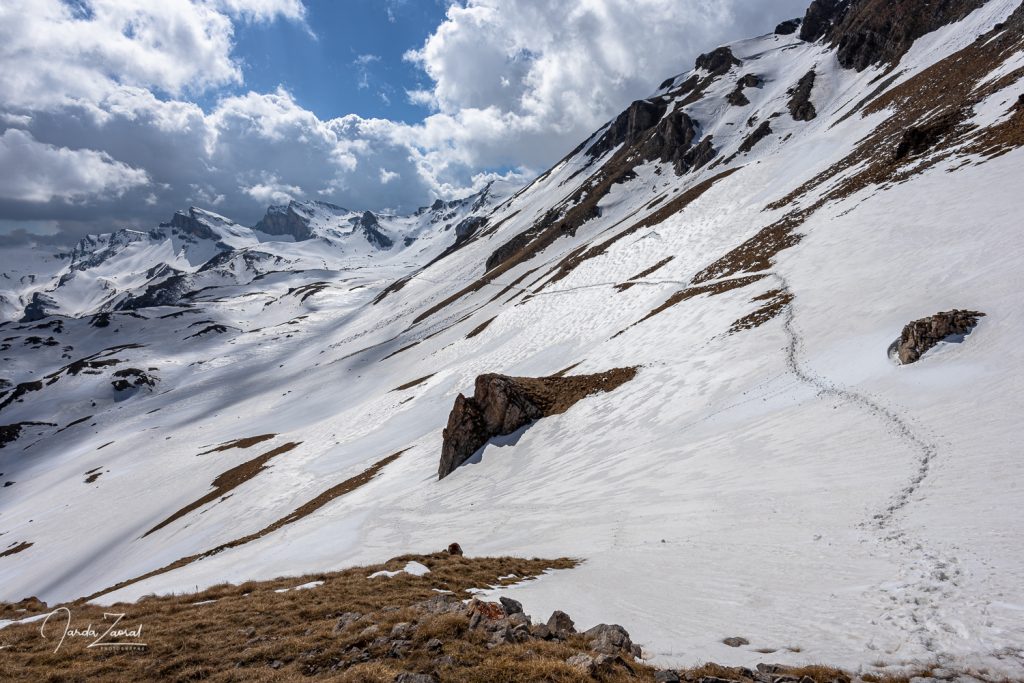 We had to decide what to do next. Shall we go about a kilometer back and lose 300 altitude meters, or should we keep on following the Czechs and pass this steep section somehow? In the end we decided to try the second option. If they managed, why shouldn't we?
On the edge on the way to Golem Korab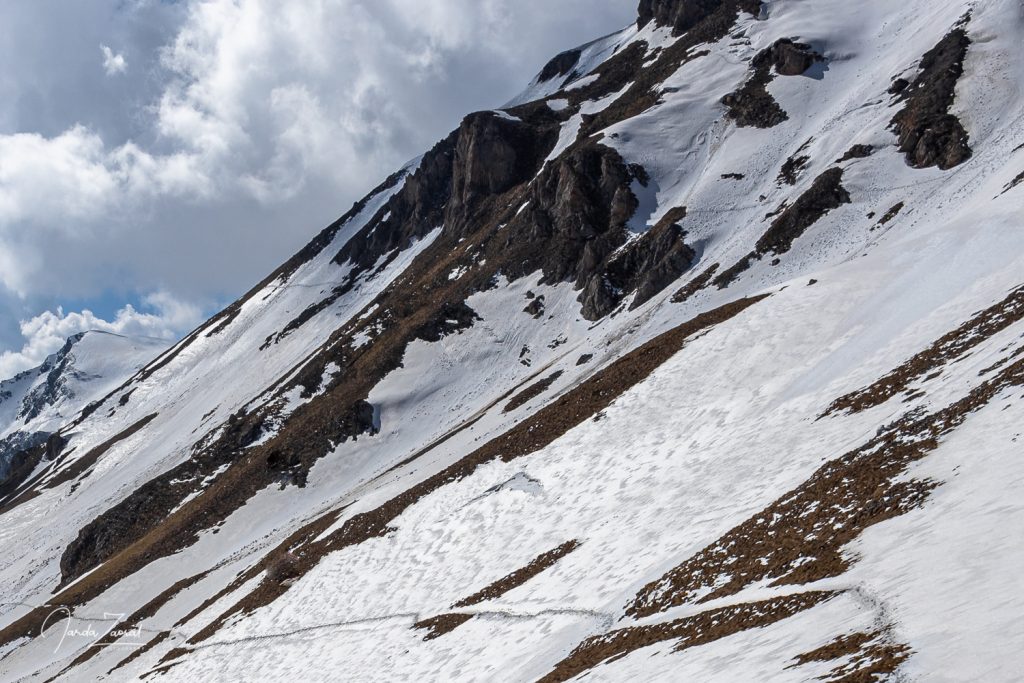 We couldn't make any mistake. If we make a wrong step there we would fall 100 meters down. The surface was slippery and the rocks were breaking after the winter erosion. I wasn't worried about myself but a lot about my mother. What if she slips and falls? That would be the end. Why didn't we return? Now it's too late. We have to continue. We took every step as carefully as possible. I was proud of my mum how she was managing. I was so stressed that I didn't take any picture of this steep traverse but that's not important. We managed to pass it.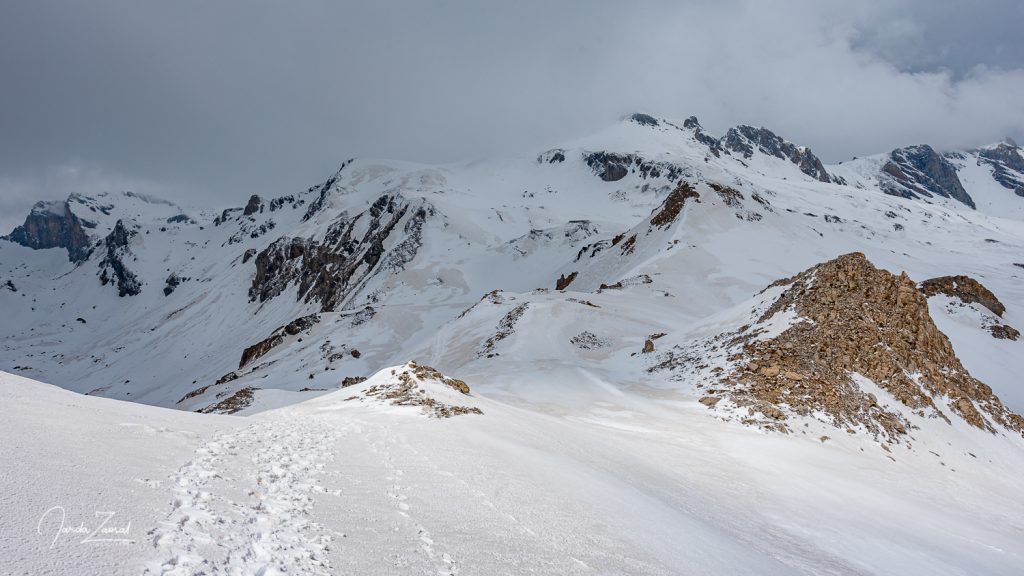 The worst part of the alternative hike route was behind us but we entered now a snow free terrain so the Czechs' steps disappeared. Where to go now? I checked the GPS map and it turned out to be best to reach the ridge. My mum was scared that the climb will be even worse but luckily the maps were correct. We climbed 100 meters up and there was a nice trail in the snow again. We followed this path and soon met the group of Poles again who managed to somehow overtake us . "Fucking Czechs," I said, "Where did they take us?" The Poles were laughing but I saw worry in their faces as well. They actually followed us but decided to come back and follow the regular hiking route. A much wiser decision.
Rely on your own skills
We followed the Czechs like a herd of sheep. So stupid. It could have resulted in a big mistake! Please, never rely on others, especially if you don't know them. This was a big lesson for me.
We continued hiking up with the Poles. We finally could see the peak of Golem Korab. Just one hundred elevation meters before the summit we met the Czechs. They were already coming back from the peak. When we saw them it was clear that they were sorry for what they had caused. They apologized and were glad that no one was hurt on the wrong path. As a punishment they had no view from the top. A cloud caught them there.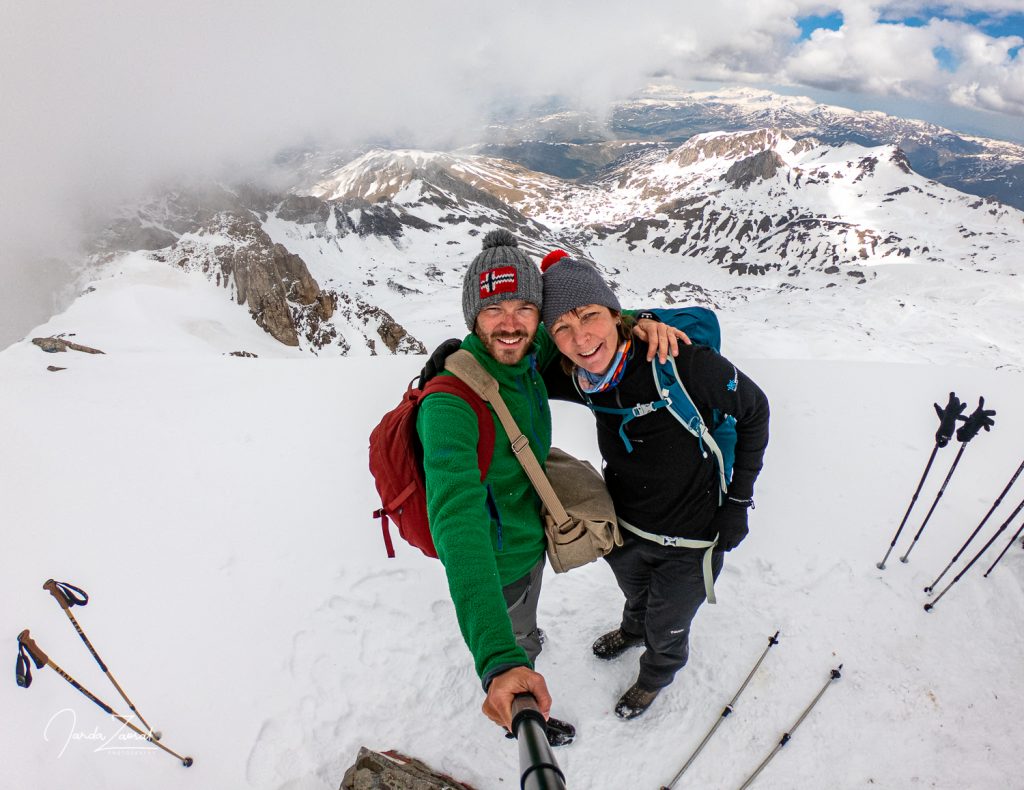 We reached the top a few minutes later. Since there was a thick cloud we didn't have a view either but were happy we managed. We opened a peak beer with my mum. My mom is a great climbing partner! Before we finished our beer the weather recovered and we had a wonderful view of both the Macedonian and the Albanian side. The mountains around were wonderful. It felt like in the Alps in the middle of winter. I don't want to repeat myself, but I didn't really count on such beautiful snow-capped mountains in the Balkans in May.
I killed two birds with one stone with this ascent. Golem Korab is the highest point of both Northern Macedonia and Albania. You can also consider a hike to Golem Korab from the Albanian side, which is similarly difficult and long. The route starts in the village of Radomirë.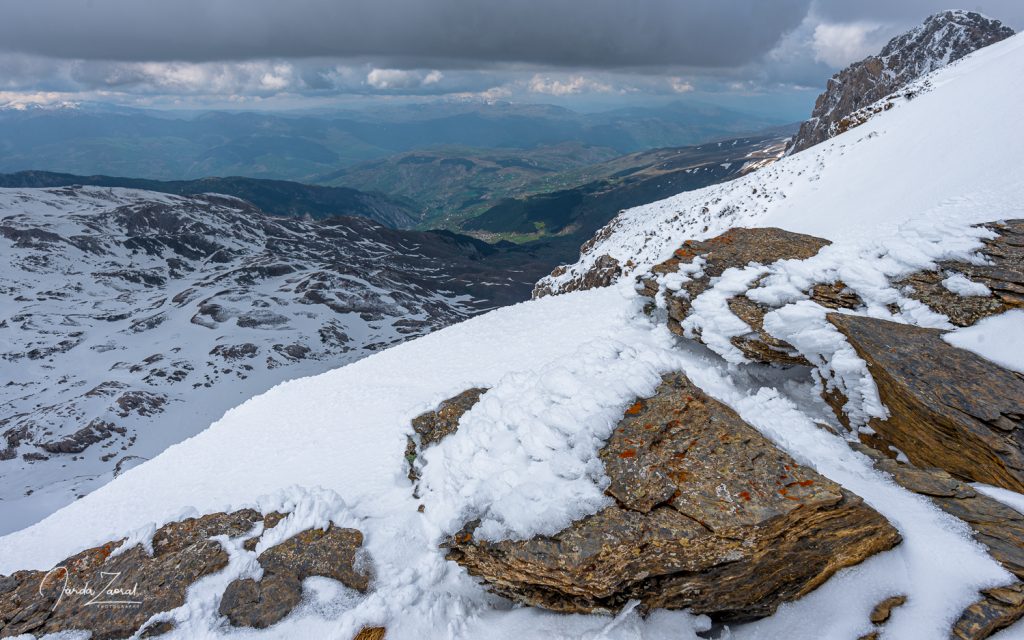 My tips for climbing the mountain Golem Korab:
Make sure to bring your passport with you. You will probably be checked at the starting point.
Don't miss a visit of Skopje, the bizarre capital full of interesting monuments. You can also find there Europe's second largest marketplace.