Many people consider Mont Blanc to be Europe's highest mountain. In fact, it is Russian Elbrus in the Caucasus Mountains. Elbrus is a volcano with two peaks. The western one measures 5642 meters and is 21 meters higher than its eastern brother. Compared to Mont Blanc or Dufourspitze, it is technically simple to climb Elbrus but it is demanding due to meteorological conditions and high altitude.
Date of summit: 8th June 2019 8:45 
Traveling mode: Alpinism
Height of the peak: 5.642m
Alpinism distance: 4.93 km (Day 1) 
Alpinism distance: 3.16 km (Day 2) 
Alpinism distance: 6.16 km (Day 3)  
Alpinism time from village Azau to Station Mir: 2 hours 26 minutes 
Alpinism time from station Mir to Maria shelter: 1 hours 58 minute 
Ski touring time from Maria shelter to Elbrus: 6 hours 4 minutes 
Elevation climbed: 1063m (Day 1)
Elevation climbed: 599m (Day 2) 
Elevation climbed: 1527m (Day 3) 
Map of my journey from village Azau to Station Mir: Movescount
Map of my journey from station Mir to Maria shelter : Movescount 
Map of my journey from Maria shelter to Elbrus: Movescount 
Personal rating of the mountain: **** (6 stars maximum) 
Beer on the peak: Valaisanne Baltika 7 Eksportnoe ** (6 stars maximum) 
Is Elbrus in Europe? By definition, the border between Europe and Asia is formed by the Caucasus watershed. That places Elbrus in Europe because it lies on the northern side of the watershed in Russia, the European part of the Caucasus. According to this definition there is no doubt about the highest point of our continent.
I flew to Russia with my father and a friend from Sweden Alča. We met at Istanbul airport and arrived together to Mineralnye Vody airport. There we didn't stay long. We took a taxi (very cheap – 4500 RUR for 180km) to Terskol, a mountain village and main center in the Caucasus mountains.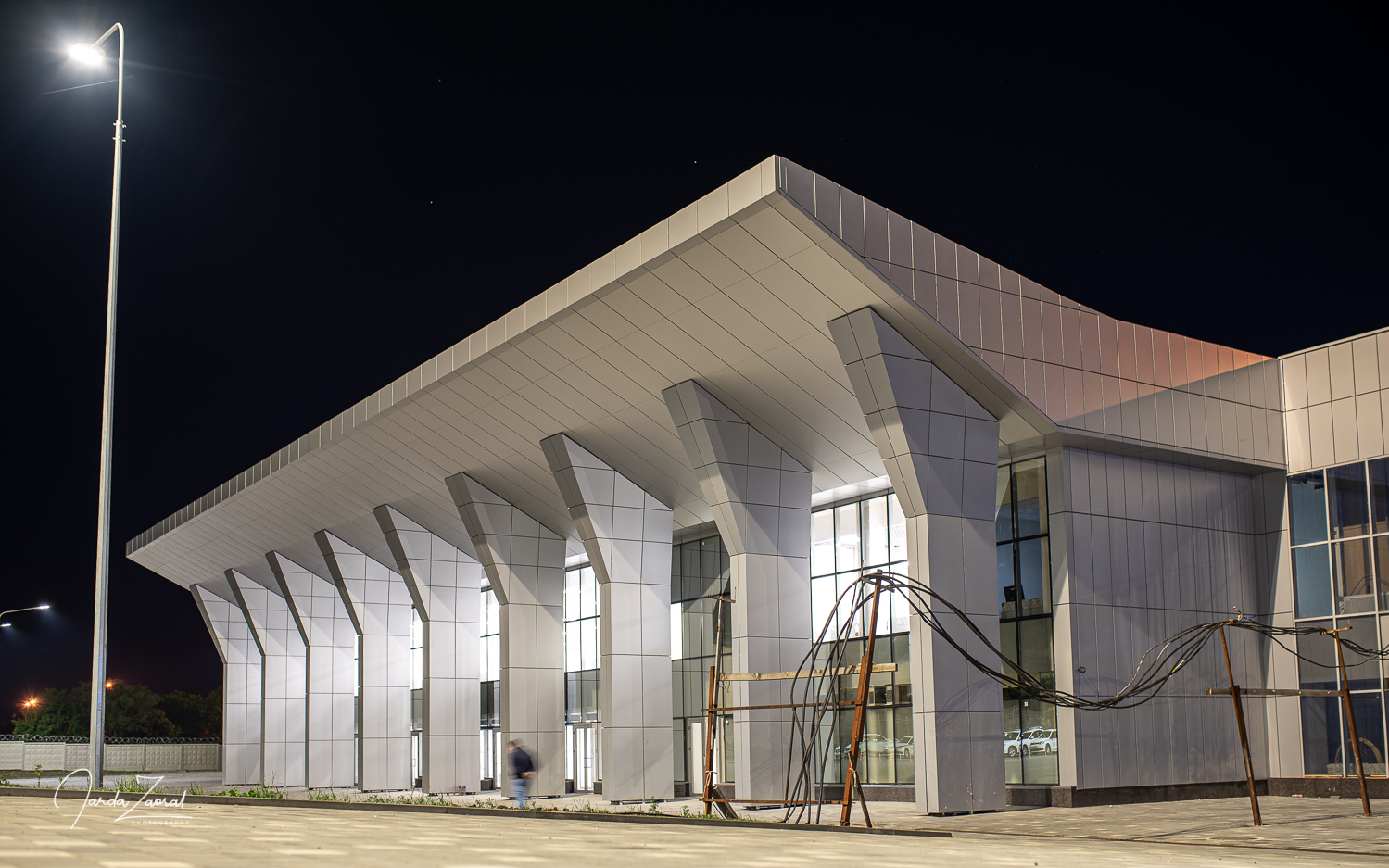 When we arrived we couldn't find our pre-booked accommodation in for a while. Google Maps were showing a wrong spot. I wasn't surprised because I had similar experience also in other Eastern European countries. It would be interesting to know why Google maps often show inaccurate information from these coutnries. However, helpful locals showed us the way so we easily found our cosy guest house. We were tired after long journey so we fell asleep at eight o'clock, accompanied by lightning and rain.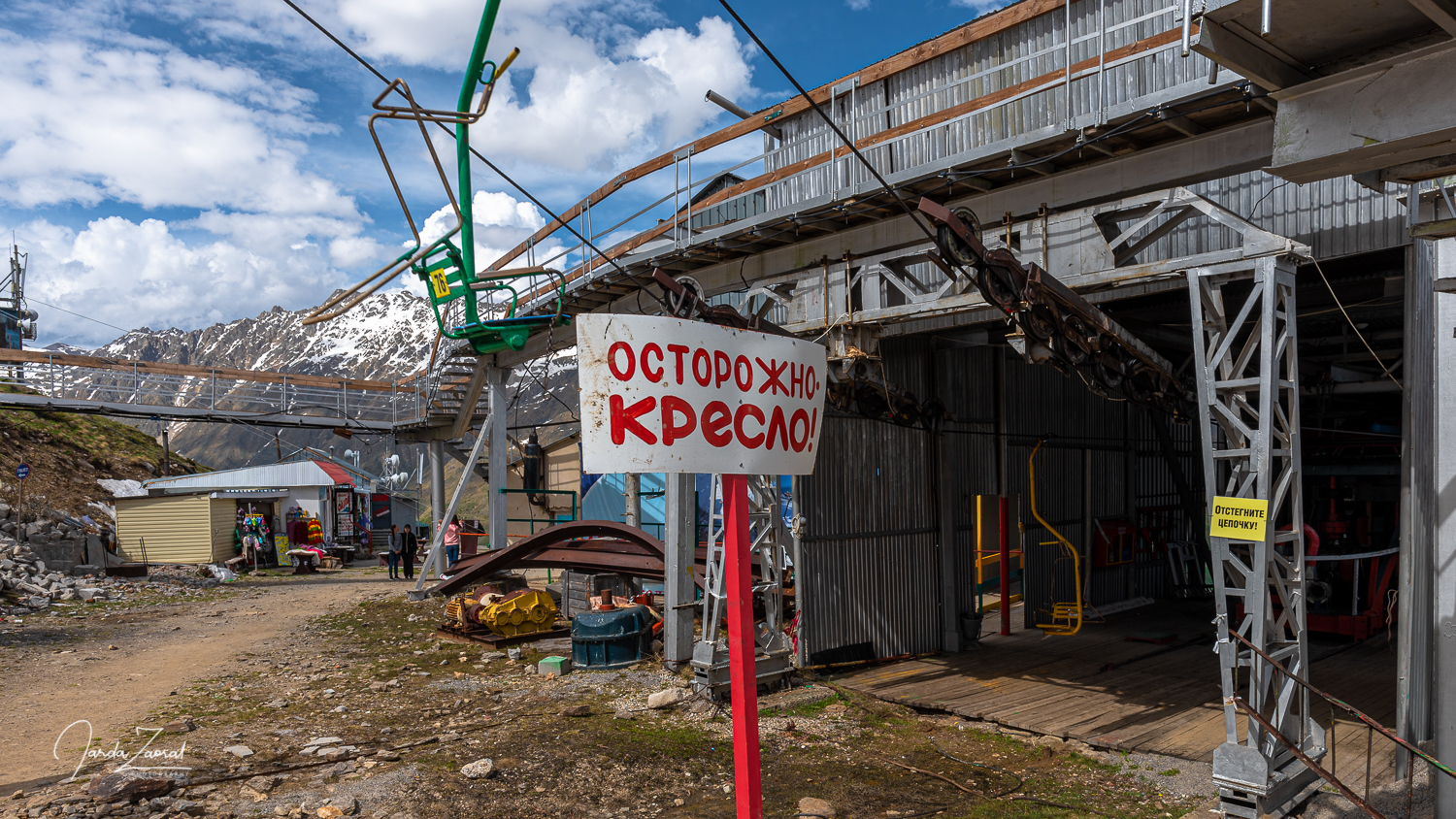 Acclimatization is key to success
For the next day we planned an acclimation climb to Chezem mountain (3461 m). We took a lift in Terskol to 3095m and took a nice hike to the peak. Chezem seemed to be very near. But it wasn't. Even at this altitude there is nothing free. It took us about an hour and a half to reach it. All in all, it was a very nice acclimatization walk. We warmed up our muscles and we were rewarded with a magnificent view of both "Elbrus' breasts".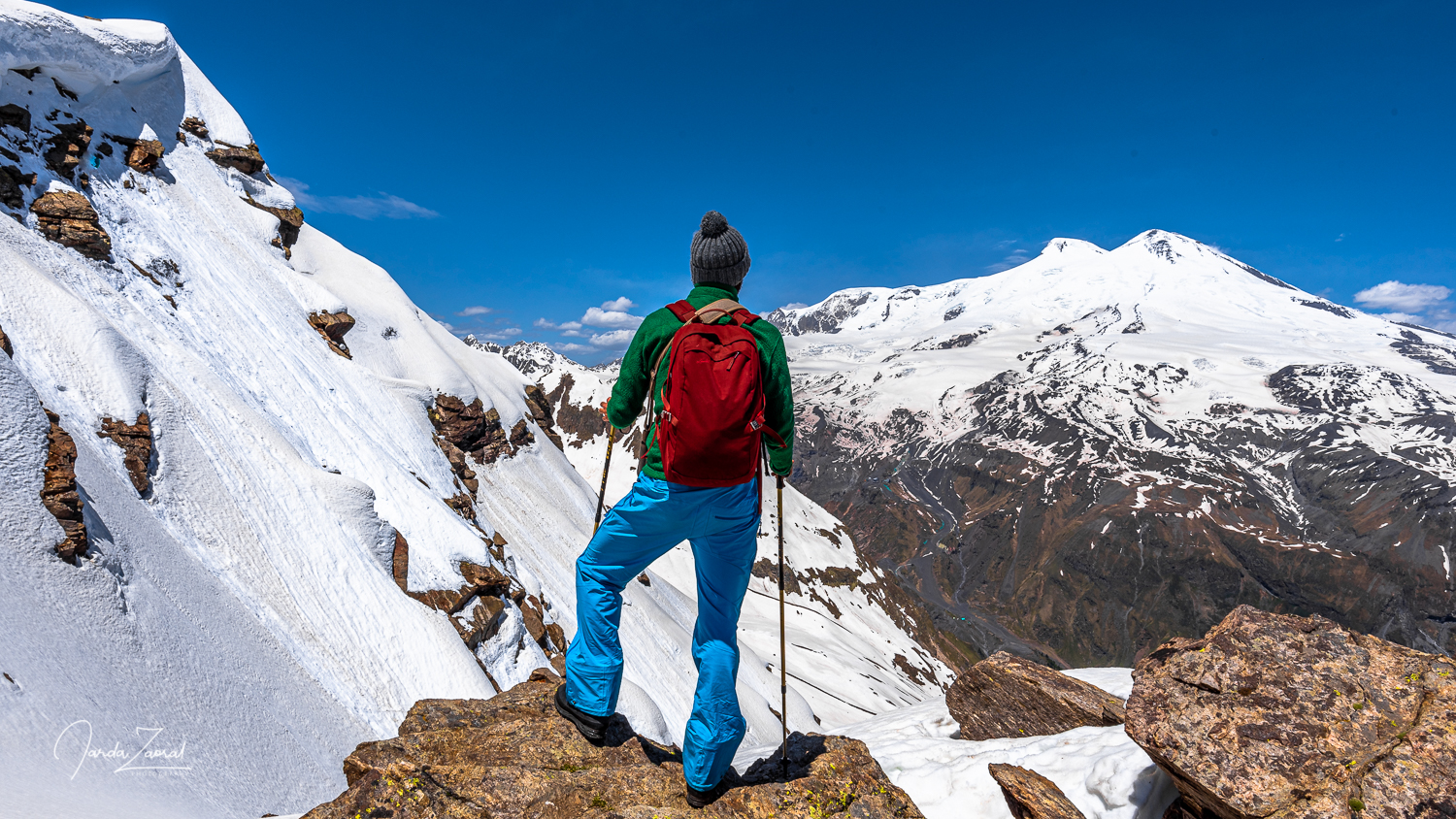 We decided to stay on the top as long as possible to acclimatize as much as possible. In the end we spent over two hours sunbathing and watching the surrounding snow-capped peaks. We were happy to climb Elbrus. All the other mountains in the area were much sharper, which would mean a technically more demanding climb.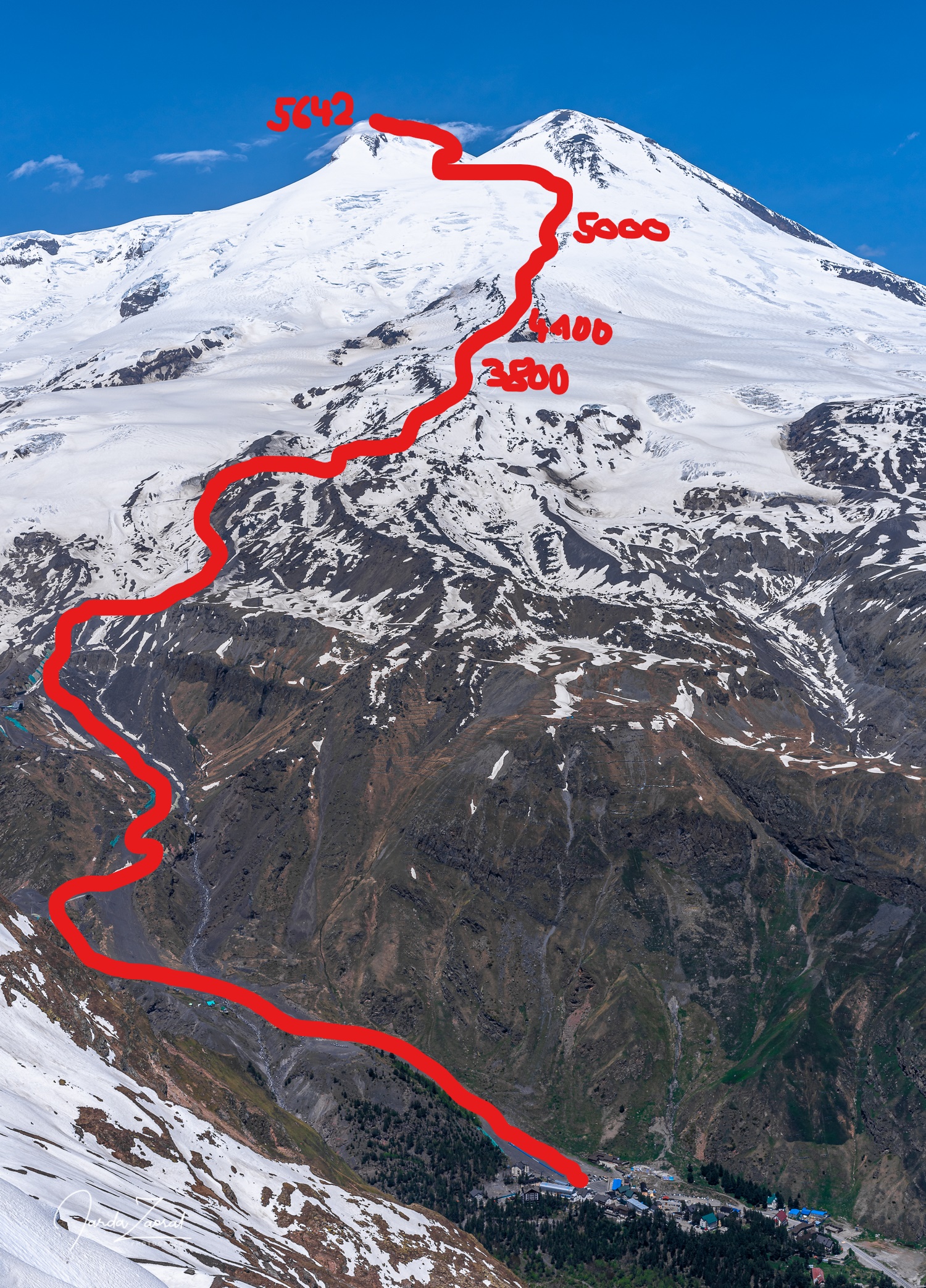 Next day we were ready. Time to move towards Elbrus. We ordered a taxi that took us to village Azau, the starting point to Europe's highest mountain. There you have three options how to get up. Either you can take the old cable car, the new cable car, or you can climb your own. The village of Azau is only 2350 meters above sea level, which means that you have to overcome the altitude of 3350 meters to the top of Elbrus. Given that the path led along the cableway all the time we decided to use the invention of today's civilization.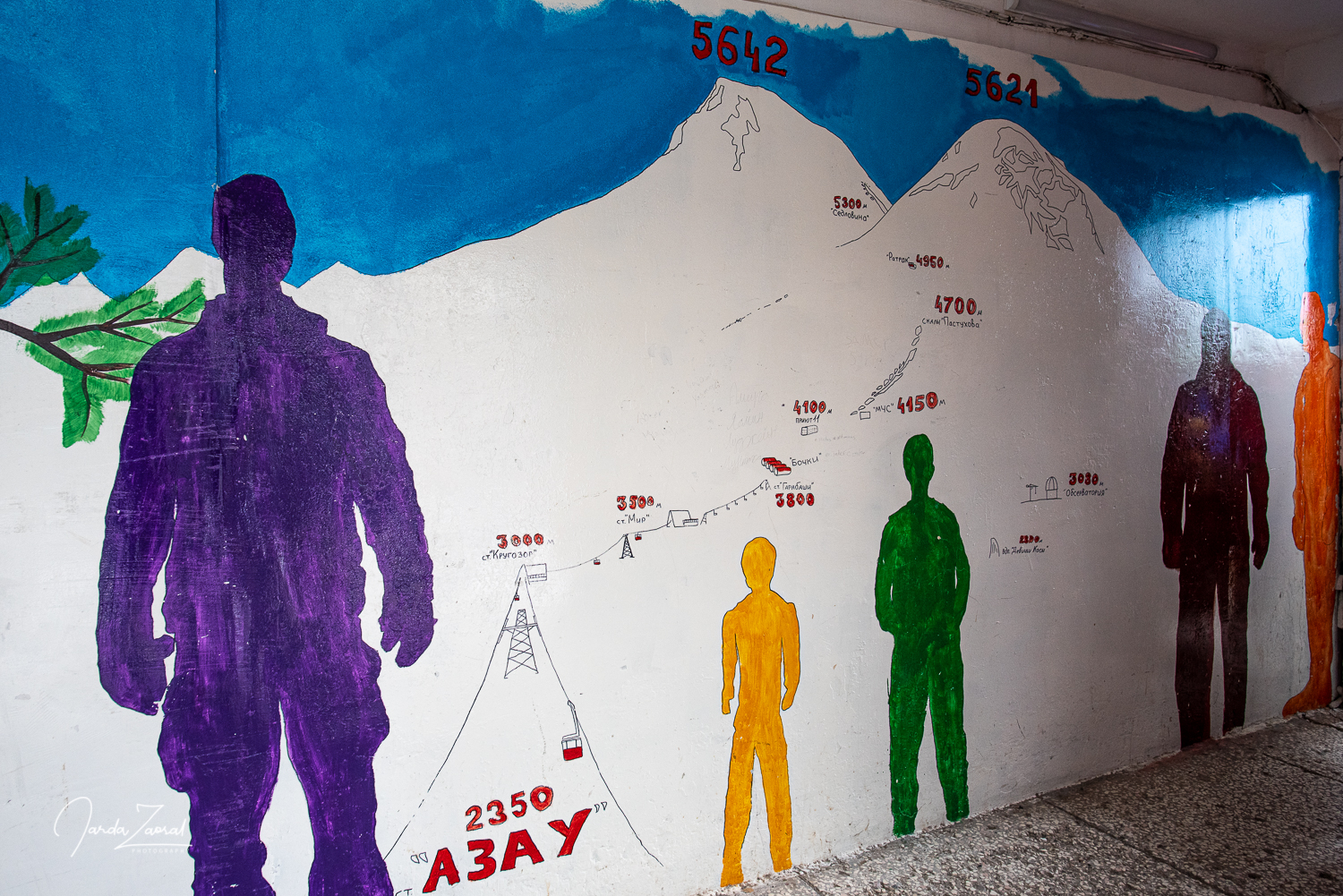 Sleeping in a container
We took the new cable car and after two changes we reached the height of 3800 m above sea level. The only climbers we saw from the cableway were soldiers on duty. The container village of Garabashi lies just next to the end of the highest lift. We started searching for accommodation. It didn't take us long time. We found a free container with eight beds in a few minutes. We were lucky. For 800 rubles a night we got the whole container just for ourselves. Traveling before the high season showed its advantages.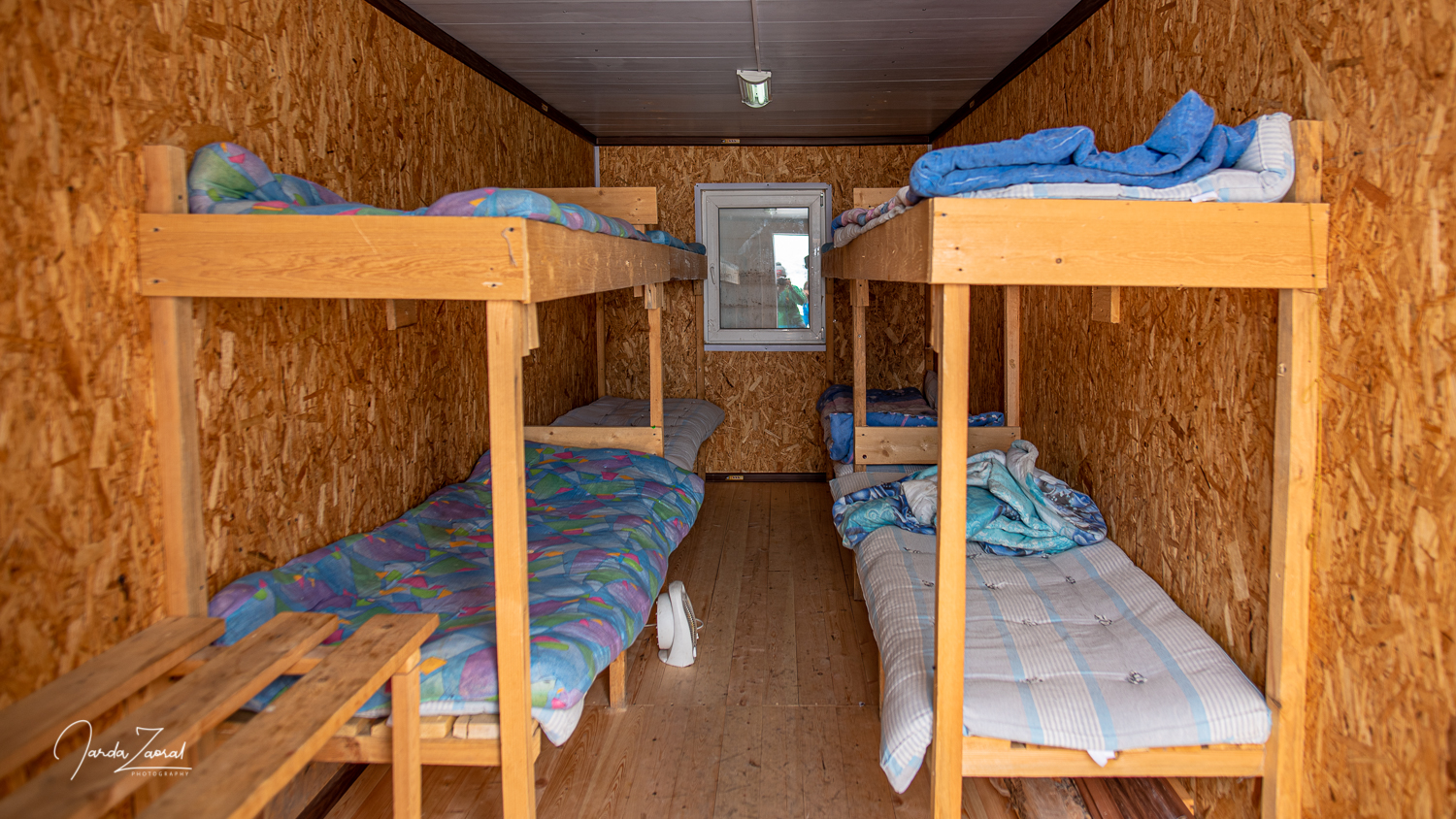 The accommodation was very modest. We actually didn't expect anything in the container except for the beds. But we were surprised by electricity and heating in the end. It looks like we won't freeze. It was also great that there was also a café at the top of the lift so we could order both food and drinks and save our food supplies.
We wanted to take it easy the first day to get used to the altitude but we were feeling good and were a bit bored so we took a walk to Maria Shelter – the last container village at an altitude of 4100 m. It took us an hour to get there. A beautiful suny day was spoiled only by passing snowcats which were taking Russian tourists to a height of 5000 meters.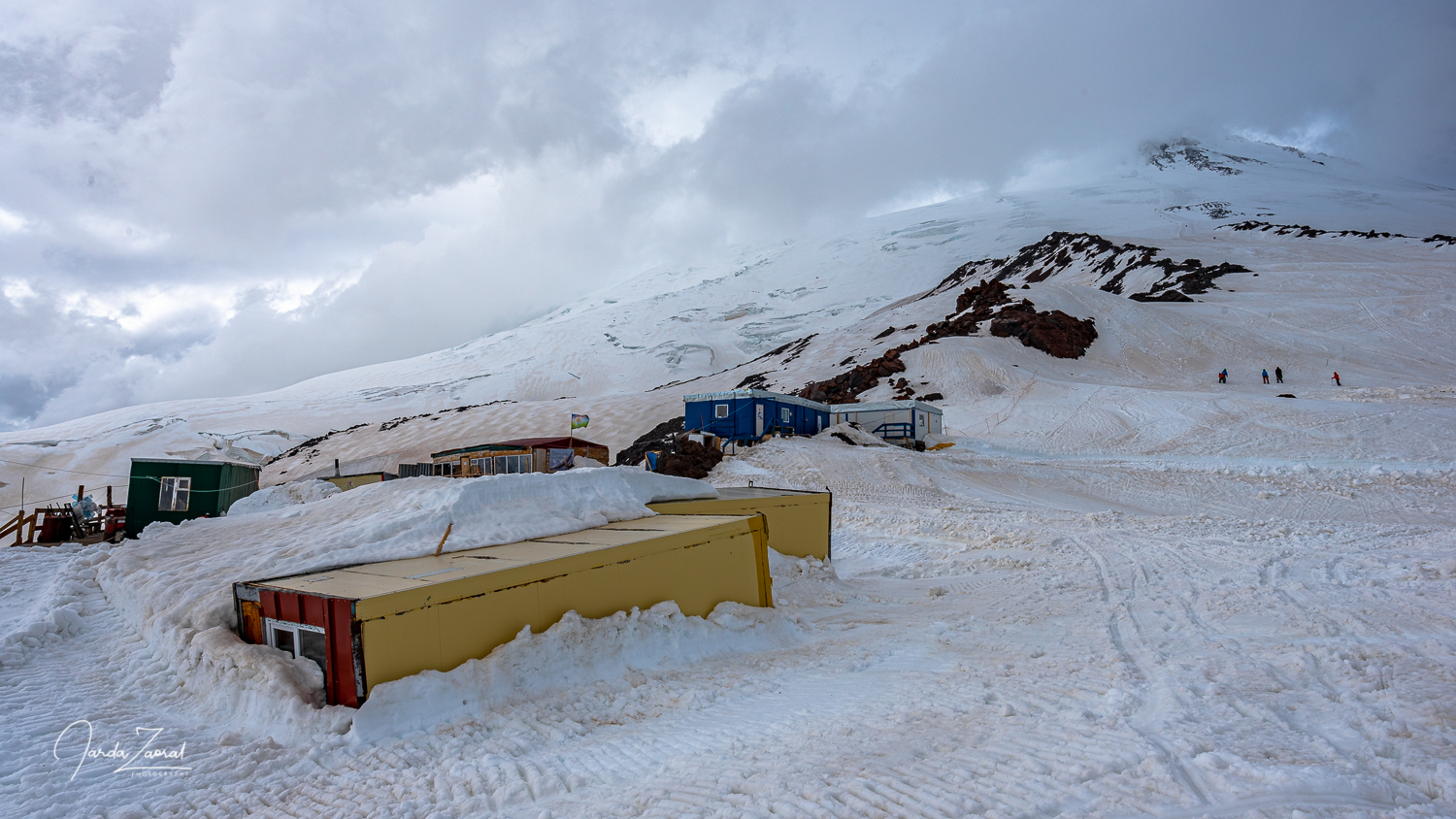 We decided to relax at Maria Shelter for a while but we couldn't stay long. A very strong wind arrived. It was so cold that we decided to return. How can it blow on the top when it is so windy here? We returned to our container just before arrival of the next afternoon storm.
The next day we planned to acclimatize by ascending to Pastukhov Rocks at the altitude of 4700 meters. We were feeling well again. However, we entered a cloud at an altitude of 4400 meters, temperatures suddenly dropped and we were freezing. Despite that we managed to get to 4700 meters but couldn't get higher. The wind was too strong. On the way down another storm arrived and it started to hail. We were returning while covering our faces from painful hail.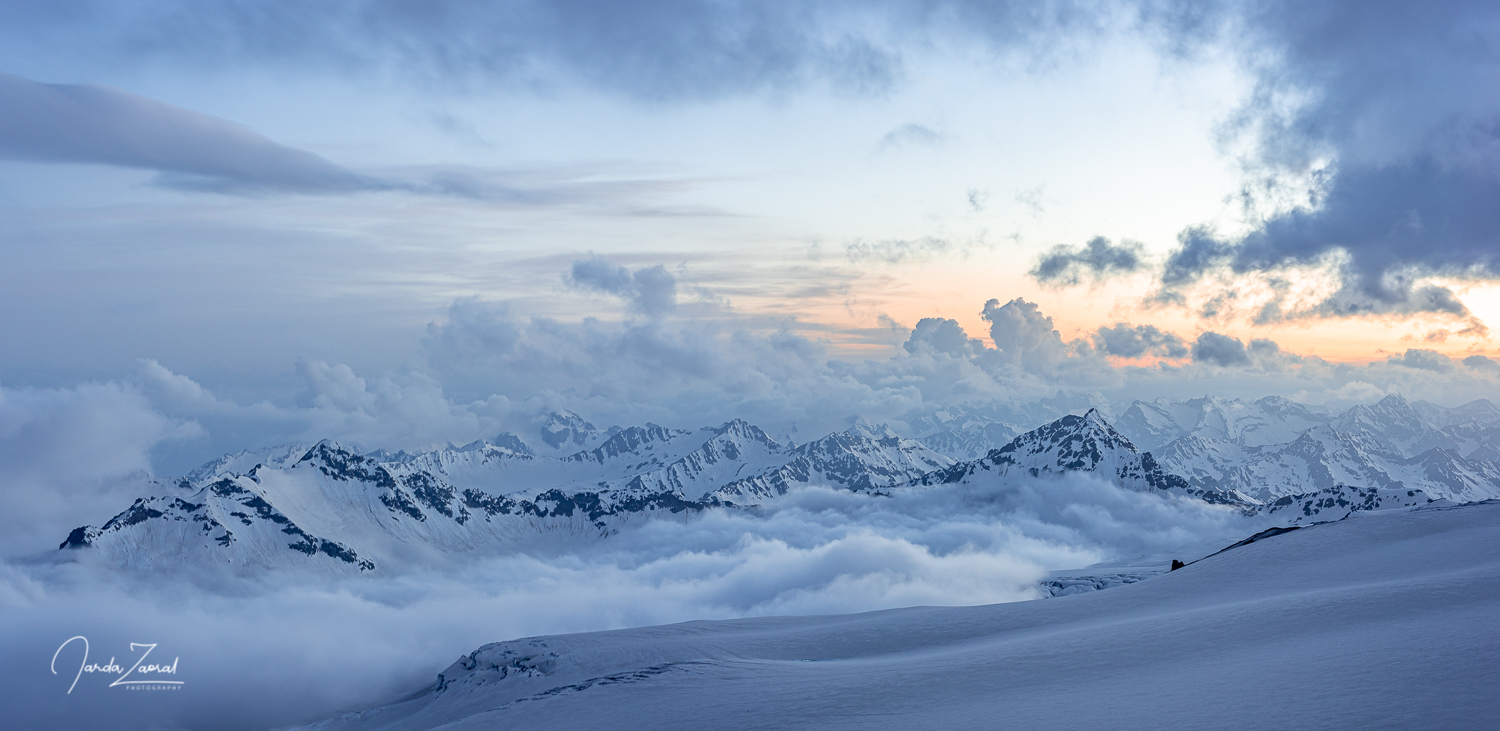 The weather wasn't looking good even for the following days. The wind was supposed to grow even stronger and clouds with snow settled on the top. The only thing we could do was playing cards in our container and walking up and down the same route to acclimatize. The weather forecast showed that the next weather gap might come in three days. Then we can hopefully climb Elbrus.
From Azau to Elbrus
My father and friend Alča planned to acclimatize during the following days. I felt acclimatized enough (my previous climb to Dufourspitze definitely helped) and was bored by going up and down the same path all the time so I was looking for an alternative program for the next two days. In the end I decided to climb the part from village Azau to Garabaši where I "cheated" by going up with the cable car at the beginning. At the altitude below 4000 meters bad weather shouldn't matter. In the worst case I will get wet. I won't melt. I'm not made of sugar.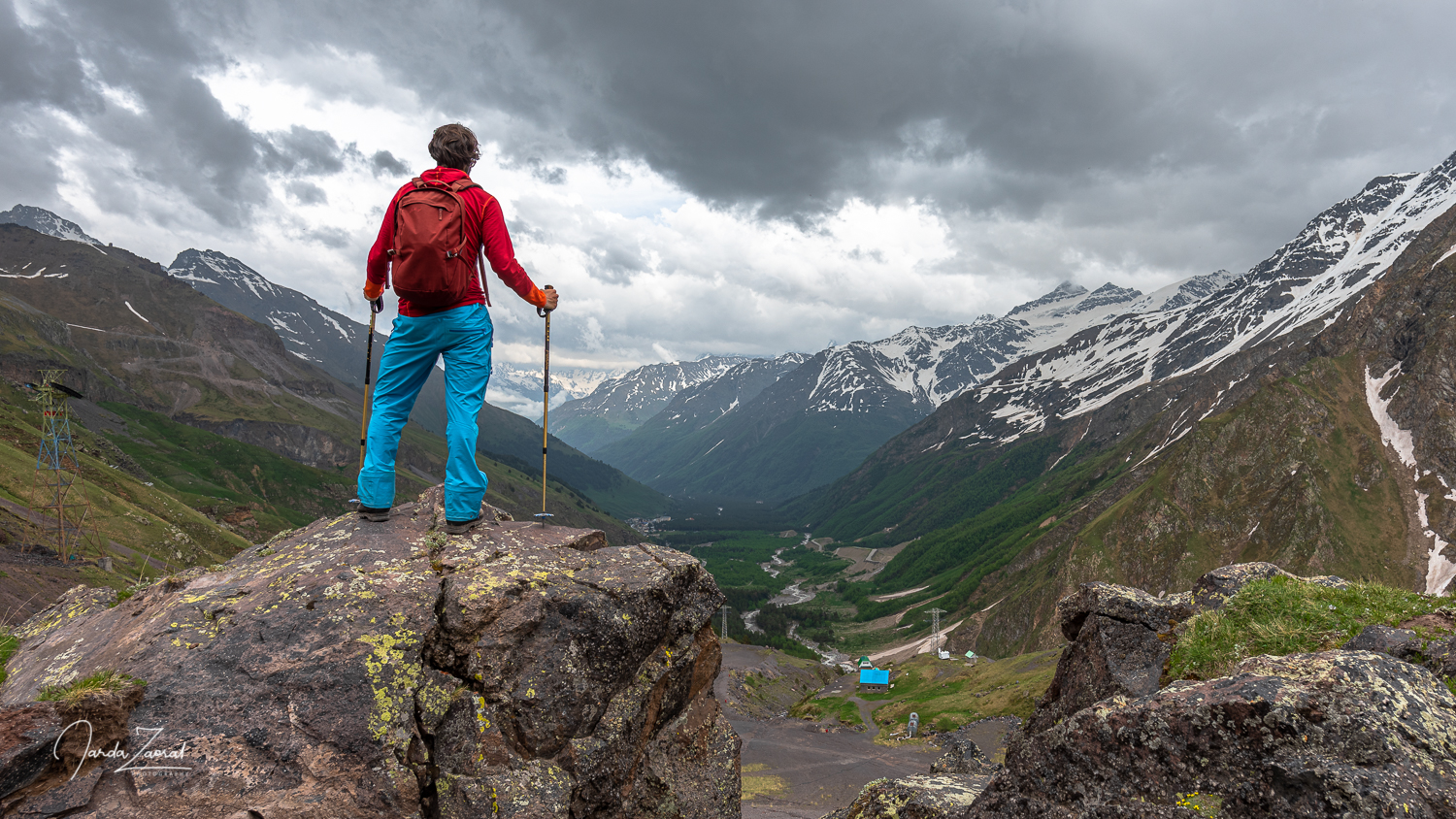 As I planned I also did. I went down with the first cable car. When I reached the village Azau I bought some extra food supplies since our stay on Elbrus will be longer and started to climb up the ski slope. I enjoyed my hike. There were very nice views. I was even lucky with weather. The rain and fog showed up as late as when I reached the second last cable car station – Mir at 3500m. It actually didn't rain. It looked like an apocalypse. The thunderstorm brought all rain hail and snow and I realized I am partly made of sugar.
Luckily I found there one open café where I found a shelter. I wanted to wait for better weather but it was still falling cats and dogs in an hour. What will I do? The café was closing and I was ready to continue climbing up in the insane weather but I was saved outside by a snowcat. It was going up with supplies. I was a little ashamed that I have to "cheat" again but the weather was really bad.
The next morning we woke up in a sunny day but the wind was still too strong for climbing Elbrus. That's why I decided to complete my last day's interrupted climb. I returned to Mir where the snowcat saved me last night and continued climbing up to Garabaši. This time there were no obstacles.
When I got back to our container we checked again weather forecast and it looked like the following day should be finally great weather for the summit. We decided to move to the highest container village – Maria Shelter and attempt climbing Elbrus the following day.
Going up around noon with heavy backpack was nothing pleasant. The sky was clear and the sun was burning. Exactly how I imagine staying in the desert – with the only difference, here you have to carry all the winter gear. The climb was not long, but it exhausted me anyway. I was glad I didn't have to do anything for the rest of the day. Just relax and finally get ready for the climb to Elbrus.
The forecast really looked great. There should be a big storm from afternoon to midnight but then windless and cloudless two days. It was supposed to be cold (around -15 ° C) but this shouldn't be a problem with no wind. It sounded like ideal conditions for ascent.
We prepared everything we needed and went to bed at eight in the evening to get some rest before the alarm clock would ring at midnight. We were falling asleep during the loudest storm during our whole stay in Russia. That was forecast. It will surely leave before midnight.
Blizzard
We woke up at midnight but the thunderstorm was still there. It was still very strong so we decided to move the alarm clock by an hour. We woke up later at 1 a.m. but the storm hasn't changed. Still snowing and thundering. this time we decided to get up. The storm will disappear before we take breakfast.
We took a tea and outmeal with dried fruits. We ate everything quickly and prepared to leave. It was positive that the thunder and lightning disappeared. On the other hand it was still snowing heavily and the wind seemed to be even stronger. Since the forecast was predicting a nice sunny day We decided to try it anyway with hope that the storm would leave soon.
We started to climb up but it was difficult. There was about thirty centimeters of new snow. Although two groups set out for their climbs before us we had no chance of finding their tracks. Too heavy snowfall.
We were very slow (actually twice slower than during our acclimatization ascends) and the weather was still not getting better. We continued up in the dark and blizzard. Sudenly we heard a snowcat. Russian climbers decided to simplify their climb and go by the snowcat up to 5000 meters above sea level. However, the huge amount of new snow was tough even for the snowcat. It passed us but turned around soon. The driver saw that it would be impossible to climb Elbrus that day and returned back to the barel village. When we saw the snowcat failure we decided to give up as well and returned to bed.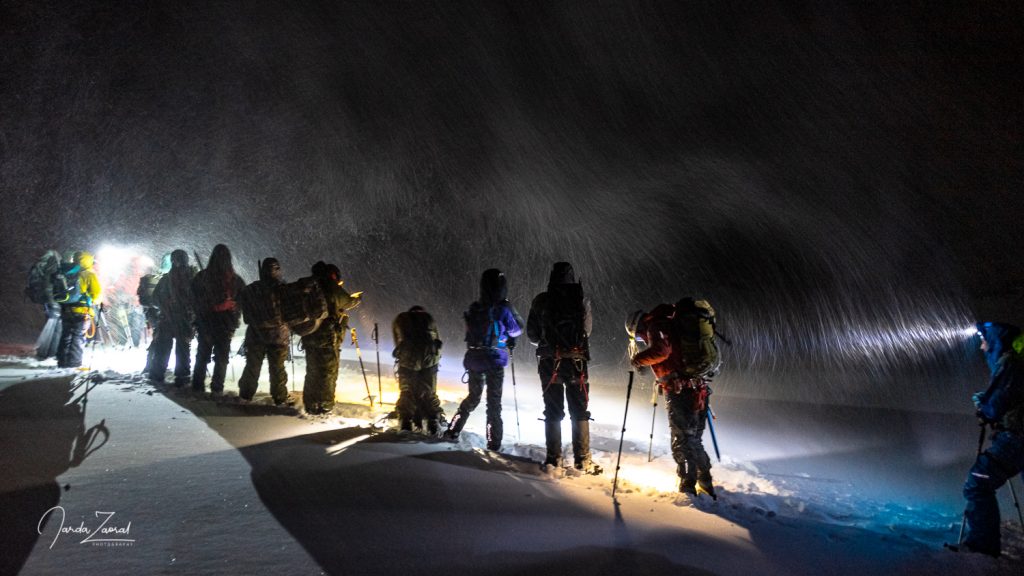 Next day we woke up in the most beautiful weather. the fresh snow created beautiful scenery but we were depressed because of our fail. Last night mother nature showed us its power. Luckily, we had one more opportunity the following day, on the last day of our Russian visa. The weather was supposed to be prefect and even with no storm the night before. Now or never!
Time to climb Elbrus
Next day we woke up into a clear night with no wind. These were the conditions we have been waiting and hoping for. We took a quick breakfast and started to climb up. Everything went incomparably better than the previous night. This time we started at pace of 350 elevation meters per hour. We passed other groups which set out to the summit earlier, and enjoyed the peace of a beautiful mountain night. The only thing that disturbed the climb was again the snowmobiles, which were taking up lazy tourists as close as possible to the top.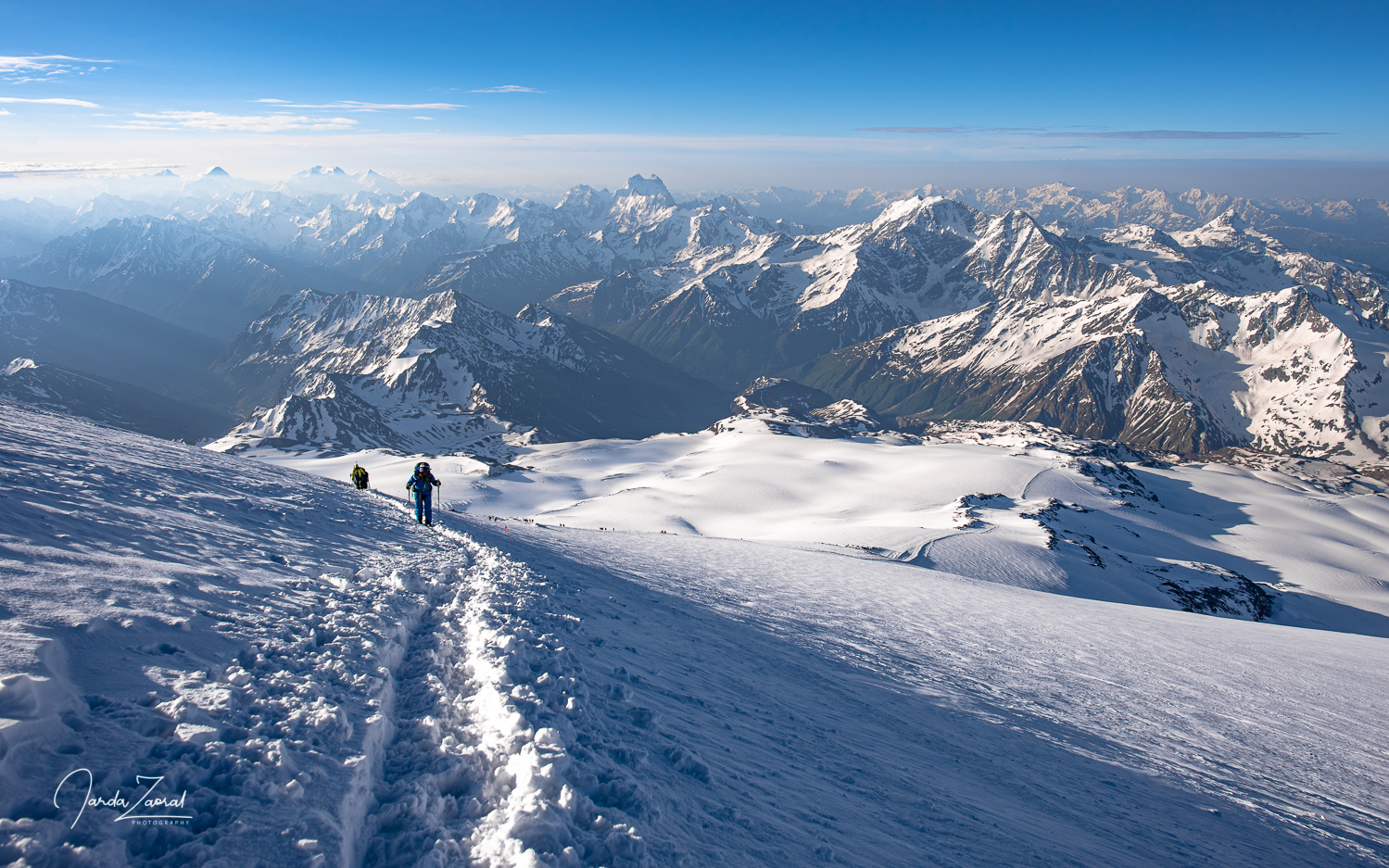 The higher we were the colder it got. We had to put on our down jackets and took some hot tea. It warmed us up except our frozen feet. We have to continue climbing up and wait for the sun to rise. Then it will be warm.
At 5000 meters the sun finally rose above the horizon and started to warm our frozen bodies. There the road for snowcats ended too. Now it's going to be beautiful. With the sun and without hum of annoying snowmobiles. Our speed dropped with every hundred meters of altitude. From 5000 meters we took a short break to properly oxygenate the body after each 20 steps. With this pace we were still one of the fastest groups. Especially larger groups with Russian mountain guides were moving at a really snail pace. I think I would freeze. I was glad to have read the warnings on various blogs beforehand: We don't recommend ordering local guides.
At the elevation of 5100 meters we had to take a longer break. Alča got a headache due to altitude. She took one ibuprofen, took a lot of water and we conitnued.
At the altitude of 5300 meters we finally got to the valley between the Eastern and Western Peak. There was no wind and pleasantly warm sun and the climbers took advantage of it. They were taking the last break and snack before the final ascent. We couldn't resist and also took a short break
The final climb and last 300 elevation meters were the steepest. There was even a fixed rope that most climbers used to secure themselves. From the last break we were climbing up really slowly – 10 steps − pause − 10 steps − pause. After an hour we finally reached the horizon and saw the summit. Now it will be easy. The last passage is almost without elevation.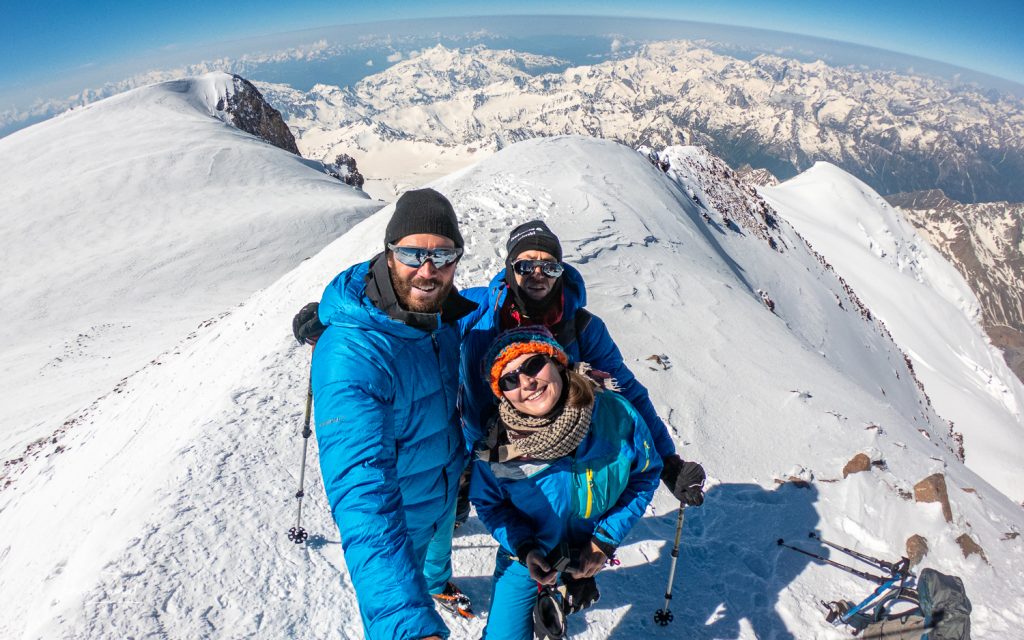 The weather was still great so we had very nice views. The last part was a nice alpine walk. We reached the top among the first climbers, though just after a large group of back country skiers so we had to queue for our summit selfie. But we didn't care. It was a beautiful day so we enjoyed the views. On one side we could see the vast Russian lowland and on the other sharp Georgian peaks. I wouldn't mind if time stopped for a while. This moment was amazing. After nine troubling days we finally reached th top of Elbrus. It was the last day of validity of our visas. We wouldn't get any other opportunity during this visit.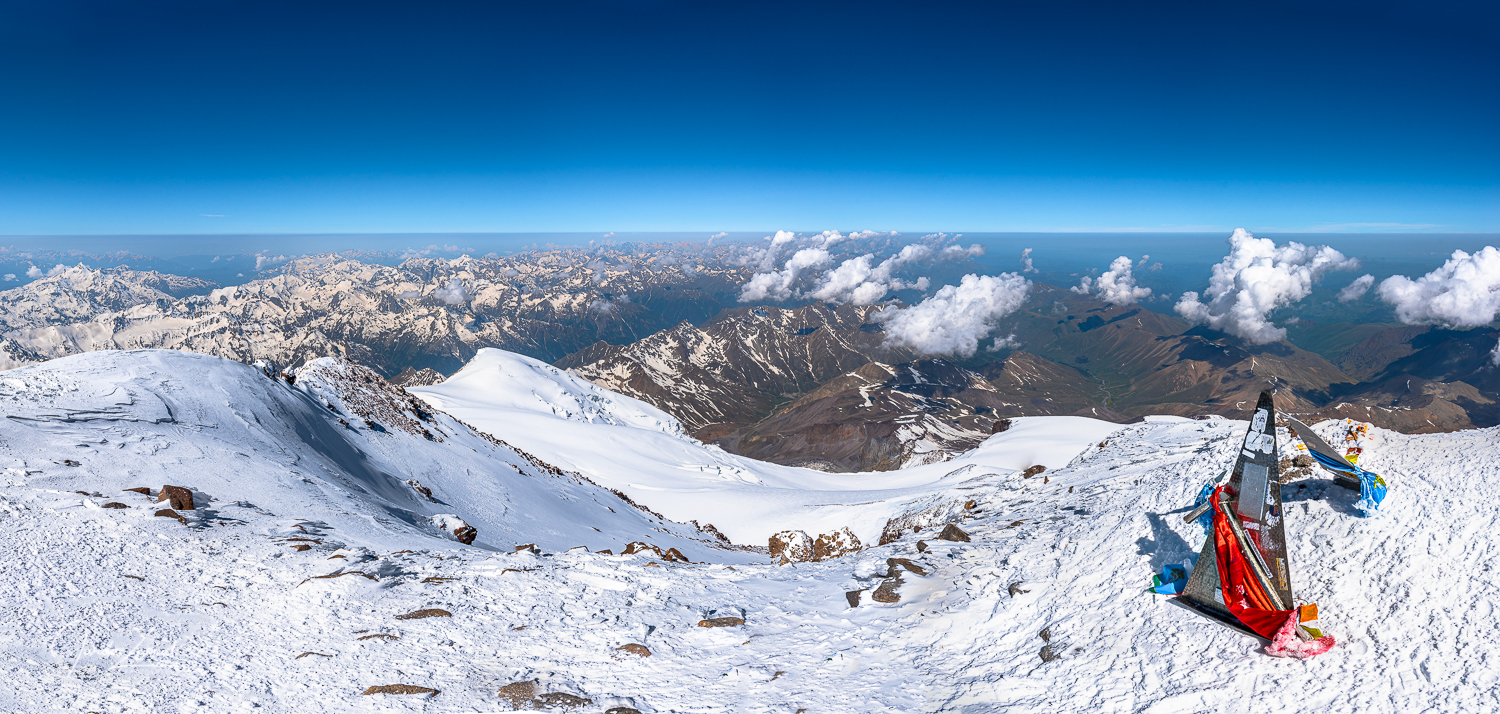 Now there is another challenge. Our flight from Mineralny Vody is leaving in 14 hours. Fortunately, it was very easy to descend in this beautiful weather. I managed to descend to the Maria Shelter just in 1 hour and 30 minutes. Then we just took three lifts and taxi and we could still make a toast with Russian vodka at the airport. Mission completed!
My tips for climbing the mountain Elbrus:
The way to the top of Elbrus from the south is not technically demanding. One can even climb to the top without ropes. Th path is perfectly marked but it is very important not to leave the trail. If you don't follow the route you can easily end up in a crevasse.
This is only valid in good weather. In poor visibility, strong wind or snow one can easily get lost as we could see the previous day.
Do not underestimate acclimatization!
Although you can find information on the internet that you don't need your own sleeping bag to stay in the container villages I highly recommend to bring it. You do not want to use old blankets used by numerous climbers before you.
Although some barels offer kitchenettes, do not rely on them and bring your own self cooking equipment
Avoid large groups with Russian mountain guides. Their clients are often badly acclimatized.