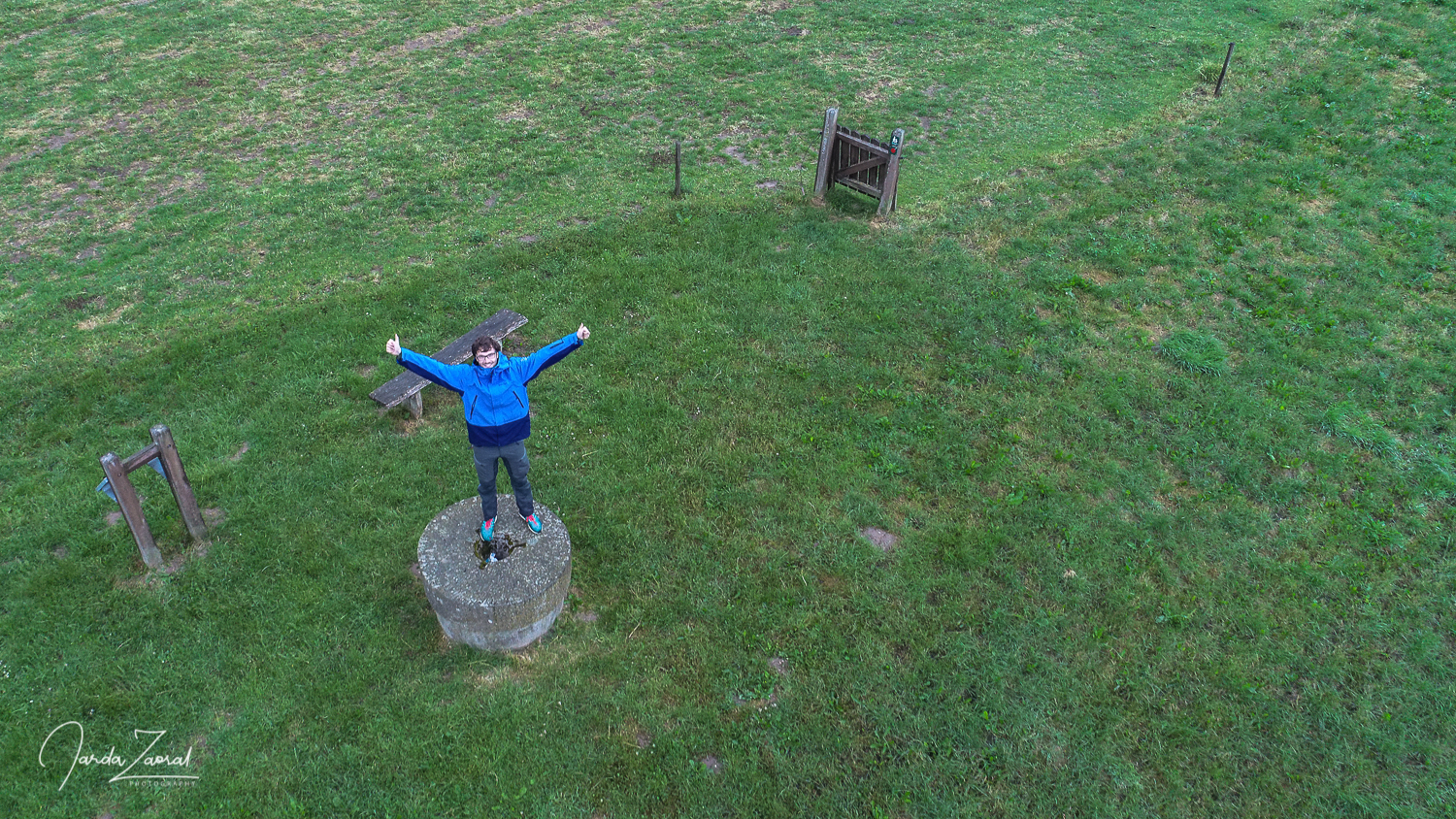 Denmark is proud of having the lowest highest mountain of the whole European Union. Despite that, it's very difficult to find the peak. Even Danish people are confused about their highest point and they regard three mountains as the highest. Follow my journey to Møllehøj.
Date of summit: 20th June 2018 22:00 
Travelling mode: Car + hiking from the parking lot 
Height of the peak: 171m
Hiking distance: 160m
Time to ascend: 1 min 40 sec
Map of my hike: Movescount 
Personal rating of the mountain: ** (6 stars maximum) 
Beer on the peak: Klosterbryg (fusion of an English Strong Ale and a Danish Strong Lager) **** (6 stars maximum)
My arrival from Lithuania to Denmark was a bit sad. My plane landed in Billund, just next to the famous Legoland and that's a dream of every boy. Unfortunately, little Jarda had another mission- to climb the highest point of Denmark.
We are at a wrong mountain
I met my friend Alča and my girlfriend Joanne in Aarhus and together with Alča's boss we set out for our journey towards the Danish highest peak. Powered by an amazing shellfish dinner in a local restaurant we reached without any problem the highest peak. The problem occurred when I checked the map. We ended up on a wrong highest peak. My friend Alča and her boss thought the highest mountain of Denmark is Himmelbjerget. It makes sense. It actually really looks like a mountain and you have a nice view from there. All Danes regarded this place as the highest point until the end of 19th century.
What is the highest point of Denmark?
Unfortunately the mountain Himmelbjerget is 30m lower than Møllehøj, situated 30 km away. Møllehøj is not easy to reach either. The problem is that there is another mountain called Ejer Bavnehoj only 300m away with a high observation tower and this place claims to be the highest too. The reality is that there was a thorough research in 2005 and it was found out that the highest peak is Møllehøj with 170.86m compared to only 170.35m at Ejer Bavnehoj.
Smelly Møllehøj
The most funny thing is that there is only a small stone on the highest peak and next to it you can find a large cow farm. You can choose then. Either take a view from the second highest point and its tower or listen to loud cow's moo and enjoy a great rural atmosphere on the highest peak.
A pity that we witnessed there the typical Danish weather with strong wind, clouds and occasional rains. We planned a picnic on the peak but instead we decided to have it at Alča's place. Anyway, it was fun to hunt the highest peak of Denmark and I am glad we made it.
My tips for Møllehøj
Read beforehand which mountain is the highest. On each peak they will claim that their mountain is the highest.
Be careful about the Danish weather.