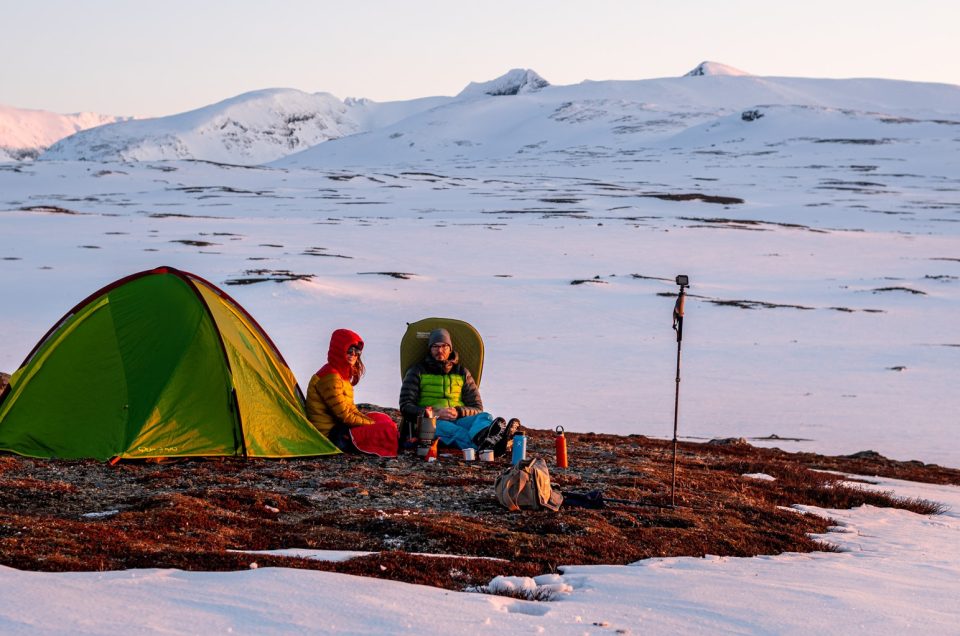 Global warming makes winter sports less and less accessible around the world. I am very happy to live in Scandinavia which still guarantees wonderful winter conditions. I have tried multiple outdoor activities in Sweden and I have to say we have a real winter wonderland here. Check out both well-known and unknown sports activities you can experience in Sweden and ideally visit us to try them. They are so much fun!
I have recently seen a question in the Expats in Stockholm and Sweden Facebook group asking if it is a good idea to visit Sweden in March. The vast majority of people answered negatively: "To be honest, there really isn't much to do here as a tourist destination, especially for a whole month, and March is still a relatively cold and dark period. I'd consider going somewhere on the Mediterranean. Don't visit Stockholm." After reading all the answers, I just thought: Oh my god. Why do people live in Sweden when they don't enjoy March here? It is my favourite month! Let me explain you why.
First of all, let's take a look at how dark March is. The fact is that we have a solstice on our planet and it is every year on the 21st of March. It means that day and night have the same length all around the world. After this date, Sweden has actually longer daylight than anywhere else further in the south. It means it is not dark during March in Sweden 😉
Now, let's take a look at the main point of this article: there really isn't much to do here as a tourist destination. I summarized what I experienced during the last 10 years in Sweden and what you should try out too! Look how many amazing winter activities you can do in Sweden! I have found 33 which means you can have one for every day in March and two extra for April 😉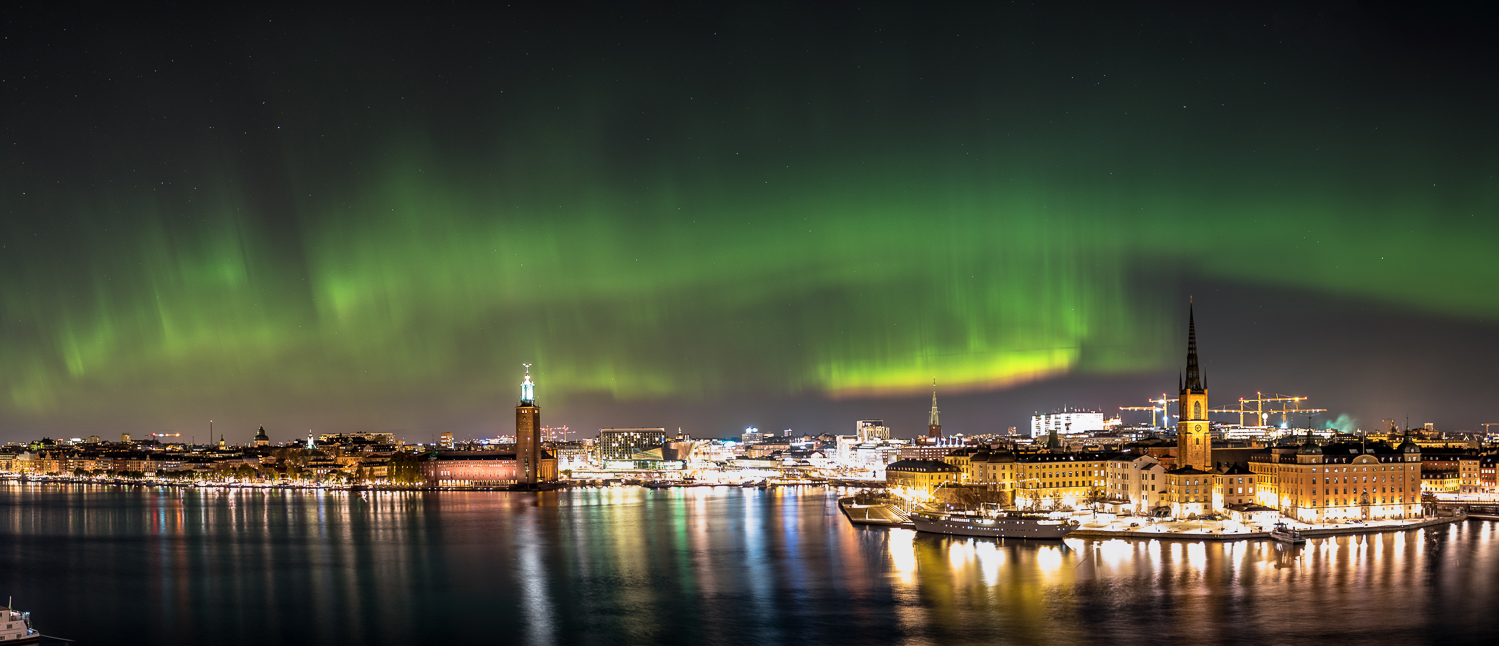 1. Ice skating
Let's start with the best winter activity you can do in the capital of Sweden. The region of Stockholm has hundreds of lakes of different sizes and together with the large areas in Stockholm archipelago you have the best ice skating opportunities. Since it doesn't snow much in Stockholm, you can skate pretty much anytime from the season start (usually November or December) until the ice melts (most often some time in April). If you would like to experience real freedom this is a winter activity for you. Imagine skating the whole day on the endless Swedish sea around islands and cute villages on islands. Would you like to join for a trip? I devoted a whole article to ice skating here.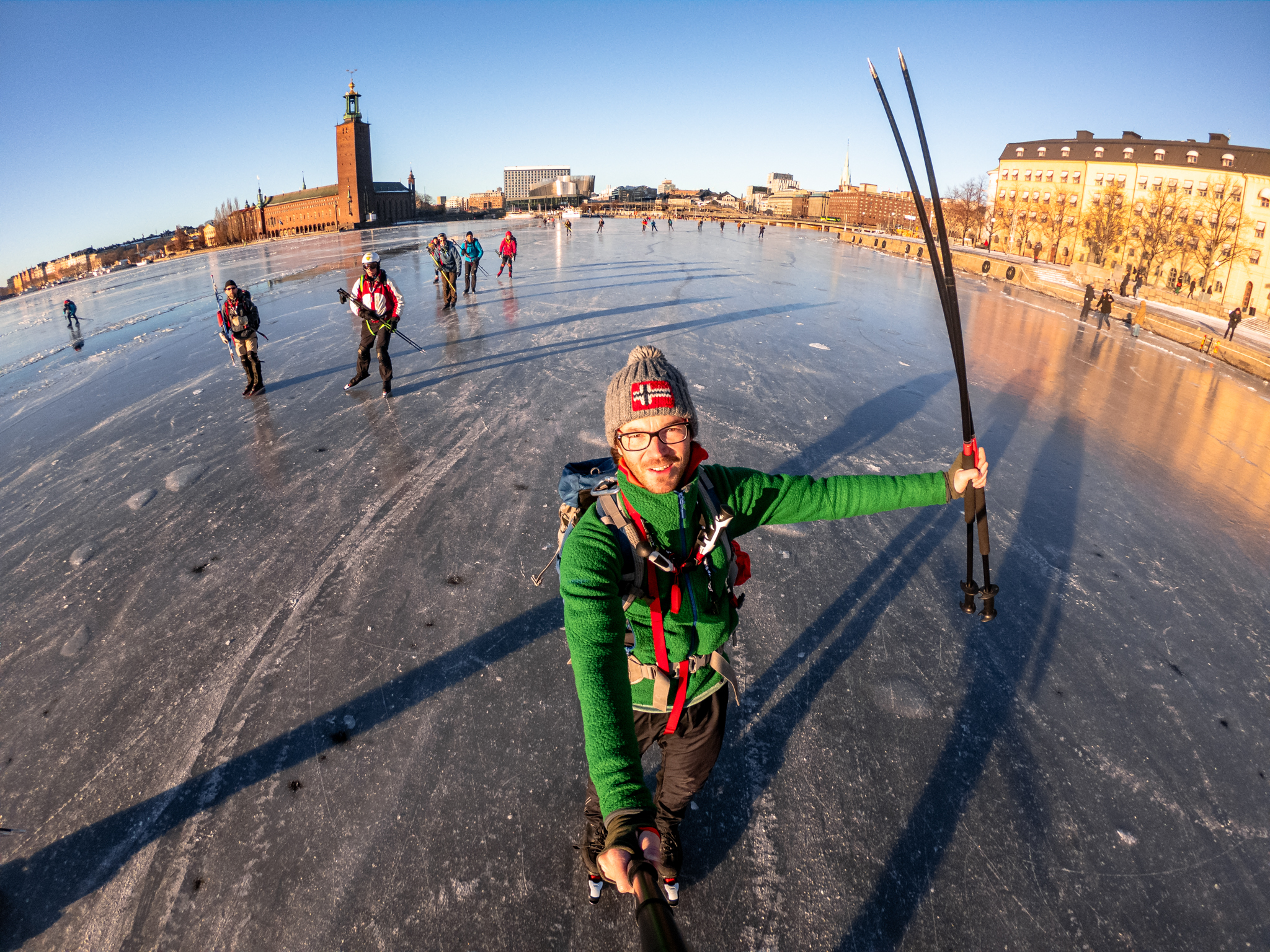 2. Cross country skiing – classic style
Let's move to another traditional Scandinavian winter sport – skiing. Did you know that there are several kinds of skiing? We will go through all of them in this article. Let's start with the most known skiing style which is classic cross-country skiing. Have you heard about Vasaloppet? This oldest cross country skiing race in the world has already attracted more than 1,700,000 participants around the world. The race is 90km long and promises an unbelieveable atmosphere not only for the racers but also for the spectators. Visit the finish of the race Mora and you won't regret it.
If you would like to try cross country skiing yourself, many places across the country offer cross country skiing courses. Try it, it's so much fun and if you fall for skiing, after a few years training you can participate in Vasaloppet too. Take a look at what my experience was like.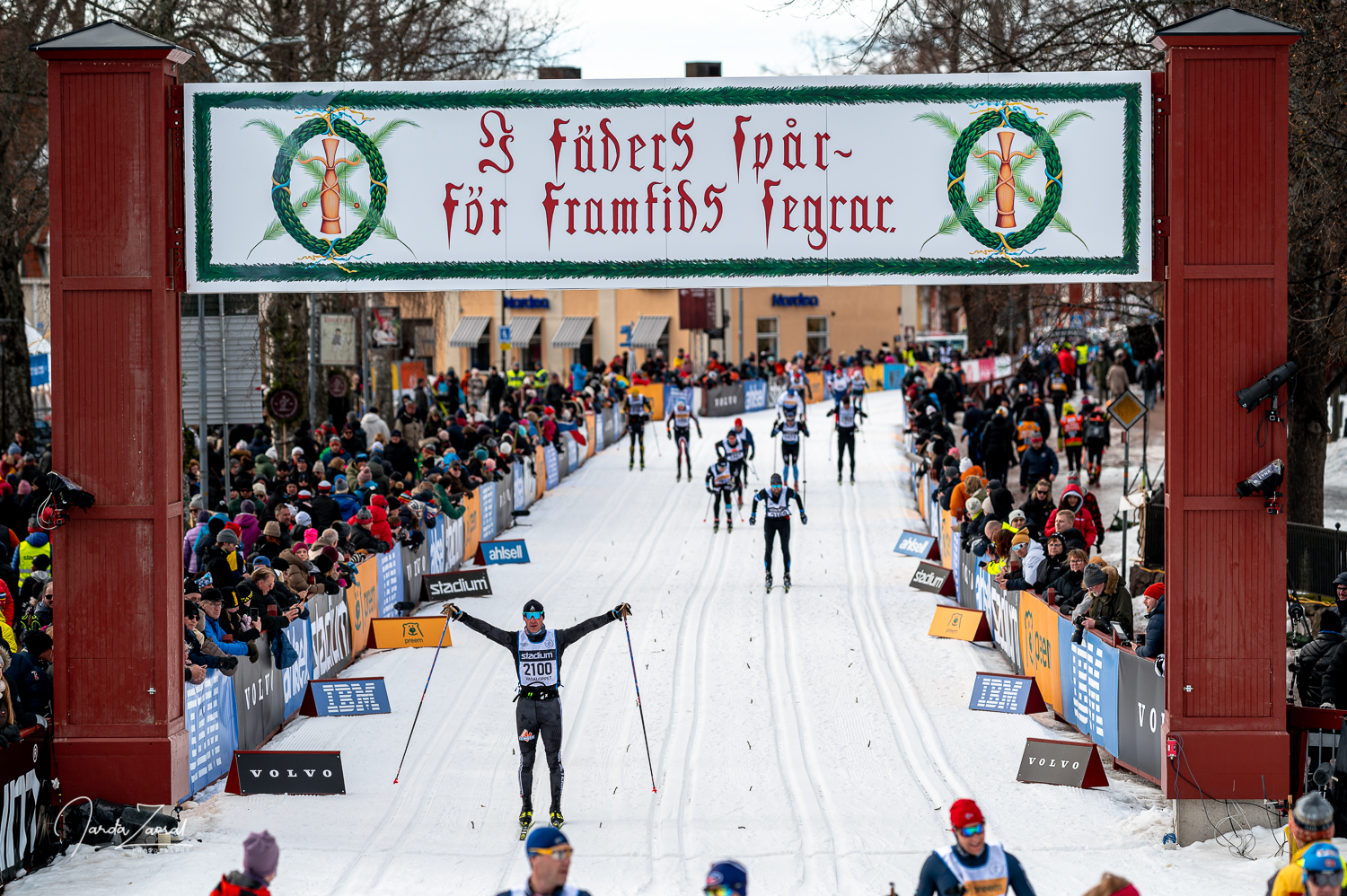 3. Cross country skiing – skating style
If you want to be faster on cross country skis, you can try skating style, also called freestyle cross country skiing. This new technique was developed at the beginning of 20th century and it was widely adopted in the 1980s after the success of Bill Koch in 1982 at the cross-country skiing championship. I personally prefer this style since it really feels like you are flying on the skis. So much fun! Similarly to the classic skiing style, you can find many courses across Sweden to learn it. If you are looking for great tracks nearby Stockholm, I highly recommend my favorite tracks in Falun, Lugnet. Otherwise you can find inspiration at skidspar.se.
4. Downhill Skiing
If you want to be even faster, go for downhill skiing. On downhill skis, you can easily reach speed above 100 km/h. There are many ski resorts around Sweden but you will find the best one in Åre. It offers the most tracks and most slopes. Another advantage is that Åre offers slopes for everyone regardless if you are a beginner, intermediate, advanced or pro skier.
You might be surprised but there is also a small ski resort in the middle of Stockholm. Hammarbybacken offers even a world cup competition for pro skiers. Even though the hill is relatively short, it also has its black slope which is perfect for a slalom race.
5. Snowshoe hiking
Let's take a break from skiing and let's take a look at snowshoeing. Snow shoes are perfect for hikes in areas with a lot of snow. You'll love the feeling of crunching snow under your feet. My personal favourite place for snow shoeing is Skuleskogen national park where you can hike daily 10-20 km and stay over in local huts, even free of charge. There you can have a great time making barbecue under the Northern lights.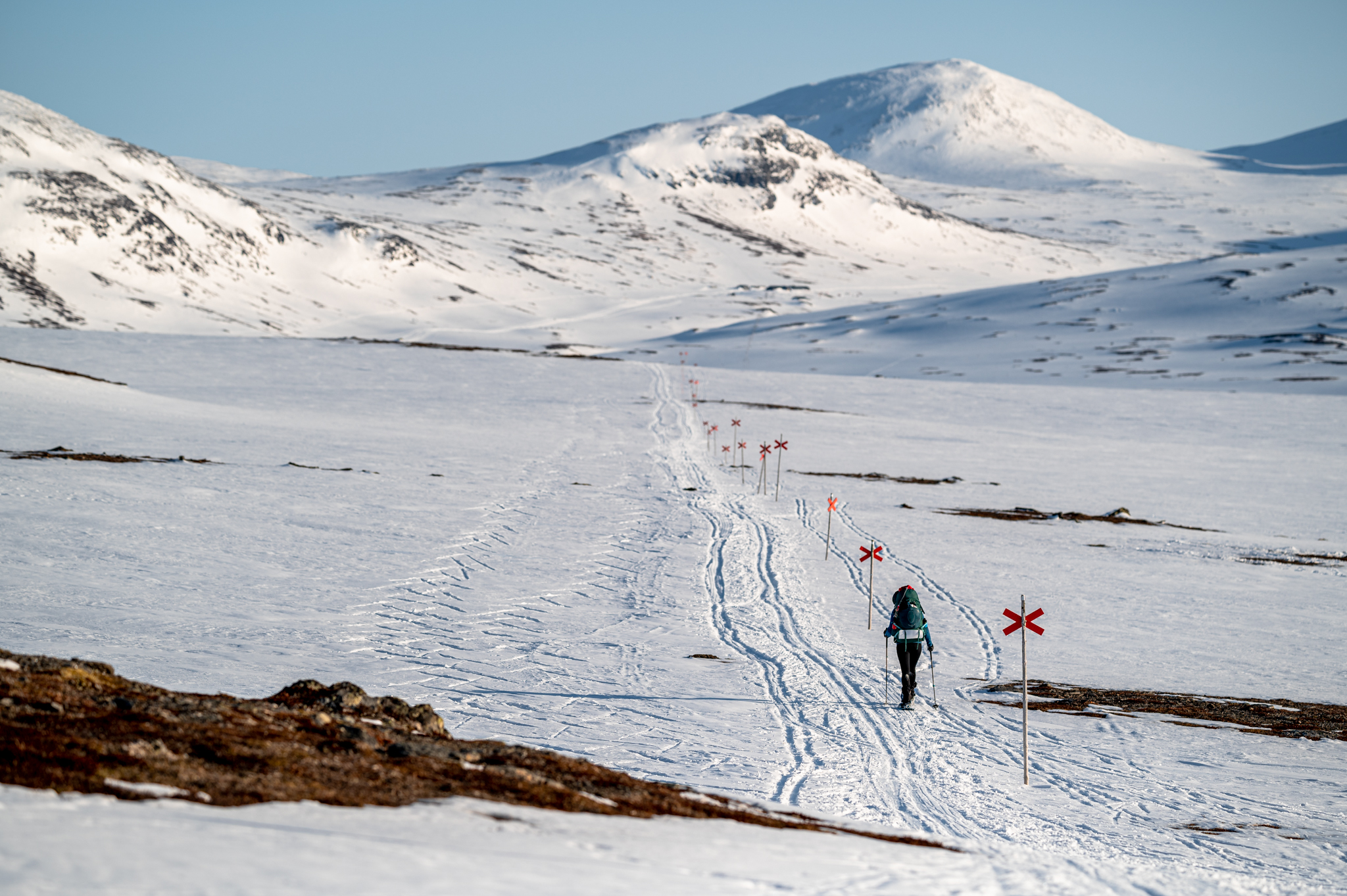 6. Watching Northern lights shows
Have I just mentioned Northern lights? It is the most exciting phenomenon to witness in Sweden so let's take a look at them. Aurora Borealis occurs sometimes all around Sweden but you have the biggest chance to witness them behind the polar circle. I'm myself fascinated by Northern lights so much that I'm hunting them every time we have a chance to see them in Stockholm. Just keep in mind, you have to be patient to see the lights. If you want to learn more tips about when and where to see Lady Aurora, you can take a look at my Practical Guide to see Northern Lights.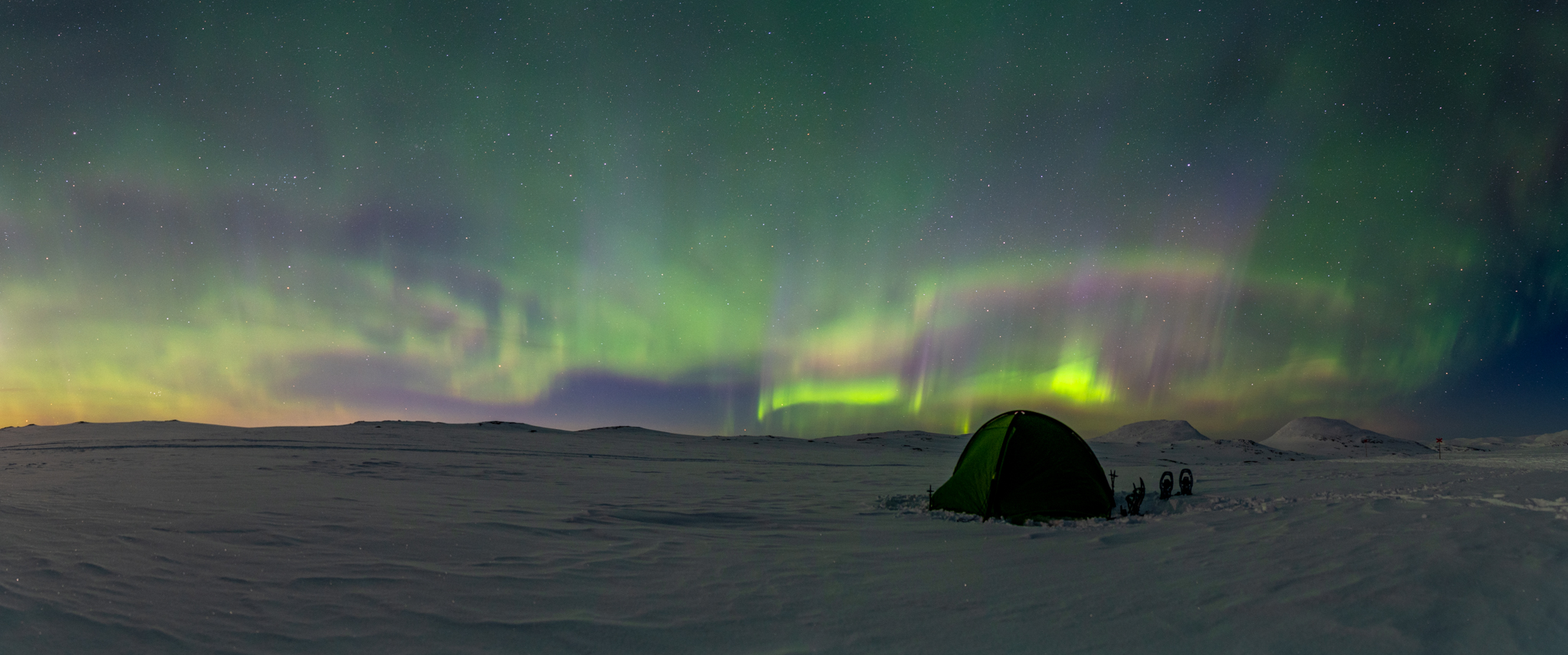 7. Ice fishing
Another activity which requires patience but brings a lot of joy is ice fishing. Create a hole in the ice with a special ice drill and catch your dinner. Ice fishing is so popular in Sweden that there are even competitions. Can you beat the largest fish ever caught on ice in Sweden – 7kg arctic char?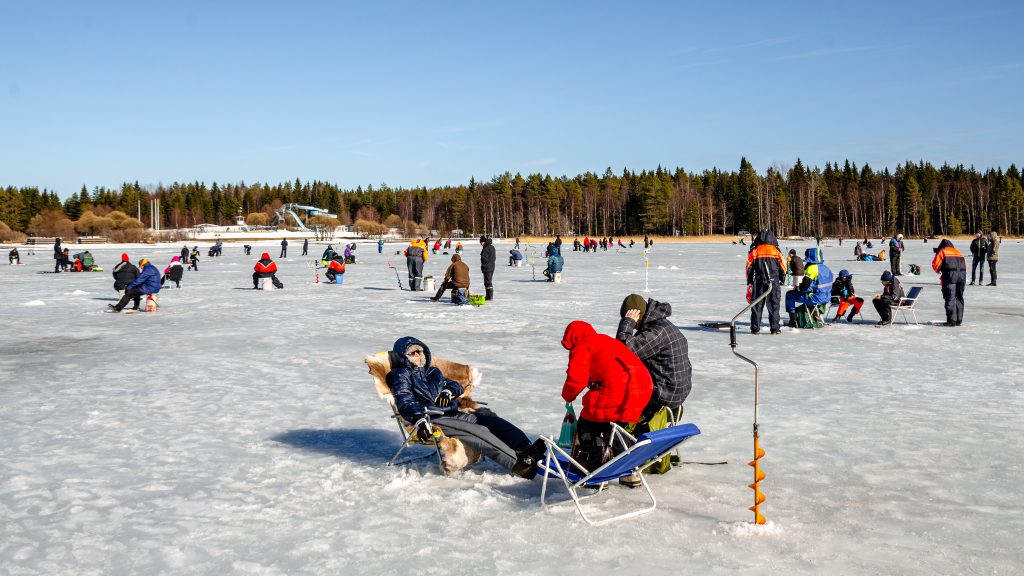 8. Sauna
Are you becoming cold from me talking about winter sports? I have something for you to warm up. Try a sauna with a jump into frozen water. It is not only a lot of fun but also healthy for your body. According to studies, taking a sauna helps with relaxing and detoxifying of your body and Scandinavian countries know it. Therefore, sauna use in Sweden, Finland and Norway already starts in early childhood.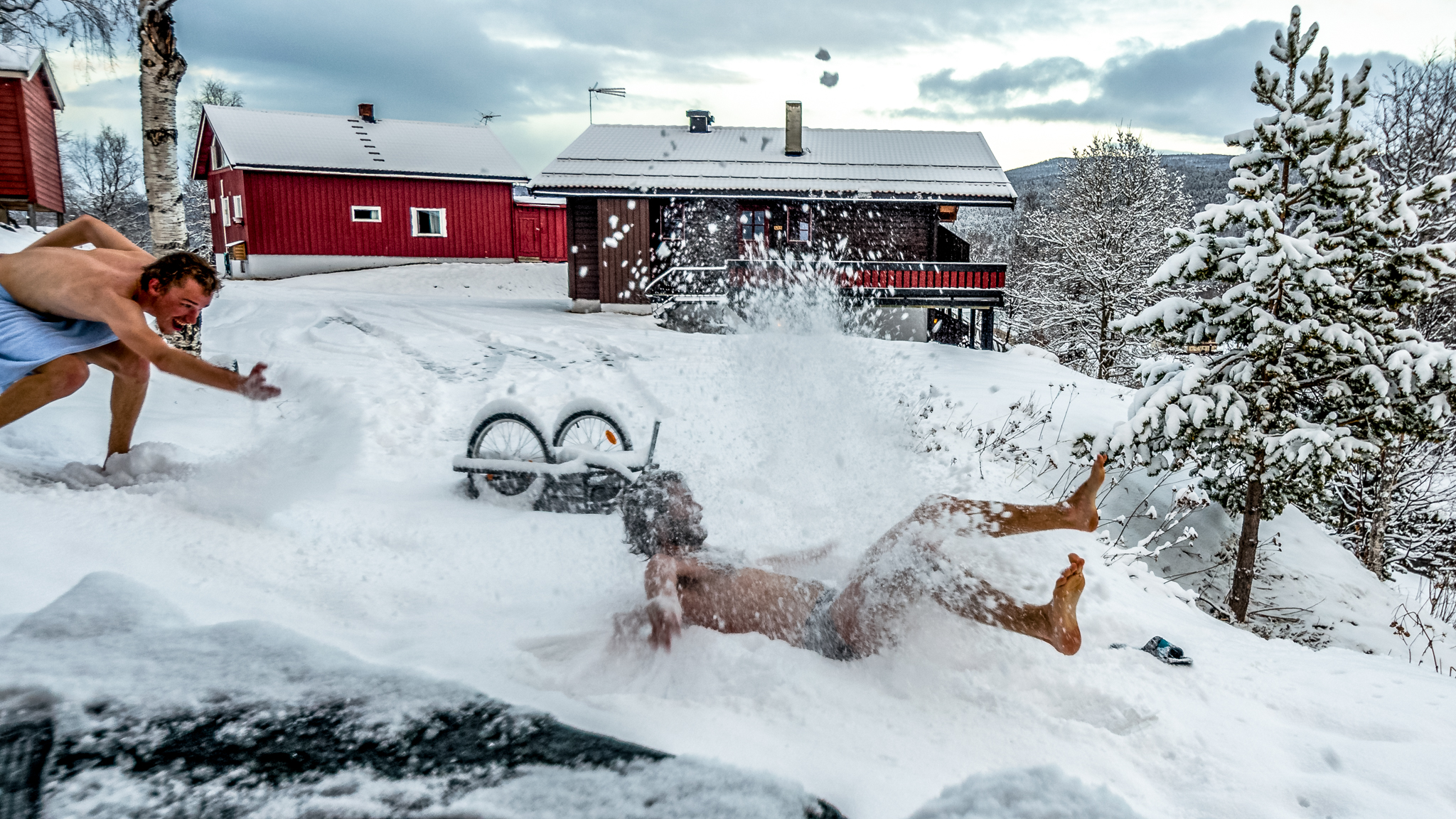 9. Ice windsurfing
Let's go from cold water back to ice. One of the most exciting winter sports I've ever tried is ice windsurfing. It is even more exciting than windsurfing on water. If you have a strong enough wind, you can reach speeds faster than 100km/h thanks to the very low resistence of the ice.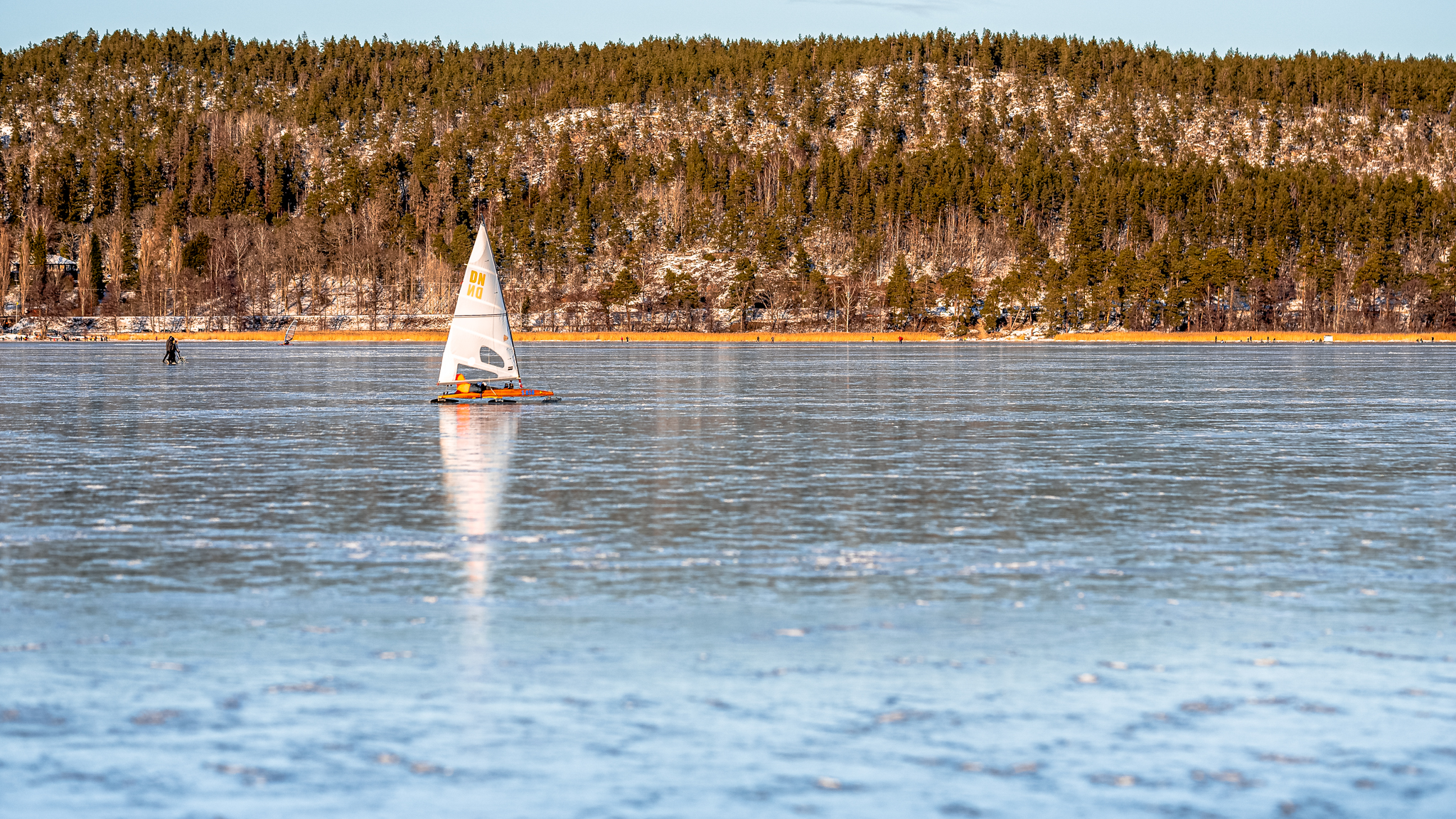 10. Snowkiting
The wind can also be utilized for snowkiting. Bring a kite and enjoy it either with skies in the mountains or with skates on a lake. Both are a lot of fun!
11. Ice hockey
Compared to summer, there are not many winter team sports but the existing ones are a lot of fun. You probably know ice hockey which is very popular around Sweden. Gather a group of friends to play a game or visit a match of Swedish hockey league and enjoy one of the best hockey games you can see in the world.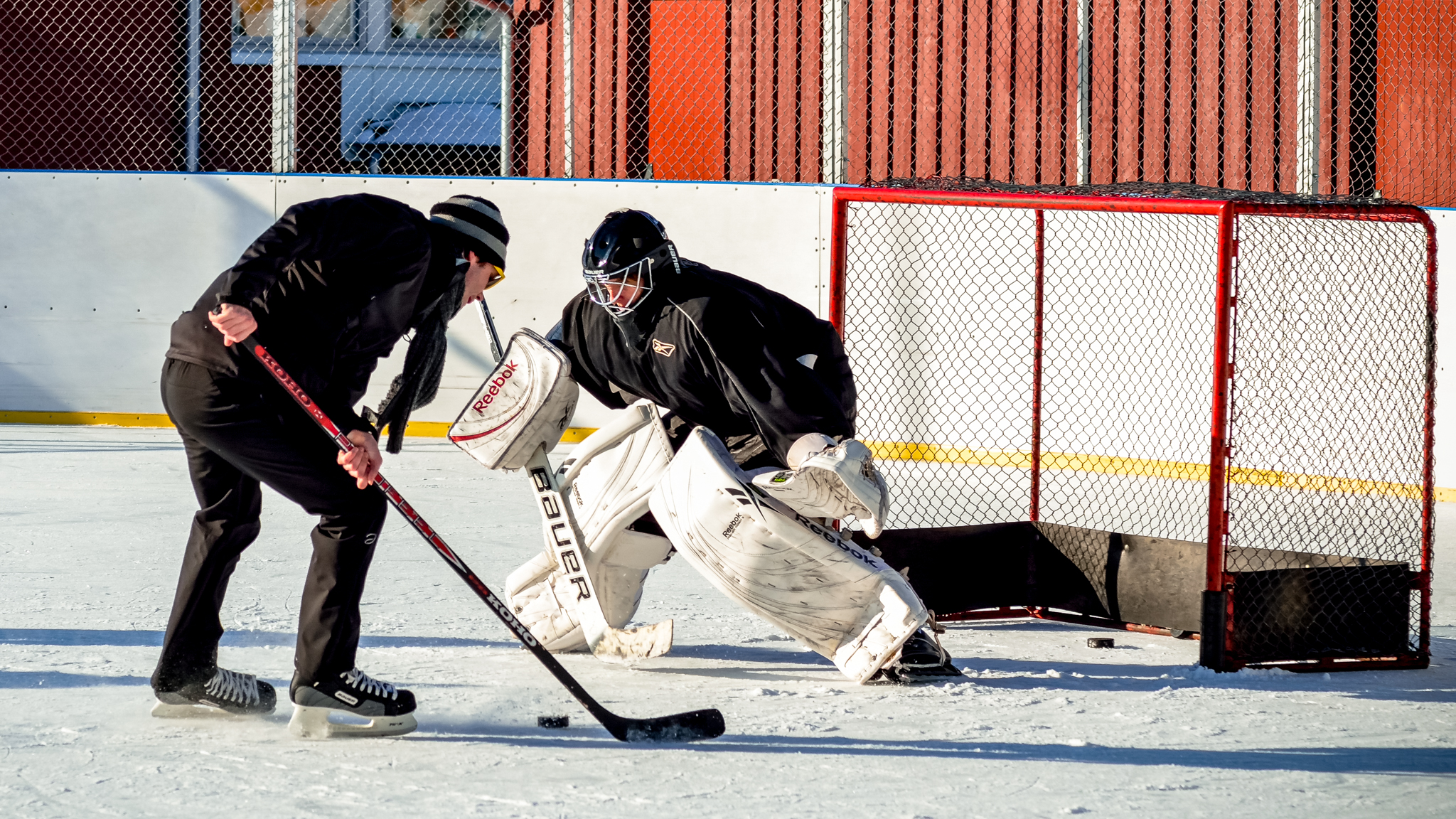 12. Bandy
Have you already seen ice hockey but would you like to see something even more unique? Visit a match of Bandy. Simply said, it is like ice hockey just on a frozen football field played by 11 players on every side. It is regarded as one of the fastest sports in the world and is only played in northern countries. To give you a taste of the game, look at the best goals made in the Swedish league below.
13. Curling
Another winter team sport requires a lot of precision. Build a team and try curling in one of many curling halls around Sweden.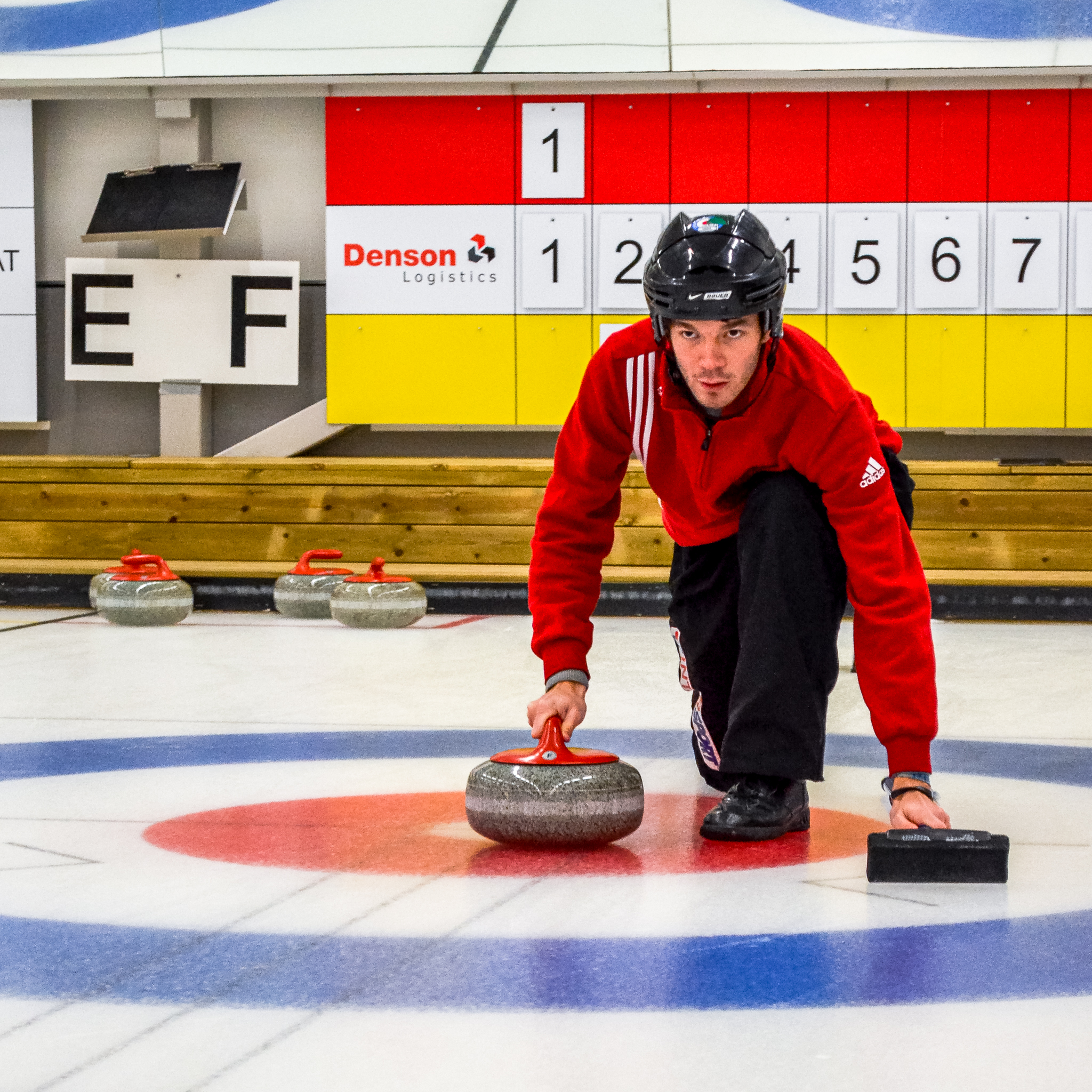 14. Biathlon
Currently, my favourite Olympic winter sport to watch is biathlon. Thanks to the shooting, the races are very unpredictable and that makes it very exciting! You can watch biathlon competitions every winter in Östersund which holds a world cup competition. When I visited one of the races, I was also happy to find out that you can even try biathlon yourself there. It was very cool to try to hit the targets like pro athletes. Now, I will not complain anymore about the biathletes who miss the targets. It's pretty hard!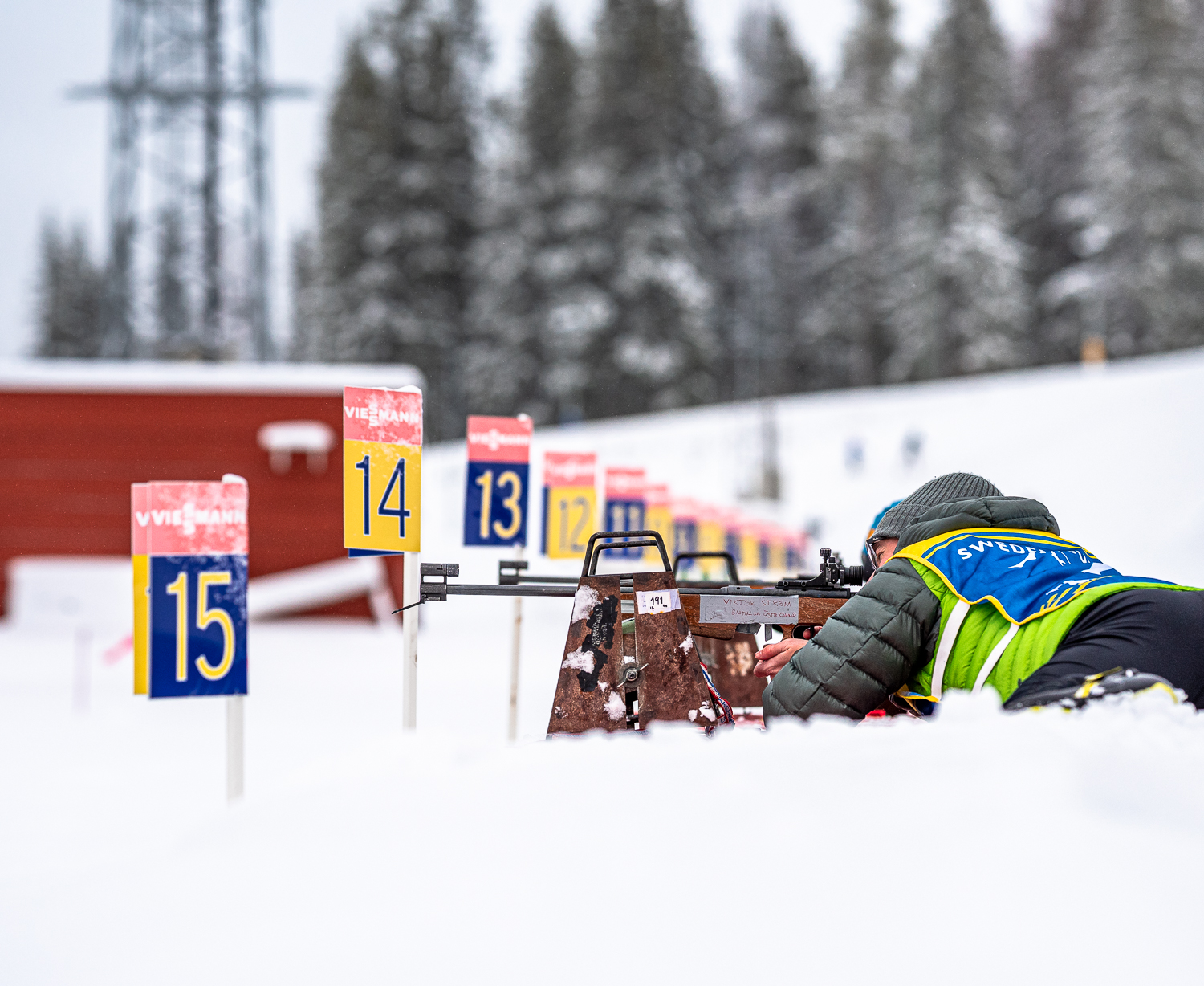 15. Winter camping
Do you like hiking and camping? Try it in winter too. There are much less hikers during winter so you can enjoy the nature on your own. It's very cosy to wake up and have a view over a frozen landscape.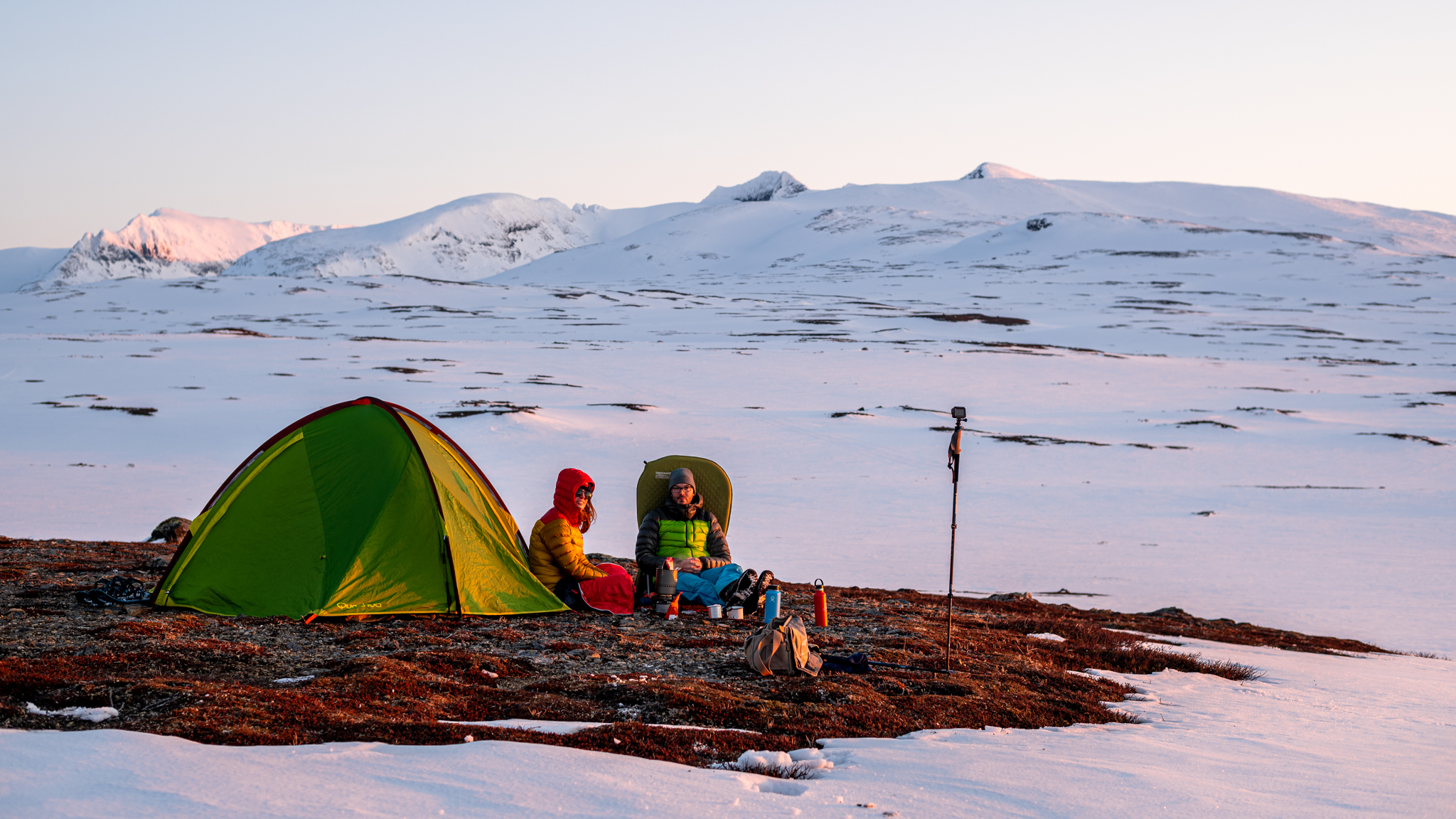 16. Ice Hotel
Do you prefer sleeping inside? Then, try something special during winter in Sweden. Visit the famous Ice Hotel in Jukkasjärvi and spend a night in an ice paradise. The hotel is unique every year with decorations made by artists from all around the world!
Once you're there, don't forget to take a shot in a glass made of ice and if you're there with your fiancée, why not to get married there too? The Ice hotel also has a small chapel where couples from all around the world get married.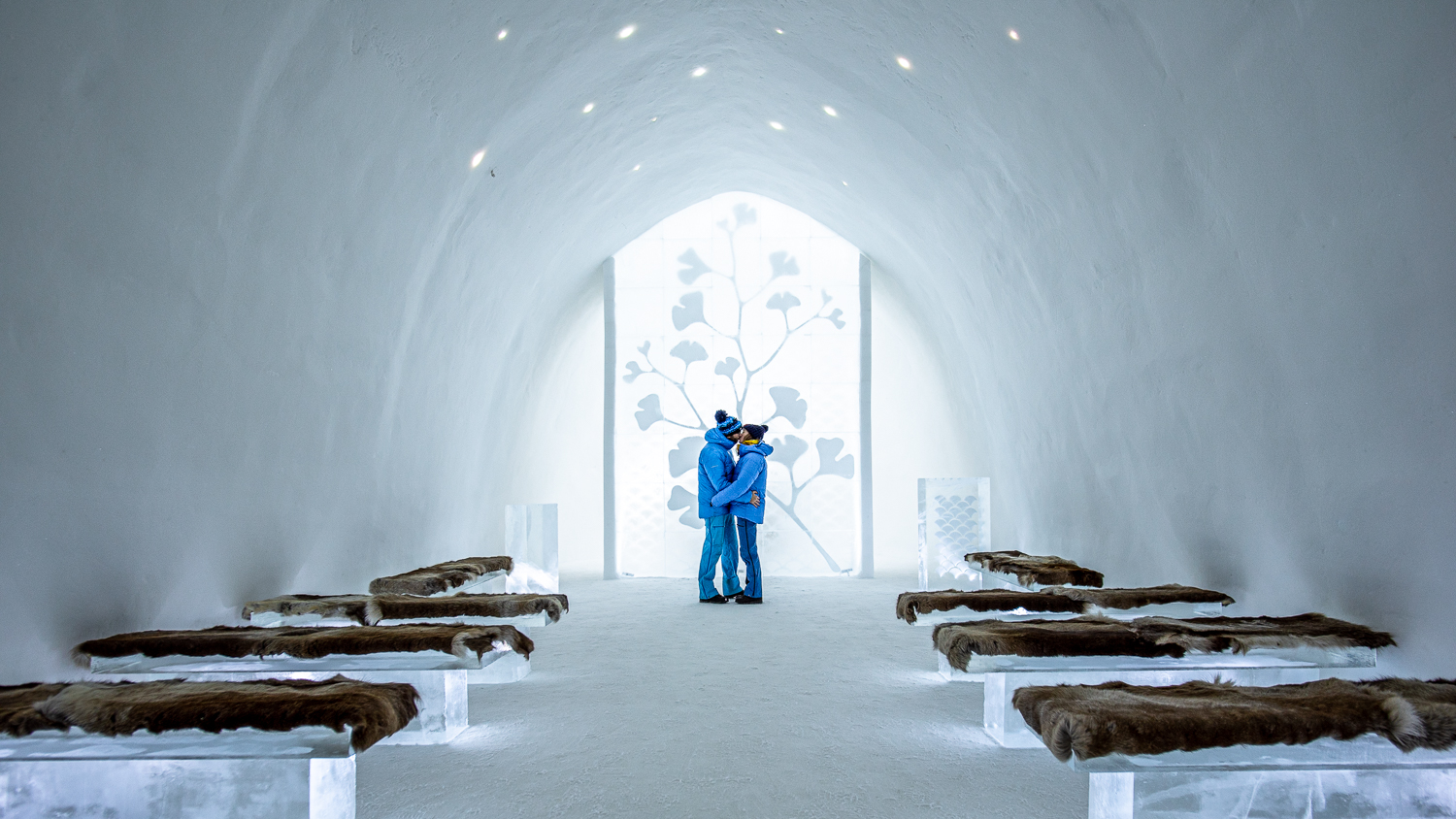 17. Back country skiing
Let's get back to skiing. There are a few very popular ski activities you can try in Sweden. Let's take a look first at ski touring and back country skiing. The difference is very small and the names are often exchanged with each other. In Sweden it's two very different sports though. Back country skis in Sweden are very similar to cross country skis, they are just wider and they are used in free terrain. People often use these skis for travelling longer distances from hut to hut and they are also used for multiday trips with an extra sled where you can carry supplies. Try back country skis in popular mountain area in Sweden such as in Jämtland close to Åre or far in the north at Kungsleden.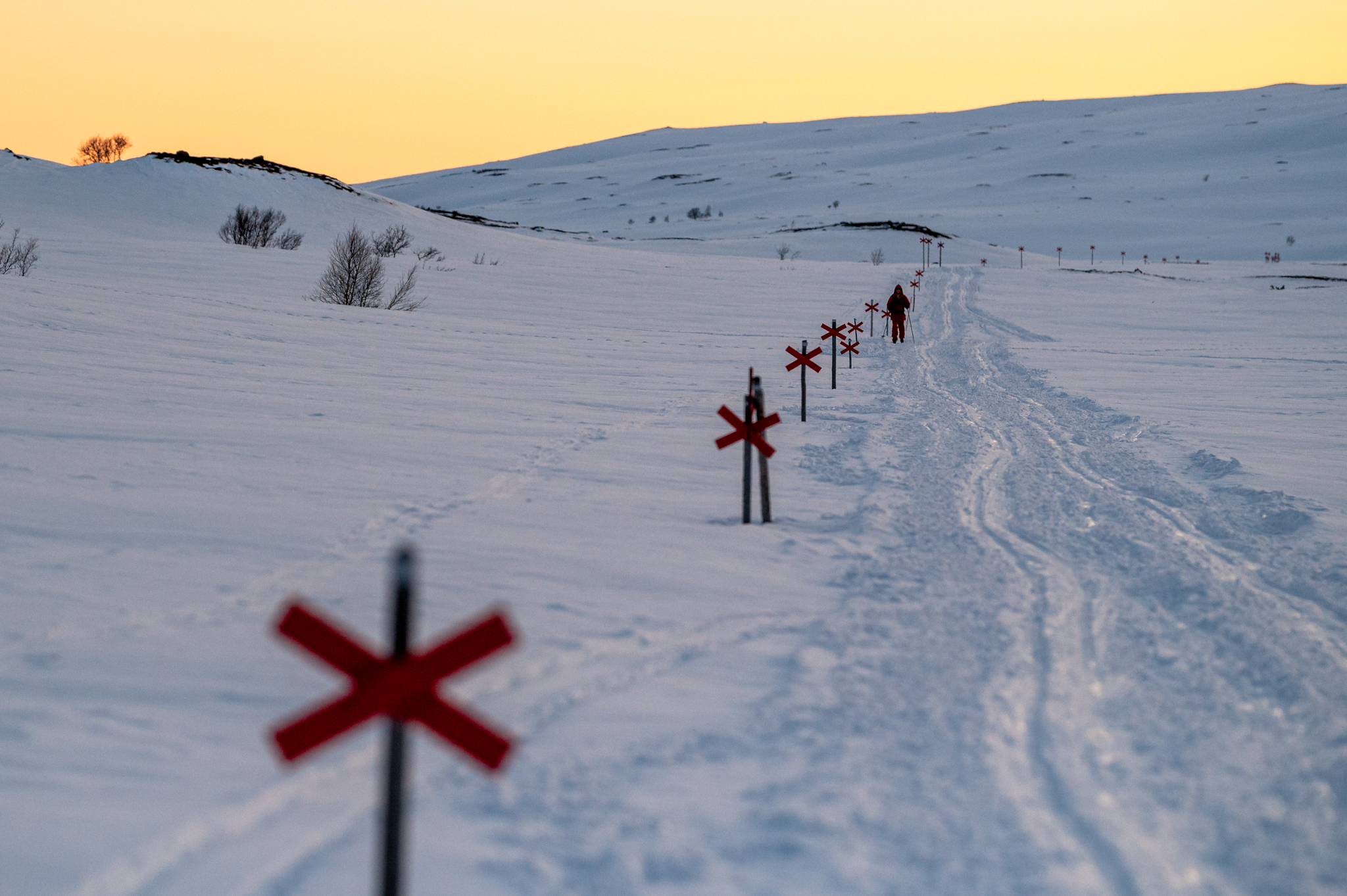 18. Ski touring
Ski touring in Sweden is rather associated with off piste skiing. The skis are more similar to downhill skis and people use skins for going up in the hills. These skis are rather used to climb mountains and to enjoy downhill in free terrain rather than long distances. Thanks to ski touring you can for example climb Swedish highest mountain – Kebnekaise.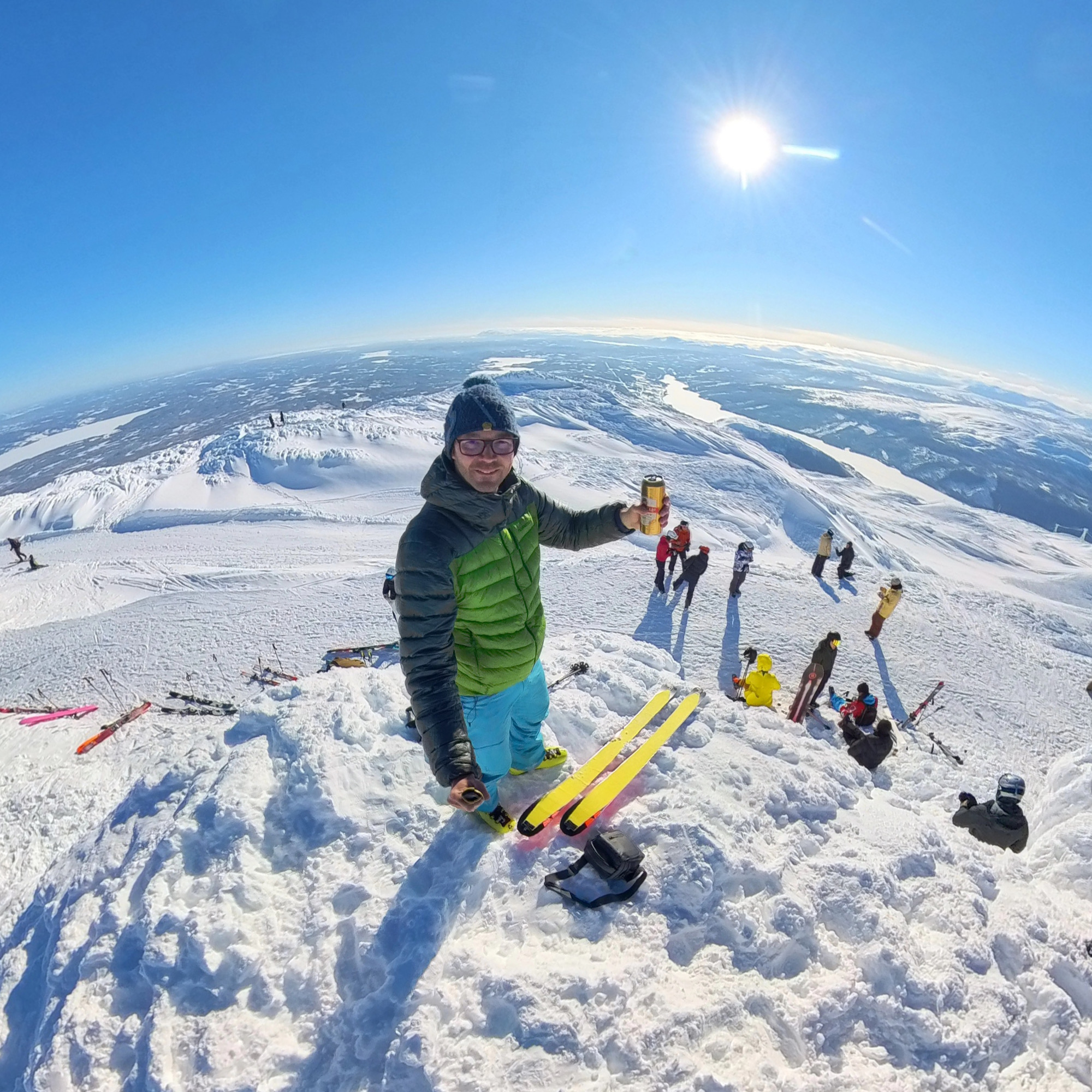 19. Ski jumping
I wonder why Sweden sucks so much at international ski jumping competitions. Both neighbors Norway and Finland have world star ski jumpers but Sweden has none. Do you think it is because there are no ski jumps in Sweden? That's not the problem. There is a large ski jumping area in Falun which held world championships in the past. Lacking a ski jumping tradition will be more likely the reason. Anyway, keep an eye on competitions at Falun and watch amazing jumps from athletes all around the worlds except Sweden 😀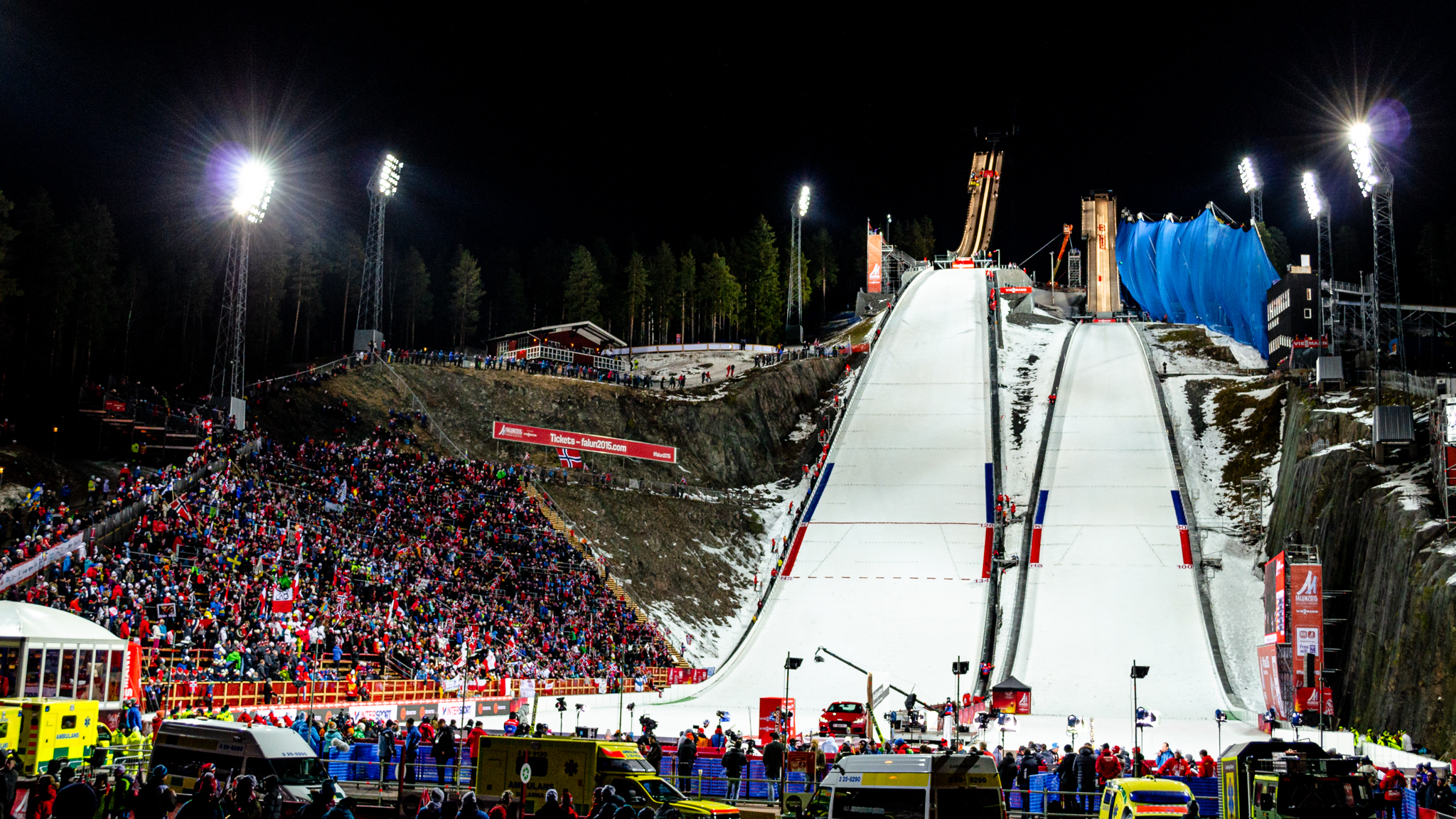 20. Heliskiing
Let's turn to another winter activity where Sweden excels. Would you like to try world class off piste skiing in the best possible conditions? Try heli skiing behind the polar circle. In Abisko you can join a group of skiers and experience heli skiing.
21. Ice Cross
Have you heard about Ice cross? It's popular mostly thanks to exciting Red Bull events. Check it out and if you dare, visit the ice cross facility in Stockholm.
22. Dog sledding
One of the most popular activities among visitors to Sweden is dog sledding. I have to admit I am a bit afraid of dogs so I haven't tried it yet but I will one day. It looks very cosy!
23. Ice climbing
If you like rock climbing you should definitely also try ice climbing. What about ice climbing directly on the highest waterfall in Sweden? It is also on my to do list this winter.
24. Winter swimming
We have already talked about sauna but did you know that it is very popular to swim in ice cold water without going to the sauna these days? There are even races in cold water in Sweden!
25. Winter kayaking
I prefer to utilize water in the solid state during winter for acivities such as skiing or skating but there is also an option to experience an adventure on unfrozen lakes. Enjoy views over snow covered national parks or cities from a kayak. Stockholm offers many opportunities for instance.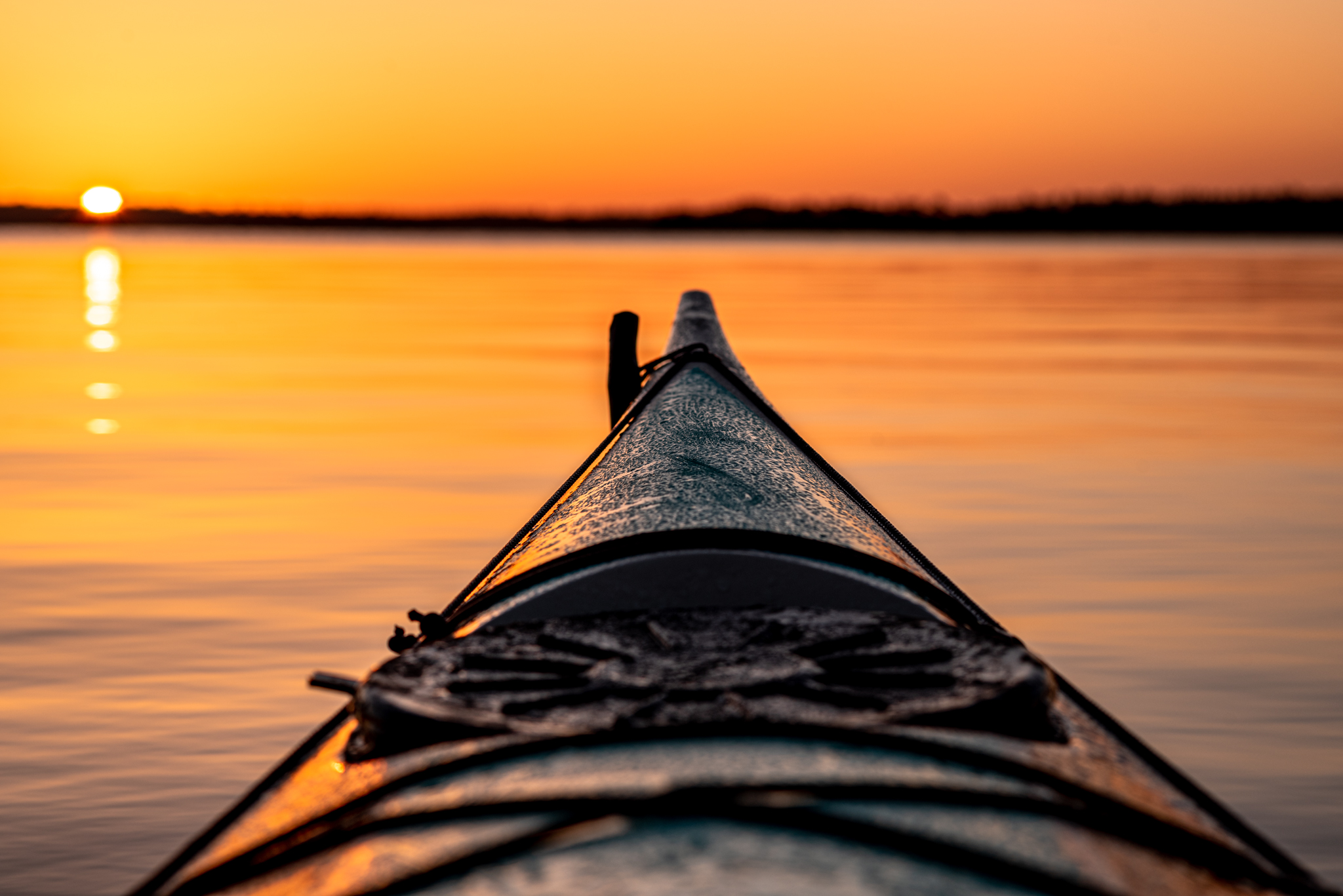 26. Fat biking
Biking and snow often don't go together. Slippery roads can be tricky so bikers usually take a break from biking during winter months. Have you heard though about fat biking? These bikes have much thicker tyres so they can be used on snow. Would you like to try?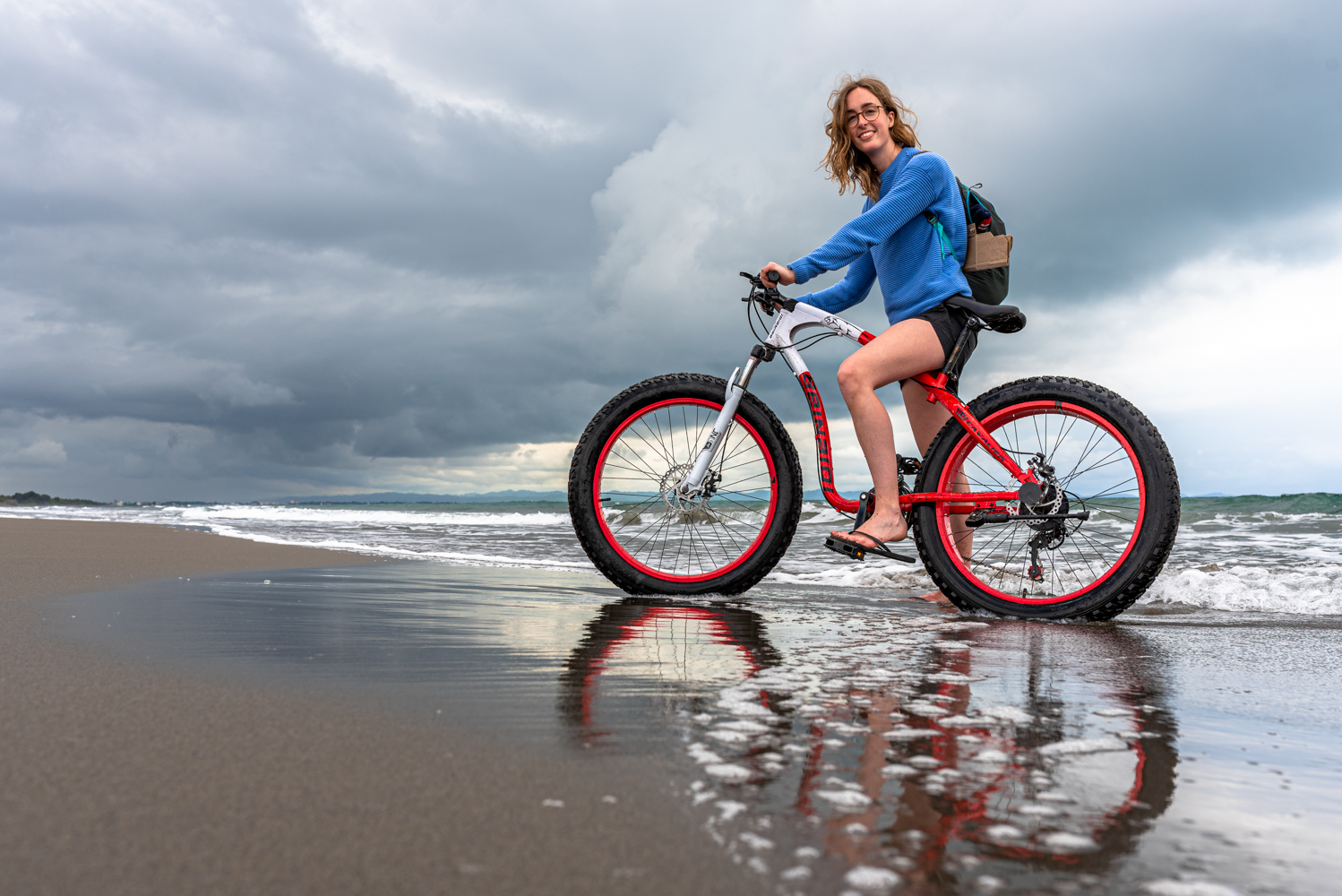 27. Car drifting
Let's stay on snowy roads. Do you like cars? Then, I have a winter activity for you too. North west of Stockholm, there is a special lake where ice drive races are organized. Visit Dalarna and test your driving skills on ice!
28. Yukigassen
Yukigassen will bring you back to the childhood times when you had snowball fights with your friends. It is actually an official snowball competition. As you might guess from the name, it comes from Japan but there are Yukigassen associations in all major northern countries including Sweden. Visit Luleå for a national competition.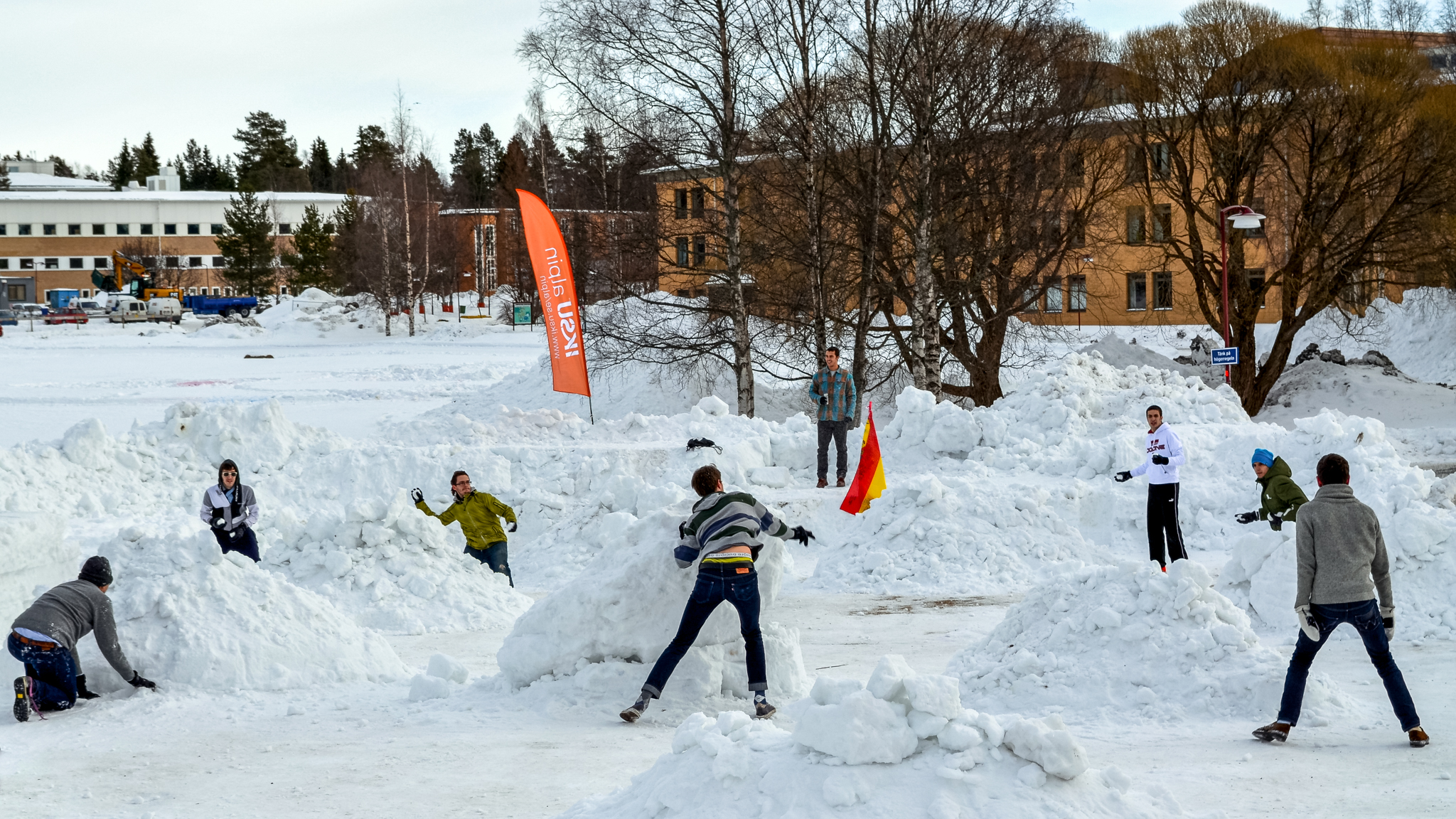 29. Sled
Let's stay in our childhood and let's enjoy children's favourite means of transport in winter. Sledding is so much fun even for adults and there is even a sled championship in Sweden every year. Visit SM veckan and compete in Alpin Rodel.
30. Skijoring
Do you have pets and would you like to train together with them? Then, skijouring is the best thing for you! Skijoring is basically any sport where a person on skis is pulled by a horse, a dog (or dogs), another animal, or a motor vehicle (snowmobile or car for instance). In Sweden, you can find many cross country skiing tracks where pets are allowed.
31. Reindeer race
If you own a typical Lappland pet – reindeer, you can participate in a Reindeer race during Jokkmokk winter market. This is a wonderful event when people gather from all around the world to admire Sámi traditions.
32. Snow mobiling
To be honest, I am not much of a fan of snow mobiling. I prefer moving in the pure nature with my own power but I understand snow mobiling is popular in Sweden. The machines are very quick and you can explore nature in much shorter time compared to skis or skates. For me, they are just very loud and smelly and I am not that happy to meet them on my trips. I am not surprised that they are banned in Norway in free nature and allowed only on specific paths. I hope Sweden will follow the rule in the future. Anyway, snow mobiles are allowed now so try them.
33. Snowboarding
I almost forgot about snowboarding. It's not much a surprise because I am a skier and you know there is a small rivalry between both sports so maybe I forgot it on purpose 😉 Anyway, Sweden offers perfect conditions for snowboarding too. If you are a skier like me, why not trying a snowboard too? Look what Ms. Ledecka managed. She won a gold medal both in snowboarding and skiing at the Olympic games. I am proud to be a Czech 🙂
CONCLUSION: Is Swedish winter boring or not?
So what do you think? Is winter still boring in Sweden? Feel free to share my article if you have a friend who thinks winter sucks. I am sure you will change his/her mind 😉