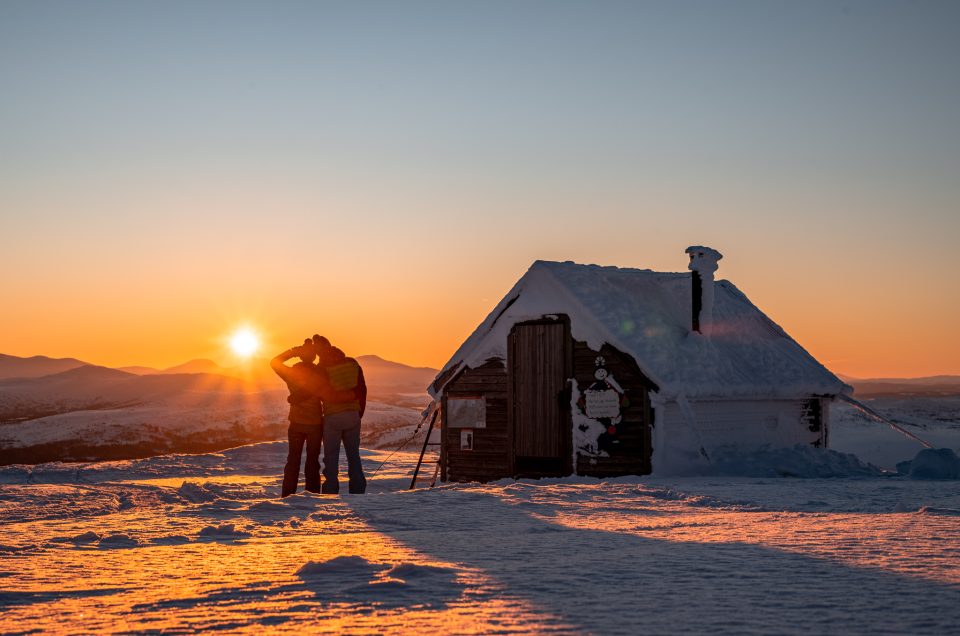 Åre is a Swedish winter paradise. You can enjoy there all kinds of skiing thanks to wonderful mountains and a snow guarantee. In this article, we skip cross country skiing and downhill skiing and we will focus on reaching mountains with amazing viewpoints. If you like to spend time in wonderful nature without crowds and without avalanche danger, this is an article for you. Try these snowshoe or ski touring trips in Åre, which are also suitable for beginners.
Snowshoes or Ski touring?
Both snowshoe hiking and ski touring belong to my favourite winter activities, as they are a lot of fun! If you would like to try either of these activities for the first time, there are many rental shops in Åre. Snowshoe hiking is easy regarding technique and skills. You simply put them on your hiking shoes and go. Ski touring on the other hand needs decent downhill skiing skills. If you can handle a red slope well, you should be alright on these trips too. The advantage of skis compared to snowshoes is of course the downhill. You can be down much faster and enjoy it at the same time! All of the trips mentioned below are easy enough for beginners, but also very nice for more experienced adventurers as they reward you with fantastic views.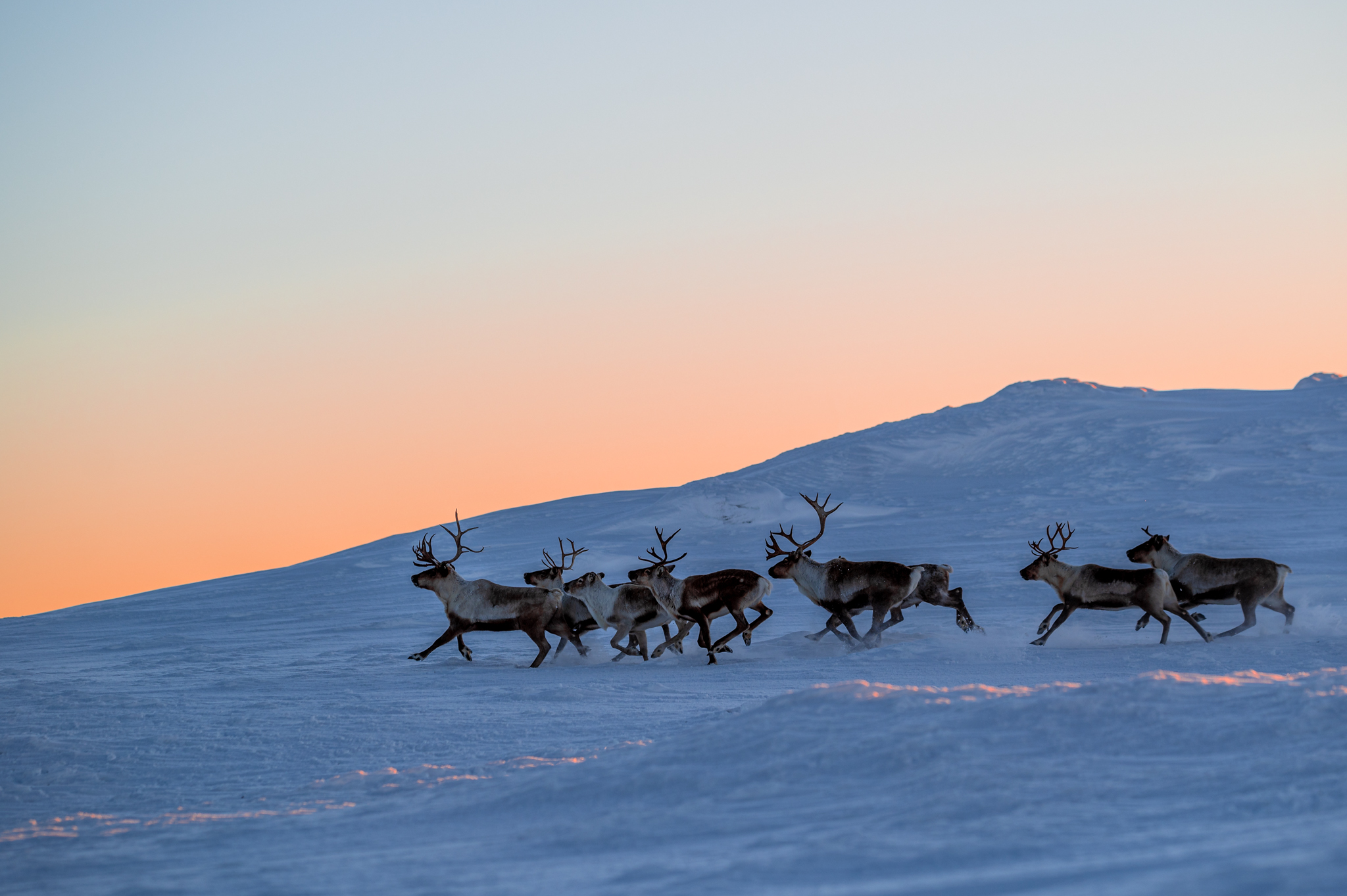 What is the best time for snowshoe and ski touring trips?
Since most of the recommended trips lead you partly across skiing slopes, I highly recommend to ascent the mountains before or after lift opening times to avoid crowds and potential collisions with skiers. I made all the trips (except Åreskutan) to see a sunrise/sunset on the top and all of the trips were unforgettable experiences. These times have three main advantages:
You will meet a minimum amount of other people so you can enjoy the mountains on your own.
You will have a bigger chance to see reindeers.
You can admire wonderful light conditions during clear days.
Which month is the best? I recommend March and April when the days are a bit longer and it is also less cold in the mountains.
All the maps below show one way distance of the trips: the way up. Don't forget to count your way down when planning your timeline, especially when snowshoe hiking. If you are planning to use a lift, remember to count that extra time.
A warm up ascent från Björnen to Förberget
Mountain: Förberget (727 m)
Difficulty: Easy
Ascent: 1,8km; 180m up; 45 min (one way)
Views: Great on the way but there are trees on the top
A great trip to start with is to go up to mountain Förberget above village Björnen. The ascent is very easy but offers beautiful view over Åreskutan. Start by parking at Åre Björnen and go up via the blue slope. Once you are on the top of the lift, continue a bit further and you will reach a top with a tent. I was lucky. When I reached the tent, I got accompanied by 8 small reindeers. It was amazing to admire the mountain Åreskutan with new friends.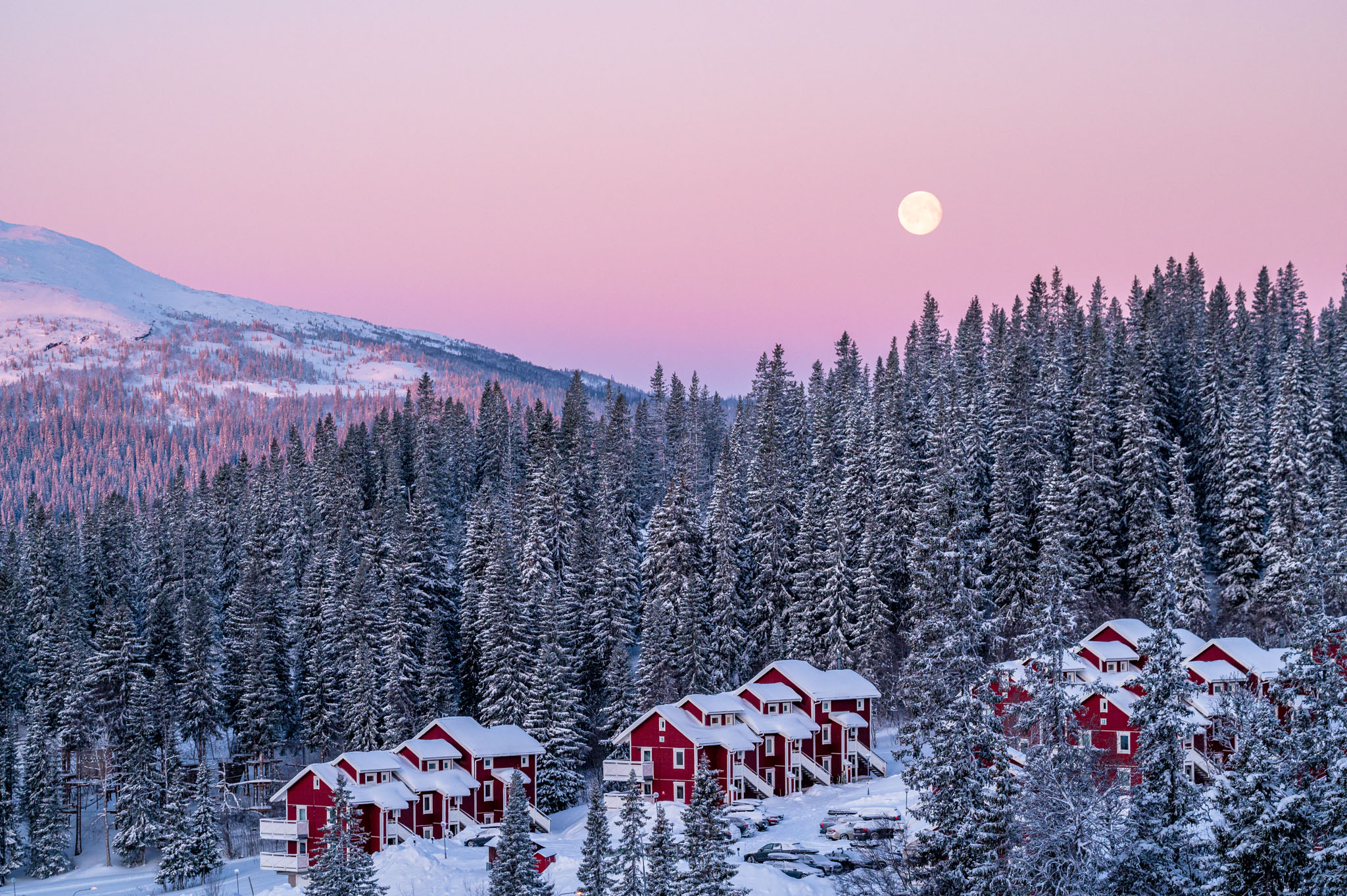 The tent is not the highest point of Förberget. As you can see on the map below, it stands a bit aside of the path. To reach it you have to continue a bit further off piste. To be sure you are reaching the correct mountain, I recommend to download the app mapy.cz and follow the directions there.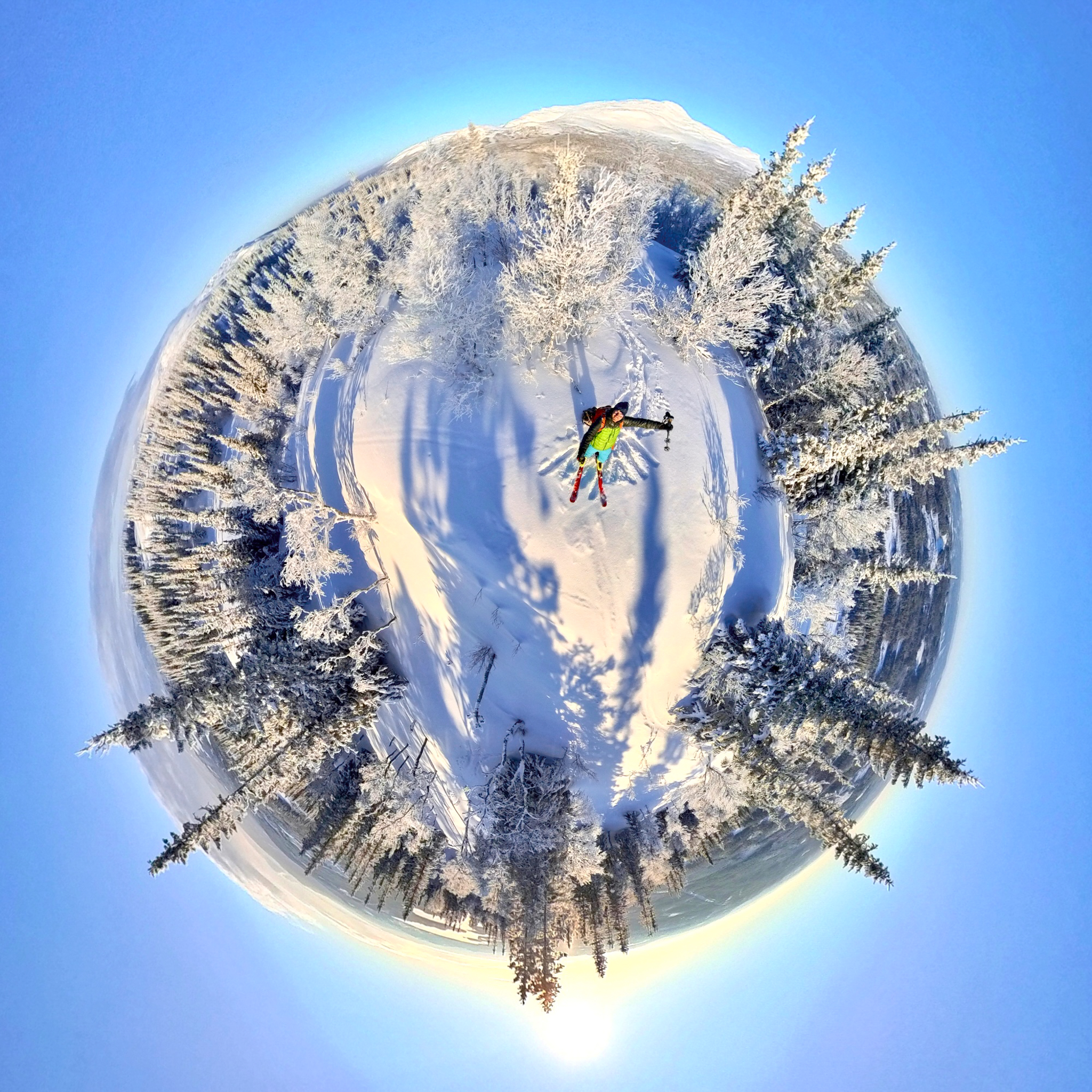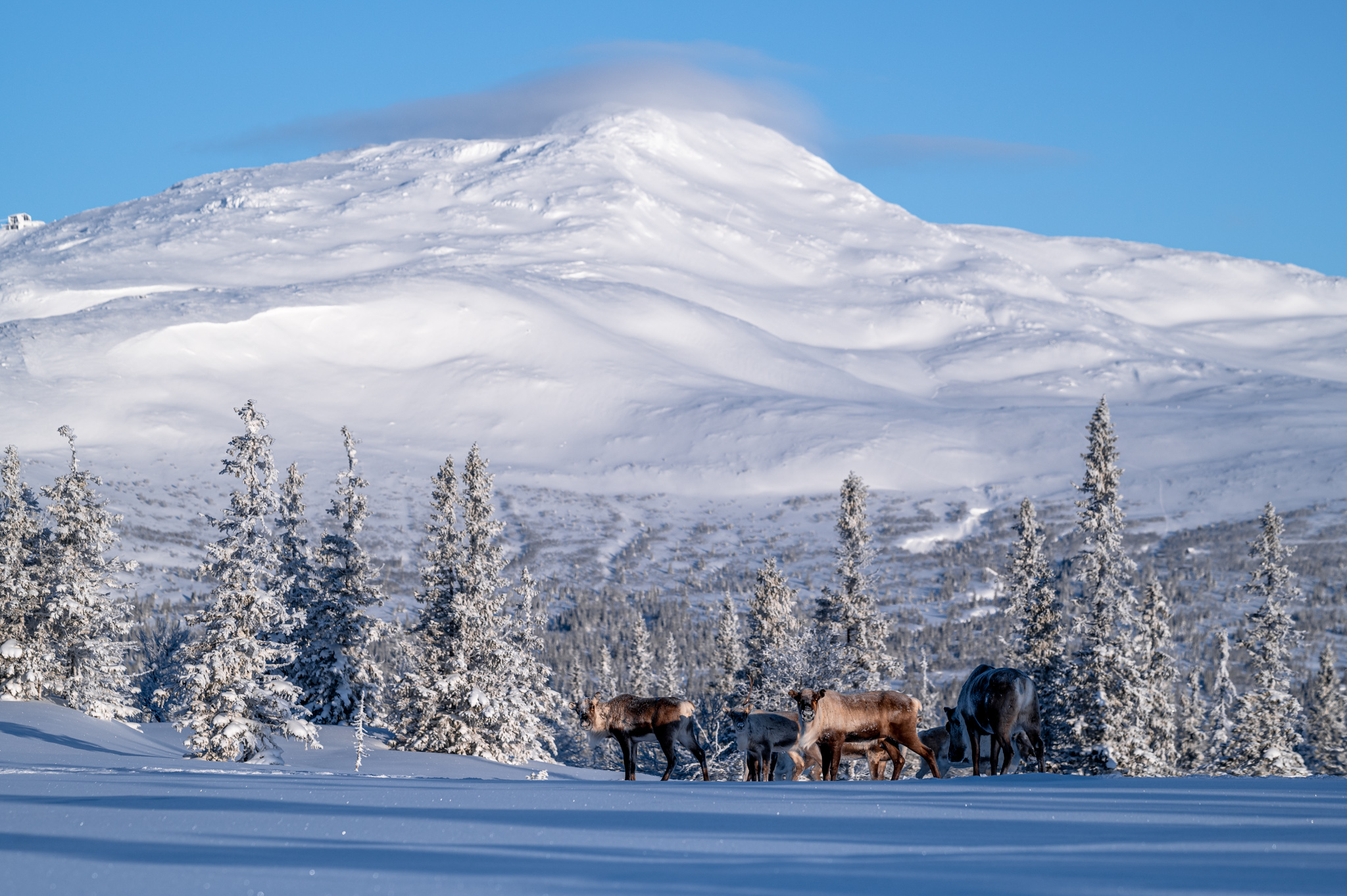 Ascent to cosy hut at Välistes topp from Trillevallen
Mountain: Välistes topp (1025m)
Difficulty: Easy
Ascent: 2,6km; 284m up; 1h 15 min (one way)
Views: Fantastic
You can visit the similarly easy mountain Välliste from the small ski resort Trillevallen. The slopes are a bit steeper here but if you take the slope Kärringsvägen (the one most to the right) to the top, which is still relatively easy. Here again, my girlfriend and I witnessed a group of reindeers and also a wonderful sunset! It was -20 but the view was gorgeous. What do you think?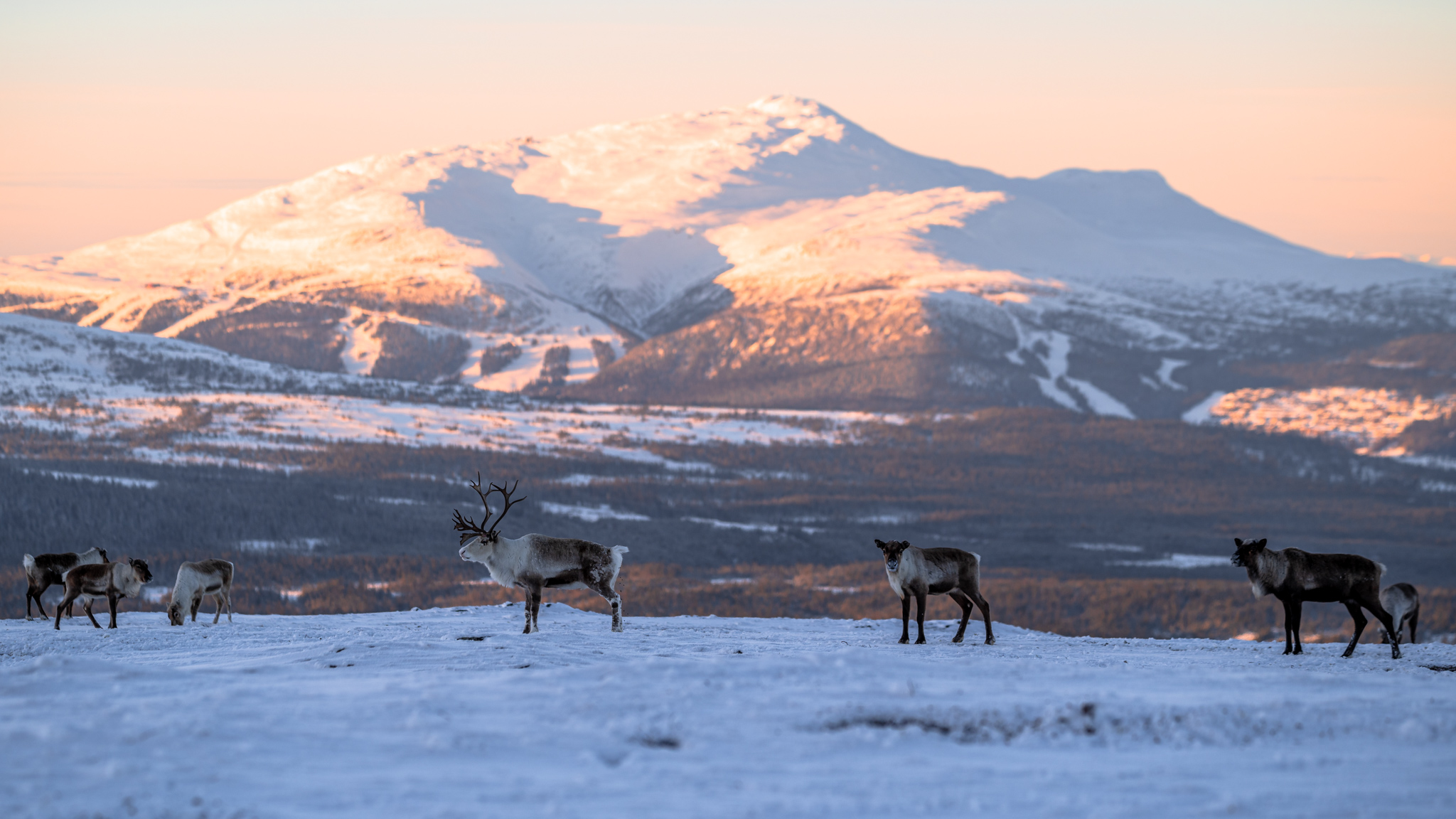 If you are cold on the top you can also hide in a small hut which stands there. Once I would like to spend a night there and watch northern lights. That must be an amazing experience! What do you think? Look at the view!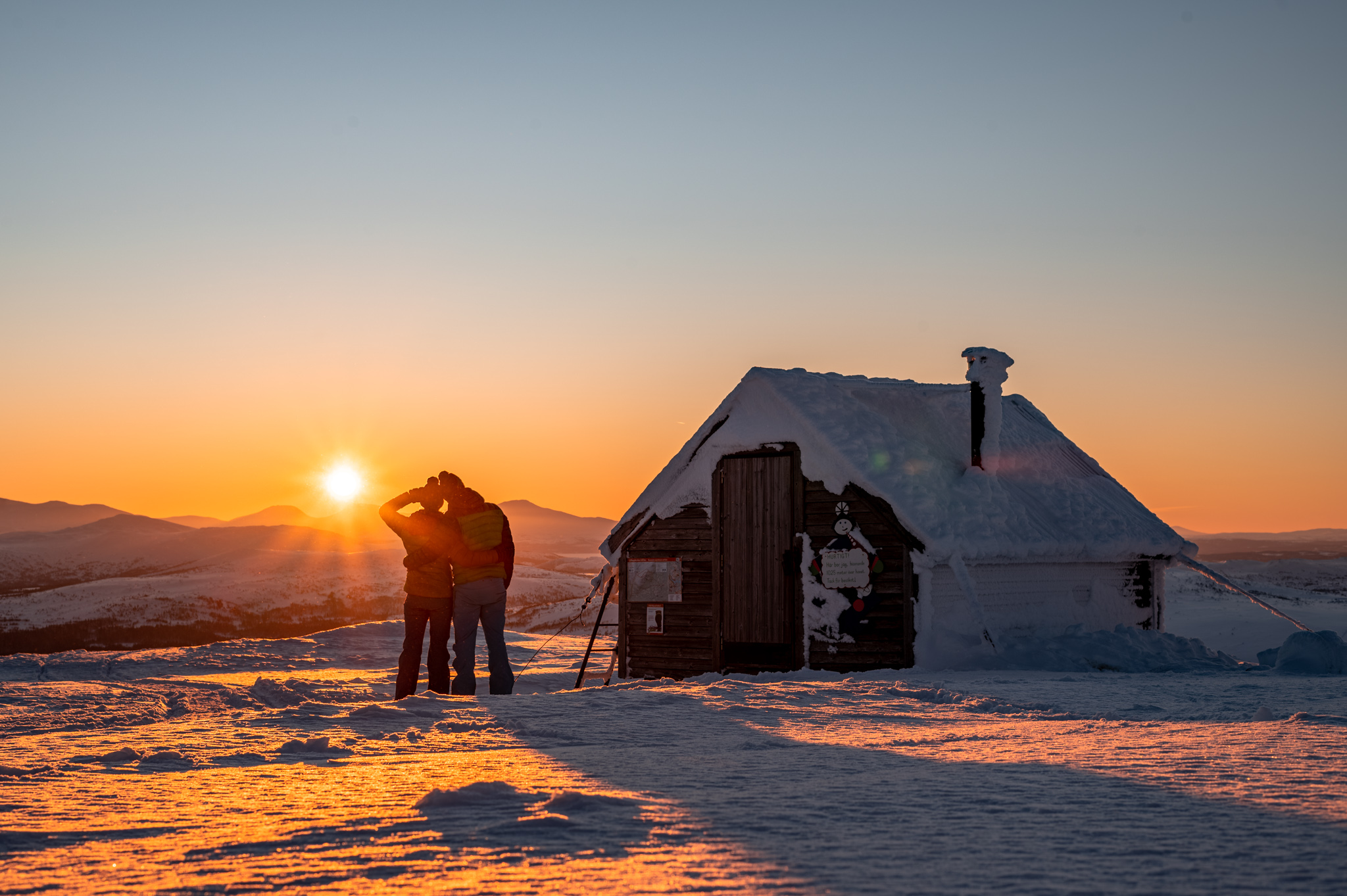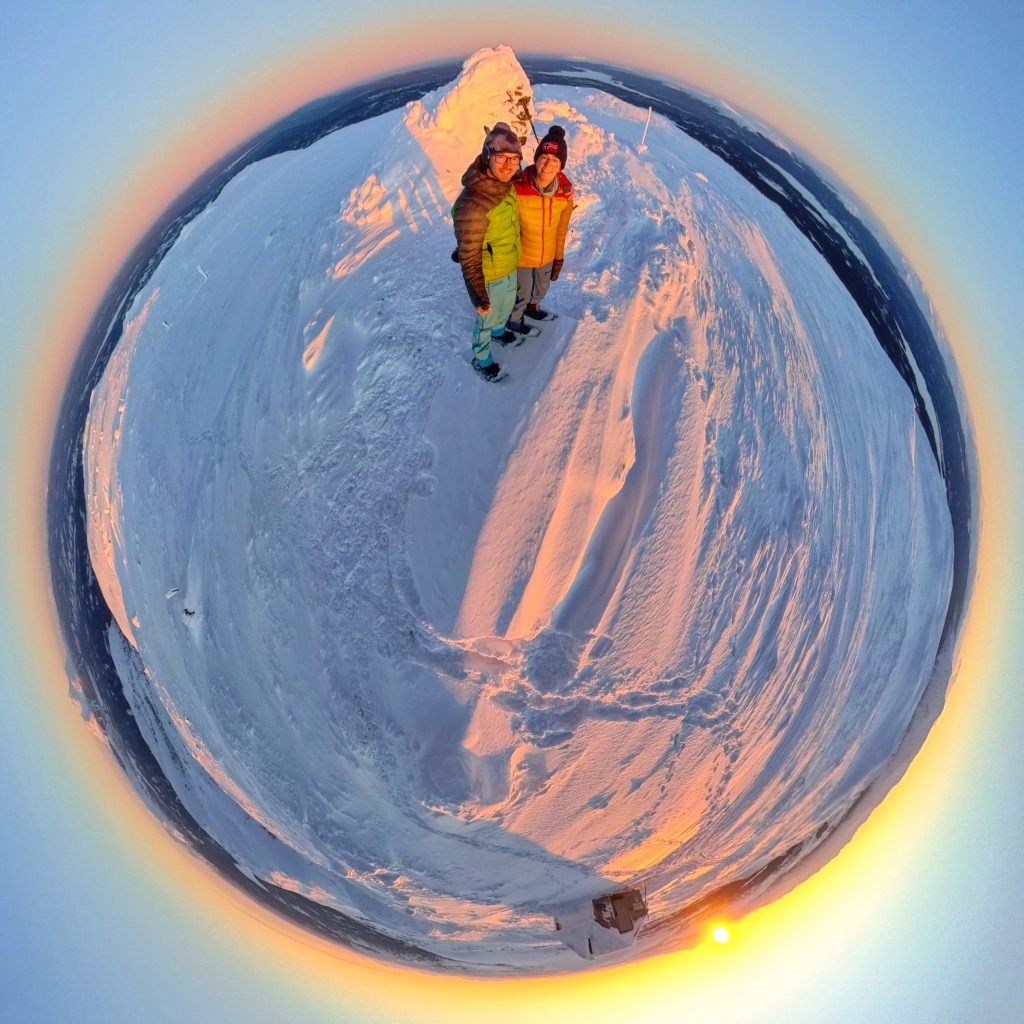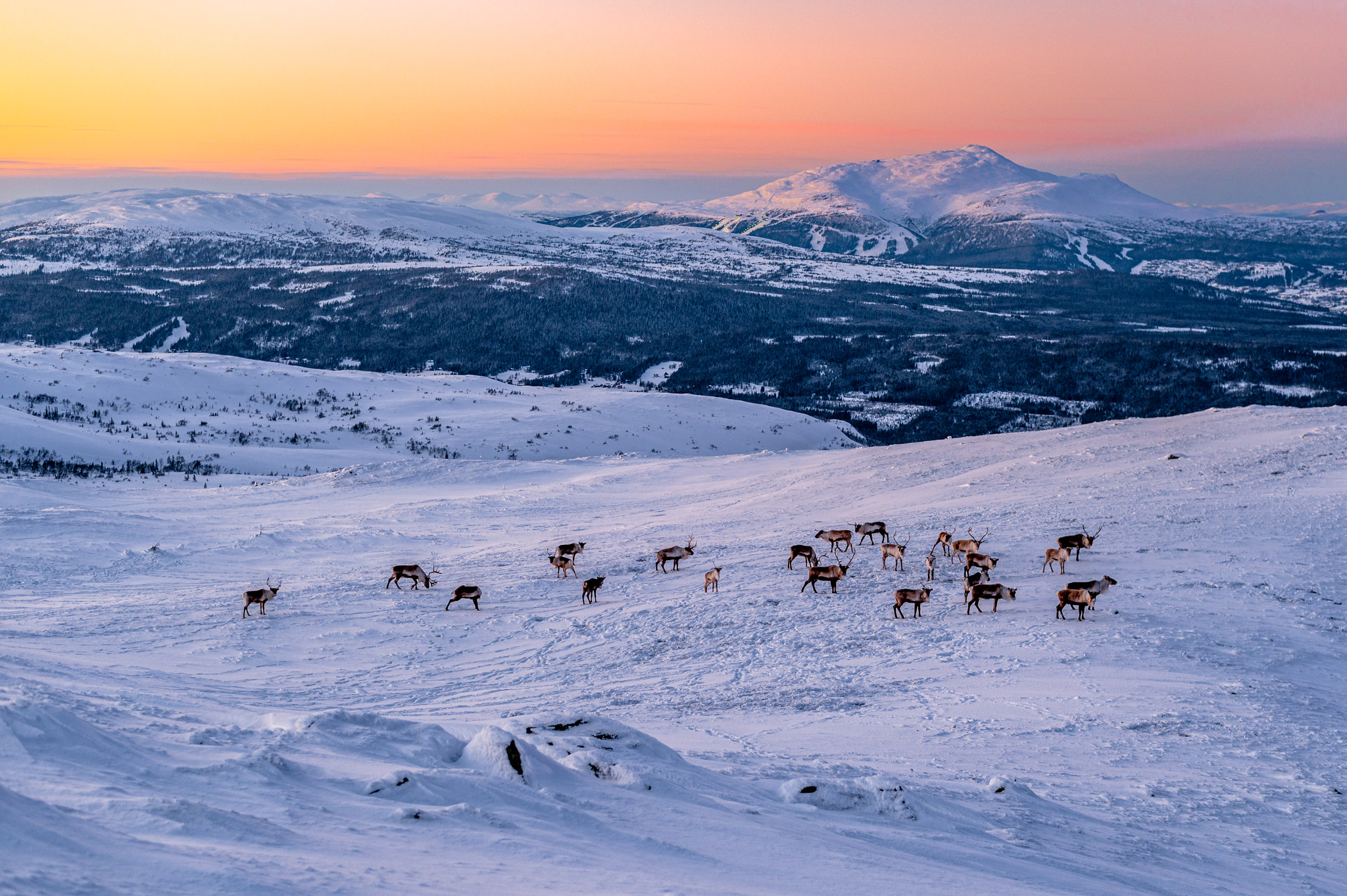 Trip to Duved's highest peak – Mullfjället
Mountain: Mullfjället (1031m)
Difficulty: Easy
Ascent: 2,2km; 214m up; 1h 4min (one way)
Views: Fantastic
Mullfjället is a bit more remote than the previous two mountains so we took a shortcut up by a lift. That's the point of snowshoe hiking or ski touring anyway. You don't want to walk on ski slopes. Our trip started above the ski resort where we could enjoy the untouched nature. Since we took up the last lift of the day we were completely alone in the mountains.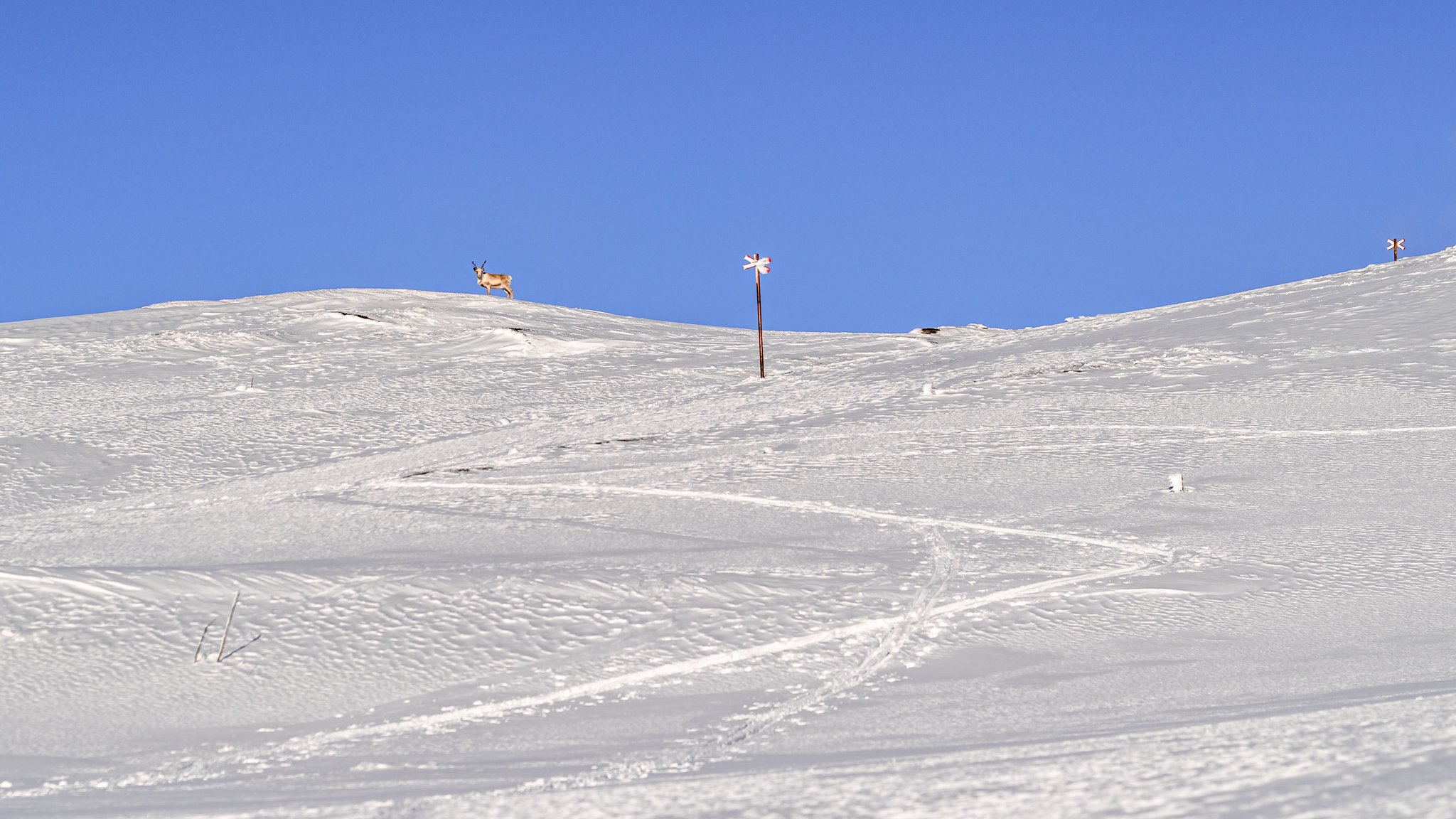 It was very cold (around -15 C) and also very windy so this trip was the toughest but it was so worth it. The views from the top of Mullfjället are wonderful! You can see again the Åreskutan and also the villages Åre and Björnen below.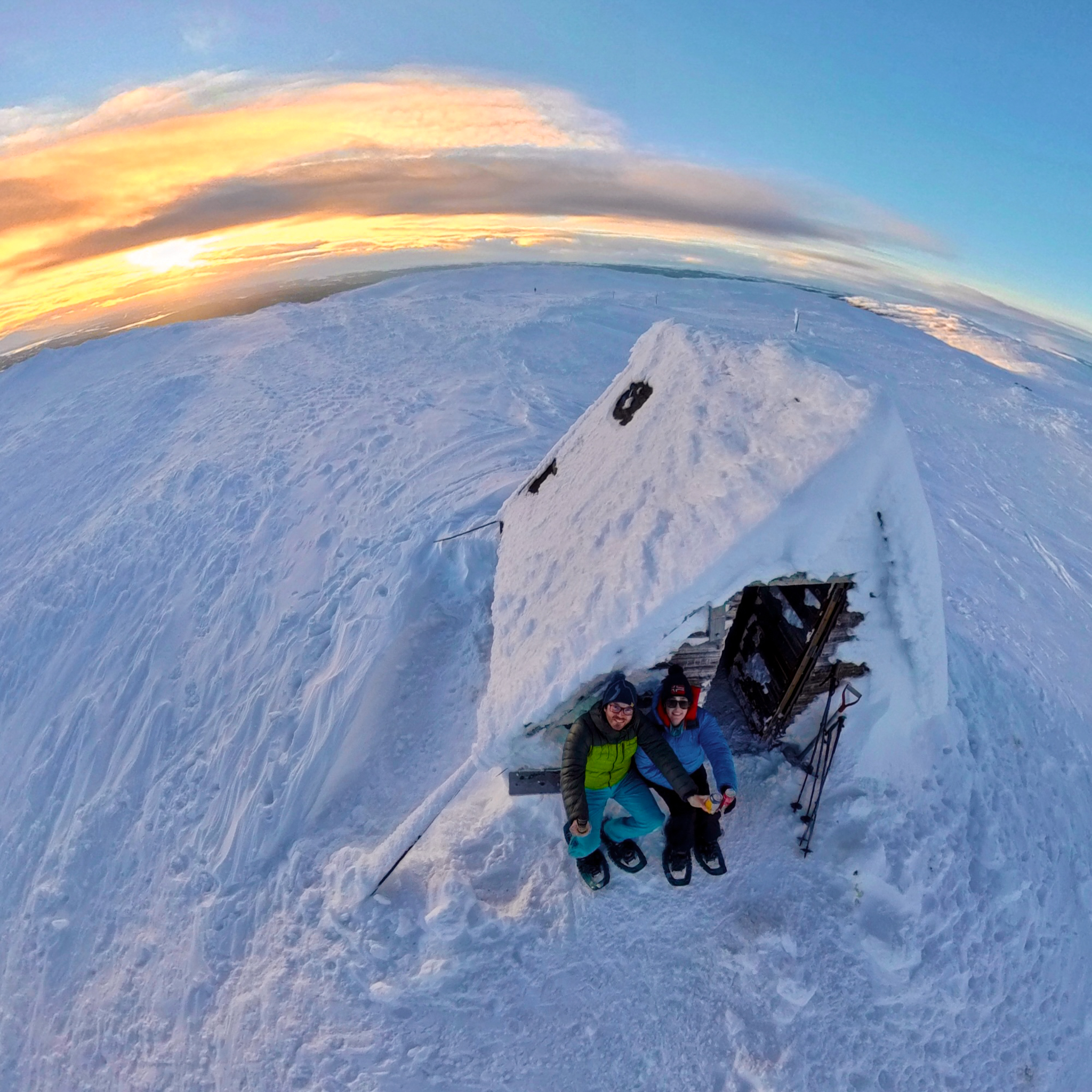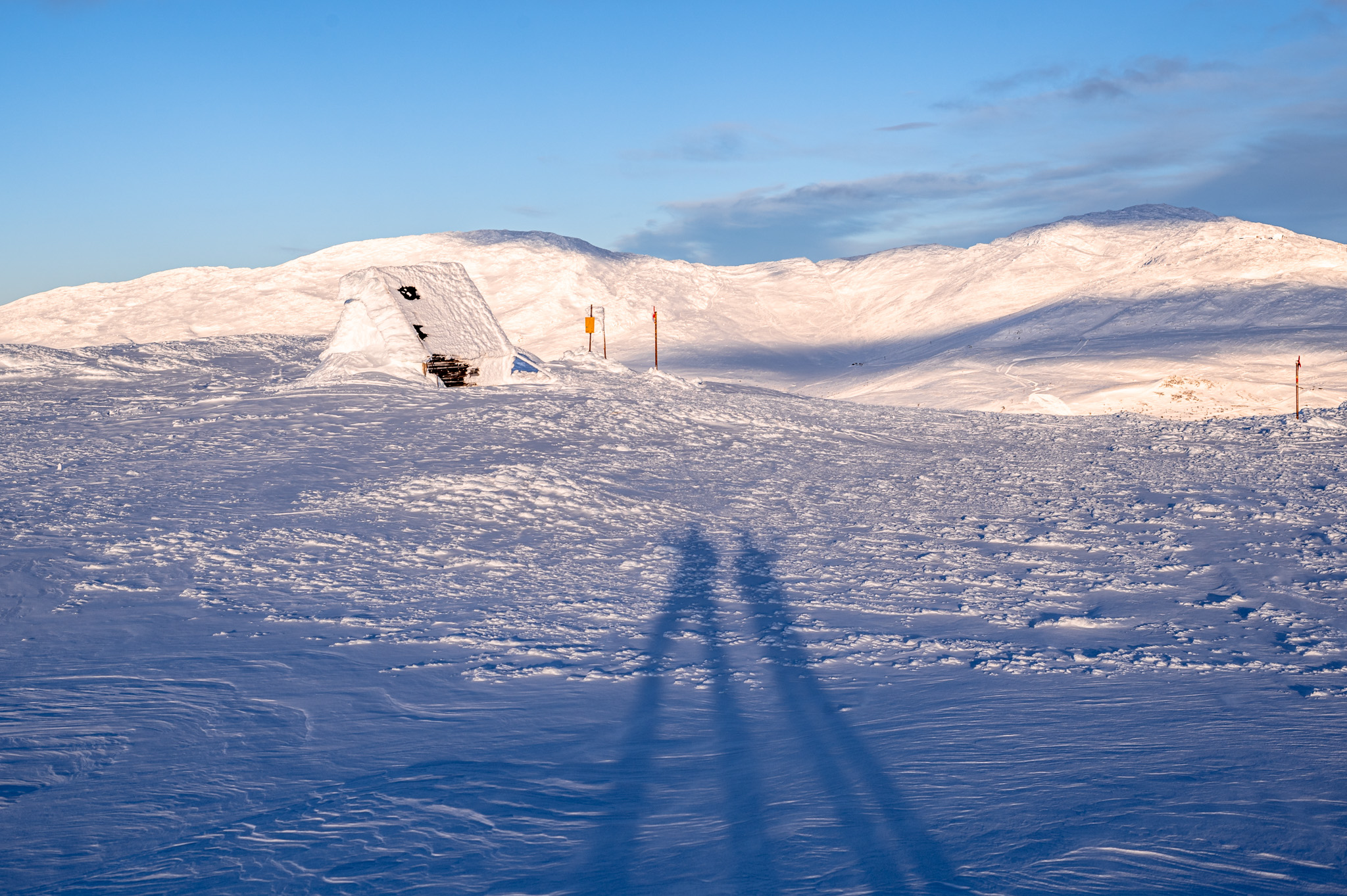 Trip to Åre's highest mountain – Åreskutan
Mountain: Åreskutan (1420m)
Difficulty: Easy
Ascent: 0,9km; 142m up; 24 min (one way)
Views: Fantastic
From all the previous mountains I could admire beautiful Åreskutan. Of course I was also curious about the view from there so I decided to visit it too! Åreskutan is the largest mountain of this small project and it can be a very nice whole day trip up to the top from Åre. If you have limited time like me, you can take up the famous Åre Kabinbana and take a long shortcut. From the highest point of Åre ski resort it's only an additional 150 elevation meters to climb up.
I was on the way up during mid day on a sunny day and it was not the best choice. Unlike all the mountains above, the mountain was crowded with many skiers. Unfortunately, there is also an option to take up a snowmobile for just 100 SEK from the top of the ski resort and many people take this opportunity.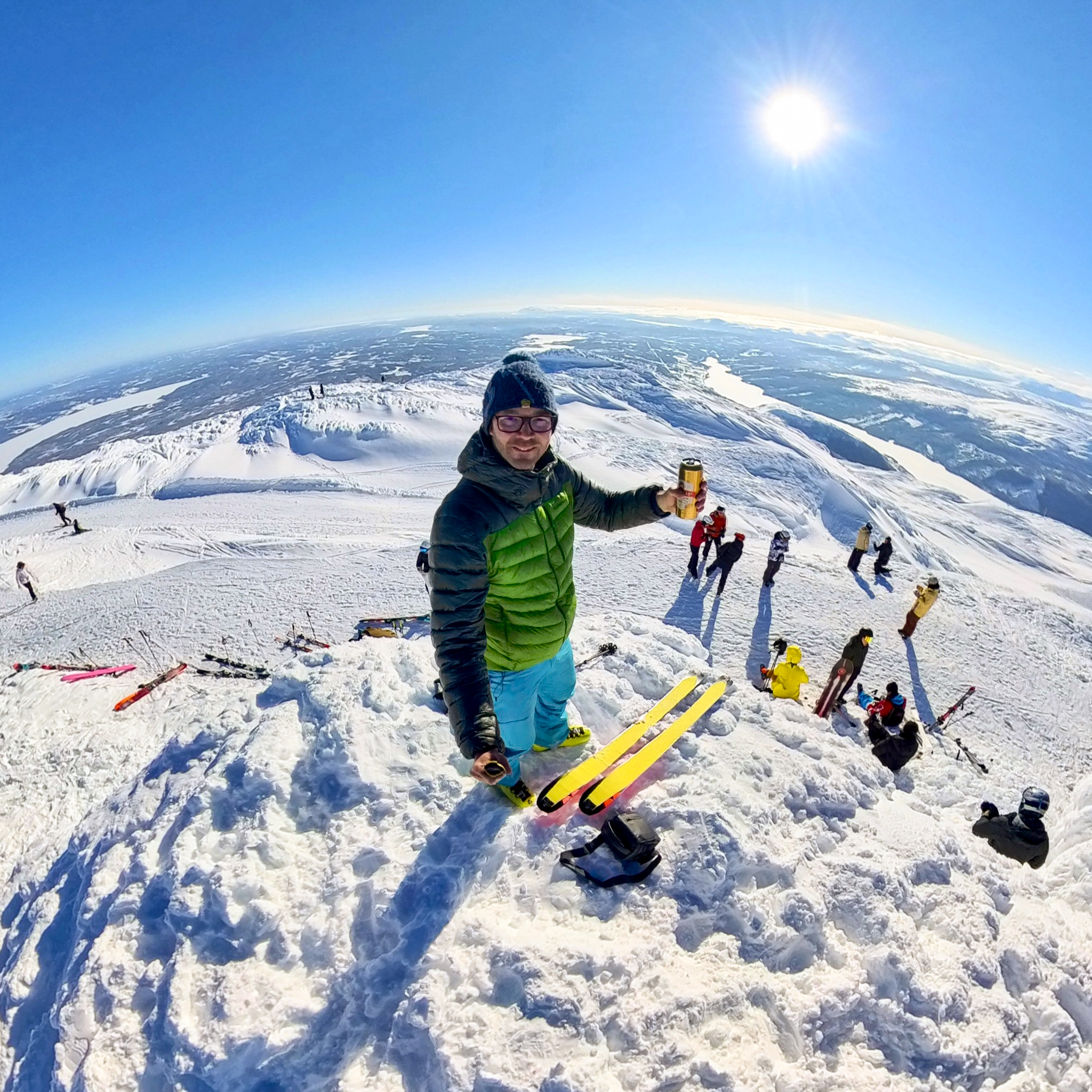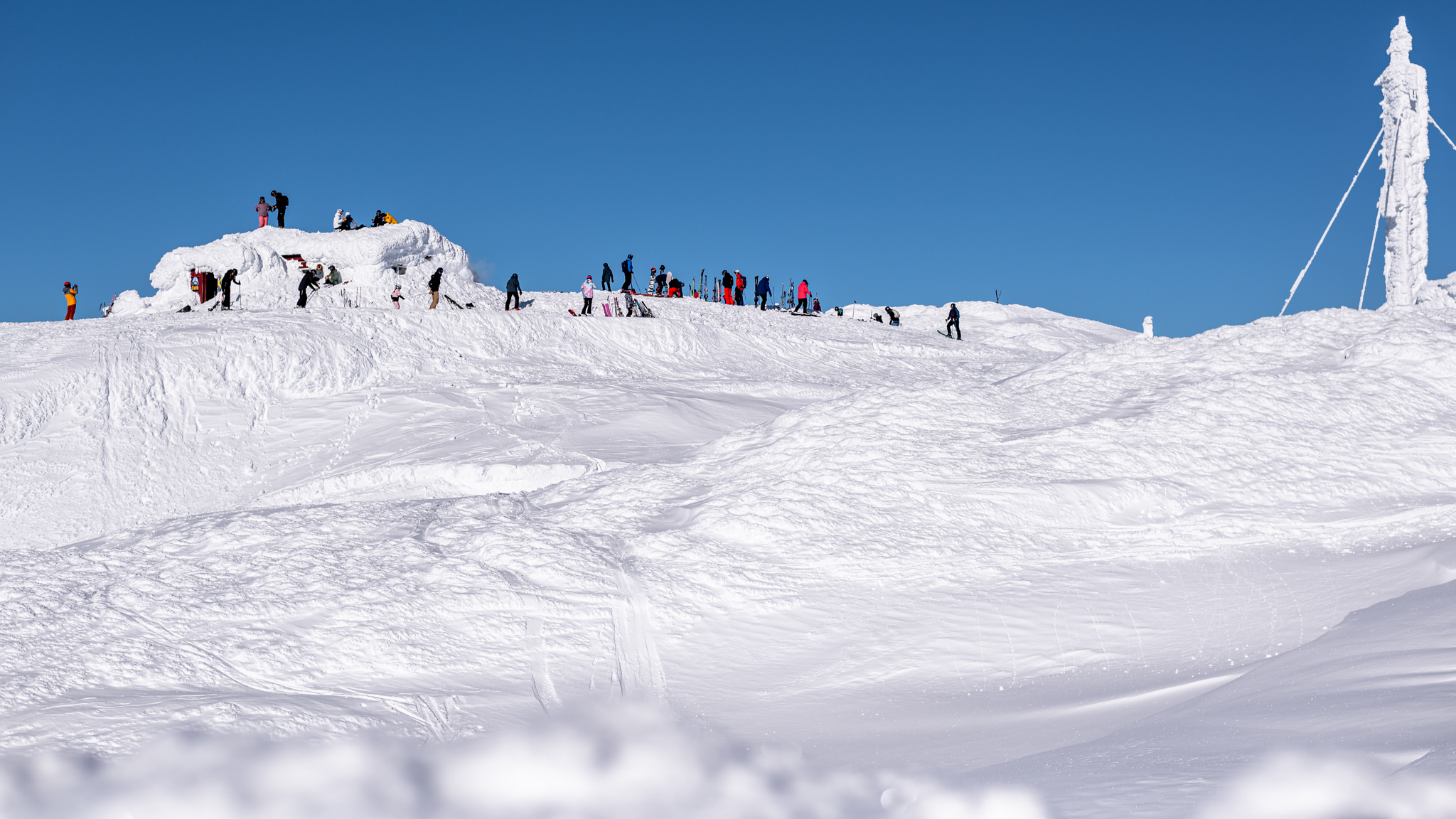 More ski touring trips in Åre area soon!
These are some easy ski touring trips in Åre to start with. Next time I will come up with some more advanced trips. I can't wait to try them for you. Keep posted!