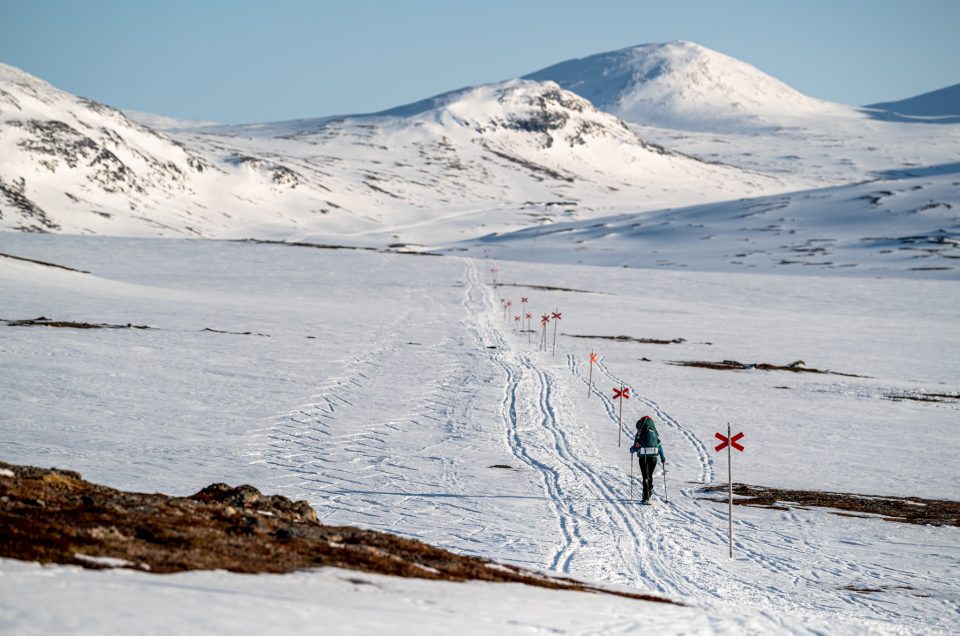 Last Updated on March 29, 2023 by Jarda
Are you looking for a special winter adventure? Try something typically Swedish and explore mountains on back country skis or snowshoes. I recommend the Jämtland Triangle (Jämtlandstriangeln in Swedish) because it's a nice challenge for both beginners and experienced mountaineers. You can spend three wonderful days in the nature and you can choose if you'll spend your evenings in comfortable huts on the way or in a tent under northern lights like us. Here are all my tips.
Recommended time to visit: mid February - mid April 
Opening time of huts in 2023: 16 februari – 23 april
Traveling mode: Ski touring or snowshoes
Difficulty: Moderate
Overall Distance: 46.1km 
Overall Elevation: 1133m up and down 
Distance Day 1: 12.1km
Distance Day 2: 18.1km
Distance Day 3: 15.9km
Elevation Day 1: 468m up, 117m down
Elevation Day 2: 562m up, 594m down
Elavation Day 3: 297m up, 606m down
Personal rating of the adventure: ***** (6 stars maximum) 
Map of the Jämtland Triangle adventure
What equipment to choose for Jämtland Triangle in winter?
I would strongly recommend not to go just in classic hiking shoes as there can be a lot of snow on this trip in winter. Instead, consider bringing snowshoes or back country skis. My girlfriend and I brought snowshoes since we didn't have any back country skis at that time. It was fun having snowshoes but the majority of locals were using skis and they all overtook us, even the pensioners. I would recommend them too because they are faster and the terrain isn't complicated so you won't experience tough uphills or downhills.
If you consider making this trip more adventurous and would like to tent instead of staying at Blåhammarens Fjällstation and Sylarnas Fjällstation, I recommend to bring a sled (pulka in Swedish) to carry your equipment. We brought heavy backpacks and our backs were suffering on the way. On this trip, we learnt that a winter adventure in Sweden is much better on skis and with a sled than on snowshoes and with classic hiking backpacks.
If you don't have any equipment, you can also rent everything you need for your winter adventure at the starting point Storulvån Fjällstation. Check the pricelist for renting on their website.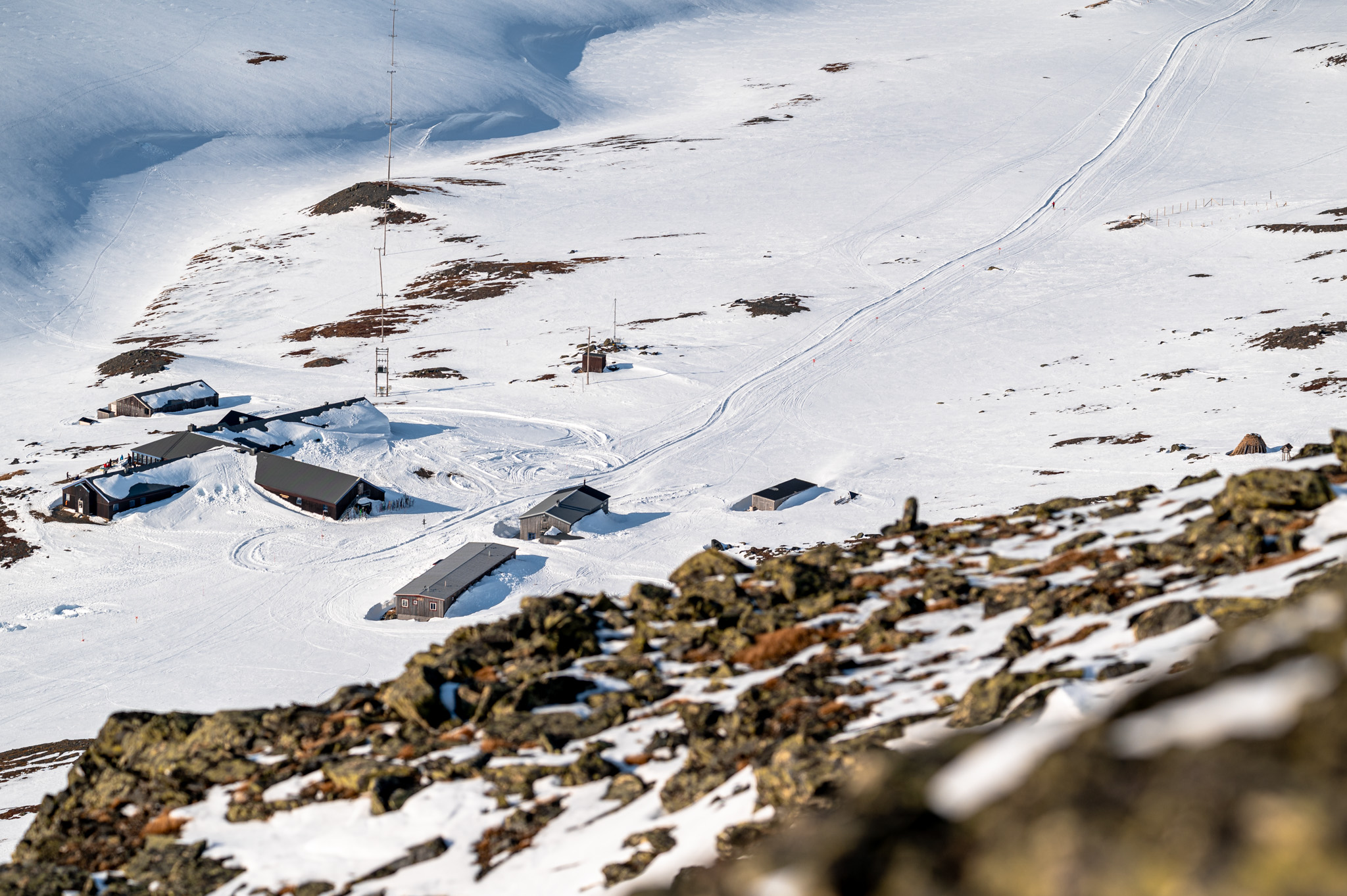 The route of Jämtland Triangle
As the name of the trip implies, the route is in shape of a triangle. It starts at Storulvån Fjällstation which is comfortably accessible by car or by bus from Duved train station. Then, the route leads to Blåhammarens Fjällstation and Sylarnas Fjällstation and back to Storulvån Fjällstation. In winter, it's easy to follow the route as there are sticks with red crosses on the way.
I would just like to warn you for the weather. This trip can be a lot of fun during sunny days but the Jämtland mountains can also surprise with heavy snowstorms. Check out the weather forecast at SMHI before your trip and in case of any warning for the Jämtland mountains, I highly recommend you to postpone your trip.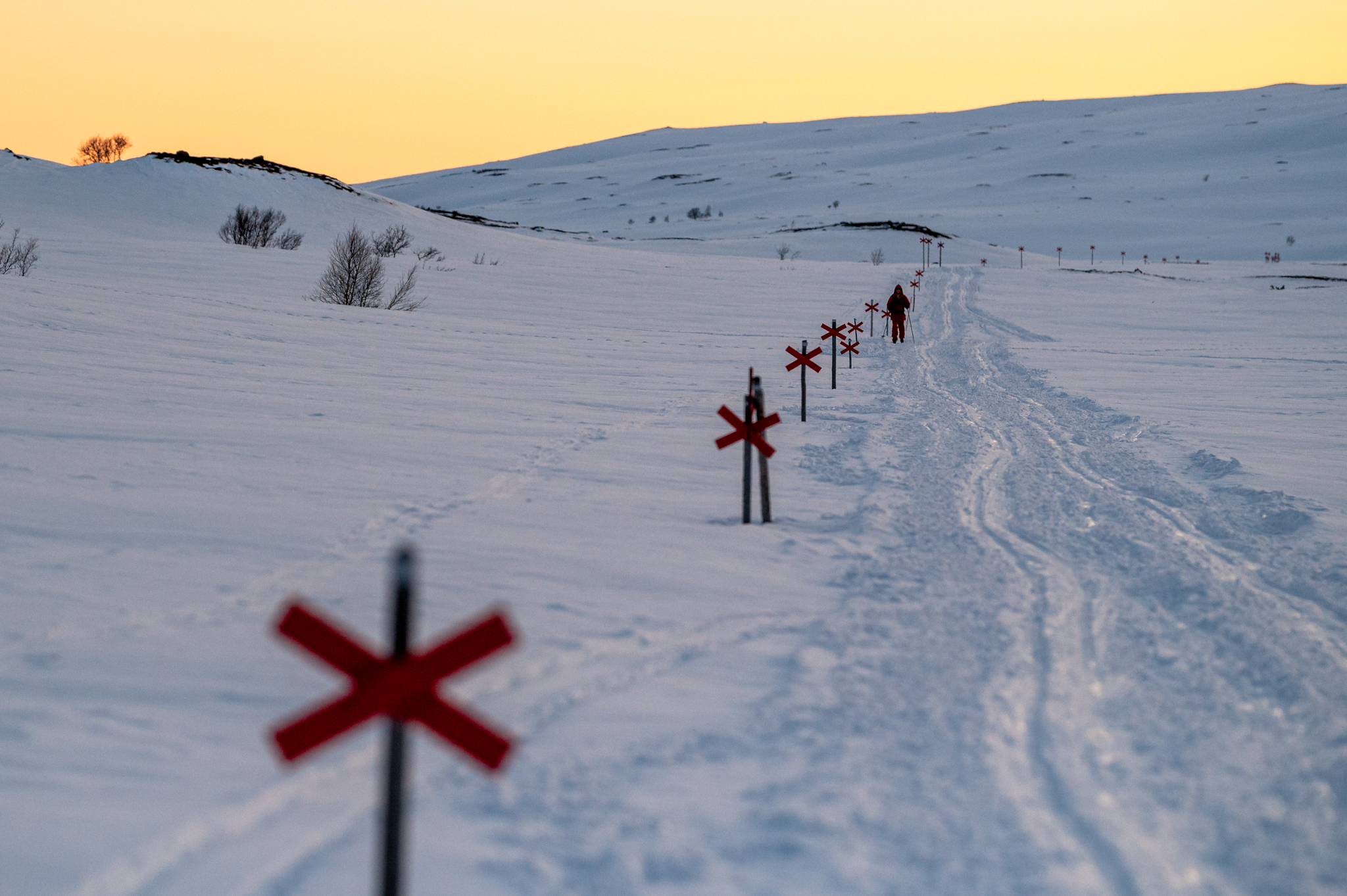 Highlights of Jämtland Triangle
Views on the way: The whole journey provides wonderful views of Swedish mountains. My favourite part was around the Sylarnas Fjällstation where you have wonderful views over mountains Storsylen and Lillsylen which stand on the Norwegian border.
Mountains to climb on the way: The daily distances aren't very long so you might have some extra time to climb some mountains on the way. An easy option is Blåhammarkläppen from where you can see far into Norway. Västra Endalshöjden offers wonderful views over the whole Jämtland Triangle and Herrklumpen offers the best view of mountains Lillsylen and Storsylen. If you are an experienced mountaineer you can also climb Lillsylen and Storsylen themselves. These mountains require mountain experience and avalanche awareness. Check the current conditions at Sylarna Fjällstation.
Reindeers: During later winter there are many reindeers in Jämtland mountains. Keep your eyes open to spot them. You have more chance to see them during sunrise and sunset when less people are in the nature.
Sauna: All the huts on the way have a sauna. Don't miss the opportunity to try at least one of them and celebrate your day in winter paradise with a jump in snow to cool down from the heat.
Northern lights: If there is clear sky, check out the north at night. You might be lucky to see northern lights. It should be at least kp3 to see in this area. You can find more about northern lights in this article.
Sylarnas Fjällstation: If you are considering making a shorter trip and if you would like to skip one hut, don't miss Sylarna. This hut is modern, beautiful and offers wonderful views. As a bonus, you can have there tapped local beer to celebrate your trip. Enjoy!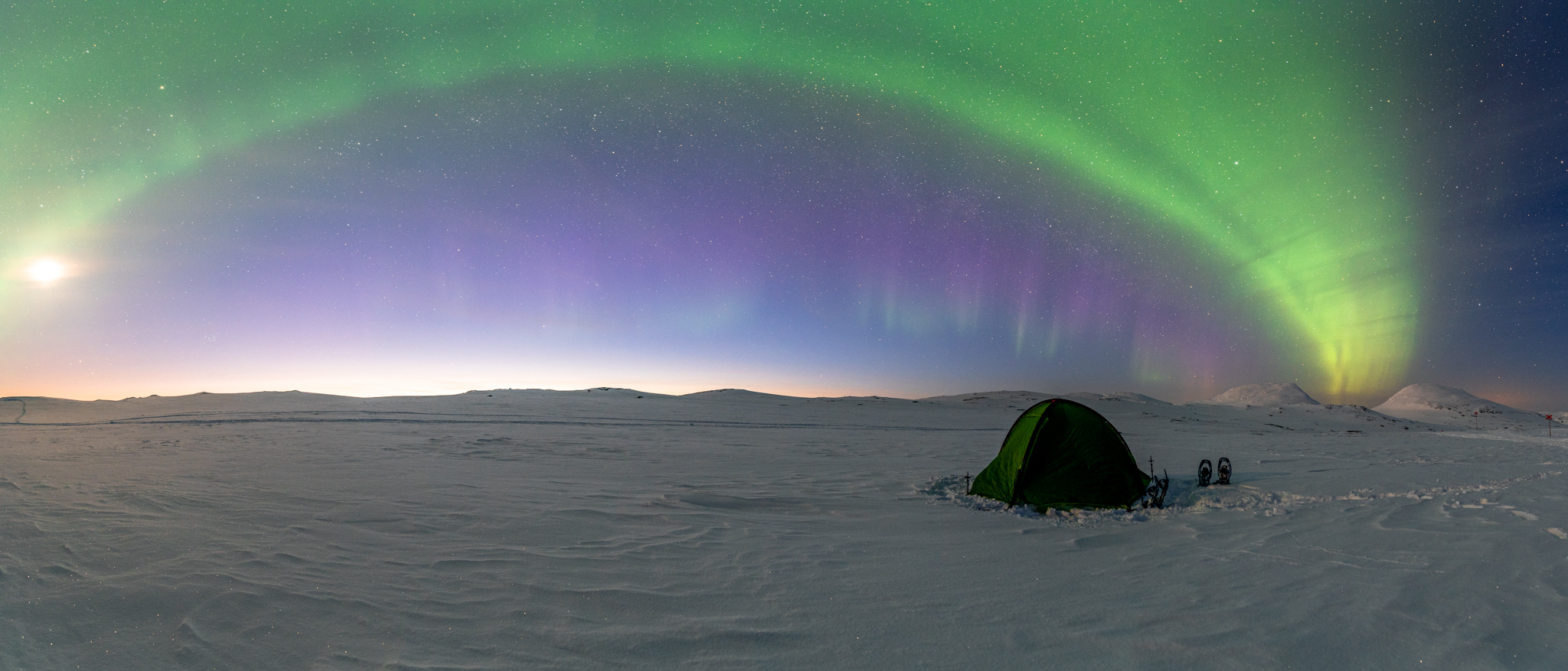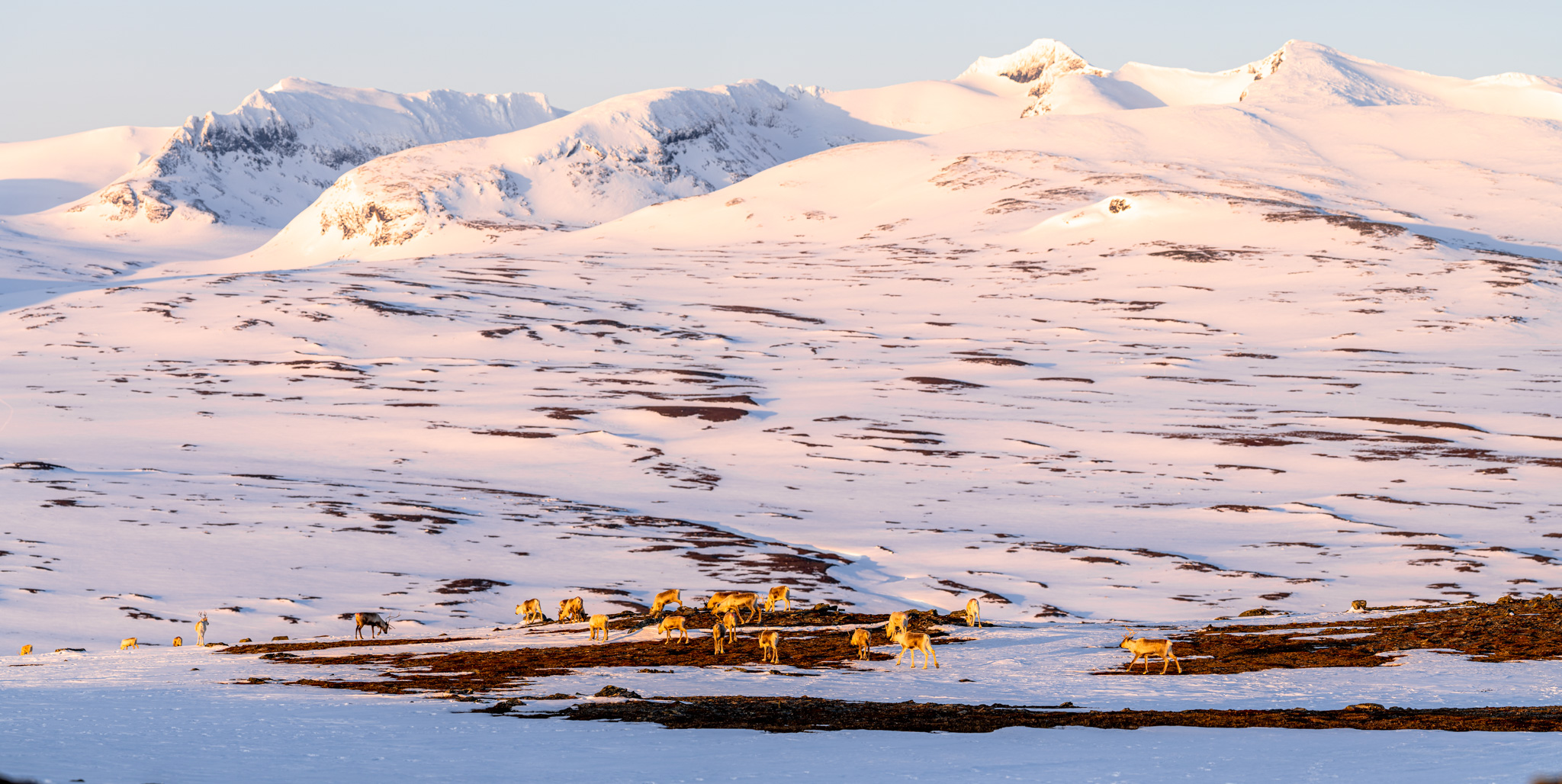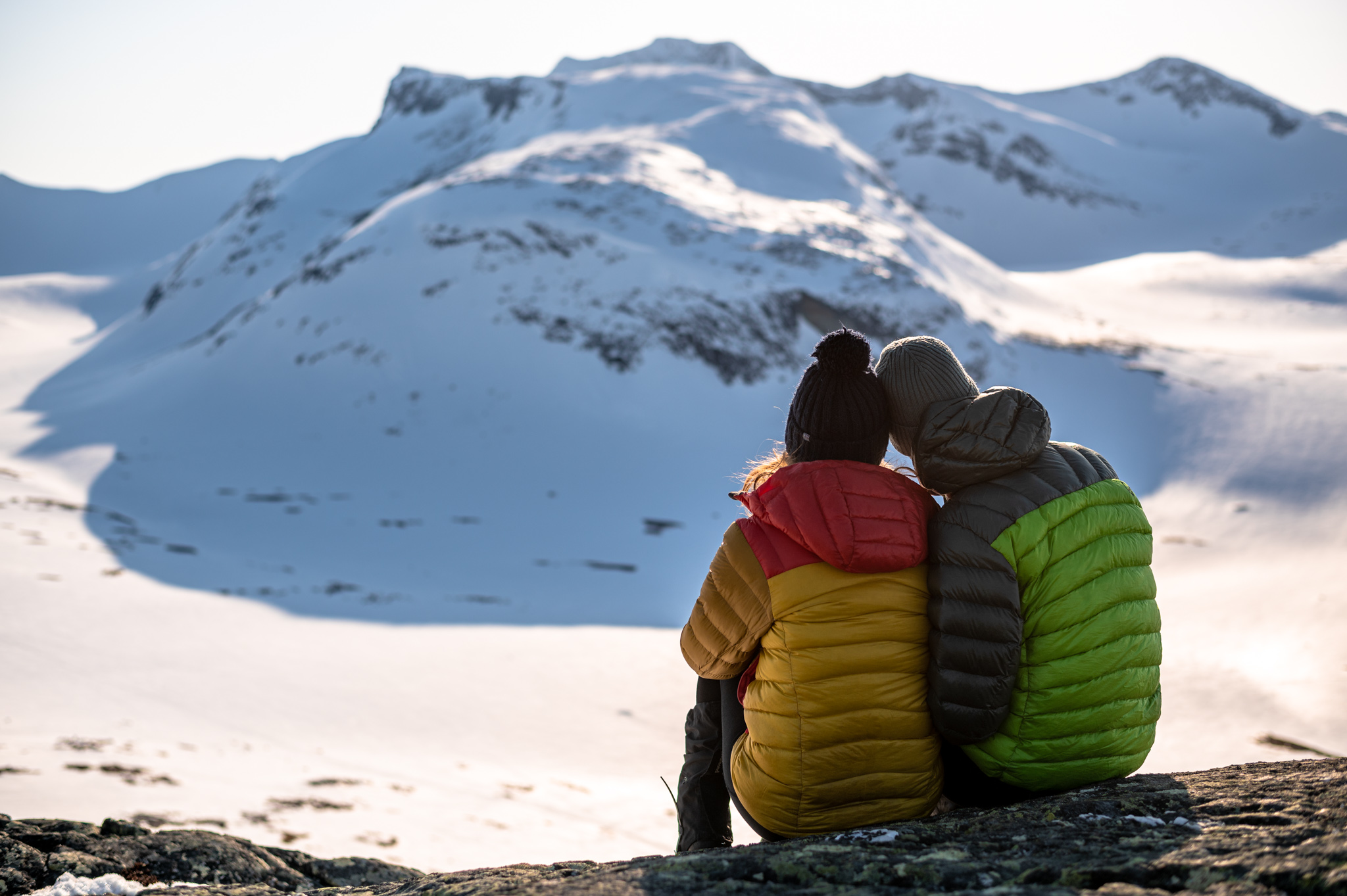 Our experience of Jämtland Triangle
We loved this hike. Even though we were slower than others because our snowshoes can't reach the speed of back country skis, we had a lot of time to enjoy the views over landscapes. During our first night, there was a wonderful northern lights show above our tent and we also managed some small mountain adventures that I mentioned in the paragraph above.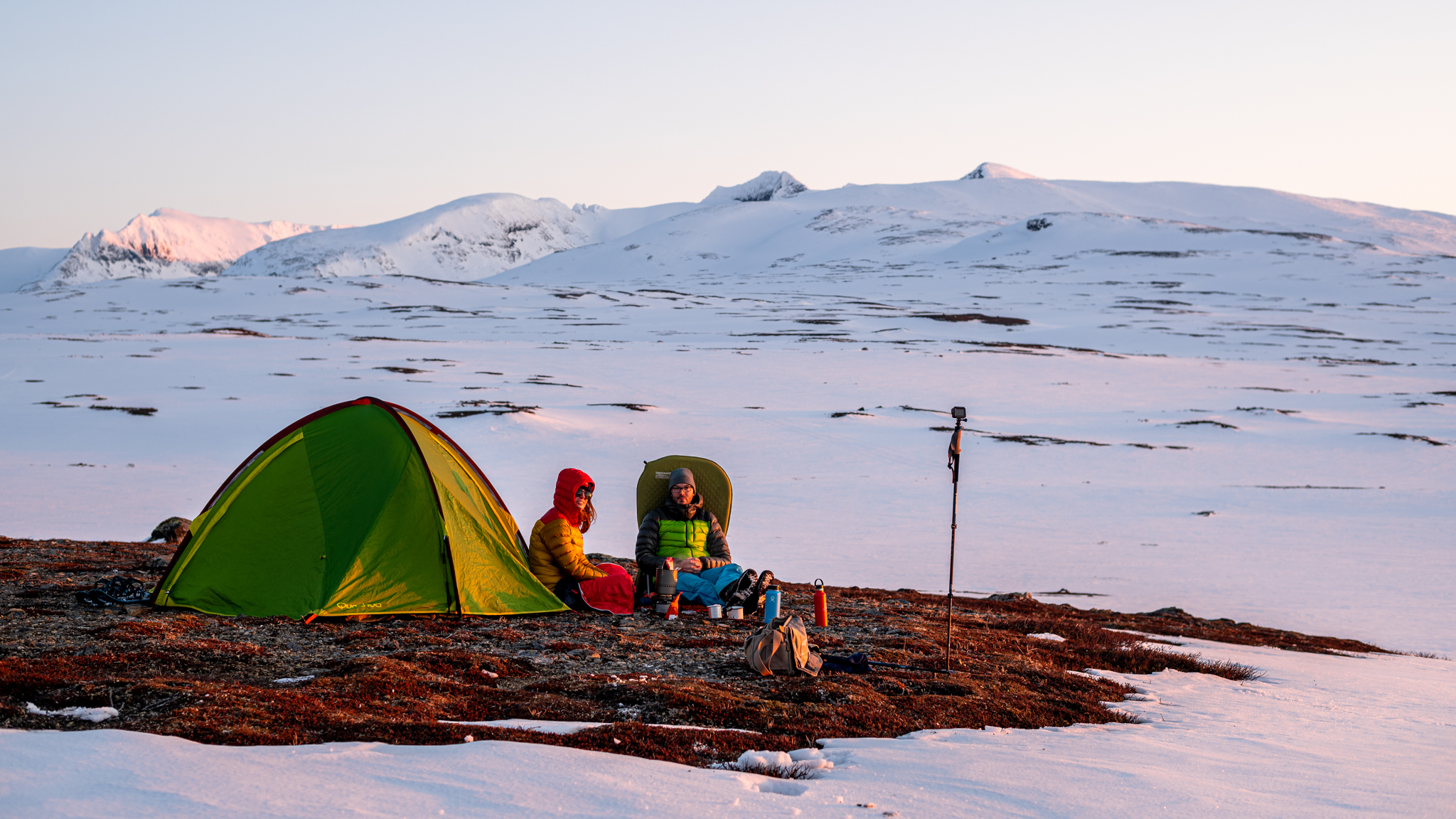 There was no real difficulty in the terrain, we were lucky with nice weather and I wish you the same! Enjoy the Swedish winter mountains like we did. As a teaser, you can take a look how happy I was to capture my very first video of northern lights on my camera.