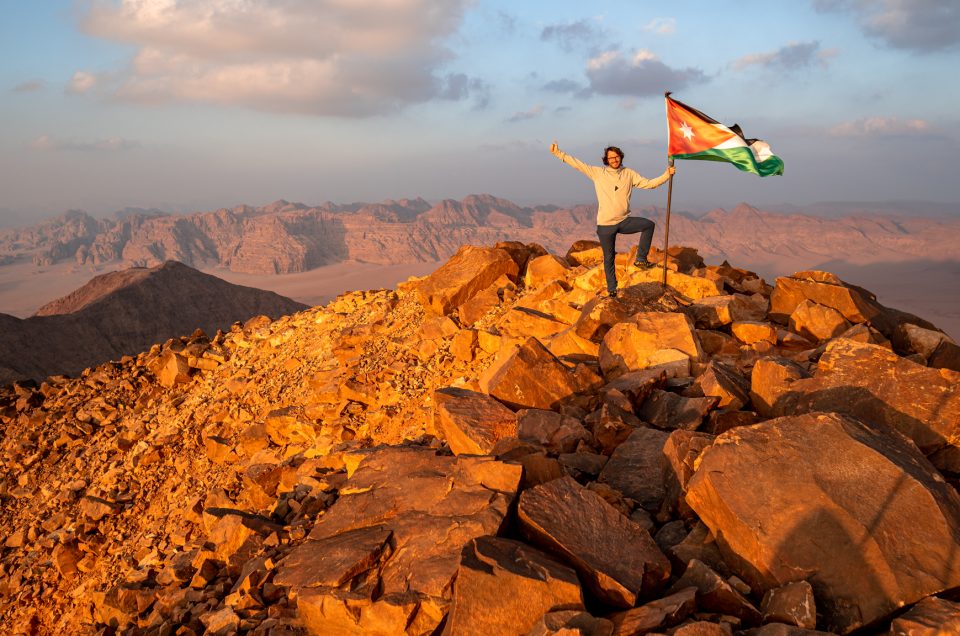 Last Updated on January 10, 2023 by Jarda
Jordan impressed me like no other country before. It has so much to offer. I didn't have high expectations before my trip but I enjoyed every single day in the country at the crossroads of the continents of Asia, Africa and Europe. The best experience was definitely the climb of the highest point of the country. Do you wonder why? Follow my story of visiting Jabal Umm ad Dami.
Date of summit: 6th December 2022 9:30 
Traveling mode: Hiking
Height of the peak: 1.854m
Hiking distance: 2.78km 
Hiking time: 1 hours 26 minutes  
Elevation climbed: 359m
Map of my journey to Jabal Umm ad Dami: Suunto map
Personal rating of the mountain: ***** (6 stars maximum) 
Beer on the peak: Petra lager beer 5% *** (6 stars maximum) 
It took me more than four years after the last time to visit a country outside Europe again. That's a lot compared to the times before covid and my expedition European Peaks when I usually made one trip a year outside the old continent. I simply couldn't wait for such an adventure. I am happy that my friends Jan and Mates joined me for this trip so we all could enjoy the rich history and culture, amazing food and astonishing landscapes of Jordan.
This time, I will skip describing the start of our trip when we visited the Dead Sea and Petra (btw, both very exciting and unique tourist attractions), and I will move directly to Wadi Rum, a valley cut into the sandstone and granite rock in southern Jordan which hides the highest mountain of the country – Jabal Umm ad Dami.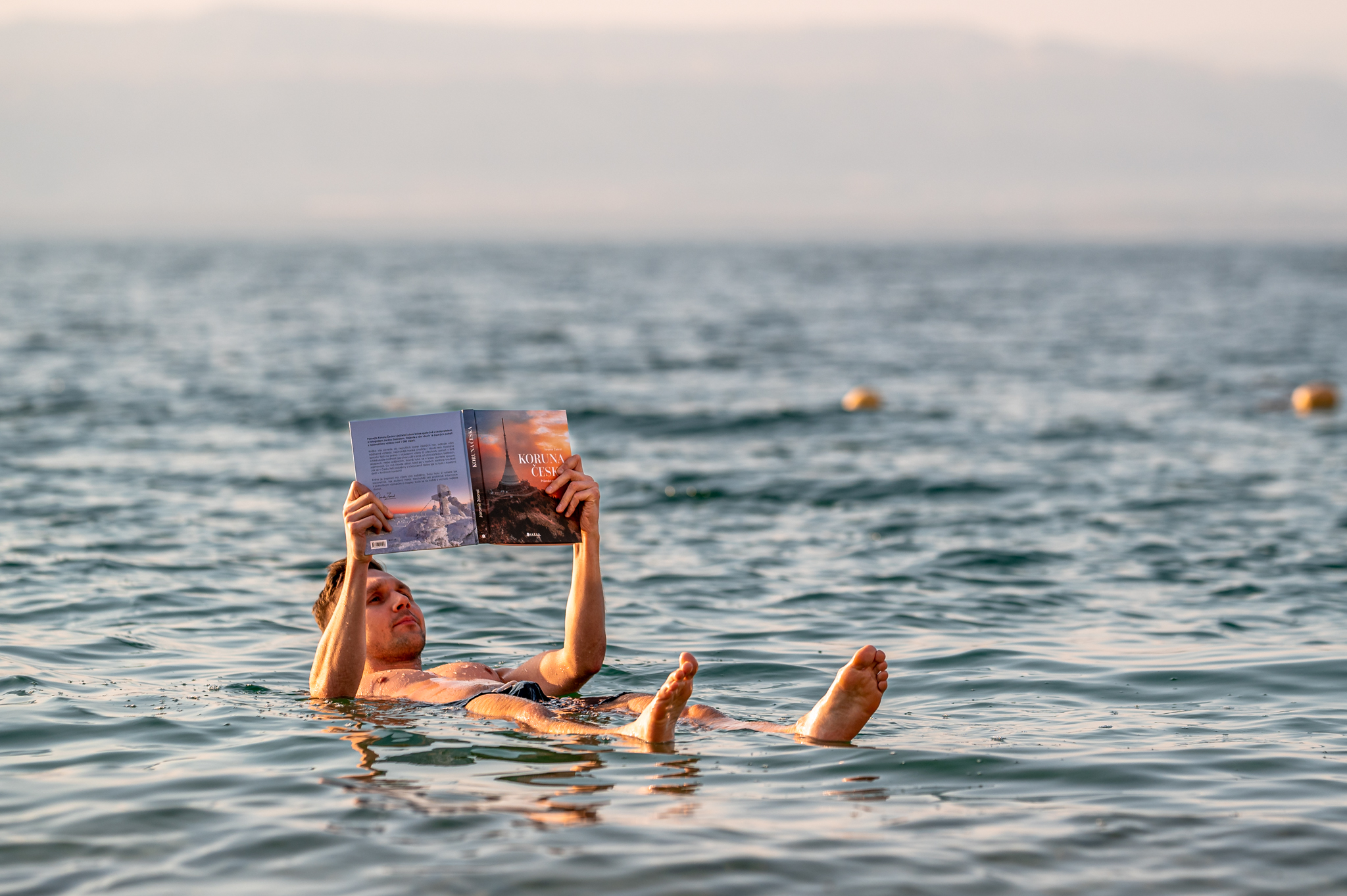 How to climb the highest mountain of Jordan – Jabal Umm ad Dami?
Wadi rum is a large desert and it offers such wonderful sceneries that today it is a protected area that has been a UNESCO World Heritage site since 2011. No wonder that it is popular among tourists. They usually visit Wadi Rum by organized tours booked in advance. I would recommend the same, especially if you come during the high season (March-May, September-November). Tour operators are limited and the available spots fill in fast. Even though we visited Wadi Rum during the low season (early December), we also booked our trip in advance. We made a thorough research and selected Wadi Rum Magic Tours which had the best reviews.
It turned out to be an excellent choice. We booked a two day tour during which we were supposed to climb the mountain on day 1 and we still had a chance to explore the most interesting sights of the desert during day 2. Our guide Arid was a local bedouin who had a great experience with both the highest mountain and the most interesting sights in the desert. He was also a skillful cook and prepared tasty local dishes which we appreciated a lot after long days in the desert. What we enjoyed most though was his flexibility and sense of humour. We had a lot of fun together and he was okay with our wish to replan the program a bit and make the summit of Jabal Umm ad Dami for sunset.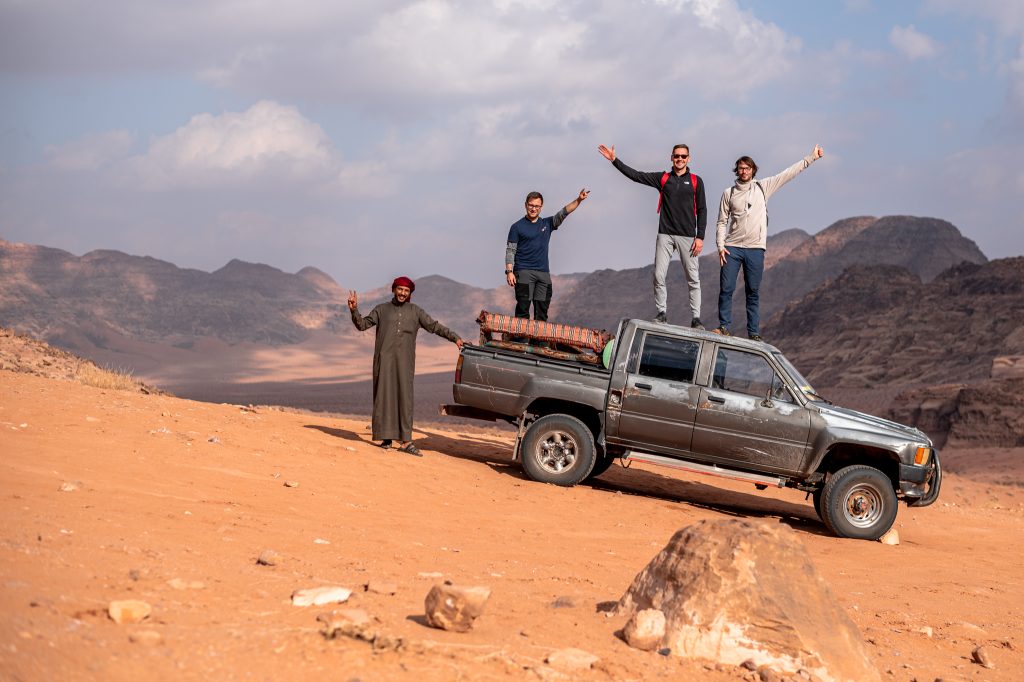 Jeep tour in Wadi Rum
When I travel abroad and visit new places I always try to schedule my visits of the most interesting and famous places differently than others to skip the crowds. I am very happy we did the same in Wadi Rum. Similarly like anywhere else, all the organized tours follow similar patterns. All start at the same time, follow the sights one by one. Even here most of the jeeps go together and you are basically in the crowd the whole day. If you make a trip to Wadi Rum, try to ask to start earlier for instance.
We had another trick for the highest mountain of Jordan. We heard that nobody climbs Jabal Umm ad Dami at sunset time so we asked our guide if we could do so. He became curious about this idea. He wanted to witness the views during late hours as well so we changed the normal plan and set out for the peak after lunch.
It was perfect because even other interesting sights in the desert were already without other tourists. On the way we managed to see for example the chicken and egg rocks where we had so much time for ourselves that our guide could boast of his cool climbing skills. We were definitely impressed because he managed a tough boulder problem even while smoking a cigarette. We took a few pictures and moved finally towards the highest mountain of the country.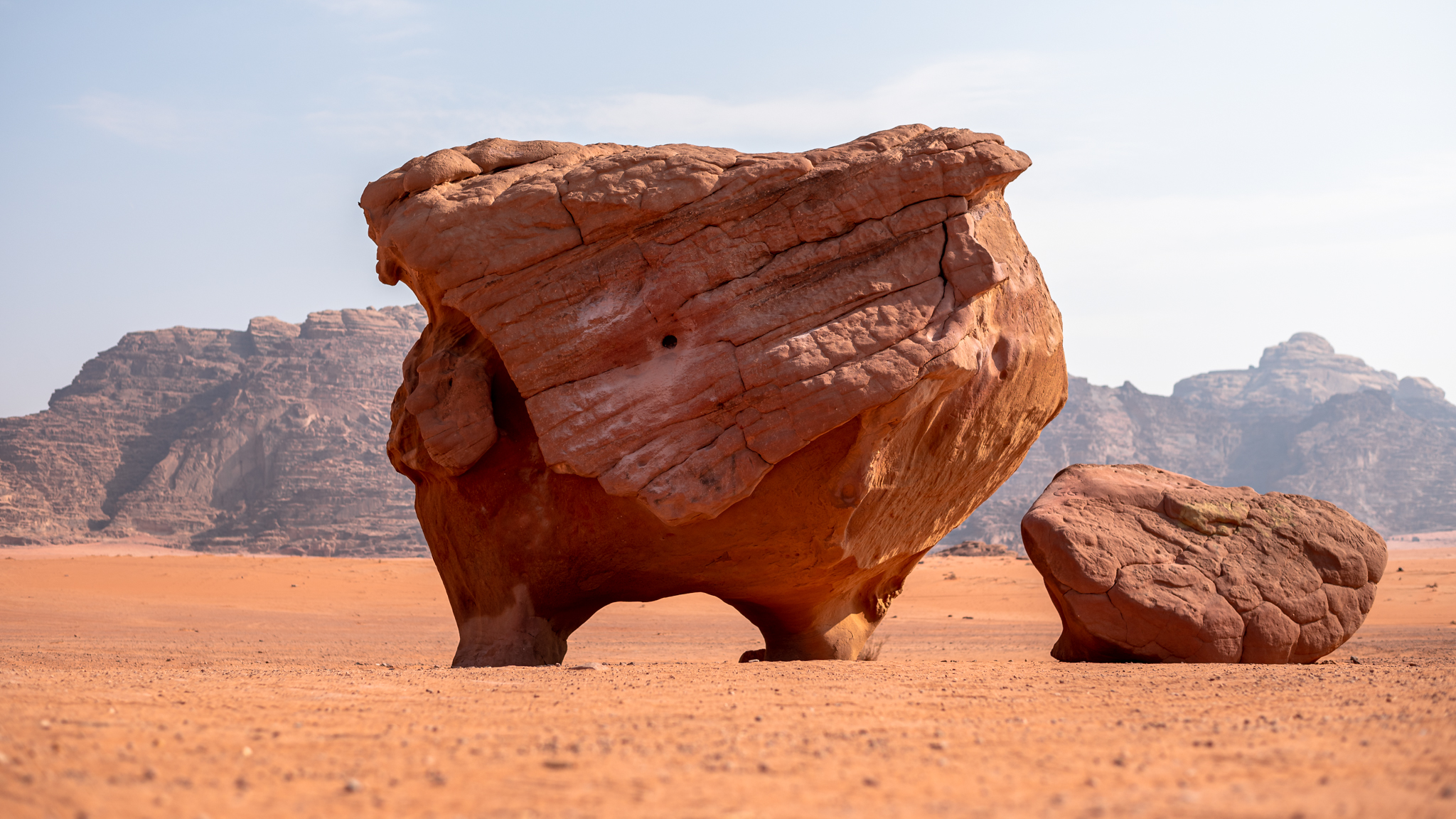 Picnic at Jabal Umm ad Dami
The highest point of Jordan is far from all the bedouin settlements. It is situated nearby Saudi Arabia's border and it takes over an hour to drive to the foot of the mountain from the Wadi Rum village. It takes time to make it to the top compared other sights in the desert but it brings the advantage that not many people are interested in the climb. If you want to experience something unique in the desert and without crowds, it is an excellent opiton.
We started our climb at 2:30pm. Here I wondered: Why so early when we want to be at the top for sunset? The path is rocky and partly sandy. I recommend high and closed shoes. I had outdoor running shoes which often work perfectly for such hikes but it was a big mistake this time. If you don't want to have your shoes full of sand, choose something more durable. Alternatively, take it easy and behave like our guide. He decided to climb in his flip flops (no, this was a joke. Flip flops might be okay for locals because they grew up in the desert and are very skillful in the mountains but proper equipment is recommended here, especially if you are in the desert for the first time).
In general, the equipment of our guide was a bit funny. Besides his "shoes", I also have to leave here a comment about his "backpack". Instead of a rucksack, he carried up a small duffel bag. Lol. Regardless of the equipment, the guide was the fastest of us and while waiting for us, he was collecting local herbs to make a surprise for us at the top.
Once we successfully climbed the peak (btw, not a long climb as we made it in one and half hours but still a little challenge because of slippery sand), Arid set up a fire and made a very nice tea. How many times can you say you had a tea from the herbs of the mountain made freshly on the mountain top?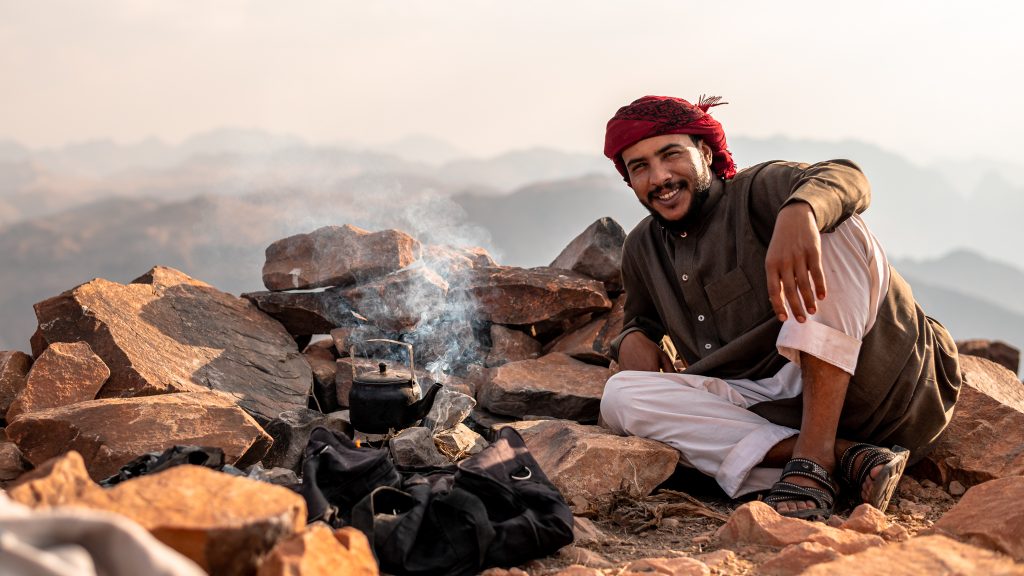 Wonderful sunset over the whole Jordan
Here comes the answer to my question. The biggest advantage of our early summit was that we could enjoy a wonderful time on the mountain top. It was perfect weather and we were sunbathing while drinking the tea and looking over Wadi Rum desert on one side and Saudi Arabia on the other. What a moment it was! I usually spend some time on mountain tops but I am mostly busy photographing the landscapes. Here, we stayed over two hours and most of the times we just relaxed and enjoyed the wonderful views and talk with our guide.
After the epic sunset our steps led back down. Half of the way was still during daylight but we needed headlamps for the second part. If you want to climb the mountain to see sunset, don't forget them. When it got dark I was a bit scared for our guide. The surface was sometimes very slippery and difficult to see but my worries were unnecessary. Of course, the guide made it fastest even on the way down, despite his flip flops.
The toughest part of the day was on the way to our camp by jeep. December nights are pretty cold so don't forget a feather jacket. You will sit on the back of a jeep outside so you need proper clothing not to freeze to death. Luckily, we had warm clothes so we survived the 90 minutes long journey. We arrived a bit cold but our day ended with an amazing bedouin buffet in a desert tent village. Good night and a new fairy tale coming soon!