Last Updated on July 20, 2021 by Jarda
The most challenging mountain of the entire expedition Crown of Europe is the Swiss Dufourspitze. Climbing Dufourspitze, named after the Swiss founder of the Red Cross, requires even more physical and mental preparation than Mont Blanc. It requires all – proper acclimatization and experience in both rock and glacier climbing. Those who can cope with all these pitfalls will be rewarded with unforgettable views.
Date of summit: 23rd May 2019 11:35 
Traveling mode: Ski touring
Height of the peak: 4634m
Ski touring distance: 13.77 km (Day 1) 
Ski touring distance: 8.37 km (Day 2) 
Ski touring distance: 17.25 km (Day 3)  
Ski touring time from Klein Matterhorn to Monte Rosa Hut: 5 hours 27 minutes 
Ski touring time from Monte Rosa Hut to Dufourspitze: 8 hours 1 minute 
Ski touring time from Dufourspitze to Zermatt: 5 hours 59 minutes 
Elevation climbed: 499m (Day 1)
Elevation climbed: 1778m (Day 2) 
Elevation climbed: 200m (Day 3) 
Map of my hiking journey from Klein Matterhorn to Monte Rosa Hut: Movescount
Map of my ski touring journey from Monte Rosa Hut to Dufourspitze: Movescount 
Map of my  ski touring journey from Monte Rosa Hut to Zermatt: Movescount 
Personal rating of the mountain: ****** (6 stars maximum) 
Beer on the peak: Valaisanne Lager Hell *** (6 stars maximum) 
After four weeks on the road through the East European and Balkan countries, I took a few days break in my second home in the Czech Republic. I was waiting for proper weather for the most challenging summit in Switzerland. Since I had a big respect to this mountain I booked a mountain guide this time. I was happy I also found one more climbing partner on Facebook. The skiing and rafting instructor Petra decided to join us.
Since there was still a lot of snow in the Alps and it had been snowing lately, we decided to climb Dufourspitze on backcountry skies. We were waiting for a weather gap for a long time. We had to be very flexible. It took one week before the perfect weather gap showed up. It was supposed to be sunny and windless for 48 hours. Time to go.
The move to Switzerland took us a very long time but we had at least some time to get to know each other. It was clear that I would be the least experienced back country skier. The mountain guide had been guiding people on back country skies for thirty years and Petra is a skiing instructor who spends every free time on back country skies. Hopefully, my quadruple back country experience will be enough to handle their pace.
Driving from Czech Republic to Switzerland was tiring. We arrived late at night, slept shortly and arrived early in the morning to the village of Täsch which is the last place you can reach by car on the way to Zermatt. There we took a taxi to one of the most famous villages in the Alps.
Time to acclimatize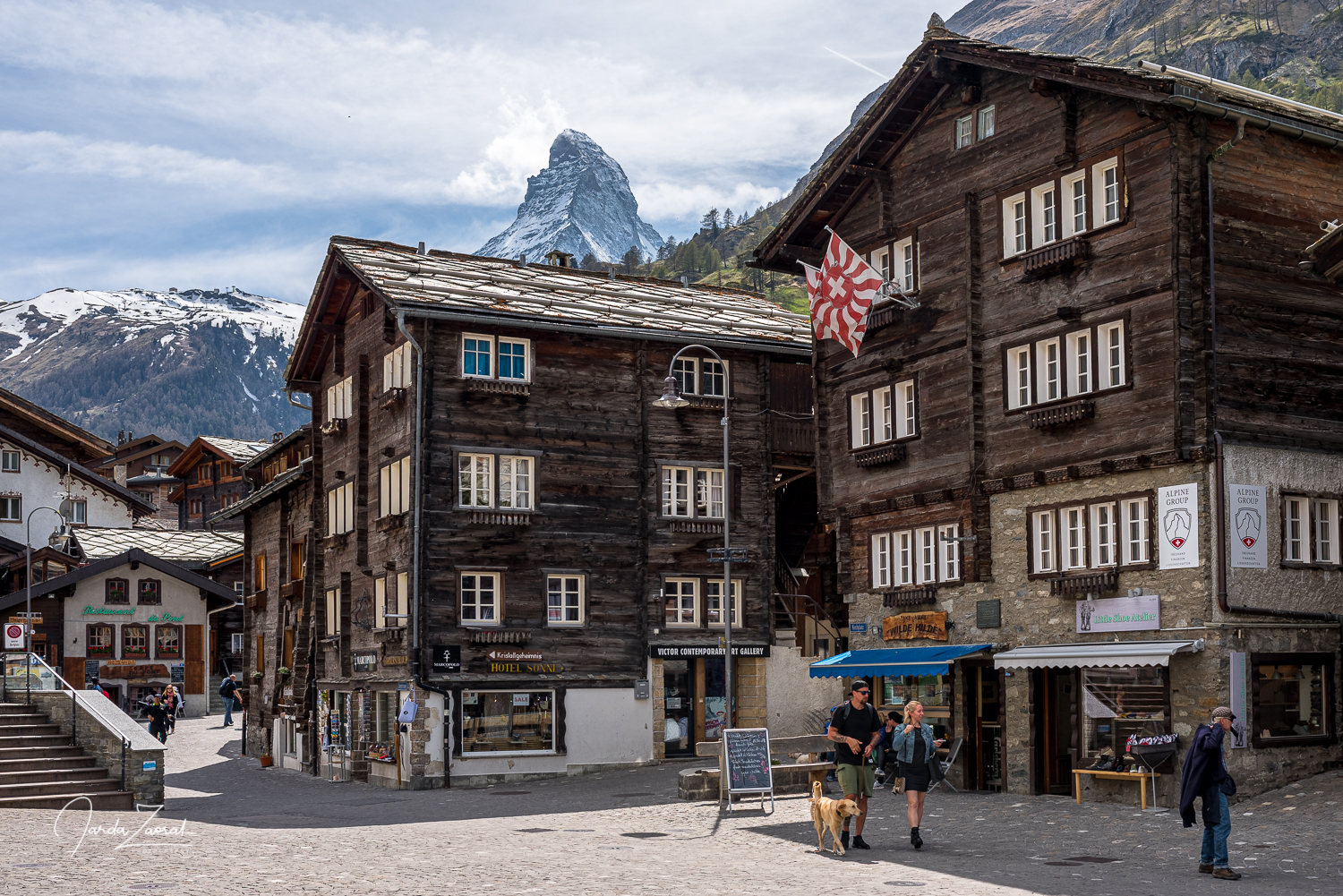 We didn't stay long in Zermatt. We planned to acclimatize and move to the Monte Rosa hut that day, so we quickly headed for the cable car station and bought a ticket for the Klein Matterhorn. It is the highest cable way station in Europe with its height of 3883 m above the sea level. A perfect starting point for an acclimatization walk.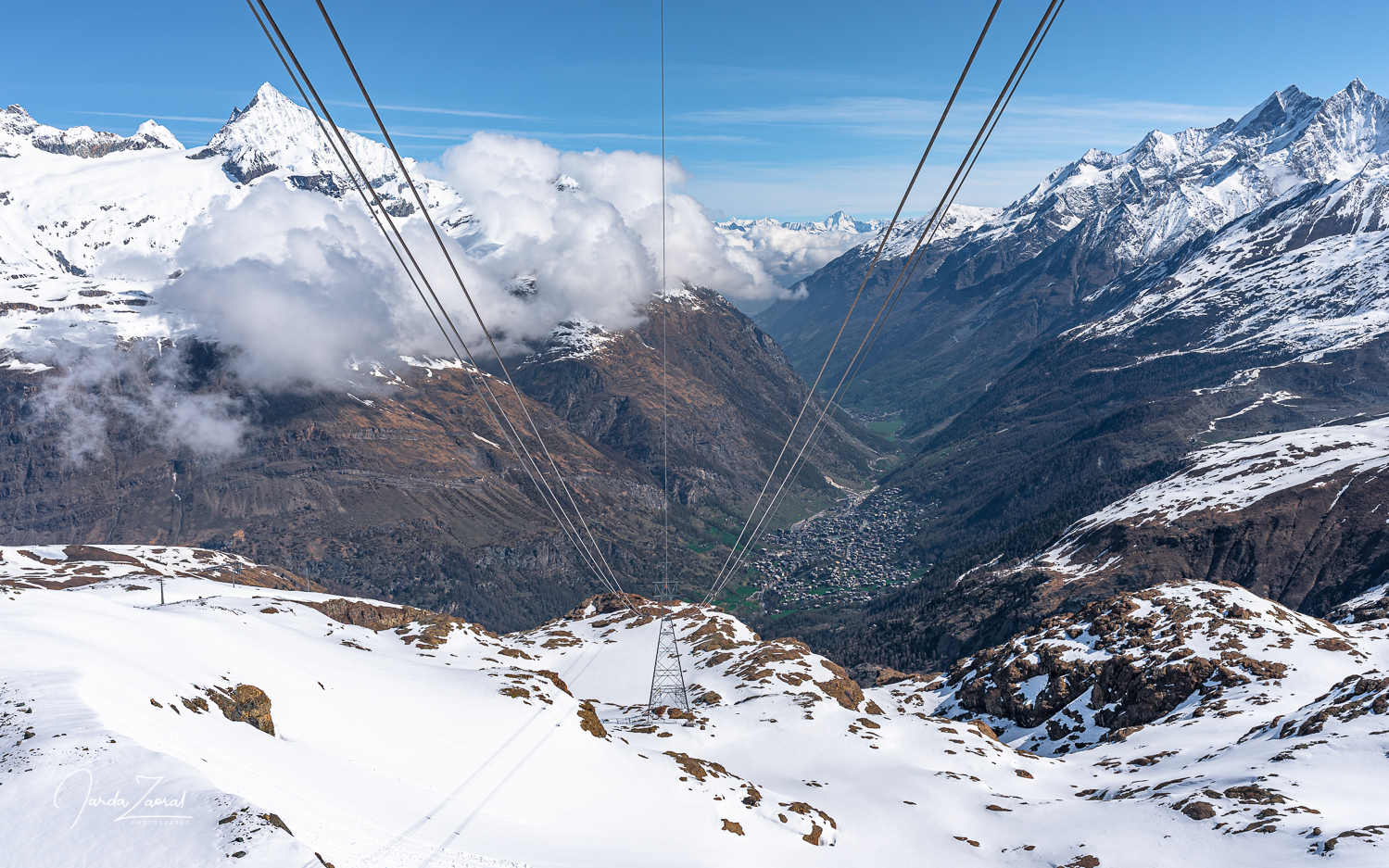 I was short of breath. Overcoming more than 2,000 elevation meters in a few minutes isn't the easiest task for people's lungs. I was getting used to the thin air while looking at skiers who were coming back to Zermatt on still perfect and almost empty slopes. Shouldn't we rather go skiing?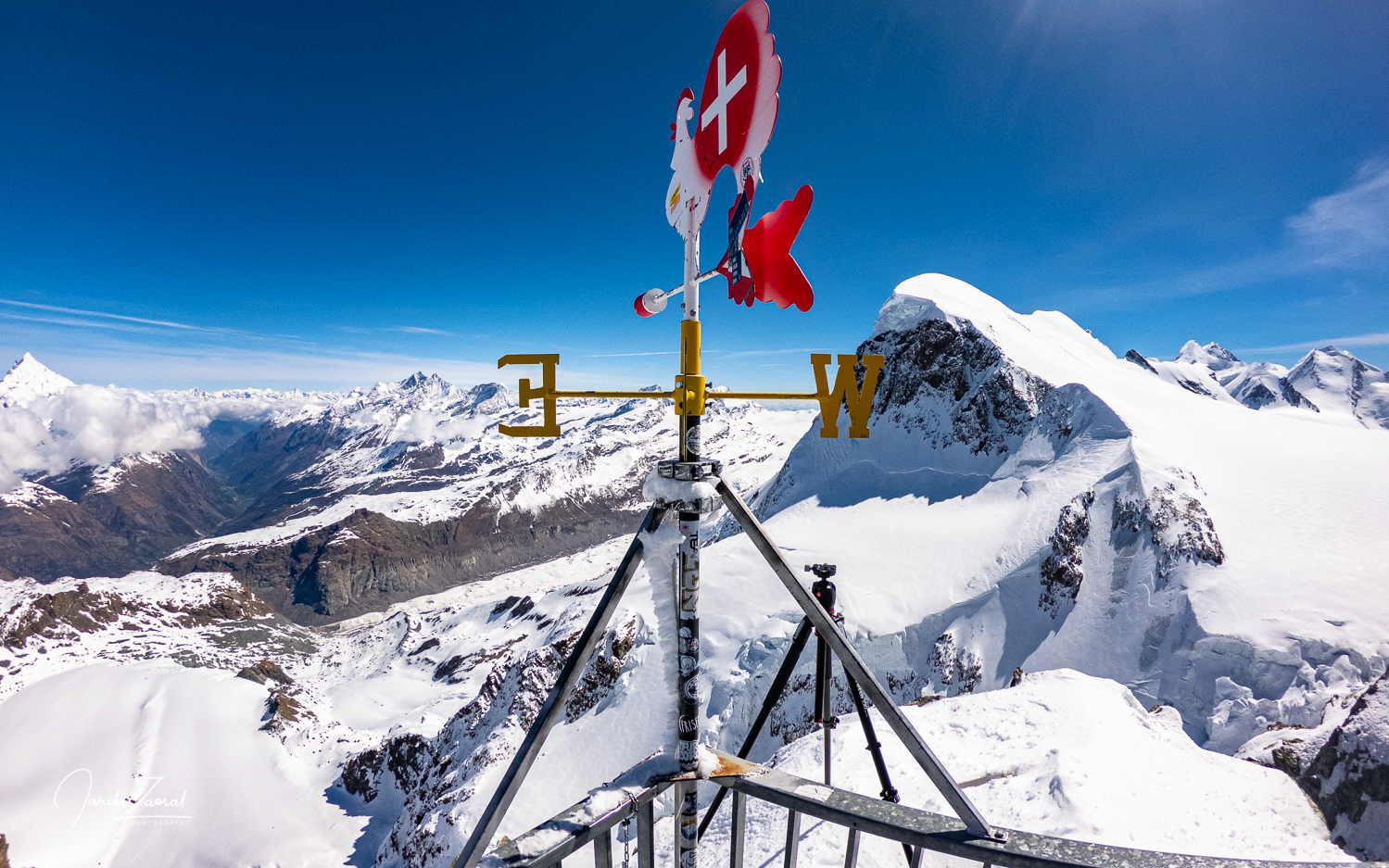 In a few minutes my lungs got a bit used to the thin air, so I was ready to start our acclimatization skiing day. The plan was to traverse around the mountains Breithorn and Roccia Nera and then descend via the Schwärzegletscher glacier to the Monte Rosa hut where we will sleep before the subsequent summit day.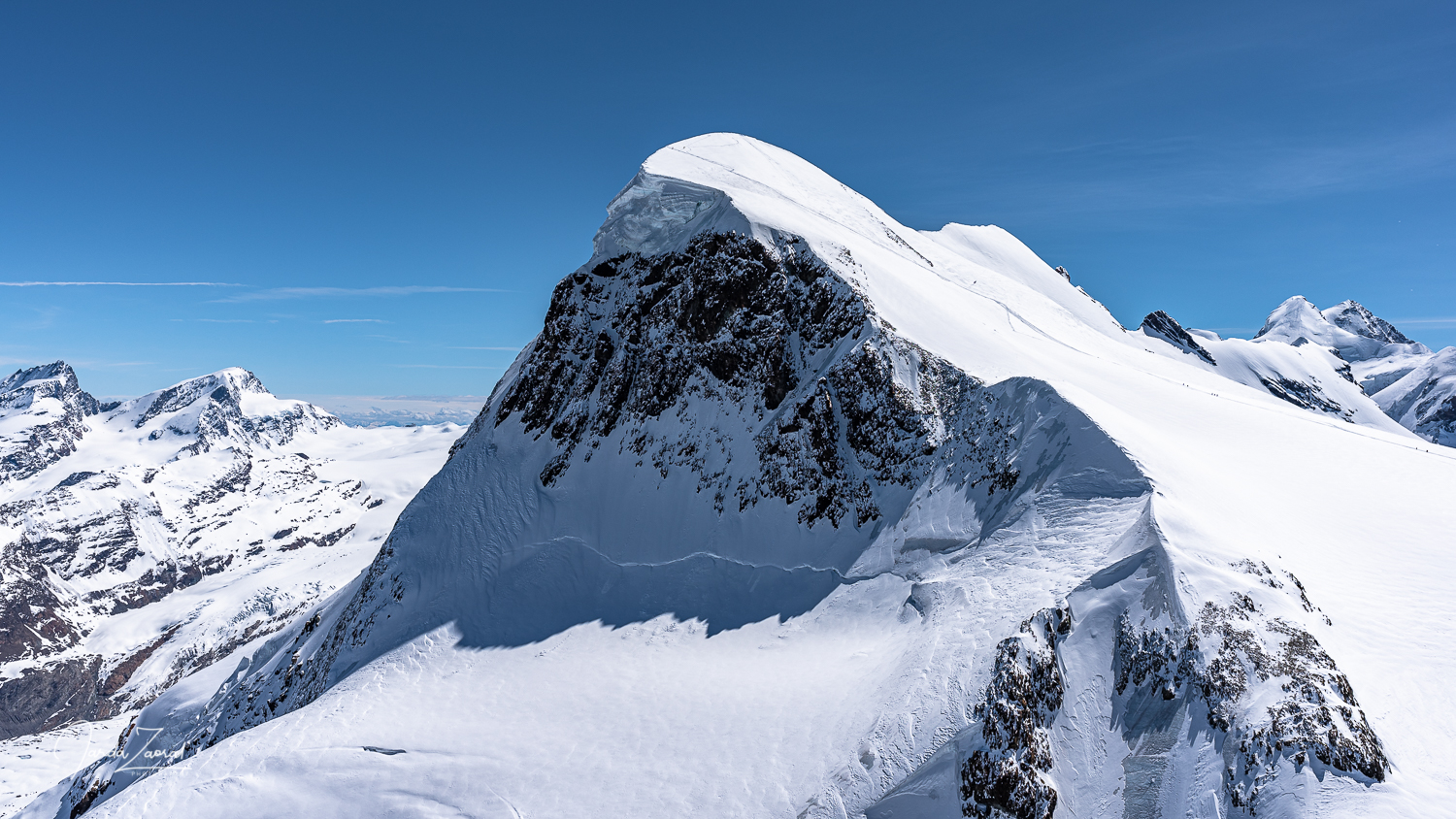 My first challenging off-piste skiing
We moved slowly to get used to the thin air. Fortunately, the journey was not long. It took us two hours until we reached the point from where we wil ski down. When I saw where we were going to go down, I thought to myself how much percent chance I had to survive this. Will an avalanche or a fall in a crevasse kill me? But we were with a mountain guide so I trusted his route selection.
The skiing was amazing. Until we reached the elevation of 3300 m above sea level there was perfect powder snow. Then, the downhill was much more difficult since there was a layer of ice on the snow. I had to use the "plow position" most of the time. Nevertheless, we managed to descend the slope, and even managed to enjoy views of the Matterhorn and other sharp peaks of the Swiss Alps.
When we were almost down the glacier below theMonte Rosa Hut, Petra and our mountain guide noticed a shortcut. It looked great. If we manage to pass it we can skip climbing at least 200 elevation meters. At first I was glad. I don't like unnecessary climbs. After a few meters, however, I saw what we have to descend: a rocky field covered with heavy wet snow. Is this a good idea?
End of the Dufourspitze climb?
Our mountain guide managed to reach the glacier without problems. I was following but then I fell for the first, second, third time. Fortunately, these were all controlled falls so I just shrugged it off and kept on skiing. I thought I could handle the downhill in the wet snow and continued down when one of my legs suddenly fell one meter deep in the snow. My leg got stuck in the snow and my face just fell straight down.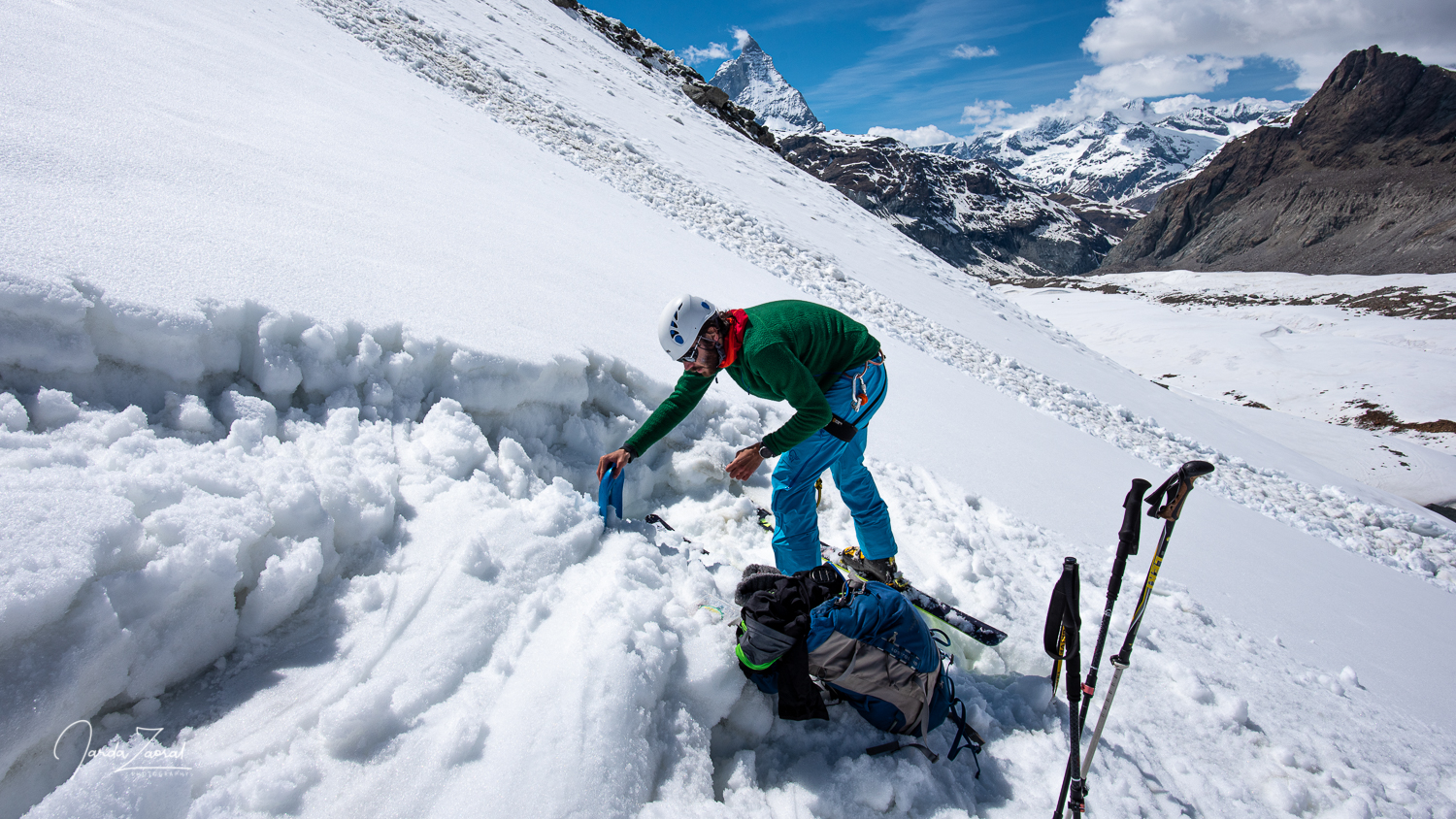 I must have looked ridiculous and worse, I couldn't get out of the position. My leg was stuck and I didn't feel it. Does that mean that I lost it or that nothing happened to me? When Petra came to help me, it turned out that my leg is alive. She helped me to dig out of the snow and I was ready to continue descending.
But then I realized I am missing one pole. Where is it? Petra and I started shoveling. We dug and dug but couldn't find it. What now? Finally our mountain guide returned. I was hoping he would help us finding it but the leader said instead: "If you don't remember at least roughly where it might have ended, it's like looking for a needle in a haystack. You have no chance." Of course, I had no idea so I sadly gave up on my pole. Hopefully I would find some solution to replace it.
We still had to climb a few elevation meters until the Monte Rosa Hut. The glacier towards the hut was already influenced by afternoon sun so it was difficult to climb up. Even more for me, because I had just one pole.
Time to Improvise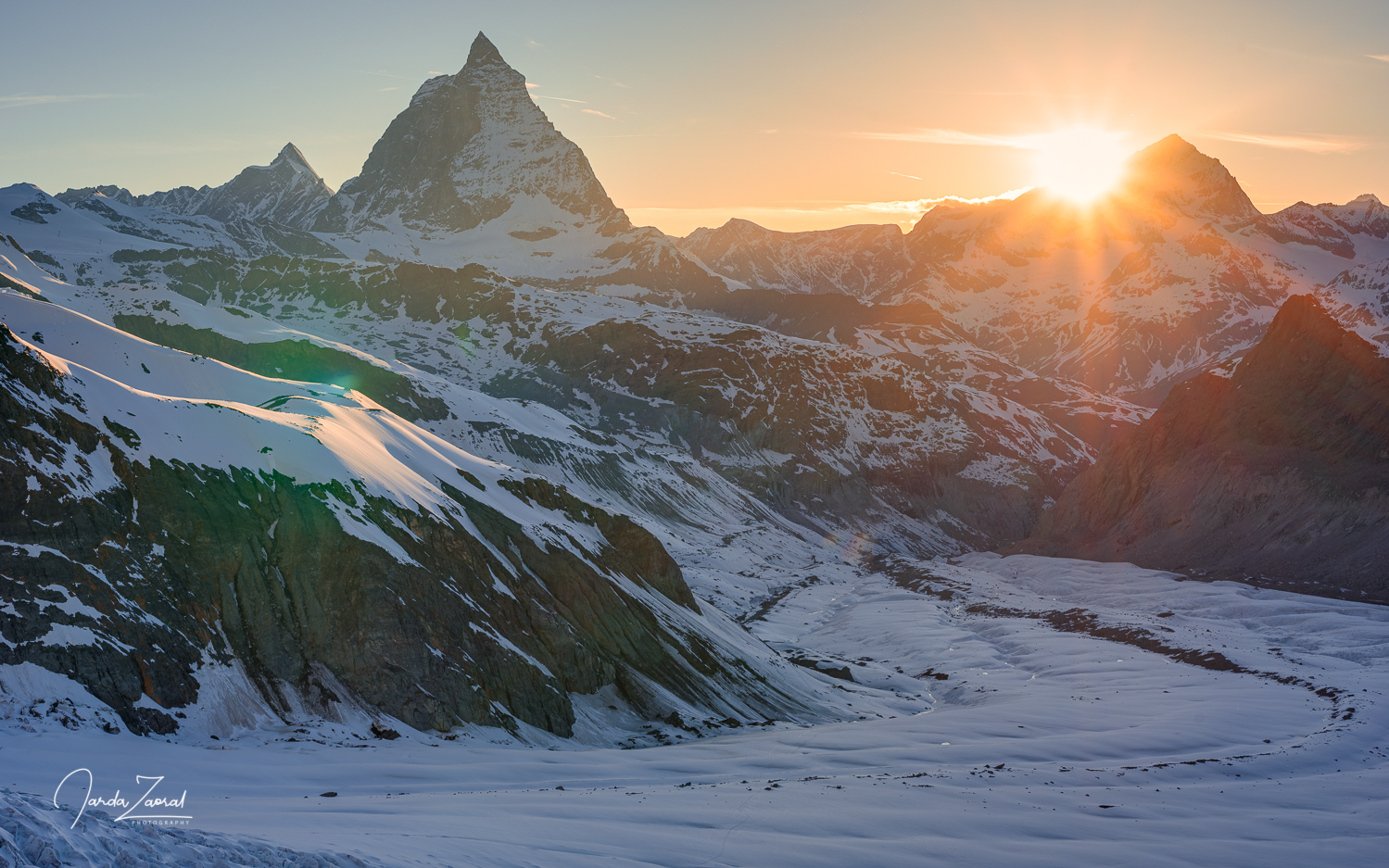 We arrived to the Monte Rosa Hut just before sunset. I was super tired. Well, it makes sense. What would you expect after acclimatization at 3800 meters, unsuccessful shoveling of roughly a wagon of snow and ascent of ca 500 altitude meters. I ate one Adventure Menu quickly and wanted to go to bed early but before going to bed I had to solve my pole problem. The shops in the Monte Rosa Hut are closed during off season so I had to find an alternative. I walked around the hut when I suddenly saw my salvation: a broom! It was was the perfect size. The same size like my remaining stick. Problem solved!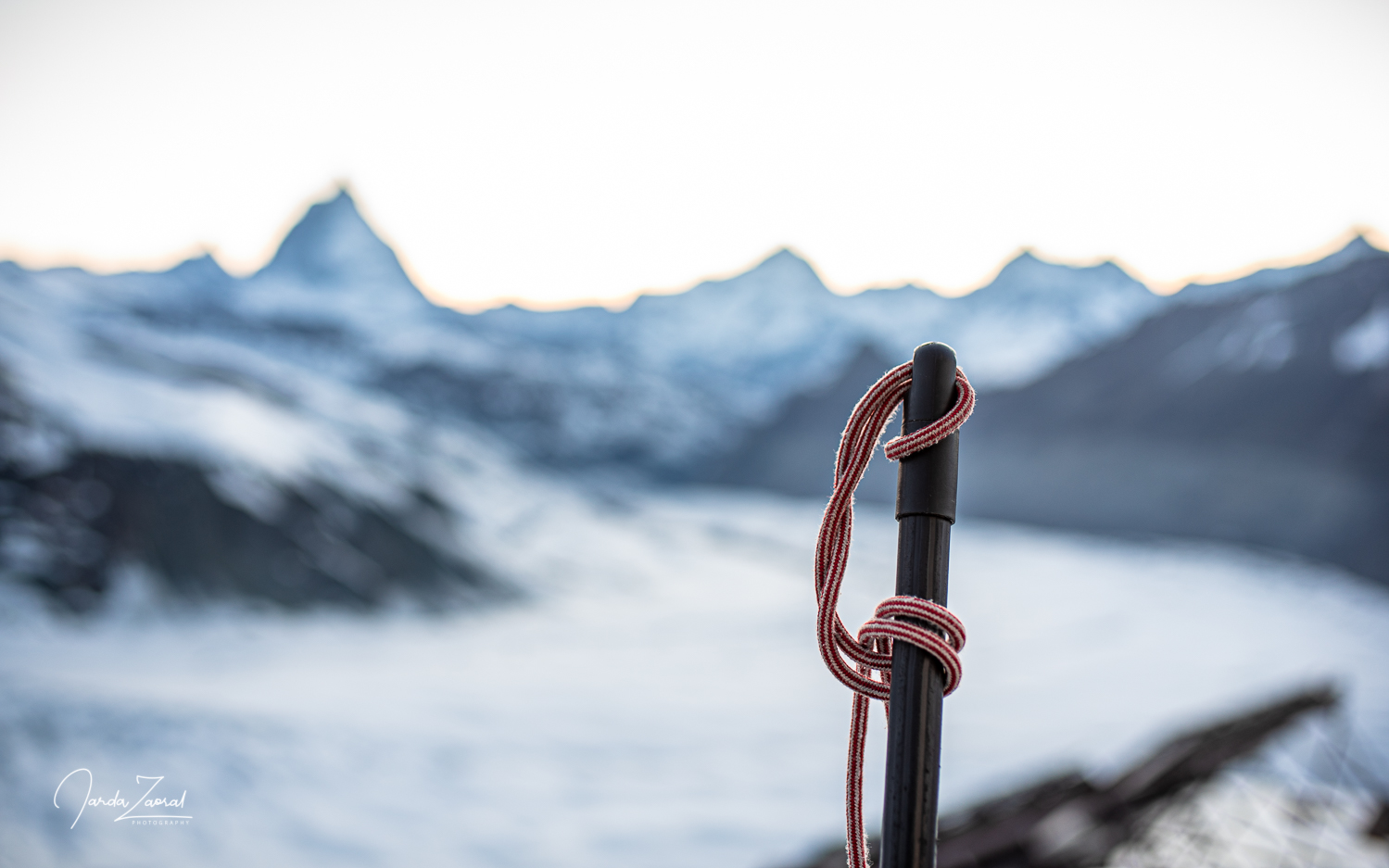 After consulting with the only other group trying to ascend Dufourspitze the following day we decided to leave at 2:30 a.m. in the morning. Time to sleep.
But I couldn't sleep. The risk of shared dormitories was once again manifested. Two of the six people snored loudly and my earplugs didn't help. I rolled over and tried to fall asleep but in vain. After four hours of rolling, the alarm clock rang and everyone started preparing their breakfast. I gave up and went to eat too.
Summit day to Dufourspitze
Chicken tikka masala may sound like a weird breakfast at two in the morning but it tasted good and gave me the energy I needed. Then we quickly packed up our equipment and got ready for the summit. Dufourspitze is waiting.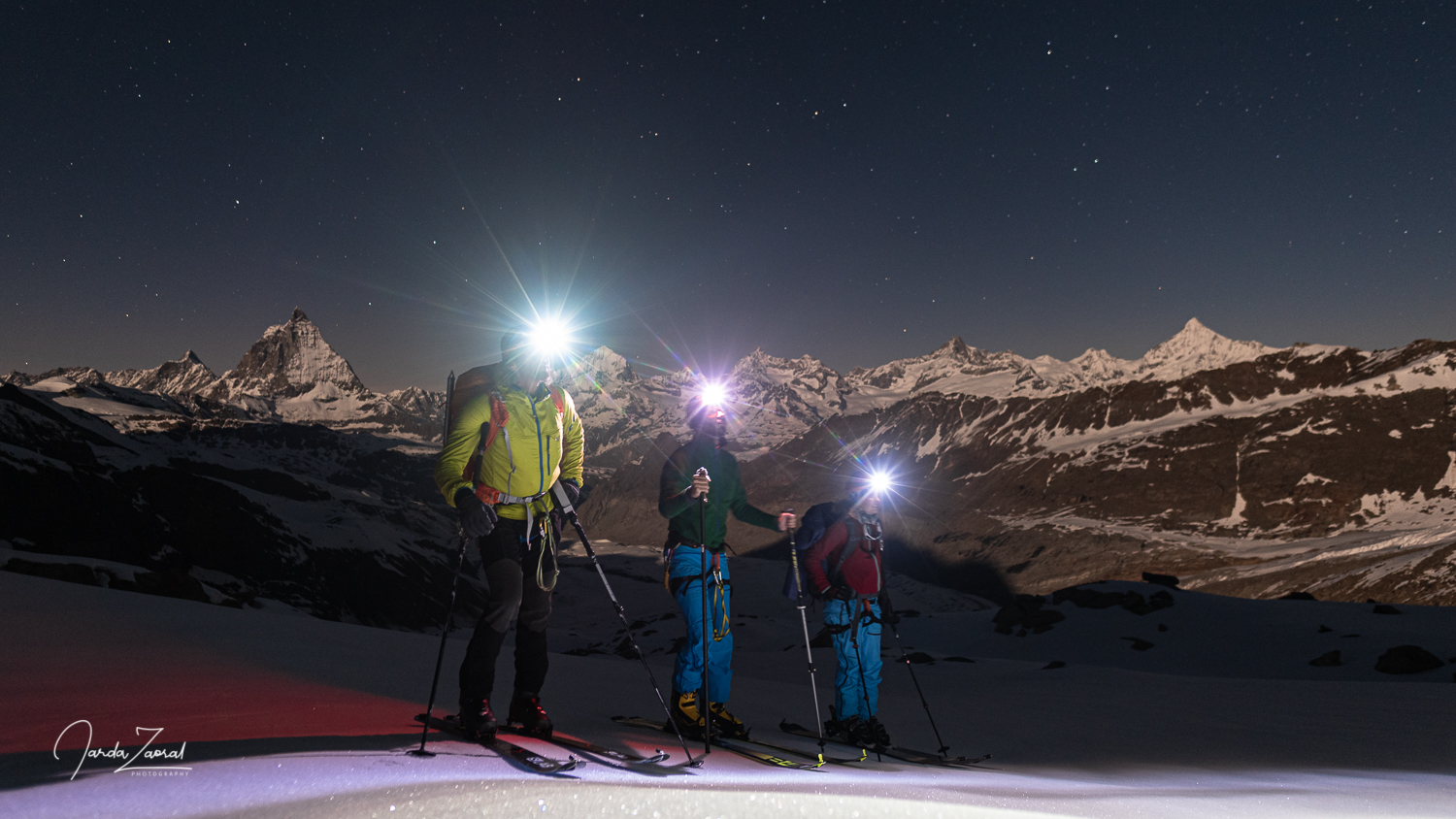 It was surprisingly warm at the hut but that was about to change soon. First we climbed relatively quickly and my broom stick worked well, so I didn't cause much delay. The problems occurred from about 3500 m above sea level. I wasn't as well acclimatized as my friends but there was nothing to be done about it. We had to climb together. I just had to follow my pace and hoped my friends wouldn't freeze.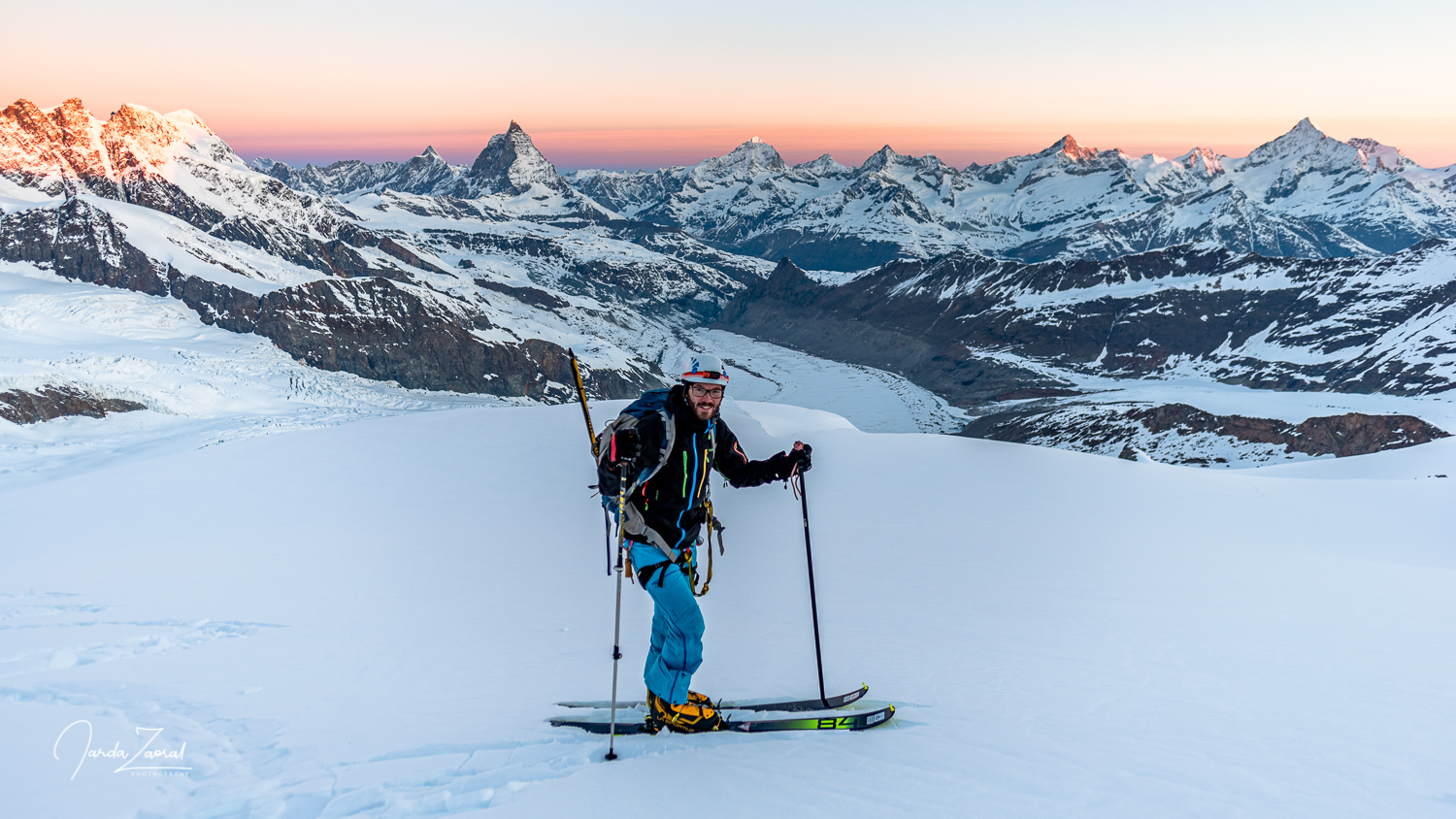 The closer to sunrise was the colder it was. Unfortunately, the forecast was correct, −17 ° C was absolutely right. For the first time in my life I put on my expedition feather jacket on the actual climb (mostly I use it only during breaks or on top of mountains). Again, I hoped my friends wouldn't freeze.
It was very cold but we had incredible views. I will never forget watching the first red sun rays covering Matterhorn and the surrounding mountains. Unfortunately, the sunshine didn't reach us as the sun was behind the Monte Rosa massif.
Nothing for people having fear of heights

After five freezing hours we finally reached the Sattel ridge, where the bright sun warmed us up. Suddenly I felt pleasantly warm, just a bit scared of what is ahead. From now on we will have to climb a narrow and steep ridge. It was time to take off the skis, put on the crampons, tie in on the rope and continue on the steep ridge.
It was going well on the snow. The problem occurred when we had to start climbing the rocks. At that point I was really happy to have an experienced mountain guide with us. I would have turned around without him. I felt secured being on the rope.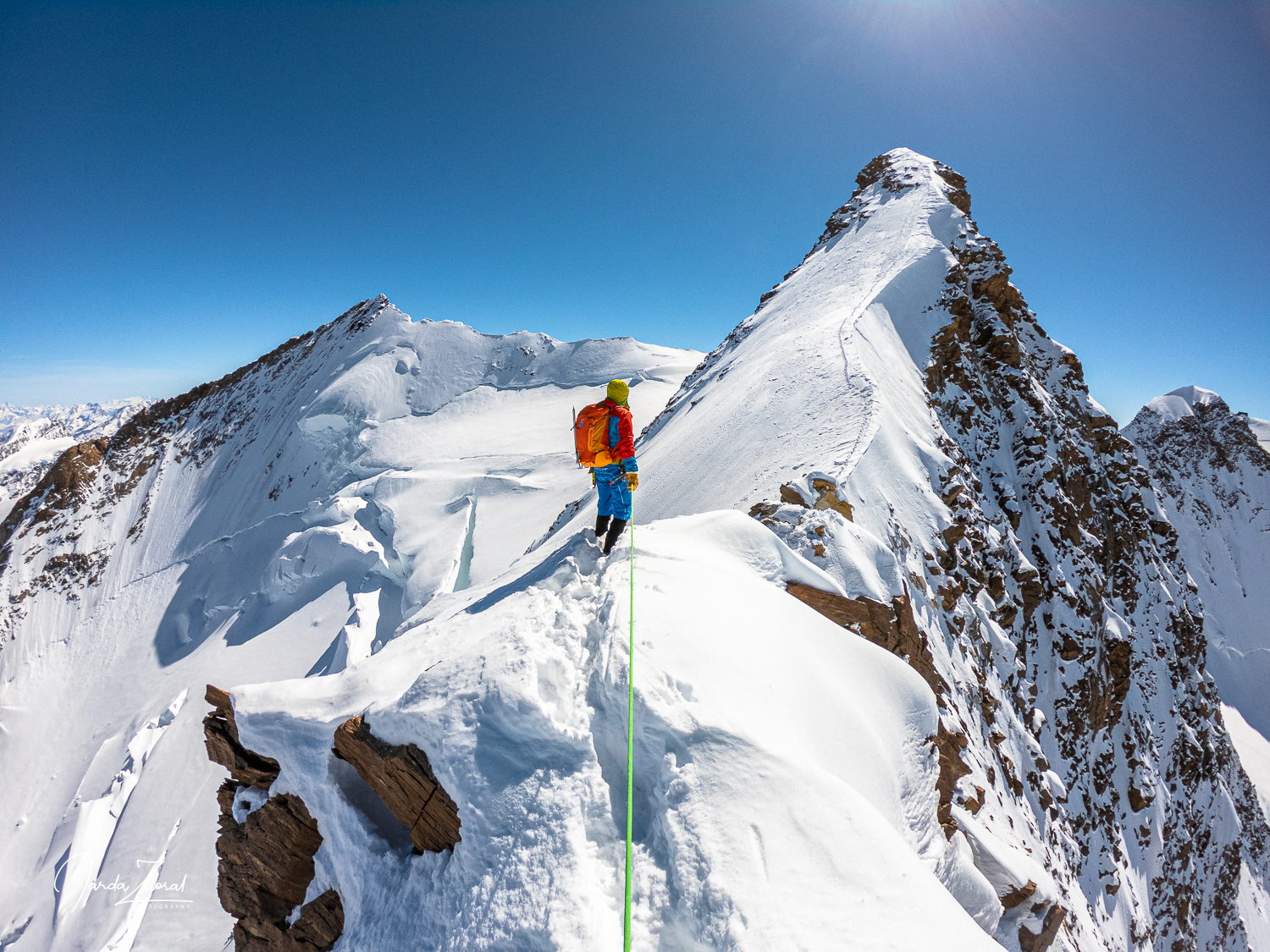 I regretted not leaving my huge feather jacket and my large backpack with my skis. I felt very awkward during the climb but I was at least not cold. The ridge was very long and there were a few misleading horizons ahead. I thought several times that we must be on the top but there has always been a new one. The climb on the ridge took us over two hours. It was very challenging. Fortunately, we were lucky with the weather. The sun was warm and there was almost no wind. We finally reached the top at 11 am and enjoyed the well-deserved rest.
Deserved views from Dufourspitze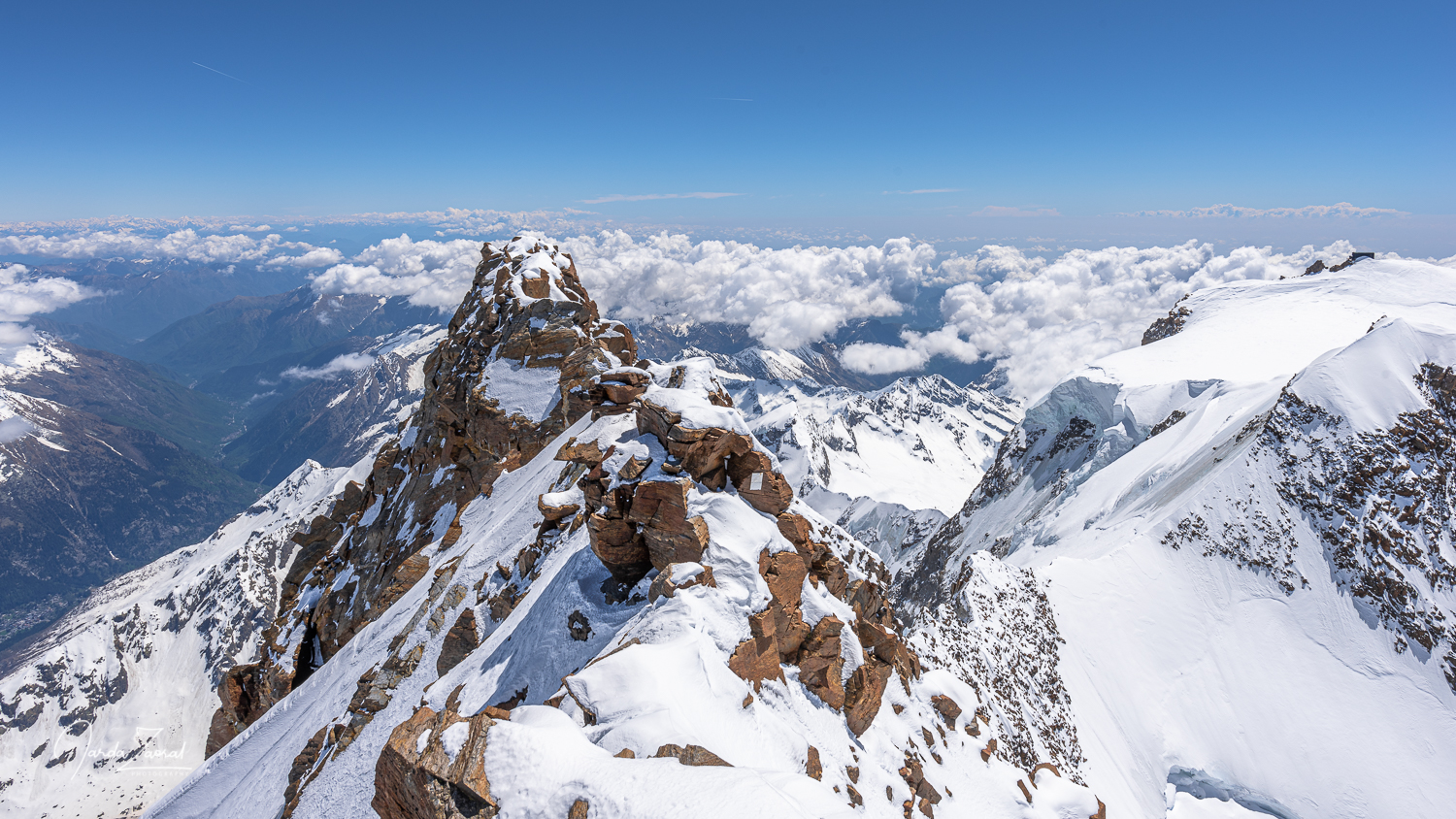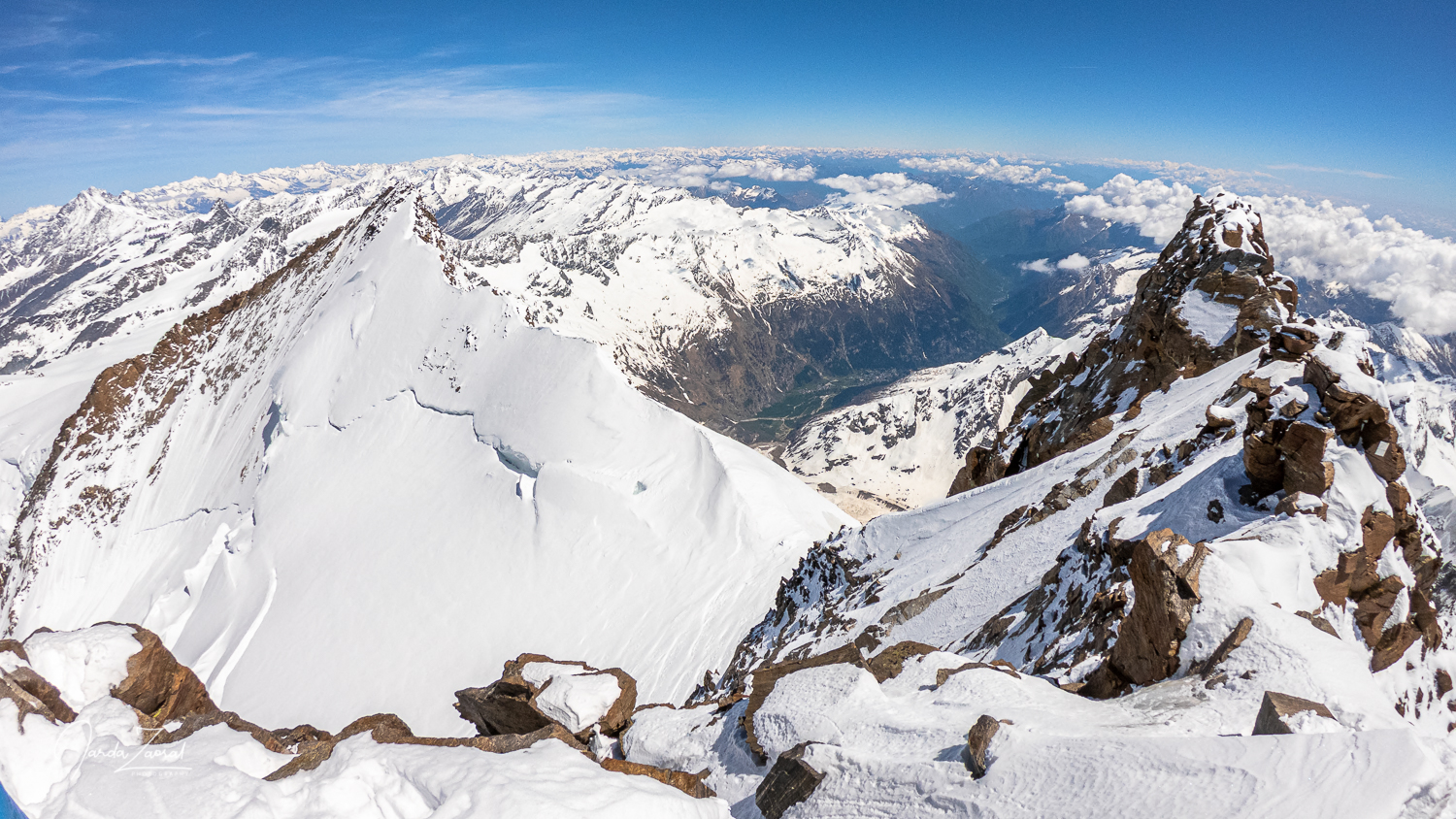 Even though the views were amazing we didn't stay on the top for a long time. We took a snack, took the necessary photographs, and decided to return. We still had a long way to go. The ridge was very difficult even during the descend. We returned to our skies as late as at 2 p.m. Then everything went much faster. We put our skis on and enjoyed the deserved descent back to the Monte Rosa Hut. In half an hour we managed to ski down 1,500 meters of altitude.
We wanted to take just a short meal and continue to Zermatt but the weather was against us. The sun was burning now. Compared to the morning −17 degrees, it had warmed by 40 degrees. The thermometer was showing 25°C, which meant that going downhill on the glacier to Zermatt would be dangerous. None of us wanted to fall into a crevasse so we stayed one more night at the Monte Rosa Hut.

We slept twelve hours. We recharged our batteries and finally skied down back back to civilization. The glacier was still frozen in the morning so we could ski down for the entire 10 kilometers. When we passed the glacier we still had to hike an additional 8 kilometer along the glacier river. It was also tough in ski boots and with skies on the back but we managed to get into Zermatt safely. In Zermatt we were welcome by draft beer and tasty garlic soup in restaurant Furi. We made it!
My tips for climbing the mountain Dufourspitze:
Climbing Dufourspitze is even more challenging than Mont Blanc. Experience with belaying not only on the glacier, but also on the rock is a necessity.
Acclimatization before the climb is necessary too.
Choose a mountain guide you trust.
Don't bring a large jacket and backpack on the final Sattel ridge. It feels very clumsy.