Last Updated on May 10, 2021 by Jarda
I don't know if it was the intention of the Germans, but the name of the mountain Zugspitze corresponds to reality. Zug means train and it indicates that it is possible to get to the top completely without using energy thanks to a cable car. Unfortunately. Zugspitze is a beautiful mountain with perfect views, but the amount of tourists going up is spoiling the atmosphere.
Date of summit: 15th August 2018 11:50 
Traveling mode: Hiking 
Height of the peak: 2,962m 
Hiking distance: 17.31 km (Day 1) 
Hiking distance: 4.66 km (Day 2) 
Time to ascend From Ga-Pa to Knorrhütte: 5 hours 22 minutes 
Time to ascend from Knorrhütte to Zugspitze: 2 hours 28 minutes 
Map of my hiking journey to Ga-Pa to Knorrhütte: Movescount (I had wrong settings, inaccurate) 
Map of my hiking journey from Knorrhütte to Zugspitze: Movescount (I had wrong settings, inaccurate) 
Personal rating of the mountain: *** (6 stars maximum) 
Beer on the peak: Aecht Schlenkerla ***** (6 stars maximum)  
I took an epic road to Germany by train from Innsbruck. The road led through a beautiful alpine landscape. In addition to this beauty there was a thunderstorm, so the mountains were even more dramatic. When I arrived in Ga-Pa, the change in the weather took its toll. The temperature dropped by 20 degrees, and I started quickly freezing in my shorts.
It was great that the ordered hotel was nearby. After 15 minutes of walking I got to the most beautiful accommodation of the whole journey so far. The hotel looked like a castle, no exaggeration. And even the staff behaved according to that. I got some champagne as a proper welcome, and after the formalities we followed to a beautiful room. I did not hesitate and immediately jumped into the soft bed.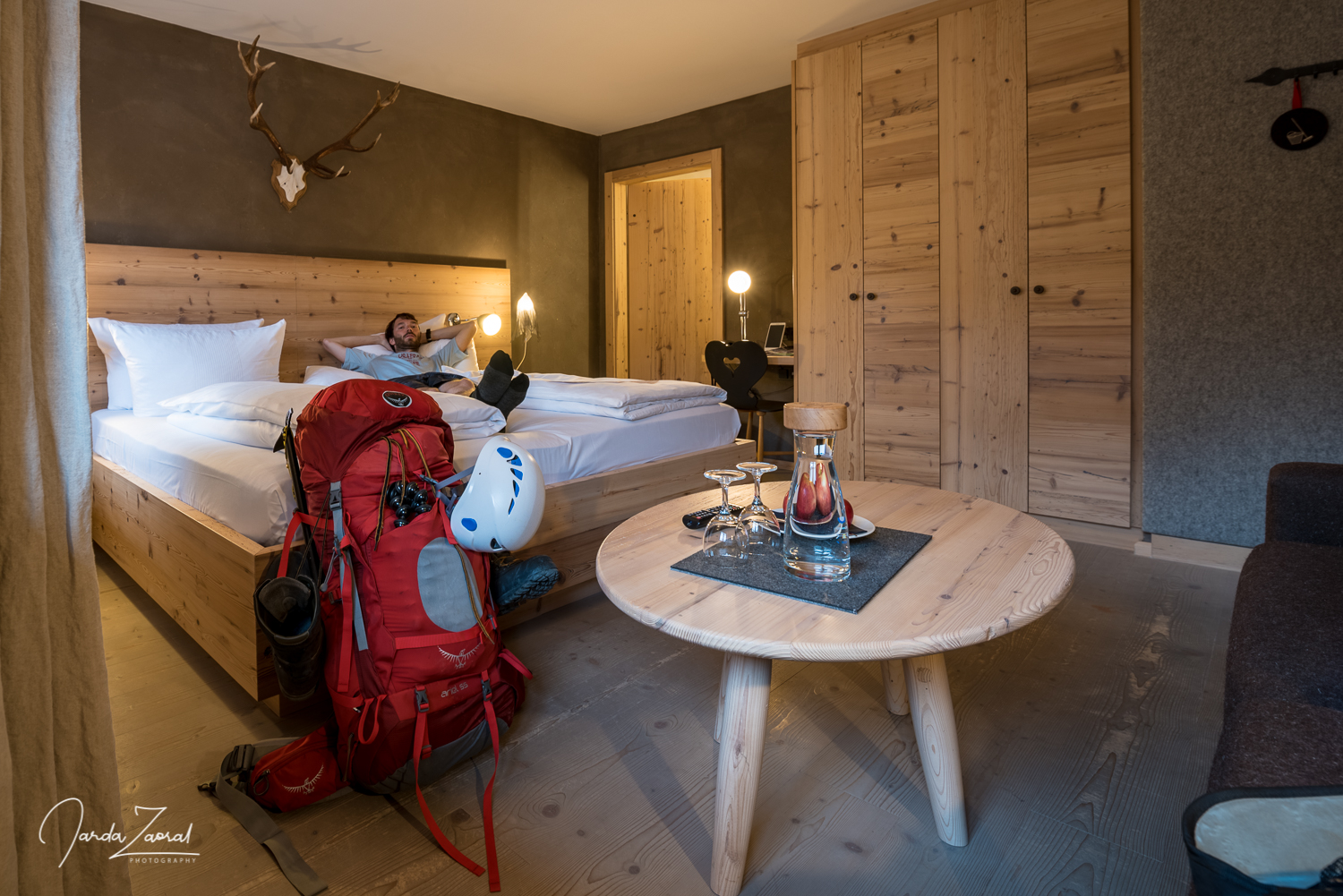 After half an hour of relaxing, Björn, a friend of mine, arrived and timed his arrival just for a prepared dinner. I pulled out the most decent clothes I had (shorts and a short-sleeved T-shirt) and set out to test the 5-course Bavarian dinner. Such dinners could be more often on my table during my expedition. I really enjoyed it.
Partnach route to Zugspitze
After an unusually long sleep, we headed for breakfast where we finally started to plan our summit to Zugspitze. You can get to the top in several ways. Unfortunately, the simplest option, namely the use of the cable car is used by most people. My opinion, however, is that cable cars are enemies of the mountains, so this way was not possible. Another and for me the most appealing option was the shortest but the steepest route via ferrata. Unfortunately, this route was not suitable due to unfavorable weather forecasts. It's not the smartest choice to climb the rocks in the rain. The simplest walking route I ruled out mainly because it leads from Austria and so the last option won. 21 km long hike directly from Garmisch to Zugspitze with an elevation of 2000m.
We headed out at 11 a.m. and the maps suggested that the journey would take 10 hours. We were supposed to be at the top just before sunset. The journey began above my expectations. At first, I was disappointed that I had to pay 5 EUR admission for some ravine, but after the entry I did not regret it for a minute. Honestly, this gorge is even more interesting and dramatic than the famous Caminito del Rey (which I saw in Spain). A wild river modeled a deep rocky canyon. The dramatic image of the morning was amplified by the morning thunderstorm, so the water not only flowed in the river but was also dripping everywhere from the peaks of the rocks. I give my warmest compliments to the trail builders for what they have managed to create for tourists here.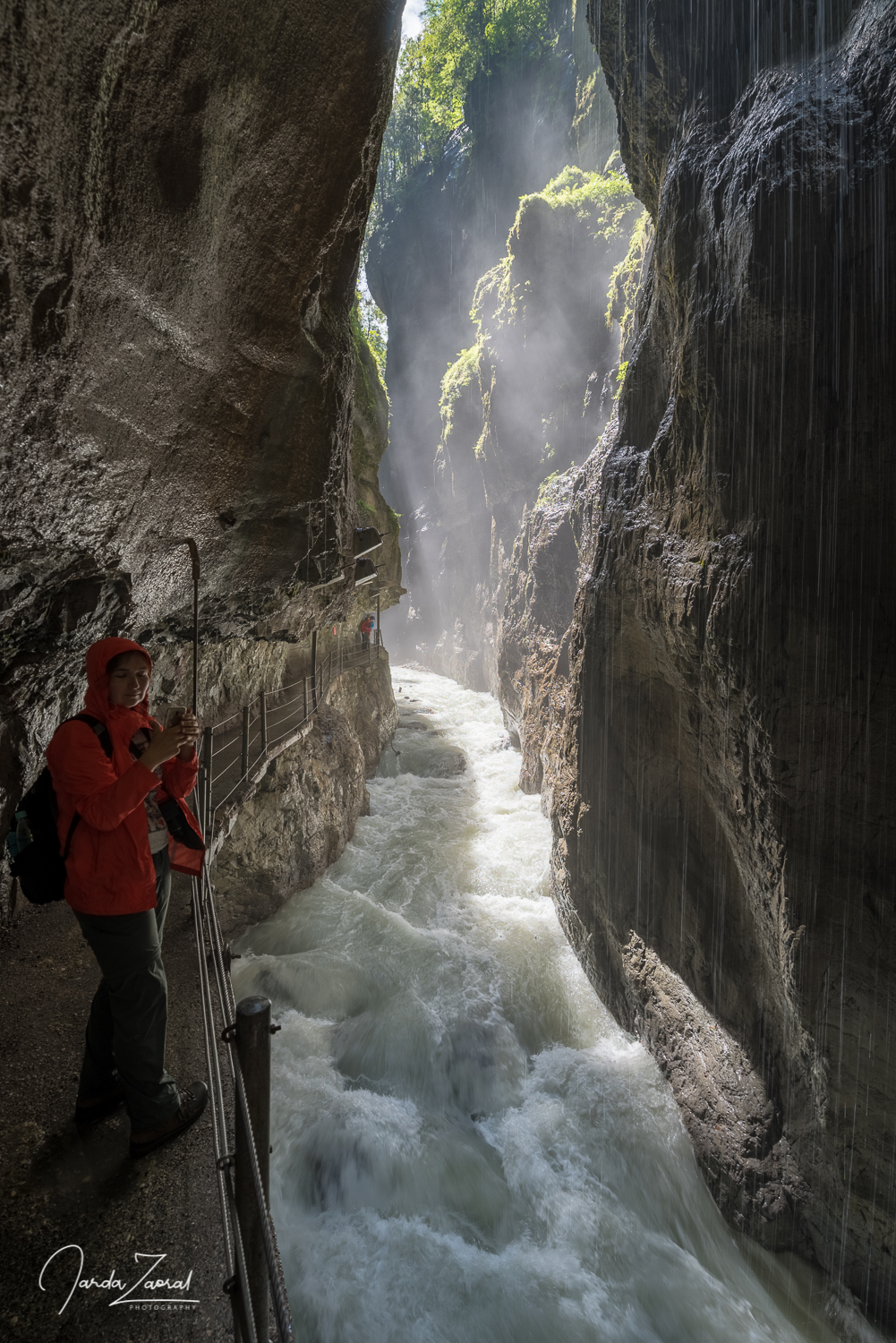 Heavy rains are not fun
After this marvelous introduction, a long, boring period came with almost zero elevation. In order not to get too bored, the nature prepared a heavy rain for us. At that moment we longed only after a hut, where we could hide and get some energy. But it occurred not earlier than after long 10 km… We came to the Bockhütte Hut completely soaked. The mood was improved as late as when we filled the tank in form of a local dark wheat beer. Simply perfect. I wish that brewers in Czech Republic and Sweden visited Bavaria and learned to brew this luxurious beer.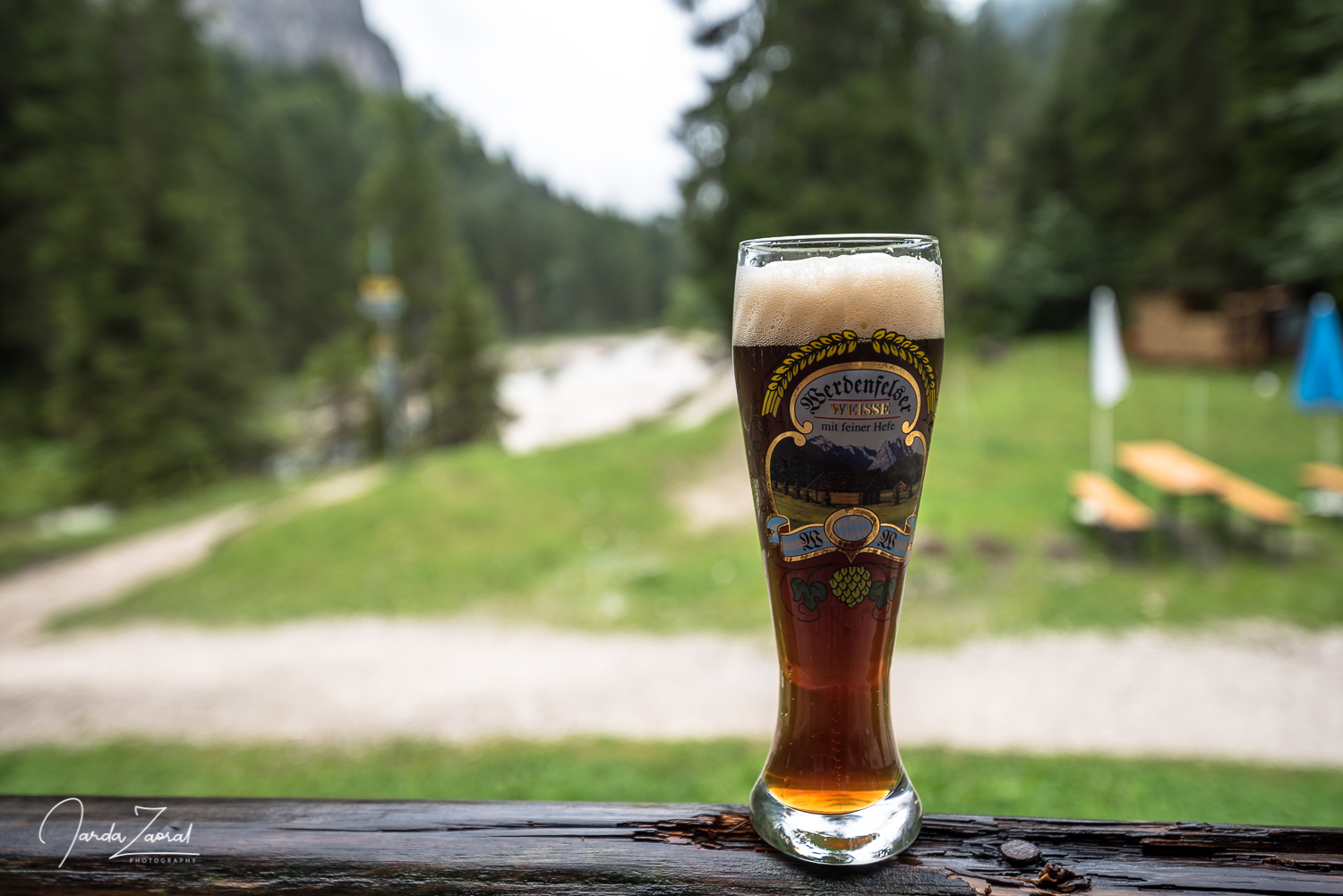 From this hut the nature started to vary more and get even more beautiful. The woods began to thin and we began to enjoy beautiful views of the surrounding peaks of the German Alps. The path rose slowly but surely higher and I saw how Björn was looking more and more tired with every meter of altitude. I tried to motivate him, but without success. Unfortunately, his talks about his previous training were not entirely true. It was soon clear that we had no chance of getting to the Zugspitze at this rate.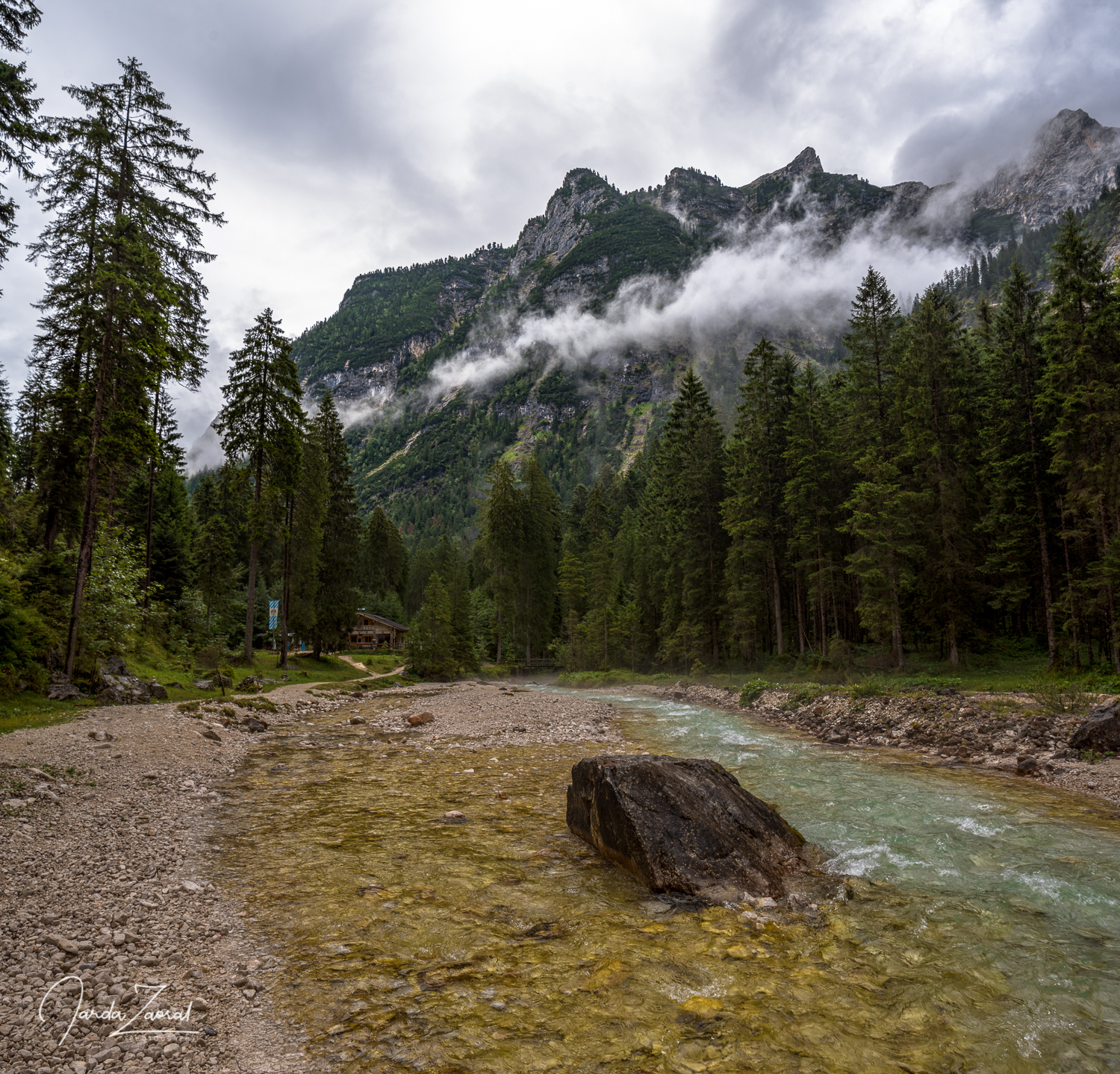 Proper training is a must
We passed another hut where we had a small snack and the first steep climb was in front of us. When I saw Björn's pace, I started to worry. Will we get at least to the Knorr hut under the Zugspitze before it's dark?
I went first to explore the terrain and, after a short walk, stopped to wait for Björn. He was apparently not coming. I waited for about 15 minutes and Björn was still not in sight. What if something happened to him? So I went back and after a few minutes Björn appeared. But I started to worry about him, so I decided to lighten his load in his backpack. Unfortunately, Björn without food and a two-liter bottle of full water was not faster.
In addition, the clouds began to descend quickly, and after a while the first drops fell. My backpack was really heavy now, so I went ahead again. When the distance between me and Björn grew longer, the clouds descended so low that we could not see anything. Hopefully Björn wouldn´t panic and would continue his journey.
I didn't want to let him go alone in the fog, so I went to find him back again. After a while I found him but he was this time completely without energy. The next hut was supposed to be only 1 km away according to the online map. However, I feared that the heavy rain we had witnessed in the morning could come back again, so I just grabbed the whole Björn's backpack and went up with both backpacks.
Unfortunately, Björn without a backpack was still not faster than Jarda with two. Carrying two backpacks was not quite comfortable, so I raised the pace to make it as fast as possible. Fortunately, the hut emerged from the fog after half an hour. I waited another 15 minutes for Björn and luckily the fog finally spit him out, too. We made it. Not to the top, but at least to the Knorr hut under the Zugspitze, where Björn would be able to relax.
Recharging energy at Knorrhütte
We sat down in the restaurant and ordered a beer. I couldn´t withstand it and I confronted Björn. One cannot say that he is in good shape when he is not. Björn told me before the trip that he had been training several times in the mountains before and he was always one of the fastest in the group. But the reality was different. If I had known that, we could have chosen an easier route. Had the weather been even worse, something could have happened. When you go to the mountains, you must know if you will manage. Fortunately, everything turned out well. I just knew it didn't have to…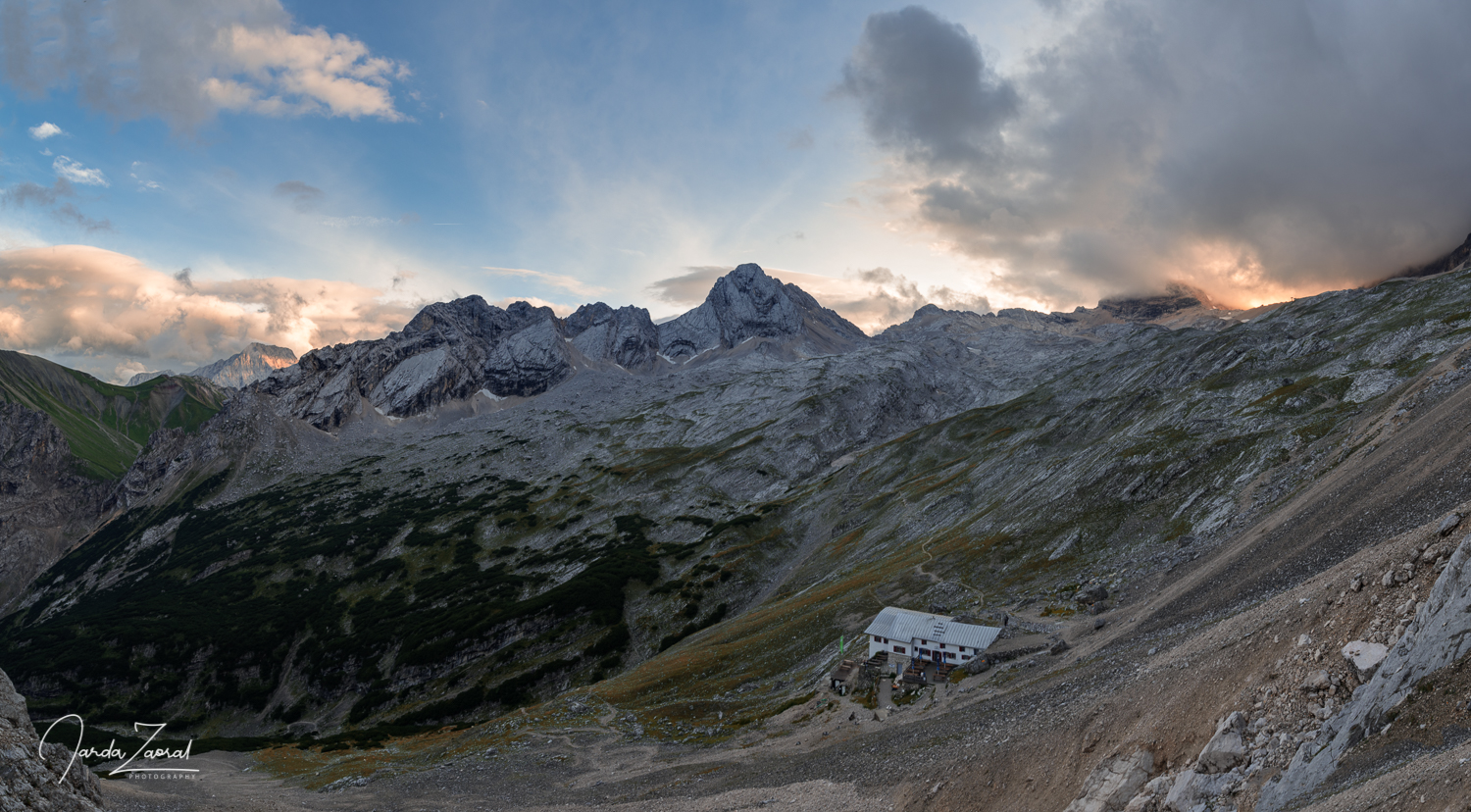 The next morning during sunrise it was still foggy, so we got on the road at 8 o´clock in the morning. After another 500 meters of elevation, Björn rationally chose to simplify the journey to the top and took a cable car. The weather, unlike the previous day, was favorable, so I could take up a rocky path backed by a steel rope. I would compare this journey to the Tatra Mountains. Well-secured, no overexposed moments. I think there's no need for belaying in nice weather.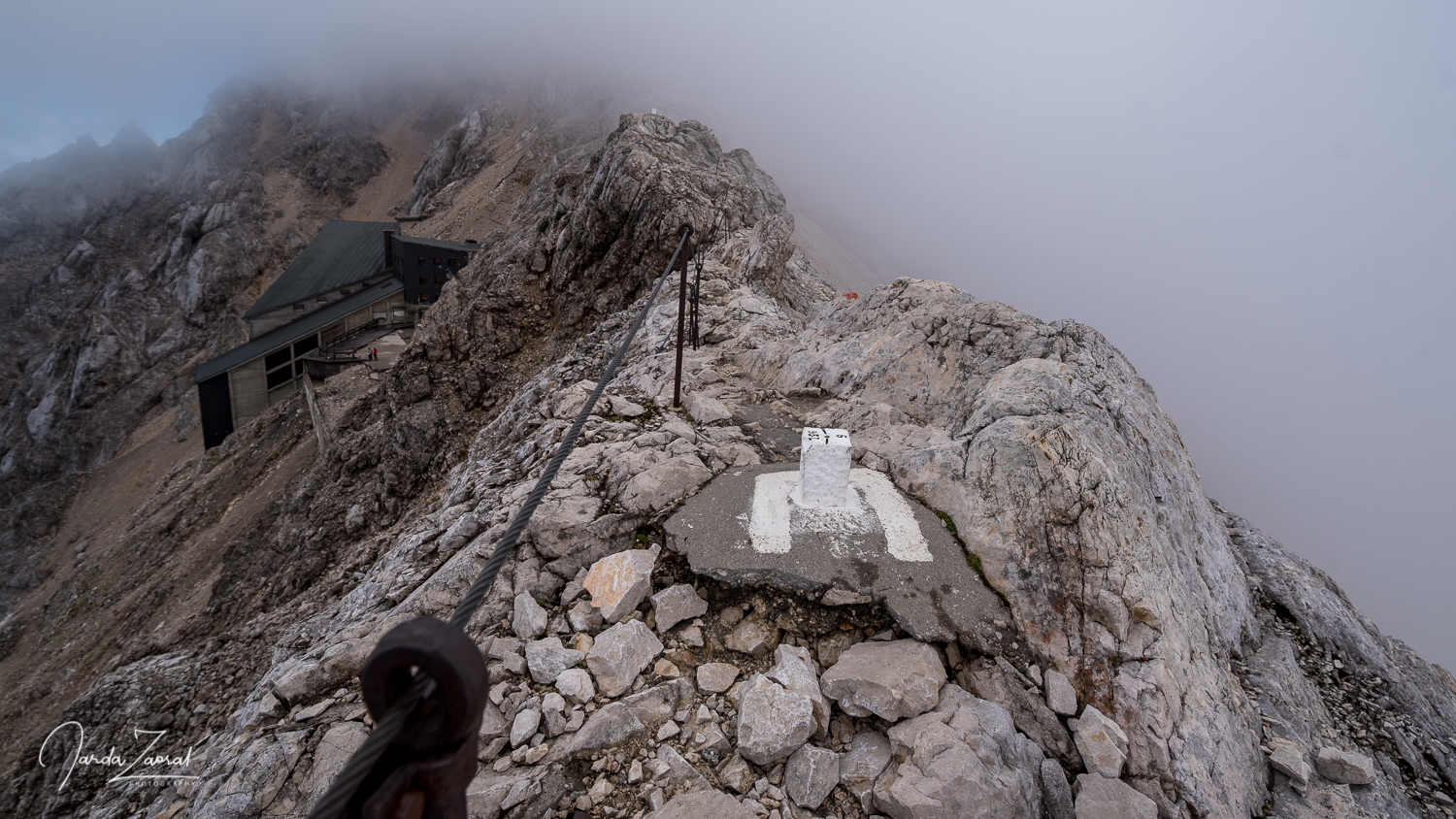 Busy top of Zugspitze
Björn got to the top sooner of course and waited with two typical white sausages and wheat beers. Thanks, Björn for this tasty reward. The Bavarian kitchen – that´s something I love. However, the disadvantage of the Zugspitze peak showed too. And that is the cable car. Tourists who probably had been in the mountains for the first time took a lift to the summit.
According to their clothes, I'd rather think they were going to either a gala dinner or to a beach. They didn't seem to understand that it was going to be cold in almost three thousand meters above sea level. They topped this smart behavior when they tried to get to the nearby summit, which can only be reached through a short, but interesting via ferrata. I just feared for some of the girls wearing high heels to fall from a few-hundred-meter-high cliff. Fortunately, my expectations were not confirmed, and so the ladies were nicely matching the fully equipped mountain climbers at the top cross.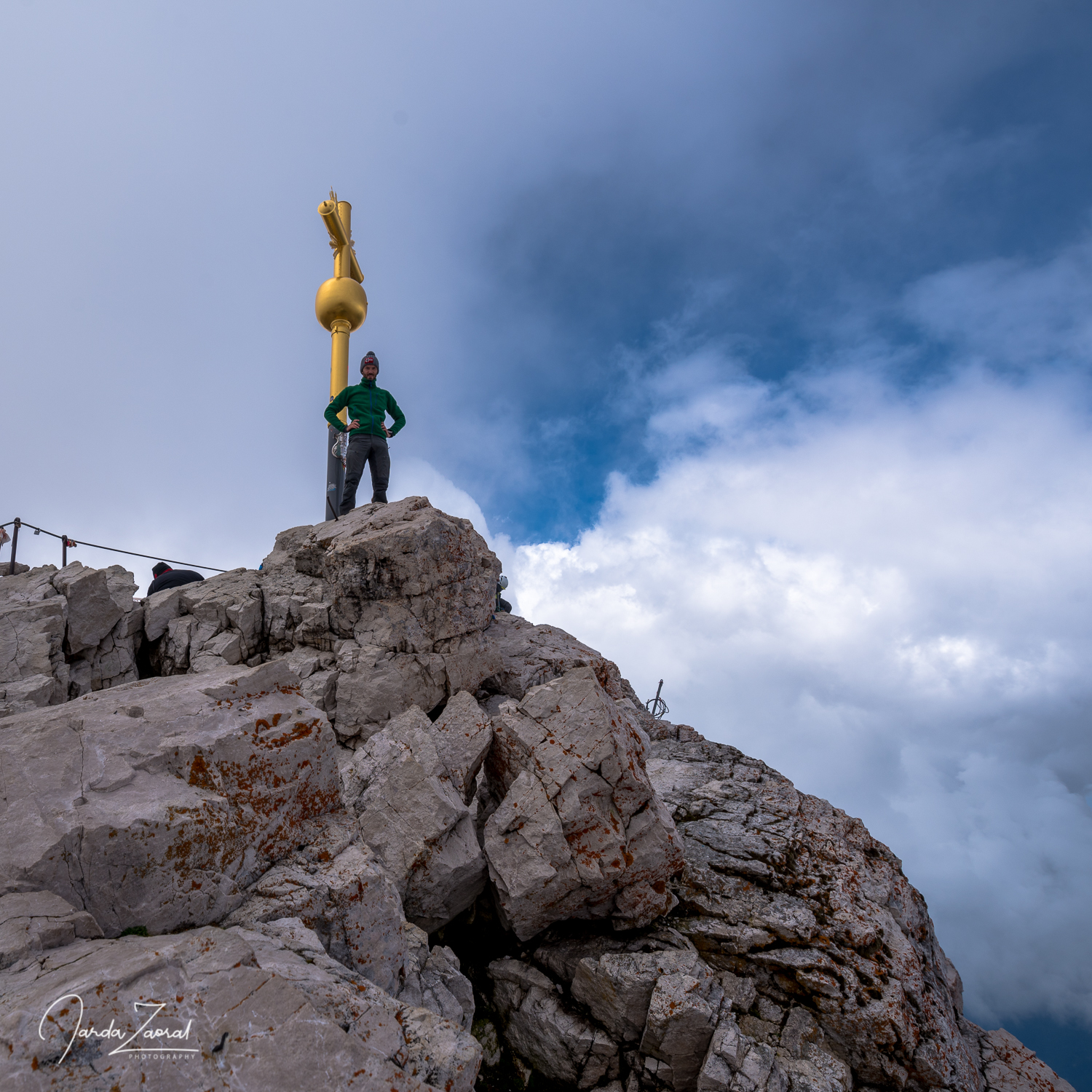 When I finally got through the crowd of tourists, I could enjoy a breathtaking view. The clouds had just spread out, and I got to see a deep valley with arguably the largest German glacier. However, the view did not last for a long time, and I was too slow to pick up my camera, so I just have this picture of dense milk covering Zugspitze.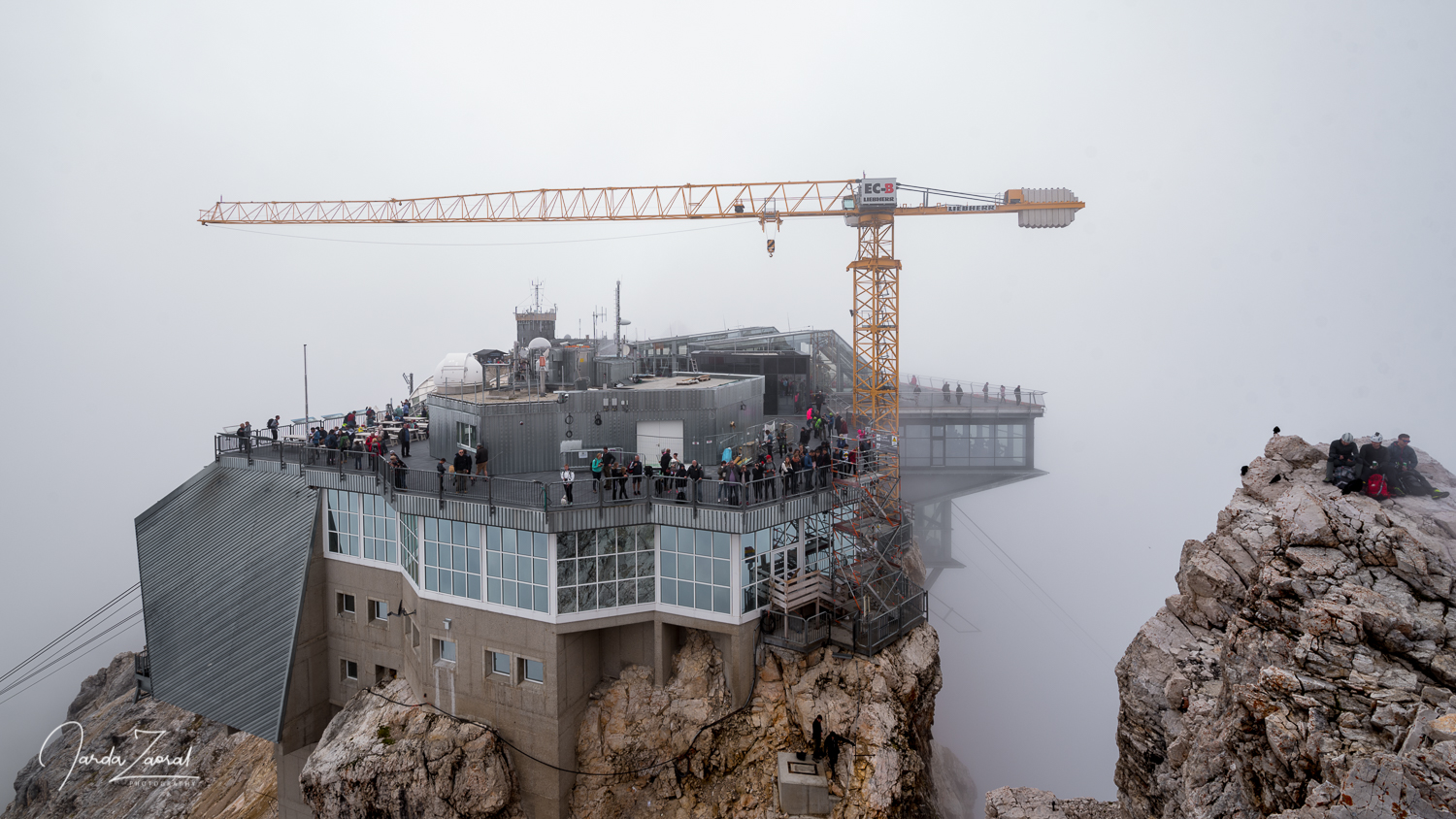 We decided not to walk down. We love our knees and the journey would take another 8 hours. So, we decided to take the "enemy" cable car. The ticket for 33 EUR hurt, but that´s life.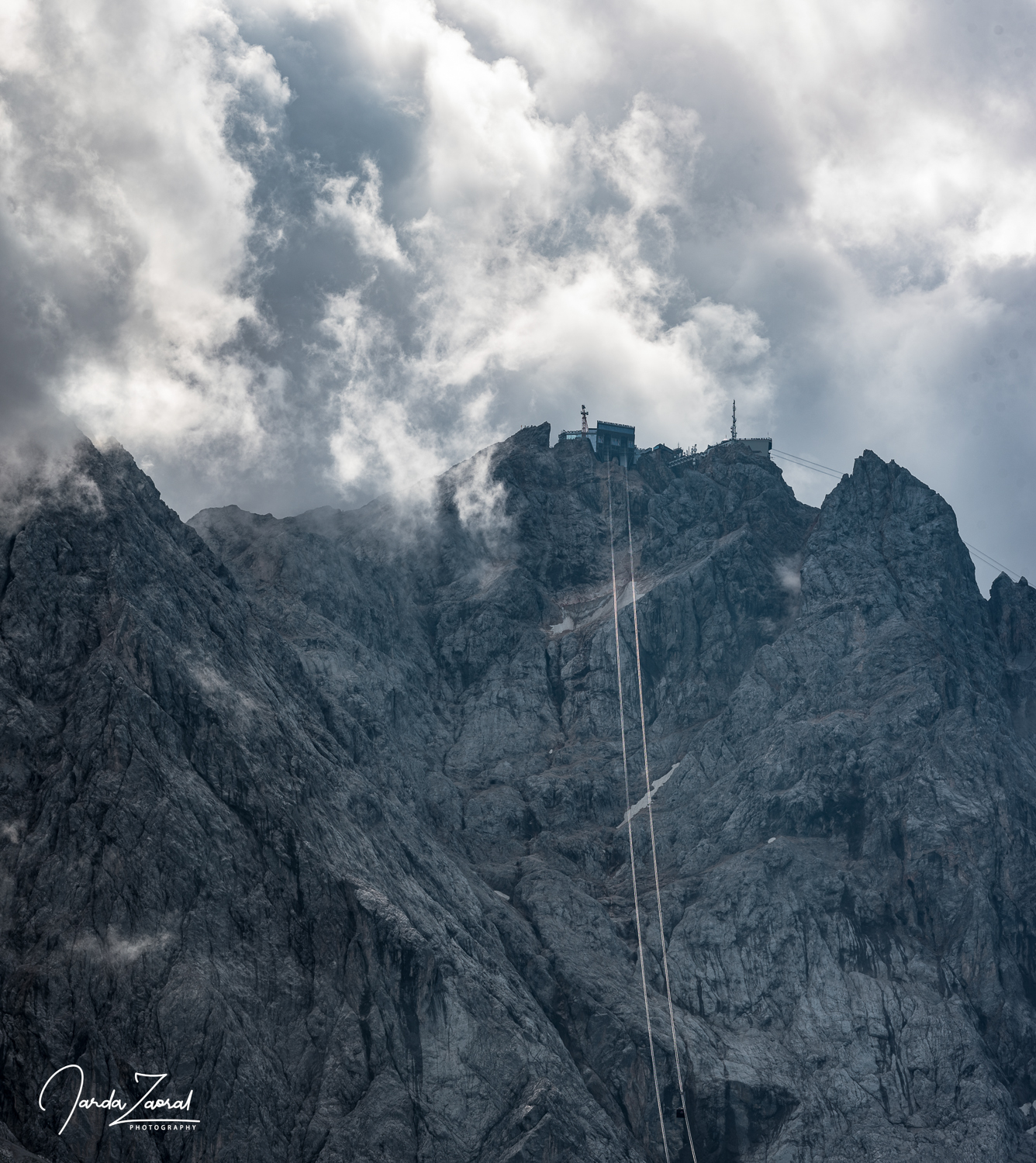 My tips for the mountain Zugspitze:
Book your accommodation on the top of Zugspitze. If you do so you can enjoy precious time when there are no tourists on the top when the cable car is closed.
Try the via ferrata if it is nice weather. I am very sad I didn't try it.